Pandawa Cliff Estate - Villa Rose
The villa you chose is no longer available for rental from us but we have a portfolio of Elite Havens in various locations around South East Asia for you to choose from. Alternatively feel free to send us an enquiry and it'll be our pleasure to help you find the perfect villa for your next holiday.
4 Bedrooms
8 Adults
Villa Rose is one of four exceptional villas that make up the Pandawa Cliff Estate – a hidden paradise located high above the ocean on Bali's southernmost tip.
As the estate's name suggests, the villas are positioned on the clifftop overlooking the golden sands of Pandawa Beach. This is spectacular, unadulterated Bali at its best: far from the hoi polloi of Seminyak and Kuta, yet less than half an hour's drive from the airport and many of Bali's top attractions, including the dramatically positioned, sacred temple of Uluwatu and the fine dining establishments of Jimbaran and Nusa Dua.
Together, The Pala, Villa Rose, Villa Markisa and Villa Marie offer a total of 21 bedrooms, capable of sleeping 42 adults. This, coupled with the superbly landscaped clifftop gardens, extensive decked areas, huge team of professional yet personable staff and purpose-designed guest facilities, make The Pandawa Cliff Estate a wedding and special event venue par excellence. The four villas also share a sports centre with full-size tennis court, squash court, gym and spa.
Privacy is in no way compromised however, and each villa is sweetly secluded within its own extensive walled gardens. Two-storey Villa Rose has been designed to embrace its sublime clifftop location. The elegant upper-floor lounge is open on all sides to the spectacular ocean views while the glass doors of the grand dining room slide back completely to open the room up to the gardens and infinity-edge pool. Four spacious ensuite bedrooms – two kings and two twins – are set back on either side of the living spaces, all with wide ocean views.
A skilled private chef heads the estate's staff kitchen, and he and his team prepare and serve a wide range of gastronomic delights from a restaurant-style menu. The villas are neatly maintained, inside and out, by a small army of housekeepers, gardeners and pool attendants, and guarded by a team of diligent security staff, while two seven-seater cars with drivers are on standby for guests who wish to explore this delightful corner of the island of the gods.
Read more
This haven includes
Unique features

Cliff Top Views

Car and Driver

Gym Facilities

Tennis Court

Media/Games Room

Private Spa

Estate/Resort Facilities

Kids Club
Location
Peaceful and private, situated at the end of a winding country lane on Bali's southernmost tip, Pandawa Cliff Estate is a hidden paradise overlooking the Indian Ocean from its enchanting clifftop setting.
Apart from a handful of luxury villas sprinkling the top of the cliff, and the beach huts and local cafés bordering the white sands of Pandawa Beach far below (named after the five warrior brothers of the Mahabharata epic, whose white stone statues are carved into niches along the road leading down to the beach), there is little development in this unspoiled corner of Bali. But despite its tranquil, rural setting, Pandawa Cliff Estate is less than a 30-minute drive from Bali's international airport, and within easy reach of several glorious surf beaches, the sacred sea temple of Uluwatu, and the many restaurants and beach bars of Jimbaran and Nusa Dua.
More information for Things to do
Your Villa Manager, will have a wealth of information about places of interest and will help arrange transport and make any bookings required. Do also ask the staff about the area too. Most will live nearby and can give an interesting insight into some of the fascinating aspects of local Bali life.
In the meantime, here's a taste of the many and varied activities on offer within reach of Pandawa Cliff Estate.
Until recently, the white sands and warm, protected waters of

Pandawa Beach

were visited only by locals and seaweed farmers. A paved (toll) road cut through the cliff has recently made this beautiful beach, which lies immediately below the estate, much more accessible.
Among other

local beaches

is the famous surf beach at Uluwatu. Not quite as spectacular but equally alluring are the beaches of Bingin and Padang Padang. Beautiful white sand bays with rock pools and a host of local cafes.
At

Jenggala Keramic

in Jimbaran, visitors can browse and buy from a vast range of handcrafted ceramics and glassware. Jenggala also runs 'Make and Paint a Pot' sessions where 'Children' of all ages are encouraged to get creative.
For golf enthusiasts, the

New Kuta Golf Club

(11km) features an 18-hole course overlooking the ocean.
Both five star and local

restaurants

are plentiful and close by. Bulgari and Ayana resorts are among the favourites and the Rock Bar at Ayana is a must-see for sunset cocktails. Finns at Semara has a beach club for more casual dining.
A

seafood feast at Jimbaran

is a must for every holiday in Bali – dozens of seafood warung (cafés) line this west-facing beach, perfect for a sunset dinner.Fine dining options are available at most of the big resort hotels in this area; notably PJ's, the charming beachside restaurant at the Four Seasons in Jimbaran, serving Mediterranean-styled cuisine. And Balique on Jalan Uluwatu in Jimbaran, is a delightful vintedge restaurant serving great food and cool cocktails.
Nusa Dua's Bali Collection mall has a host of

local boutiques

and a department store. Heading towards Kuta (about 40 minutes) brings you to Galleria shopping mall while nearby Tuban has Discovery Mall and streets lined with local shops. Seminyak boutiques are about an hour away.

Uluwatu's clifftop temple

is well worth a visit. Home to mischievous monkeys which are considered sacred in Bali, Pura Luhur Uluwatu is one of the island's most important temples. Get there in good time for Sunset to watch the enthralling Kecak Ramayana & Fire Dance.
Learn to surf or stand up paddle at Jimbaran Bay, a great place for beginners. Rip Curl School of Surf offers day courses and provides all the equipment.
The most exclusive

Bali trekking tour

promises breath-taking vistas and heart-warming encounters while supporting sustainable social change in the once-forgotten villages of Muntigunung. Elite Havens is a proud partner of Muntigunung Community Social Enterprise.

Covering 3.8 hectares of tropical parkland in Kuta,

Waterbom

Bali has 16 water slides (including The Climax with its 360 degree loop) to entertain the young and the young at heart. A great family day out, but go early to beat the crowds.


LEAVE THE PLANNING TO US
Shake off the stress of holiday planning. Let the Elite Concierge take care of all your bookings and arrangements, from transport, tours and restaurant reservations, to any special requests for your arrival. We're here to make your holiday experience extraordinary.
Quick facts
Location
Kutuh Village, The Bukit Peninsula, South Kuta, Bali, Indonesia.
Capacity
8 Adults (4 bedrooms: 2 with king beds, 2 with twin beds) plus 4 extra beds on request at additional cost.

Living areas
Upper floor, open-sided lounge; ground floor dining for 14 with second sitting room; TV lounge and bar area.
Estate staff
Villa Manager; assistant manager; full-time chef; 24-hour housekeeping, butler service and security; garden and pool staff; maintenance engineer; in-house spa therapist. Babysitters available on request.
Dining
Western, Asian, vegetarian and children's dishes. Requests accommodated (including special diets).
Communication
WiFi internet access; landline for international and local calls; mobile phone coverage.
Entertainment
Satellite TV; DVD and Blu-ray player.
Spa & sport centre
Full-size tennis court; squash court; spa and gym.
For families
Villa Rose is well-equipped for families, and can provide baby cots, high chairs and booster seats on request.
Transport
A 7-seater car with driver is available on a complimentary basis for up to 8 hours a day. Additional hours are charged on guest account.
Wedding & events
Offering an unbeatable clifftop setting, with large lawns and exceptional purpose-built guest facilities, weddings and events for up to 400 people can be arranged at the estate with prior notice.
Additional facilities
Barbecue; diesel powered back-up generator; safety deposit boxes in all bedrooms.
The layout
Indoor Living
Delightful open-sided, upper-floor living area with spectacular ocean views and plentiful seating.
Glass-walled dining room with unique 14-seater table set on the base of a polished tree trunk, and a separate sitting area.
TV lounge and bar counter with massive semi-circular couch facing a 50-inch TV with satellite channels, DVD and Blu-ray player.
Outdoor Living
Two large furnished decks in the clifftop garden – one poolside, the other adjoining the dining room
Poolside guest washrooms.
18-metre clifftop infinity swimming pool.
The rooms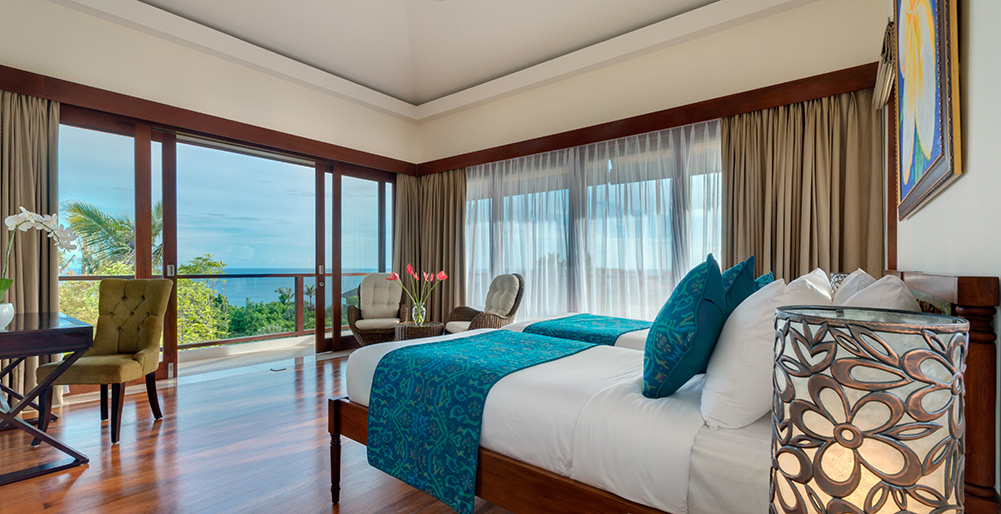 Bedrooms
Four almost identical ensuite bedrooms – two king-bedded and two twin-bedded – create an ideal set-up for families.
All rooms feature sliding glass doors opening onto either balconies or terraces overlooking the pool, gardens and ocean.
All are air-conditioned, have floors of teak and marble and are distinguished with bright, traditional ikat fabrics.
Bathrooms feature teak woodwork, marble floors and vanities, freestanding bath tubs, well-lit fitted dressing areas and glass-enclosed showers.
Dining
Pandawa Cliff Estate's personal chef and his skilled team are at your service to prepare complimentary daily breakfast, as well as snacks, lunch and dinner selections from the villa's extensive restaurant-style priced menu. From freshly made salads and seafood pasta to traditional Indonesian favourites, succulent steaks, and classics such lobster thermidor, plus a range of sinful but delicious deserts – a mouthwatering choice of dishes are available whenever and wherever you chose.
The chef and his team will also be pleased to prepare meals according to guests' request and to cater to special diets. To make the most of the kitchen and allow time for grocery shopping, please discuss meal requirements with your Villa Manager or senior butler in advance.
View a sample menu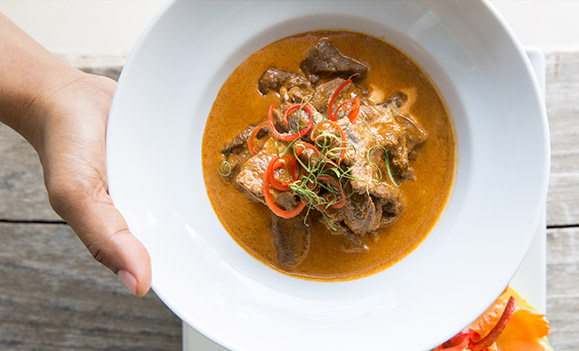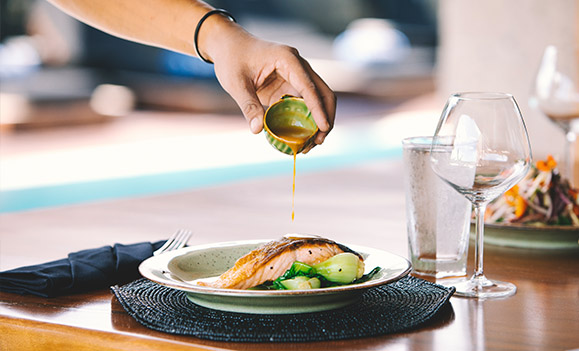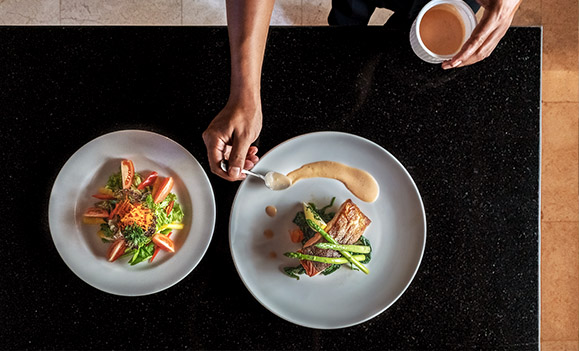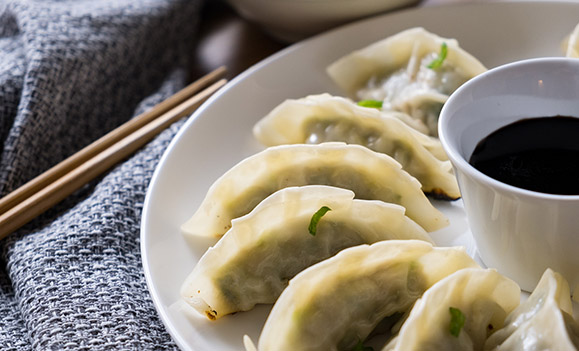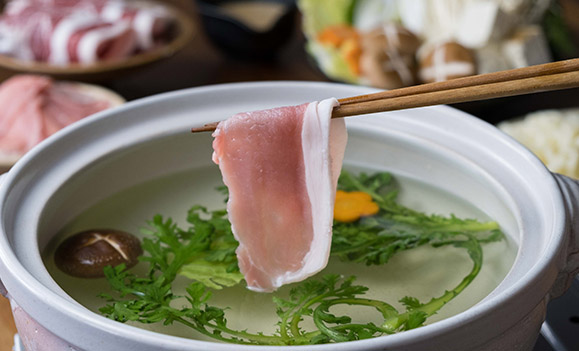 Reviews
Thank you for being such wonderful hosts. The grounds and views are spectacular and the rooms and spaces are very clean. The food has been excellent, the staff has been very attentive. The one possible area for improvement - The hot water in our villa only worked some at the time over. Amazing experience.
21-Jun-2022 - 24-Jun-2022
Frances L
United States
What an amazing place for a family holiday. Spacious surroundings and amazing easy relaxed decor. All amenities covered. Staff are exceptional and give a whole new meaning to going the extra mile. Nothing is too much trouble to the amazing staff. Food was fabulous every day, every meal. We will be back.
12-Jun-2022 - 21-Jun-2022
Chloe A
New Zealand
We are enjoying our stay in Pandawa Cliff Estate. Excelled service and the villas got great view. And the staff are friendly and helpful. Very recommended and definitely gonna be back here and the future. Thank you.
14-May-2022 - 18-May-2022
Ferry S
Indonesia
We are enjoying our stay in Pandawa Cliff Estate. Excellent service and the villas got great view. All the staff are friendly and helpful. Very recommended and definitely gonna be back here in the future. Thank you!
06-May-2022 - 09-May-2022
Elina J
Indonesia
We all come with high expectation but we're blown away with such a superb Villa with A+ hospitality. Our travel parties come with some limitation, hence the need for extra care! i.e. elderly & disability. Pak Putu & Pak Adi were both like our extra sets of hands, they both cared and treated us all and made all of my parents feel at home. This will certainly be the highlight of our Bali's trip.
... more
28-Apr-2022 - 01-May-2022
Aldwin A
Indonesia
Wonderful view! Definitely gonna go back here. For the great service and a very clean rooms. God Bless Pandawa Cliff and all the people here!
16-Apr-2022 - 17-Apr-2022
Ibu R
Indonesia
Excellent!! Very good service We always come here if we go to Bali!!
23-Mar-2022 - 25-Mar-2022
Bapak J
Indonesia
Overall our family really happy to stay in here. The service is good with beautiful view. The food is so good, but little note with the chili not strong with 27 pcs. If we have another time, hopefully we will come back again. But we hope the foods have more variants breakfast/lunch/dinner. Thank you for the good service.
11-Mar-2022 - 14-Mar-2022
Kevin Rayner Talehata And M
Indonesia
Good view. Good service.
16-Jan-2022 - 20-Jan-2022
Ibu N
Indonesia
it's pleasure to stay here for 3 nights, the hospitality is admirable as well as the environment of the villa. Amenities is great and luxury. The Hotel is just in the corner of the cliff, side by side with Indian Ocean. It's very recommended for those who look for a peaceful stay in Bali. The staff are very kind, helpful and very friendly. Breakfast and lunch are also tasty. Thank you so much
... more
16-Dec-2021 - 19-Dec-2021
PTB J
Indonesia
Next trip we plan to stay here again when we're in Bali. Thanks to all staff members. Good service.
28-Nov-2021 - 01-Dec-2021
Mr C
Indonesia
Booked this place at the very last minute for my daughter's birthday and I couldn't find one thing to complain about. So glad that the place is better than I expected. All staff members are super nice and helpful. Thank you so much for the great service!
24-Oct-2021 - 25-Oct-2021
IPTU S
Indonesia
First time here and already wanting to come back soon. Amazing experience and top-notch service by the whole team! SUPERB HOSPITALITY. All their work is spick & span, which I truly appreciate. Keep up the good work, team Pandawa Cliff Estate! I will be leaving my heart behind, here in Villa Rose.
18-Oct-2021 - 24-Oct-2021
Ibu N
Indonesia
Thank you Pandawa Cliff Estate. Great service!! Clean room!! Great villas!!
01-Sep-2021 - 03-Sep-2021
Ken K
Indonesia
To the kindest and most caring staff of Pandawa Cliff Estate. Thank you for the perfect setting for my mother's birthday. It was magical.
11-Aug-2021 - 12-Aug-2021
Reni R
Indonesia
Had an amazing stay experience here. Thank you to the staff. Everyone was very helpful. See you again.
13-Jul-2021 - 16-Jul-2021
Mr A
Indonesia
Excellent service!! The staff was really kind & helpful. The room was also very comfortable. Overall, a great stay here! Thank you.
27-Jun-2021 - 01-Jul-2021
Ibu P
Indonesia
Great service as always. We love this place. We will see you again soon.
12-Jun-2021 - 15-Jun-2021
Warren C
Australia
Amazing place, top hospitality, kind staff, clean and well maintained villa.
06-Jun-2021 - 07-Jun-2021
Andrea P
Indonesia
Amazing place, top-notch hospitality. The staff members are kind and keep the villa clean and well maintained.
04-Jun-2021 - 06-Jun-2021
Andrea P
Indonesia
Thank you for the great hospitality shown by the team here at Pandawa Cliff Estate. The view was great, place seems brand new but best of all, the very friendly team that catered to all our needs! 5 * (stars) all the way! Thank you.
13-Mar-2021 - 15-Mar-2021
Victor K
Indonesia
Very nice villas, all staff members are friendly and very helpful. Looking forward to come back again. Thank you so much!
28-Jan-2021 - 31-Jan-2021
Mrs S
Georgia
This is my second time staying here, and I hope there will be many more visits in the future. My favourite location is Bali! I particularly want to thank the staff for being incredibly helpful & professional. See you soon!
27-Dec-2020 - 28-Jan-2021
Warren C
Australia
Nice place and good service. Very recommended.
06-Mar-2020 - 09-Mar-2020
Michael T
Indonesia
Thanks so much for hosting us. Our wedding became possible because of all of you! The villa is so beautiful and nicely maintained. The people are very helpful and friendly. We really feel like home! Thank you again and we hope to come back again soon!
26-Feb-2020 - 29-Feb-2020
Veronica & Brian
Indonesia
Pandawa Cliff Estate is a nice place for destination wedding. Good location. And all staff very attentive.
21-Feb-2020 - 24-Feb-2020
Vincentia V
Indonesia
All of the service was really good. Good food, good view, good facility, good place. Will be coming back soon for sure. Thank you.
14-Feb-2020 - 17-Feb-2020
Disan & Rani
Indonesia
Terima kasih untuk Pandawa Cliff Estate telah menjadi tempat penyelenggaraan pernikahan Albert & Wennie. Terima kasih untuk pelayanan yang diberikan semua baik. Terima kasih, God Bless You.
07-Feb-2020 - 10-Feb-2020
Wennie I
Indonesia
Good service, good staff, good villa and well maintained. We will be back again next year.
11-Nov-2019 - 14-Nov-2019
Bisalemba Family
Indonesia
It's a wonderful place for celebrating important occasions. We feel very comfortable and enjoyed the gardesn and the pool - magnificent.
30-Aug-2019 - 02-Sep-2019
Gelhard and Ulrike
Netherlands
Really beautiful villas. Had a wonderful three nights stay with such a beautiful wedding arrangement, a WOW view everyday facing the ocean. Spotlessly clean villa and friendly staff. Kudos for everything, well done and thank you Pandawa Cliff Estate for this memorable experience.
19-Jul-2019 - 22-Jul-2019
Gary and Jean
Indonesia
Delightful stay in the villa Rose. Perfect way to celebrate special friend Carmen's Birthday. Excellent staff interaction, thank you.
09-Jul-2019 - 14-Jul-2019
Pam D
Australia
What an incredibly beautiful and serene setting for a wonderful celebration of love and commitment between Lyn and Jackson. The staff at Pandawa Cliff Estate were very attentive and went out of their way to make feel at home here. Thank you for the wonderful hospitality.
21-Jun-2019 - 24-Jun-2019
Yuen and Ridley
Singapore
What an incredible stay we're had. Service and food was exceptional and Adi and Putu made our stay perfect. Absolutely amazing time! Thank you for everything.
11-Jun-2019 - 14-Jun-2019
Danielle and Sean
Australia
Great views and staff mostly excellent. Agus the butler in particularly took great care of us and I could rely on him to settle any problem. Absolute rock star. Spa was great too. Overall it was a great stay.
07-Jun-2019 - 10-Jun-2019
Vin and Chen
Australia
The villa was amazing to stay at. Staff all so friendly and would love to come again. Enjoyed every moment.
31-May-2019 - 03-Jun-2019
Monique and Matthew
Australia
Terima kasih atas semuanya. Thank you for the attentive service and this villa is an amazing place. I will definitely return and recommend this villa to family and friends.
24-May-2019 - 27-May-2019
Natalie I
Singapore
Thank you so much to the wonderful staff at Pandawa Cliff Estate. Service was amazing and the staff were fantastic. It meant a lot when all the staff spoke to our children back in Australia on face time. That is something they will always remember. Thank you again.
20-May-2019 - 23-May-2019
Grace and Clint
Australia
Thank you so much for looking after us all in this beautiful place. The staff were very pleasant and polite and nothing too much trouble.
16-May-2019 - 19-May-2019
The Briggs Family
United Kingdom
Beautiful villa. Adi and the rest of the staff here made the stay here extremely enjoyable. David and Kay's wedding out on the lawn was on of the most beautiful weddings I've been to. Thank you for everything you do.
13-May-2019 - 16-May-2019
Sarah and Jeff
Singapore
Thank you to the wonderful staff at Pandawa Cliff Estate for a truly memorable experience. The wedding held on the lawn at Villa Rose was simply spectacular. Every little detail was superbly arranged. We loved staying here and would recommend to our family and friends.
10-May-2019 - 13-May-2019
Seb and Cirace
Australia
Our family had one of the best experiences of our lives here. The staff were spot on and catered for our two little ones at every chance they had. We are very grateful to be able to stay here.
07-May-2019 - 10-May-2019
The Murrays
Australia
Very good service. We spent two days here and had a very good experience. The staff and the view was incredible. Overall, I loved living here.
29-Apr-2019 - 02-May-2019
Tianyi R
China
Thanks for the awesome time here. Staff were friendly, courteous, and always willing to help.
19-Apr-2019 - 22-Apr-2019
Michael L
Australia
Thank you to all the staff at Pandawa Cliff Estate. Our stay was the most delightful experience throughout Bali that we have ever had. Thank you for making Joe and Naomi's wedding THE MOST AMAZING of all time. On behalf of all the guests staying here, we all thank you so much.
11-Apr-2019 - 14-Apr-2019
Ben N
Australia
Terima kasih kepada Pandawa Cliff Estate atas pelayanannya Villa and viewnya bagus, acara pernikahan putra kami sukses ditempat ini. Kami keluarga besar berbahagia dan senang.
04-Apr-2019 - 07-Apr-2019
Ny Lilis
Indonesia
Thank you for a wonderful stay at Villa Rose, Pandawa Cliff Estate. The staff are lovely and are always willing to help with any problem and request we had. We originally came for the Wedding of Julia amd Howard and apart from the stunning views and surroundings, we would like to thank the staff for making everything run smoothly. This is most definitely one of the most memorable
... more
28-Mar-2019 - 31-Mar-2019
Wan Family
Singapore
Thank you, Its been a fantastic stay. Awesome food and awesome service.
18-Mar-2019 - 22-Mar-2019
Ralf C
Indonesia
Thank you so much for your hospitality. Everyone had a great time, would definitely recommend and come again.
15-Mar-2019 - 18-Mar-2019
Kevin T
Indonesia
Service was great, have had an amazing 3 days. Staff were fantastic. Will come back again.
12-Mar-2019 - 15-Mar-2019
Michael W
Indonesia
A fantastic and amazing place to stay! The views and facilities are just unreal. The staff here have been amazing and we have been very well looked after. I would come back here in a heartbeat.
08-Mar-2019 - 11-Mar-2019
Damien K
Philippines
Enjoyed the stay so much. The staff were so helpful and accommodating. All the villas and grounds are so well rept, they look amazing. Thank you for everything, would highly recommend Pandawa Cliff Estate to friends.
01-Mar-2019 - 04-Mar-2019
Luke A
Australia
Thank you so much for your amazing service, all of our guests had great time here and happy memories. You guys are the best villa staff ever - everybody felt very secure while they staying. Thank you again.
06-Feb-2019 - 11-Feb-2019
Yoonjung D
South Korea
Superb. All the effort of Pandawa Cliff Estate made our family holiday an exceptional experience. The estate and facilities are beautiful and well maintained however the warmth and friendliness of the staff makes it extra special - always smiling, always willing to help. This of course include drivers - ensuring we were happy and safe. We thank you and hope to return.
03-Jan-2019 - 11-Jan-2019
James M
Australia
Pandawa Cliff Estate is paradise. A picture perfect setting made magical by flawless staff - so friendly and accommodating. The property is maintained to a highly standard. The entire experience is nothing short of magical. Thanks Anom and your wonderful team - an unforgettable break.
24-Dec-2018 - 03-Jan-2019
Tim L
Australia
Pandawa Cliff Estate team, such an amazing villa with exceptional views! Staff are very friendly and helpful. Two thumbs up and we'll definitely pay another visit here when next in Bali
21-Dec-2018 - 24-Dec-2018
Kevin Suandar P
Indonesia
Thank you very much for a wonderful stay here in 2018! The staff were very attentive throughout our stay. We were have to attend a wedding and everything went very smoothly. Very well cleaned and a beautiful villa. Will recommend it to anyone.
13-Dec-2018 - 16-Dec-2018
Seah Family
Singapore
Nice place to enjoy life. Our first experience to Pandawa. Excellent place, ambiance, food and services. It's our promise will come back again soon. Excellent services and polite people. Thanks to Pandawa Cliff Estate and staff. You had done a great job! Many thanks for your kind hospitality.
07-Dec-2018 - 10-Dec-2018
Barow- Thania
Indonesia
This stay has been absolutely awesome. The staff were always so friendly and helpful and always attended to all of our needs. Would recommend to any potential guests. Also loved the food and entertainment. Thank you so much.
01-Dec-2018 - 07-Dec-2018
Carla and Justin
Indonesia
You have made our stay at Villa Rose absolutely amazing. First class service and we always loved seeing your friendly faces. I wish you could party with us. Thank you for your dedication not only on the beautiful wedding day but during our whole stay.
01-Nov-2018 - 04-Nov-2018
Amanda R
Australia
Thank you so much for being such a great help. Always attentive and friendly, you all made our weekend 100 % more fantastic. This beautiful wedding wouldn't have been possible without all your wonderful help. Thank you so much.
26-Oct-2018 - 29-Oct-2018
Daniel and Nat
Indonesia
Thank you for the wonderful 3 nights at villa Rose. The staff were amazing, especially with the children. Food was fantastic! Thanks again.
24-Sep-2018 - 27-Sep-2018
Gavin and Casie
Australia
We have a wonderful time staying in this villa for 3 nights. All the staff here are friendly and efficient. I will definitely recommend this place to all of my friends.
21-Sep-2018 - 24-Sep-2018
Gary L
Australia
Villa is excellent, staff did everything that we asked for and nothing was ever to much trouble for them. Food was delicious. The day of my sons wedding they were very helpful. Would definitely recommend this villa. Outstanding - Ratna our butler was fabulous. She was always on hand to do and help with everything.
18-Sep-2018 - 21-Sep-2018
Deb W
Australia
Thanks so much for your hospitality and great service. The villa is gorgeous and we all had an amazing stay. Thank you.
06-Sep-2018 - 08-Sep-2018
Tarryn W
Australia
What a marvelous stay at Pandawa. Food, staff, scenery, everything was a delight. We enjoyed our stay very much and extend our appreciation to all the very helpful staff. Everybody so cheerful and warm. Thank you.
20-Aug-2018 - 23-Aug-2018
Paul and Abbie
Australia
Thank you, we truly enjoyed our time and will remember PCE for many years ahead.
09-Aug-2018 - 12-Aug-2018
Sarah and Ryan
Australia
I really enjoyed my few days at Pandawa in July for a wedding. Beautiful location, tranquil plus top service. I hope to return again one day.
13-Jul-2018 - 16-Jul-2018
Rana L
Australia
Everything was extremely good from the food to the events to the housekeeping. A tremendous thanks to you guys for having us.
29-Jun-2018 - 06-Jul-2018
Gope V
Indonesia
What an incredible venue. The staff are absolutely amazing and cannot do enough for you. They are attentive whilst being discrete and seem to predict what you need before you even ask. They hosted a wonderful rehearsal dinner for us the night before the wedding and the set up was beautiful. Every guest at the villa and every guest that attended the event around our wedding here commented on
... more
25-May-2018 - 28-May-2018
Jenna and Daniel
United Kingdom
I cannot thank the beautiful staff enough for making our wedding and vacation the most memorable time of our lives. Thank you to the wonderful staff for all your help. We cannot convey in words how grateful we are.
14-May-2018 - 17-May-2018
Irina and Ari
Australia
You have been amazing during our three days stay. Thank you so much for taking care of us and our families. They have all praised you highly. Anything they needed you all did without a hassle. The three villas are just gorgeous. They are well maintained. We will definitely tell all of our friends and families back home in Melbourne. We will definitely be back in the near future.
11-May-2018 - 14-May-2018
Sonia D
Australia
This has been the best experience of our lives. Your entire crew here has been outstanding. We will remember this for the rest of our lives. Thanks for the memories.
08-May-2018 - 11-May-2018
Justin and Angela
Australia
Thank you for your great service and hospitality during our stay and wedding day. We are very impressed and satisfied with the whole experience during our stay at Pandawa. Keep up the good work and we will seeing you again in the future.
27-Apr-2018 - 30-Apr-2018
William S
Indonesia
Thank you for making my 50th birthday celebration extra special. All of you worked above and beyond expectation to make me and my guests feel welcome. Your hospitality is top notch. Thanks again for all that you do.
19-Mar-2018 - 25-Mar-2018
Brian H
United States
Thank you by making this wedding vacation an enjoyable one. The place is well maintained and clean and your crew are always there for us providing advice and their assistance.
13-Mar-2018 - 16-Mar-2018
Wan & Haoyi
Hong Kong
You are all very warm, welcoming, friendly and helpful. Service is attentive and efficient. Than you for your hard work and service, taking care of us all. Villa is clean, neat have his own unique Balinese style but modern and stylish. View is amazing, quiet place and peaceful. Thank you so much, keep up the good work.
27-Feb-2018 - 02-Mar-2018
Ms N
Hong Kong
Thank you so much for taking such a good care of our family and friends who stayed at the villas in the past 3 days. The villas is beyond our wildest imagination, our wedding was incredible, which will be in our memories for a lifetime. Thank you again from from the bottom of our hearts.
24-Jan-2018 - 27-Jan-2018
Yenny T
Indonesia
A massive thank you for the whole team for going above and beyond during our time here. The wedding day was beautiful and we really loved the extra effort the staff went through to make sure we had fun.
18-Oct-2017 - 21-Oct-2017
Jessica K
Singapore
We have had the most incredible time here. Words do little to explain the magic this place offers. Not once we feel without. Diego was always available and made all our wishes reality. We hired the entire estate for our wedding party and it did not disappoint. Our wedding was magical, thanks to Pandawa and Your Bali Wedding. Every guest raved about the wedding recovery pool party. Thank you
... more
27-Sep-2017 - 30-Sep-2017
Vanessa P
Australia
An amazing, stunning place. We are so in awe of the beautiful estate, all of its staff, everyone was so amazing. Thank you so much. Diego your help with everything was fantastic, we truly appreciated it all. Thank you to the amazing staff, with special big thanks to Sugi, he is the man, he was amazing. Our wedding was the best day of our lives and we wish we could so it all again. Thank you
... more
19-Sep-2017 - 22-Sep-2017
Kate & James
Australia
It is hard to put into words how amazing our stay and wedding has been but how about WOW. We have had an unbelievable time and the service has been world class and very good value for money. We will highly recommend Pandawa and happy to promote via TripAdvisor. We will 100% return and we hope many other have the pleasure of getting married here.
06-Sep-2017 - 09-Sep-2017
Dan K
United Kingdom
Thank you so much for your service here since day 1. We had a nice vacation and wedding. It was wonderful. We will definitely come back again. The view is awesome, the villa is really clean as well. We will sure to recommend to our friends who will be visiting Bali next time.
04-Aug-2017 - 07-Aug-2017
Ken S
Indonesia
Thank you so much for your amazing hospitality. We had an amazing time here, your service was impeccable and the kids really enjoyed their stay in here. Our wedding, against the stunning backdrop of Pala and Rose was more beautiful that what we imagined when we saw online in photos. You have all made our special day and weekend so memorable, we would love to return and stay longer, how can you
... more
22-Jun-2017 - 25-Jun-2017
Adrian & Ozona
Australia
Monica, myself and all my guest would like to thank you all from the bottom of our hearts. You all such amazing people, you guys have given us the most amazing time and our stay with you guys has been a once in a life time experience for us all, something we all will never forget, You have all made us feel very welcome from first to our last day. You have all attended to every need we have all
... more
09-Jun-2017 - 12-Jun-2017
Monica & Jay
Australia
Thank you from the bottom of our hearts for helping us to create the most beautiful wedding day. It was so important that our family and friends felt comfortable, that they had a memorable, positive experience, you all assisted that with ease. Thank you for your hospitality, your patience, your professionalism, your gorgeous smiles. We felt very taken care of at all times, will treasure these
... more
01-Jun-2017 - 04-Jun-2017
Jessica & Travis
Australia
Thank you for making our stay a wonderful experience. The team were very friendly and accommodating to us and our guests. The venue itself is breathtaking. The views, the privacy, the facilities. Makes the whole experience unforgettable. On behalf of myself and my wife, our family and friends, thank you all for this experience.
26-May-2017 - 29-May-2017
Janice & Wilson
Indonesia
Thank you so very much. Words can't describe our incredible stay here at the estate. From the moment we arrived, everyone here welcomed us with smiling faces, making our guests fully enjoy their stay. Villa Rose was an amazing back drop for our wedding, better than anything we could ever have dream, followed by a magical reception in Villa Markisa. We had guest stay with us from all over
... more
18-May-2017 - 21-May-2017
Bree D
Australia
On behalf of my wife and all of our guest this week at Pandawa Cliff Estate we wanted to say what a fantastic time have enjoyed here. Perfection is hard to attain but Diego and his team here come as close to perfection as anyone could hope for. We had a fantastic stay, all did and we will not hesitate in recommending this place to anyone wanting to come and stay at. Please accept our deepest
... more
11-May-2017 - 15-May-2017
Ross C
United Kingdom
Our stay at the Pandawa Cliff Estate will be the most memorable highlight of our stay in Bali! We have been spoiled and so well looked after in this beautiful villas. The Pandawa Cliff Estate team are wonderful, efficient and well-coordinated, which only compliment in huge part the amazing property and its fantastic views. We loved every moment and we never wanted to leave! Thank you for
... more
22-Apr-2017 - 25-Apr-2017
Erwin & Dewi
Singapore
WOW WOW WOW. There are not words to describe how awesome the villa and staff have been during our stay! Our wedding was a true dream. Can't wait to go and rave about Pandawa to everyone and book in our next trip back here.
10-Apr-2017 - 13-Apr-2017
Fraser & Laura
Australia
The venue and staff were simply incredible. We would highly recommend Pandawa to anyone.Thank you and we hope to see you again.
30-Mar-2017 - 01-Apr-2017
Maria & Jamie
Australia
Thank you so much for taking care of all of us during the time we were here. Everything was perfect and you guys couldn't do enough for us. We hope we will be back and enjoy your hospitality again! Thanks again!
16-Mar-2017 - 19-Mar-2017
Josh T
Singapore
Thank you for an incredible stay! The staff, the food, the location, the facilities all outstanding. We are so grateful for our time here. Thank you for looking after us so well!
28-Feb-2017 - 02-Mar-2017
Escape H
Australia
This has been the best offsite our international team has ever had. The villas (Rose, Markisa, Pala) were beautifully maintained. Our requests were met promptly and with a smile - always! Thank you very much for making this memorable for us. We will come back again.
19-Jan-2017 - 22-Jan-2017
Shahirah A
Singapore
Perfect for what we needed. Isolated. And beautiful. Provided for a small community but set up to allow personal spaces at the same time. Staff always willing to help, and always with a smile. Would recommend to anyone.
16-Nov-2016 - 20-Nov-2016
Nadia A
Australia
A huge THANK YOU for an amazing few days here. Our wedding was absolutely magical and all our guest were blown away by the beauty of the villa. The team here made sure everything was absolutely perfect for us. We felt like royalty! Thank you for an experience we will never forget. We are so grateful.
06-Sep-2016 - 08-Sep-2016
Tenille And P
Australia
We had the most amazing 4 days at your beautiful villa. Everything was absolutely perfect, exceeding the expectations. The staff made sure we were taken care of. Sugi was specially attentive and patient with our incessant demands. Best holiday stay ever - wonderful. Thanks you.
19-Aug-2016 - 22-Aug-2016
Raja Z
Malaysia
Thank you so much Pandawa Cliff Estate for the most wonderful stay. Everything has been perfect. The view of the ocean, watching the sun rise and sunset is simply breathtaking. The villa is so spacious and beautiful decorated. We've so enjoyed this space with our family. The staff have been so kind and accommodating, taking care of all our needs. I am so grateful and really hope to come back
... more
03-Jun-2016 - 07-Jun-2016
Helen Jenneson B
United States
Thank you for making our stay so beautiful. The staff are exceptional, the best in Bali. We can't wait to come back again next year.
07-Apr-2016 - 15-Apr-2016
Bree H
Australia
WOW, your villa is absolutely beautiful and breathtaking. The rooms are spacious and immaculate and the whole staff has outstanding service. I loved how we had speakers for every room. Our whole family would love to visit once a year for a relaxing vacations. Villa Rose will be talked about back in Korea. The friendly staff have also delicious meals and I must say the BBQ was the highlight.
20-Mar-2016 - 24-Mar-2016
Catherine A
South Korea
The service is very good, and the staff is very friendly and helpful. We really enjoy the time in the villa with beautiful views, nice swimming pool and nice BBQ and foods and the spa. Thanks for everything.
02-Feb-2016 - 05-Feb-2016
JING L
China
Great place to stay, lovely beachy vibe
26-Oct-2015 - 27-Oct-2015
Narelle W
Australia
Our stay at Villa Rose was truly memorable, the villa itself was amazing and the staff so friendly and nothing was a problem. Would love to come back.
08-Jun-2015 - 13-Jun-2015
Australia
Amazing views from the pool area, with services and food to make the villa a perfect place to unwind and relax. The villa is great to rent for large groups as well with the other Pandawa villas next door.
07-Feb-2015 - 08-Feb-2015
United States
Need more inspiration?
We're at your service