Villa Tirta Nila
The villa you chose is no longer available for rental from us but we have a portfolio of Elite Havens in various locations around South East Asia for you to choose from. Alternatively feel free to send us an enquiry and it'll be our pleasure to help you find the perfect villa for your next holiday.
4 Bedrooms
8 Adults
The luxurious, contemporary-designed Villa Tirta Nila invites guests to embrace the serenity of East Bali. Staffed by a warm and experienced team, this gorgeous, four-bedroom holiday home is located in the quiet village of Sengkidu, three kilometres from Candidasa on Bali's east coast – a secluded and beautiful place filled with swaying coconut palms and gentle sea breezes.
Here, guests will relish both the indoor and the alfresco living and dining spaces, and delight in the contemporary tropical architecture, the ocean-themed decor and the island-inspired furnishings. Ideal for families or groups of friends, the villa's air-conditioned interior presents a living and dining room, modern kitchen and a cosy TV room. All four spacious bedrooms have sea views and each is adjoined by an ensuite bathroom, two of which boast both indoor and outdoor rain showers. The beautifully manicured garden, complete with water features and grand-scale Buddha and Balinese goddess statues, is home to a private swimming pool, a seaside dining pavilion, a relaxation gazebo, a man-made elevated beach/volley ball court, and a furnished waterfront terrace with spellbinding views and direct access into the sea.
The villa is the perfect base for guests who wish to explore Bali's eastern regency of Karangasem – an exotic royal Balinese kingdom of forests and mighty mountains, emerald rice terraces, mystical water palaces and pretty beaches. This dramatically beautiful area is often dubbed the "Real Bali", where life goes on as it has for generations, yet with the welcome addition of modern-day comforts including, of course, Villa Tirta Nila – the perfect place to kick back and revel in five-star luxury in a setting that is second to none.
Read more
This haven includes
Unique features

Absolute Beach Front

Great views

Media/Games Room

Private Spa

Watersports
Location
Villa Tirta Nila is located within the quiet and natural environs of Mendira Beach in the tiny fishing village of Sengkidu, three kilometres from Candisasa on Bali's east coast. There is very little in the immediate area apart from a series of small beaches, coconut groves and banana plantations, and a traditional village and temple. It is safe for swimming here and the reef immediately in front of the villa offers good snorkelling. One kilometre up the lane are several hotels with restaurants and bars and a small sandy beach, which is safe for swimming. There is a charming collection of restaurants and simple souvenir shops in Candidasa.

More information for Things to do
Your villa manager will typically have a wealth of information about nearby places of interest and will help arrange transport and make any tour bookings for you. Do ask other members of staff about the local area too. Invariably some of them will live nearby and will be able to give an interesting insight into some of the fascinating aspects of Bali life.
In the meantime, here's a taste of some of the activities on offer within reach of the villa:
Twelve kilometres to the east of Candidasa, you will find the hidden

beach

of Pasir Putih, meaning 'white sands.' Fringed by a coconut grove and flanked by green headlands with a sheer cliff behind, you will feel like you have stepped back in time. The tranquil ambience, complete with the simple grass roofed eateries, is reminiscent of the Bali of the 1970s.
If you would like to witness the marine life under the ocean without having to get wet, take a 'Voyage of Fantasy' in the Odyssey

Submarine

. Accommodating 36 passengers with 2 pilots, the submarine will transport you on an unforgettable journey to a depth of 20 metres under the sea to explore the colourful coral reef. This is a great activity for families with young children.
The

hiking

around Candidasa is superb, and the villa staff can arrange for a local guide to escort you. At Bukit Asah near the village of Bug Bug, a gentle two-kilometre walk brings you to a hilltop outlook blessed with a beautiful panorama of the sea, the coastline and neighbouring islands. Longer hikes will take you through forested land and rice terraces. Along the way you will see many Balinese farmers working in their fields, and you can explore local villages.
At the peaceful 700-year-old

walled village of Tenganan

, the residents practice a time-honoured lifestyle based around ritual and ceremony. Many of the houses function as shops and workshops where expert craftsmen and women perform their centuries' old skills. Traditional 'ata' vine baskets are laid out in neat rows upon the ground, and artists display their lontar carved books. Inside the workshop homes, you can see and purchase the famous, highly valued double ikat textiles. The women will demonstrate the weaving process using small looms.
The picturesque

water palace of Taman Ujung

was built in 1919 by the last Raja of Karangasem. Resting in the vast pool is a series of intriguing, romantic pavilions linked by bridges, archways, and a shaded avenue of mango and frangipani trees.
Also built by the water-loving Raja is

Tirta Gangga

, a fabled maze of spine-tinglingy cold bathing pools and basins, spouts, tiered pagoda fountains, stone carvings and lush gardens showcasing a blend of Chinese and Balinese architecture.
Many of the

restaurants

in Candidasa offer a free pick-up and drop-off transport service, including the wonderful

Vincent's

, where you can relish romantic dining in a gorgeous garden, high quality international cuisine, superb service, cool and colourful artwork and lazy jazz music.

La Rouge

is another charming restaurant.

Bali Asli

is a restaurant and cooking school, near Amlapura. It is one of the island's best, serving traditional Balinese food created from home-grown ingredients and cooked in an authentic Balinese-style kitchen on wood-fired, mud brick stoves, which allow the real flavours of Bali to shine.
At the village of Jasri, visit the Sorga

Chocolate Factory

, where you can observe the entire chocolate-making process from the cacao fruit to the delicious organic chocolate bars and truffles. A tasting session is a must.
The picturesque, natural harbour and village of

Padangbai

is the departure and arrival point for the car-ferries and fast boats to and from Lombok. Head up the hill above the car-ferry dock and you'll find Bias Tugel Beach aka Pantai Kecil (the little beach, also known as

Secret Beach)

, complete with a number of

beachside warungs

serving food and drinks. Accessing this gorgeous patch of paradise involves scrambling down a cliff path.
LEAVE THE PLANNING TO US
Shake off the stress of holiday planning. Let the Elite Concierge take care of all your bookings and arrangements, from transport, tours and restaurant reservations, to any special requests for your arrival. We're here to make your holiday experience extraordinary.
Quick facts
Location
Sengkidu, Candidasa, Karangasem, Bali, Indonesia.

Capacity
8 adults (two master suites with king beds; two guestrooms with king beds – one of which converts to twin beds). Two extra beds available (additional charges apply).


Living areas
Air-conditioned living and dining room with dining table for 10; air-conditioned study/media room with TV/DVD player; outdoor dining pavilion with table for 10; relaxation pavilion.

Staff
Villa manager; chef; chef's assistant; villa attendant; gardener; pool maintenance; security guard.
Dining
A suggestion menu of Western, Asian, vegetarian and children's dishes. Requests accommodated (including special diets). Grocery cost is charged 20% handling fee which is subject to service and tax at the prevailing rate.
Communication
WiFi broadband internet access; landline for guest use (local calls).
Entertainment
iPod docking station; Bose speakers; International-channel TV; Blu-ray player; DVD player; DVD library; large collection of books and board games.
For families
Villa Tirta Nila is ideal for families. Facilities include: high chair; baby cot; baby bath facilities; DVDs; board games; books; toys and pool toys.
Transport
Car and driver requirements or taxi pick-ups can easily be arranged with your villa manager.
Additional facilities
Barbecue; safety deposit boxes in each bedroom; volleyball court; 2 bicycles.
Property area
655 sqm (villa). 2100 sqm (land).
The layout
Indoor living
Spacious air-conditioned living and dining room
Floor-to-ceiling doors that slide open to the garden and pool
Dining table for 10 adjacent to the kitchen
Cosy, air-conditioned media room with large TV and Blu-ray player
Outdoor living
Pool deck with sun loungers
15 x 6m infinity-edge swimming pool
Waterfront, open-sided dining pavilion with table for 10
Elevated, man-made beach with volleyball net
Seaside relaxation pavilion
Furnished terrace offering direct access into the sea
The rooms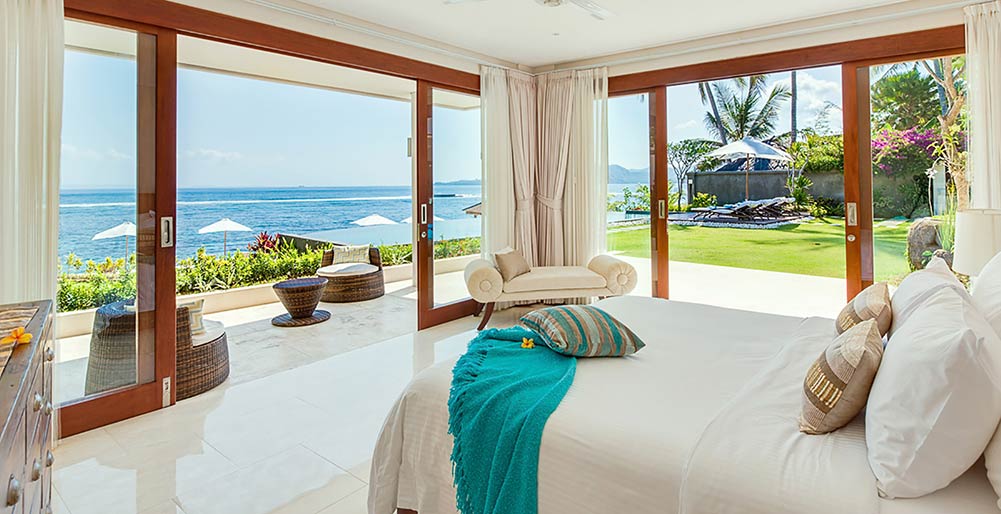 Master suite 1
Situated on ground level
King Bed
Sliding doors onto private terrace
Ensuite bathroom with indoor and outdoor rain showers
Master suite 2
Situated on the upper floor
King bed
Wraparound balcony
Ensuite bathroom with rain shower and freestanding bathtub
Guest suite 3
Situated on the ground floor
King bed that can be converted to twins
Sliding doors onto private terrace
Ensuite bathroom with indoor and outdoor rain showers
Guest suite 4
Situated on the upper floor
King bed
Balcony
Ensuite bathroom with rain shower
Dining
You are most welcome to take advantage of Villa Tirta Nila's well-equipped kitchen. However, you're on holiday, so why not just sit back, relax and enjoy some delicious home-cooked meals prepared by the villa's highly accomplished cook.
You will be offered a suggestion menu to make ordering easier, and you can also chat with the cooks if there are other specific dishes that you would like to try. Meals are generally served 'family style', where everyone shares dishes, as opposed to ordering individually. Food intolerances, special diets and children's meals can all be catered for, and the cook will, of course, adjust the seasoning of dishes to suit different palates. The villa also has a barbecue on site.
Grocery shopping will be done by the staff at local markets and supermarkets. All groceries and beverages are charged at market price (plus a 20% handling fee which is subject to service and tax at the prevailing rate). Guests will be requested to provide grocery money in advance, and the staff will keep receipts for reference. To give staff time to shop, it is a good idea to plan meals the evening before.
View a sample menu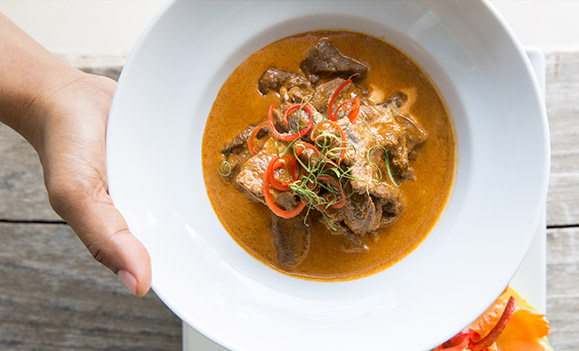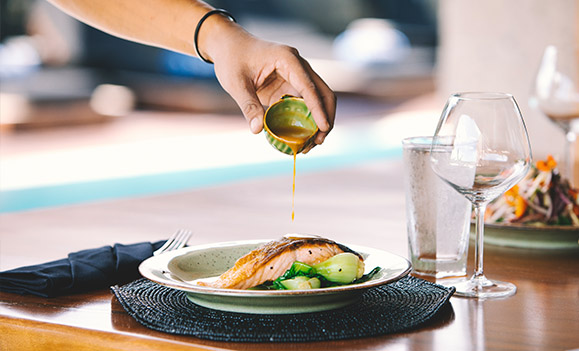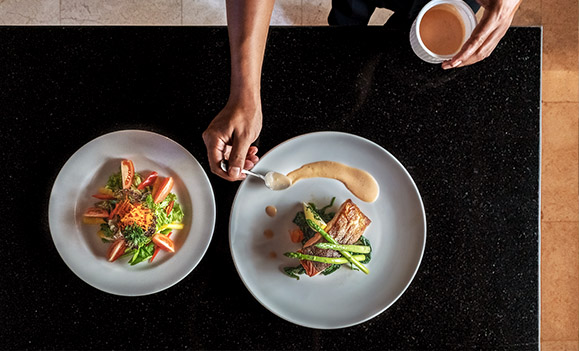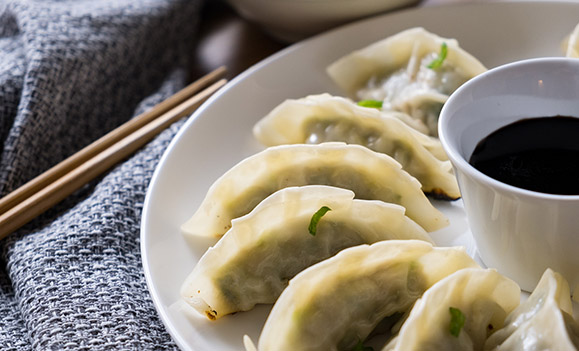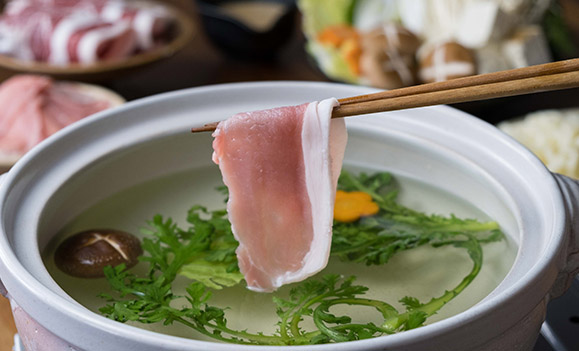 Reviews
We're so lucky to be visiting and immersing in to this most beautiful location, a special slice of paradise.The staff, so warm and friendly are delightful. Food was delicious, always prepared with upmost care. We had the most relaxing and enjoyable holiday, and this is our second visit as enjoyable as the first, which we hope will be more to come. Thank you to all the wonderful staff at Tirta
... more
13-May-2023 - 23-May-2023
Donna K
Australia
We had a beautiful week at Tirta Nila, what a piece of Paradise, for away from tourist Bali. staff are fantastic and looked after us so well. we are already planning to come back next year. wonderful place to stay. Marnie + Adrian.
06-May-2023 - 13-May-2023
Kerri W
Australia
Thank you for a fantastic vacation. We had a great 2 weeks vacation, Awesome team, Amazing food, Great Hospitality. Best. Paul, Johannes, Nadin ,Lucas Salgeber.
13-Apr-2023 - 28-Apr-2023
Frank S
Saudi Arabia
The stay in the Villa has been a very special time for us as a family. The staff have been wanderful and we have eaten very well. The Villa is beautiful and the Pool has just added to the experience. This was a family holiday of a life time and it has reached all expectations. Best wishes, Stave Louise and the Quin Family. Thank you.
04-Apr-2023 - 13-Apr-2023
Steven Q
United Kingdom
Thank you once again for spectacular service and the beautiful comforts of this villa this time. We got to spend beautiful nights here and the staff bent over backyards to accommodate, our needs and help us host a birthday party. We love being able to just relax in this little gem in Candidasa. See you all again as we will be back. Best wishes to the beautiful Staff.....from The Walker, The
... more
09-Nov-2022 - 14-Nov-2022
Meyers M
Australia
Dear Tirta Nila Staff, Thank you for a wanderful stay. you took care of all of us and our needs very well. We had a fantastic time. will be back next time for the amazing view and service. wish you all well. Best wishes, Tjiam Family.
15-Oct-2022 - 19-Oct-2022
FUI T
Indonesia
Thank you for the warmmest hospitality. The Place is home away from home where we got to rest, connect and enjoy what the island has to offer. We definitely will be back.
07-Oct-2022 - 08-Oct-2022
Kyin Y
Australia
OMG! this is our second stay @ Tirta Nila and I didn!t think it could get any better, but it did! The staff ave all sublime & we feel like we!re leaving friends. The facilities, pool, buildings etc are all beautifully maintained. we also love the snorkling out the front. Well done Tirta Nila, we!ll see you next time...much love....
24-Sep-2022 - 01-Oct-2022
Donna K
Australia
Heaven on earth, Beautiful location & staff. Always helpful, always smiling.
27-Aug-2022 - 03-Sep-2022
Michelle B
Australia
Tirta Nila is a special place, but what make it perfect is and are the friendly people you find in it. from deliciuos food, helping with minor health issues, we were very well cared for in this heaven and heaven on the ocean. We hope to come again. Sunny & Family.
20-Aug-2022 - 27-Aug-2022
Suncica W
Croatia
Thank you for an absolutely gorgeaus holiday ! Everyone was so kind, generous and lovely. the Villa is beautiful - a wanderful place to rest and relax ! we will definitely return to our ' home away from home in Bali !. so much love and respect to the wanderful staff. The Osmans Family.
04-Aug-2022 - 13-Aug-2022
Maha K
United Arab Emirates
Words can not explain the beauty of this villa, reef, garden view ect. We are gratefull . but above of all we are gratefull for the fantastic staff - this " Family " - feeling they give is amazing. we will miss it all deeply hope to see you and it all again some day. wish you all the best.
18-Jul-2022 - 26-Jul-2022
Tue L
Denmark
We feel grateful to have stayed in such a beautiful and memorable place during this holiday. The villa is beautiful but more importantly the staff were exceptional thrugh out our stay..they have been so welcoming to Us. but also to our sun who was charmed by them all. such a wind and welcoming energy here. Thank you for having us and we hope we can visit again soon.
11-Jul-2022 - 17-Jul-2022
Ida A
Australia
We've had the most amazing stay in this beautiful Villa with beautiful staff who care for us so well throughout our stay here. We will find it hard to match this Superb stay and holiday. Thank you. Until we return again, Peace, Love & Joy to everyone at Tirta Nila...
18-Jun-2022 - 23-Jun-2022
Howard C
Singapore
Gusti, Sumi + Team. Thank you for such a wonderful stay. The warmth and excellent service you have provided has been incredible and has made our trip. The food has been amazing! We have all loved spending the week with you. I hope that we can return someday. Many thanks.
10-Jun-2022 - 18-Jun-2022
Leanne C
Australia
Love the Villa - the design,the peacefulness + the Beauty. But most Importantly - We love the Villa Staff - so caring in the best of the Balinese culture. This is why I bring my Family to Bali, and your Villa was the best representative of the best of Bali + the People + Culture.
26-May-2022 - 30-May-2022
DIANA T
United States
A truly incredible stay! Tirta Nila is as close to heaven as one could possibly get we're sure. the Villa, the Location, but most of all the amazing staff made this anniversary vacation so truly memorable! We will definitely be back! Thank you so much.!
02-May-2022 - 09-May-2022
Reinhold & Kimberley K
Canada
Nice Villa, Clean, Friendly staff. Mr. Gusti is very friendly. All the best.
18-Mar-2022 - 21-Mar-2022
Herry C
Indonesia
Thank you very much for the service that has been given to Us during our stay. We are really amazed by the excellent service. Definitely we will come back here again someday. Amazing Villa, Amazing Service. Safe, comfortable and satisfying. Tasya
07-Jan-2022 - 10-Jan-2022
Natasya F
Indonesia
I think this is overrall great villa, great service and I had fun here. These 9 days were a fun experience and I even talk to the people sometimes. The food is nice, it's great that they ask about the schedule because that way they know what we are doing and they can prepare meal at the right.
24-Dec-2021 - 01-Jan-2022
Prasojo G
Indonesia
Thank you very much to Pk Gusti, Bu Sumi,Mba Vina,Pk Ketut,Bli Komang, Bli Ketut, Bli Edy. for 18 nights here, all helped a lot, so we felt comfortable staying here. The food was delicious, the friendly services makes us feel at home and really feel comfortable living here with our children. There was a Bonfire last night, making us and the children happy and unforgettable memory for us. Thank
... more
27-Nov-2021 - 15-Dec-2021
Yentonius J
Indonesia
The impression during a 3 days stay at Tirta Nila was extraordinary. it was really a beautiful Private Villa tha was not lacking, plus the staff was friendly. all customer wishes can be fulfilled. good job Tirta Nila.
03-Nov-2021 - 05-Nov-2021
Sabar S
Indonesia
Thank you for the hospitality! It was an extremely satisfying experience. We will come back again for sure and stay for much longer. Such a breathtaking view, friendly staff, and DELICIOUS FOOD. All the staff members were very friendly & helpful. We hope this situation will recover soon and get back to normal again.
18-Nov-2020 - 21-Nov-2020
Norman R
Indonesia
Tirta Nila is the perfect place to relax and unwind! As a group of 6 friends we found the house to be spacious and comfortable, with everything that was needed to make our stay memorable. The staff were extremely attentive and were available whenever needed. Exploring the coral reef at the bottom of the garden was an added bonus and definitely one of the highlights. All in all we had a
... more
29-Feb-2020 - 07-Mar-2020
Laura H
United Kingdom
Thank you for taking care of us, for the past 4 days. You were an Amazing addition to our beautiful time in Bali. You guys gave us wonderful memories and we will always remember you. Thank you for the great food, the good company and your wonderful smiles!
08-Dec-2019 - 11-Dec-2019
Nick N
Philippines
Tirta Nila is a paradise. Breathtaking views, delicious food, friendly staff, great location. 10/10 - would recommend - perfect for families looking to relax and quite close to tourist destinations. After staying for Tirta Nila for a week, I felt very relaxed and never wanted to leave. Candi Dasa offers an authentic Balinese style town on the coast and also near M Agung, I definitely would
... more
28-Sep-2019 - 05-Oct-2019
Mark H
Australia
This is a beautiful sea front villa - bright, airy, spacious and above all immaculately clean and well maintained by the staff. The staff here are incredibly helpful and friendly - they really wanted to make sure we were well taken care of. The BBQ dinner is a must - delicious, well presented and definitely one of the highlights of the day. Thank you chef for cooking our delicious meals. The
... more
12-Sep-2019 - 16-Sep-2019
Jessie F
Hong Kong
The arrival at the Villa was great - the staff gave us a very warm welcome. The villa is amazing and even beyond our expectations. It is built so private, exclusive and peaceful. The whole environment is so beautiful with the flowers, turtles and beach house of course. The infinity pool is amazing with the nice sunbeds. The food was also very nice. The staff surprised us with many Balinese
... more
22-Aug-2019 - 31-Aug-2019
Floris K
Indonesia
We have spent four fantastic nights at Tirta Nila. The location far surpassed expectations. As we walked through the front door and saw the view, we knew we had picked the right placed. The staff were very welcoming with a cold flannel plus fresh pineapple juice. All the rooms were beautifully appointed with plenty of space for all of our stuff. The staff were always there to help us when
... more
18-Feb-2019 - 22-Feb-2019
Alison A
Australia
Thank you for a fabulous stay at Tirta Nila. Wonderful Staff, view, and beautiful, clean rooms make for a perfect relaxing time in Bali. We could not recommend it more and plan to come back during our next trip to Bali.
25-Dec-2018 - 27-Dec-2018
Marc M
United States
Wow, thank you so much to the amazing staff at Tirta Nila - you all went above and beyond our expectation and made our week truly special. Every little detail of our stay was extraordinary, thanks to you. We are so grateful you've made this Honeymoon a week that we will forever look back on with fondness. We can't wait to be back again soon.
07-Nov-2018 - 14-Nov-2018
Sandra W
Australia
I wish I could give this villa 10 stars. The villa is amazing, the view, the ocean, the cleanliness - everything is exactly how it appear in picture. I want to review the villa for the staff mostly as Sumi, Gusti and Umon (our driver) were beyond hospitable. The service and attention that they offered us was second to none. Such amazing people. My Husband and I stayed here for our Honeymoon
... more
28-Oct-2018 - 02-Nov-2018
Braxton N
Indonesia
Wonderful stay in this sumptuous Villa Tirta Nila, decorated with great taste. The team were very kind and helpful. We loved the food at the villa and especially the Balinese dishes. Many thanks for making our holiday an unforgettable one.
05-Aug-2018 - 15-Aug-2018
Sebastien P
France
Tirta Nila is a special piece of paradise. On the ocean shore, private, elegant, luxurious, with tasty home-made meals prepared by wonderful team. They are very friendly, yet unobtrusive and here if you need them to help with anything - food choices or surprise wedding anniversary dinner. The house itself is splendid and offers an understated luxury with special touches of color and elegance,
... more
08-Apr-2017 - 16-Apr-2017
Suncica B
Indonesia
Wonderful luxury house with extremely helpful and lovely staff. Just paradise on earth, to recommend for everybody!
03-Sep-2016 - 07-Sep-2016
Rolf D
Indonesia
A dream location you can not get in Europe with full staff. Very luxurious beach house, clean and quiet, with helpful staff that is only there if you ask for them so we had still our privacy. Bali is a busy island, coming back in the beach house was an oasis of peace and quiet. With the continuous sound of the waves and the birds. We had the time of our lives.
21-Apr-2016 - 01-May-2016
Jan D
Indonesia
This villa will not disappoint. Have stayed in a few villas in Bali but this is by far the very best. Not one issue or complaint. The staff are amazing, friendly and cannot do enough for you. They cooked our daily breakfast and a few evening meals. These were really good and always plenty to eat. There is no need to leave. The pool is immaculate and the day rest just puts you to sleep. Rooms
... more
22-Mar-2016 - 29-Mar-2016
Lyn M
Indonesia
Need more inspiration?
We're at your service