The beating heart of Bali, Ubud, is tucked into its hilly hinterland. A cultural hub and home to the royal palace, it is situated at the confluence of two rivers, with endless streams tumbling down the hilly terrain. A haven for local and foreign artists since the 1930s, it is now a conglomeration of villages and the island's centre for fine arts and cultural performances, attracting art collectors, connoisseurs, writers, mystics, and people who are actively involved in art, anthropology, music, dance, architecture, environmentalism and alternative healing.

Ubud is the seat of the Sukawati Royal Family. The royal palace is centrally located and open to the public, where you can also witness traditional dance performances at night. The surrounding villages allow visitors where you can watch the island's most accomplished painters, stonemasons, woodcarvers, mask makers and silversmiths at work. Besides numerous shops, galleries, studios and a market, Ubud even has its own sacred monkey forest. Restaurants are plentiful, with varied cuisines on offer, but nightlife is limited with the majority of places closing around midnight.

Our luxury villas in Ubud incorporate the hilly terrain into their architecture and seem to be one with nature. Spilling over terraces, the villas offer respite and a tranquil holiday. Large, semi-open living spaces and terrace views make for congenial evenings, and the luxurious bedrooms often come with tropical baths. Private pools, personal gyms and game rooms keep the entire group occupied, else there's plenty to do in the area around.

The villas are managed by professional staff and your every need is met. Expect lush surrounds, with plants creeping up walls and allowing you to feel ensconced within the jungles around. The elegant interiors are a delight, with Balinese thatched roofs and artefacts from across the country. Alfresco dining and spa rooms allow you to soak in the atmosphere and tempt you to stay in, with mod cons like entertainment systems and WiFi for your sole use.

Ubud is the perfect area to use as a base when visiting Bali. The town claims most of the attributes that entice people to this exceptionally beautiful island – glistening rice terraces, traditional art and craft communities, ancient temples, palaces, and breathtaking river gorges. In fact, the Sayan Ridge is home to some of the best hotels and luxury residences in the world. Ubud's central location makes it very easy to get to the mountains and all of the major tourist attractions. It also has a cooler, fresher and generally more pleasant climate than the southern coastal regions.
Read more
---
Need more inspiration?
We're at your service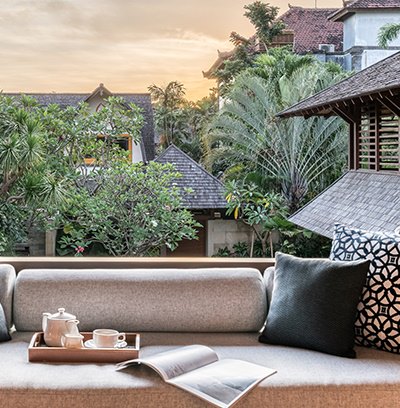 Read our reviews
See what our guests have to say about their stays
Read our reviews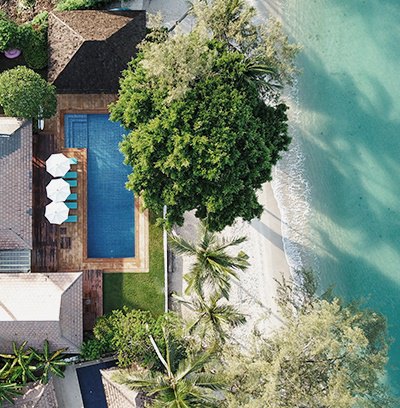 Our Signature Collection
Our Signature villa and chalets offer enhanced luxury at every level. Each tiny detail is taken care of, and small personal touches are sure to delight such as bespoke activities or fine dining with panoramic views.
See our signature collection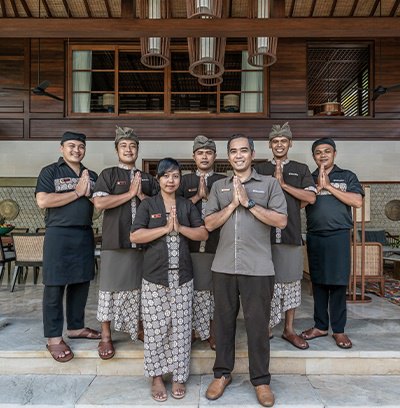 Contact us
Our Villa Specialists know each property inside out and would love to assist you in finding your ideal holiday home.
Start live chat