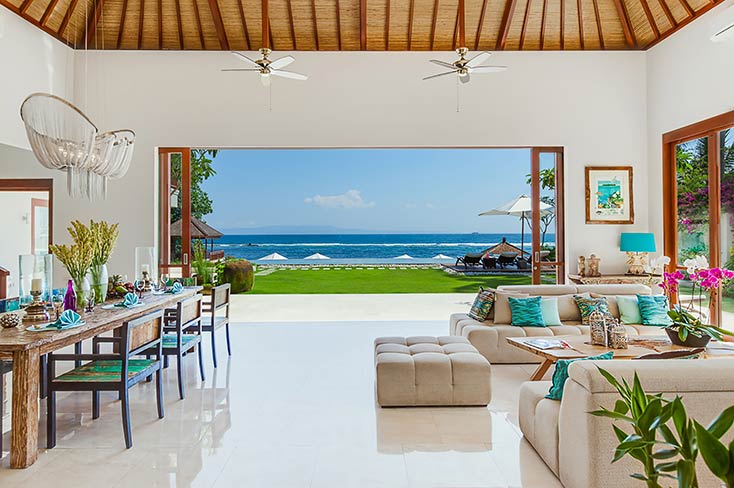 FUI T, Indonesia
,
15-Oct-2022
-
19-Oct-2022
Dear Tirta Nila Staff, Thank you for a wanderful stay. you took care of all of us and our needs very well. We had a fantastic time. will be back next time for the amazing view and service. wish you all well. Best wishes, Tjiam Family.
Kyin Y, Australia
,
07-Oct-2022
-
08-Oct-2022
Thank you for the warmmest hospitality. The Place is home away from home where we got to rest, connect and enjoy what the island has to offer. We definitely will be back.
Donna K, Australia
,
24-Sep-2022
-
01-Oct-2022
OMG! this is our second stay @ Tirta Nila and I didn!t think it could get any better, but it did! The staff ave all sublime & we feel like we!re leaving friends. The facilities, pool, buildings etc are all beautifully maintained. we also love the snorkling out the front. Well done Tirta Nila, we!ll see you next time...much love....
Michelle B, Australia
,
27-Aug-2022
-
03-Sep-2022
Heaven on earth, Beautiful location & staff. Always helpful, always smiling.
Suncica W, Croatia
,
20-Aug-2022
-
27-Aug-2022
Tirta Nila is a special place, but what make it perfect is and are the friendly people you find in it. from deliciuos food, helping with minor health issues, we were very well cared for in this heaven and heaven on the ocean. We hope to come again. Sunny & Family.
Maha K, United Arab Emirates
,
04-Aug-2022
-
13-Aug-2022
Thank you for an absolutely gorgeaus holiday ! Everyone was so kind, generous and lovely. the Villa is beautiful - a wanderful place to rest and relax ! we will definitely return to our ' home away from home in Bali !. so much love and respect to the wanderful staff. The Osmans Family.
Tue L, Denmark
,
18-Jul-2022
-
26-Jul-2022
Words can not explain the beauty of this villa, reef, garden view ect. We are gratefull . but above of all we are gratefull for the fantastic staff - this " Family " - feeling they give is amazing. we will miss it all deeply hope to see you and it all again some day. wish you all the best.
Ida A, Australia
,
11-Jul-2022
-
17-Jul-2022
We feel grateful to have stayed in such a beautiful and memorable place during this holiday. The villa is beautiful but more importantly the staff were exceptional thrugh out our stay..they have been so welcoming to Us. but also to our sun who was charmed by them all. such a wind and welcoming energy here. Thank you for having us and we hope we can visit again soon.
Howard C, Singapore
,
18-Jun-2022
-
23-Jun-2022
We've had the most amazing stay in this beautiful Villa with beautiful staff who care for us so well throughout our stay here. We will find it hard to match this Superb stay and holiday. Thank you. Until we return again, Peace, Love & Joy to everyone at Tirta Nila...
Leanne C, Australia
,
10-Jun-2022
-
18-Jun-2022
Gusti, Sumi + Team. Thank you for such a wonderful stay. The warmth and excellent service you have provided has been incredible and has made our trip. The food has been amazing! We have all loved spending the week with you. I hope that we can return someday. Many thanks.
DIANA T, United States
,
26-May-2022
-
30-May-2022
Love the Villa - the design,the peacefulness + the Beauty. But most Importantly - We love the Villa Staff - so caring in the best of the Balinese culture. This is why I bring my Family to Bali, and your Villa was the best representative of the best of Bali + the People + Culture.
Reinhold & Kimberley K, Canada
,
02-May-2022
-
09-May-2022
A truly incredible stay! Tirta Nila is as close to heaven as one could possibly get we're sure. the Villa, the Location, but most of all the amazing staff made this anniversary vacation so truly memorable! We will definitely be back! Thank you so much.!
Herry C, Indonesia
,
18-Mar-2022
-
21-Mar-2022
Nice Villa, Clean, Friendly staff. Mr. Gusti is very friendly. All the best.
Natasya F, Indonesia
,
07-Jan-2022
-
10-Jan-2022
Thank you very much for the service that has been given to Us during our stay. We are really amazed by the excellent service. Definitely we will come back here again someday. Amazing Villa, Amazing Service. Safe, comfortable and satisfying. Tasya
Prasojo G, Indonesia
,
24-Dec-2021
-
01-Jan-2022
I think this is overrall great villa, great service and I had fun here. These 9 days were a fun experience and I even talk to the people sometimes. The food is nice, it's great that they ask about the schedule because that way they know what we are doing and they can prepare meal at the right.
Yentonius J, Indonesia
,
27-Nov-2021
-
15-Dec-2021
Thank you very much to Pk Gusti, Bu Sumi,Mba Vina,Pk Ketut,Bli Komang, Bli Ketut, Bli Edy. for 18 nights here, all helped a lot, so we felt comfortable staying here. The food was delicious, the friendly services makes us feel at home and really feel comfortable living here with our children. There was a Bonfire last night, making us and the children happy and unforgettable memory for us. Thank you all. I hope everyone is staying healthy and hopefully we can meet again on another occasion. Jerry Monique. Oliver,Olivia.
Sabar S, Indonesia
,
03-Nov-2021
-
05-Nov-2021
The impression during a 3 days stay at Tirta Nila was extraordinary. it was really a beautiful Private Villa tha was not lacking, plus the staff was friendly. all customer wishes can be fulfilled. good job Tirta Nila.
Norman R, Indonesia
,
18-Nov-2020
-
21-Nov-2020
Thank you for the hospitality! It was an extremely satisfying experience. We will come back again for sure and stay for much longer. Such a breathtaking view, friendly staff, and DELICIOUS FOOD. All the staff members were very friendly & helpful. We hope this situation will recover soon and get back to normal again.
Laura H, United Kingdom
,
29-Feb-2020
-
07-Mar-2020
Tirta Nila is the perfect place to relax and unwind! As a group of 6 friends we found the house to be spacious and comfortable, with everything that was needed to make our stay memorable. The staff were extremely attentive and were available whenever needed. Exploring the coral reef at the bottom of the garden was an added bonus and definitely one of the highlights. All in all we had a fabulous time - staying at the villa made our first trip to Bali a wonderful experience! Thank you.
Nick N, Philippines
,
08-Dec-2019
-
11-Dec-2019
Thank you for taking care of us, for the past 4 days. You were an Amazing addition to our beautiful time in Bali. You guys gave us wonderful memories and we will always remember you. Thank you for the great food, the good company and your wonderful smiles!
Mark H, Australia
,
28-Sep-2019
-
05-Oct-2019
Tirta Nila is a paradise. Breathtaking views, delicious food, friendly staff, great location. 10/10 - would recommend - perfect for families looking to relax and quite close to tourist destinations. After staying for Tirta Nila for a week, I felt very relaxed and never wanted to leave. Candi Dasa offers an authentic Balinese style town on the coast and also near M Agung, I definitely would come back again if I had the chance. Everyone was lovely and friendly and were fantastic to talk to or play volleyball with.
Jessie F, Hong Kong
,
12-Sep-2019
-
16-Sep-2019
This is a beautiful sea front villa - bright, airy, spacious and above all immaculately clean and well maintained by the staff. The staff here are incredibly helpful and friendly - they really wanted to make sure we were well taken care of. The BBQ dinner is a must - delicious, well presented and definitely one of the highlights of the day. Thank you chef for cooking our delicious meals. The villa is well taken care of - sparkling clean. Facilities such as snorkeling equipment, beach balls,and chess, games are well prepared. You can spend the whole holiday here listening to the sound of the ocean and swimming in the infinity pool for days without the need to venture out.
Floris K, Indonesia
,
22-Aug-2019
-
31-Aug-2019
The arrival at the Villa was great - the staff gave us a very warm welcome. The villa is amazing and even beyond our expectations. It is built so private, exclusive and peaceful. The whole environment is so beautiful with the flowers, turtles and beach house of course. The infinity pool is amazing with the nice sunbeds. The food was also very nice. The staff surprised us with many Balinese dishes that were all very tasty. The villa is also very clean with AC-units in every room. We would like to thank the whole staff for this amazing stay.
Alison A, Australia
,
18-Feb-2019
-
22-Feb-2019
We have spent four fantastic nights at Tirta Nila. The location far surpassed expectations. As we walked through the front door and saw the view, we knew we had picked the right placed. The staff were very welcoming with a cold flannel plus fresh pineapple juice. All the rooms were beautifully appointed with plenty of space for all of our stuff. The staff were always there to help us when needed. We had planned to cook most meals ourselves, but the staff helped us prepare some of it. Breakfast were great. The pool was always clean plus we enjoyed long days there. There was some snorkel gear which we were able to use, and a volley ball court which we ran out of time to use. The staff were great at providing local information and organising in house facials and massages. Sumi was awesome with her help and knowledge and was an invaluable source of information - seemed to be here long days, but greatly appreciated. Vina, Eddy and Komang all were wonderful and attentive.
Marc M, United States
,
25-Dec-2018
-
27-Dec-2018
Thank you for a fabulous stay at Tirta Nila. Wonderful Staff, view, and beautiful, clean rooms make for a perfect relaxing time in Bali. We could not recommend it more and plan to come back during our next trip to Bali.
Sandra W, Australia
,
07-Nov-2018
-
14-Nov-2018
Wow, thank you so much to the amazing staff at Tirta Nila - you all went above and beyond our expectation and made our week truly special. Every little detail of our stay was extraordinary, thanks to you. We are so grateful you've made this Honeymoon a week that we will forever look back on with fondness. We can't wait to be back again soon.
Braxton N, Indonesia
,
28-Oct-2018
-
02-Nov-2018
I wish I could give this villa 10 stars. The villa is amazing, the view, the ocean, the cleanliness - everything is exactly how it appear in picture. I want to review the villa for the staff mostly as Sumi, Gusti and Umon (our driver) were beyond hospitable. The service and attention that they offered us was second to none. Such amazing people. My Husband and I stayed here for our Honeymoon and we pick the best place. This Villa is amazing and well worth the cost. We will definitely be back.
Sebastien P, France
,
05-Aug-2018
-
15-Aug-2018
Wonderful stay in this sumptuous Villa Tirta Nila, decorated with great taste. The team were very kind and helpful. We loved the food at the villa and especially the Balinese dishes. Many thanks for making our holiday an unforgettable one.
Suncica B, Indonesia
,
08-Apr-2017
-
16-Apr-2017
Tirta Nila is a special piece of paradise. On the ocean shore, private, elegant, luxurious, with tasty home-made meals prepared by wonderful team. They are very friendly, yet unobtrusive and here if you need them to help with anything - food choices or surprise wedding anniversary dinner. The house itself is splendid and offers an understated luxury with special touches of color and elegance, lush garden and flowers, marvelous pool, and your own coral reef just steps away in the ocean. Everything is exceptionally clean, every evening the staff sprays to keep the bugs out, so there were no mosquitoes around in spite of the lush garden and water fountains. What makes it even better is the team, their smiles, helpfulness, perfect mie goreng, smell of banana bread, breakfast in the bale, and smell of incense when the staff make offerings in the morning. We miss it and them already.
Rolf D, Indonesia
,
03-Sep-2016
-
07-Sep-2016
Wonderful luxury house with extremely helpful and lovely staff. Just paradise on earth, to recommend for everybody!
Jan D, Indonesia
,
21-Apr-2016
-
01-May-2016
A dream location you can not get in Europe with full staff. Very luxurious beach house, clean and quiet, with helpful staff that is only there if you ask for them so we had still our privacy. Bali is a busy island, coming back in the beach house was an oasis of peace and quiet. With the continuous sound of the waves and the birds. We had the time of our lives.
Lyn M, Indonesia
,
22-Mar-2016
-
29-Mar-2016
This villa will not disappoint. Have stayed in a few villas in Bali but this is by far the very best. Not one issue or complaint. The staff are amazing, friendly and cannot do enough for you. They cooked our daily breakfast and a few evening meals. These were really good and always plenty to eat. There is no need to leave. The pool is immaculate and the day rest just puts you to sleep. Rooms are very very clean. Highly recommend this place.