Villa Hamsa
The villa you chose is no longer available for rental from us but we have a portfolio of Elite Havens in various locations around South East Asia for you to choose from. Alternatively feel free to send us an enquiry and it'll be our pleasure to help you find the perfect villa for your next holiday.
4 Bedrooms
8 Adults
Poised on a clifftop commanding stupendous views of the ocean sparkling below, the four-bedroom fully staffed Villa Hamsa forms part of Sohamsa Ocean Estate, together with the five-bedroom Villa Soham. The villas are set in an enclave of exclusive villas on the southernmost part of the Bukit peninsula – a still unspoilt slice of Bali that feels far from the bustle of better-known tourism hotspots – yet are only half an hour from the airport and close to some of the island's best known attractions – the iconic Uluwatu sea temple, for example, the seafood restaurants of Jimbaran Bay, and world-famous surf breaks that lie just off enchanting sandy coves.
Within the beautifully designed villa – which skilfully combines contemporary architecture with natural materials from the Indonesian archipelago – are both formal air-conditioned and casual alfresco living and dining spaces, generously sized air-conditioned bedrooms and bathrooms, and a large infinity pool.
After a hearty breakfast served on the dining terrace, spend your morning cooling off with a few laps in the pool. After a leisurely lunch you'll deserve a sea-breeze siesta. Take your chauffeured car to Pandawa Beach for an afternoon swim or a kayak, then retire to the master suite and sink into the deep bath tub before dressing for sunset cocktails on the deck to the sound of surf. Then take your seat at the enormous marble-topped dining table and enjoy a gourmet candlelit dinner prepared by the highly accomplished chef – part of a team of staff dedicated to making your time at the villa really special.
While Villa Hamsa can host up to 8 guests, it is perfect for multiple families or groups of friends – as many as 18 – when combined with Villa Soham. Conveniently for singles and those travelling with kids, the guest bedrooms can be set up as twins.
Read more
This haven includes
Unique features

Cliff Top Views

Car and Driver

Private Spa
Location
Sohamsa Ocean Estate lies at the edge of the Bukit peninsula, a limestone plateau on the delightfully unspoiled southernmost tip of Bali. It rests within an exclusive enclave of luxury villas that line the cliff high above the Indian Ocean – seemingly miles away from the island's busiest tourist districts yet just half an hour from the airport. While there is little within walking distance in this dramatic rural setting, just two kilometres away is Pandawa Beach with its stretch of white sand, local cafes and sea sports. Hidden beach coves and famed surf breaks are within easy reach, as is the sacred sea temple of Uluwatu, some very cool beach clubs and the restaurants of Jimbaran Bay and Nusa Dua.
More information for Things to do
The Sohamsa Ocean Estate gives guests the best of both worlds location-wise – a private Bali clifftop setting yet with a great choice of activities within half an hour's drive or less. Our villa manager will have a wealth of information about places of interest and will help arrange transport and make any bookings required. Do also ask the staff about the area too; most will live nearby and can give an interesting insight into some of the fascinating aspects of local Bali life. For now, here's a taste of the many and varied activities on offer within reach of Sohamsa Ocean Estate.
Until recently, the white sands and warm, protected waters of

Pandawa Beach

were visited only by locals and seaweed farmers. A paved (toll) road cut through the cliff has recently made this beautiful beach, which lies immediately below the estate, much more accessible.
Among other local beaches is the famous

surf beach at Uluwatu

. Not quite as spectacular but equally alluring are the beaches of

Bingin

and

Padang Padang

. Beautiful white sand bays with rock pools and a host of local cafés.
Soar above the spectacular southern coastline of the Bukit Peninsula on a Paraglider.

Paragliding

courses and solo flying for the experienced are available as well as tandem flights in the safe hands of experienced instructors. The training centre is at Timbis Beach on the south coast of the Bukit.
Perched on a cliff 70m above the roaring Indian ocean,

Uluwatu Temple

(Pura Uluwatu) is one of Bali's nine key directional temples. Facing west and with steep headlands on either side creating an unbelievably dramatic setting. Get there in good time for Sunset to watch the enthralling Kecak Ramayana & Fire Dance.
At

Jenggala Keramic

in Jimbaran, visitors can browse and buy from a vast range of handcrafted ceramics and glassware. Jenggala also runs 'Make and Paint a Pot' sessions where 'Children' of all ages are encouraged to get creative.
For golf enthusiasts, the

New Kuta Golf Club

(11km) features an 18-hole course overlooking the ocean.
Both five star and local restaurants are plentiful and close by.

Bulgari

and Ayana resorts are among the favourites and the Rock Bar at Ayana is a must-see for sunset cocktails. Finns at Semara has a beach club for more casual dining.
A seafood feast at Jimbaran is a must for every holiday in Bali – dozens of seafood warung (cafés) line this west-facing beach, perfect for a sunset dinner. Fine dining options are available at most of the big resort hotels in this area; notably PJ's, the charming beachside restaurant at the Four Seasons in Jimbaran, serving Mediterranean-styled cuisine. And Balique on Jalan Uluwatu in Jimbaran is a delightful vintage restaurant serving great food and cool cocktails.

Nusa Dua's Bali Collection

mall has a host of local boutiques and a department store. Heading towards Kuta (about 40 minutes) brings you to Galleria shopping mall while nearby Tuban has Discovery Mall and streets lined with local shops. Seminyak boutiques are about an hour away.

Learn to surf or stand up paddle at Jimbaran Bay

, a great place for beginners. Rip Curl School of Surf offers day courses and provides all the equipment.
LEAVE THE PLANNING TO US
Shake off the stress of holiday planning. Let the Elite Concierge take care of all your bookings and arrangements, from transport, tours and restaurant reservations, to any special requests for your arrival. We're here to make your holiday experience extraordinary.
Quick facts
Location
Kuta Selatan, the Bukit peninsula, Bali, Indonesia.
Capacity
8 guests in 4 bedrooms (all with king-size beds, 3 of which can be converted to twins), two additional guests accommodated on extra beds (charges apply).
Living areas
Living pavilion, alfresco dining terrace, and a shared equipped kitchen (with Villa Soham).
Estate staff
Both villas share a team of staff, including: a villa manager; villa attendants; chef; gardener; engineer; security. Additional staff (eg babysitters, massage and beauty therapists) are available at additional charge.
Dining
A suggestion menu of Balinese, Indonesian, Asian, Western, vegetarian and kids' dishes; barbecue menu; off-menu requests accommodated (including special diets). Grocery cost is charged 20% handling fee which is subject to service and tax at the prevailing rate.
Communication
WiFi internet access; PABX room-to-room phone system; laptop on request.
Entertainment
48-inch flat-screen TV with cable channels in living room; 42-inch TV in the bedrooms; Sonos sound systems.
For families
Villa Hamsa is well equipped for families with young children. Facilities include high chair; cot; pool toys. Other equipment can be hired on request (extra charges apply).
Spa
In-villa treatments selected from a comprehensive spa menu carried out by professional beauty therapists (extra cost applies); private garden.
Additional facilities
In-room safes; barbecue; back-up generator.
Transport
One car and driver for 8 hours a day (excluding petrol). Cannot be used during arrival and departure days.
Events
When rented with Villa Soham, weddings and events may be arranged for up to 40 seated guests or 60 guests standing.
Property area
1,064sqm (land); 883sqm (villa).
The layout
Indoor Living
Spacious air-conditioned living pavilion with lounge, TV area, and formal dining area.
Well-equipped kitchen, with guest washroom within same pavilion.
Outdoor Living
Large bench-lined ironwood deck in front of the master suite pavilion, with stunning sea views.
Poolside dining terrace.
Infinity pool with sun terrace.
The rooms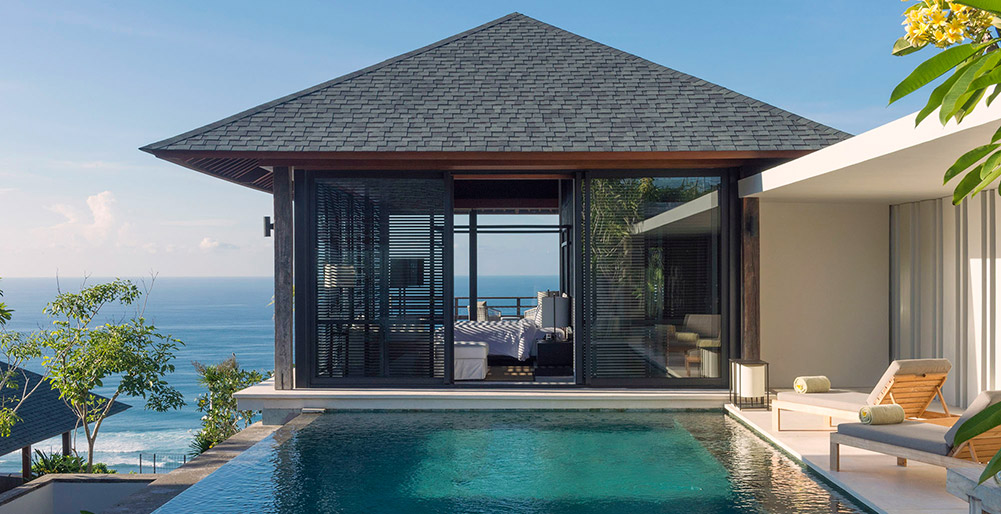 Bedrooms
All bedrooms are generously sized, air-conditioned and have overhead fans.
All have TVs with cable channels.
Huge emperor-sided bed in master bedroom; all three guest bedrooms have twin beds that can be converted to kings.
All bedrooms are ensuite, with lots of wardrobe space, air-conditioned bathrooms, rain showers, and bathtubs.
The master bedroom occupies its own pavilion and opens onto a huge deck.
The master ensuite has an indoor and alfresco shower – both with stunning ocean vistas
Dining
Nothing says 'luxury holiday' more than being able to leave behind the daily grind of preparing family meals, and instead embracing the pleasure of having your own in-villa chef. With many years' experience working in noted Seminyak restaurants, Sohamsa's accomplished chef will enrich your villa experience immeasurably. Indonesian and Thai cuisine is his forte and he's adept at international dishes too. All you have to do is leaf through the suggestion menu or make off-menu requests with him or the villa manager in the morning – perhaps after enjoying an excellent American continental or Indonesian breakfast. The next thing you know, you're sitting around the dining table enjoying a leisurely lunch, candlelit dinner or sunset barbecue without having had to lift a finger.
The chef will happily coordinate the purchase of fresh menu ingredients as well as any special requests, including alcoholic beverages. Groceries and beverages are charged at cost price plus 20%++ handling fee.
View a sample menu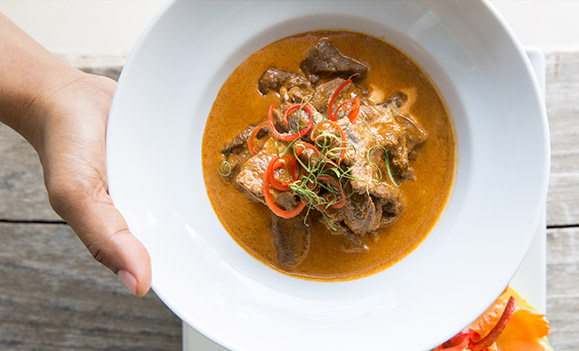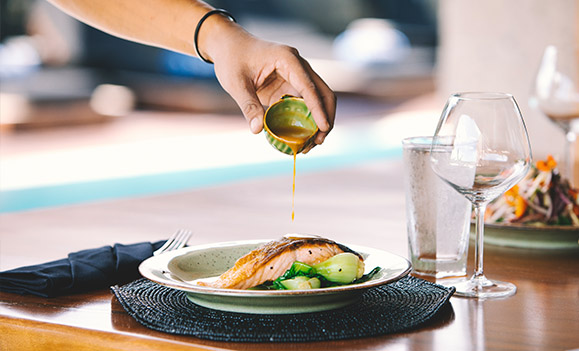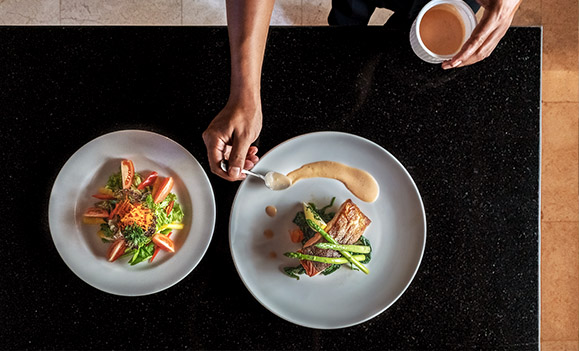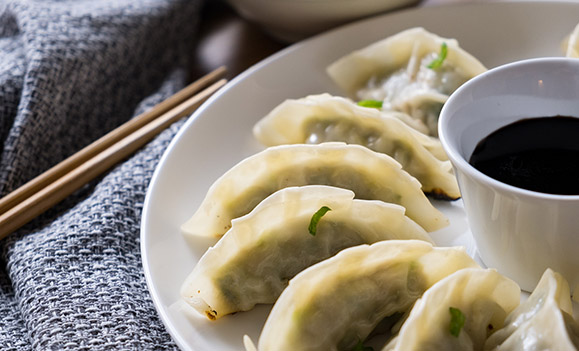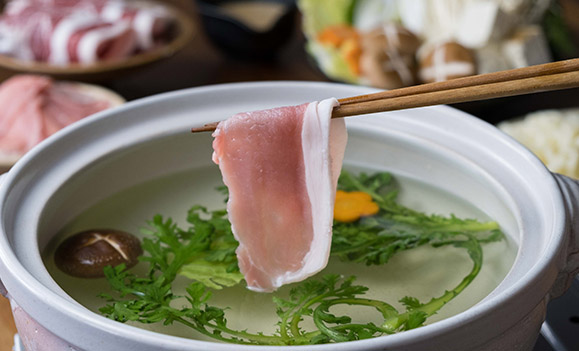 Reviews
Villa has very nice view and the staff very attentive.
23-Apr-2023 - 25-Apr-2023
Dicky R
Indonesia
Thank you Sohamsa Ocean Estate for a truly wonderful and hospitable stay, View were incredible and the service were excellence. Staff were incredibly attentive and helpful throughout our stay. We had an enjoyable time and will definitely recommend this to our family and friends. Cheers!
09-Apr-2023 - 11-Apr-2023
Matthew P
Singapore
Thanks to all the staff. We enjoyed our stay here with the comfortable environment and the great service. We would like to come here again.
03-Apr-2023 - 07-Apr-2023
ZHU H
China
Me and the whole family had the best time in the villa. The people who took care of us were exceptional and very accommodating. Hands down to whole team. We will definitely visit you guis again soon. Thank you so much!!
11-Mar-2023 - 13-Mar-2023
JOSE VENITE A
Philippines
Thank for villa Hamsa and its crew. Always smiling and kind. Very professional. The food was amazing. Congrats to the chef. Wonderful place in the wonderful country. You can be so proud of your culture.
11-Feb-2023 - 18-Feb-2023
Family A
France
Bayu and his team of staff at Hamsa villa took great care of us during our stay. We are looking forward to our next stay at the beautiful villa. Thank you, Bayu & team!
28-Jan-2023 - 31-Jan-2023
Karina And J
Australia
Thank you once again for making our 5 days 4 nights stay at the villa a memorable and enjoyable one. All staff were attentive, breakfast and BBQ was good. The place is extremely clean as well. We will be back again with bigger family. Thank you once again.
11-Dec-2022 - 15-Dec-2022
Kevin G
Singapore
To the staff of Sohamsa Villa, Thank you for your hospitality during our wonderful stay. We are so grateful for all the effort you took to meet all of our requests. Every meal we had was delicious. Without you, our vacation would not be so memorable.
16-Nov-2022 - 22-Nov-2022
Jason K
Canada
All good. Excellent!! Will come back for sure. No complaint at all. All staff members are so helpful. Villa is also so pretty.
21-Oct-2022 - 23-Oct-2022
Steven G
Indonesia
Most amazing and special property in all of Bali. Staff and food were fantastic. Room and facilities are all modern. Incredible ocean and dramatic views.
30-Sep-2022 - 02-Oct-2022
Jono M
Australia
Thank you to Bayu and the staff at Sohamsa. Bayu was a great manager and coordinated our activities & requests without fault. The villa staff were one of the best we've encountered - attentive yet unobtrusive. Special shout out to the chef for preparing delicious meals for our large group. Thank you for a wonderful stay.
07-Sep-2022 - 11-Sep-2022
Jeannette P
Singapore
Sohamsa is the best. Beautiful view, comfortable place and excellent service. Thank you to all the staff and see you in the future.
04-Sep-2022 - 06-Sep-2022
William S
Indonesia
Thank you very much for a wonderful experience, We had a great time. The view, villa amenities, and the hospitality of the staff were beyond expectations. We look forward to the next stay. Hopefully in the larger one with our whole family
13-Aug-2022 - 16-Aug-2022
Paco R
Philippines
A very special weekend at a very special place. All the staff were excellent in every way. We had the most wonderful time & We hope to be back again in the nearest future
22-Jul-2022 - 25-Jul-2022
Belvia M
Indonesia
My experience and my family staying here gave us the best experience. From the beginning until we came home we got experience and excellent service. The view and the extraordinary atmosphere here must be very unforgettable. Villa manager and the team are very friendly and helpful in every request we have. Once the chef stayed until very late to help us and family. Overall experience was very
... more
14-Jun-2022 - 16-Jun-2022
Rafli Bin R
Indonesia
Mine and my family staying here had the best experience. From the beginning until when we came home we received excellent service. The view and the extraordinary atmosphere here is unforgettable. Villa manager and the team are very friendly and helpful in every request we have. Once the chef stayed until very late to help us and family. Overall experience was very good and for sure we will be
... more
09-Jun-2022 - 14-Jun-2022
Rafli Bin R
Indonesia
Best experience in Bali. Good Food, beautiful villa, superb staff. Wake up to amazing view, very comfortable villa, food and service are top notch and best in Bali.
08-Jan-2022 - 10-Jan-2022
Karina S
Indonesia
The 7 days that we stayed in Sohamsa has been wonderful. Good views, well maintain property, warm welcoming staff members. We would definitely come back in the near future.
06-Nov-2021 - 13-Nov-2021
Felix C
Indonesia
Best villa, best service, perfect view
11-Apr-2021 - 13-Apr-2021
William S
Indonesia
Nice view, nice service, good food. The seafood was excellent. Friendly butler too.
23-Dec-2020 - 01-Jan-2021
Rina T
Indonesia
Thank you for having us. Sohamsa is one of the best luxury villas in Bali. We enjoyed staying here. Great views and friendly staff. Definitely will come back in the near future.
20-Dec-2020 - 23-Dec-2020
Mariska K
Indonesia
We had a pleasant stay here. Very clean. We all loved our stay here. All staff members are very helpful.
10-Dec-2020 - 19-Dec-2020
Sherly H
Indonesia
The location and the views are very beautiful. Clean room and toilet, great service and good food.
13-Nov-2020 - 15-Nov-2020
Mulyadi N
Indonesia
All things is good. We love the villas. The service is exceptionally good. The only down words was the WI-fi connection. Thank you for the great hospitality
17-Oct-2020 - 19-Oct-2020
Hendry Prabowo
Singapore
We had a very pleasant stay. The staff are really nice and we enjoy every minute of our stay in the villa. Very great hospitality and all of the meal are very tasty. The villa has a very beautiful environment and ambience and amazing food.
20-Aug-2020 - 23-Aug-2020
Sandiya Family
Indonesia
Amazing Experiences !The views and the hospitality was unbelievable. Extraordinary staff very hands on helpful every minute. Weaving with full love would definitely come back and recommend. Thank you for everything.
08-Feb-2020 - 15-Feb-2020
Jeffrey J
United States
The staff is polite efficient and helpful. For sure we would visit this villa again.
25-Jan-2020 - 29-Jan-2020
Mr Rayman C
Hong Kong
What a wonderful experience we had, absolutely adored our time here with our family and friends. The care and service shown for us has been incredible. Thank you so much for a memorable time.
19-Jan-2020 - 25-Jan-2020
Anthony B
Hong Kong
It has been such a great experience for me staying in Sohamsa Ocean Estate. We love the beautiful sea views, the specious bedrooms, and livable living room. We love Sohamsa.
16-Jan-2020 - 19-Jan-2020
Albert .
Indonesia
Great service, nice food. Thank you for all of your hard work. One of the best villa that my family and I have ever visited.
26-Dec-2019 - 06-Jan-2020
Stanislav K
Russia
My family and I would like thank you for all the staffs effort and dedication to make our 5 days stay a wonderful memory. Not only the beautiful villa beat our high expectation. The caring and professional team here has demonstrated high quality of service. Thank you once again.
11-Dec-2019 - 15-Dec-2019
Winson F
Hong Kong
Absolutely beautiful place to stay. Amazing rooms, lovely staff and stunning views. No complaints at all and would definitely recommend to everyone I know. Thank you, thank you for the kindness and hospitality.
08-Nov-2019 - 11-Nov-2019
Ranier G
Australia
That was such a surprise to stay in your vill and everything was amazing. Great service, good views, nice staff. The housekeeper are very thoughtful and caring. They take care of everything for us. The facilities are amazing too. Overall a very good experience.
06-Oct-2019 - 08-Oct-2019
Zhao & Jiang
China
Our family group enjoyed this trip. Bali is a very beautiful place like a paradise and I must say Sohamsa Ocean Estate all of the staff give us 100% good service. In the future when we come to Bali again we will book Sohamsa Ocean Estate.
24-Aug-2019 - 28-Aug-2019
Wendy and Haywood
Hong Kong
Beautiful, specious villa with extremely beautiful views and amazing hospitality by all staff members. Really enjoyed our stay in Hamsa Villa. Can't wait to come back again next year. Thank you so much for your service and attention to detail made our stay extremely comfortable.
28-Jun-2019 - 06-Jul-2019
Akhil Tripathy A
United Kingdom
We are absolutely in awe by the staffs attentive service in Sohamsa. They are humble, always willing to go extra mile.
06-Jun-2019 - 09-Jun-2019
Nathan C
Hong Kong
Beautiful place, amazing service, great food. Keep up the good job.
24-May-2019 - 27-May-2019
Janice Tang T
Hong Kong
Lovely relaxing stay, the whole family had a great time. Staff were fantastic.
09-May-2019 - 13-May-2019
Jenny A
Australia
Love the place, all of my family and friends love it. We will definitely come back again. Hope we can see you guys soon.
01-May-2019 - 03-May-2019
Mr. Chengwei S
Taiwan
Great accommodation experience, be sure to come again next time.
26-Apr-2019 - 28-Apr-2019
Mei Ju C
Taiwan
Beautiful environment, very good service and the food very delicious.
04-Apr-2019 - 08-Apr-2019
Juan Y
China
Our family enjoy warmth and hospitality of the wonderful staff at Hamsa villa. They brought the experience of beauty and natural surroundings of the well appointed villa to a new level. The villa it self is a great retreat secluded from the hustle and bustle of the neighborhood in Bali. We enjoyed relaxing and the manager, spa service, gym, pool and yoga made the weekend special. Special
... more
21-Mar-2019 - 26-Mar-2019
Asha G
Singapore
So sad that today is the last day. Villa Hamsa was the last place to rest and spend our family holiday. I would like to come back here for another holiday or a special occasion. All the staff were great, providing the best care. It was great to experience motorcycle and local market. Every meal was wonderful, especially the "Babi Guling" and BBQ. Thanks again for wonderful service at the villa.
24-Feb-2019 - 28-Feb-2019
Julia J
South Korea
Thank you to the wonderful staff at Hamsa house, their lovely hospitality made our stay extra special and fantastic.
20-Aug-2018 - 27-Aug-2018
Cara K
United States
We have been to a lot of villas from Elite Havens since 2004 and we have to say that this is the best we have ever stayed in. The views from the villa and rooms are beautiful. The interior design is modern and very stylish and most importantly the staff are outstanding. The command of the language is impeccable and their attention to detail is extraordinary. This place is a winner and a must
... more
04-Jun-2018 - 08-Jun-2018
Beatrice C
Singapore
Thank you for the most memorable experience. We had the most fabulous time and we are so grateful for the efforts you put into making our stay special. Amazing food and amazing service. We will be back.
26-Mar-2018 - 29-Mar-2018
Aisha A
United Arab Emirates
Thanks for the great services and great villa, we are very excited to stay here.
22-Feb-2018 - 25-Feb-2018
Zhang I
Singapore
So good, so nice, so wonderful. Thanks to you all, you are so perfect.
13-Feb-2018 - 18-Feb-2018
Joey S
Taiwan
Thank you so much for your amazing hospitality. All of you were very kind and nice to us making our stay here wonderful. To the Chef, the food daily was amazing, we appreciate it so much! Hopefully we will be back soon one day, you guys and this place is amazing. Thank you for a memorable stay.
03-Jan-2018 - 12-Jan-2018
Nomsa D
South Africa
We stayed at one villa and loved it so much, we cancelled our next villa to stay at the adjoining villa. The entire complex is beautifully fitted out, the staff are so friendly and helpful and the BBQ'S were amazing. Thank you for making this trip so special.
08-Dec-2017 - 12-Dec-2017
Diana B
Australia
Need more inspiration?
We're at your service