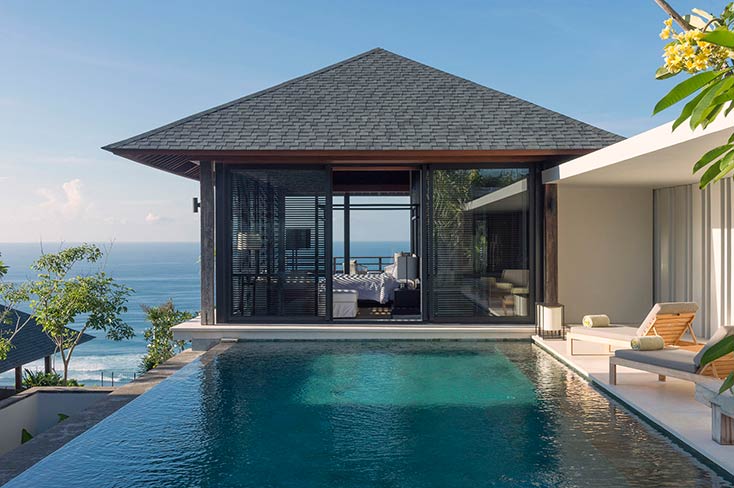 Rafli Bin R, Indonesia
,
14-Jun-2022
-
16-Jun-2022
My experience and my family staying here gave us the best experience. From the beginning until we came home we got experience and excellent service. The view and the extraordinary atmosphere here must be very unforgettable. Villa manager and the team are very friendly and helpful in every request we have. Once the chef stayed until very late to help us and family. Overall experience was very good and for sure we will be back again
Karina S, Indonesia
,
08-Jan-2022
-
10-Jan-2022
Best experience in Bali. Good Food, beautiful villa, superb staff. Wake up to amazing view, very comfortable villa, food and service are top notch and best in Bali.
Felix C, Indonesia
,
06-Nov-2021
-
13-Nov-2021
The 7 days that we stayed in Sohamsa has been wonderful. Good views, well maintain property, warm welcoming staff members. We would definitely come back in the near future.
William S, Indonesia
,
11-Apr-2021
-
13-Apr-2021
Best villa, best service, perfect view
Rina T, Indonesia
,
23-Dec-2020
-
01-Jan-2021
Nice view, nice service, good food. The seafood was excellent. Friendly butler too.
Mariska K, Indonesia
,
20-Dec-2020
-
23-Dec-2020
Thank you for having us. Sohamsa is one of the best luxury villas in Bali. We enjoyed staying here. Great views and friendly staff. Definitely will come back in the near future.
Sherly H, Indonesia
,
10-Dec-2020
-
19-Dec-2020
We had a pleasant stay here. Very clean. We all loved our stay here. All staff members are very helpful.
Mulyadi N, Indonesia
,
13-Nov-2020
-
15-Nov-2020
The location and the views are very beautiful. Clean room and toilet, great service and good food.
Hendry Prabowo, Singapore
,
17-Oct-2020
-
19-Oct-2020
All things is good. We love the villas. The service is exceptionally good. The only down words was the WI-fi connection. Thank you for the great hospitality
Sandiya Family, Indonesia
,
20-Aug-2020
-
23-Aug-2020
We had a very pleasant stay. The staff are really nice and we enjoy every minute of our stay in the villa. Very great hospitality and all of the meal are very tasty. The villa has a very beautiful environment and ambience and amazing food.
Jeffrey J, United States
,
08-Feb-2020
-
15-Feb-2020
The villa is beautiful and all rooms are spacious in their own way. There are views from almost every room in the two villas and they are breathtaking. The service from everyone was amazing and they literally are at your service with any and everything you may need. Thank you for an amazing vacation!
Mr Rayman C, Hong Kong
,
25-Jan-2020
-
29-Jan-2020
Chef is a good cook, he made excellent dishes, we feel we are at home. The staff is polite efficient and helpful. For sure we would visit this villa again.
Anthony B, Hong Kong
,
19-Jan-2020
-
25-Jan-2020
What a wonderful experience we had, absolutely adored our time here with our family and friends. The care and service shown for us has been incredible. Thank you so much for a memorable time.
Albert ., Indonesia
,
16-Jan-2020
-
19-Jan-2020
It has been such a great experience for me staying in Sohamsa Ocean Estate. We love the beautiful sea views, the specious bedrooms, and livable living room. We love Sohamsa.
Stanislav K, Russia
,
26-Dec-2019
-
06-Jan-2020
Great service, nice food. Thank you for all of your hard work. One of the best villa that my family and I have ever visited.
Winson F, Hong Kong
,
11-Dec-2019
-
15-Dec-2019
My family and I would like thank you for all the staffs effort and dedication to make our 5 days stay a wonderful memory. Not only the beautiful villa beat our high expectation. The caring and professional team here has demonstrated high quality of service. Thank you once again.
Ranier G, Australia
,
08-Nov-2019
-
11-Nov-2019
Absolutely beautiful place to stay. Amazing rooms, lovely staff and stunning views. No complaints at all and would definitely recommend to everyone I know. Thank you, thank you for the kindness and hospitality.
Zhao & Jiang, China
,
06-Oct-2019
-
08-Oct-2019
That was such a surprise to stay in your vill and everything was amazing. Great service, good views, nice staff. The housekeeper are very thoughtful and caring. They take care of everything for us. The facilities are amazing too. Overall a very good experience.
Wendy and Haywood, Hong Kong
,
24-Aug-2019
-
28-Aug-2019
Our family group enjoyed this trip. Bali is a very beautiful place like a paradise and I must say Sohamsa Ocean Estate all of the staff give us 100% good service. In the future when we come to Bali again we will book Sohamsa Ocean Estate.
Akhil Tripathy A, United Kingdom
,
28-Jun-2019
-
06-Jul-2019
Beautiful, specious villa with extremely beautiful views and amazing hospitality by all staff members. Really enjoyed our stay in Hamsa Villa. Can't wait to come back again next year. Thank you so much for your service and attention to detail made our stay extremely comfortable.
Nathan C, Hong Kong
,
06-Jun-2019
-
09-Jun-2019
We are absolutely in awe by the staffs attentive service in Sohamsa. They are humble, always willing to go extra mile.
Janice Tang T, Hong Kong
,
24-May-2019
-
27-May-2019
Beautiful place, amazing service, great food. Keep up the good job.
Jenny A, Australia
,
09-May-2019
-
13-May-2019
Lovely relaxing stay, the whole family had a great time. Staff were fantastic.
Mr. Chengwei S, Taiwan
,
01-May-2019
-
03-May-2019
Love the place, all of my family and friends love it. We will definitely come back again. Hope we can see you guys soon.
Mei Ju C, Taiwan
,
26-Apr-2019
-
28-Apr-2019
Great accommodation experience, be sure to come again next time.
Juan Y, China
,
04-Apr-2019
-
08-Apr-2019
Beautiful environment, very good service and the food very delicious.
Asha G, Singapore
,
21-Mar-2019
-
26-Mar-2019
Our family enjoy warmth and hospitality of the wonderful staff at Hamsa villa. They brought the experience of beauty and natural surroundings of the well appointed villa to a new level. The villa it self is a great retreat secluded from the hustle and bustle of the neighborhood in Bali. We enjoyed relaxing and the manager, spa service, gym, pool and yoga made the weekend special. Special mention to the efficient and friendly staff Karyani, Sari Gede and Bayu. The chef did a fabulous job - presented us with tasty food from selected ingredients. Thanks for making our short stay extremely memorable and relaxing.
Julia J, South Korea
,
24-Feb-2019
-
28-Feb-2019
So sad that today is the last day. Villa Hamsa was the last place to rest and spend our family holiday. I would like to come back here for another holiday or a special occasion. All the staff were great, providing the best care. It was great to experience motorcycle and local market. Every meal was wonderful, especially the "Babi Guling" and BBQ. Thanks again for wonderful service at the villa.
Cara K, United States
,
20-Aug-2018
-
27-Aug-2018
Thank you to the wonderful staff at Hamsa house, their lovely hospitality made our stay extra special and fantastic.
Beatrice C, Singapore
,
04-Jun-2018
-
08-Jun-2018
We have been to a lot of villas from Elite Havens since 2004 and we have to say that this is the best we have ever stayed in. The views from the villa and rooms are beautiful. The interior design is modern and very stylish and most importantly the staff are outstanding. The command of the language is impeccable and their attention to detail is extraordinary. This place is a winner and a must return!
Aisha A, United Arab Emirates
,
26-Mar-2018
-
29-Mar-2018
Thank you for the most memorable experience. We had the most fabulous time and we are so grateful for the efforts you put into making our stay special. Amazing food and amazing service. We will be back.
Zhang I, Singapore
,
22-Feb-2018
-
25-Feb-2018
Thanks for the great services and great villa, we are very excited to stay here.
Joey S, Taiwan
,
13-Feb-2018
-
18-Feb-2018
So good, so nice, so wonderful. Thanks to you all, you are so perfect.
Nomsa D, South Africa
,
03-Jan-2018
-
12-Jan-2018
Thank you so much for your amazing hospitality. All of you were very kind and nice to us making our stay here wonderful. To the Chef, the food daily was amazing, we appreciate it so much! Hopefully we will be back soon one day, you guys and this place is amazing. Thank you for a memorable stay.
Diana B, Australia
,
08-Dec-2017
-
12-Dec-2017
We stayed at one villa and loved it so much, we cancelled our next villa to stay at the adjoining villa. The entire complex is beautifully fitted out, the staff are so friendly and helpful and the BBQ'S were amazing. Thank you for making this trip so special.