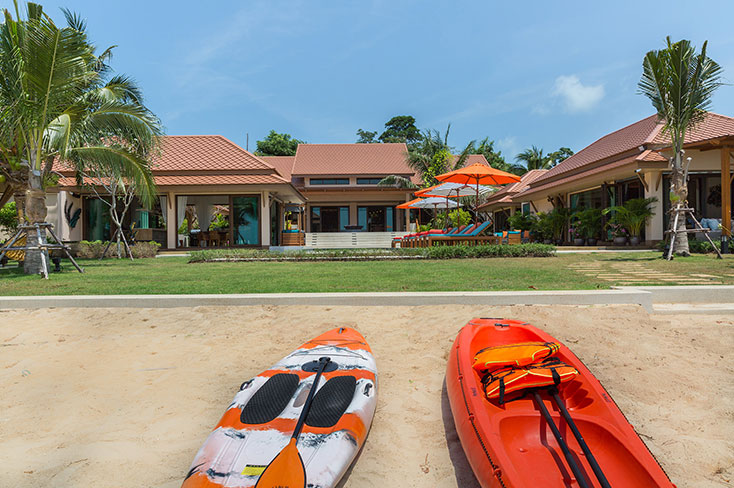 Khun Jeab N, Thailand
,
29-Dec-2020
-
02-Jan-2021
Magnificent! I can't find other better words to describe this beautiful property. Actually looking at the house, it is very simple comparing with other offers, but then when you look into detail of the furniture, you will know how much the owner has invested into it to create a real vacation home. I really feel at home while we stay, because all the facilities fit with our lifestyle. If you need just a good clean, salted water pool system which the villa offers the best one. Very good fitness room too. And fantastic service! All staff are friendly, hard-working and honest. So happy here! By the way, the chef is great cook. We ate so much here. It is a real vacation home!
Michael C, Thailand
,
25-Nov-2020
-
27-Nov-2020
Khun Melie and the Angthong Villa team made my stay an outstanding experience. I will return with friends to Angthong Villa.
Aim A, Thailand
,
14-Nov-2020
-
16-Nov-2020
Everything was great! Excellent service. The villa is very private with all the facilities. Very nice and friendly staff. The food is top notch. Nice atmosphere. Perfecto!
Zhang Y, China
,
06-Mar-2020
-
21-Mar-2020
Dear Melie, all staff and the villa, It's a very special experience this time during the Corona Virus time. We have a special bond. Although I decided to leave earlier, but that's only because of the virus that changes the color of the world a lot. Hope the virus will be gone quickly. And we hopefully come back again soon! Thanks to Thailand to let us stay for 2 months at this special time.
Jasmine O, Australia
,
22-Feb-2020
-
29-Feb-2020
Dearest Melie, Oo, Amee and Kim, Thank you for proactively providing the most wonderful service for our group (especially Glenn - He's special) Melie, you have a brilliant and competent team who have gone above and beyond to create a clean and friendly environment. We are so happy with the service provided! You have made my 30th birthday so special through creativity - the ultimate birthday pancake, providing endless cocktails and establishing the beach side dinner setting to the top of this magical week. You have even accepted Eddy as a normal person. To anyone reading this, I can guarantee you will be taken care of by the wonderful team here at Angthong Villa. The food was 10/10! Thanks Kim for the best food we have ever had! Amee and Oo were attentive to all our needs. Melie provided us memories to last a life time, especially remembering our drink orders every morning! These little gestures one reason we will return in the future.
Olivia B, Switzerland
,
05-Feb-2020
-
21-Feb-2020
Dear Melie, Amee, Kim and Nai, What a lovely and nice team you are! Without you our stay would not have been as beautiful and incredible. Kim cooked divinely well, so we only went out for dinner once in 17 days! Thank you to Amee and Nai for the extraordinary kindness and for all the small attentions. The decorations in the rooms, each evening a different table set up, etc. A HUGE thank you of course to the manager, Melie! What an efficiency and kindness! Always smile and a lot of humor and always listening! This is our second time in Angthong Villa (First time in 2013) and we will definitely come back. This villa is a paradise! I also thank a couple of gardeners who do all the admirable job. A huge thank you to you all and see you soon. And very big kiss!
Annie A, Hong Kong
,
28-Jan-2020
-
04-Feb-2020
Thank you so much for the team in Angthong Villa! It was a wonderful stay, all I can say is the service were attentive, the food were awesome, they are so detail-oriented with every details and able to provide us the best service all the time. Melie was a wonderful Villa Manager helping us to arrange us everything. Oo and Amee were able to make us lovely cocktails and cleaned our room spotlessly every day even a nice touch of floral decoration. And Kim our chef cooked delicious food with gorgeous presentation which make our tummies full every meal. I have no hesitation to recommend you to stay here with this lovely villa and wonderful team during your vacation. Basically, I don't want to leave at all!! Also, very suitable for elders and young kids.
Wenbing G, China
,
21-Jan-2020
-
27-Jan-2020
We had a great time here! Thanks for the hospitality and service of all staff. Everything is fantastic! I hope we can come back again!
Chang L, China
,
16-Jan-2020
-
21-Jan-2020
We were enjoying the stay! The villa is beautiful as well as the staff. We will come back again. Will always miss staying here!
Kim S, Singapore
,
06-Jan-2020
-
12-Jan-2020
Thank you so much for this wonderful week at this amazing villa. There are not enough words to describe this vacation. The villa is gorgeous in every way, the attention to detail is amazing. The villa provides everything you need and more. Melie, you and your team are such great people. Helpful, friendly, top chef, wonderful service. The food was top notch, we did not want to leave the villa at all. Whatever we asked we got! You spoiled us so much! I hope we can come back soon. Thank you from the bottom of our hearts.
Richard S, United Kingdom
,
21-Dec-2019
-
28-Dec-2019
We have had the most wonderful week at Angthong Villa. It was a family get-together for Christmas and we traveled from the UK, Singapore and Australia. The villa has been the best place for our holiday. Having the pool and the sea right here has made it very special, together with luxurious rooms and facilities. And I have also loved seeing some beautiful birds and some wildlife without stepping from the villa! But, about all else, it has been the thoughtful service, attentions and help from the most brilliant team. You have all helped make this week a truly special to all of us. The food you have prepared for us has been quite fantastic, we did not have a single meal away from the villa! Thank you for everything and for leading so beautifully your outstanding team. We cannot thank you enough.
Perlin T, Singapore
,
14-Nov-2019
-
17-Nov-2019
Thank you! The villa is AMAZING! Thank you for the wonderful experience. Delicious yummy food as well. It was a wonderful experience staying here! There are many memories which I am taking back home for example: - The amazing food - The Yin yoga session with my friends - The first time swimming in the sea - The fun chat with my friends with feet dipped in the pool The staff are very nice and they have the amazing sense of hospitality. There are many more things I want to say for this memorizing place. But, I remember them for my next trip with my family/friends.
BILAL S, Pakistan
,
09-Aug-2019
-
13-Aug-2019
Amazing experience. The entire experience at the villa was fantastic with the most helpful staff. Melie and her team made every moment here wonderful. We will surely return very soon.
XIAO Z, China
,
01-Aug-2019
-
05-Aug-2019
We have a wonderful holiday in this villa. Everthing was fantastic, Mr. Peaw very helpful. The best villa in my life. The best service ever. Love this villa. Thank you all the staff here.
Aaron P, Malaysia
,
27-Jul-2019
-
29-Jul-2019
To the wonderful team of Angthong Villa, Thank you for the warm and fantastic hospitality you treat us during our time here. It has been a memorable trip and the food has kept us very happy indeed! The team has been so helpful in organizing the entire trip and making us so comfortable! We hope to be back soon to make and share many more memories here! Thank you, the Patel family
Jessica L, Australia
,
20-Jul-2019
-
27-Jul-2019
Thank for providing a villa with such a "WOW Factor". We had a great time. Fantastic staff made us very comfortable and were always on hand when needed. Room was exceptional. Great place for kids, who bonded with staff like family. Definitely recommend. Jessica, Matt, Lincoln, Anita, Geng, Xinyue and Raynold
Siradej Champ D, Thailand
,
12-Jul-2019
-
14-Jul-2019
Dear everyone at Angthong Villa, Just want to say a BIG thank you for taking such care of us. You guys are amazing and we have been totally spoiled! What a wonderful time! Thanks to you guys. Champ D.
Khalid A, Oman
,
29-Jun-2019
-
09-Jul-2019
Home away from home! This is the feeling we got when we arrived in this beautiful villa. The staff is extremely accommodating, amazing food from the chef, Melie was here to make everything so comfortable and had great recommendations for things to do around the island. Love, Khalid, Eman, Maryan, Reem, Rayyan
Renee R, Indonesia
,
01-Jun-2019
-
09-Jun-2019
What an amazing time and wonderful team at Angthong villa. The staff were fantastic, super kind, accommodating, caring and fun to be with. Melie was such a wonderful host, the food (Thanks Ae) was spectacular, so so yummy and the maid was such great fun for the kids! We all had a really special time.