Veyla Natai Residences - Veyla - Sea Villa
The villa you chose is no longer available for rental from us but we have a portfolio of Elite Havens in various locations around South East Asia for you to choose from. Alternatively feel free to send us an enquiry and it'll be our pleasure to help you find the perfect villa for your next holiday.
3 Bedrooms
6 Adults
Set within the exclusive Veyla Residences with breathtaking views over Natai Beach, Veyla's Sea Villas feature monochromatic interiors that weave artisanal crafts into a modern yet minimalist design. With an outstanding location on an unspoilt beach, these Sea Villas are the perfect Phuket escape for families or groups of friends seeking luxurious tranquillity blended with the charm of a slower pace of life.
Each of the four Sea Villas features chic and spacious living and dining areas. Sea-facing terraces, an array of beautifully designed social zones, and floor-to-ceiling sliding glass doors enhance the grand views of Natai Beach. Natural light permeates the villas while the sliding glass doors seamlessly merge the indoor and outdoor living spaces.
The untouched natural landscape of Natai Beach, a ten-kilometre stretch of silky white sand north of Phuket island, is mere steps away. Go for long walks on the sand or enjoy activities such as snorkelling, kayaking and stand-up paddleboarding for days filled with beach fun. Phuket International Airport is a short, thirty-minute drive away, and many of Phuket's highlights such as golf courses and beach clubs are within easy reach. If you're looking to explore the local neighbourhood, you will be astounded by the natural beauty of Phang Nga, with picturesque trails, stunning waterfalls and other natural wonders close by.
At your service is a welcoming team of staff including a chef, highly skilled in Thai cuisine, and a friendly Villa Manager who will ensure that your every need is met - whether it is inside or outside the villa.
For larger groups of friends or families, the Veyla Sea Villas offer an exceptional choice of accommodation. Situated side by side, the villas can be rented together or individually, boasting private swimming pools, easy access to the beach, and spectacular Andaman Sea views.
Read more
This haven includes
Unique features

Near the beach

Close to bars and restaurants

Great views

Gym Facilities

Estate/Resort Facilities
Location
Veyla Sea Villas are located within the exclusive Veyla Residences complex set on the unspoilt and secluded Natai Beach. Located north of Phuket, away from the crowds but within easy reach of the airport, Natai Beach is blissful and pristine. The beach offers tranquillity rarely found in Phuket and boasts a deserted vibe due to its sheer ten-kilometre length. Fringed by swaying palm and casuarina trees, Natai Beach is the perfect beach for sunning, swimming, snorkelling, stand-up paddling, or simply digging your toes in the sand.
Nestled into a local fishing village, the neighbourhood surrounding Natai Beach is a slice of paradise. The friendly atmosphere offers a glimpse into local life and an abundance of nature. The quiet beach road is lined with a few small cafes and authentic Thai restaurants serving classic dishes, and you will find waterfalls, hiking trails and abundant natural beauty a short drive away.
More information for Things to do
Although it may be tempting to spend your entire holiday in the luxurious comfort of your holiday home, Veyla Sea Villas also make an excellent base for exploring greater Phuket and the natural wonders of Phang Nga province. With the help of your Villa Manage and the Elite Concierge, bookings and transport to the area's top leisure activities and tourist sites can be easily arranged.
The estate has an enticing common pool that stretches out towards the sea, lined on one side with sunbeds. Swim a few laps, have a glass of wine in the sunken sofa seating by the pool, and head indoors to the large dining table for a bespoke meal crafted by a professional chef on request.
Take advantage of all that Natai Beach has to offer. Relax under the trees and disconnect with the latest bestselling novel, go for a refreshing swim, kayak or do some stand-up paddling.
The beach is famous for its epic sunsets, so do ensure to witness a dazzling sunset (or a few) over the twinkling sea. The Elite Concierge can arrange for a sunset picnic on the sand if you want to make it a memorable event.
The Andaman Sea is rich with marine life. Snorkel or go further in and go deep-sea diving, depending on how adventurous your group is. The Elite Concierge can make all necessary arrangements for you.
Discover the pleasures of the sea aboard a luxury yacht charter, or hire a longtail boat like the locals. Explore the magnificent Phang Nga Bay with its towering limestone karsts and halt at James Bond Island, or head to Koh Hong to enjoy kayaking through the sea caves.
Take some time to relax, rejuvenate and pamper yourself with dedicated spa services provided in the comfort of your villa. Restore your body and mind with a soothing Thai massage or a series of spa treatments from a qualified therapist.

Golf

fans can visit Aquella

Golf

& Country Club, nominated as Thailand's best

golf

course 2023. Located only 15km from Natai Beach, the 18-hole championship course boasts family friendly amenities spread across 1.8 million square meters of the Kingdom's most breathtaking landscape with an uninterrupted private beachfront stretching over two and a half kilometres.
Visit Phang Nga's most scenic viewpoint, Samet Nangshe. Admire Phang Nga Bay in all of its glory from a lush hilltop with panoramic views. The viewpoint is stunning throughout the day, but best explored at sunrise to watch a new day light up the entire bay.
Add a bit of fun in the sun to your holiday and head to the hip Baba Beach Club to listen to upbeat DJ music or enjoy a tropical sundowner. Baba Beach Club is within walking distance from Veyla Sea Villas.
Discover local eateries mentioned in the famous Michelin Guide in the nearby town of Khok Kloi. Visit Khok Kloi Bami Tom Yam Khai and sample their signature dish of Tom Yam Noodles popular for its tender meat and intense broth, or visit Nern Khao View Talay, perched on a verdant hillside, to dine on a variety of local southern Thai specialities.
LEAVE THE PLANNING TO US
Shake off the stress of holiday planning. Let the Elite Concierge take care of all your bookings and arrangements, from transport, tours and restaurant reservations, to any special requests for your arrival. We're here to make your holiday experience extraordinary.
Quick facts
Location
Natai Beach, Phang Nga, Thailand
Capacity
6 people (3 bedrooms: all with king-size beds).
Living Areas
Open-plan living and dining room; monochromatic interiors; large sofa looking towards the pool; private plunge pool with sunbed; raised island dining with 8 high chairs; modern kitchen with a wine fridge; three bedrooms; private garden with hanging chairs.
Pool
9x2m plunge pool with salt filtration in each villa.
Staff
Manager; chef; housekeeping; service staff; pool maintenance. Babysitters and massage/beauty therapists available on request (additional charge).
Dining
Daily breakfast included. A private chef can also prepare lunch and dinner for a charge (Thai and western menus), catering to special dietary requests wherever possible. Grocery is charged at cost plus 20% handling fee which is subject to tax at the prevailing rate. You can also arrange private dining at the estate's poolside restaurant offering spectacular Thai or western cuisines.
Communication
Complimentary WiFi access.
Entertainment
Movie screen for hire near the main pool of Veyla Residences for poolside movie nights.
For Families
Veyla's Sea Villas welcome families with children of all ages. A range of children's equipment can be hired locally on request (additional charges apply).
Spa
Choose from a comprehensive spa menu for a relaxing in-house treatment carried out by professional beauty and wellness therapists (extra cost).
Transport
Airport transfer, car hire and taxi pick-ups can be easily arranged by your Villa Manager.
Weddings & Events
The Veyla Sea Villas are suitable for small gatherings only.
Additional Facilities
On-site fully functional gym within the complex can be accessed by resident guests staying in the sea villas. The estate also boasts a common swimming pool and private dining experience in the poolside restaurant.
The layout
Indoor Living
Open-plan living, dining and kitchen area with sliding doors that open up to sea views on one side and a tropical garden on the other
Direct access to the pool terrace from the living room
Sofa seating looking out towards the view and a hanging cocoon chair
Modern open kitchen on the side with a fridge-freezer, four-burner stove and wine fridge
Large island for dining with eight high chairs
Air conditioning and sliding glass doors
Outdoor Living
Stunning sunset terrace with a private plunge pool and sea views
A double poolside sun lounger to catch a tan
Small tropical terrace on one side of the living room with swinging chairs, ideal for meditation or yoga
Breathtaking sea views everywhere
Lush gardens outside the two guest bedrooms for a refreshing touch of greenery
Parking space in private lot with access to the villa
The rooms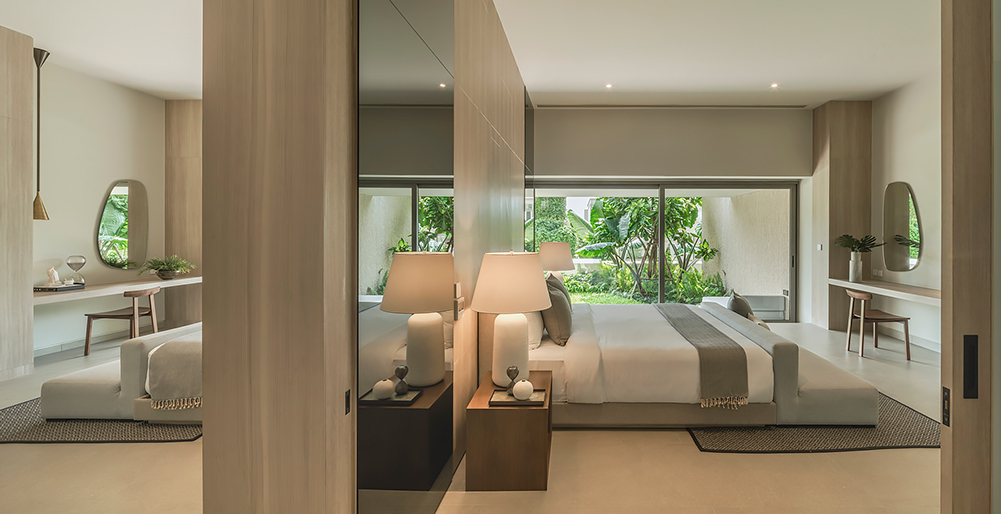 Master Bedroom
Located on the topmost floor, the air-conditioned Master Bedroom has a separate entrance, accessible via steps
Mesmerising sea views through floor-to-ceiling sliding glass doors leading onto a wide terrace
King-size bed for a good night's rest and sofa seating
Outdoor terrace with a swinging chair for two people and tranquil sea views
Large ensuite bathroom with a free-form bathtub, shower and double vanity
Walk-in dressing room with plenty of storage
Guest Bedrooms 1 & 2
Both the Guest Bedrooms are located on the ground floor at entry level
The rooms are identical and both feature king-size beds
Sliding glass doors leading onto a terrace and lush back garden
Large ensuite bathrooms with showers and vanity
Spacious work desks and air conditioning
Dining
Private dining is a highlight for many guests at Veyla Sea Villas. The Sea Villas have spacious and modern kitchens for those who wish to self-cater, although we reckon you'd prefer to sit back and enjoy the culinary skills of a personal chef who is available to prepare every meal on request.
Daily breakfast is included in the villa rate. For lunch or dinner there is a good variety of Thai cuisine and western dishes available from the villa's suggested menu. Meals can be tailored to guests' tastes and discussed in advance with the chef and Villa Manager in case of dietary restrictions. Having a personal chef prepare your meals is a wonderful chance to experience the explosion of flavours that Thai cuisine is so famous for. Indulge in fresh local favourites such as goong sarong (prawns wrapped in deep fried noodles), or allow your personal chef to work his culinary magic on fish plucked directly from the Andaman Sea, purchased from local fishermen.
The chef oversees the buying of provisions for all meals. Groceries are billed to guests at market price plus a 20% handling fee and a government tax, with a minimum shopping fee of THB 750. The villa staff will keep the receipts for reference at the end of stay.
View a sample menu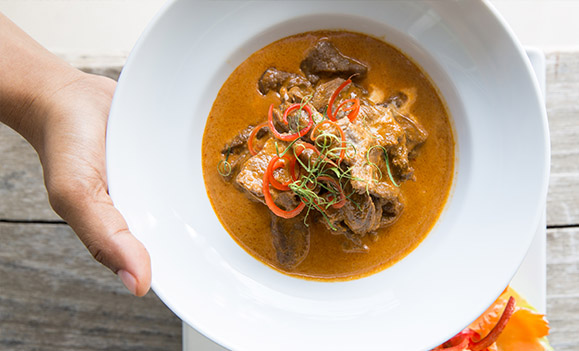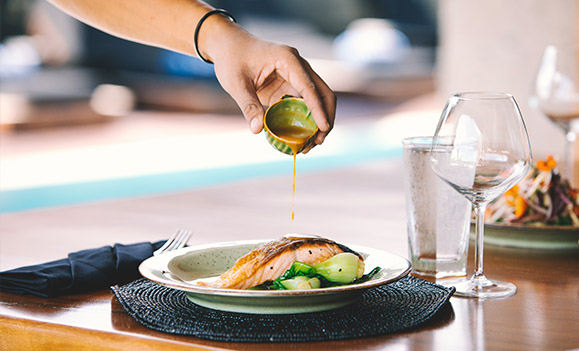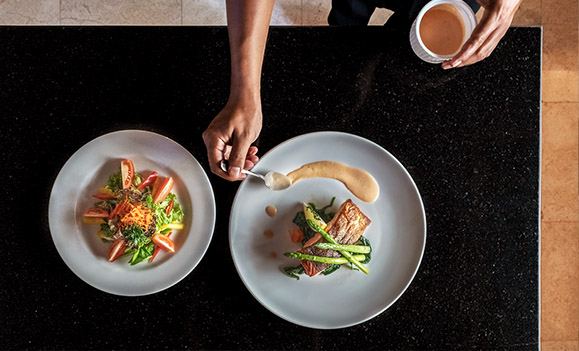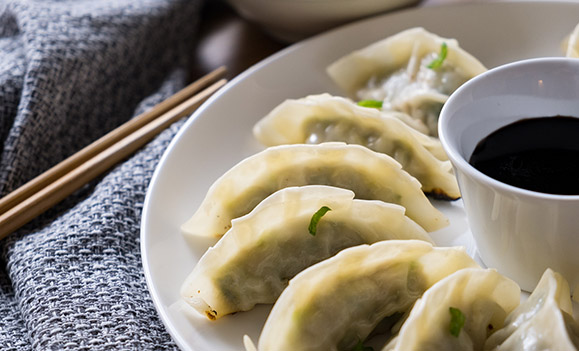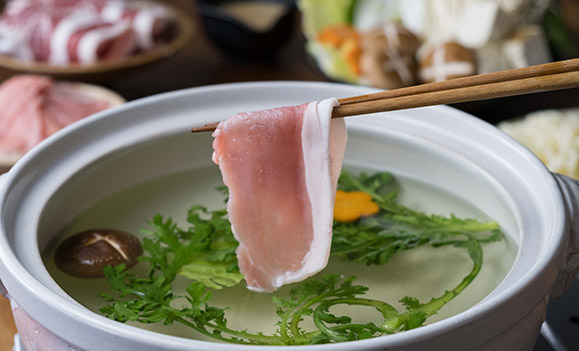 Reviews
Our stay in Veyla Villas was amazing. We loved the contemporary design and architecture and admired the glorious ocean views. We hope you enjoy your stay as well. JB & family
04-Apr-2023 - 10-Apr-2023
Joe B
Hong Kong
After the madness in Phuket, Natai is a like quiet oasis in desert. Some place feel more like home than other. Thank you Aoi and the team. We felt very well take cared and pampered here. Love to be back one day and wish all well. best clients and beautiful life with love from Estonia. Martti
01-Mar-2023 - 03-Mar-2023
Martti S
Estonia
Thank you for your great hospitality! We had a good time here and your cooking was amazing! so do the staff.
05-Feb-2023 - 08-Feb-2023
Aston Y
Hong Kong
Thank you very much for this wonderful stay. Everybody was very kind especially with a kids. The food was prepared well and very tasty. Everything was cleaned well and in time. We had all the services, to include laundry and a taxi, so thank you very much for everything and hope to see you.
18-Dec-2022 - 03-Jan-2023
Andrey S
Russia
A big thanks for the hospitality! We appreciated being and staying in Veyla Sea Villa. Cooking was excellent despite the small kitchen and accommodation for 9 guests. We will definitely recommend to our friends and family. Magrey family from France.
25-Dec-2022 - 29-Dec-2022
Michel M
France
I really liked it here. Veyla Natai is a great place to stay. Service was good. The cook is excellent. Staff was polite and caring. I will miss this place very much. I would come here again. Thank you very much! Thanks to everyone who helped make our stay unbelievable!
16-Dec-2022 - 28-Dec-2022
Tatiana N
Russia
We had an amazing time here! Loved the hospitality. Will come back! The Chan family from Hong Kong.
26-Nov-2022 - 29-Nov-2022
Katherine J
Hong Kong
Happy time, Happy moments.
12-Oct-2022 - 15-Oct-2022
Rathapol B
Thailand
It was lovely staying at Veyla Residences. We have so much fun and all the staff are friendly. Thank you for taking care of us. War War Group.
16-Jul-2022 - 18-Jul-2022
War War M
Myanmar (Burma)
Need more inspiration?
We're at your service
6 Adults, 4 Children
7 Adults
6 Adults