Ban Suriya
The villa you chose is no longer available for rental from us but we have a portfolio of Elite Havens in various locations around South East Asia for you to choose from. Alternatively feel free to send us an enquiry and it'll be our pleasure to help you find the perfect villa for your next holiday.
4 - 6 Bedrooms
12 Adults, 4 Children
Imagine this: Wake to the sound of waves gently breaking on the shore. Yawn, stretch, leap out of bed, fling wide the vast glass doors of your room, and step onto the soft white sand of Lipa Noi Beach. It's the start of another glorious day at Ban Suriya.
Suriya means 'sunshine' and Ban Suriya has it by the barrel-load. All rooms open up to the light and the warm breeze, and it feels as though the tall palm trees in the garden are part of the house. Ban Suriya's two swimming pools glitter invitingly, competing with the sea.
Yes, this delightful Samui villa with its cool white décor punctuated with brilliant splashes of colour is impressive. But much more than that, the scale of its rooms, and its comprehensive facilities, are all about comfort and familiarity. Truly a place to feel at home.
Six spacious ensuite bedrooms capable of sleeping up 15 people surround the huge central deck, with a well-stocked library, large dining room, computer room, video and games room, and exercise room in the main building next to the open-air kitchen.
Team of staff – villa manager, chef, housemaids, gardeners and security guard (Security schedule: Night-time, case by case) – ensure every request, every need, is met calmly and speedily, and always with a broad smile.
Families love this place. Nanny service can be provided and for more grown-up kids there are two canoes and a stand-up paddleboard (what else are beaches for?) There's also a pool table, a giant chess set, table tennis and a big swing on the beach.
This Samui villa is also popular for weddings – about 20 are celebrated here every year. Ban Suriya can manage parties of up to 120 people seated for the wedding breakfast.
Whether you're starting a life together or enjoying family and friends, Ban Suriya is the place to celebrate.
Read more
This haven includes
Unique features

Absolute Beach Front

Cinema

Media/Games Room

Library/Book Collection

Watersports

Event Facilities
Location
Ban Suriya is an absolute beachfront villa on Koh Samui's loveliest yet quietest beach, Lipa Noi. This Samui villa looks out west across the Gulf of Siam, with a huge ocean view dotted with islands. It is five minutes from Samui's capital, Nathon (good for easy basic shopping) and 50 minutes from Chaweng, the island's main nexus for shopping, dining and nightlife. Lipa Noi is 50 minutes drive from Koh Samui airport, while the jetty for the mainland car ferry is 12 minutes away.
More information for Things to do
Koh Samui is not a big island – it's just under 230 square kilometres, and much of that is still pristine forest-covered hillside – but it offers a wealth of fun and interesting things to do. Let your Villa Manager know what sort of activities you're interested in and he or she will help guide your choices and can also arrange transport to take you there.
In the meantime, to whet your appetite, here are some suggestions.
Dusit Deva

Cultural Centre

is a slightly eccentric garden filled with creatures from Buddhist and Hindu myths. Kids will love it.
Koh Samui has

two golf courses

; Santiburi (18 holes and really distracting ocean views), and Bophut Hills (nine holes).
Treat the family to Sunday Brunch by the pool at the internationally famed

Nikki Beach Club

, just a few minutes away along the beach.
Visit nearby Nathon Walking Street

Night Market

on Thursdays or the bigger Fisherman's Village Night Market in Bophut on Fridays.
Go

island hopping

! The Ang Thong National Marine Park encompasses a cluster of islands – the ones you can see from Ban Suriya. The heavily jungled islands are carefully controlled to keep them in pristine natural condition. A trip to them is a must.
There's a

kite surfing

school on the beach at Nathon where you can rent a rig or learn how to do it.
Regular

Thai boxing

tournaments are staged at the largest stadium on the island, the Petch Buncha near Chaweng. These are not tourist demo fights; they are the real thing.
Samui has a number of spectacular

waterfalls

. We would recommend starting with the Namuang Falls. Take your bathing costume; there's a very inviting pool at the base of the falls.
Have an

adventure

atop Khao Pom mountain on ATVs or the zipline, or just gaze out at the scenery below from the viewpoint.
LEAVE THE PLANNING TO US
Shake off the stress of holiday planning. Let the Elite Concierge take care of all your bookings and arrangements, from transport, tours and restaurant reservations, to any special requests for your arrival. We're here to make your holiday experience extraordinary.
Quick facts
Location
Lipa Noi Beach, west coast, Koh Samui, Thailand.
Capacity
16 guests: 12 adults and 4 kids (6 ensuite bedrooms: five with king-size bed and one twin bedded room; one rollaway bed and two trundle beds are available for four kids at no extra cost).
Living areas
Living and dining room; two lounges; modern open kitchen with breakfast bar; video and games room; computer room; pool deck with swim-up bar; massage tree house.
Pools
Main pool 20m x 5m x 2m; second pool 8m x 3m.
Staff
Villa manager; chef; housekeeping and service staff. Additional staff (nanny/babysitter, masseuse, pilates/muay Thai instructor) available on request at extra charge.
Dining
Ban Suriya's chef is expert at both Thai and Western cuisines. Guest requests are accommodated as far as possible (including special diets). Groceries are charged 20% handling fee which is subject to 7% government tax.
Communication
Complimentary WiFi in all areas, reaching onto the beach. Complimentary mobile phone for guest use on local calls.
Entertainment
Open air cinema; satellite TV; Blu-Ray and DVD players with selection of hundreds of discs; Apple TV 4K (for use on guests' own account) PS2; Wii; library of about 300 books; iPod dock; Bluetooth speakers in all rooms; pool table; giant chess board; table tennis; foosball table; two canoes and a stand-up paddleboard. For parties, magicians, Thai dancers, cabaret acts and more can be arranged.
For families
Ban Suriya is extremely well-equipped and located for families with children of all ages. Facilities include: pool toys; beach toys; beach swing; high chairs; baby cots; bottle steriliser and children's DVDs.
Exercise room
Ban Suriya has its own private exercise room with primary equipment. Alternatively, guests can go to the nearby Chai Talay Gym at a rate of THB 500 net/day per person. A special rate of USD 300 net per week for up to 4 persons is also available. The gym is open from 9 am to 7 pm and is strictly by appointment only (1-hour notice is required prior to your appointment).
Spa
Spa treatments selected from a comprehensive menu can be carried out by professional beauty therapists (extra cost applies) in the villa's private massage room.
Transport
Complimentary one-way airport pickup and dropoff. Car hire and taxi pick-ups can easily be arranged with your villa manager at small cost.
Weddings & events
Events for up to 120 guests can be arranged at Ban Suriya with prior notice (event fee applies). Please click
here
to view event guidelines
Additional facilities
Massage beds; barbecue; safes in all bedrooms.
Property area
3,200sqm (land).
The layout
Indoor Living
With the exception of the mezzanine lounge, all indoor living areas are at ground-level, arranged around the huge deck and garden
Modern Asian architecture designed for sybaritic relaxation
Large modern kitchen for Thai and Western cuisine, with breakfast bar
Three large living rooms and expansive dining room, all with wide sea views
Games room with foosball table, PS2, Wii, DVD and Blu Ray players
Library with extensive choice of books and view into the pool
Equipped exercise room

Air conditioning throughout
Outdoor Living
Lipa Noi Beach one step beyond the garden
Huge wooden deck with 10 sun loungers, looking out across the garden to the beach (ideal for weddings and other special events)
Large infinity-edge pool with swim-up bar
Beachside tree house for massages or just relaxing with a book
Barbecue and outdoor dining areas
Large, shady garden with soaring coconut palms
Ample car parking space
The rooms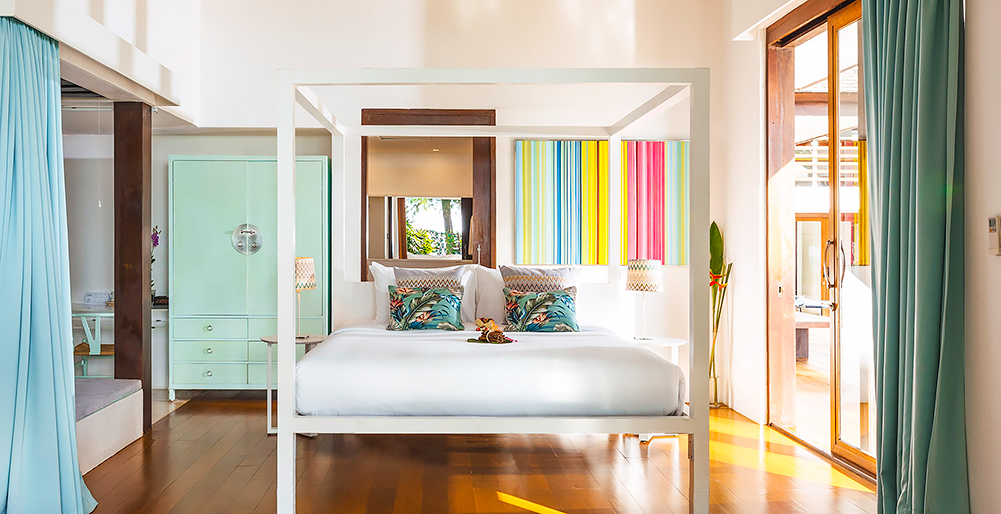 Suriya Room (Master Bedroom)
King-size bed with wide garden and ocean views
Lounge area with TV and DVD player
Large wardrobe with safe
Ensuite bathroom with rain shower and double vanity
Large bathtub
Massage bed
Air conditioning
Wave Room
Bedroom closest to the beach
King-size bed with beach and garden views
TV and DVD player
Large wardrobe with safe
Ensuite bathroom with rain shower and double vanity
Air conditioning
Butterfly Room
Views of deck and pool
Twin/King bed
TV and DVD player
Large wardrobe with safe
Ensuite bathroom with rain shower and double vanity
Air conditioning
Shell Room
Twin-bedded (can be converted to king-size on request) with two-step access to small swimming pool
TV and DVD player
Large wardrobe with safe
Ensuite bathroom with rain shower and double vanity
Air conditioning
Aqua Room
King-size bed with ocean and pool views
Step straight through the door and into the pool
TV and DVD player
Large wardrobe with safe
Ensuite bathroom with rain shower and double vanity
Sun deck with loungers
Air conditioning
Peacock Room
King-size bed with ocean and pool views
Step straight through the door and into the pool
TV and DVD player
Large wardrobe with safe
Ensuite bathroom with rain shower and double vanity
Sun deck with loungers
Air conditioning
Dining
Ban Suriya's chef is on hand throughout your stay to prepare breakfast, lunch and dinner. The villa has an extensive menu of home-cooked dishes to choose from, ranging from Thai and other Asia cuisines to Western favourites, as well as children's specials and vegetarian choices. Or, off-menu, the chef is always happy to cook up special requests.
Fish is bought from local fishermen who land their catches on the beach nearby, so it's always super-fresh. And do please try the villa's signature Thai dish, Gai Yang Kamin – grilled turmeric-marinaded chicken with a spicy dipping sauce. It's heavenly.
Daily breakfast is included in the villa rate. Drinks, along with groceries for the other meals, are charged at market price plus a 20% handling fee and a government tax, with a minimum shopping fee of THB 750. Staff will do the shopping and provide receipts for reference. To ensure this can be done in a timely manner, we advise you to plan your meals the evening before.
View a sample menu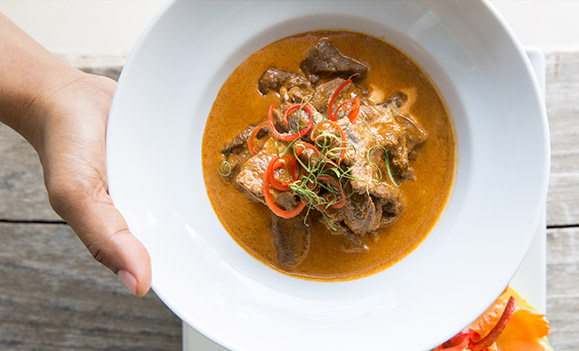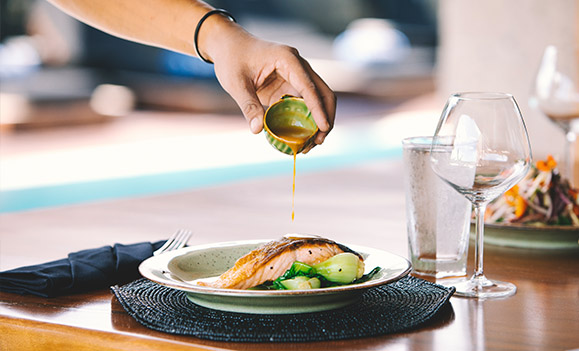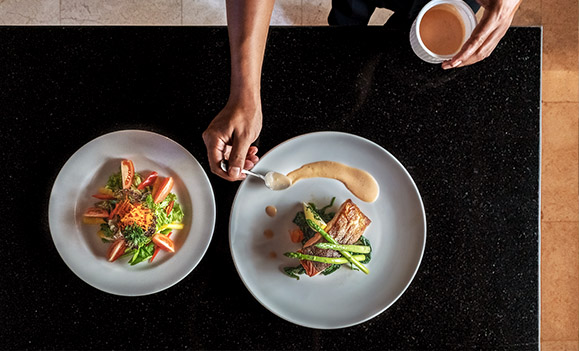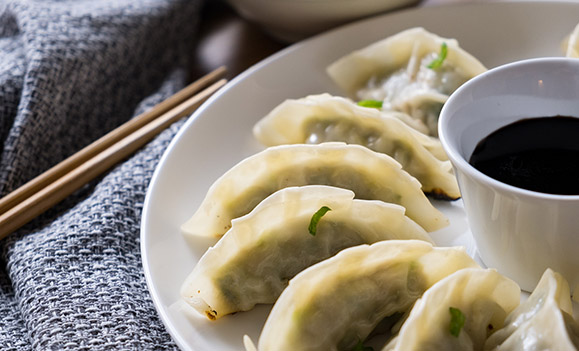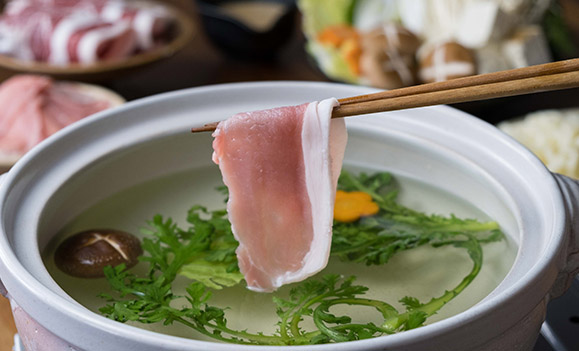 Reviews
Dear Tik and team, many thanks for the wonderful stay from our whole family. The service was great and the food was excellent! We hope to be back soon kha:) Love from the Donavanik family.
13-Oct-2022 - 16-Oct-2022
Vipada D
Thailand
Dear Khun Tik and team . There is not much we can say except a big thanks for the amazing time we had, the property is a heaven , the staff is incredible , we wish you all the best and we hope to be back soon enough.
21-Aug-2022 - 24-Aug-2022
Martino C
Italy
Dear Khun Tik and Team, Thank you for making our stay a very memorable one. The food and service was fantastic. The view beautiful simply perfect in every way. Being here with our family was very special and we hope to return with thank you Ban Suriya sometime in the future. Our best wishes. *Khun Tik - thank you again for taking such good care of my family and making our week at Ban
... more
12-Aug-2022 - 19-Aug-2022
Wayne P
Singapore
Thank you for helping us have the most unforgettable wedding experience—the venue was perfect, and we couldn't have asked for a better team. Khun Tik, you have been so supportive and helpful, always ready and available to help, no matter what the request. Thank you all for making our stay so comfortable, effortless & memorable. The food was delicious and everything seemed perfect. We hope to
... more
05-Aug-2022 - 08-Aug-2022
Jean Bailliard C
Australia
Dear Khun Tik and Baan Suriya Team, Thank you so much for everthing, we had a wonderful stay. What stunning properly and lovly staffs. The chef did an amazing jobs the food as delicius, We will be back.
24-Feb-2022 - 01-Mar-2022
Kirsty M
Australia
Khun Tik and her team created an amazingly relaxing, lovely villa. Private and quite, they were always on hand and gave us the best service and friendly. A wonderfully professional team
28-Dec-2021 - 02-Jan-2022
Andre L
Thailand
Dear Khun Tik and Team, This has been overbest stay so far, Due to the fantastice service and careyou and your team care us, also this stay had the most delecious food we had ever have on over trips, Khun Sai is an amezing chef. The fried chicken noodle is the best in Thailand. What a memorable trip!!! Thank you / M.L. Thongmakut Thongyai 11/12/2021
08-Dec-2021 - 12-Dec-2021
Sam L
Thailand
Thank you for incredibly excellent hospitality and service. Facilities here are the best, but foods and service are even better! This is one of our only few trips in lifetime that we do no wish to go back home. Thanks again for one of our most memorable stay ever. We are sure that we will come back to Ban Suriya to enjoy a wonderful time again.
22-Oct-2020 - 25-Oct-2020
Nantida R
Thailand
Thank you for all hospitality and well taken-care of our family by Khun Tik and team. We have a very wonderful time at Ban Suriya.
16-Oct-2020 - 18-Oct-2020
Kamonrat K
Thailand
Thank you very much to Khun Tik and the team. You make this place so enjoyable for all our group.
09-Oct-2020 - 13-Oct-2020
Khun G
Thailand
Thank you good experience, beautiful place, good service from Khun Tik and team, big cinema for a great time. We will come back again.
18-Aug-2020 - 20-Aug-2020
May T
Thailand
Dear Khun Tik and team of Ban Suriya, We have a good vacation week, relaxing and enjoying the service and meals. Our daughter Jaidee said she likes the swimming pool, bedroom (she selected the butterfly room) ,outdoor cinema with popcorn and big chess set. Thank you Khun Tik for high standard service, Chef Pueng for lovey food, Khun Ae, Khun Art and khun Khao for their service with their
... more
08-Aug-2020 - 15-Aug-2020
Stewart S
United Kingdom
Dear khun Tik and the team, We have had one of the most relaxing and hospitable stays in a very long time, which was made possible by khun Tik and her wonderful team. All the attention, the care given to us on a daily basis for the whole month we were staying, have our sincere thanks to her and everyone, her team with includes khun Max, the wonderful chef, Khun Aey, Khun Kao and the two young
... more
01-Jul-2020 - 01-Aug-2020
Patchara R
Thailand
Dear K.Tik and Ban Suriya team, Thank you so much for a wonderful stay! it's been truly such a relaxing, happy and pampered trip here! The food has been truly outstanding- You know how much we have all appreciate your sauces in particular and the seafood BBQ was of the highest standard. Thank you for arranging the outdoor cinema, it was so special to watch the film with the ocean in the
... more
03-Jun-2020 - 07-Jun-2020
Anouska D
Singapore
To my amazing new friend Tik and her fabulous team, Words fail me. This place, your kindness, care and hospitality have been second to none. You made our stay and our daughter and son-in-law's wedding spectacular. The food, the cleanliness, the garden, the beach and above all, your sense of humor, our stay is one we will never forget. A slice of heaven indeed.
21-Feb-2020 - 26-Feb-2020
Jesse S
Philippines
Dear Tik and team, Thank you so much for taking such a good care of our families and friends. The villa was always clean and tidy and Tik you and your team made us feel very much at home. The wedding preparations, ceremony and reception was an incredible experience for us all thanks to this AMAZING location! Sorry about all the drunk Aussies at the recovery day, it was hard not to over
... more
16-Feb-2020 - 21-Feb-2020
Anna B
Thailand
Thank you for the most incredible stay! You made our wedding and holiday more AMAZING then we can have ever imagined! We have had nothing put compliments from our family and friends on the level of service, food and warm Thai hospitality. Thank you for memories that will last a lifetime!
13-Feb-2020 - 16-Feb-2020
Jenna & Luke
Australia
Tik, you and your team have made our holiday and our wedding unforgettable!!! We and our family had the most amazing time of our lives! The service, the food and most of all the decoration of the rooms, the venue itself and dinner table were the most amazing! Thank you for everything! We are happy we had the opportunity to spend our special day with you.
07-Feb-2020 - 12-Feb-2020
Jenny & Philipps
India
We have had an amazing time with you and the team! It is as idyllic location, but it is the service and attentive to detail from all the team that has made it so special! What an incredible stay! The food was incredible, we did not want to eat out! Best Thai food we have ever had. Every need has been fulfilled and every little detail. Thought of the most relaxing location and time. All thanks
... more
02-Jan-2020 - 12-Jan-2020
David S
United Kingdom
Dear Tik, You and your team have provided an exceptional service for our week of residence Koh Samui. The entire staff showed warmth, friendliness and real company. The cooking really was exceptional and you were a wonderful leader, host and travel adviser. We will be back thank you for such a wonderful time. Tik and Crew, Thank you for a wonderful stay. The service and hospitality was
... more
27-Dec-2019 - 02-Jan-2020
Ana L
Thailand
Dear Tik and team, It has been an amazing stay at Ban Suriya! Thank you for taking care of my family and really appreciate you guys for doing to extra mile to make our stay comfortable ! really high recommend your villa to our friends! Thank you very much! Merry X'Mas
21-Dec-2019 - 25-Dec-2019
Jen T
Hong Kong
Dear Khun Tik and the Ban Suriya Team, You made Sinah and my wedding celebration with our family absolutely amazing. Your kindness and professionalism was exceptional. We will never forget the time we shared with you and will be forever grateful for your work. Thank you from our Australian and German friends and family.
15-Dec-2019 - 20-Dec-2019
Sihnah Olsen & S
Philippines
Thank you Ban Suriya for the best time in Koh Samui! We could not have dreamed of better house staff. Everything was amazing! Best Service on the Island! Chef and Everyone Tik and her team were amazing. They were attentive and went the extra mile such a wonderful experience! One of the best villa experience I ever had excellent service from start to finish. Great Food.
12-Dec-2019 - 15-Dec-2019
Olivier L
Hong Kong
Thank you Ban Suriya for the best time in Koh Samui! We Could not have dreamed of better villa staff. Everything was amazing! Best service on the Island! Chef and everyone. I had a good time. Tik and Team were absolutely amazing hosts for my bachelor party here. Thank you for the wonderful time. One of the best villa experience I ever had excellent service from start to finish great food.
04-Dec-2019 - 08-Dec-2019
Amir Rasyidi J
Malaysia
A memorable week and great staff and service we will come again.
01-Nov-2019 - 04-Nov-2019
Gregory G
France
Thank you very very much for everything. Thank you to let us celebrate our wedding here!
24-Oct-2019 - 27-Oct-2019
Jasin P
Australia
Thank you so much for this once in a lifetime experience. I spent a wonderful time with the family, the kids and the staff. Tik and her team were super friendly, the food was amazing. Happy that I could get to know you.
15-Sep-2019 - 07-Oct-2019
Tim M
Germany
What an amazing holiday we had in Thailand and Ban Suriya was the highlight. It has been beautiful, peaceful and so many wonderful memories made in this place. Thank you especially to Khun Tik and Chef for catering for our special dietary need. The food was amazing the staff so helpful and friendly. We will never forget our special holiday on Koh Samui.
22-Aug-2019 - 01-Sep-2019
Kerrin R
United Kingdom
This is our tenth year of summer family vacations and Ban Suriya was the excellent setting for this eventful anniversary. The villa is lovely and the staff amazing. Thank you to Tik, by far the best and most hardworking villa manager that we have come across. Thank you also to chef A, our clothes are tighter thanks to the wonderful meals. And to all the other staff, thank you for making our
... more
09-Aug-2019 - 14-Aug-2019
Joe Lei T
Malaysia
Words can not describe how beautiful Ban Suriya and its staff is. Our family loved every minute of our stay (Sophia, our daughter said she could stay here for a hundred days). This amazing place makes you relax the moment you step into its doors. Everything has been thought of to ensure a great stay and experience. Our family have stayed in some beautiful places throughout Asia but this is by
... more
06-Aug-2019 - 09-Aug-2019
Manolis D
Australia
Thank you for the most wonderful venue for our big day! You guys are the best and we can not thank you enough for everything you have done over the past 3 days. Lots of love, Doug and Bec
28-May-2019 - 31-May-2019
Rebecca S
Thailand
Dear Tik, Thanks so much for your warmest hospitality. We truly felt at home (a prettier version of home :). It's been an amazing experience having our wedding here. The staff were truly part of our family. Love, Rob and India
25-Apr-2019 - 30-Apr-2019
Robert O
Thailand
Thank you for taking care and helping us have a great and wonderful vacation in Ban Suriya. We had the perfect ten days. Thank you to the entire villa staff, for sure this was one of our greatest family holidays. We will recommend your lovely villa to our friends back home. Hope to come back.
12-Apr-2019 - 22-Apr-2019
Liat K
Israel
Thank you very much for making our experience at the villa one of the best experiences ever. Your attention to details in impressionable. I cant really say much except everything was perfect and we will definitely be recommending your villa back home in Australia once again.
20-Jan-2019 - 25-Jan-2019
Sara O
Thailand
It was a great pleasure to meet you here in such a beautiful, special and amazing place (first Thailand experience). We loved the food, we loved the view and we loved the great service you gave us with your kindly way. For the future we wish you all the best and nice guests, because you deserve it.
29-Oct-2018 - 02-Nov-2018
Cicely L
Hong Kong
Thank you so much for our wonderful stay. The villa is amazing, the view is stunning but mostly you made our stay an amazing one. Big compliment to the chef, we loved the Thai food. Definitely a vacation to remember.
22-Oct-2018 - 26-Oct-2018
Frederik W
Malaysia
Thank you for everything, we love you. Thank you very much for the amazing things you have done for us.
15-Oct-2018 - 18-Oct-2018
Mutiara M
Indonesia
Thank you all for your contribution. You are so nice and kind to everyone here. You guys made our holiday more comfortable and special. The environment of the villa is wonderful and fully equipped. Even the weather is cloudy or raining, we all love here and very enjoyed to stay here with you guys. Thanks for Tik help us to plan our schedule and meals. Thanks for the team to keep the villa neat
... more
09-Oct-2018 - 14-Oct-2018
Zhou's Family
China
Thank you for all your contribution to our wonderful family holiday. Julie had a fantastic 60th birthday and the special meal you presented to her was outstanding. We could not have selected a better venue and service.
01-Oct-2018 - 09-Oct-2018
Brian F
Thailand
We had an absolutely wonderful time, thank you so much for your amazing hospitality and service, we will never forget it! Thank you also for making my 40th birthday celebration so wonderful.
31-Aug-2018 - 03-Sep-2018
Jenn H
Finland
Thank you so much for this lovely stay. Tik, Kai, Chef Pueng and all the team - you made us feel better than at home. Every detail was magic - the food was fantastic, the flowers on the bed every night were fabulous, the kids all asked if we could stay here all the time. Hope to see you all next year.
29-Jul-2018 - 08-Aug-2018
Valerie and Jean
France
We had a wonderful summer holiday. Thank you Tik and your team.
23-Jul-2018 - 29-Jul-2018
Xie J
China
Such an amazing stay. We had the time of our lives, pool was awesome, food was amazing, thank you Ban Suriya,
14-Jul-2018 - 19-Jul-2018
Mikaela L
Malaysia
None of summers is as good as this one. Thank you Tik and your crew. One more thing - noodles provided in breakfast is AWESOME! Best noodles ever!
09-Jul-2018 - 14-Jul-2018
Chen and family
China
Wow! What can I say, we had the most amazing stay in Ban Suriya. An incredible villa with even more incredible staff. Thank you for being such amazing and attentive hosts. We had the best time celebrating Mr and Mrs Lemmon's wedding! Also the chef cooked us delicious food every evening. We especially enjoyed the Massaman Curry! Thank you so much.
03-Jul-2018 - 08-Jul-2018
Hayley M
Thailand
I loved the house - it is very nice. Liked our activities - it was fun. I enjoyed it here a lot. I wish I can come back soon, this has been a lovely holiday! Thanks a lot for this memorable holiday.
28-Jun-2018 - 03-Jul-2018
Ekhlas A
Oman
Thank you very much to you and your team for your wonderful hospitality! You have been very accommodating and helpful to us and our family and we can't be happier with your service. Ban Suriya is a beautiful location and we wouldn't hesitate recommending this villa to our friends. Take care, hope you manage to find a nice home for the kitties and hope to see you again!
31-May-2018 - 03-Jun-2018
Darrin and Fiona
Thailand
Dear Tik, Kai, Max, Nom and Oy, thank you so much for taking such good care of us. We've had the most wonderful couple of days and hope to come back again, Thank you for all the recipes and the chicken satay packs! Our tummies will be eternally grateful. Such an amazing few days, we will miss Ban Suriya and it's people.
26-May-2018 - 28-May-2018
Kirsty M
Australia
It was so wonderful to come back to this beautiful place again. You Tik and your fabulous team made our holiday for us and our friends really special and unforgettable - especially your marvelous Thai cuisine (yummy yummy). Your warm hospitality and your lovely decorations made our holiday extraordinary, thank you so much!
30-Mar-2018 - 05-Apr-2018
Niewodniczanski P
Germany
Thank you sooo much for making this holiday a fantastic one. Tik, Kai, Mohammed and everyone else that has worked so hard this week to make our stay unforgettable. We loved everything here - from the food, service, property to the friendly security guard that made us feel very safe while sleeping through the night. This place is definitely one of our favorites and you will see us again. Thank
... more
24-Mar-2018 - 29-Mar-2018
Arun A
Oman
Thanks to Tik and the amazing team. The most magnificent location on the planet crowned the most magnificent wedding! Five days of bliss made splendidly effortless by a great team. Thanks for your warm hospitality, excellent cooking - Pueng was Fantastic! Can't wait to come back.
12-Mar-2018 - 17-Mar-2018
Heather L
Philippines
Can't believe how time just flies in Ban Suriya. The Villa is amazing but what makes it more special is the crew! They are warm and inviting and they treat us like family. They absolutely adore our twins and in return, all of us had a fantastic time. Their attentiveness to all of our requests is incredible. Two thumbs up for the delicious food! We will definitely miss this villa and the most
... more
01-Mar-2018 - 08-Mar-2018
Jon P
Singapore
We love your place. A wonderful home and facilities. Yours staff are very professional and very nice. Please thanks them for us. And we hope to come back soon. Thank you for your kindness. Please don't forget my recipe of the spaghetti!!
13-Feb-2018 - 18-Feb-2018
Ons Sidi A
Philippines
Ban Suriya is indeed great! We all had fun as guests and we were never bored. The staff on board were all very accommodating. Truely impressed!
10-Nov-2010 - 14-Nov-2010
Adrian Lim
Need more inspiration?
We're at your service