Albany Cottage
The villa you chose is no longer available for rental from us but we have a portfolio of Elite Havens in various locations around South East Asia for you to choose from. Alternatively feel free to send us an enquiry and it'll be our pleasure to help you find the perfect villa for your next holiday.
4 Bedrooms
8 Adults
Imagine manicured lawns within which sits a whimsical gazebo apt for evening tea with a view, served with freshly prepared snacks. The sound of birds chirping, the sight of clouds flitting over terraced hills, and the absolute beauty of South India's Nilgiri Hills (translating as blue mountains). Built to complement its natural setting in one of India's most picturesque corners, Albany Cottage exudes a colonial British vibe complemented by the unmatched grandeur of India's erstwhile palaces and mansions.
Located in a quaint and peaceful part of Coonoor, Albany Cottage stands at an altitude of 1,850 metres. Unwind at the gorgeous gazebo while taking in the scenic view and fresh air or have a drink at the terrace bar while gazing at the starry sky. Each of the four bedrooms has a distinct character, from the yellow room overlooking the patio at the back to the two master bedrooms upstairs boasting incredible tea garden views.
Settle into the cosy couches in the living room or curl up with a book on the leather chair in the library. The eight-seater dining table is bound to be your favourite spot in the villa, such is the skill of the villa chef who excels at cooking local delicacies as well as European food which will please any palate. When the weather gets a bit nippy, request the villa staff to build you a fire in the living room or upstairs in the bedrooms, and you can spend a cosy evening with your loved ones.
Apart from the beautiful home, the area is yours to explore. Go for long walks in the hills, play a game of golf or head up to Ooty or Pycara lake for a spot of boating. The Villa Manager will be happy to book a car for your use, should you require one, or arrange for a local masseuse to knead the knots away. No stone is left unturned to ensure that your stay is as relaxing and pleasurable as possible.
Read more
This haven includes
Unique features

Great views

Fireplace

Library/Book Collection
Location
Coonoor is nestled into the Nilgiri Hills in India's southern state of Tamil Nadu. With the defence cantonment area in Wellington nearby, this is a protected and peaceful area. Tea gardens abound, covering the hills in their green splendour. Only two hours from the international airport at Coimbatore, Coonoor is surprisingly accessible and easy to reach. The popular hill station of Ooty is 40 minutes away, connected by a toy train which has been given the accreditation of being a UNESCO site.
More information for Things to do
Take in and admire the stunning and calming views of tea garden clad hills as you rest in the elegant gazebo while enjoying evening tea.
Play a round of golf at the nearby Wellington Golf Course, one of the most beautiful ones in the country.
Take a quick trip to Ooty and enjoy the area's shopping scene.
Visit Pykara Lake and indulge in boating with your family.
Pizza lovers will love the wheat pizzas cooked on a hot stone at Open Kitchen in Bedford.
Shop for chocolates and fudge at Moddy, the local chocolatier.
Go for long walks in the mountains.
Head to The Culinariam for delicious food and an array of options to appease your tastebuds.
Enjoy and sip a drink of your choice at the terrace bar while gazing at the night sky lit by stars.
LEAVE THE PLANNING TO US
Shake off the stress of holiday planning. Let the Elite Concierge take care of all your bookings and arrangements, from transport, tours and restaurant reservations, to any special requests for your arrival. We're here to make your holiday experience extraordinary.
Quick facts
Location
Coonoor, Tamil Nadu, India.
Capacity
8 adults (4 ensuite bedrooms: all with king-size beds)
Living areas
Elegant living room; 8-seater indoor dining table; library with books and board games; foosball table; manicured lawn with sculptures; covered verandah with seating; gazebo; fireplaces; reading corners; terrace bar; backyard patio.
Staff
The villa has a dedicated caretaker while a Guest Relations Manager is on-call. Additional staff such as a nanny/babysitter, spa therapist, or driver can be hired on request at extra charge.
Communication
WiFi internet access.
Entertainment
Flat-screen television; music system; books; boardgames; foosball table; putting set; gazebo; bar.
Families
Albany Cottage is a family-friendly and pet-friendly vacation home that is ideal either for short or long-term vacations or a weekend getaway with friends or family members who have children. The chef is exceptionally talented and can customise food to please the pickiest of eaters.
Spa
The Guest Relations Manager can arrange for a professional masseuse to visit the villa for spa services that may be enjoyed at various spots within the villa premises. 
Transport
Should you need transport to explore the area around, a car and driver can be arranged on a chargeable basis.
The layout
Indoor living
An alluring, colonial-style living area with hanging chandeliers, elegant seating and ornate mirrors on the walls
Eight-seater wooden dining table to enjoy delicious meals
Fireplaces in the living room and the two master bedrooms
A well-stocked library with a leather chair and study table
Well-equipped kitchen located a few steps below the main house
Outdoor living
Open-sided gazebo with rattan chairs and side tables, perfect for evening tea or cocktail nights
Covered veranda with planters' chairs and a charming view
A golf putting set on the verandah
Manicured lawn with life-size deer sculptures
Terrace next to both the master bedrooms with an outdoor bar, seating and Indian-style daybed (charpoi)
The rooms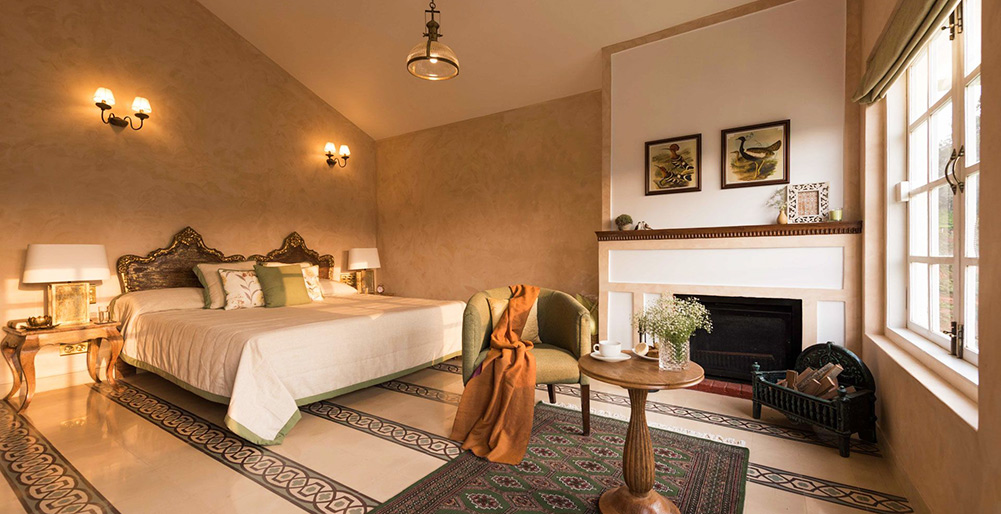 Bedrooms
Four exquisite bedrooms, each with a mix of comfort and design and infused with minimalist modern elegance
Two guest bedrooms are located at the ground level, accessible via five steps
The two master bedrooms take up the upper level, with ensuite bathrooms and doors opening onto the terrace lounge
Dressing tables, lounge chairs, and ample storage space
The upstairs rooms have exquisite views of the tea gardens
Dining
The diversity of cuisine in India is unparalleled and no visit to one of our India villas is complete without sampling the delicious fare on offer. It is well-known that the best food in any country is homemade and cooked in the kitchens of the locals. At Elite Havens, we bring the experience of home dining to you, albeit in style. Relish local and international fare cooked to your taste by a private cook who will craft meals to delight you, day after day.
From breakfast until dinner, appetizers to desserts, dining promises to be a memorable affair at an elite haven. It is a common misconception that Indian food is spicy. Discover the myriad flavours of the various regions of this ancient country, cuisines that go far beyond Chicken Tikka Masala, and try age-old recipes passed from generation to generation. When you seek a bit of comfort, our cooks will be happy to revert back to international dishes of your preference. Come, indulge your senses in a way that only India can promise.
View a sample menu