Villa Chada
The villa you chose is no longer available for rental from us but we have a portfolio of Elite Havens in various locations around South East Asia for you to choose from. Alternatively feel free to send us an enquiry and it'll be our pleasure to help you find the perfect villa for your next holiday.
4 - 6 Bedrooms
12 Adults
Commanding prime position on the peaceful hillside of Millionaire's Mile around from Kamala Bay, where the views of the magnificent Andaman Sea are pure perfection, sits stunning Villa Chada. This ocean-front Thai-style villa, offers complete privacy, an expansive garden with an infinity pool and first-class service in a natural, tropical setting.
With six-bedrooms, it's a charming mix of tradition and comfort, with the added bonus of exceptional hospitality from a great team, including a villa manager, 24-hour security and a private chef ready to create delectable dishes. This is the perfect venue for an escape for a group of friends or families with older children, as the setup offers cosy corners and generous space alongside exclusivity and utter tranquillity.
The villa follows a classic Thai design with four stand-alone pavilions, a mix of open-plan living spaces and private bedrooms, each one embracing the sea views. Brimming with character, it features pitched-roofs, floor-to-ceiling windows, and polished hardwood floors, making it a spectacular paradise retreat. The villa is decorated throughout with a unique collection of beautiful antique furniture, Asian art and artefacts, and intricate wood carvings.
Broad terraces and wide-open spaces reveal a landscaped garden with a delightful display of manicured lawns, lotus ponds and tall casuarina trees. The spectacular 16-metre free-form infinity pool is framed by a timber terrace furnished with stylish double sunbeds.
Villa Chada is hidden away on the headland within the exclusive Laemson Estate, yet just outside there's plenty to explore. Less than a kilometre away is a private beach cove where you can snorkel or try your hand at local fishing, there's also direct walking access to this secret beach through the estate. Indulge in fine dining at one of the international resorts nearby or take a trip to Kamala village to browse through local shops. Further along the coast is Patong Beach, where the nightlife can be as boisterous as it can be luxurious with a plethora of restaurants and bars to choose from to suit all tastes. The villa would not be a beach paradise if it did not offer breathtaking views and proximity to Phuket's best beaches, that are legendary for calm waters and glorious sunsets.
Read more
This haven includes
Unique features

Cliff Top Views

Unique Architecture

Estate/Resort Facilities
Location
Villa Chada is part of the exceptional Laemson Estate, extending across the headland of 'Millionaire's Mile' at the northern end of Kamala Bay on the west coast of Phuket. Taking a prime position, its sleepy, away-from-it-all ambiance is due to the surrounding forested hills and stunning expanse of the views of the Andaman Sea - everything you would dream of from a tropical villa. Close by is exclusive access to a beach cove ideal for snorkelling, and international hotels for rooftop cocktails at sunset. Three kilometres away is Kamala, traditionally a fishing village with its own golden stretch of beach, whilst further south along the coast is Patong, famous for its busy nightlife and shopping extravaganza. Phuket International Airport is just a 26km drive.
More information for Things to do
When staying in a luxury villa with stunning sunsets and a full-time team on hand, is there really any reason to leave? If you do have the desire to explore the island's white-sand beaches, celebrated viewpoints, exclusive dining options and cultural activities, then your villa manager and the team are the people to ask. They can offer first-hand recommendations for Phuket's best attractions and sights, help arrange bookings, and organise a day or half-day car and driver hire for sightseeing, on guest account.
Here is a taste of some of the activities on offer within reach of Villa Chada.
There are plenty of

superb beaches

on the west coast of Phuket including nearby Kamala where the beach is quiet and family-friendly. Enjoy a

Thai massage

with a background score of the sounds of waves, dine on fresh seafood and go snorkelling.
There are lots of opportunities nearby for

water activities

including surfing, sea kayaking, windsurfing, kite surfing, and stand-up paddling sessions, or you can get in touch with your wild side and discover scuba diving to explore the colourful underwater world.

The Phuket Elephant Sanctuary

puts the welfare of the elephants first, you can see these beautiful creatures up close and observe them in their natural environment.

Old Phuket Town

is a fascinating place and will give you an insight into how Phuket evolved. Take a cultural walking tour to explore its interesting history, colourful Sino-Portuguese style shops, and stop off at a local eating place to find out for yourself why Phuket received a UNESCO 'City of Gastronomy' award.
After tasting Thai food, you might want to take some recipes home to try. Join a

Thai cookery class

and learn the secrets behind this flavourful and tasty cuisine.
Escape for the day by chartering a luxury yacht to cruise the Andaman Sea. Discover the lofty limestone karsts of

Phang Nga Bay

, or snorkel in the pure waters of the Similan, Raya, and Maithon islands.

Patong

is the place to go if you feel the need for something livelier. Packed with bars, clubs and restaurants, the street bazaars selling all kinds of souvenirs, it's a world away from quiet Kamala.
LEAVE THE PLANNING TO US
Shake off the stress of holiday planning. Let the Elite Concierge take care of all your bookings and arrangements, from transport, tours and restaurant reservations, to any special requests for your arrival. We're here to make your holiday experience extraordinary.
Quick facts
Location
Laemson Estate, Kamala, Phuket, Thailand.
Capacity
12 guests (6 ensuite bedrooms: 1 king, 3 queens, 2 twins).

Living areas
Family room with sofas and TV; Indoor dining room for 8 with lounge area; Furnished pool deck.
Pool
16.6m x 10.6m x 1.6m.
Staff
Villa manager, chef, housekeeping and service staff, 24-hour security. Additional staff such as nanny/babysitter, masseuse and driver are available upon request at extra charge.
Dining
Villa suggestion menu includes a wide variety of Asian dishes and Asian/western breakfast. Requests accommodated (including international and special diets). Groceries and beverages are charged at market price plus 20% service charge.
Communication
WiFi broadband internet access.
Entertainment
Satellite TVs; DVD players; books on art and culture; foosball.
Spa
Massages and a range of beauty treatments can be arranged by the villa team and enjoyed in various locations in and around the villa.
For families
Villa Chada is suitable for families with older children. Extra baby cot and high chair are available on request at small cost.
Transport
The estate has a private beach nearby and first-class resorts for fine dining options. If additional transport is required, don't hesitate to ask the villa manager to call one of the island's reasonably priced metered taxis, or to organise a day or half-day car and driver hire for sightseeing (additional cost).
Additional facilities
Safety deposit box.
Property area
2,608sqm (land). 449sqm (villa).
The layout
Indoor living
Spacious dining room that can seat up to eight guests with a casual seating area
Family room with ocean views and large comfortable sofas, satellite TV and a DVD player
Outdoor living
Extensive landscaped tropical garden with manicured lawns and lotus ponds
16.6m free-form infinity swimming pool with a large timber deck furnished with four double sun loungers
Extensive wraparound shaded stone terrace furnished with a teak daybed
The rooms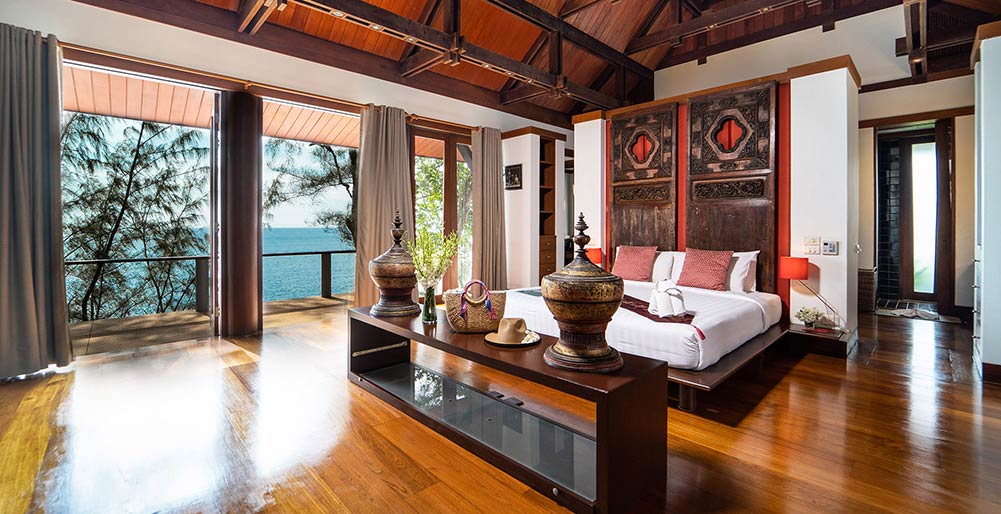 Master bedroom
Situated on the ground floor
King-size bed with stunning wooden carved paneling headboard
Panoramic ocean views
Furnished with antique-style furniture
Floor-to-ceiling windows leading out to a large wraparound private balcony
Satellite TV
Ensuite bathroom with bathtub, shower and twin vanity
Guest bedroom 1
Situated on the lower floor below the master bedroom
Queen-size bed
Floor-to-ceiling windows with ocean view
Ensuite bathroom with shower
Furnished with desk and a two-seater sofa
Guest bedroom 2
Situated on the lower floor opposite guest bedroom 1
Furnished with twin beds
Floor-to-ceiling windows with ocean view
Ensuite bathroom with shower and twin vanity
Walk-in wardrobe
Furnished with a two-seater sofa
Guest bedroom 3
Situated on the ground floor in the garden
Furnished with twin beds
Floor-to-ceiling windows with garden and ocean view
Ensuite bathroom with bathtub, shower and twin vanity
Double set of wardrobes
Furnished with sofa
Access to guest bedroom 4 via a connecting door, suitable for families
Guest bedroom 4
Situated on the ground floor in the garden
Furnished with queen-size bed
Floor-to-ceiling windows with garden and ocean view
Ensuite bathroom with bathtub, shower and twin vanity
Double set of wardrobes
Furnished with a two-seater sofa
Access to guest bedroom 3 via a connecting door, suitable for families
Mini master suite
Situated on the lower floor below the dining room
Queen-size bed
Ensuite bathroom with bathtub, shower and twin vanity
Private stone terrace with ocean view
Satellite TV
Furnished with a two-seater sofa
Dining
At Villa Chada, you have a private chef to prepare all your daily meals, breakfast, lunch and dinner. The villa has a suggested menu of Thai dishes and breakfast options and accepts international requests. Meals are cooked fresh on order and can be varied to accommodate your personal preferences.
The chef can adapt dishes for vegetarian options and any other specific dietary requirements. Parents can discuss options for children with the chef personally.
You will love the chef's signature dishes like Goong Sarong, a traditional Phuket dish of deep-fried prawns wrapped in vermicelli noodles, Pad Krapao, stir-fried mince chicken or pork with hot basil leaves and delicious mango with sticky rice drizzled with sweet coconut milk.
Guests are charged for the groceries and beverages at market price (plus a 20% handling fee which is subject to service and tax at the prevailing rate). It is best if you provide the money to buy the groceries in advance, the team shall then do everything else - the shopping and cooking. They will retain any receipts for your reference, if required. Generally, to give the team enough time to shop and prepare, the meals are ideally planned the evening before.
View a sample menu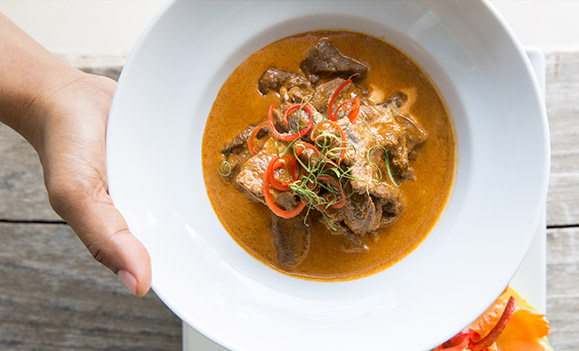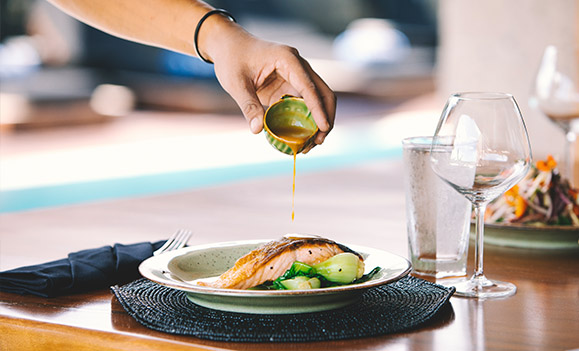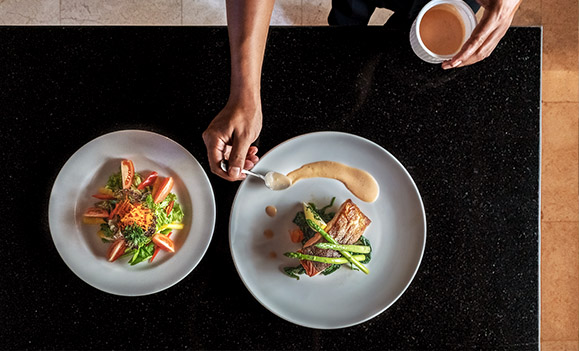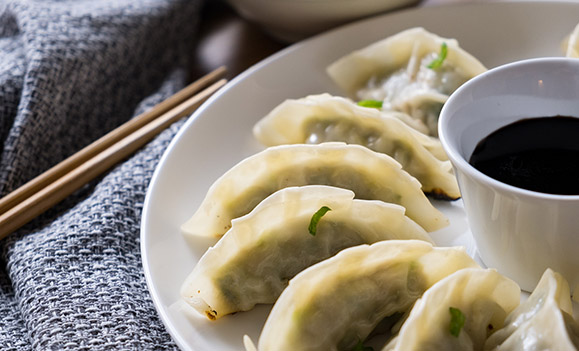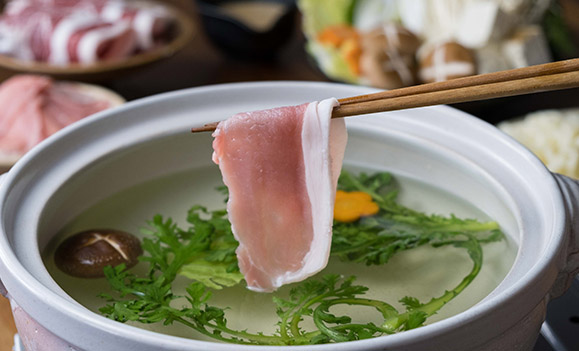 Reviews
AUG 16 , 2022 Wow ! What an amazing team from Rose's gracious planning to Gear's fabulous cooking , to Sam Ran's gorgeous garden Sao and Jen's hospitality - Words can't describe or appreciation and delight . We look forward to sharing our wonderful experiences with others and returning again
... more
13-Aug-2022 - 16-Aug-2022
Dean C
United States
Thank you to all the wonderful staff for to making our trip perfect .The food and service were incredible and the staff so friendly and accommodately in every way. We are sad to leave ! Have to be back next year . Mellisa , Ivo,Leo and Kane ( UK )
07-Aug-2022 - 12-Aug-2022
Ivo S
United Kingdom
Thank You So Much Khun Rose and team
... more
28-Jul-2022 - 01-Aug-2022
Oh Shen K
Thailand
Great views, wonderful hospitality and perfect staff Thank you
13-Jul-2022 - 16-Jul-2022
Vishal D
India
THANK YOU SO MUCH TO KHUN ROSE AND HER TEAMS. YOU TOOK SO MUCH CARE OF US. WE APPRECIATE YOU. EVERYTHING WAS PERFECTLY DONE. AND THE FOOD WAS AMAZING . YOUR HOSPITALITY IS TOP CLASS.
11-Jun-2022 - 13-Jun-2022
Noman Q
Pakistan
To Taz and his team thank you for making our stay in this beautiful place a happy one. And although the property feels like paradise, it is the people service us making it come to life . The garden is well looked after, the cooking is perfect and your smiles is the sunshine on rainy days .Thank you all very much and best , wishes from Holland... Alex, Lucia, Sophia, Pieter, Deedee, Floris,
... more
24-Apr-2022 - 04-May-2022
Carmen K
Spain
To Taz ,Lucky and Team. Thank you for making our stay at Villa Chada so magical. We have stayed in other villas in Thailand and Asia and this was the best. The warm smiles, welcoming attitude, amazing cooked super fresh Thai food and overall presentation of the property was everything we could have expected. We very much look forward to coming back in future. Thank you all for making our
... more
13-Apr-2022 - 17-Apr-2022
Hayley S
Singapore
amazing place we love the place and the staff and the chef beautiful place thank you
11-Mar-2022 - 14-Mar-2022
Muhannad A
Saudi Arabia
Professional and warm service, we loved it here.
18-Feb-2020 - 21-Feb-2020
YONG W
China
Nice environment with hospitality staffs, delicious food and warming services.
24-Jan-2020 - 28-Jan-2020
Yiling F
China
We had have an incredible stay! Here at Villa Chada it's like a piece of heaven has fallen from the sky. From food to view this villa is perfection. Best of all was Pook, our villa manager. She has been wonderfully compassionate, efficient, thoughtful ,and she had made our family is stay here a memorable one. We hope to return to stay here at Villa Chada with Pook again soon! It was our best
... more
26-Dec-2019 - 02-Jan-2020
The Chopra Family
India
Great villa. Perfect for food. We have a wonderful time. Perfect staff and place
24-Oct-2019 - 27-Oct-2019
Amadeus B
Switzerland
Thank you to all the staff at villa Chada. We had a great stay and all the staff were very friendly. Thank you to the amazing staff and resort villa was perfect and we would love to come back. Thank you for a relaxing and amazing time in Phuket.
08-Oct-2019 - 13-Oct-2019
Grace H
Australia
We sure had a wonderful stay here at Villa Chada! It is amazing. Thank you to all staff for looking after us and the food was great. It had made all very lovely for all of us. A special thanks to Natty to take care of us, you are a star. We look period to in the future.
02-Oct-2019 - 07-Oct-2019
Jorge C
Portugal
Nice villa with sweet service, we have a great time here.
22-Sep-2019 - 25-Sep-2019
XIANBIAO H
China
The service is well served. The management is passionate and professional in their job. We really appreciate the service.
09-Aug-2019 - 14-Aug-2019
You W
China
Need more inspiration?
We're at your service