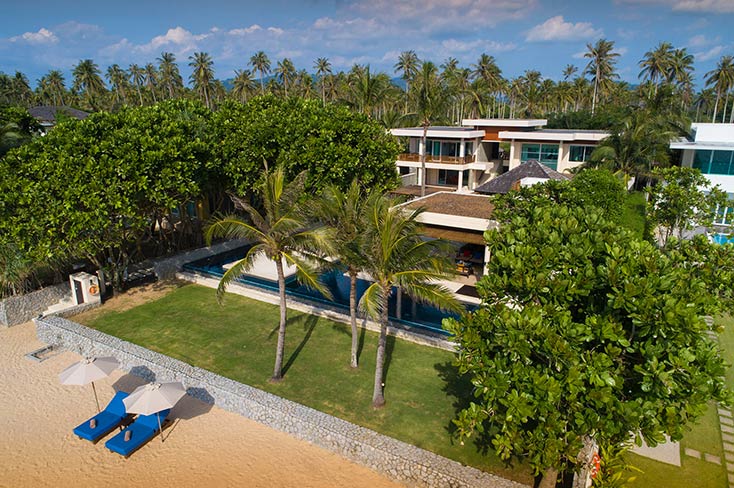 Jatupon K, Thailand
,
12-Sep-2020
-
14-Sep-2020
This is my first time to come here, It's such a private place. There are many impression points at this place. The Villa is quite clean and neat. The staffs are friendly, and professional. Food is delicious and readiness. The place is very nice. Even I had a short time to visit but I promise, I'll definitely come back!
Pathar (K. Pailin) R, Thailand
,
18-Jul-2020
-
20-Jul-2020
My family and I had a short lovely stay at Villa Yaringa. The Villa Manager - Khun Noom was attentive and always had smile on his face. My daughter loved playing with him. Our chef Khun Kwang was exceptional and I will miss her tasty food. Hope to be able to come back very soon.
Wei W, China
,
15-Feb-2020
-
22-Feb-2020
Beautiful and quiet place. We stayed here for 20 days because of the COVID-19 outbreak in China. I am leaving tomorrow. Thank you to everyone here. They are very professional and friendly, and they bring us very good memories. We will come again next time!
Jim R, Singapore
,
12-Aug-2019
-
18-Aug-2019
Dear Pook and team, Thank you very much for a wonderful stay. You have looked after us beautifully in a kind and awesome way, which we have greatly appreciated. The villa is stunning and very well maintained. We especially liked the landscaping and large numbers of areas to sit.The sea was very rough whilst we were there which was a shame, but we enjoyed walking along the beach to the Akyra Beach club, which has an excellent and wild menu. We have very much liked hanging out together as a family meeting up from Singapore and London.It has been a stay full of memories. Thank you very much for looking after us. Thank you for the flowers and chips you put in our room. I have lovee being in your villa. The whole experience was amazing. Thank you so much for everything here. I had a great time staying here.
Bowen L, China
,
01-May-2019
-
04-May-2019
Our family had a sweet holiday here.Very nice staff with delicious fresh food and perfect service! They particularly prepared an induction for us! Villa has amazing views and a luxury clear swimming pool also. Bowen L.
Wilfred O, Singapore
,
27-Apr-2019
-
01-May-2019
Dear Pook and team. Thank you so much for the wonderful hospitality, food and care. Not only is the villa beautiful, Khun Pook, Khun O, and Khun Mo's treatment made our stay even more memorable and special. Thank you so much for taking care of us. Wilfred and Renee
Kathy B, Singapore
,
17-Apr-2019
-
21-Apr-2019
Dear Pook. Thank you so much for the awesome experience! As a kid there were so many fun things to do, and the food was amazing! I really enjoyed my time here, it made Phuket amazing! Thank you Jacob B.
Rob W, United Kingdom
,
09-Apr-2019
-
16-Apr-2019
Dear Pook. Thank you making our stay in Thailand so special. Amazing beautiful memories for a lifetime. Rob W, England. And I had the best birthday ever! Thank you so much Pook and team. Mille.
Oleh C, Ukraine
,
16-Mar-2019
-
28-Mar-2019
Thank a lot for the wonderful holiday and rest. Gorgeous villa, great staff and the warmest sea and most beautiful sunset.
Christine L, China
,
03-Feb-2019
-
08-Feb-2019
Dear Pook ,chef and the best of the villa Yaringa staff, Thank you for a wonderful time here and for all the help making our first time here in Thailand wonderful. The location,food and service was excellent, especially with the kids. It is hard to find fun activities. Being able to cook with the chef and learn flower origami was very fun for them. We will definitely recommend the villa and will be back. Paul, Christine L., Abby, Alexander Hongkong.
Marat D, Russia
,
26-Dec-2018
-
07-Jan-2019
Everything was great. Helpful and friendly staff! Very nice and comfortable villa. Tasty food, friendly staff, nice weather, magnificent beaches all you need in your holiday.
Lindsay T, Malaysia
,
17-Dec-2018
-
20-Dec-2018
We had a wonderful time here at villa, thanks to your hospitality and beautiful Villa. The food was an absolute dream and one of the best we have ever had in Thailand. Your Chef, Khun Sai has a fabulous culinary gifts. We will definitely tell our friends about this place.