Villa Shashwat
The villa you chose is no longer available for rental from us but we have a portfolio of Elite Havens in various locations around South East Asia for you to choose from. Alternatively feel free to send us an enquiry and it'll be our pleasure to help you find the perfect villa for your next holiday.
5 Bedrooms
10 Adults
Calling Villa Shashwat merely a rental villa does it disservice. Instead, it is a lifestyle choice, a way to be. A boutique hotel all to yourself in the celebrity hamlet of Alibaug. Come, discover this elusive and expansive holiday home and settle into luxurious living.
Inspired by the red brick kilns that dot the district's landscape, the home is a harmonious blend of understated elegance and unassuming grandeur. Enveloped by lush foliage, unwind in any of the five ensuite bedrooms, each with king-size beds and tropical baths. But the true beauty of the villa lies in the variety of its amenities and its lavish outdoor spaces. Winding garden paths, hidden nooks and crannies, and an array of entertainment and sport options keep everyone in your group busy.
The media room is perfect for movie nights while the large living and dining room tends to become the social hub for those who prefer to retreat indoors. The open-to-sky showers, the cabana and the natural, pond-like swimming pool are where you can feel one with nature and let your worries float away as you sip on a perfectly blended cocktail. Team up with your family or friends for a game of tennis or basketball on the multipurpose court or knock some bails off on the cricket pitch. The indoor-lovers can indulge in a game of pool or air hockey amongst others, in the saloon-style games room. Whether you win or lose, once you've immersed yourself in this luxurious home and experienced Elite Havens' intuitive hospitality, we promise, you'll never want to leave.
Read more
This haven includes
Unique features

Pool Table

Tennis Court

Media/Games Room

Bar/Pool Bar

Putting/Mini Golf
Location
A short boat or ferry ride away from Mumbai's iconic Gateway of India, Alibaug is a coastal town in India's Maharashtra state, best known as a celebrity getaway. The landscape is a mix of uncrowded beaches, coconut groves, forested hills and village settlements. Once a sleepy semi-rural town, Alibaug has bloomed into a destination for the swish set, with cultural offerings such as art galleries and museums, eclectic dining and boutique shops. From November to March, the town comes alive with music festivals, pop-up entertainment, and gourmet experiences that can be enjoyed by visitors. The weather is pleasant, and you can stroll along Kihim Beach to catch an epic sunset or explore a historic fort. The Ro-Ro (roll-on roll-off) car ferry makes the destination extremely accessible for travellers.
More information for Things to do
Your Guest Relations Manager and staff hail from the area around and know Alibaug inside-out. They will be happy to share recommendations for everything, from coastal Malvani seafood joints to in-villa catering and even art shows. Do ask them about winter events, local sightseeing or even what typical village life is like. A car and driver can be hired for the day (on extra charge) or shorter periods, as required. Here's what you can do while visiting Alibaug:
Alibaug's main town is 45 minutes from Mandwa Jetty and nearby is Alibaug Beach, where crowds descend every evening. Bedecked camels and horse-drawn carriages cart tourists on joyrides against the pink and vermilion sky. The 17th-century Kolaba Fort is an enjoyable kilometre-long walk into the sea and fascinating to explore, as it played an important role in the region's history.

If you want to sample the fiery Gomantak cuisine this coast is famous for, head to the humble Sanman Restaurant, which serves finger-licking dishes such as Pomfret Curry, Prawn Masala and Clams Sukha (dry). They are known for their thalis (a complete meal served on a large round plate with lentils, rice, bread, vegetables, poppadom, and curry) in chicken, fish, prawn and crab variants.

Those looking for an epicurean experience should visit famous Mumbai restaurateur Gauri Devidayal's farm located not too far from Mandwa Jetty, where you can sip on homegrown butterfly pea tea as you walk around the vegetable patches. Harvest winter vegetables, then watch expert chefs turn them into delicious salads, pasta and curries served family-style under a flaming orange gulmohar tree in the garden.

The Guild by Shalini Sawhney, a south Mumbai art gallery that moved base to Alibaug a few years ago showcases artwork from known and emerging Indian artists and has a room full of vintage bric-a-brac. It hosts periodic previews and solo shows as well.

Pinakin Patel is an architect credited for building some of the fanciest villas in Alibaug. He has now launched the Dashrath Patel Museum, dedicated to his late artist friend of the same name. The museum features Patel's paintings, sculptures, and photography, as well as a cafe. Upstairs is Pinakin's lifestyle store, which showcases minimalist attire, chinaware, cool artefacts, and more.

Mandwa Jetty is home to Flamboyante, a seaside restaurant which turns into a thumping beach club on weekends. Nearby, you will also find Kiki's Cafe, known for its pizzas and desserts (the owner Nitin Mongia also runs a catering company that delivers innovative, multi-cuisine food to your rental villa).

If you're in the mood to break a sweat, trek up the hills to Kankeshwar Temple, which has a big local following and affords spectacular views of the surrounding lush landscape. You can spot indigenous trees and birds as well as grazing cows on the way.

Alibaug hosts an annual, groovy music festival (now called Goonj, formerly Nariyal Paani) every winter. It is held in Tala, towards the south of the town. A weekend of performances by Indian artists such as Peter Cat Recording Co. and Ditty, sunset high tea with a view, and bonfires at night await you at this fun-filled event.
LEAVE THE PLANNING TO US
Shake off the stress of holiday planning. Let the Elite Concierge take care of all your bookings and arrangements, from transport, tours and restaurant reservations, to any special requests for your arrival. We're here to make your holiday experience extraordinary.
Quick facts
Location
Munavali, Alibaug, India.
Capacity
10 adults (5 ensuite bedrooms: all with king-size beds).
Living areas
Living room with high ceilings; dining room with a table for eight; outdoor hammocks, swings and benches; alfresco dining; private pool; lawned garden; games room; media room.
Staff
The villa has a dedicated caretaker while a Guest Relations Manager is on-call. Additional staff such as a nanny/babysitter, spa therapist, or driver can be hired on request at extra charge.
Communication
WiFi internet access.
Entertainment
Flat-screen televisions; music systems; board games; multi-purpose court; games room; pool; poker; cricket.
Dining
Breakfast is included. The Guest Relations Manager can organise food delivery on request from restaurants nearby or hire a cook (extra charge). Please note that the villa is a pure vegetarian home and does not allow cooking or ordering of non-vegetarian meals inside the house.
Families
The villa is highly suitable for families travelling with children. Baby cots and high chairs are available on request and other items can be hired for a small fee.
Transport
If you intend to step out of the villa, you will need a car, as taxis aren't easily available and there's no public transport. The villa can arrange for a car and driver on a chargeable basis.
The layout
Indoor living
Modern living room with high ceilings and comfortable sofas
Dining table for eight guests
Well-equipped kitchen
Media room
Games room with pool, air hockey and saloon-style games
Exposed brick façade and earthy décor
Outdoor living
Pond-like swimming pool that leads onto a lawned garden
Cabana seating with a poker table
Outdoor sit-outs, alfresco dining and numerous hidden nooks
Hammocks in the gardens
Multi-purpose court, cricket pitch, swings and tropical baths
The rooms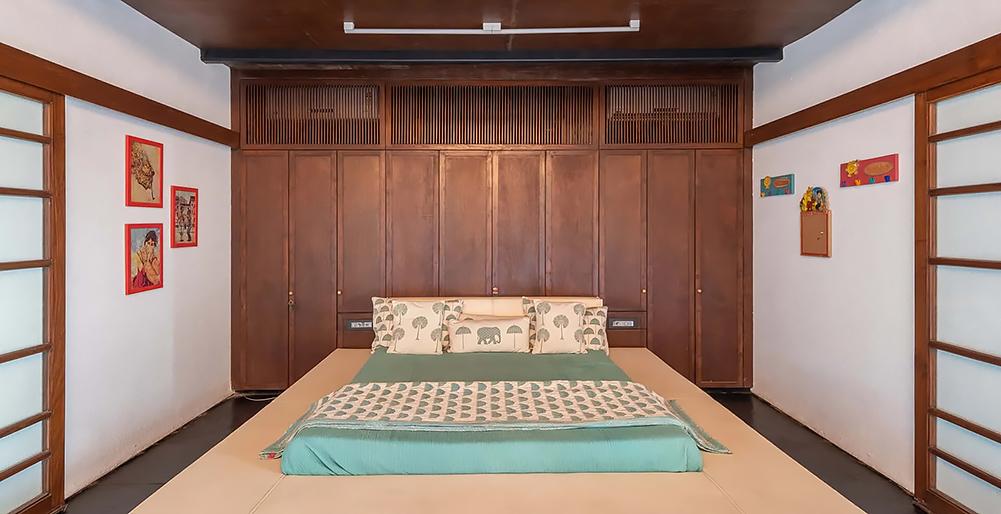 Bedrooms
Five bedrooms with king-size beds
Ensuite bathrooms with open-air showers and exposed brick walls
Sliding doors, bedside tables with lamps, and slate floors
Ceiling fans and air conditioning
Dining
The diversity of cuisine in India is unparalleled and no visit to one of our India villas is complete without sampling the delicious fare on offer. It is well-known that the best food in any country is homemade and cooked in the kitchens of the locals. At Elite Havens, we bring the experience of home dining to you, albeit in style. Relish local and international fare cooked to your taste by a private cook who will craft meals to delight you, day after day.
From breakfast until dinner, appetizers to desserts, dining promises to be a memorable affair at an elite haven. It is a common misconception that Indian food is spicy. Discover the myriad flavours of the various regions of this ancient country, cuisines that go far beyond Chicken Tikka Masala, and try age-old recipes passed from generation to generation. When you seek a bit of comfort, our cooks will be happy to revert back to international dishes of your preference. Come, indulge your senses in a way that only India can promise.
View a sample menu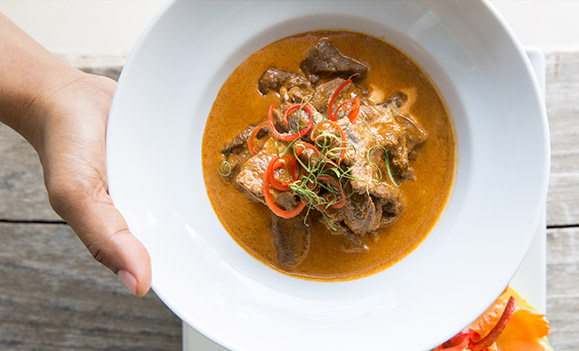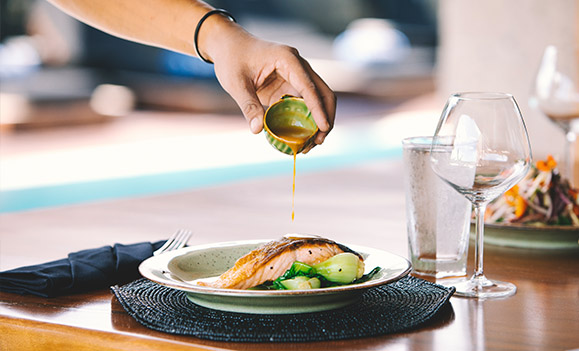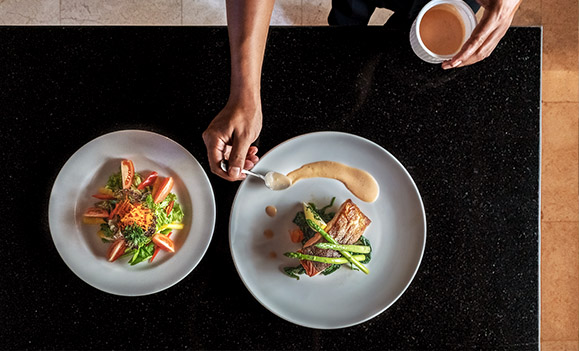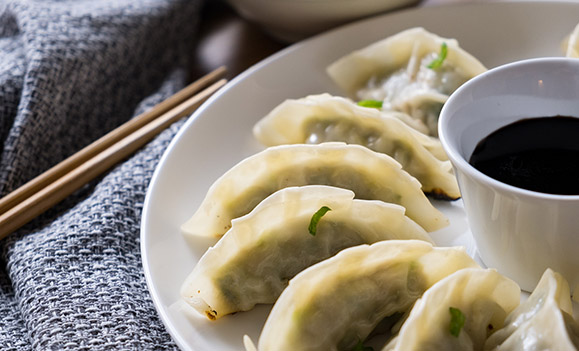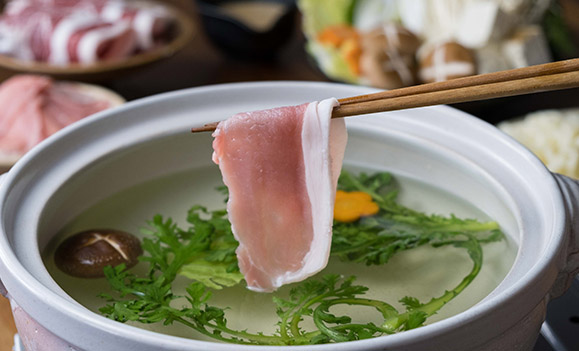 Need more inspiration?
We're at your service