Villa Saanti
The villa you chose is no longer available for rental from us but we have a portfolio of Elite Havens in various locations around South East Asia for you to choose from. Alternatively feel free to send us an enquiry and it'll be our pleasure to help you find the perfect villa for your next holiday.
6 Bedrooms
12 Adults
The opportunity to stay in a superb luxury private villa on one of Thailand's few remaining secret stretches of golden sand doesn't come along every day.
One of these whispered-about secrets is Natai Beach on the beautiful Andaman coast, just north of Phuket. And Natai Beach is where you'll find Villa Saanti – the Villa of Peace. The perfect name for this gorgeous beachfront holiday home.
This six-bedroom villa, with plenty of space for 12 adults and up to two children, embraces two large swimming pools as it gazes across a stretch of lush lawn and sky-yearning coconut palms, to the sublime beach and the Andaman Sea beyond. The sumptuously furnished living and dining pavilion, offers a cool retreat where guests can rest, relax and enjoy attentive service from a friendly team that includes a knowledgeable villa manager, housekeeping and service staff as well as a skilled Thai chef.
Carefully raked to perfection every day, the beach is the place for spending lazy days deliciously idling on sun loungers in the shade of screw pines and sea almond trees, taking an occasional dip in the Andaman, its waters as warm as a lover's welcome.
When the sun has set – a nightly spectacle for which Villa Saanti has ringside seats – the pools are lit by flickering torches in true tropical style. Enjoy each other's company as you wait for a feast of fragrant Thai cuisine.
Time afterwards for a Wii game, or a movie on the 55-inch screen in the entertainment room before falling into deeply comfortable beds with the sound of gentle waves kissing the shore. They call, "Sleep now. Tomorrow is another day of delights".
Read more
This haven includes
Unique features

Absolute Beach Front

Jacuzzi

Gym Facilities

Media/Games Room
Location
Villa Saanti is right next to Natai Beach – quiet, clean and utterly serene. Although Natai is just half an hour's drive from Phuket International Airport, its seven kilometres of soft golden sand are usually deserted.

The villa faces west, towards the Andaman Sea, and every evening, as the sun wheels toward the horizon, the sky puts on a unique and spectacular show of reds, pinks, oranges, greens, lilacs and purples, doubled by the reflections in the sea. When you're staying at Villa Saanti, you are guaranteed ringside seats.
But you are not completely alone. After sunset cocktails and dinner, it's an easy (less than 1km) stroll along the sand to Baba Beach Club, known for its great music. Or treat yourself to a rejuvenating therapy at The Aleenta Spa, just a little further along the beach.

You're also close to the wonders of Phang Nga Bay, the hot springs of Phang Nga, untouched jungle and, for golfers, Blue Canyon Country Club and Mission Hills on Phuket. Slightly further afield, but still an easy day (or night) out, is the glitz of Patong (1 hour 20 minutes' drive), and the shops of historic Phuket Old Town (about an hour away).
More information for Things to do
This Natai Beach villa may be a tranquil getaway but that doesn't mean there's any lack of things to do. The province of Phang Nga is renowned for its outdoor activities, its deep green forests and the jaw-dropping spectacle of limestone islands rising vertically from the waters of Phang Nga Bay.
Villa Saanti's manager will have a wealth of information about nearby places of interest and will help arrange transport and make any bookings required. Also, do ask the staff about the local area. Many of them live nearby and will be able to give an interesting insight into some of the fascinating aspects of life in Phang Nga.
Here's a sampling of things to do in the area:
River rafting (better between May and October when there's more water) is sure to get the adrenaline pumping – an exciting way to spend a few hours getting really wet.
A Phang Nga Bay tour is a must. Visit hongs (rooms) inside the islands, some with their own internal beaches, and canoe through tangled mazes of mangrove forests.
Baba Beach Club. Sophisticated and laid back, with top-class deejays, Baba is just a ten-minute walk along the beach from Villa Saanti. Perfect for a chill-out day or an evening with friends.
For the more energetic, the seven kilometres of Natai Beach, as deserted as Robinson Crusoe's domain, beg to be walked. Or for water lovers, follow the shoreline in the villa's two kayaks.
Take a stroll around Phuket Old Town for its local food, chic cafés, arts and craft studios, street markets and wall murals, and soak up the colourful atmosphere of the restored Sino-Portuguese buildings and Chinese shrines.
Explore the underground Phung Chang caves near Phang Nga town, riding through the darkness in a canoe, with only a miner's lamp on your head to see where you are going.
Just 15 minutes' drive to the east, at the edge of Phang Nga Bay, is Dinosea World Park. The kids will love the slides, pools and waterfalls. And as the name suggests, there are enormous dinosaurs everywhere. Perfect for unusually impressive selfies.
Golf fans can visit Aquella Golf & Country Club, nominated as Thailand's best golf course 2023. Located only 15km from Natai Beach, the 18-hole championship course boasts family friendly amenities spread across 1.8 million square meters of the Kingdom's most breathtaking landscape with an uninterrupted private beachfront stretching over two and a half kilometres.
Still got energy to burn? Get your villa manager to organise a mountain bike tour. The tour companies reckon these tours are better off-road, so prepare to get muddy.
Learn all about the tropical environment with a jungle trek through old-growth natural forest. You can also learn what's edible and what's not so that you can survive if you ever get lost in the jungle – a useful skill to take home with you!
LEAVE THE PLANNING TO US
Shake off the stress of holiday planning. Let the Elite Concierge take care of all your bookings and arrangements, from transport, tours and restaurant reservations, to any special requests for your arrival. We're here to make your holiday experience extraordinary.
Quick facts
Location
Natai Beach, Phang Nga, Phuket, Thailand.
Capacity
12 people (6 ensuite bedrooms with king-size beds). Two extra beds can be provided for kids, for a maximum of 14 people (12 adults; 2 kids). Additional charge shall be applied in excess of 12 people.
Living areas
Living room; dining room with modern open kitchen (for guest use) and 12-seat table; alfresco dining for 8 on terrace; entertainment/media room; well-equipped gym; barbecue area; sala with sunken seating next to the beach.
Pools
Main pool 20m x 5m; second pool 12m x 3m with in-pool jacuzzi.
Staff
Villa manager; chef; housekeepers and service staff; gardener. Additional staff (nanny, babysitter, masseuse, fitness instructors) available on request for extra charge.
Dining
Complimentary daily breakfast. Villa Saanti's chef is expert at both Asian and western cuisines. Guest requests are accommodated as far as possible (including special diets). Grocery cost is charged 20% handling fee which is subject to tax at the prevailing rate.
Communication
Complimentary WiFi in all areas, reaching onto the beach. Mobile phone for guests' use (local calls only).
Entertainment
55-inch TV with satellite channels; Blu-ray and DVD players; 3D goggles; iPod dock; Wii; Sonos sound system; board games; blutooth speakers in all rooms.
Sport/water sports
Gym; 2 kayaks (one-seater and two-seater).
For families
Villa Saanti is well-equipped for families with children of all ages. In-villa facilities include: a high chair; a baby cot; pool toys and beach toys.
Spa/massage
In villa spa and massage treatments can be carried out by professional beauty therapists (extra cost applies).
Transport
Airport transfers, car hire and taxi pick-ups can easily be arranged with your villa manager.
Additional facilities
Barbecue area; mini-safes in all rooms.
Property area
793sqm (villa). 4,220sqm (land).
Marketed and managed by
The Elite Havens Group.
The layout
Indoor Living
All Villa Saanti's living areas are at ground level, arranged around the huge deck and two swimming pools.
Designer chic architecture made for sybaritic relaxation.
Modern guest kitchen.
Large living and dining area faces the sea across the pools.
Games room with Wii, DVD and Blu-ray players, satellite TV, 55-inch smart LED TV.
Superbly equipped exercise room.
Outdoor Living
Two large infinity-edge pools, one with jacuzzi.
Huge sand-wash deck around the pools, furnished with sun loungers.
Beachside sala and family-size daybed.
Barbecue area.
Pool tables on the terrace outside the dining room.

Lawned garden with soaring coconut palms and sun loungers along the beachfront.
Natai Beach one step beyond the garden.
The rooms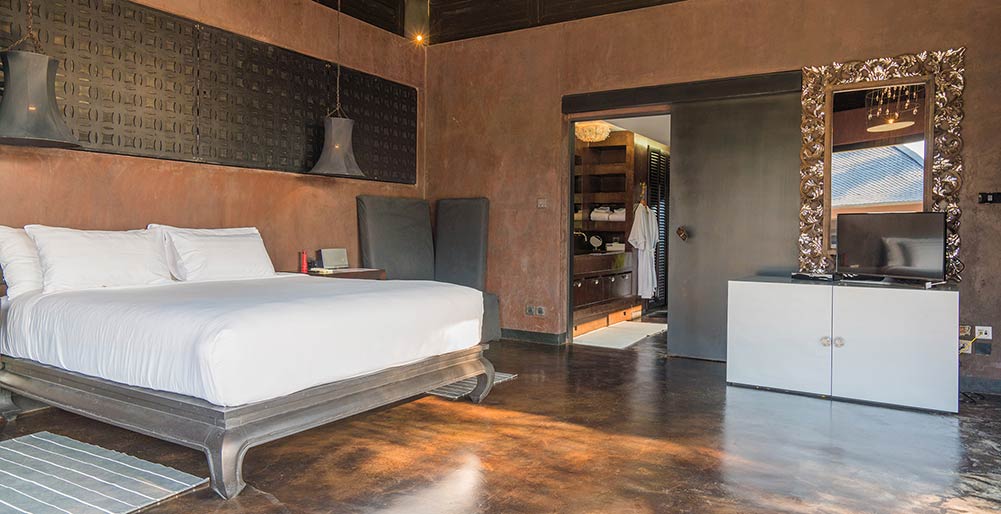 Master Suite
On the upper floor of the living pavilion
Opens onto huge balcony with commanding sea views
Ultra-comfortable king-size bed
55-inch LED TV, DVD player, satellite TV
Ensuite bathroom with double vanity, ocean views from rain shower and separate WC
Large dressing room
Air-conditioned and fan-cooled
Upper Floor Guest Bedroom
On the upper floor of the living pavilion
Ultra-comfortable king-size bed
Ensuite bathroom with double vanity, sunken tub and rain shower
Opens onto huge balcony with commanding sea views
Guest Pavilions 1 to 4
In the gardens to the front of the living pavilion, just steps from the pool
Furnished with an ultra-comfortable king-size bed and chaise longue
Glass doors on two sides with garden and sea view
32-inch LED TV, satellite TV, blutooth speakers
Ensuite bathroom with double vanity, rain shower, outdoor bathtub and separate WC
Air-conditioned and fan-cooled

Dining
Villa Saanti's chef is on hand throughout your stay to prepare breakfast, lunch and dinner. The villa has an extensive menu of exotic Thai and Asian dishes to choose from, as well as western favourites, children's specials and vegetarian choices. Fish is bought from local fishermen who land their catches on the beach nearby, so it's always super-fresh. The chef is also happy to cook up special, off-menu requests.
Daily breakfast is included in the villa rate. Drinks, along with groceries for the other meals, are charged at market price plus a 20% handling fee and a government tax, with a minimum shopping fee of THB 750. Staff will do the shopping and provide receipts for reference. To ensure this can be done in a timely manner, we advise you to plan your meals the evening before.
View a sample menu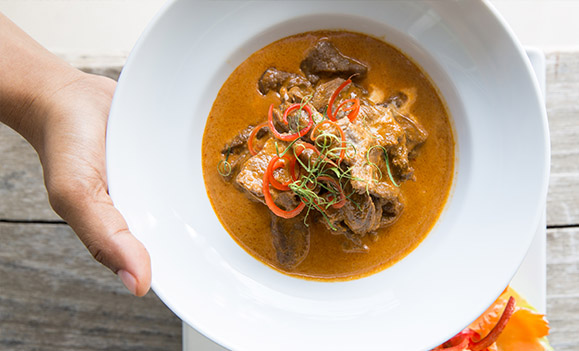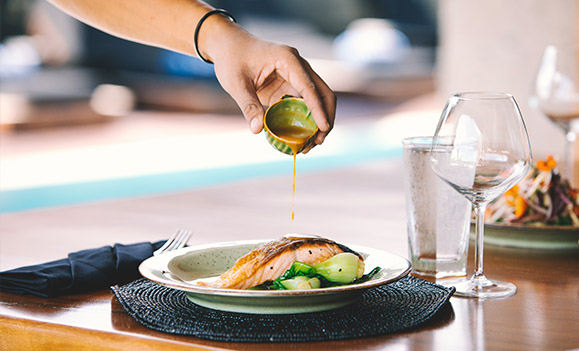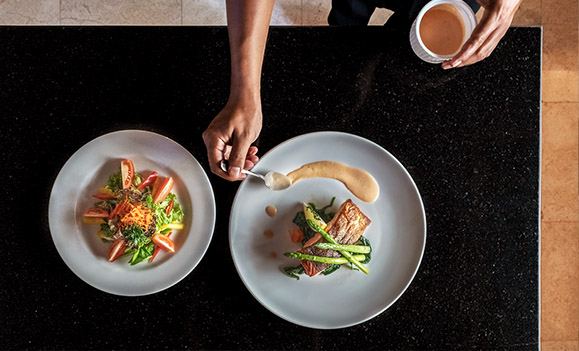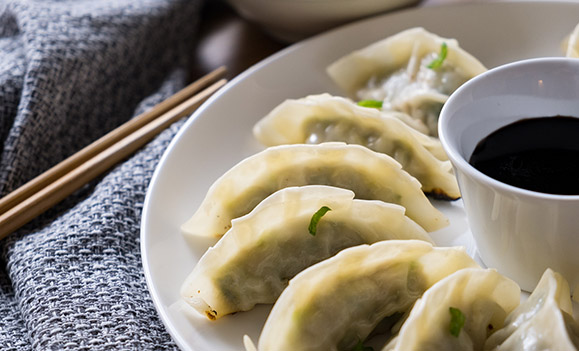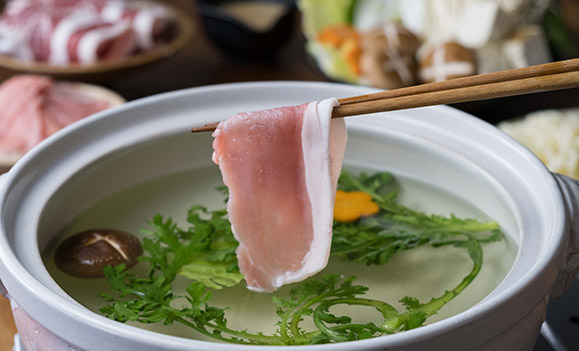 Reviews
Thank you very much villa Saanti, the short family and Muildly family had a wonderful time. Thank you for letting us stay in this villa, lots of things were great here especially the food and the pool. Thank you for the experience here at this villa and letting us try a lot of new things. Thank you villa Saanti and all the entire staff which make our stayed a very pleasant stay here. 20 -
... more
20-Aug-2023 - 26-Aug-2023
Padma E
United States
15.8.2023 Great vacation and experience at Villa Saanti. Natty and her staff was impeccable lost.The villa itself is beautiful bud need some maintenance. Highest of compliments to our cook - her food was always delicious. All the best ! Thank you
04-Aug-2023 - 15-Aug-2023
Hendrik G
Germany
Natty and the team of staffs This trip celebrates the 12th anniversary of the friendship that has bounded us together. Thanks again to Natty and the team for being so caring and attentive to all of our needs. The stay is truly remarkable, and the experience has added values to our memories. Hope to enjoy another stay with you guys!
27-Jul-2023 - 29-Jul-2023
Sukie S
Hong Kong
To the fantastic villa Saanti staff. We're had the most enjoyable 11-night stay for my sister's 40th birthday! Natty and her staff couldn't do enough for us in lead up to the celebration and every day after that they are attentive, efficient and super friendly. Thip is an exceptional chef. There wasn't a meal we didn't enjoy. We absolutely loved our stay and hope to return in the future.
... more
16-Jul-2023 - 27-Jul-2023
Kristy S
South Korea
To the beautiful staff at villa Saanti, Thank you so much for making the Australian holiday a very special week. Hospitality, service, food was exquisite we will definitely come back. The Fitzgarlalds The Coopers The Quinns Thank you so much staff for all the fun staff
24-Jun-2023 - 30-Jun-2023
Ryan F
Australia
16/05/2023 Dear Villa Saanti, Thank you for the wonderful stay at the villa our family had the best time! A special thanks to the staffs at the villa, they have been super hospitable. The food at the villa has been outstanding too. We hope to come back to stay with you soon! Love Alish Pooja & Family
11-May-2023 - 16-May-2023
Alisha M
India
Nice services Beautiful staff Beautiful location Tasty food From Romania
13-Mar-2023 - 17-Mar-2023
GABRIEL SAVIAN B
Romania
Thank you for your comfortable vacation and tasty food, you are best. From Russia with Love
01-Mar-2023 - 06-Mar-2023
Victor S
Russia
Thank you for your comfortable vacation and tasty food. You are best! From Russia with Love
19-Feb-2023 - 26-Feb-2023
Mikhail S
Russia
Beautiful home, lovely stay + great food. Thank you for everything on our holiday. Amazing staff + stay ! Can't best the views either We loved staying here ! Extra love to Netty who went above + beyond for us ! Warren Family
06-Jan-2023 - 10-Jan-2023
Mike W
United States
Great villa in a great location on a great beach but the staff madt it a special vacation. Thank you Shaw. Days by the beach and in the pool followed by some amazing food. Amazing Trip. Thank you so much. Very good Holiday and amazing staff with a great view what a great place. Thank you Parlie An amazing villa , with beautiful views delicious food and such special staff. Thank you to
... more
30-Dec-2022 - 06-Jan-2023
Sarah P
United Kingdom
Thanks a lot for this two weeks i had a wonderful time here. Arrine We had an amazing time in this great villa ! All the family was happy. Special thanks for the staff and the great chef I hope coming back soon. Thanks for this wonderful team Stanisislas We thank you for your kindness, smile and availability. We will remember this stay. Warm hugs from France Nathalie
23-Oct-2022 - 02-Nov-2022
Nathalie G
France
October 2022 First time in Phuket + Villa Saanti we had a fabulous time. The attention + care of the staff was excellent. Nati was outstanding and always smiling. compliments to the chef with excellent Thai food. A great holiday + the sun came out even-all Hansan family Singapore
18-Oct-2022 - 23-Oct-2022
Lawrence H
Singapore
We spend wonderful days at Villa Saanti! Together with grandchildren, children and friends from San Francisco and Hong Kong we enjoyed the hospitality of lovely manager and her staff! The cerise and food were first class. Thank you for everything ! We will be happy to come again ! Rudolf and Elisabet Rolu from Germany
01-Oct-2022 - 14-Oct-2022
Maria R
Germany
It was an amazing journey we had here, with a fantastic staff. We lived an outstanding moment. Thanks a lot to the chef as we ate excellent thailand food + the maids were always smiling and good vibes - the hostess always there when needed made our days really great couldn't have been better.
01-Aug-2022 - 05-Aug-2022
Carole C
United Arab Emirates
26 June 2022 Our first trip since Covid, and our first time to Phuket ! Perfect weather - hot, then cooled by light drizzles which made the waterfalls great Loved Lami Waterfall. Favorite part of Saanti Great body surfing, pool table + chef in Phang Nga! Amazing Staff The Yaps Fam Singapore
21-Jun-2022 - 26-Jun-2022
Lyn L
Singapore
20.06.22 Thank you very much for living us We're had all enjoying time here with you. Thank you for all your remind, loved work and everything you're done for us. Food was amazing! special thank you to our chef! Villa was a great energy and we fell in love in Thailand, Phuket We don't want to go... anyway We hope to come back soon. Ron and Goe Team
09-Jun-2022 - 20-Jun-2022
Ross F
United Kingdom
May 2022 A long time between holidays + Villa Saanti definitely and not disappoint. We stayed for 4 nights of rest + relation. The villa staff were discreet but alternate and we had a wonderful array of curve from the villa chef. We will be back! The O'Neills
04-May-2022 - 08-May-2022
Holly O
Singapore
Songkarn & Family Trip 12 April 2022 - 16 April 2022 Thank you for a good services from staff and chefs. We have a wonderful time. A private villa with space and activities for all generation to enjoy. We love the open beach front with a nice sea breeze. Thank you and best regards. Vataniyobol & Family
12-Apr-2022 - 16-Apr-2022
Puttaraksa T
Thailand
March 2022 Thank you for an awesome time. The food was amazing. We stayed for 4 nights and there were varies choice of great food! All staff are very nice and helpful. Kids enjoy the villa's facilities especially the pool. It sure be one memorable holiday for us. Thank you ! Lim Family
14-Mar-2022 - 18-Mar-2022
Manisa M
Thailand
We, 11 adults and 8 children, had a wonderful holiday here. The kids loved playing in the pool and the sea. The sand is safe and beach is wide. Staff members were very helpful and the food was superb. We had a delicious BBQ dinner. When we had to leave for the airport, the kids cried, not wanting to go home. We, all six families. had a wonderful Songkran holiday here.
10-Apr-2021 - 13-Apr-2021
Sujaree T
Thailand
Wow! Most incredible Birthday days that felt like a new blessed life! Felt like a dream came true! The food was so delicious. We couldn't have imagined a better experience and look forward to definitely coming back and will definitely stay with Elite Havens again! Thank you so much We love and appreciate you!
09-Mar-2020 - 12-Mar-2020
Thomas V
United States
Thanks for everyone at Villa Saanti. We had a wonderful stay. The food was amazing. The staff were so wonderful. The cook arranged a cooking class for the kids and it was lovely. What a wonderful place for our three families to enjoy the week together.
24-Nov-2019 - 01-Dec-2019
Hana C
United States
Hey Guys! Thank you for taking such a good care of us! Noom, Kwang! Great service and excellent food! Your professionalism is top notch! And your hardworking team always made sure the Villa was spic and span and keep us feeling relaxed in this beautiful villa! Thank you and here is wishing you a very merry Christmas and Happy New Year!
20-Nov-2019 - 24-Nov-2019
Michelle S
Singapore
The villa is great, magnificent, the space as promise is like paradise. The team is very discreet and pampered us. Thank you to Noam for his availability and his kindness. Thank you very much, wonderful time! Well done guys, we enjoyed everything! Super! We stay here 3 times already. Everything was super, keep it up!
17-Nov-2019 - 20-Nov-2019
Chantal M
France
We had a great time here, the most impressive part. I need to thank Noom for the perfect assistance for everything, and also the cook for the wonderful meal everyday. Also the rest of the crew kept the place very clean and tidy.
03-Aug-2019 - 10-Aug-2019
Mandy C
Singapore
Thank you Noom and team for having us and for your excellent services. Our families enjoyed it very much. We wish we could stay longer! Beautiful villa, beach and pool. Great food too! Love
26-Jul-2019 - 30-Jul-2019
Lilyana L
Malaysia
Thanks for everything the staff done for us, we had a great stay.
09-Feb-2019 - 15-Feb-2019
Zhao Y
China
Thank you for the wonderful stay at Villa Saanti. Everything was perfect - the staff, the food and all the pasties we could enjoy at this place. Hope to see you all again.
22-Dec-2018 - 04-Jan-2019
Valentino D
Austria
We stayed four days at this awesome villa. All the staff were great and friendly, especially Noom. Super helpful and always try to get done whatever we want. Our last day here, we will definitely miss this place.
09-Dec-2018 - 14-Dec-2018
Candice C
Singapore
We stayed 4 days at this awesome villa. All the staff here are great and friendly, especially Noom! Super helpful and always tries to get done whatever we want. Our last day here and definitely miss this place.
06-Dec-2018 - 09-Dec-2018
Jacky Y
Hong Kong
It's our 3rd and last day here and sad to see time fly by so quick. We loved the villa and the exceptional staff. Look forward to coming back next year.
18-Oct-2018 - 21-Oct-2018
Mehnaz M
Bangladesh
Thank you for great service and beautiful villa. Great Staff.
08-Sep-2018 - 11-Sep-2018
Ram K
Malaysia
We had a wonderful time in Phuket. The hospitality was amazing and our family had a great time. Thank you for opening your lovely house to us.
29-Jul-2018 - 09-Aug-2018
Tamim A
United Arab Emirates
We had a perfectly peaceful Chinese New Year holiday here. The whole family was well taken care of by all staff and truly enjoyed it. Special appreciation to the chef for cooking us some great authentic Thai meals, and to our passionate butler for his excellent service. Hopefully we will be able to return. Thank you very much!
16-Feb-2018 - 21-Feb-2018
Sheng C
China
Need more inspiration?
We're at your service