Villa Maya Retreat
The villa you chose is no longer available for rental from us but we have a portfolio of Elite Havens in various locations around South East Asia for you to choose from. Alternatively feel free to send us an enquiry and it'll be our pleasure to help you find the perfect villa for your next holiday.
A holiday here includes

Rice Field or River View

Staffed

Private Chef

Private Pool
Elite Concierge
Looking to step off life's treadmill and slip away from the crowds for some sensory re-sourcing and tranquil breathing space? The one dilemma facing you on arrival at the aptly named Villa Maya Retreat is this: how will you ever leave?
Villa Maya Retreat rests at the base of a gorge on the banks of the Penet River in the pretty village of Cepaka on Bali's south-western coast. This utterly private paradise is all about time out, and time together – for both relaxation and socialising. The tropical architecture and interiors pay tribute to traditional Balinese design, with open-sided alang-alang thatched living pavilions facing the 12-metre green-stone swimming pool, and six individual bedroom pavilions – three with plunge pools – thoughtfully laid out to maximise privacy and views. There are loads of outdoor living spaces among the lush jungle gardens too: after lunch on the dining deck, retreat to the shade of the poolside bale, enjoy a massage in the large curtain-swathed garden bale, or sip pre-dinner drinks on the lounge terrace overhanging the river.
Maya is ideal for families and groups of friends looking for a get-away-from-it-all place in a stunning location with lots of social space for partying and quiet corners for private time. While there's no reason to leave – everything you need is at your fingertips and an experienced chef is on hand to prepare and serve delicious home-cooked Asian and Western meals – a driver is on standby for those eager to explore the island or scout Seminyak's hip restaurants, bars and shops a 45 minute drive away. Beyond the villa, Cepaka village offers guests a glimpse of rural and religious traditions unchanged across generations.

This is a place to breathe in the essence of Bali, leaving you refreshed and rejuvenated for your return home.

this elite haven.
Exotic jungle and river gorge location
Six enormous bedrooms
1 swimming pool and 3 plunge pools
Need more info on this villa? Floor plans, services, images and reviews.
Click here to view the owner's comprehensive website
www.villamayaretreat.com
25-Jan-2020 - 15-Feb-2020
"This was our 2nd Retreat at Villa Maya. The staff are fantastic, nothing is a problem. The food was exceptional and the rooms excellent. We will be back soon."

Justin N, Australia
Rates and availability
Quick facts
Location
Cepaka, Bali, Indonesia.
Capacity
12 people (six bedroom pavilions with king-size beds). 2 extra beds for kids may be set up on guest request at additional charge.
Living Areas
Open-sided living/dining pavilion; TV lounge; riverside lounge terrace.
Pool
Main pool: 12m x 5m. 1.5m-2m depth; Plunge pools: 5m x 3m x 1.7m (Master Suite); 4m x 2m x 1.6m (Upper Terrace Suites 4 & 5)

Staff
Villa manager; chef; villa attendants; gardeners/pool attendants; security guards. Masseuse and babysitter on request.
Dining
A suggestion menu of Western, Asian, vegetarian and children's dishes. Requests accommodated (including special diets). Grocery cost is charged 20% handling fee which is subject to service and tax at the prevailing rate.
Communication
WiFi internet access; landline for local calls; mobile phone coverage. IDD on request.
For families
Baby cot; high chair; car seat; DVDs; games.
Entertainment
Satellite TV and DVD player; surround-sound system; CD player; iPod dock.
Transport
One car and driver for 8 hours a day (excluding petrol). Cannot be used during arrival and departure days.
Additional facilities
Safety deposit boxes.
Property Area
5500sqm.
Marketed by
The layout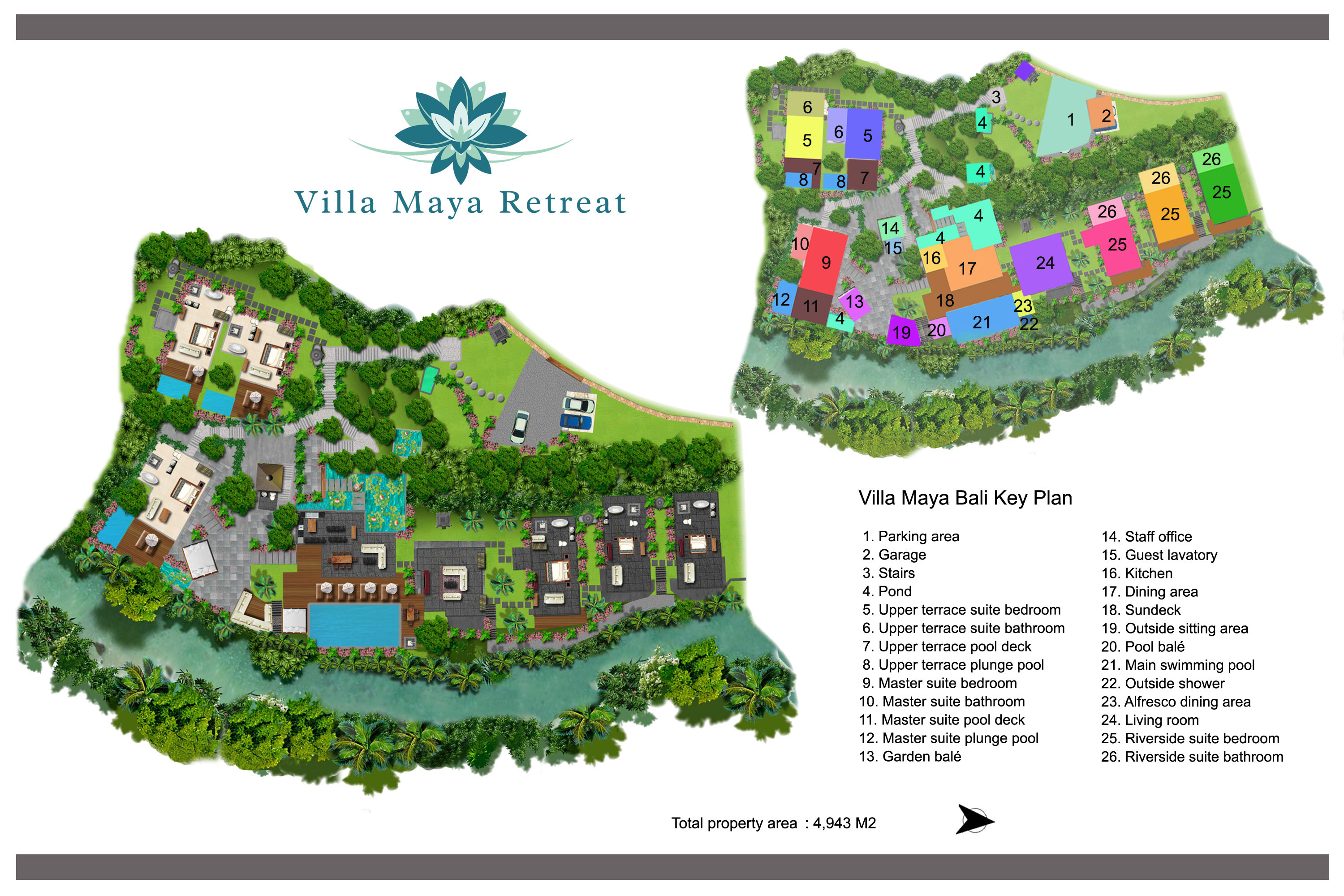 Indoor Living
Open-sided, fan-cooled dining pavilion /living area overlooking the swimming pool
10-seater solid wood dining table
Fully equipped kitchen with stainless steel worktops and appliances
TV lounge housed in large pavilion, with 42-inch satellite TV and DVD player, sofas and good collection of magazines and DVDs
Indonesian artifacts and stone statues throughout
Outdoor Living
Lush gardens shaded by tropical rainforest
Picturesque river bank setting
12 x 5-metre green stone swimming pool, surrounded by timber deck with sun loungers shaded by white ceremonial umbrellas
Al fresco dining area overlooking the pool
Traditional-style bales and secret garden hangouts
Atmospheric outdoor furnished terrace overhanging the river
Entrance to the villa by stone stairs carved into a river gorge, alongside a trickling waterfall
The rooms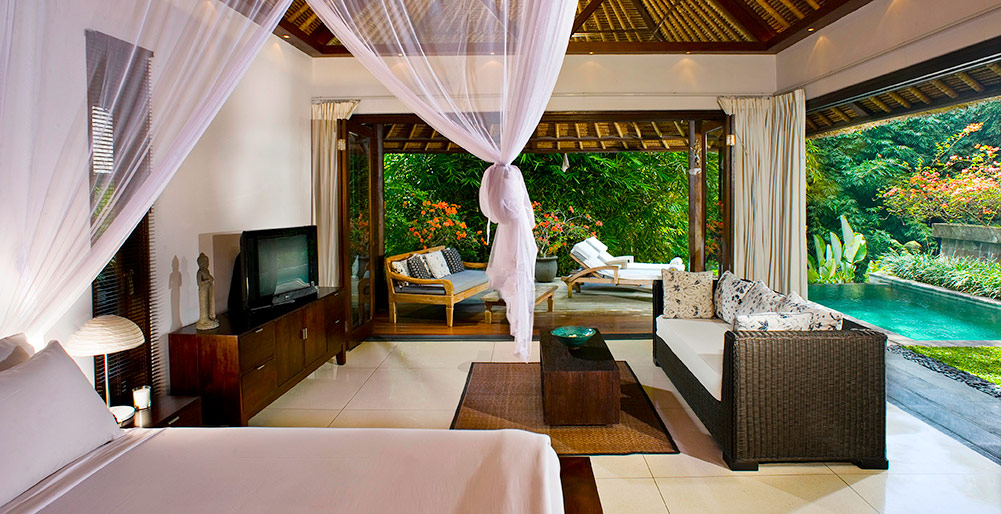 Master Suite
Secluded setting with private garden
5-meter plunge pool and timber sundeck overlooking the river
Semi outdoor bathroom with terrazzo bathtub and rain shower made from black volcanic stone
Walk-in dressing room
Small TV lounge
Sheltered patio with daybed.
Air Conditioned
Riverside Suites
Three spacious thatch-roofed sleeping pavilions are nestled along the riverbank, with wonderful jungle views
Indoor sitting areas with rattan sofa and marble topped coffee table
Glass doors leading to outdoor terrace
Semi outdoor bathrooms set into stone cliff face with twin vanities and lava stone rain showers
One suite with terrazzo bath tub, TV and DVD player. The other two equipped with their own music system
Air Conditioned
Upper Terrace Suites
Two additional suites are set higher up with scenic valley views
Plunge pools surrounded by timber deck with sun loungers
Black rattan sofas with white cushions
En suite bathrooms with tubs and rain showers – one is semi-open air, the other totally enclosed
Air Conditioned
Location
Villa Maya Retreat is situated in a jungle-clad river gorge close to the village of Cepaka in Bali's Tabanan Regency, known as Bali's 'rice bowl' due to its vast terraced rice fields. This quaint village bordering the Penet River is a rare example of a traditional Balinese community untouched by tourism and the rapid development to the south of the island. Villa guests are accorded a privileged insight into the agricultural, religious and daily life of the friendly villagers. Just 12 kilometres away is the famed Tanah Lot sea temple while the nearest surf beaches, including Echo Beach, are about eight kilometres from the villa.
Things to do
Villa Maya Retreat's manager will have a wealth of information about nearby places of interest and will help arrange transport and make any bookings required. Do also ask the staff about the local area. Many of them live nearby and will be able to give an interesting insight into some of the fascinating aspects of Bali life.
In the meantime, here is a taste of the many and varied activities on offer within reach of the villa.
Villa Maya Retreat is close to the famous temple at

Tanah Lot

(12 km), although in peak season a few too many tourists may transform a sunset visit into more of a heaving photo opportunity than a moving experience. Visiting early in the morning (8-9am) provides a better idea of the power of the location and the chance to see it undisturbed apart from perhaps an offering ceremony.
A nice sunset alternative is to head down to

Echo Beach

(8km) where a number of cafes offer good sunset views and cold beer. Note that the beach here is dark volcanic sand and the waters are better suited to surfing, having a pronounced swell and rip, rather than children's swimming.

Hotel Tugu

, a very stylish and eclectic boutique hotel a few minutes further down the coast is also a good sunset spot.
Fashionistas, trendies and shop-a-holics should hot-foot it down to

Seminyak

, Bali's most cosmopolitan enclave. Here, you can indulge for hours in the glut of stylish, chic boutiques. There is a wide choice of fine dining, mid range, and cheap 'n cheerful restaurants in Seminyak too: fine dining venues include Mama San, Sardine and Métis.
Drive westwards to explore the charming

Tabanan Regency

, revealing terraced rice fields of emerald green, volcanic mountains and black-sand beaches dotted with fishing communities. Or head north to explore the volcanic lakes near the mountain town of Bedugul, including Lake Bratan with its photogenic and stunningly positioned Pura Ulun Danu – one of Bali's most important temples.
The most exclusive

Bali trekking tour

promises breath-taking vistas and heart-warming encounters while supporting sustainable social change in the once-forgotten villages of Muntigunung. Elite Havens is a proud partner of Muntigunung Community Social Enterprise.


Bali Treetop Adventure Park

is near the town of Bedugal in northern central Bali (next to Lake Bratan). Five adventure circuits, with heights ranging from two to 20 metres, challenge all level and ages on suspended bridges, spider nets, Tarzan jumps and 12 flying foxes.
Explore the scenic rice-field landscape and rural villages; a great way to

get under the skin of the 'real' Bali

. Stop off at a local warung (café) to sample some basic Balinese fare or cool off with a cold drink.
Covering 3.8 hectares of tropical parkland in Kuta,

Waterbom

Bali has 16 water slides (including The Climax with its 360 degree loop) to entertain the young and the young at heart. A great family day out, but go early to beat the crowds.


Justin N, Australia, 25-Jan-2020 - 15-Feb-2020
This was our 2nd Retreat at Villa Maya. The staff are fantastic, nothing is a problem. The food was exceptional and the rooms excellent. We will be back soon.
Gail H, Australia, 05-Jan-2020 - 11-Jan-2020
What a great choice we made for our family holiday. Villa Maya suited us so well and the Balinese staff have been caring, thoughtful, helpful and always Happy. They look after my family extremely well and nothing was too much trouble. Made Rai you made transport so easy by driving us around and patiently waiting until we were ready to return. I will be showing my friends in Western Australia the lovely photos of Villa Maya and will recommend them to come and try it out. Thank you.
Olga F, Ukraine, 26-Dec-2019 - 05-Jan-2020
Thank you very much for everything, it was one of the best holidays of my life.
Shunsuke S, Philippines, 17-Nov-2019 - 19-Nov-2019
This time I came to Bali for wedding trip with my friends. It was a wonderful villa, the food was very good especially the curry. Made made all the arrangements so well. It was great memory. Thank you for your warmth and I will comeback again someday.
Louise D, Australia, 29-Oct-2019 - 02-Nov-2019
Thank you to beautiful staff at Villa Maya Retreat. It was a special birthday for Mark 60th birthday and we could not spent it in a more tranquil, idyllic setting. We take home a bit of Villa Maya serenity in our heart. Made, Rai, Chika and all the staff, you have made our stay perfect and we wish you always much health and happiness.
Edmund E, United States, 19-Oct-2019 - 26-Oct-2019
Thank You so much for an amazing vacation, your service, professionalism, hospitality, is unmatched. You have truly surprised my groups expectations. This trip has been such a dream come true and I have nothing but positive things to say about you guys. Thanks again for everything and your attention to detail, Villa Maya Retreat is absolutely beautiful and I will be sure to tell all family and friends about our experience. Until next time, thank you.
Graeme & Justin, Australia, 26-Sep-2019 - 17-Oct-2019
Thank you to all the staff in Villa Maya Retreat you all have been fantastic, and we are sincerely grateful for everything you have done. Everyone has had a sensational 21 days, they have all relaxed, they have all commented on how kind, caring and friendly you have all been. You have all made them laugh, had fun and maximized the time with us. We look forward to seeing you all again soon.
Breann J, Philippines, 18-Sep-2019 - 25-Sep-2019
This villa is amazing, the staff is so welcoming and attend your every need. Food excellent. Thank you to all staff we love all that you provide for our family.
Nicole C, Australia, 02-Sep-2019 - 08-Sep-2019
We have all enjoyed our stay here at Villa Maya Retreat. Thank you so much for your wonderful service, lovely food and all the transport you have provided for us all. We will recommend Villa Maya Retreat to our family and friends as beautiful place to stay.
Khawla B, Bahrain, 02-Aug-2019 - 09-Aug-2019
Amazing place with a nice view, great service and service. The villa gives visitors a great experience of what its like to be living in mountains. We enjoyed staying in this villa.
Sian P, United States, 14-Jun-2019 - 24-Jun-2019
Thank you all so much for looking after us all. Feeding us, driving us and playing with Sunny. We have had a great time.
Zahi A, United Arab Emirates, 05-Jun-2019 - 08-Jun-2019
Thank you so much for your kindness and hospitality. See you again.
David L, Australia, 06-May-2019 - 10-May-2019
What a beautiful setting - quite and peaceful. The rooms were lovely - very specious and calm. The staff were very accommodating - every request was fulfilled. Sightseeing and shopping trips well catered for. The food was great, just what we expected. Thank you to every staff member - you all do a great job. Hope we get to come back here again.
Gillaume C, Canada, 14-Mar-2019 - 30-Mar-2019
Staying here for family trip proved to be one of the best decision we made. Staff are friendly and helpful and 5 star. Rooms are were clean and regularly services, 5 star. Having a car available was great. Facilities were great. Thank you so much for having us, we hope to return someday and we will recommending Villa Maya Retreat.
Lina F, Indonesia, 27-Dec-2018 - 01-Jan-2019
What a wonderful experience we had! You made our stay full of lovely moments and your kindness is for sure a part of it. Excellent staff, wonderful buildings, and garden landscape breathtaking. High class hospitality and staff. We really had a memorable time here and hope to return.
Celine L, Singapore, 23-Nov-2018 - 25-Nov-2018
Thank you very much for caring for us during this weekend. The villa is beautiful, well cleaned, the staff are super nice, the food was amazing. We spend a great weekend and your attention to detail was very appreciated. Thank you again, we will recommend to our friends.
Mellissa S, Indonesia, 02-Nov-2018 - 07-Nov-2018
What an amazing experience at Villa Maya Retreat. Made and Rai, thank you. Villa Maya team - thank you for your wonderful service and attention to detail. We will definitely highly recommend to our family and friends. Until we meet again, thank you from the bottom of our hearts.
Andrew D, Australia, 17-Oct-2018 - 23-Oct-2018
We came here for wedding. The food was amazing and so were the beds and we love the outdoor bathroom because it was nice to have plants surrounding you. The fruit in the morning was lovely, we had an awesome time. Thank you so much to the staff, wonderful cooking, cleaning, driving, helping out with children. It really made it feel like a home away from home.
Sharon S, Australia, 26-Sep-2018 - 30-Sep-2018
We arrived for a family wedding and our stay here at villa Maya Retreat was so wonderful. We had so much enjoyment and relaxation. The staff are fantastic - always very pleasant and cheerful and will do anything to make our stay comfortable. Also fantastic cooks.
Joanne H, New Zealand, 16-Sep-2018 - 21-Sep-2018
It is so beautiful and peaceful at your resort, we have thoroughly enjoyed all our time here. Made, Rai and Chika thank you especially for being so kind and gracious, you made everything so easy and comfortable a wonderful place to stay.
Tao Z, Thailand, 03-Sep-2018 - 05-Sep-2018
Thank you to all staff, we had a wonderful time, this is such a wonderful place to stay. We felt safe and relaxed, you have a beautiful country. Thank you all so much.
Etty W, Indonesia, 18-Aug-2018 - 23-Aug-2018
Kami Keluarga besar dari Bandung sangat senang dan bahagia selama tinngal di Villa Maya dan sangat puas dengan service dan pelayannanya dari Villa Maya. Semoga kami dan sekeluarga semua bisa kembali lagi untuk berkunjung dan tinggal di Villa Maya. Villanya sangat bagus dan Indah.
Prajakta D, United States, 13-Aug-2018 - 18-Aug-2018
We had a wonderful time. The service was the best we have seen. Made Rai, Chika, Kadek, Mandra were awesome made us feel at home. Thank you very much, we stayed with four kids and couldn't have asked for more. Thank you again for the love and care. Hope to stay with you guys again.
Pandu S, Indonesia, 09-Aug-2018 - 12-Aug-2018
We enjoyed stay here in Villa Maya Retreat. The villa were beautiful. The food was delicious, the staff welcoming and friendly. Thank you.
Kelly S, Australia, 17-Jul-2018 - 22-Jul-2018
Such a wonderful place to celebrate the beginning of our marriage with some of our closest friends. We relaxed, partied and relaxed some more in paradise. Villa Maya is beautiful and luxurious and exceeded all of our expectations with its tranquil setting, delectable local cuisine and friendly staff to whom nothing was too much trouble. We felt welcomed from the very first contact and would recommend Villa Maya to anyone wanting a sumptuous experience. Thank you so much.
Robin P, Australia, 29-Jun-2018 - 10-Jul-2018
After being delayed by flight down (mt Agung) Actually all 14 members of the family arrived at this wonderful location. We range from grand father to the latest addition and we have had an amazing experiences over the part 12 days. The food and the staff have been wonderful. We have enjoyed our stay. Thanks to all the staff for caring for all of the family.
Jo C, Australia, 16-Jun-2018 - 22-Jun-2018
What a wonderful week we have had celebrating 2 60th Birthdays. The staff have been fantastic looking after us, amazing food, sensational special birthday dinner on Wednesday. We were overwhelmed with the music and dancing displayed by the villages. Chika has been warm and welcoming - we will miss the banana pancakes. Thank you Kadek for cleaning our rooms as well as kitchen assistance. Made has been a great host, trying to fix and meeting our requests and needs. All staff are friendly and helpful and courteous - 7 women and we felt safe and secure at all times.
Rebecca S, Australia, 07-Jun-2018 - 08-Jun-2018
The villa is a little oasis. We enjoyed our stay here very much. Thank you to Made and the staff for the excellent service. We hope to return again with family.
Joey T, Canada, 02-Jun-2018 - 06-Jun-2018
Made has been really helpful and thoughtful during our stay. We very much enjoyed staying here and will definitely visit Villa Maya sometime in the future. Thank you.
Tim L, Indonesia, 18-May-2018 - 22-May-2018
Villa Maya is an amazing place to stay. Relaxing, peaceful has everything we need for an awesome holiday. The staff are great. Thank you all staff, you made our stay one to remember.
Hester H, New Zealand, 03-May-2018 - 14-May-2018
The staff...wow...what can we say. Amazing wonderful service! We couldn't have asked for a better time, we are so impressed! Polite, friendly and totally prepared to go out at their way. Exceptional service from Made, Rai and Chika. Thank you so much and we will miss you. We loved the local dishes, fresh food cooked to perfection. We will return to the villa if we ever come to Bali again because of the fantastic level of service from the staff.
Brendan C, Australia, 18-Apr-2018 - 23-Apr-2018
I stayed at Villa Maya Retreat which was as close as I have ever been to paradise. The people who hosted us were like diamonds, if the world ever was full of people like this, the world would be like heaven of earth. The food was magnificent and now I have to go on a diet! The time has now past but the memories will never last, thank you to all staff.
Galina M, Russia, 07-Apr-2018 - 17-Apr-2018
We very enjoyed our stay here at Villa Maya Retreat. Villa is amazing! Very beautiful, large territory, cozy large rooms. Thanks to all the staff for looking after us.
Janice N, Malaysia, 30-Mar-2018 - 04-Apr-2018
The staff have been accommodating and very helpful. They always try and are very helpful in meeting our requests, thank you.
Conghao H, Australia, 12-Feb-2018 - 15-Feb-2018
Thank you very much to all the staff for the hospitality and kindness. We do enjoy the stay in Villa Maya Retreat. We will come back next time, thanks.
Liz P, United Kingdom, 23-Dec-2017 - 02-Jan-2018
11 of us stayed here at Villa Maya, bringing together 2 families from the UK and Australia to share Christmas together. The villa has been magnificent,so much space for us, big bedrooms, and the experience of an outdoor bathroom has been great ! Relaxing by the pool and listening to the sounds of the birds, roaster, dogs, pigs etc has been beautiful. Every meal produced by the staff has been absolutely beautiful.They can't do enough for you, making sure you get what you want and being so friendly. Made Rai is an absolute gentleman, always going out of his way to make sure you you have what you need and suggesting great places in Bali to visit. We all have enjoyed our stay here at Villa Maya, and would recommend to anyone with a large group like ourselves to stay here. Thank you to everyone at Villa Maya for an awesome holiday experience. Much Love!
Barbara F, Australia, 18-Oct-2017 - 24-Oct-2017
We have very much enjoyed our stay here at Villa Maya Retreat, This is a very special place in Bali, made all the more enjoyable by the birds, butterflies, frogs, roaster and dogs..etc. - the local environment is beautiful. The cooking and service was awesome, we enjoyed all your meals. The rooms were excellent. Thank you all for everything.we have enjoyed our stay. We will recommend this villa. Much Love.
Glorya V, Australia, 04-Sep-2017 - 07-Sep-2017
We were 10 group with 2 year old and 92 year old. We were warmly welcomed, and during our three night stay,we were appreciative of the specious accommodation and the abundant, tasty food with which we were treated during our breakfast, lunches and dinners. We found Made Rai, Chika and the staff to be very accommodating and friendly and we enjoyed their humour and hard work, they were especially inclusive and considerate of our 2 year old and our 92 year old. We would highly recommend Villa Maya to anyone who likes a quiet, unhurried existence with the distant sounds of a few roosters, the odd dog, thrown in to remind you of the fact that you are in the country.
Kim O, Australia, 20-May-2017 - 27-May-2017
This villa is Paradise. We would recommend highly to everyone we meet. In particular Made Rai, Justin, Goldie, Jacky, Kenji, made us feel like family. The peanut satay sticks (highly addictive) and the swimming pools are fabulous. We can't wait to come back with lots more people. Thank you for everything.
Greg J, Australia, 06-May-2017 - 13-May-2017
What a wonderful week we have had being thoroughly spoiled by the staff, and especially Made Rai who has driven us wherever we wanted to go, and Chika who cooked the most beautiful meals - supported by Kadek and our Chef. The ambience and tranquility will be hard to replicate again. Thanks so much for a wonderful week.
Laura T, United States, 23-Apr-2017 - 28-Apr-2017
This was the best vocation on our lives. We are in the service industry...we are recognize great service. We thank you for everything, we love you and want you to come home with us. Thanks for all Villa Maya team. We will be back.
Anna S, Australia, 07-Apr-2017 - 14-Apr-2017
We are a group of ten here at Villa Maya. We have enjoyed our stay very much. Villa Maya is set in beautiful surrounding.The staff have been wonderful in every way, polite, helpful, and very friendly. Chika and Mandra is a fabulous chef, the food was delicious at every meal. They and the staff were brilliant. Thank you Made Rai for all your help and support.
Bradey C, Australia, 17-Mar-2017 - 22-Mar-2017
Our group of 12 spent 5 days here, Totally relaxing, just what we were looking for. Thank you to the staff for taking care of us and all our requests. Nothing was to much. Special thanks to Made, Rai, Chef, Chika and the helper. Thank you and will be back.
Jamie, United Kingdom, 17-Oct-2016 - 21-Oct-2016
A wonderful villa in paradise made all the more special by Mr Made Rai and his team who are very attentive and make sure everyone is happy. The food was amazing. We will be back.
Megan J, Australia, 05-Oct-2016 - 09-Oct-2016
The Maya Retreat was perfect in every way. The staff beautiful, welcoming, and friendly. The food was extremely delicious and well cooked. We thoroughly enjoyed our stay here and would recommend it. Thank you.
Angie F, Australia, 23-Sep-2016 - 30-Sep-2016
The setting and the staff are fantastic. Special thanks to Made Rai and Chika for helping us to enjoy the ambiance of this beautiful villa.
Nadine L, France, 06-Aug-2016 - 19-Aug-2016
Thanks for our marvelous holidays in Bali and specially in Villa Maya Retreat, The staff is very kindly and we spent two perfect weeks. Thank you for all. Mercy beau coup pour tout.
Jeremy H, Indonesia, 06-Jul-2016 - 10-Jul-2016
Thank you all so much for your warm hospitality, words cannot express our great gratitude for giving us the opportunity to unwind. Stunning service. Great work. Warmest thanks.
Annie M, France, 19-Apr-2016 - 24-Apr-2016
Villa Maya Retreat everything was WON-DER-FUL ! ! ! The Houses, The Staff, the organization of activities,the villa manager, the food....Everything was excellent !
Sharon O, Australia, 02-Apr-2016 - 09-Apr-2016
I was delighted to be invited to my dear friend's 50th birthday, to find out that she was celebrating in Bali, was a surprise!!!! I have been continually amazed, with her choice of venue - Villa Maya. The service provided all week has been exemplary. We have been so impressed with Chika's attention, and professionalism. I have never met a harder worker - well done Chika (great sense of humor too). Made Rai has been a pleasure, always calm, punctual and happy. All of the staff have done a great job all week. Villa Maya, you are indeed blessed. Thank you.
Lauren O, Australia, 26-Dec-2015 - 02-Jan-2016
All the staff were amazing, welcoming and and went the extra mile to make an amazing experience even more unforgettable.The food was incredible, we simply cannot credit it enough. We all love the pool. Thanks guys.
Saarloos S, Indonesia, 15-Oct-2015 - 19-Oct-2015
We have had such an amazing time here at the Villa Maya. The surrounds, the staff, the many wonderful rooms of the villa...so memorable...what a way to spend a holiday in Bali. Special thanks to Made Rai and Chika. Thanks for all your help!!
Moe H, Saudi Arabia, 18-Sep-2015 - 29-Sep-2015
The villa was great, it was clean, up to date,the staff are great and helpful. The facilities are magnificent.
Matilda K, Australia, 03-Sep-2015 - 07-Sep-2015
What amazing experience, starting from our arrival and the warmest of welcomes from Made Rai and Chika. The rooms and the grounds are amazing, with a beautiful communal dining but also your own space where you can hangout by yourself. The whole setting is stunning. All the food was delicious - tasty and plenty of it. Bbut I have to say it was the warm smile of Made Rai, Chika and everyone else that really made this stay so enjoyable. Thank you.
Francoise L, France, 08-Aug-2015 - 22-Aug-2015
We had a fantastic time at Villa Maya. Thanks to made Rai and his great staff who made our stay a real dream. We won,t forget the sound of Chicka's laugh, the massages, the food. Everything was better than we ever expected! Bali will Stay in our heart forever. Thank you.
Kevin H, United States, 25-Jul-2015 - 01-Aug-2015
We really enjoyed our stay at Villa Maya Retreat. The property is truly amazing. If you are looking to experience true Bali style indoor/outdoor living this is the place. The layout is perfect for large groups traveling together with the common area pool, lounges and living spaces providing perfect gathering spaces and the individual bungalow rooms and terraces providing opportunities for privacy when wanted. The location is quiet and relaxed which was perfect for us but if you are looking for exciting nightlife it might be a bit remote. The staff was wonderful including Made who helped us organize all of our outings and Chica who made delicious breakfasts, lunches and dinners. I would highly recommend this property. It feels like you have the exclusive use of a luxury resort for just your friends and family.
Joan S, Australia, 11-Jul-2015 - 17-Jul-2015
Villa Maya an amazing place to stay. Relaxing, peaceful has anything in need for an awesome holiday. The staff are great, nothing is to much trouble. Villa Manager Made Rai is the best. Thanks Made and staff you made our stay one to remember.
Pauline T, Australia, 11-Jun-2015 - 14-Jun-2015
The past week spent at Villa Maya will stay with me forever. Everything from the beautiful environment in which the villa sits to the amazingly, attentive and kind staff has been beyond perfect. I will absolutely recommend this villa to anyone coming to Bali. Thank You.
Kelly S, Australia, 27-May-2015 - 01-Jun-2015
What an amazing place we had ,the best time here at Villa Maya. Made Rai and all the staff ensured our special day was nothing but magical. We have had a terrific holiday and would highly recommend Villa Maya. P.S. can we please take Made Rai home?
Charlotte D, Singapore, 02-Apr-2015 - 05-Apr-2015
Wonderful staff, fantastic surrounds and beautiful food. I appreciate the effort and kind heartedness. I will definitely be back.
Annelie Mitchell, Australia, 22-Mar-2014 - 29-Mar-2014
This was an exceptional villa with excellent accommodation and I highly recommend to those whose main goal is to chill out and relax. The service provide by Made (Villa Manager) was great and the meals cooked by Tikka and the kitchen staff were delicious - making it too easy to stay in. The only downside is that this Villa is located quite a distance from major tourist towns, so is not suitable for those that want to be in the middle of the shopping action or nightclub late into the night. However the use of a driver does allow you to venture around fairly easily.
Moyra M, Australia, 08-Feb-2014 - 15-Feb-2014
I do not often give 10. In your price range is 10 is expected but not often delivered. The villa has the charm of Bali unlike a number of other villas that could be anywhere. I loved the fact that you could get away for some seclusion in beautiful garden surroundings . We picked Villa Maya for that reason. The staff were professional, approachable and delightful to deal with. I highly recommend Villa Maya.
Katarzyna Boni ., Poland, 03-Feb-2014 - 05-Feb-2014
A hidden gem amidst rice terraces. Great decor, amazing and kind staff. Separate bedrooms allow intimacy even when you are traveling in a bigger group. You can easily spend your whole holiday on villa terraces without going outside.
Stephen Randall ., United States, 20-Sep-2013 - 27-Sep-2013
Our experience was outstanding. The property is magnificent--the photos do not do it justice. It is located in a quiet village and is not "in the mix", but is very accessible to Seminyak and not far from the airport and Ubud, depending on traffic. If you are looking for a property to walk out and hit restaurants and clubs, this place is not for you. However, if you want a serene, gorgeous and relaxing spot, this is for you. The staff went above the call to take excellent care of us. We, and our guests, were delighted. Made and Tikka (spelling?), the cook, were particularly superb. We wanted to kidnap them and bring them home with us, they were so delightful. We hope to return and will heartily recommend this property to friends.
Siobhan R, Australia, 17-Aug-2013 - 24-Aug-2013
A lovely large villa complex in the middle of the countryside. The staff were excellent as was the quality of the cooking. For those wanting a real getaway this villa is highly recommended. The plunge pools plus main pool make it ideal for groups of friends or family who prefer their own space at times but with a central meeting place for cocktails at 6!
Jon S, Singapore, 25-Jul-2013 - 26-Jul-2013
Villa is a delightful hideaway. Staff were amazingly friendly - more homely than stiff. Great bedrooms - 3 have their own private plunge pool, so romantic. Close enough to Seminyak and beach but far enough away to avoid the crowds and traffic. The real Bali. Very happy here and would come back in a flash.
Helen C, Australia, 26-May-2013 - 31-May-2013
If your after peace and serenity this is the villa for you, set away from the hussell and bussell in a quiet village. The gardens and surrounds were just beautiful and the staff were lovely. Thank you for a lovely stay!
Graham K, Australia, 18-May-2013 - 25-May-2013
The villa was amazing! Really lived up to it's photos and the other reviews. The staff were very helpful and couldn't do enough for you. We had planned to stay for 6 nights but extended our stay another night as we couldn't bear to leave.
Vanessa Rea, Indonesia, 17-May-2013 - 18-May-2013
It is my pleasure to recommend the Maya Retreat. I have also commented the same on their face book page. The villa is absolutely fabulous. It is great venue for a group of friends and or family. We shared it with friends for a Birthday dinner which the resident chef created. It was devine and I cannot fault it , it was simply delicious. The staff are attentive and gracious, and it is efficiently run by Made, who is a lovely gently Balinese man whose has an excellent command of English. He had organised everything with his staff that we had asked for, and the villa a blase with tea candles for our magnificent celebration dinner. Ten out of ten all round.
Stéphane J, France, 28-Apr-2013 - 01-May-2013
The few days we spent at the villa Maya were fabulous. The atmosphere is very calm, the staff is discreet and available. The rooms are very comfortable. Close to heaven...
BA, Australia, 08-Mar-2013 - 13-Mar-2013
The staff were BRILLIANT !!!!made our stay very memorable
Ana Lopez, Australia, 02-Jan-2013 - 07-Jan-2013
The maya villa resort has been the best place we have stayed in Bali so far and the staff were there for every need very polite and helpful thank you too you all :)
Stephen Gray, Australia, 10-Nov-2012 - 18-Nov-2012
I recently spent 16 nights at Villa Sungai Gold next door which was awarded Winner Best Overseas Property Lodge or Villa by Luxury Travel Magazine. Last week I spent 9 nights at Villa Maya and it wins hands down, even though its half the price. Your staff are wonderfully warm, natural and were there for our every request. Being foodies I thought the Villa Maya meals might struggle against Villa Sungai but Maya was certainly better even though there was one chef competing against three. So what did I get at Villa Sungai for twice the price.... 1000 thread count sheets....Acqus di Parma toiletries....better sound system. Sungai Gold is about 80 sq m ...Villa Maya 5000 sq m with spectacular gardens. I could go on.... in fact why an I telling everyone when I want to keep this place as my secret.
Ahmed Alzouabi, India, 03-Nov-2012 - 10-Nov-2012
In general, the villa is very good but it is need some improvement in electricity. The staff and services are really great
CS, Indonesia, 17-Oct-2012 - 20-Oct-2012
The Villa is sublime and very tranquil. A little out of the way but still only 1 hr to Ubud and 1 hr to airport (depending on traffic). Ibu Chika and her crew do a marvelous job in the kitchen as well as making you feel pampered and spoiled. Would highly recommend this Villa for families or a reunion for couples, the bedrooms are fantastic and there are loads of spaces to just relax and not feel on top of each other if you wanted some space. Grounds are perfect and sitting out at night with the candles all around the pool and garden is just magical. Meal preparation was very good we all enjoyed the attentive service and good food quality.
PA, Indonesia, 01-Apr-2012 - 03-Apr-2012
Great villa! love the jungle riverside setting and hearing the Balinese village festivities nearby. My kids loved the cave-like bathrooms and the pool. Thank you Made, Chica and staff for a fab holiday!
You may also like these Elite Havens
Back to top