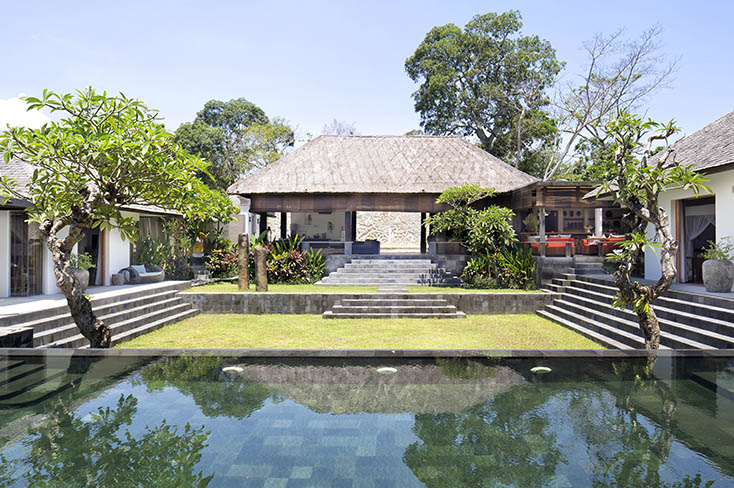 Blair R, Indonesia
,
19-Feb-2020
-
14-Mar-2020
Time just flew too fast. We loved staying at the villa. Great meals and very kind and helpful staff. We would not hesitate to return and look forward to coming back.
Alison B, Canada
,
25-Jan-2020
-
30-Jan-2020
Thank you Villa Levi and your warm and welcoming staff. We had a lovely stay here, Thank you so much.
Evgeniia K, Russia
,
15-Jan-2020
-
22-Jan-2020
We had a wonderful stay at Villa Levi. The location of the villa is great and staff is welcoming and kind. Thank you so much, we will looking forward to coming back once again.
Tween L, Philippines
,
05-Jan-2020
-
12-Jan-2020
We loved the hospitality of all the staff and loved it that they were so gracious and accommodating. Service is great, rooms are very comfortable and the pool was awesome. You must get Andrey to cook Ayam Betutu for you - it is the best.
Elissa S, United States
,
02-Dec-2019
-
06-Dec-2019
We had an amazing time. The villa is amazing and just as advertised...better even. The manager Agus, was lovely. Mia and Putu made our stay very enjoyable as well. The Chef was amazing, best peanut sauce ever. And what a wonderful villa. The grounds were lovely, the staff was attentive, and the beds were comfy. I would highly recommend.
Edward G, Philippines
,
22-Nov-2019
-
25-Nov-2019
What a beautiful Bali retreat, lovely place, lovely team, felt like a 2nd home, thank you so much.
Greg M, Australia
,
14-Nov-2019
-
22-Nov-2019
We loved this place. We have stayed all over Canggu for 12 years and this is our favourite. See you again soon.
Anna T, Hungary
,
01-Nov-2019
-
07-Nov-2019
Everything was perfect, especially the staff, thank you.
Cathy C, United States
,
27-Oct-2019
-
31-Oct-2019
Thank you for an incredible stay at Villa Levi. The service and staff were fantastic. Great food. The villas, gardens, pool and facilities are all excellent. Canggu is a great location. We look forward to returning with our friends and families, thanks again.
Laurent F, Switzerland
,
22-Oct-2019
-
25-Oct-2019
What a wonderful stay in this beautiful place. We spent our last days in Bali here and it was one of the highlights of our stay. We felt like home. A very big thank to Agus and staff for their kindness, happiness, positiveness and their wishes that we spend relaxing and good time here. Big thumbs up.
Debbie G, Australia
,
18-Oct-2019
-
21-Oct-2019
Georgeous villa with very helpful friendly staff. Really enjoyed my time here away from the bustle and noise of the traffic.
Catherine H, Australia
,
05-Oct-2019
-
12-Oct-2019
We are a 3 generation family who have had a most relaxing and harmonious holiday here at Villa Levi. Architecturally the design of the pavilions and gardens on the edge of the forest are perfectly balanced giving a beautiful flowing feeling to the space created. The staff were very charming and always ready to please. We would love to return.
Sandra S, Australia
,
26-Sep-2019
-
29-Sep-2019
Thank you for a wonderful stay at this lovely paradise. It was so relaxing and peaceful. We will have many happy memories.
Bryan D, United States
,
06-Sep-2019
-
14-Sep-2019
Dear Villa Levi Team, Thank you so much for an amazing stay in Bali and Villa Levi. The accommodations, food, and service were exceptional, and we will be returning soon hopefully. We had a great time overall, thank you.
Rosie M, New Zealand
,
25-Aug-2019
-
28-Aug-2019
Agus, thank you to you and your beautiful team. The staff here at Villa Levi make it the amazing place it is. The food is amazing and the welcome drink is divine. Thank you so so so much, we will certainly be back again.
Joanne S, Germany
,
12-Aug-2018
-
18-Aug-2018
We had a very nice stay! The service is very kind and attentive. We love the house here and we have nothing to complain about. The food was excellent and extremely good surf teacher and team - super friendly. We loved to surf there. Thank you for having us here.
Bridgette C, Australia
,
25-Jul-2018
-
03-Aug-2018
We can not thank you enough for the wonderful hospitality and service you have provided us during our 10 day stay. Your attention to detail and friendly manner was always appreciated including your welcoming nature to our guests. We have loved the beautiful Villa Levi and our holiday here. Thank you all! We hope to see you all for another visit again.
Thomas R, Sweden
,
14-Jul-2018
-
21-Jul-2018
We had a wonderful time at the beautiful Villa Levi. A true tropical paradise. Add to that the most fantastic staff you can imagine. We will come back for sure!
Sophie T, Australia
,
07-Jul-2018
-
14-Jul-2018
Thank you for having us Villa Levi. Wonderful hospitality, food and villa. We are leaving fully relaxed. Thank you for making our stay so special. Your generosity and beautiful friendly spirits made us all very happy. I hope we can return to this wonderful place and see you all again.
Sophie Girard-Soppet ., France
,
25-Oct-2015
-
31-Oct-2015
Our 3rd time in Villa Levi. We keep coming back because this is an amazing villa, the decoration is perfect, the staff and their manager Agus are just the best we can find. Unforgettable holidays. We miss everything already. Thank you.
Pascale Crangle, United Kingdom
,
17-Oct-2015
-
24-Oct-2015
We will be back!
Julia Muller, France
,
01-Aug-2015
-
10-Aug-2015
The Villa Levi was the best place I ever been. The villa is wonderful, the food excellent and a lovely staff. I will come back for sure ?
Caroline Dever, Australia
,
21-Jun-2015
-
28-Jun-2015
An incredible experience and a holiday to remember. Villa Levi and its staff were wonderful. The location is perfect tucked in between two rivers and down a quiet lane filled with rice paddies. Canggu has a village feel and a great surf break. We will definitely return!
Peter McMahon, United Kingdom
,
03-Apr-2015
-
10-Apr-2015
The holiday we had at Villa Levi was exceptional. We have travelled extensively and rented several villas around the world for many years. The staff at Villa Levi, under the fantastic management of Agus, were the best we have encountered. Nothing was too much trouble and everything was done with a professional, kind and gracious approach. The villa itself is decorated to a high standard with great flair but also incredible comfort. It is private if you want it to be, yet perfect for groups to share. This is perhaps the only villa we have stayed in that we would definitely consider staying in again.
Stephanie B, United Kingdom
,
03-Aug-2014
-
17-Aug-2014
Our best holidays to date. The villa was simply stunning: the design and attention to detail in the decoration was exceptional, the staff managed to be friendly, extremely helpful and yet discrete, the location was perfect: calm, close to the beach and local little restaurants but only 20 mins drive from bustling Seminyak. I highly recommend.
Sarah F, Australia
,
30-Jun-2014
-
06-Jul-2014
We had the most enjoyable stay at this villa. The attention to detail was amazing and it really is a beautiful villa. What stood out was the beautiful garden and out door area, there was an amazing sense of space and it was very tranquil. We will definitely stay here again.