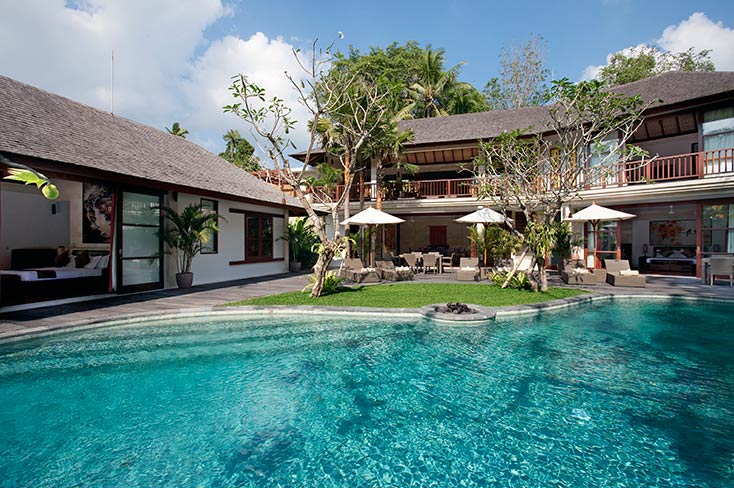 Luke H, Australia
,
07-Jan-2019
-
19-Jan-2019
Thank you Suka for all your support with our stay and thank you to all the staff who provided the excellent service. Food was also delicious. What an incredible location and beautiful villa to enjoy our business retreat. Congratulations to all the staff for making my visit so welcoming comfortable and memorable.
Patrice D, Singapore
,
01-Nov-2018
-
03-Nov-2018
lovely and friendly staff, thank you to all.
Camille de V, France
,
07-Aug-2018
-
21-Aug-2018
Thanks to the perfect team, our vacation was perfect. We recommend strongly this team and especially our wonderful cook - Ngurah, we love the food. The staff took care of us. Thank you also to Made - our driver. Many many thanks for the stay in this great village! Perfect team, perfect place, perfect food. Thank you for the fantastic service and care from your wonderful team.
Kelvin L, Singapore
,
13-Jun-2018
-
15-Jun-2018
Good job! We enjoyed our time over here. Hope to be back really soon.
Tania B, Australia
,
26-Apr-2018
-
30-Apr-2018
Thank you for a fabulous time, we will be back.
Juliana G, Spain
,
02-Aug-2017
-
08-Aug-2017
I love the house. Best people, best food in town! Open the restaurant! The place and the service is 100% incredible. The staff is amazing. World class Chef. Thank you for this incredible holidays.
Sitara F, Australia
,
01-Jul-2017
-
08-Jul-2017
Thank you for a fantastic experience here in Bali. Your friendliness and warmth have made a beautiful villa even more wonderful! Thank you for your kind service and lovely meals - LOVE the nasi goreng! We're had a wonderful holiday.
Chris H, Australia
,
08-Jan-2017
-
18-Jan-2017
We would like to express our gratitude and appreciation to the entire Villa Iskandar team for making our stay here in Bali such a memorable and enjoyable experience. The level of service has been exemplary. The meals have been delicious and generous. Your genuine warmth and hospitality have made our holiday truly wonderful and memorable. Thank you all for an Amazing time!
Heeg, Indonesia
,
17-Dec-2016
-
27-Dec-2016
A big thank you from the our family for making our holiday a memorable one!
Raymond B, Singapore
,
29-Apr-2016
-
02-May-2016
We would like to express our heartfelt thank you to everyone throughout our stay. The villa is so beautiful and all your staff are so friendly. Thank you for arranging every details especially during that night we celebrated our mother's 62 birthday. It was wonderful and memorable. Well done Iskandar Bali for your 5 star services.
Djohan L, Indonesia
,
18-Mar-2016
-
21-Mar-2016
Many thanks for the warm hospitality throughout our stay.
Ray Micallef, Malta
,
19-Jan-2016
-
28-Jan-2016
The villa is exactly as advertised on website. I would certainly stay here again. I would have no hesitation in recommending Villa Iskandar to other guests.
Jordan S,
,
04-Sep-2014
-
07-Sep-2014
We very much enjoyed our stay at Villa Iskandar, we rented both Iskandar and Atacaya which were right next to each other and great for group bookings. It was very peaceful, relaxing and great to get out of the busy areas of Seminyak for a few days and see the real Bali. The service was outstanding as staff were always willing to help and create the most enjoyable experience possible. We would love to visit the villa again!