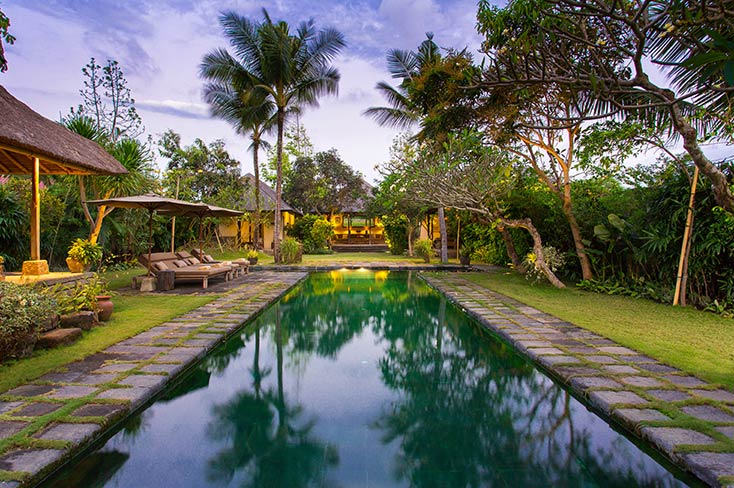 Carrie E, United States
,
05-Mar-2020
-
10-Mar-2020
Our stay at Villa Belong Dua Was magical beyond all expectations. The grounds were impeccable and simply beautiful. The Staff were friendly and amazing accommodating. The food! Oh my god, the food was totally delicious. We could not have wanted for single thing. If we come back to Bali we would not consider staying anywhere other than here. Absolutely perfect! Sad To return to USA.
Angie O, Philippines
,
25-Feb-2020
-
01-Mar-2020
Thank you very much for taking care of us and of our needs during our stay in Bali. You have an excellent team working with you Arya from the housekeeping staff to Chef Putu. Everything was well taken care of. We loved the place and the food prepared by Putu. We enjoyed everything so much that we didn't want to leave at the end of our trip. Thank you very much for everything! Selamat.
Egil G, Sweden
,
30-Jan-2020
-
16-Feb-2020
We are so happy with our stay here at Villa Belong Dua. The staff has been so friendly, we've felt at home. Thank your for looking after us. You are all welcome to cold Sweden any day!!
Zazie M, Philippines
,
02-Jan-2020
-
18-Jan-2020
After 28 days spent here,we must take on new adventures. The villa was absolutely fantastic. We come here with our newborn, to try to figure out how to be a family and for us to find a new balance. Villa Belong Dua has by far exceeded our expectations. We leave the house rested and happy. This has been much more than a regular holiday house to us. It will be the place where we spent our first moments as a family of four, where Lily our 3 yo got to know her brand new little bother and where we could spend magical time as husband and wife. The house was such a peaceful place where we felt so safe and happy. And Iluh, Nyoman, Ketut, Putu & Arya were Fantastic! They made our stay even more perfect - always so smiling, helpful, nice, and caring. Lily was so comfortable here and so happy. I guess it's not really a goodbye, as we want to come back very soon. From the bottom of our heart, thank you!!!
Idil U, Philippines
,
21-Nov-2019
-
02-Dec-2019
Where to start? The villa is gorgeous, beautifully designed and decorated. The pool is amazing at all hours of the day and night (excellent star gazing). The staff is wonderful! So kind, thoughtful and courteous. They are very helpful and lovely to be around, yet know how to blend into the background and still be there when you need them. The house manager, Arya is there to check in on what you might need and will take care of any arrangements you need for day trips, drivers, airport transportation and anything else you many need, from setting up sightseeing to ordering fresh fish for dinner. Putu, the villa's private chef made us many delicious Balinese dinners as well as breakfast every morning. He is proficient in western dishes but we preferred local cuisine, which was so delicious. Be sure to book the spa services. The massages were amazing for the price. The villa is nestled in the middle of a quaint fishing village so it's not built up like.
Barron J, Philippines
,
16-Nov-2019
-
19-Nov-2019
We had such an awesome stay at the Villa Belong Dua! The staff cooked us delicious food and helped make sure we are always comfortable. The pool was such a great place to relax when we returned from an adventure. I wish we could have stayed longer!
Nuala F, Ireland
,
25-Oct-2019
-
28-Oct-2019
Wonderful accommodation, very friendly and attentive staff. Very spacious and lots of area for the children. Would highly recommend to stay in this villa.
Anil T, Netherlands
,
21-Oct-2019
-
24-Oct-2019
Thanks so much for your kindness. You made our stay great. The villa is so gorgeous and well maintained. It's so wonderful, it's really heaven and earth. We felt being home, but even better. The kids felt at ease, which made our stay even better. We enjoyed the food as well of course and other service were well done. Hope to come back here again for our next visit. I can and will recommend Villa Belong Dua to our friends and relatives.
Chloe F, Australia
,
11-Oct-2019
-
16-Oct-2019
Can we live here forever?? The staff felt like family, the rooms felt like home, yet somehow it always felt like holiday. Best chef ever - tasty food. Maintenance crew - beautiful grounds always spotless. Service ladies - always felt comfortable, were always friendly and made the kids fell special and loved, 100% trust to look after the kids when needed. Manager - 10/10! What a guy! Nothing was too much and the attention to detail was incredible! We will be back, see you soon!
Jolanda L, Netherlands
,
30-Sep-2019
-
10-Oct-2019
We would like to thank you for the most wonderful stay in Bali. We were impressed by the Balinese hospitality and the beautiful villa. We enjoyed every moment we spent here. Especially, the food prepared by very good chef. We hope to be back soon.
Penny V, Australia
,
24-Sep-2019
-
29-Sep-2019
We have thoroughly enjoyed every moment of our 5 nights in this magical Villa. The stunning Balinese architecture, the beautiful, caring team of helpers and the serenity exceeded our expectations. We love it! We highly recommend this complete experience to anyone looking to relax, sample home cooked meals and benefit from excellent hospitality. 5-star.
Jess M, New Zealand
,
31-Aug-2019
-
20-Sep-2019
Our stay at Belong Dua has been amazing, after being here for 3 weeks it really starting to feel like home, and it will be hard to say goodbye. Arya does a fantastic job nothing is an issue and he is more than willing to help out with anything. Putu is a master chef, we had plenty of meals and was more than helpful with sorting out our food needs. Iluh, Ketut, Nyoman are wonderful, they all did an amazing job keeping the villa clean. The kids all loved hanging out with everybody and they were all great with the kids. Wayan also does a great Job with the garden, the kid have really enjoyed exploring the amazing garden. This villa is truly amazing, a piece at paradise. Having bikes is a great way to check out the local area and rice fields. Do go down to the beach to watch the sunset, hire a surf board, they also do lessons down on the beach.
David W, Poland
,
09-Aug-2019
-
15-Aug-2019
We love the atmosphere of the villa - the cozy and relaxing garden and pool area. Staff are really sweet and helpful and easily organized a wonderful dinner for us and our friends. Overall, we loved our stay at Villa Belong Dua and for sure we will come back.
Johnny L, China
,
15-Jul-2019
-
19-Jul-2019
We truly enjoyed our stay at the Villa Belong Dua. This was our first time visiting Bali and very gladl we spent our time here. The villa was gorgeous - just as seen on the website which is something we genuinely like. The staff and hospitality only bettered our experience here in Bali. We love the warmth and thoughtfulness of the all staff members. The food was always served so well with such nice attitude. In general, the cleanness of the villa was refreshing and comfortable to stay in. We will definitely recommend this stay to our friends and family. Thank you so much. We shall see each other again.
Joost H, Australia
,
26-Jun-2019
-
10-Jul-2019
From the first moment we walked into the villa, we were greeted by Arya and the staff with refreshments & towels. To see spectacular villa Belong Dua illuminated at night in all its Glory set the tone for the next two amazing weeks for our family. We took advantage of the villa and spent many of days staying in - enjoying Putu's lovely food, enjoying the pool and massages. The time we did venture out (on a highly recommended Elite Havens Tour) to Jatiluwih and the Bamboo Forest Restaurant, we had an unforgettable experience. The villa was always such a beautiful place to return to. We feel incredibly lucky and privileged to have been looked after so well by all the staff. We feel totally rejuvenated and restored and are very sad to leave. Special thanks to Nyoman for her extra efforts to teach us about Bali and Ketut for welcoming us Into her family home during their ceremony. Also Arya - the consummate professional . A magical place with magical people.
Stacey K, Australia
,
12-Jun-2019
-
19-Jun-2019
Thank you, thank you, thank you. Nothing we asked was too much trouble and we were treated with such kindness and care. During a difficult family time, Villa Belong Dua Arya and the team provided us with a safe haven of calm and relaxation. I'm not quite sure how William will survive without his endless supply of fresh orange juice.
Peter V, Qatar
,
04-Jun-2019
-
08-Jun-2019
We feel very fortunate to have been able to spend on 4 days here in the gracious care of the villa staff. We have traveled many places in our lives and Villa Belong Dua in Seseh village Bali is remarkable and will stay in our memories forever. We hope that this lovely place will stay the haven it is and wish good fortune and happiness to all who work hard to make it a fine destination for those who come to Bali.
Paula L, Australia
,
27-May-2019
-
01-Jun-2019
Thank you to Villa Belong Dua for such a relaxing, enjoyable and beautiful holiday. Our family enjoyed swimming in the pool, reading on the sun lounges, eating the beautiful food prepared by Putu, the healing massages, the magical night talking after dinner and our strolls through the village of Seseh. This time has given our family some wonderful memories.
Brian H, Australia
,
23-May-2019
-
27-May-2019
Thank you so much for your wonderful hospitality here at Villa Belong Dua. This is a magical and happy place. Thank you also to all the wonderful staff for your generosity and for welcoming us to this gorgeous part of the world. We hope to return.
Taylor G, Zimbabwe
,
05-May-2019
-
11-May-2019
Thank you! Our stay here was nothing short of magical. Each day spent at the villa was a little slice of heaven. I can't tell you how sad we are to leave though we will most certainly return someday. The best part of our stay has been the warm and exceedingly great service from the staff. You are like friends to us and we will speak often to you for years as we reminisce of this perfect week.
Bertrand D, Singapore
,
03-May-2019
-
05-May-2019
Green, peaceful, beautiful, relaxing. We couldn't find words to describe the great time we had at Villa Belong Dua. Not Mentioning the Local cooking, massage and yoga class. Our only wish is I would like to stay longer. Many thanks for the welcome and numerous attention given by all staff. We will come back.
Hillary F, United States
,
20-Apr-2019
-
28-Apr-2019
Our family of three stayed at the villa for a week and we had an amazing time. The pool is perfect, we swam twice each day at least. Arya and the staff made us fell so welcome and took care of anything we needed - it was just a question away. We ate all of our meals here and Putu served wonderful super delicious Balinese dishes and also accommodated our (picky) daughter. The villa really is paradise inside of the paradise of Bali. Everyone should stay here. The yoga and spa service at the villa were terrific too.
Steven G, United States
,
12-Apr-2019
-
19-Apr-2019
Thank you to all of you at Villa Belong Dua for making our vacation a paradise. the villa is a dream a private paradise in a lush garden . Everybody at the villa is so super friendly and helpful. Arya organized some greats day trips for us and Putu cooked wonderful local delicious meals. We enjoyed the beautiful garden and absolutely loved the pool - where we spent lots of afternoons. We felt like royalty - we just had to ask and things would appear. We have to say that the Balinese people.
Adam J, Australia
,
10-Jan-2019
-
15-Jan-2019
We would like to thank everyone at Villa Belong Dua for Making our visit on our honeymoon so very special. We had the opportunity to visit several hotels and villas during our stays in Bali and Villa Belong Dua has been by far our favourite place. We can't wait to return again in September with our friends. Once Again thank you very much .
Catherine F, Australia
,
02-Nov-2018
-
05-Nov-2018
Every meal was 1001 perfect, we couldn't ask for better food. Every dish was so fresh and delicious! We are very grateful for the amazing food and incredible service during our stay. All the food recommended for each meal are now our favorite dishes. Villa belong Dua is better than any restaurant we have ever been to at home and we are sad we can't stay any longer to enjoy our beautiful meals. We will definitely visit again.
Lukas S, Germany
,
30-Sep-2018
-
02-Oct-2018
That's was just fantastic. It was a pleasure to stay in your villa with the prefect staff. All of our wishes have been fullfiled and even beyond that. It was a perfect chill time in our stressful Asia tour and we would love to come back, ASAP! This stay was one of our best tour experiences and we will never forget it.
Michael B, Australia
,
14-Sep-2018
-
24-Sep-2018
When we arrived at Villa Belong Dua, we thought what a beautiful place to have holiday and as our stay progressed. We felt at home and that we had been here forever. It's a heaven from the outside world, with a peace that is rarely felt elsewhere. Seseh Village is a lovely place with local people always smiling. Putu, thank you for your fantastic food, chocolate ice cream and stories. To Ketut, Iluh and Nyoman you have looked us so well always friendly. To Ketut July and Widya thank you for keeping us safe always with a smile. Wayan you do a fantastic job keeping the pool ground so clean. Arya, there no word other than you have been amazing. Thank you from the bottom of my heart for your support and compassion with Seseh. We will miss Belong Dua very much and look forward to returning soon.
Daniel T, Malaysia
,
10-Sep-2018
-
14-Sep-2018
Your team of staff members have been nothing short of amazing! The villa is one of the best I have stayed in. Its peaceful, serene, clean and calm. Staying in this villa is like having a piece of paradise to yourself. In short, it's an amazing place to stay in Bali. The Villa Manager and his team are extremely accommodating and helpful. Chef Putu is a culinary genius and everything he cooks satisfies our tummy well. Thank you for your amazing hospitality. We will meet again soon and for now, goodbye and take care. All the best.
Solene B, Switzerland
,
02-Sep-2018
-
05-Sep-2018
Our stay was very relaxing and we enjoyed every part of it. The staff are incredible, discreet and caring. The food was marvelous and the cook incredible. The house is a small heaven and prefect for the two Honeymooners we are. Everything is clean and furniture are comfortable and well manufactured. We're recommended that place for anyone asking for the best in Bali. Thank you for everything.
Uli K, Germany
,
19-Aug-2018
-
26-Aug-2018
Our stay in Villa Belong Dua was wonderful. We enjoyed very much the village life, the rice paddies and the beach. The villa is a place to feel at home. The furniture is very clean and the pool and gardens are amazing thank you Wayan. The staff make you at home and very welcome, special thanks to Putu for his wonderful meals and interesting conversation with Arya the Manager is doing a great job, he is very helpful and takes care of every thing. Overall, we had a great stay and hope to come back soon.
Borja O, Australia
,
11-Aug-2018
-
18-Aug-2018
Our stay in Villa Belong has been like a dream come true, mainly thanks to Arya, Putu and the rest of the staff at the house. The villa has been like a paradise to us, so beautiful, surrounded by beauty, Balinese beauty every where. The team couldn't have been more professional, kind and warm, definitely above expectation. There permanent smile made our stay. We only can say thank you, a very big thank you to all of them.
Siradej D, Thailand
,
27-Jul-2018
-
30-Jul-2018
We had an amazing time at Villa Belong Dua. The staff has been incredible and made us feel at home since day one. We loved the accommodation and service and will definitely be coming back. Thank you again. Five Stars +++!
John and Anne, Australia
,
19-Jul-2018
-
24-Jul-2018
We have truly loved our stay in this lovely place, the beautiful garden, the quiet location, the excellent facility and most of all the fantastic and glorious staff. Fantastic meals, comfortable rooms with one of the best outdoor showers we have encountered (and we have seen few). All round this has been our best villa experience in Bali. Everybody has gone the extra mile from purchasing us extra drinks to buying my grandchildren DVD's so I could avoid going to seminyak. The massages here are relaxing and I suggest one each day. All meals we had were delicious and one that really stood out for me was the BETUTU, so moist and tender and flavorsome - a must try. Be prepared to be pampered sit back by the stunning pool and just relax.
Russell S, Australia
,
12-Jun-2018
-
16-Jun-2018
On behalf of the Shaw family, I want to thank Arya and the staff for their kindness and friendliness during our stay. The villa is beautifully designed and we absolutely loved and spent most of the time in the wonderful pool. We enjoyed our meals and the tranquility of the place and hope to be back again someday.
Leah V, Australia
,
11-May-2018
-
14-May-2018
Many thanks to Arya and your lovely staff. We have had a lovely time.
Leah V, Australia
,
09-May-2018
-
11-May-2018
Many thanks to Arya and the lovely staff. We have had a lovely time.
Rebecca, Australia
,
15-Mar-2018
-
25-Mar-2018
Someone once quoted that "life is not about the breath you take, but the moments that take your breath". So many moments took our breath away. The small touches made by staff - including Nyoman's home lunch and long chats after dinner. Anything we needed was catered for quickly and without fuss. The area is fantastic to explore or simply stay in the villa for a massage and an afternoon of lounging.
Johanna J, Australia
,
14-Feb-2018
-
24-Feb-2018
There is limited words I can find to express how we feel after our 10 days at the villa. We came here during one of the most difficult times in life to restore ourselves. We now leave, having not only a great deal of peace but also having found and explored many corners of our lives and hearts as our souls were taken care of in every way imaginable. The villa is perfect and we felt a part of the Balinese tradition which existed long before tourism took over. The food was fresh, exciting and inspiring. We felt part of the family and we will highly recommended the villa.
Giulio B, United States
,
23-Dec-2017
-
01-Jan-2018
We stayed for 9 days at the villa Belong Dua and had the most blissfully time. After stepping out from 25 hours flight and airport journey, we arrive past midnight and we are welcomed with a nice warm meal, cool beverage and a prefect setting. The staff is beyond friendly, attending to every need and proposing ideas of the things to do and see, which key for us as we were mostly here to relax with our 2 years old and hadn't done a lot of research. The breakfast was scrumptious, the fruits heavenly and the smile of the staff contagious. Nyoman took care of our very picky 2 year old and Arya was always present and available. We highly recorded this villa if your are looking for peace and quiet and a relaxing setting. Bustling Canggu or Seminyak are just cab ride away and once you go, you will be thankful to come back to Villa Belong Dua . Tfeila ,Giulio & Yara
Frank E, Australia
,
12-Oct-2017
-
16-Oct-2017
Our recent stay at Belong Dua has been a most pleasant experience. The accommodation, surround and the service provided by Arya and his staff were second to none. Highly recommended.
Peter H, Australia
,
30-Sep-2017
-
08-Oct-2017
Villa Belong Dua is a sanctuary to physically and mentally unwind and recharge. When you first step into the villa you can't mistake it's beauty. The true beauty here is the welcoming and generous people - Arya and the team have exceeded every expectation we could possibly here had. Thank you of a beautiful week. We will be back.
Lugena H, United States
,
25-Sep-2017
-
27-Sep-2017
Thank you so much for a wonderful stay. We have enjoyed every minute here at Villa Belong Dua. Our breakfast ,lunch and dinner here very delicious. We were so happy to share a special meals with everyone. The staff is the best we have had on our 3 weeks stay in Bali. The Villa is peaceful and a great Balinese village experience. The sunset on the beach is just a short walk away past the temple and you can see and experience the temple ceremony and blessing. The villa is a green oasis inside of a village around you, lots of butterflies and birds in the villa, that's what we enjoyed. We loved our experience with the staff and massage in the outdoor area. We can't wait to come back ,we wish our new Bali family much luck and happiness. We will miss you.
Ros W, Australia
,
08-Sep-2017
-
11-Sep-2017
The rooms and amenities were absolutely perfect, beautiful outdoor bathroom and shower. The garden and pool are amazing, it's easy to loose a few hours in the tranquility of this. The staff have been wonderful and could not do anything more for us. They have been so friendly and helpful during our stay. The food prepared for us was perfect in all aspects. What more can we say "perfect". I will recommend Villa Belong Dua to our Australian friends. A great destination managed and serviced by great people. Kind regard Stephen Wicks
Martin O, Bermuda
,
04-Aug-2017
-
16-Aug-2017
We have spent the most gorgeous two weeks here at Belong Dua. It's has been the perfect setting for our family holiday, relaxing, reading and spending a lot of time in the pool. We ate in most days due to our 1 years olds naps and would recommend allowing the chef/team to direct the menu, we had the most delicious Indonesia/Balinese food which we might not have chosen otherwise. Also lunch from a couple of the local warung was a great shout. If you're heading out to Canggu then "the lawn " was a popular choice for us, good pool and beach access and a popular spot for other young families. Also for rusty surfer like us the next door beach "old mans " is good spot to hire boards and get out onto water. Finally a huge recommendation and thank you for the fantastic team here at the villa who are very kind and attentive without being intrusive. Particular praise goes to Wayan for his kindness to our son and his meticulous upkeep of the pool and also to Nyoman.
The Fenchel family, Germany
,
21-Jul-2017
-
29-Jul-2017
We enjoyed a wonderful stay in Villa Belong Dua. Architectural details and garden, interior and even more the always humble and helpful staff under Mr Arya made it an unforgettable vacation. The logistics aspect of the organization were even adding to this dreamless-travel experience. We would love to repeat.
Nicola P, Brazil
,
10-Jul-2017
-
17-Jul-2017
Our stay at Villa Belong Dua was absolutely amazing. The architecture, attention to detail, service. But the most importantly the human factor from of the staff make you fell like home. We will certainly be back soon.
Bryan B, Australia
,
03-Jul-2017
-
08-Jul-2017
We have our excellent stay at villa Belong Dua. The facilties are excellent and have been perfect for our stay. The village is welcoming and there some lovely walks around the area. However the best thing about Villa Belong Dua is the staff. They have been so welcoming and attentive without being intrusive. All the staff have been very professional and have helped so much with our understanding of local customs and the language. We felt as though we been staying with family.
Stijn S, Australia
,
12-Jun-2017
-
19-Jun-2017
We had a beatiful time here at Belong Dua and loved the setting. The villa design and serenity of the place. The staff was wonderful and made all our little special wishes come true. Everyone was wonderful and friendly and very special to. Thanks to Nyoman for taking so good and loving care of our two little men! Only downside of our stay is that we probably grew out a bit because of the amazing food!! We would love to be back very soon. Thank you so much for this very special holiday.
Tiffany C, Guam
,
08-Jun-2017
-
12-Jun-2017
Our stay at villa Belong Dua was great! We stayed four nights and all the staff were extremely helpful and polite. The pool and villa stayed very clean and the massage we booked was very enjoyable as well. We ate breakfast at the villa every morning and it's was very simple but delicious. We request fruits to be served at all times and the lemongrass ice tea is great as well! We ate dinner at the villa and enjoyed the food very much. The manager here is very helpful and listened to all of our requests. I definitely recommend staying at this villa !!!! Thank you.
Maureen. Elizabeth O, Australia
,
02-May-2017
-
07-May-2017
This is our second visit to Villa Belong Dua and I'm sure it won't be our last. Always exceeds our expectation in service and comfort. Arya, Fran and all the staff go out of their way to ensure our comfort. Beautiful place, beautiful people.
Donald R, Australia
,
06-Apr-2017
-
17-Apr-2017
Our sincerest thanks and appreciation for making our 1st visit to Bali so memorable. Belong Dua has a very special energy that could not be put into words. We relished everyday (and moment) in this unequaled botanical and architectural paradise. Special thank you to Arya for making our every wish come true.
Christian Q, South Africa
,
19-Mar-2017
-
29-Mar-2017
Thank you for the most amazing 10 days in your little piece of paradise. We loved being here, the amazing house, the staff and Arya and Fran's wonderful smiles. The incredible food and warm hospitality will be taken with our memory for many years. Your island is made more beautiful by your gracious and deep spirituality. Thank you.
Kerrie S, Australia
,
15-Mar-2017
-
19-Mar-2017
This is our second stay here at beautiful Villa Belong Dua! Your experience here will speak for itself as word do no justice to the "specialness" at your feet. Many thanks to our staff they are all so thoughtful and accommodating! Make sure you get Francis to cook for you. Meals are a culinary WOW!!! We will back.
Jan I, Netherlands
,
25-Feb-2017
-
01-Mar-2017
We would like to thank you all for "perfect" stay in this wonderful house! We are Belgium family from Antwep and working many years in the furniture and decoration business. We love the architecture and every detail in this house! Just fantastic. The staff is so friendly and make our stay unforgettable. The cook is a man with premium for his job! It was delicious - the best food we have in Bali! We will come again! We love yoga and the garden is just the prefect place to feel connected with nature! Thank you again - all of you for spoiling us so much!!
Aleksandra K, Poland
,
01-Jan-2017
-
11-Jan-2017
We would like thank you for making our stay in Bali so enjoyable. The villa is very beautiful, combining elements of traditional Balinese and modern architecture. The staff is lovely, always smiling, kind and ready to help. Breakfast and dinner were exceptional compare to the meals in the best restaurant. Once again thank you for making our stay in beautiful Bali unforgettable!
Stephanie H, Hong Kong
,
09-Oct-2016
-
15-Oct-2016
Another lovely week for us at Villa Belong Dua. A tropical Oasis - amazing garden, lovely pool and an incredibility kind and welcoming staff. Our fourth stay and we'll surely be back! THIS IS VILLA IS A GEM.
Sara S, Australia
,
28-Sep-2016
-
01-Oct-2016
We had fabulous time at Villa Belong Dua. Beautiful accommodation, flawless design and glorious swimming pool. Most of all, the amazing staff were so welcoming and helpful and always smiling . Thank you so much to Arya and the team for making our stay so special . WE WILL BE BACK.
Michael S, Germany
,
06-Sep-2016
-
11-Sep-2016
Thank you very much for a wonderful and peaceful stay at Villa Belong Dua. We enjoyed the wonderful garden and house and pool! All the staff is very nice and gave us a very warm welcome. Special thanks to Frans who does a great job - an had expert in the field. His seafood barbecue was really outstanding. See you next time!
Colette W, Singapore
,
03-Sep-2016
-
06-Sep-2016
WOW! What an amazing 3 days at Villa Belong Dua. The Villa itself was spectacular, rustic yet modern, quaint yet spacious and surrounded with lush greenery which blended into our mood. The staff were equally amazing. We wanted for nothing. We were only here for 3 days, but it felt like more. Special mention to Arya, for being so accommodating and explaining so much to us about Bali. And to Frans, what an amazing chef, our plan was to visit some restaurants in the area for dinner but your food was so good, we couldn't bring ourselves to try something else.
Deladriere H, Singapore
,
28-Aug-2016
-
02-Sep-2016
Nothing more to say than - Thank You. Thank you for your smile. A space so quite. A space to be out of the world. A space to feel really good.
Christopher B, Australia
,
26-Aug-2016
-
28-Aug-2016
We had a wonderful stay at Villa Belong Dua. The location is private and peaceful. The staff were all attentive, friendly and caring. We wish we could stay longer. Our stay was relaxing and rejuvenating . We can't wait to return!
Tomoko O, Hong Kong
,
16-Aug-2016
-
21-Aug-2016
There is only one simple word to describe the place and staff - PERFECT. Thank you.
Duncan B, Australia
,
29-Jul-2016
-
03-Aug-2016
Thank you to all the staff at Villa Belong Dua. You have been very attentive and allowed us to enjoy a relaxing stay. Arya welcome us very warmly and organised everything we asked for with care. Frans and his team created delicious meals that our group appreciated at the times that suited us, including help with food for a 9 month old baby. We wish the team continued success at this lovely location.
Todd C, United States
,
18-Jul-2016
-
21-Jul-2016
We hate to be leaving such a special, beautiful and peaceful place. We enjoyed every relaxing minute, its hard to find a place authentic and truly Balinese as this. The Generosity and kindness of the staff was a gift we especially enjoyed and the amazing dinners prepared by Franz. Long evenings at the dinner table with such delicious food and ice cold Bintang will be a great memory. The peaceful setting and relaxing environment were just what we needed. Thank to everyone for making our stay truly priceless. We hope be back one day soon!
Thomas K, Singapore
,
15-Jun-2016
-
19-Jun-2016
Thank you for making our vacation an amazing one. Villa Belong Dua is truly made gorgeous by the warm and happiness of the staff. We hope to back in the near future.
Felix Cartoux, Singapore
,
30-May-2015
-
03-Jun-2015
We only stayed four nights at Villa Belong Dua and wished we could extend our stay for much longer. My wife and I have travelled to Bali quite a few times and this villa and its staff are clearly the best we have ever encountered. The villa itself is set in a nice and quite gong. The architecture is refined and done with great traditional Balinese taste. Everything about this villa is an invitation to peace and tranquility. Sainna (not sure this spelled correctly), the villa manager, is very discrete and helpful in making your stay as enjoyable as possible. Francis, the chef, is very friendly and very skilled at preparing all sorts of meals from traditional Indonesian food to more European style cuisine. We strongly recommend you try out the fish BBQ!!! All in all we had a great stay and bring with us some great memories. We will try our best to come back soon. Cheers Felix and Sophie
Shaun B, Australia
,
22-Sep-2014
-
01-Oct-2014
The pictures of Belong Dua do not lie. It is a truly stunning villa that will suit those looking for complete luxurious relaxation in a quiet Balinese village.
Gordon T, Indonesia
,
08-Sep-2014
-
14-Sep-2014
Our second visit to this wonderful Villa in Seseh; waking up to the sounds of chickens and pigs; the wonderful Balinese architecture; swimming in the pool; a lovely breakfast; strolling through the village and along the black sand on the beach; bike rides through the rice fields and nearby villages; lunch at the Villa, lounging around the pool, pre dinner drinks and dinner. The fantastic staff including chef makes for a truly restful and enjoyable holiday. We look forward to our next visit!
Charlotte Marechal, France
,
02-Aug-2014
-
16-Aug-2014
It was perfect on every Way! Wonderful trip, house, people... Here every thing is order, and beauty, Lux, calm and voluptee...
Evelyn R, Australia
,
22-May-2014
-
29-May-2014
Villa Belong Dua was amazing. The property grounds are stunning as is the pool area. The day bed is an absolute highlight. We spent hours relaxing on that and it comfortably fit 4 adults and an active 9 month baby. We loved the property so much that we literally didn't leave except to stock up on drinks at the local shop. The food prepared by Frans was delicious and I highly recommend the seafood banquet. There is one area where I believe there could be improvement. The manager needs to be more pro active in the small things. An example is that we had to request mosquito coils to be set up every single night. I would expect things like this to be done without the guest asking for an elite property like this. I highly recommend this property, we would all love to come back in the future.
QINGYUN Z,
,
26-Apr-2014
-
28-Apr-2014
Amazing villa and unforgetable honey moon here, highly recommend
Danielle L, Australia
,
13-Nov-2013
-
16-Nov-2013
Staff were amazing, everything as advertised was as is. My only complaint was the noise off the roosters. I would highly recommend this villa.
Gordon T, Australia
,
13-Sep-2013
-
19-Sep-2013
Our stay at Villa Belong Dua was a truly wonderful experience, which lacked nothing to create an ideal luxury holiday. Located within a Bali Village, with the sights and sounds of village life was unique. The Villa itself and the staff were fantastic. We look forward to returning soon.
Emma P, Australia
,
08-Sep-2013
-
13-Sep-2013
Villa Belong Dua is just stunning. The grounds are immaculate and really feels very special having it all to yourself. Loved having our own chef and other staff to look after us!
The rooms are beautiful and beds very comfortable. Roosters make a lot of noise in the morning but expected this being in a smaller village. We didn't expect the noise from local dogs which was far louder than the roosters and kept us awake most of the first night. Take earplugs with you! Also suggest putting young children in the smaller bedroom as this is not so noisy.
Loved having the option of watching dvd's in the indoor, air-conditioned media room as well as both bedrooms. Outdoor living area is just lovely and a great place to sit and read a book looking over the pool once the kids are in bed.
We all loved the pool which is huge and has a small shallow section for the little kids. Also enjoyed the massage (booked by villa staff at my request) in the poolside bale - cheap too at 110,000 IDR for an hour (about AU$11) - far cheaper than any other villa/hotel we have stayed at in Bali. Kids had lots of fun watching the geckos, lizards and butterflies around the property.
Great having free wifi but found connection quite inconsistent.
Overall we really enjoyed our stay.
Shari T, Australia
,
24-Jun-2013
-
01-Jul-2013
Lovely staff and a relaxing ambience make this a great spot to get away from the world. A short walk to the beach, a shorter walk to a local temple, and surrounded by rice paddies and the ocean, this was a great location to experience Bali in a bygone era. Nice to relax in the Bale or read a book in the media room or on the open air pavilion day bad, and simply watch the day pass. Staff were able to arrange in villa massage, a nice start to the day!
Peter W, Switzerland
,
28-Apr-2013
-
12-May-2013
We would like to thank you very much for the lovely, tranquil and relaxing 2-week stay we experienced at Villa Belong Dua which is situated in the midst of a very tidy, quaint traditional village. The expansive, immaculate tropical garden and pool allowed us to escape from the everyday hectic of normal life and we thoroughly were able to relax in such lovely surroundings and essentially that is what a holiday should be about. The staff was very friendly and attentive in a discrete way, never obtrusive but quickly available if needed. Thank you for placing all those phone-calls and for the beautiful flower arrangement for our son's birthday. The magnificent and well-appointed bedrooms and air-conditioned WC and vanity area was well-appreciated as was the gorgeous outdoor shower area. Our special requests for breakfast (chili, tomato and onion omelettes) were always met. The food that Frans prepared was delicious, as was the satay from the lady in Munggu. The attached driver, Made, was excellent, always on time and chauffeured us safely through the maddening traffic of Bali for sightseeing, shopping and to fabulous restaurants in the evenings. All in all, our stay was just perfect. We will surely be back !
RM, United States
,
15-Mar-2013
-
21-Mar-2013
Great villa, great location for real Bali!
Stuff did take great care of us, cook was amazing, i wish we could enjoy more of his cooking!
Just be ready fo roosters at night;-)!
RA, Australia
,
15-Feb-2013
-
20-Feb-2013
magnificent villa
the pictures on the website do not do it justice
will definatly go back
recommend to all
Sharifah Syed Mohsen, Singapore
,
08-Dec-2012
-
14-Dec-2012
The villa is stunning and located in a village close to paddy fields so it was lovely to hear the crows of the cockerel in the morning. The pool was warm so it was perfect for our baby to swim in. The chef was great and prepared tasty Indonesian/Balinese as well as Italian meals (his specialty). The staff were friendly. The outdoor shower was simply gorgeous. We thoroughly enjoyed our stay! The beach is within walking distance but not really suitable for swimming as the waves were pretty strong and there are probably more scenic ones in nearby Seminyak.
SS
,
01-Dec-2012
-
05-Dec-2012
Villa belong Dua was exactly what we needed for relaxation and to spend time with our ckildren (3 1/2 and 19 months). The village with no tourists was ideal. The childrens splash section of the pool was perfet and made swimming enjoyable and relaxing for everyone. The gardens were perfect- especially for fairy hunting and flower picking! At first I was concerned about the 2 beedrooms. However, the children were set up in a small room attached to the main bedroom which surpassed my expectations. It meant they were close to us and in the same building, yet we still had privacy. To say the food was great is an understatment- the Chef was excellent and even my fussy girls ate everything up! Staff were very helpful, polite and respected our privacy and independence. I would highly recommend Villa Belong Dua to families wanting to get away from everything, focus on the children and sneak in some adult RnR too!
LA, Singapore
,
01-Nov-2012
-
08-Nov-2012
We (two couples) spent a wonderful week in this beautiful villa in rural surroundings. A better place for relaxation and recreation is hard to find. Everything was up to and some even beyond our expectations, i.e.how our privacy was cherished. The very attentive staff provided us with everything we could request and did so always with a warm smile. All places were properly taken care of, clean, tidy, i.e. fresh towels up to three times a day, chef Franz provided excellent food, all requests were responded in a timely manner. We wholeheartly can recommend Villa Belong Dua and looking forward to find an opportunity to come back.
Kathy Lim, Singapore
,
28-Oct-2012
-
31-Oct-2012
Great team of staff led by Arianna who made our stay extremely comfortable. We had private yoga classes in the villa with the perfect setting, as well as private massage by the pool. Location is far from the action in Bali, but the villa was so comfortable that we didn't yearn to spend much time beyond the villa! We will definitely be back!
Franziska Willi, Singapore
,
16-Oct-2012
-
21-Oct-2012
We loved the setting and the style of the villa. The garden is simply a paradise. The outdoor areas really relaxed and lovely. Rooms are functional and the little balconies in front of each villa just lovely. We would recommend the villa highly . The only drawback is the traffic - If you get the timing wrong it takes quite some time to Seminyak. The villa is ideal for people who just want to relax in the garden and are not keen on beach and with a pool that size you frankly don't need it. We had a wonderful time. The chef is excellent and we simply enjoyed every dish he cooked - all Indonesian dishes.
Judy & Warwick Carr, Australia
,
24-Sep-2012
-
02-Oct-2012
Thank you for a very relaxing and comfortable stay at Villa Belong Dua. Great friendly staff who could not have been more helpful. Our first stay in Bali was a wonderful experience. We will be back!
James O Brien, Ireland
,
24-Jun-2012
-
30-Jun-2012
Beautiful spacious villa. The most outstanding aspect is the quality of the staff lead by the fantastic villa manager, Sainna. Quite simply there were no limits to their efforts to make us comfortable.
MS, Australia
,
18-Feb-2012
-
20-Feb-2012
Everything about this villa was wonderful. The staff, led by manager Rahmat, were ever attentive but perfectly discreet. The villa is maintained to an exceptional standard, and the grounds and pool are lovely. Franz, the chef, is included in the price and you only have to pay for groceries and any drinks you may consume. We had very relaxing massages and beauty treatments in the antique bale which were also very well priced. Over all, we had a delightful stay, and I just wish it could have been for longer. I only gave the kitchen 9 because we couldn't find the tea!
SK
,
09-Feb-2012
-
13-Feb-2012
Beautiful and amazing. We loved our stay at Villa Belong Dua...peaceful and traditional but with the comforts of some modern convenciences. The staff were outstanding and did everything they could to make our stay comfortable and enjoyable. If you want to experience a different Bali to the hustle and bustle of the regular tourist traps then Villa Belong Dua is ideal.
DP
,
03-Feb-2012
-
06-Feb-2012
Villa Belong Dua represents a unique opportunity for foreigners to experience Balinese village life more intimately than the conventional hotel/resort complexes.
BV
,
11-Dec-2011
-
18-Dec-2011
Great villa with really nice staff especially the manager Rhamat with whom we had really interested conversations.
The house is really clean and well maintened.
We appreciatted the discretion of the staff. We will come back if we can.
Turner Gillian, Australia
,
01-Dec-2011
-
08-Dec-2011
We had a wonderful time at Villa Belong Dua - the staff were all fantastic! The only down side (and it was only very minor) were the roosters and dogs barking. But the opportunity to stay in a tranquil village setting far from the hustle and bustle of Kuta and Seminyak more than made up for it!!
Thank-you to everyone involved in organising our holiday - from Nia who booked it, Rahmat, the manager and all the wonderful support staff. You made our stay truly memorable :-)
YJ, United Kingdom
,
06-Nov-2011
-
13-Nov-2011
The villa was exactly as described and it more than met our expectations. Comfortable, spacious, incredibly friendly staff, excellent food. The gardens and buildings are well-maintained and it is very easy to get used to having so many people waiting on you hand and foot (that's how it feels!).
The drive to Seminyak can be slow due to traffic so this villa will be best for people who are happy to stay put. The nearby beach is a bit littered so stick to the pool.
Bart Elsen, Belgium
,
02-Nov-2011
-
05-Nov-2011
One of the best places in the world we ever stayed in ! Very high value for money, staff has a high professionel level and tries to please the guest to the most. I can only recommend this to everyone who thinks of staying in the south of Bali, without the hussle and bussle of Kuta or the other southern places. Beautiful place, beautiful people.
KP, Hong Kong
,
26-Jun-2011
-
03-Jul-2011
We had a fantastic stay at Villa Belong Dua! Can not fault anything. Fantastic food was cooked daily, gardens were immaculate, staff were always ready and eager to help and most friendly. I have been to Bali numerous times and this is the place I will go back to next time. Thanks Rahmat for a great holiday!
Julie Brown, Australia
,
01-Apr-2011
-
05-Apr-2011
Villa Belong Dua was the perfect choice for our family holiday. There were just four of us, 2 adults and 2 children, and this villa accommodated us perfectly. We loved the staff and were very sad to leave them! The design and upkeep of the villa was top notch. We would defintely recommend this to anyone planning a glimpse of the "real Bali". Very well organised, excellent service from BHM and could not fault the whole online booking process. Our stay was most memorable and the best of the three places we stayed in Bali. The food was superb and the pool/massage facilities so relaxing.
Cornelia Koenig, Germany
,
07-Mar-2011
-
10-Mar-2011
A perfect place in Seseh. When you´ll arrive you don´t aspect these beautiful place. The ground, garden and rooms are a dream. We leave with "tears in the eye" and come back soon as possible! Nice and professional Staff.. thanks to all of them!
Nikki Jovicic, Australia
,
09-Jan-2011
-
23-Jan-2011
My family had a wonderful stay at Villa Belong Dua. The distance from major areas was not a problem at all. Transport was easy to arrange & we LOVED being out of the busy parts of Bali. The village is so charming & the people of Seseh were extremely welcoming. We spent many days not even venturing out of the villa grounds - why would we when we had everything there that we could possibly need? The staff were wonderful & Frans does a fantastic job as chef. The pool is beautiful & the villa is very well maintained. We had friends visit who were staying in Seminyak & they just wanted to leave their villa & move in with us.
It was all very impressive.
GN, Australia
,
18-Dec-2010
-
20-Dec-2010
Fantastic swimming pool and particularly good location if you want to be just out Seminyak and Kerobokan but within easy reach...
Marilyn Mitchell, Australia
,
20-Nov-2010
-
02-Dec-2010
Stayed at a few villas in Bali, lived in Jakarta for 4 years, just to give you background.Rachmat the villa manager is a total standout, charming, thoughtful, creative and responsive to guests needs. He crosses over to the kitchen seamlessly when the cook is not present.He has a history in the service industry in 5 star resorts and it shows.The facilities of the villa are good for the price and a few nice surprises ie ipod docks.Seseh village was very welcoming of guests to their temple ceremonies. Travel back to the tourist belt of Kuta, legian etc is increasing as traffic multiplies each year. However the distance from the tourist belt, insures peace,quiet to explore and wander the local environs.To find a 2 bed stand alone villa of this calibre is a rare find. Respect to tradition was beautifully observed.Thank you for this experience.
RS, Singapore
,
19-Aug-2010
-
22-Aug-2010
The 3 night break ended up being far too short, but that was our fault! The villa, staff and 'rest factor' were incredible. An ideal small family getaway. Sitting with the (excellent) chef to plan the days menu was a real pleasure as was lounging by the pool and scheduling massages, facials and other delights on a whim. Miles from anywhere else (so not for the clubbers) so a real option for the stressed family needing a recharge. Right in the midst of a Balinese traditional village, but we didn't even hear the chickens start up on the third morning, and that all adds to the charm. We'll be back. Highly recommended!
PS, Singapore
,
17-Jul-2010
-
24-Jul-2010
The villa is best described as Dr Who's Tardis. We stepped out of the airport transfer into a back alley and then proceeded to enter a back yard/bike shed that did nothing to appease our apprehension. Then upon the turn of a corner an oasis appeared! The most remarkably kept grounds and tranquil walled setting I have yet to see greeted us along with the smiling faces of the staff who played the most gracious hosts during our stay. The appeal of the villa along with its ample sized pool kept us confined to its walls purely by choice for the next 24hrs. When we did venture out we were immediately taken in by a true Balinese experience of village life and people hard at work in the surrounding rice fields. When we wished to venture futher afield taxi's were provided within half an hour and with relations made with their drivers further trips were easily planned for the following days with the drivers making the most knowledgeable tour guides. All in all an excellent holiday enhanced by the villa which provides a retreat offering a more authentic Balinese Experience and just located Far From The Madding Crowd