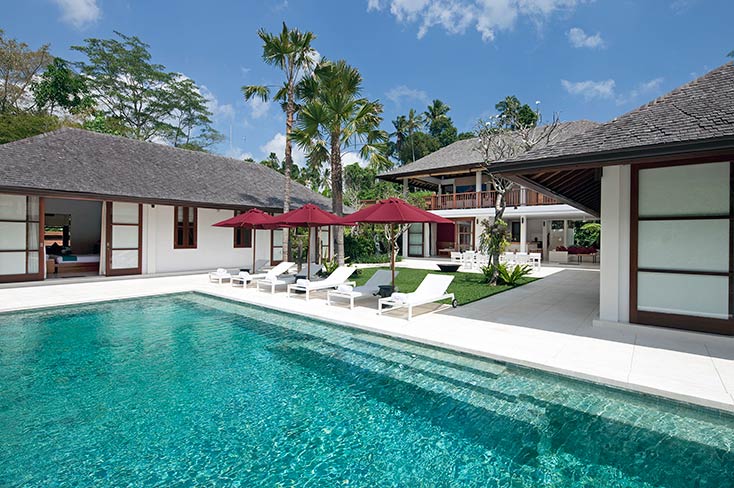 Angus S, Australia
,
18-Aug-2019
-
25-Aug-2019
What a Fantastic time we have had at Villa Atacaya. The staff have been excellent, attentive and the food delicious. We would certainly recommend the villa to others and thank you very much for making our stay in Bali so pleasant.
Tony B, United States
,
22-Apr-2019
-
02-May-2019
Thank you for a wonderful and memorable stay at Atacaya Villa. We had a relaxing time.
Ruby V, India
,
03-Apr-2019
-
06-Apr-2019
Wonderful villa stay, great staff very helpful always 24 hours a day available at your service. We have booked the other villa next door too. We are here with 19 family members. finally, breakfast, lunch and dinner served by staff was good and there is a shuttle service to nearby places.
Robyn N, New Zealand
,
28-Mar-2019
-
01-Apr-2019
All the staff and Mr Suka were so kind and hospitable. Can't thank you enough for everything. Best staff and villa in Bali. See you next time.
Sarah B, United States
,
01-Mar-2019
-
14-Mar-2019
Our family have been living in Bali for 6 years and our stay at this villa most memorable yet. We look forward to our return. Thank you for your all attention to detail - clean rooms, delicious food, sharing of your cooking and smiling faces. Was a pleasure to spend a week here, we hope someday we will be able to return.
Luke H, Australia
,
07-Jan-2019
-
19-Jan-2019
Beautiful, amazing and magical villa, thank you for incredible week. Thank you all so much for looking after us and making our time here so special. Setting is excellent, fabulous food, stay wonderful. We will be back.
Cho, Singapore
,
30-Aug-2018
-
02-Sep-2018
Staff are friendly and helpful, always ready to accommodate to requests. Place is calm and peaceful, big enough to explore. Service is excellent, rooms are always clean and neat. Baby friendly place. Food by cook is great! We truly enjoyed our stay here, thank you very much.
Sidhdarth D, India
,
18-Aug-2018
-
25-Aug-2018
Very beautiful place. Nice planning, very well maintained. Neat and clean. Everyone of us enjoyed the stay, service and food. Well behaved, cooperative and trained staff. We would love to come again. We will also recommend to our other friends to visit and stay here. Nice country, nice people. We wish all the best to this country and people.
Suki T, Hong Kong
,
21-Jul-2018
-
26-Jul-2018
Beautiful Villa and nice staff. We stay here for 6 days and we had so much fun. Thanks for the homemade Birthday cake by your staffs! We will recommend to our friends.
Ian F, Hong Kong
,
27-Mar-2018
-
03-Apr-2018
Thank you for a fantastic stay at Villa Atacaya. I'm so pleased that we choose this fabulous venue for our Easter break. I will never tire of the view of the river and trees, the accommodation is purposeful and comfortable. We will definitely be back. Huge thanks to the team who looked after us so well, great food, safe driving, a fabulous walk through rice fields and lot of great advice. The villa was well looked after whilst we were here, and this all made for a most relaxing break. We felt very welcome and relaxed and look forward to a return visit.
Shailendra S, Singapore
,
13-Mar-2018
-
16-Mar-2018
Our whole experience these past few days has been awesome! The service staff is very friendly and helpful! We have truly enjoyed ourselves and would love to come back here again! Will definitely recommend this place to my friends.
Luke H, Australia
,
07-Jan-2018
-
12-Jan-2018
We want to thank you for this wonderful stay! It was amazing, tasty and unforgettable overall. We look forward to coming again. The venue was just divine, the service was very attentive. I have had a wonderful time staying here with you all making us feel very welcome and homely.
Kezia W, Singapore
,
20-Oct-2017
-
22-Oct-2017
Thank you for our pleasant stay here. Making us feeling very relaxed and comfortable. Two days seem to past really fast and we really enjoyed ourselves here. Thank you again for everything.
David M, Singapore
,
07-Aug-2017
-
13-Aug-2017
The villa is very nice and the staff is very welcoming and nice and the meals are very yummy. The rooms are great. This is the most amazing villa - something by a Holywood film set in Bali Paradise! Thanks to the wonderful staff who looked after us all (11!) so well, Explain the high tech's of the astonishing hi-fi system. and cooked us great meals. It is very rare for all our family to be together. So when it happens, it's always so special. But this time has been the best ever! Such a beautiful location, but most of all you wonderful hospitality and kindness towards us. We will all remember this holiday.
Jordan S,
,
04-Sep-2014
-
07-Sep-2014
We very much enjoyed our stay at Villa Atacaya and booked the villa for our wedding, we rented both Iskandar and Atacaya which were right next to each other and great for group bookings. We held our wedding ceremony in the lovely area by the river which held 50 people and our wedding reception in the larger area by the pool. The venue was stunning and our guests loved it also. The staff were were exceptional and assisted the vendors set up for the day. The villa itself is located in the rice fields and was very peaceful, relaxing and great to get out of the busy areas of Seminyak for a few days and see the real Bali. The service was outstanding as staff were always willing to help and create the most enjoyable experience possible. We would love to visit the villa again!