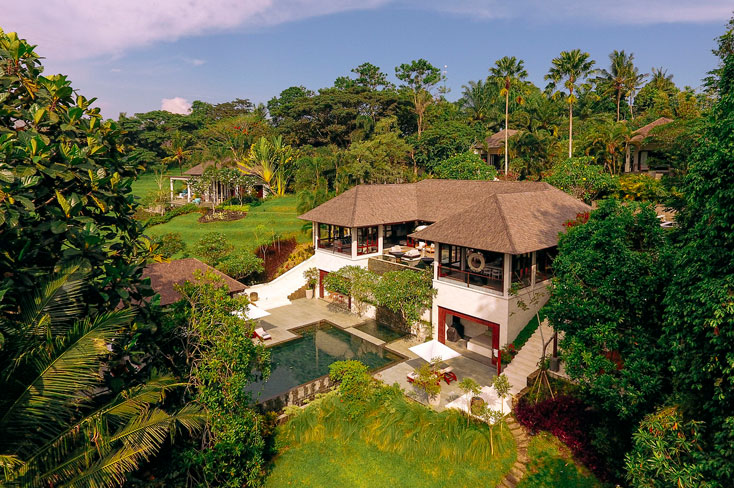 Scott B, Australia
,
15-Apr-2023
-
21-Apr-2023
Six days of absolute bliss! The villa is amazing, the team look after us were incredible. Food was delicious and everybody is very helpful! We had the best time and are already talking about when we can come back. Thank you for spoiling us Scott, Sheree, Sarah & Terry
Peter T, Hong Kong
,
03-Apr-2023
-
10-Apr-2023
Dear Arsana Team, Such a lovely team of staff. They were amazing ans so accomodating of last minute food changes. And the food was DELICIOUS:) Amazing location and brilliant team. Thanks for a wonderful time. What a holiday!!! The villa was 10 times better than expected. The staff were so friendly. Very sad to be leaving. Crombie, Michie and Thomson
Larry M, United States
,
01-Mar-2023
-
09-Mar-2023
Many thanks to everyone from all of us. We will see you again....
James H, United States
,
04-Feb-2023
-
10-Feb-2023
Thank you so much for the great experience. The house is incredibly, beautiful and comfortable and the staff always attentive and accommodating.
Chan L, Hong Kong
,
21-Jan-2023
-
25-Jan-2023
This is the best holiday we have ever had. Beautiful service, beautiful environment, beautiful villa, beautiful pool, and beautiful people. Our biggest thank you to you all.
Breno B, Australia
,
24-Dec-2022
-
03-Jan-2023
We would like to express our gratitude for the awesome reception and treatment we had during our stay in December 2022. Thank you for the professionalism, for always friendly and accommodating service. You made our special family gathering more special! Terima Kasih! Thank you for Ari, Rai, Roni, Agung and Nengah for the phenomenal support in our special stay. It was our family`s first gathering in 4 years. We were looking for a place to unwind and relax, and to be able to chat, play and sing together, and with your help, we were free to do so without any worries or stress. A beautiful villa, wonderful staff, and an incredible experience for our special family get together. Thank you for making our stay such a memorable one.
David R, Australia
,
10-Dec-2022
-
14-Dec-2022
Absolute buss!!!! This place is amazing, the staff plus grounds are amazing. We couldn't ask for more. The food, service, villa and atmosphere have been spectacular. We will keep coming back. Thank you.
Kris D, Australia
,
07-Dec-2022
-
10-Dec-2022
This place truly paradise. It is the most beautiful place we have ever stayed. The staff are absolutely wonderful, so kind, attentive and accommodating. This pictures don't even do it justice. It you magical place. So serene and relaxing. Thank you so much, we have had the best time ever.
Alexis S, France
,
14-Nov-2022
-
24-Nov-2022
Thanks for everything !! The hospitality from all the staff was amazing! We all felt like being home and with our family! All the moments past in this villa will be memories for all of is, for the rest of our lives. Thanks for the magical moments and hope to see you soon.. Big Kisses....
William T, France
,
25-Oct-2022
-
08-Nov-2022
Thank you for everything. You are awesome. I wish you all the best. Thank you so much
Francesca F, Malta
,
09-Oct-2022
-
15-Oct-2022
We can not get over how beautiful this estate is and also how well cared for we were throughout our stay. The living quarters are built perfectly and everything blended well with the nature it surrounds. Thank you to the amazing staff for such careful consideration, so attentive and always with a smile definitely made our time here, the best could have been. We really hope to be back Thank you
Alexandra D, France
,
06-Sep-2022
-
20-Sep-2022
What a wonderful stay ! wonderful country, wonderful villa, wonderful people. Everyone here is so nice. Everything was perfect. Food is amazing. Service as well. Hope we will come back soon...at Arsana of course.... Lots of love Alex and Johann
Marvin A, Philippines
,
19-Aug-2022
-
23-Aug-2022
We thoroughly enjoyed our four days stay here at Arsana. The villa is so luxurious and well - maintained! The staff are also very welcoming, all smiles and accommodating. We didn't eat a lot at the villa but whenever we do, the food is always satisfying. Now the pandemic is slowing down, I wish for continued clients for Arsana and the team. We will recommend this villa to our friends. Thank you, From Marvin, Mykel, Ian and Alden
Pit S, Germany
,
15-Aug-2022
-
19-Aug-2022
Dear Team Arsana, The villa is a place of relaxation, joy and happiness. Beyond the wonderful architecture, stylish interior and lush gardens, the attentive and truly friendly staff have made our stay unforgettable. Our expectations were high prior to arriving at the villa, but they were clearly exceeded.Our many photos and warm memories of the stay will accompany us through our daily routines once arrive back in Germany. We would like to thank the entire Arsana Team for making this stay in paradise so perfect. Thank you from the entire Schmidt & Schubert Family. We truly hope to see you again soon. All the best Family Schmidt & Schubert
FEDERICO A, Hong Kong
,
09-Aug-2022
-
13-Aug-2022
Dear Staff, Thank you so much for this amazing experience! This villa is amazing big, and you guys have been the nicest. The food was * Delicieux * ( French ) The rooms were * Bellissimo ( Italian ) The activities were very *onderhodend* = entertaining ( Dutch ) Overall , an AMAZING experience !!!!
Krisztina J, Hungary
,
21-Jul-2022
-
02-Aug-2022
This is the most elegant and beautiful villa we have been ever. The service was amazing, the hospitality was very kind. Any kind of food we needed prepared immediately. Thank you very much for the great hospitality. We are highly appreciated.
David R, Ireland
,
11-Jul-2022
-
20-Jul-2022
How lucky are we to go on holidays and arrive in paradise, otherwise known as Arsana Estate. This is a wonderful place. The whole team are incredible and catered to our every need including specific diets. We would highly recommended the Babi Guling feast, the staff made huge effort to make this a special occasion for us and some friends staying in villas nearby. they hosted a superb feast for 18 people. Every bedrooms was cleaned and prepared everyday without invasion of privacy. All facilities are immaculate. We used the tennis court almost daily. The gardens are lovely. We even saw a troupe of monkeys visiting on separate occasion. We participated in a number of excursions as organized and recommended by the Arsana Team. all proved fantastic days out to Tanah Lot Temple, ATV driving in Ubud, Love Anchor Market in, La Sa'mesa. We particularly recommend the local cycling tour found in the Nyambu booklet. Our guide was extremely knowledgeable and we were invited to his home.
Tatum B, South Africa
,
05-Jul-2022
-
10-Jul-2022
Thank you very much for the amazing hospitality. The Villa is so much more than the photographs. It's modern, it's a lot bigger and very well located. Thank you to the incredible staff for always being available. They so friendly and Made our stay extra special.
Alex W, Australia
,
17-Jun-2022
-
29-Jun-2022
Thank you for a wonderfully spoiling stay. After two years away from Asia. We could not have had a better return home for 12 days at The Arsana Estate. Ari and Agung were superstars. Komang's food was delicious and everyone else just made it special. We hope we will see you all again soon.
Mervin G, United States
,
11-Jun-2022
-
16-Jun-2022
Thank you to the staff of The Arsana Estate. Your kindness, hospitality is unmatched. Thank you for making us feel like family instead of guest. I enjoyed learning about Bali and the beautiful culture. We never had to wait for anything. All of the staff were prompt and professional. To say the staff was amazing does no justice, the staff here is extraordinary. All meals here are ready at the time we picked and we never come back to our unclean room. We will be back and we'll be back to stay at The Arsana Estate. Thank you from the bottom of our hearts.
Killian T, Indonesia
,
28-Apr-2022
-
03-May-2022
Thank you so much for a truly magical stay! We've been blown away by the beauty of the villa and its grounds. The Arsana Team has been a dream - yummy food and genuine smiles have made our trip even more special. We can't wait to come back. Stunning villa and amazing team. Thank you for looking after us all. The services and food was amazing! Hope to come back soon.
Fenny S, Indonesia
,
28-Feb-2022
-
02-Mar-2022
Dear Arsana Team, Thank you so much for taking a great care of us during our stay here at this beautiful Arsana Estate. Thank you for excellent services! You guys are wonderful. We had a great time here and hope to be back soon. The Soemitro Family
Faraj A, Indonesia
,
15-Jan-2022
-
17-Jan-2022
Always happy be back here. All staff members are so good & humble. Also helpful. Thank you guys. Zack
Damon H, Indonesia
,
31-Dec-2021
-
04-Jan-2022
Dear Arsana Estate Team The villa is amazing with stunning view. We love staying here. Arsana team is also good. Thank you
Cindy L, Indonesia
,
24-Sep-2021
-
24-Oct-2021
Dear Arsana Team, Thank you so much for bringing so much joy & happiness into our holiday! We enjoyed our stay here so much...we will definitely be back! The kids are going to miss this place so much..the pool...the media room :) Very good service & attentive staff...good with the kids too. See you soon, Martin & Cindy
Damon H, Indonesia
,
21-Jul-2021
-
22-Jul-2021
Thank you Bu Rai, Bu Ari, Bu Agung, Bu Dayu, Ronni dan Pak Ngah. Thank you for your service. It's an awesome villa and very clean :)
Ryan A, American Samoa
,
06-May-2021
-
05-Jun-2021
Me and my family had a wonderful time at this establishment. We want to thank you for your kind smiles and being there when we needed you. You made amazing meals and snacks:) I personally want to thank everyone for their kindness and opening up to us by sharing laughs and giggles.
Bryan G, Indonesia
,
02-Apr-2021
-
05-Apr-2021
The villa is so great, we love it.
Yunike Engelin H, Indonesia
,
11-Mar-2021
-
15-Mar-2021
We really loved the villa as it was very nice and had helpful staff. Facilities are complete too. This was also our first experience celebrating Nyepi without lights in Bali. We will come back here in the future. Keep up the good work. You have great artwork as well. Well done!
Faraj A, Indonesia
,
22-Jan-2021
-
24-Jan-2021
First of all, let me say thank you so much. The staff here is amazing, the energy of this place is also amazing. Dayu is one of our favourites, she is awesome. For sure, we will come back soon.
Bryan G, Indonesia
,
03-Jan-2021
-
10-Jan-2021
Thank you so much for everything. Everything in our home for the last 3 weeks was perfect. Thank you Bu Rain, Bu Dayu , Bu Agung, Bu ari , Pak Nengah & the entire Arsana team for the warm welcome. We are very grateful & thankful to you all. Leaving this place with a heavy heart and hope to come back again soon. Fiona & Family
Colleen L, Hong Kong
,
15-Mar-2020
-
22-Mar-2020
14 of us in the group and we all had an excellent time. Personally loved the design of the place. The staff all happy and healthy. We left the villa just once as felt no need to leave. Thanks for the excellent week Rai and the team. There are not many places on earth we say we'll come to. But truly believe we'll be back to Arsana Estate.
Peter D, Australia
,
07-Feb-2020
-
11-Feb-2020
I stayed at the wonderful property with a group of friends for a far too brief 4 nights. Everything about the property and experience was superlative. We had intended to go out and explore but we absolutely felt no need, as the villa has everything one could possible require - wonderful, kind staff, a stunning pool and multiple places to relax. The food was better than anywhere we had outside. Especially to the babi guling and mixed BBQ. I Hope to return again very soon.
Emma B, Australia
,
15-Jan-2020
-
25-Jan-2020
Beautiful villa with stunning art works, well appointed furniture styled to perfection. The maze of gardens are beautiful and clearly a massive job to maintain. The pool is big and perfect for large groups, always clean and a perfect temperature. We have particularly enjoyed dining at the large open room being served various dishes. Our favourite were eg. beef rendang, nasi goreng, daily omlettes and yummy local desserts. Our children had daily burgers and carbonara for 10 days straight. The wifi is awesome too!! Its everywhere including the gym.
Jhon S, Indonesia
,
31-Dec-2019
-
05-Jan-2020
Seluruh staff sangat ramah. Pelayanan cukup bagus. Penjagaan juga ketat, jadi nyaman. Rapih dan bersih. Keseluruhan bagus sekali.
Alaine C, Philippines
,
26-Dec-2019
-
31-Dec-2019
We had a wonderful experience, staff is very accommodating. We love their Aglio Olio, Spring Roll, Spaghetti with meat sauce, Mie Goreng and Nasi Goreng. The pool temperature is perfect. The villa is complete there is no need to got to the city unless shopping is needed.
Mark W, Malta
,
13-Nov-2019
-
17-Nov-2019
The single best place I ever stayed...anywhere.
Michael S, Indonesia
,
01-Oct-2019
-
07-Oct-2019
Very attentive to our needs. Service amazing, villa very clean and tidy. Foods beautiful, kids loved all the foods. All staff very friendly. A very relaxing holiday.
Laura-Lee K, Australia
,
26-Sep-2019
-
01-Oct-2019
Resort size, boutique feel. Amazing, wonderful and kind staff. Personalized service with special attention on special occasions. No request too difficult, staff were willing to accommodate. Any request always delivered with excellence.
Costagliola P, France
,
03-Aug-2019
-
17-Aug-2019
We are really happy to contribute with these comments to the strong and deserved reputation of The Arsana Estate as a top standard. This was a wonderful holiday during these two weeks spent in Bali. The villa, staff and all the facilities have strongly and warmly taken part in these two weeks in paradise. We would like to thank you all for this amazing trip. The time we spent was exceptional and maybe too fast. The staff all very kind and funny, we will remember this trip for long time.
Mark B, Switzerland
,
22-Jul-2019
-
27-Jul-2019
We are seasoned Bali holiday makers. As we stepped in, we were overwhelmed by the beauty of the villa. We enjoyed the facilities provided with full privacy. We must commend the exceptionally skilled Chef. Every meal we had was enjoyable. We will not hesitate to return given the peaceful and relaxing experience we had. Thank you for the wonderful experience.
Nasim A, Netherlands
,
12-Jul-2019
-
22-Jul-2019
Thank you so much for having us as guests for ten nights. We have traveled the world and seen and been to the most beautiful places. Only this villa and staff can be described in one word - extraordinary. Top class breakfast, lunch and dinner. The place is spotlessly clean and it has a western quality in an Asian Decor. I would not recommend it to just anyone because this hidden gem is not for tourism. Makasi banyak to all the crew and Manager Rai. Hope to see you soon.
Mark M, Australia
,
14-May-2019
-
25-May-2019
This last 10 days has been unforgettable. From the first minute, you made us feel at home. From cooking and cleaning, to taking care of our children, nothing was too much trouble. You were all amazing. We came for a few weeks of holidays and we are leaving as family. We love you all so much and wish you all the best.
Chris E, Indonesia
,
27-Apr-2019
-
03-May-2019
We have had such an incredible time here at Arsana. The service made it feel like family away from home. We will certainly be looking again in the future for our next holiday to Bali.
Shellie M, Australia
,
30-Mar-2019
-
04-Apr-2019
We loved our stay. Food was excellent and the villa was amazing. All of the staff are very friendly. Our kids made the most of the pool and media room. Thank you Rai and staff for looking after us.
Vivien K, Singapore
,
16-Mar-2019
-
20-Mar-2019
For the last few years we have always had holidays in Bali. Highlight of every trip is "villa shopping" and arriving at our villa of choice. Every year to out do the previous one. This year we chanced upon the Arsana Estate. It was heaven sent. We were already excited about the tennis court, cinema, gym, pool table and the large estate. On arrival, the place took our breath away. Place is massive, clean and beautiful. Staff led by Rai were always on hand to assist us and made our stay so enjoyable. The kids and adults have unanimously agreed that the search is over and we will definitely will come back. If not for anything else, for the wonderful food served from the master kitchen, worthwhile calories.
Debi P, United States
,
09-Mar-2019
-
13-Mar-2019
We loved our stay at The Arsana Estate. The estate is beautiful and everything we could have hoped for down to the last detail. The staff were amazing and friendly, and the food was very good. Rai was the perfect villa manager and saw to our every need. Thank you for such a wonderful time. We would love to come back.
Joel M, Australia
,
30-Nov-2018
-
03-Dec-2018
As a food and travel blogger, I have enjoyed traveling around the world and staying in many amazing locations. The Arsana Estate is one of the best places I have stayed in. The service from Rai and all of the staff has been second to none. Always friendly and nothing is too much trouble. The meals were always tasty and delicious and the facilities on the property were first class. We can highly recommend Arsana to everyone.
Irene A, United Kingdom
,
06-Aug-2018
-
30-Aug-2018
Our three weeks stay at Arsana has been magical. We have been thoroughly spoilt with the services given by all the staff here. It's never an effort for them and they have always worn a smile on their faces. Rai the Manager has been fantastic with the organization of all our needs. She seems to have a magic wand and makes it all happen. She has made Arsana a very special home. Ketut and Nengah are just excellent in the kitchen. Not only did the kitchen look professional but they both worked well in there and they were even willing to try to cook something that was new to them. We have really enjoyed our meals each time. The daily staff made it all perfect for us with their creativity - flower arrangements on the table, napkins folded differently every time. The Arsana home always looked immaculate and we really appreciated every little touch. Walking round the Estate, we also realized how hard the gardeners work to keep the garden looking so beautiful. We very much enjoyed the natural surroundings.
Priscilla W, Singapore
,
26-Jul-2018
-
31-Jul-2018
Second time back and the place looks even better than before. The experience is as stunning. Superb staff that make our stay very convenient, comfortable and relaxing! Thank you for the stunning decorations and performance for our special birthday celebration and the care for those who were unwell! Food great. Great scenery. See ya soon!
Laura M, Australia
,
11-Jul-2018
-
21-Jul-2018
We had a truly memorable 10 days here at Arsana. With such beautifully well maintained areas, it has been a delight to unwind and immerse ourselves in the local village and all the experiences staying in a village can provide. Thank you to all the staff for making our stay so comfortable. The food was insurmountable! Sampai Jumpa.
Numa J, Vietnam
,
08-Jun-2018
-
11-Jun-2018
Gentilesse, calme, qualite, merci pour tout, en esperant revenir tre vite, tous mes invites ont passe un magnifique moment, dans a petit paradis.
Craig M, Australia
,
22-Apr-2018
-
25-Apr-2018
A truly special three days at Arsana. Stunning surroundings and every detail was perfect. Many thanks for the special memories!
Tony B, Indonesia
,
05-Jan-2018
-
13-Jan-2018
Well, what can I say? Apart from "WOW". Such an amazing experience here at Arsana. 7* establishment, with 7*staff! Just absolutely out of this world. See you all next year! Thanks.
Stephane N, France
,
26-Oct-2017
-
05-Nov-2017
Second time I come in this wonderful place. Nice renovation and people are always so welcoming and wonderful. The place is always so calm and relaxing. We greatly appreciated the surprise for Kenzo's birthday. The Balinese dance was magic. I will advise this place to all my friends and people who wish to make an unforgettable trip. Thank you very much. I'll come back soon.
Lisa S, New Zealand
,
07-Nov-2016
-
10-Nov-2016
We would like to thank all the staff for a wonderful time. They are some of the most friendly and helpful people we have ever met, nothing is a problem. Also the food as been amazing. When we get back home we will be letting everyone know this is the choice villa in is Bali. Again thanks, you guys are great!!!
Mariusz K, Australia
,
28-Jul-2016
-
02-Aug-2016
Thank you Made and all of team from Arsana Villa. The grounds the villa, and the people were all beautiful. We felt very relaxed and safe with all of our children playing happily. We don't want to go!!! We will be back soon.
Jane P, Australia
,
09-Jul-2016
-
16-Jul-2016
Arsana Estate was fantastic. We had wonderful time and all the staff were very helpful. The setting was amazing. Thank you to all.
Cynthia H, Australia
,
19-Jun-2016
-
26-Jun-2016
Many thanks to Made ,Gangga,and all The Arsana staff for a wonderful stay, special mention to the chef for his delicious lunches and dinners. We've all had wonderful time!! Thanks again!!
SANDRA H, Australia
,
03-Jun-2016
-
07-Jun-2016
We had 4 families and spent 4 night here and we thoroughly enjoyed our stay. Many thanks to Made and all the staff for their wonderful service and for making our stay so enjoyable. All the adults and children have been well catered for with plenty of space for everyone. A special thanks for the extra effort in making my 40th birthday celebration such great evening. We will be back!!
Nina F, Australia
,
18-Apr-2016
-
23-Apr-2016
Thank you so much to Made, Agung and all the staff, we had a beautiful 5 days and felt very special by the attentive staff. The villa is beautiful and was perfect for 2 families - plenty of space for everyone.
Tanya T, Malaysia
,
01-Apr-2016
-
05-Apr-2016
A magical holiday at Arsana Villa. The staff is wonderful and we felt in heaven. We would love to came back.
Daphne T, Singapore
,
12-Mar-2016
-
16-Mar-2016
Thank you for the warm hospitality shown by the staff during our stay here.The pool was well maintained and our kids enjoyed splashing around every day.
Stephane N, Singapore
,
23-Feb-2016
-
02-Mar-2016
Thank you for this nice holiday. Pleasant people and very kind. Very nice villa. Thank you for everything.
Chantal C, Australia
,
03-Feb-2016
-
09-Feb-2016
Wonderful service, wonderful food and excellent rooms. The staff were fantastic at my 40th birthday, hope to stay again. A truly wonderful experience. Thank you.
Kim E, Thailand
,
10-Dec-2015
-
14-Dec-2015
Thank you for everyone at Arsana Estate. We had a very pleasant time. We cannot forget the moment we had here with all of you. Love to came back again.
Al H, Singapore
,
05-Dec-2015
-
08-Dec-2015
The villa is beautiful and we love the space. The nature and the children room so comfortable. The trampoline was a great item for the children to play on. All the staff are wonderful. Special thanks to Tia and Made for their lovely service. God bless!!
David J. H, Singapore
,
09-Nov-2015
-
13-Nov-2015
Thank you to all the wonderful staff at The Arsana Estate for making our stay so very very pleasant. Attentive staff, wonderful food, great driver. Thank you once again.
GEONJUNG K, South Korea
,
27-Oct-2015
-
29-Oct-2015
I had a good time. Thank you.
Martin W, New Zealand
,
28-Sep-2015
-
03-Oct-2015
Thank you so much for a great time here. We all loved it sooooooo much! The staff made the place magic, making so many yummy dishes for us and cleaning up our mess! A special mention to Made & Tia also to the cooks. When we came back to the Bali this place will be at the top of our list!!
Bill K, Singapore
,
25-Sep-2015
-
27-Sep-2015
Thank you to Tia and everyone at Arsana for making our stay in Bali. I love love love the mangosteens. We had amazing stay. Thank you for such a wonderful experience - the villa was excellent and food was great!
Wendy L, United States
,
09-Sep-2015
-
13-Sep-2015
Thank you to everyone here at Arsana Estate for making our stay in Bali. We Loved every moment, including swimming in the pool, playing in the games and media room, our comfortable rooms and last but not least the delicious meals. The children especially loved the motorcycle rids and delicious mango smoothies by the pool. Thank you also for the surprise dance performance to celebrate our 40th wedding anniversary, we all loved it. Thank you!!
Lee S, Singapore
,
02-Sep-2015
-
05-Sep-2015
Thank you for the good service and everything. Special thanks to Tia & Made. They have made everything more fantastic! We had a great time!
Lyn A, Switzerland
,
19-Jul-2015
-
29-Aug-2015
Thank you again for another beautiful holiday. The best place to chill with the best staff. We never want to leave. Thank you all so much for looking after us, it has been an amazing stay!
cath Griffin, Australia
,
03-Jul-2015
-
07-Jul-2015
Our family holiday at the Arsana Estate was amazing The actual villa and its staff were fabulous It was a truly unique experience. We spent time in and out of the villa and were treated to top quality facilites, service and food. The pool an it cleanliness was outstanding and beautiful to swim amongst. The drivers to the and from the estate were incredibly friendly and helpful.
Susannah Z, Australia
,
24-Jun-2015
-
02-Jul-2015
Arsana is an intimate oasis that has been 'home' to our families for this beautiful holiday. We all (13 in total) have loved our time here, spent poolside, relaxing. Enormous thanks to the beautiful staff who have cared and looked after us so well. Thank you.
Karen Sarjeant, Australia
,
05-Jun-2015
-
10-Jun-2015
We had the pleasure of staying at the Arsana Estate for 5 nights 5-10June. It was one of the most magical places I have stayed at. The estate is so spacious. From the moment we arrived at the Villa, we were treated like royalty (and we were treated like this, right up until our waves goodbye). All of the staff enjoy their jobs and it shows! We travelled with 9 adults and a 3 year old and a 6 month old. The staff were all very helpful with the children. Tia was amazing. Always offering to hold our little girl, whilst we we eating our meals. (Thank you). The meals were amazing (thanks chef). breakfast, lunch and dinner was prepared everyday at whatever time we requested to eat. The whole estate was cleaned every morning before we woke and the pool area all set up with towels etc for the day. On our 3rd day, was the most special day of our stay. Our wedding day! One we will remember forever! I can't thank everyone enough for the effort and input to make our day so special! All the staff worked so hard., from setting up tables, cleaning the grounds and the list goes on. Our wedding dinner , prepared by Arsana was absolutely Divine! After our dinner, we were surprised by a lovely gift. Balinese Dance show, Thank you ever so much! Amazing. Each Villa on the estate was immaculate. The bathrooms with the opening doors to the pond are so beautiful! My little boy loved the trampoline and also loved fishing in the fishponds (thanks guys). I really look forward to coming back and staying at the Arsana Estate again. I wish we didn't have to leave. We can honestly say...........One of the best places we have stayed at....Thank you x
Julia H, Singapore
,
28-May-2015
-
01-Jun-2015
Thank you for a wonderful and restful stay, it was a trip to remember. Gorgeous home and location and the lovely staff made for an excellent relaxing stay.
Shannon H, Indonesia
,
19-May-2015
-
23-May-2015
You guys are so amazing. Thank you so much for everything you have done for us. Your service is perfect. We hope to make it back to Bali soon.
Lynda H, Indonesia
,
14-May-2015
-
17-May-2015
Beautiful villa. Thank you for your wonderful hospitality, you helped make our wedding moments ones we will treasure forever. It was very hard to leave the pool! Cheers for the memories.
Joo Hsiu L, Hong Kong
,
04-Apr-2015
-
09-Apr-2015
Our group of 4 families with 7 children aged 5-15 enjoyed our 5-night stay over Easter. The facilities are fantastic - we loved the trampoline, the lawn with football goal, the sizeable pool, the amazing kids' bunk room which everyone wanted to sleep in, a huge media room with an impressive selection of DVDs, and the food especially the Mee Goreng, pisang goreng, kuih dadar, pancakes. The villa staff looked after us well and helped us with arrangements within and outside the villa. The Arsana is well located for those also considering a visit to Ubud which is just 45 mins away. Otherwise there is plenty to do at the villa if you don't want to make the 45 minute journey into Seminyak. Overall a wonderful holiday for us, and I would enthusiastically recommend it to parties visiting with a group of children.
Julie Quenneville, Australia
,
20-Dec-2014
-
27-Dec-2014
We had a great stay at the Villa, the staff were fantastic, nothing was ever too much! The ambiance was very relaxing and the villa has the best pool ever. Food cooked for us was superb, overall a 5 star service and location, great for families.
Michael S, Australia
,
06-Jul-2014
-
13-Jul-2014
Fantastic villa for groups and families with loads of space and plenty to satisfy everyone. The staff are what really make it so great though as they cater to every whim with a smile. If you are looking for somewhere for a group and want to maximum relaxation with a peaceful environment then this is the place for you!
Matthew W, Singapore
,
08-May-2014
-
11-May-2014
For a 7 year old villa, the upkeep is superb. Very often for hotels the published photos are miles away from the actual thing. This however was not the case. The team running in place was superb, tending to our every need. Special thanks to Adek and Desy. Highly recommended for a group with kids/teens as they will be fully entertained while you enjoy a massage or lounge by the pool.
Queen Crisologo, Philippines
,
27-Nov-2013
-
28-Nov-2013
If you plan to have a relaxing holiday and away from the bustling town and noise of traffic, this is the perfect place to stay. Nature is abundant which surrounds the villa, giving you an immediate relaxing feeling but with the comforts of technology (for people who can't get away from work).
Kevin L, Malaysia
,
01-Nov-2013
-
05-Nov-2013
Everything works in harmony in this villa. The calm serenity and scenery is picturesque, the wide open spaced living room with large sliding windows keeping the area airy and cool, the pool and the individual villas separated across the property. The staffs, polite and ever attentive to your needs. Media, games room and water polo kept us entertained for hours. Wander around the property and you would find jackfruit, milk fruit (star apple), pineapple and coconut trees scattered across. Orange room is great for kids. Words of caution: Maintenance of the property is not 100% top notch, many steps to negotiate, bumpy roads leading into the villa and it is about an hour to 90 mins away from the Kuta area (might be good for some, it's an escape from the busy area)
Wallis L,
,
05-Oct-2013
-
19-Oct-2013
We thoroughly enjoyed our stay. Desi, Pande, Ketut and all the staff were fantastic. This villa has got it all. We felt like we were completely at home, and we're sad to leave. In fact we barely left the villa. Some difficulty in arriving with our previous hotel driver getting a bit lost and it took almost two hours on a crazily bumpy road, but the villa driver was amazing and there was a much much easier way to get in and out. Food was excellent, and Ketut even gave us a cooking lesson one day. We miss his satay, prawn and glass noodle salad, and peanut sauce, but he kindly shared his recipes with us and we will enjoy the memories when we cook them at home and try to replicate his dishes. All the villa staff were amazing, and friendly, and were always on hand to get anything you need, without ever feeling intruded upon. We lived poolside and with daily spa treatments from the visiting day spa ladies, we were in pure relaxation heaven. Thanks so much for a wonderful two weeks in paradise. Some minor maintenance issues with air conditioning remote controls in the main house not working so well, and the floorboards in the master suite and main house were in need of some repairs, the dining room setting was overdue for an upgrade, with the upholstery on its last legs. But with some maintenance work, this place will not disappoint. The tranquility was wonderful, and so nice to be away from the crowds of Seminyak, and even Ubud these days. I definitely recommend this villa. We had children for the first week, and the stairs can be a bit of an issue with younger children, or people with mobility problems. But the staff are lovely and always helping out to entertain the little ones. Our Second week was a group of friends, and we had an equally lovely time. If you want to totally relax in a beautiful location, with separate private suites for everybody, with nobody else about, I highly recommend this villa. Thanks Arsana.
Jodie W, Australia
,
16-Sep-2013
-
19-Sep-2013
A huge thank you to Pak Dandi, Made and all of the staff for the most amazing stay at the Arsana Estate! We held our wedding at this villa (60 people cocktail style) and no words can describe how perfect of a setting it was, it was like something from a movie set! We were completely speechless when we first arrived and couldn't believe how gorgeous the estate was, and our guests were blown away as well. The level of service we experienced from all of the staff was 5 star, and the chef, Ketut, created some amazing feasts for us. I highly recommend the Arsana Estate not only for a wedding, but for a family holiday or reunion, staff workshop / team building event or a getaway with a group of friends. Thank you again for a wedding (and holiday) of a lifetime....we will be back!
Georgia Kelly ., Australia
,
25-Jul-2013
-
02-Aug-2013
The villa and staff were fabulous. The views, the space and the layout perfect for our extended family holiday. Ketut's cooking was another highlight of our stay, every meal just delicious. The villa staff attended to our every need , this truly was a relaxing and indulgent holiday.
Natalie B, Australia
,
08-Jul-2013
-
13-Jul-2013
We thoroughly enjoyed our stay at the Arsana Estate. The villa grounds were beautifully landscaped and maintained. The staff were helpful and engaging, and provided a fantastic service. Unfortunately, the villa is probably not suitable to very small children - we encountered a number of issues including access to bedrooms, the number of steps on the property, and being able to monitor them appropriately from the various levels. Otherwise, the villa was relaxing and tranquil - we will certainly be recommending it to other friends.
Michael Yuen, Canada
,
14-May-2013
-
18-May-2013
Very bumpy ride, the holes on the road leading to the villa should be filled in.
KC, Singapore
,
28-Mar-2013
-
02-Apr-2013
In our years of travel to Bali, we've come across many villas but none as special and memorable as Arsana. Service was impecable as was attitude. We were assisted with every need and felt overly pampered throughout our stay. For a villa 6 years of age, we must admit that it is very well maintained. We were impressed with the sprawling grounds, facilities and rooms. We had in our group two young children who enjoyed their stay and had fun each day tumbling on the trampoline, scoring goals at the small soccer pitch and floating on mini inflatables at the pool. We will be back for more fun times!
Bridget Bailey, Australia
,
13-Oct-2012
-
18-Oct-2012
The Arsana was a fantastic choice for our Wedding. We had an amazing time and the staff are an asset to the Villa. Thank you Ketut for the beautiful meals and Nyoman and Wayan and all the other staff who made our stay a memorable one. Bridget, Todd, Baylee and Kalani Brown Oct 2012
FA, Hong Kong
,
05-Jul-2012
-
10-Jul-2012
Absolutely fantastic. The villa is secluded and amazing. It had a very charming appeal and the atmosphere was very calming. What a great way to relax!! The staff were friendly and very accommodating. We will be coming back regularly.
Simone Sewell, Australia
,
20-Apr-2012
-
25-Apr-2012
fantastic place something very special as we have been coming to bali at least twice a year for many years I would have to say this was by far the best place we have stayed we loved the location and all the facilites .Our children never wanted to leave the villa as they just liked being there. The staff were exceptionally always there to help but never annoying!!!! We looking forward to returning later in the year.
VB, Belgium
,
09-Apr-2012
-
14-Apr-2012
Une villa de charme qui enchante par la gentillesse des membres de l'équipe. L'endroit est idéal pour fuir le stress de la vie quotidienne. Calme et sérénité. Ce n'est pas, pour autant, un endroit d'ascétisme. Le chef vous prépare des petits plats à la hauteur de vos désirs.