Seshu Chalet
The villa you chose is no longer available for rental from us but we have a portfolio of Elite Havens in various locations around South East Asia for you to choose from. Alternatively feel free to send us an enquiry and it'll be our pleasure to help you find the perfect villa for your next holiday.
A holiday here includes

Ski shuttle service

Niseko Gourmet

Close to bars and restaurants

Great views
Elite Concierge
Known for its Japanese flair, exquisite hospitality and world-class dining, Hirafu Village has developed a stellar reputation for outdoor pursuits while drawing in an increasingly international crowd.
And speaking of flair, we can't think of a more glamorous place to experience Hirafu's winter or summer than the stunning five-bedroom Seshu Chalet.
Sustainably designed using natural building materials, Seshu Chalet dazzles with stylish interiors. Set across three floors, this is a vast yet delightfully cosy home to return to after spending a day hiking, skiing, playing golf – or indeed taking part in any of Hirafu's other endless nature activities.
Seshu Chalet has two spacious master bedrooms and two identical guest rooms, each appointed with split king-size beds, chic designer furniture and sumptuous ensuite bathrooms. The fifth bedroom can be set up with twin beds, or as a charming Japanese-style tatami room, with access to a separate toilet and shower.
After a long day on the slopes, you will love returning to Seshu Chalet's warm embrace and soaking in the soothing outdoor jacuzzi. Accommodating up to eight people, the jacuzzi is one of the highlights of this mountain mansion, making it a preferred stay option for many.
Meals are a social affair at Seshu Chalet, gathered around the contemporary, open-plan kitchen or dining space that can easily seat twelve people. For some fresh air, you can enjoy barbecues on the extensive first-floor terrace during summertime or impromptu alfresco dining with a view.
The chalet's three lounge areas are particularly cosy in the evening, thanks to their tasteful, soft lighting, while the modern fireplace's warm and relaxing glow serves as an ongoing invitation for sharing each other's outdoor adventure tales.
With its gorgeous design, excellent amenities and central location, Seshu Chalet represents mountain living at its swankiest – whatever the season may be.

this elite haven.
Large open-plan kitchen
Awe-inspiring views
On-call driver
Gorgeous traditional tatami room
8-seater outdoor jacuzzi
Need more info on this villa? Floor plans, services, images and reviews.
Click here to view the owner's comprehensive website
www.seshuchaletniseko.com
19-Sep-2020 - 20-Sep-2020
"I highly recommend Seshu. The house is more wonderful than the photo !!"

Kawabata N, Japan
Rates and availability

Promotions
Ski Season Savings

Book a chalet of your choice and get 15% off on rates.

Terms and conditions:
- Valid on new bookings received from now until 10 March 2022
- For stays from 10 January 2022 until 10 March 2022
- Guaranteed credit conditions apply at the time of booking
- May not be combined with other discounts and/or special offers
- Security deposit and cleaning fee applies


**At Elite Havens, we understand that flexibility is required for travel planning in the current COVID-19 scenario, so should your flights be cancelled or a government travel advisory require you to be quarantined, we will convert your booking to a credit note valid for 12 months (same chalet, subject to availability). Terms and conditions apply.
Quick facts
Location
Hirafu village, Niseko, Japan.
Capacity
10 people (5 bedrooms: 4 kings and 1 tatami-style, convertible into twin beds). Extra beds are available upon request at an additional charge.
Living Areas
Stylish and spacious living areas with three separate lounges; contemporary open-plan kitchen with large worktop; dining table for 12; modern fireplace; designer furniture; floor-to-ceiling windows.
Staff
Greeter upon check-in (8am to 8pm). Additional staff (eg spa therapist and babysitter) available on request for an additional charge.
Dining
Seshu Chalet is self-catering. A private chef may be booked in advance for a unique in-house dining experience, or a hamper can be ordered for delivery (upon guest account). Please visit
Niseko Gourmet
for further information.
Communication
WiFi broadband internet access.
Entertainment
Eight-seater outdoor jacuzzi; flat-screen TV (satellite/cable); Apple TV; Bose sound system, large selection of books.
For Families
Seshu Chalet is an excellent choice for families with children. Fun-filled activities such as tea ceremony demonstrations, sushi making lessons and traditional drumming lessons may be booked in advance.

Spa
Treatments selected from a comprehensive spa menu can be carried out in the chalet by professional beauty therapists (extra cost applies).
Transport
Seshu Chalet is centrally located in Hirafu village, a short walk from a wide selection of restaurants, shops and entertainment venues. An on-call driver is available from 8am to 6pm, during the winter season, for local journeys to and from the Grand Hirafu ski gondola and locations within Hirafu village.

Additional facilities
Secure dry room; dishwasher; barbecue (extra).
Property area
395sqm (chalet). 500sqm (total).
Managed and marketed by
The layout
This chalet features
Contemporary interiors and living spaces spread across three levels
Stylish furnishings, high wood beam ceilings and blonde wood floors
Modern open-plan kitchen with a large, separate kitchen worktop and bar stools
Split dining table that seats twelve people
Plenty of natural light and space for the entire group
Flat-screen TV, Playstation, Apple TV and a modern fireplace in the living room
A special outdoor jacuzzi for eight people
Expansive terrace on the first floor for summer barbecue
Secure and heated dry room for skis and other sports equipment
Indoor garage with space for one car and outdoor parking for two cars
On-call driver to and from locations within the village and the Grand Hirafu Ski Gondola
The rooms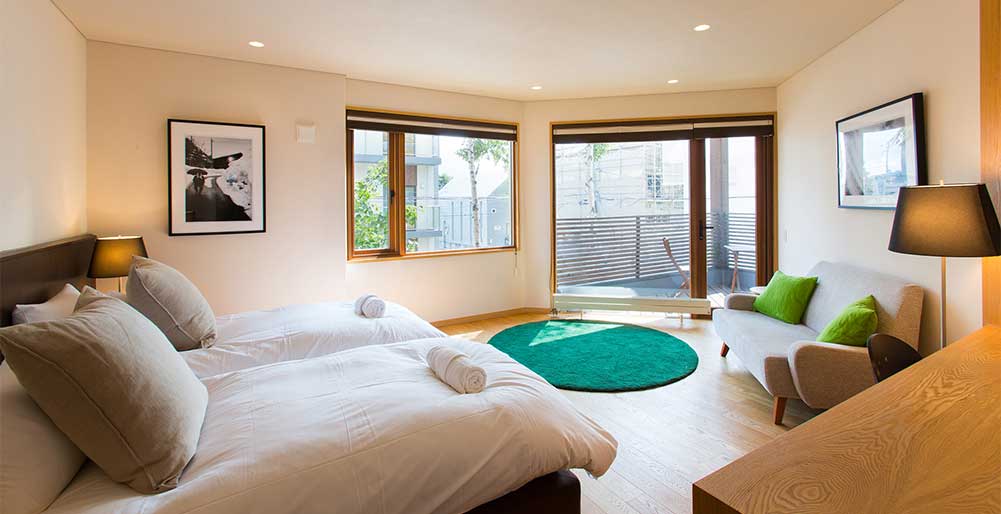 Master Bedrooms 1 & 2
Two spacious bedrooms
Ensuite bathrooms with bathtubs
Comfortable split king-size beds
Sofas and lounge chairs for curling up with a book
Large windows framing mountain views
One with a private terrace and casual seating (first floor)
Guest Bedrooms 1 & 2
Two identical bedrooms with split king-size beds
Ensuite bathrooms with a shower
Access to a shared terrace with casual seating
Sofas for conversations and quiet moments
Guest Bedroom 3
A tatami-style room for a glimpse of authentic Japanese living
Access to a separate toilet and shower
Can be converted into a twin bedroom, to sleep 2 guests
Extra person can be accommodated at an additional cost
Location
Located on Japan's northern island of Hokkaido and with a peek of the active volcano of Mount Yotei – a smaller version of Mount Fuji – Hirafu, one of Niseko's four separate but interconnected ski resorts, is blessed with some of the driest, lightest and most abundant snow on Earth.
Despite an average yearly snowfall of 15 metres, Hirafu also enjoys comfortable summers. Its untamed volcanic landscape, excellent hiking trails and increasing reputation as a wellness haven, make it a popular destination for outdoor enthusiasts all year-round.
Seshu Chalet is conveniently located on a quiet edge of Hirafu's middle village, close to many of its most popular restaurants and entertainment venues. It is a mere ten-minute walk from the Grand Hirafu Ski Gondola.
An on-call driver will be happy to drive you to and from the gondola and any other locations within Hirafu village. There are also free shuttle buses that will take you to any of the other Niseko resorts.
Things to do
Our Concierge team is always on hand to provide you information about all the places of interest in Hirafu and the wider Niseko area. They can also assist in equipment rental, transport arrangement and other requests that you may have. Do ask them about the closest 'onsen' you should visit, it is the best way to immerse yourself in Japanese culture. Whether you visit Niseko for its powder snow or to appreciate the blooming valley in summer, here are some of our favourite things to do in the region:
All year-round
Hokkaido's produce is renowned throughout the world and thus it is no wonder that Niseko has a thriving food scene. Meat lovers will appreciate the rare Kobe beef at Steak Rosso Rosso, and if you prefer seafood, we suggest trying out some of Hokkaido's freshest catch at Ezo's. A visit to one of Hirafu's two most famous restaurants – Kamimura and Ichimura, both serving exceptional fine Japanese dining, should also be on your checklist.
Japan's volcanic hot springs or '

onsen

' not only soothe your aching muscles after a long day, but they are also known for their health and wellness benefits. Ask the Concierge team for the best onsen in the region and also some of the dos and don'ts in terms of attire and behaviour.
There are several

art galleries

in Niseko which are definitely worth a visit. Kiyoe gallery in Hirafu village showcases some of Hokkaido best artists, while Somoza gallery in nearby Hanazono also offers a beautiful place in which to relax. Our favourite remains Galerie Ram in Niseko Village, with its exciting collection of steel sculpture and woodwork. Inside the gallery, you'll also find 'La Cave', a cellar with a great selection of imported wines. Now you understand why we love it, don't you?
A little further afield, we can recommend a daytrip to the attractive

seaside city of Otaru

any time of the year. Less than two hours away by car from Hirafu, it is best-known for its hairy crab and seafood delicatessen, fish markets and historic buildings.
For a more urban experience, you can also

visit Sapporo

, Hokkaido's capital and central transportation hub. As a relatively recent city, it somewhat lacks the alluring architecture you might find in other Japanese cities. Yet, Sapporo is a vibrant and pleasant metropolitan with lovely tree-lined boulevards, excellent shopping and varied cultural activities, including the world-famous annual snow sculpture competition in February.
Experience some of the typically Japanese

matsuri festivals

any time of the year. The 'Potato Festival' in nearby Kutchan town and the Niseko Fireworks Festival are two of our favourites.

Winter
Known for its 'champagne powder', unparalleled infrastructure, sophisticated dining and varied nightlife, Hirafu has been the driving force behind Niseko's stellar rise as one of the world's most phenomenal ski areas. With an average snowfall of 15 metres, Hirafu is known as the world's second snowiest ski resort with flakes so large that locals jokingly refer to them as 'chicken feathers'. Here's how to make most of your winter holiday:
Seshu Chalet is only one kilometre away from the

Grand Hirafu Gondola

which provides access to some of the area's steepest slopes, as well as several great runs for beginners.
Whether you're a first-timer trying to familiarise yourself with a pair of skis or an accomplished snowboarder aiming to perfect your turns, the

Niseko Grand Hirafu Snow School

has a wide range of lessons and programmes available which cater to all levels.
Part of four

interconnected ski resorts

, Hirafu and the neighbouring resort of Niseko Village boast of some of the steepest slopes in the region, with those in nearby Hanazono offering slightly easier terrain for beginners. Meanwhile, the Annupuri Resort is well-known for its backcountry gates, popular with accomplished skiers and snowboarders eager to access some of the area's deep snow on off-piste trails – something we don't recommend doing without necessary training.
Whether it is

tobogganning

or

snowmobiling

that gets your adrenaline pumping, what better place to slide down the slopes than Niseko? Our Concierge can help rent a snowmobile for your use or guide you on the best places to go to.
Summer
From white water rafting on the Shiribetsu river or stand-up paddling at nearby Lake Toya to mountain biking down volcanic slopes or playing golf at the 18-hole Niseko Golf Course, there are plenty of ways to entertain yourself during the warmer months.
With its elevated

rope courses

,

zip-lines

,

free-fall platforms

,

bouncy slides

and

horse rides

, the recreational park PURE provides a wonderful day out for the whole family.
Come spring, the snowmelt raises the water levels of the Shiribetsu River by almost two metres, making it ideal for

white water rafting

. A 12 km-long course runs from Hirafu Station to Niseko Station across what is known to be Japan's cleanest river. Although it will take you past several exciting challenges, the course is easy enough to navigate while enjoying the valley's stunning beauty.
The 18-hole, 73 par

Niseko Village Golf Course

is seen as the jewel in the crown of Hokkaido's golf scene, thanks to its excellent facilities and the area's dry and pleasant summer. With the photogenic Mount Yotei in the background, we really can't think of a better place for practising your shots and improving your handicap.
Indeed, regularly hosting Japan's largest cycling race, the 'Tour de Hokkaido', Hirafu is a much-loved

cycling destination

thanks to its stunning landscape, comfortable summers and a massive variety of cycling trails.
Looking at its well-developed infrastructure and the sheer number of international visitors, it might be hard to believe that the wider Niseko area was once better known for its potatoes than for its powder. Relive its starchy past by hiring a scooter and driving through some of its vast rice paddies and buckwheat

farmlands

. Close your eyes and feel the wind in your hair. Be sure to visit one of the many

farmers' markets

on the way and sample delicious fresh local produce.
Kawabata N, Japan, 19-Sep-2020 - 20-Sep-2020
I highly recommend Seshu. The house is more wonderful than the photo !!
Ayuta O, Japan, 22-Jun-2020 - 24-Jun-2020
A beautiful house. We were very comfortable. Thank you for preparing the BBQ for us.
Glen & Janet, Australia, 29-Jan-2020 - 09-Feb-2020
"Thank you" - is manifestly inadequate. There are not enough words or superlatives to say how grateful we are to have had the opportunity to stay in your beautiful home in this beautiful village. The skiing was great fun (even the steep tree runs!), the house simply stunning in every way, and the company absolutely fabulous. Will be tough to top this amazing holiday. Thank you, thank you, thank you!! PS: Thank also to the wonderful Elite Havens crew for making our stay so easy and enjoyable.
The Gohs, Singapore, 22-Jan-2020 - 27-Jan-2020
You have such a lovely and thoughtful home! Thank you for sharing it with all of us. Our family spent our Chinese New Year reunion here and this beautiful space was filled with our laughter, conversations and joys! Thank you. Wishing you a blessed Lunar New Year of the Rat!
Steve M, Australia, 09-Jan-2020 - 18-Jan-2020
We had a lovely stay in Seshu. Such a lovely house, great location and the amazing team from Ellite Havens made our stay super enjoyable. Stunning architecture and amazing ambience made for a 'lush' week at Seshu. The proximity to funky bars & neighbourhood ramen houses is sensational. We've all had an unforgettable week.
The Brimo Family, Philippines, 21-Dec-2019 - 28-Dec-2019
Thank you so much for sharing your beautiful home with us! It was a delight to spend Christmas here and your lovely kitchen made it a breeze to prepare a wonderful Christmas dinner for all 9 and a half of us. We truly enjoyed ourselves. We Love Seshu.
Steph S, Malaysia, 12-Dec-2019 - 14-Dec-2019
Wow wow wow!! We had an amazing stay at Seshu. It is a huge house with more than enough space for the 7 of us, it is just awesome! The team has been keeping the house sparkling clean during our stay! Andrew and the Elite Havens team has prepared milk, juices, bread, eggs and bacon to make sure our first morning breakfast is taken care off before we get familiar with Niseko and get our own groceries, what a thoughtful team!!! In summary, we have an awesome and amazing stay at Seshu and we looking forward to come back here soon!!!
Chan M, Malaysia, 04-Dec-2019 - 10-Dec-2019
A big thank you for your hospitality . We enjoyed our 6 night stay here and everything was well equipped. It was very thoughtful on every single detail. My mother enjoyed the fireplace so much and so did the kids. Lovely house, thank you for hosting us, we Love Niseko!
Lingwei K, Singapore, 28-Nov-2019 - 01-Dec-2019
I just wanted to drop a quick note to thank you and the team for a fantastic stay at Seshu. My family and I had a wonderful time and the place was amazing. If we have a chance in the future we would love to return.
You may also like these Elite Havens
Back to top