Selong Selo Resort & Residences - three bedroom villa
The villa you chose is no longer available for rental from us but we have a portfolio of Elite Havens in various locations around South East Asia for you to choose from. Alternatively feel free to send us an enquiry and it'll be our pleasure to help you find the perfect villa for your next holiday.
Commanding arresting views of the green valley and blue sea beyond, Selong Selo's three-bedroom villas are perfect for a group of friends or families looking for a classy and luxurious holiday home.
Tucked into crevices within the hills, each villa has unobstructed jaw-dropping views. You can spend hours just watching the sea change colours as the sun shifts. From turquoise blue to bejewelled green, the water seems to have life of its own.
If the white sandy beach proves to be too tempting, hop on to the complimentary shuttle which plies to and fro at scheduled timings. Selong Belanak Beach, with its champagne white sand and gentle waves is said to be the best on the island for beginner surfers.
The villas are elegantly appointed and built on multiple levels, to afford privacy and space. Each villa has its own private infinity pool, perfect for those postcard-worthy photographs. It is the ideal venue for intimate wedding ceremonies with up to 30 guests.
Though the villas contain a fully equipped kitchen, you can choose to order room service or dine at the spectacular in-house restaurant, Aura Lounge and Bar. Fresh locally sourced ingredients are married with imported goods to create tasty international dishes with a local flair.
The family-friendly villas are kept in order by the friendly housekeeping staff. A butler is always available for any query or arrangement to be made.
Selong Selo offers an indulgent and luxurious holiday, away from the hustle-bustle of city life. A secluded corner of the world where time is measured merely by the colour of the sky and your thoughts are only interrupted by the sound of chirping birds and tropical crickets.
Book now to avail our introductory rates, valid for the soft launch of Selong Selo Resort & Residences. Kindly note that parts of the estate are currently under construction and there may be visual or audible disturbances, although minimised due to its vast acreage spread over the hillside. A wonderful kids club as well as a wellness centre and yoga sala will be completed soon and a picturesque beach club is slated for completion by early 2020.

this elite haven.
Personal pool
Luxurious interiors
Plenty of space
Marvelous sea views
Need more info on this villa? Floor plans, services, images and reviews.
Click here to view the owner's comprehensive website
www.selongselo.com
Real time availability
Rates
Discounts
Early bird enjoys up to 20% discount when booking 120 days in advance.*
Last minute bookings enjoy up to 15% discount when checking in before 19-Aug-2019.
* Does not apply for New Year period
Period
Price per night (USD)

8

+ nights (USD)
Min stay
Inclusions
21-Jun-2019

to

24-Aug-2019
575 ++
518 ++
4 nights
25-Aug-2019

to

19-Oct-2019
505 ++
429 ++
3 nights
20-Oct-2019

to

14-Dec-2019
435 ++
370 ++
2 nights
15-Dec-2019

to

25-Dec-2019
575 ++
518 ++
4 nights
26-Dec-2019

to

04-Jan-2020
775 ++
736 ++
5 nights
Period
Price per night (USD)

8

+ nights (USD)
Min stay
Inclusions
05-Jan-2020

to

23-Jan-2020
435 ++
370 ++
2 nights
24-Jan-2020

to

02-Feb-2020
575 ++
518 ++
4 nights
03-Feb-2020

to

26-Mar-2020
435 ++
370 ++
2 nights
27-Mar-2020

to

07-Apr-2020
505 ++
429 ++
3 nights
08-Apr-2020

to

13-Apr-2020
575 ++
518 ++
4 nights
14-Apr-2020

to

19-Apr-2020
505 ++
429 ++
3 nights
20-Apr-2020

to

11-Jun-2020
435 ++
370 ++
2 nights
12-Jun-2020

to

25-Jun-2020
505 ++
429 ++
3 nights
26-Jun-2020

to

22-Aug-2020
575 ++
518 ++
4 nights
23-Aug-2020

to

17-Oct-2020
505 ++
429 ++
3 nights
18-Oct-2020

to

14-Dec-2020
435 ++
370 ++
2 nights
15-Dec-2020

to

25-Dec-2020
575 ++
518 ++
4 nights
26-Dec-2020

to

04-Jan-2021
775 ++
736 ++
5 nights
Period
Price per night (USD)

8

+ nights (USD)
Min stay
Inclusions
05-Jan-2021

to

23-Jan-2021
435 ++
370 ++
2 nights
24-Jan-2021

to

10-Feb-2021
505 ++
429 ++
3 nights
11-Feb-2021

to

20-Feb-2021
575 ++
518 ++
4 nights
21-Feb-2021

to

26-Mar-2021
435 ++
370 ++
2 nights
27-Mar-2021

to

31-Mar-2021
505 ++
429 ++
3 nights
01-Apr-2021

to

05-Apr-2021
575 ++
518 ++
4 nights
06-Apr-2021

to

11-Apr-2021
505 ++
429 ++
3 nights
12-Apr-2021

to

29-Apr-2021
435 ++
370 ++
2 nights
30-Apr-2021

to

03-May-2021
575 ++
518 ++
4 nights
04-May-2021

to

10-Jun-2021
435 ++
370 ++
2 nights
++ Villa rates are subject to 21.0% service charge, taxes, etc
Quick facts
Location
Selong Belanak, Lombok, Indonesia.
Capacity
6 guests (3 bedrooms, an extra bed is available at extra charge).
Living areas
Living and dining area; open-plan kitchen; master bedroom with an ensuite bathroom; two ensuite guest bedrooms; powder room; pool deck and terraces.
Pool
From 5.75 to 13.5 metres length.
Staff
General Manager for the estate, private chef (available on extra charge), housekeeping and service staff, 24-hour security. Additional staff such as a nanny/babysitter, masseuse and driver are available upon request at extra charge.
Dining
The restaurant offers a wide variety of Western and Asian dishes. Private barbecue services available at extra charge.
Communication
WiFi broadband internet access in the villa and restaurant pavilion; mobile phone in the villa for your use.
Entertainment
Flat-screen TVs with Netflix, may be Smart TVs or have Chromecast.
For families
Selong Selo is well equipped for families. Baby cots are complimentary for children below two years old. Other items are available on request for a small hire fee. Kid's Club will be opening on 1 October 2019.
Spa & Gym
Massages and a range of beauty treatments can be arranged by the villa staff and enjoyed in various locations in and around the villa. The estate also has a spa where you can get a relaxing massage by skilled specialists. A gym with comprehensive fitness facilities will be opening on 1 October 2019.
Transport
A car and driver is available for hire at extra charge. A free shuttle ferries guests to and fro from the beach at pre-designated timings during the day.
Weddings & Events
Special occasions and intimate events can be arranged at Selong Selo resort with prior notice. Please contact us for specific details.
Additional facilities
Barbecue; car parking; safety deposit box; back-up diesel powered generator.
Property area
251 - 752sqm (villa).
Marketed by
The layout
Indoor living
Large living areas with comfortable sofa seating and flat-screen TVs
Open-plan modern kitchen
Family dining area
Air conditioned living spaces
Large glass sliding doors leading to the pool deck
Outdoor living
Spectacular outdoor dining options
Private infinity pool
Pool deck, perfect for sunset cocktails
Lawned terraces and tropical greens
The rooms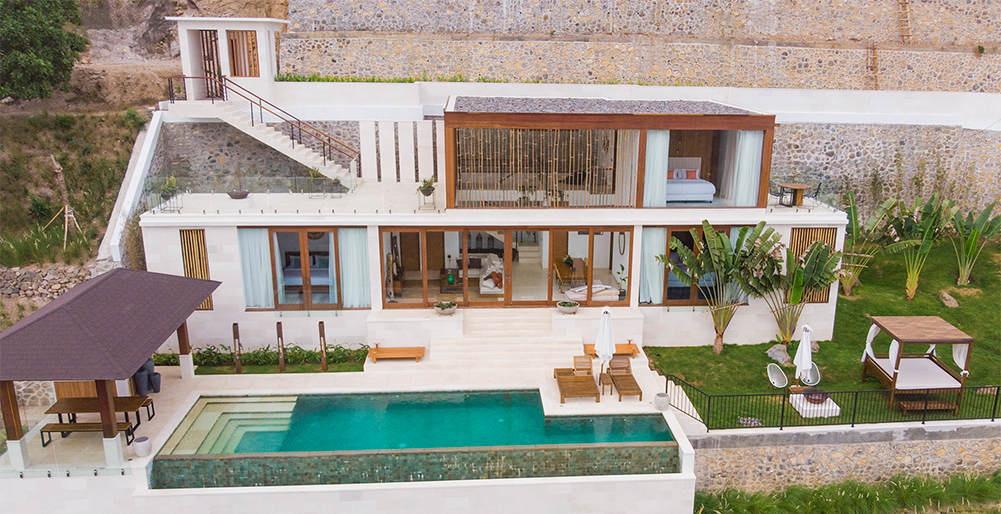 Bedrooms
Though each bespoke villa is different, all of them feature spacious well-appointed rooms.
Master bedroom with king-bed and ensuite bathroom
Each guest bedroom has an ensuite bathroom with a walk in shower
Double beds in the guest bedrooms can be configured to twin beds, if required
Breathtaking views through the sliding glass doors
Location
Selong Selo is located high up on the hills, with awe-inspiring views of the bay below. Its position gives you a bird's eye view of the valley and the turquoise sea which changes colour as the day goes by. Down mountain roads, Selong Belanak Beach is a short 15 minute drive away and shuttle services make it highly accessible. The beach is lovely for a stroll, having been voted one of the best beaches in Asia, and is well known across the island as the best surfing spot for beginners. Either side of the bay are two reef breaks, Mawi and Serangan, ideal for intermediate and advance surfing. The international airport is at a distance of 21km. The estate's secluded location offers tranquility and peace, with only village huts and local rural life outside its well-manned security gates.
Things to do
The team at Selong Selo has a wealth of knowledge about the area around and activities that will keep you involved. A car and driver can be hired for the day (on extra charge) or for shorter periods, as required. Here are some exciting things to do while you vacation at Selong Selo:
Lombok is all about

surfing

and they say that Selong Belanak Beach is the best on the island for beginners. This white sandy beach just happens to be the stunning white necklace you see from your villa. Shuttle transfers are available to and fro from the beach, should you want to visit it. It's also a great place for watching the sun go down, as the lobster fishermen light up their boats to twinkle as the skies go dark.

Picnics

are the best way to enjoy a day out and Lombok offers you the option of picnicking on the secluded Mawun beach or in the green wilderness. Whichever you prefer, the staff at Selong Selo can arrange a classy day out, complete with white tents, champagne flutes and a delicious picnic hamper.
Lessons for surfing or

paddleboarding

can be arranged by the staff, so you are trained by skilled instructors. Enjoy the surf and the sand, Lombok has plenty of both to offer.
Love the local food? Why not try your hand at making it? A

private cooking class

can be arranged in your villa wherein a chef will procure ingredients from the local villages and bring them to your doorstep. You will then be taken through the process of creating delicious Lombok dishes and sauces. Enjoy the fruits of your labour by devouring a lavish lunch to finish it off.
Kuta (not to be confused with its Balinese namesake) has a vibrant tourist scene, especially with backpackers and serious surfers. Thanks to its expat residents, the sleepy town has some

fabulous restaurants

, ranging from Italian cuisine to fusion vegetarian fare and cafes and bakeries.
The southern coast of Lombok has abundant marine life. Plan a

fishing trip

for half a day, where you can catch some delicious fish to be barbecued later. The staff at Selong Selo can help arrange for the trip as well as a private in-villa barbecue.
If the changing colours of the sky were not proof enough, you know its sunset when the

procession of the cows

traverses through Selong Belanak Beach. The cowherds take the cows for grazing at sunrise and bring them back at sunset. It is quite a visual extravaganza and makes for some fantastic photographs against the background of orange skies and the setting sun.
Head out for some adventure and make a beeline for the

waterfalls

up north. Located 50km away from Selong Selo, Benang Stokel and Benang Kelambu boast of 20-metre high drops and exhilarating jumps into pools below. It's a wonderful idea for a day out in the outdoors, with a picnic thrown in for good measure.
Gili Islands to the north of Lombok are known for their crystal clear waters and vivid corals. Take a

snorkelling

trip and experience the joy of witnessing the vibrant underwater world. It is an alternate universe, with schools of fish swimming by multi-coloured reefs and plants and vegetation that can only be described as extraordinary.
The mountainous landscape makes Lombok a

trekkers'

paradise. There are plenty of paths meandering up the gentle slopes to explore. Serious trekkers can attempt to scale jungle-clad Mt.Rinjani, Indonesia's second highest active volcano with a mesmerising turquoise lake at the top.

Adding villa...
x

Please sign in to add this villas to your Favourite
Create a shortlist of your favourites -
save them for later, make comparisons, and share with travel companions

x
LOGIN WITH EMAIL
---
---

x
SIGNUP WITH EMAIL
---
---

x
Forgot password
---
Back to top