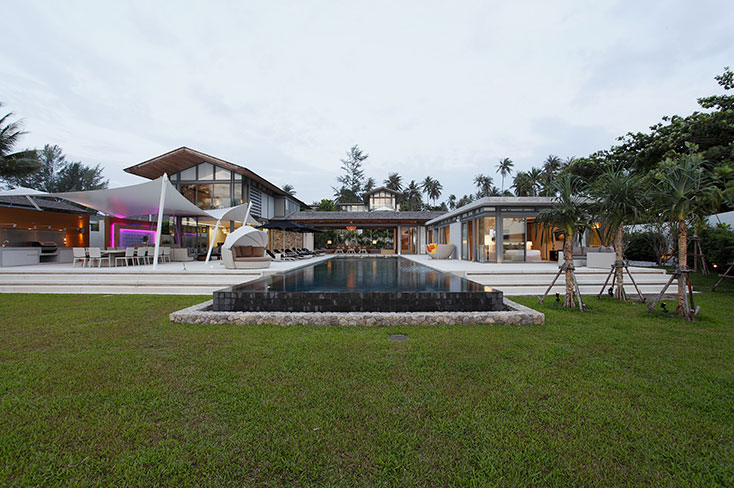 Nisharika S, Singapore
,
01-May-2022
-
04-May-2022
To the absolutely Wonderful & Loving Staff at Tievoli, I cannot say how welcome & cared for by the team we were. Very Very Loving... Best Wishes & Hope to see you all again very soon! Big Big hugs...
Preechaya N, Thailand
,
19-Dec-2020
-
23-Dec-2020
We all had so much fun and wonderful time here! We love it so much that we want to come back already. All staff have shown great hospitality beyond our expectations. You have made us feel at home while enjoying luxurious experience as we were staying at a 6 star hotel! Special thanks to Kumpa and Óui who assist us in every way. They make us feel special and we all did. Villa's chef is superb too. we enjoyed every meal, no trips to restaurant were required! We can go on and on, but long story short, we love it here period!
Jiranuj K, Thailand
,
10-Oct-2020
-
13-Oct-2020
We have a wonderful time staying here, the food is really good - despite the storm. Looking forward to come back!
Nursel M, United Kingdom
,
07-Feb-2020
-
15-Feb-2020
Dear Kumpa and team, We had a wonderful stay. Thank you. Hope to come back soon.
,
24-Jan-2020
-
29-Jan-2020
I am so happy to swim and eat! I had a wonderful holiday and that is my best holiday. My favourite room is the playroom. Love❤️
Amanda A, Australia
,
18-Jan-2020
-
22-Jan-2020
We had a wonderful experience!!! The most impressive accommodation in Thailand. Amazing staff. Super food. Very clean accommodation. Was very impressive.
Cyndi C, China
,
15-Jan-2020
-
18-Jan-2020
Tievoli is so amazing, much beyond our imagination.It's so nice to hold my wedding here and the manager and helpers are all do their job very well. Me and my family all feel so thankful to you all. Hope we can back again!!! Wish you all the best. Thank you.
Aleksandr B, Russia
,
28-Dec-2019
-
12-Jan-2020
We would like to tell thank you to all team Tievoli! We are very appreciative for our vacation with you. It is was the best vacation in our life! Because of excellent hospitality and comfort we was able relax completely. Thanks a lot!
RW, Hong Kong
,
08-Dec-2019
-
11-Dec-2019
Everything is well organized and clean! Staff is professional, friendly, and respectful. We would love to come again to enjoy another amazing experience. Thank you for the wonderful stay!
Caroline & Damien, France
,
23-Oct-2019
-
30-Oct-2019
Thank you for everything - your service, your attention, your sympathy. We will never forget our stay at Tievoli Villa. Thank you for you friendliness, hospitality and the chef's cooking we had an amazing time.
Priscilla L, Singapore
,
07-Aug-2019
-
12-Aug-2019
Food is amazing. Chef is amazing. Thank you. Kumpa was attentive and hard-working, always willing to work with changes with a cheerful disposition. Spa staff very professional and good at their skills. Thank you!
Huan C, China
,
07-Jun-2019
-
11-Jun-2019
Good service and quick response to all our requests. The villa is so beautiful, first time here and really enjoyable. Thank you
Nathan M, United States
,
31-May-2019
-
05-Jun-2019
To our second family! The love! The Service! The attention to detail! The Smiles! The Pride! Thank you!
JULIANA WING IN N, Hong Kong
,
09-May-2019
-
13-May-2019
It is such our pleasure to spend five marvelous and spectacular nights under this outstanding villa! Fifteen of us did have a wonderful time. The staff from the villa all are generous, proactive, friendly and approachable. We definitely will come back again and highly recommend to all of our friends!
Mia H, Canada
,
21-Apr-2019
-
02-May-2019
We have had the most amazing, relaxing 10 days at this incredible villa. The attention to details in our daily eat habits, the cleanliness of the resort, the friendly, warm and helpful staff have made our family vacation a truly remarkable stay! Thank you to all Tievoli team in everything you do to make this place feel like an Oasis. We will definitely return, so hope to see you all soon AGAIN
Piyanan T, United States
,
16-Apr-2019
-
20-Apr-2019
The 14 of us has had a wonderful experience here - enjoyed the pool, beach, excellent food. Look forward to our return to Phuket Thailand.
Rinrada L, Thailand
,
12-Apr-2019
-
16-Apr-2019
Amazing villa for family vacation. We had a great stay and would recommend for others to stay. We had a wonderful time here, amazing place.
Marina O, Hong Kong
,
08-Mar-2019
-
11-Mar-2019
The villa is just amazing and the staff is adorable. We had our wedding here and it was just wow. Thank you and see you soon.
Jessica Y, Australia
,
04-Mar-2019
-
07-Mar-2019
Our experience at Sava Villas will hold a lifetime memory for myself and my wife and families. The staff were absolutely amazing - with preparation, organization and cleanliness. They were professional at all times, courteous and respectful. Thank you so much to the Sava team for everything this trip. Cannot wait to visit again.
Michelle N, Malaysia
,
28-Feb-2019
-
03-Mar-2019
The stay has been amazing. Tievoli is very bit as picturesque as seen in the pictures. Also Oui and team are very accommodating and provide the utmost best service. Every meal was exceptional. All of us truly enjoyed out stay and are sad to leave such a beautiful villa.
Paula L, Finland
,
18-Feb-2019
-
24-Feb-2019
First time in this paradise. Wonderful cozy, lazy days in the sun. by the pool, on the beach! Excellent food, friendly staff and the best company. Thank you. We will return. Third time that tells it all. Thank you dear staff, you made our vacation again! We too will return.
Lily X, United States
,
15-Feb-2019
-
18-Feb-2019
Thank you! Everything was perfect, the staff was so friendly, they made us so comfortable. We enjoying our stay here, the scene is gorgeous! The service is great! Thank you so much
Lin X, China
,
10-Feb-2019
-
15-Feb-2019
The sea is so blue and the air is so fresh. We were very enjoying the villa at every second. Chef's cook was great and we love the food here. Thank you Kumpa and all staff for serving us. We all enjoy this splendid. Wish you all the best. Thank you so much!
Lin S, China
,
05-Feb-2019
-
10-Feb-2019
A big family to spare our Chinese New year holiday here. Villa is clean and quiet. Good service, many activities in the villa.
HEJUAN L, China
,
31-Jan-2019
-
05-Feb-2019
Clean and beautiful view villa with sweet service.
Yuwei Z, China
,
21-Jan-2019
-
25-Jan-2019
We enjoyed a friend and family trip with sixteen people in this villa. The villa view is beautiful and clean. We all people play happily and feel relax for our trip
Byron R, Australia
,
03-Dec-2018
-
07-Dec-2018
Dear villa Tievoli and villa Amarelo, To everyone at Villa Tievoli and Amarelo, you guys are awesome! We were looked after very well. Food are amazing, we cannot get enough of them. Serious are incredible, friendly, helpful and smiling staff. We also enjoyed the complimentary massage. Thank you everyone. Both villas are beautiful, well equipped and special. The pool and the chilling area are just wonderful - Perfect for sunset. Rooms are very clean, Tidy! Sea is always calm and perfect to dip at night. Staring at the story sky. We had a perfect stay at both villas, what a wonderful week and we do not want to leave! Highly recommend this villa to everyone! Love!
Mirang Y, South Korea
,
02-Sep-2018
-
05-Sep-2018
Dear Khumpa, Awesome! Amazing! How Great! Excellent staff, delicious foods, and beautiful villas! We had a great time, because of you guys! Thank you so much.I and we will miss villa Tievoli and you. We want to be here if we have a chance.
Donna B, Thailand
,
17-Aug-2018
-
29-Aug-2018
Amazing, what a spot. So good, a bit of sun, board games and the pool time. The end result is a week of bliss. The team lead by Kumpa and Oui do a superb job of looking after us. Cannot wait to return.
Dominic P, Afghanistan
,
28-Jul-2018
-
11-Aug-2018
Awesome, Amazing, Exceptional Kumpa, Oui, and staff here worked after us extremely well. They went the extra smile to make us feel welcome and went out of their way to help us. The food is really good quality.