Sava Beach Villas - Villa Roxo
The villa you chose is no longer available for rental from us but we have a portfolio of Elite Havens in various locations around South East Asia for you to choose from. Alternatively feel free to send us an enquiry and it'll be our pleasure to help you find the perfect villa for your next holiday.
4 Bedrooms
8 Adults
Steel, glass and timber form the ultramodern design of this slick four-bedroom villa overlooking the tranquil Natai Beach, just half an hour's drive north of Phuket airport.
Sleeping eight and laid out over three levels, Villa Roxo may be one of the cosier villas within the exclusive Sava Beach Villas estate, but it's also one of the most stylish. Contemporary artworks adorn the walls and its modern vibe is felt in everything from the state-of-the-art kitchen all the way to the rattan chairs and colourful textiles.
A sparkling 18-metre pool runs down one side of the villa, flanked by a lush garden bed and a pool terrace with sun loungers offering ample opportunity for low-key lazing. Though separated from the sands of Natai by a single row of villas, this sleek, tropical escape has stunning beach views and a leafy outlook, with spacious, living and dining areas opening to the pool, a TV room on the lower floor, a barbecue station and a shaded outdoor dining area with ocean vistas.
Fully staffed, with a manager, private chef and housekeepers, plus a masseuse and babysitter on call at an additional cost, Villa Roxo is the perfect place to reset and recharge. Feast on Thai delicacies over lunch and then doze off mid-massage with nothing more than the sound of the waves lapping at the beach or mellow beats playing through the stereo system. Cocktails are, of course, optional.
Only moments from the glistening sands of Natai Beach, a peaceful strip of sand to the north of Phuket, this villa is ideal for small families or groups seeking seclusion and endless sunsets. Should you crave a change of scenery, a stroll down the beach or a short drive will bring you to a choice of local seafood restaurants and fine dining at the Iniala and Aleenta resorts. Roxo is next door to the estate's well-equipped sea-view gym, available to guests on a complimentary basis.
Click on these links to find out more about seven-bedroomed Villa Tievoli, six-bedroomed Villa Amarelo, Villa Cielo, Villa Essenza and Villa Malee Sai, and four-bedroomed Villa Aqua to see how the Sava Beach Villas can be combined to meet your holiday requirements.
Read more
This haven includes
Unique features

Near the beach

Gym Facilities

Media/Games Room

Estate/Resort Facilities
Location
Villa Roxo is just steps away from the golden sands of beautiful Natai Beach, a 10-kilometre stretch of pristine Thai coastline to the north of Phuket Island. The villas offer a tranquil hideaway in a rural setting but is only an hour's drive from the buzz of Phuket's beach resorts and less than half an hour from the island's international airport. Natai Beach is perfect for paddleboarding, kayaking and swimming and The Aleenta and Iniala Beach resorts, both just along the sand, offer award-winning dining.
More information for Things to do
Villa Roxo offers plenty to keep families and friends entertained without leaving the luxurious and spacious villa grounds, but the idyllic Phang Nga and northern Phuket area is worth exploring, with some of Thailand's most breath-taking natural sights, excellent dining and leisure activities within easy reach. And for those in search of a bit more holiday variety, the shopping centres, bars, street markets and notable dining scene on Phuket island are just an hour's drive away.
Here's a selection of some of the places we'd recommend exploring beyond Villa Roxo:
Unleash your inner Indiana Jones and cool down in a waterfall pool on a mini jungle trek at one of the nearby Phang Nga parks.
Discover the rich marine life and stunning white beaches of the Similan islands on a snorkelling or diving day trip (mid October to mid May only).
Bring your camera and explore the coastal roads of the Natai Beach area by bike. Cycle through lush rural landscapes among coconut and banana plantations.
Charter a luxury yacht or traditional longtail boat for a cruise around Phang Nga Bay and its dramatically steep limestone islands, and don't miss the chance to do a sea kayak journey through the caves and dreamy hidden lagoons.
Embark on a gastronomic tour at the celebrated restaurants of nearby Iniala and Aleenta resorts, or try some of the low-key eateries serving authentic Thai fare on the Natai beachfront or in Kokkloy town.
Treat the family to a soak-and-slide adventure at Splash Jungle on Mai Khao Beach near Phuket airport, or Dino Sea Water Park, just eight kilometres away.
Take in the inspiring views over Phang Nga Bay with a visit to the stunning Samet Nangshe viewpoint, best seen at sunrise.

Golf

fans can visit Aquella

Golf

& Country Club, nominated as Thailand's best

golf

course 2023. Located only 15km from Natai Beach, the 18-hole championship course boasts family friendly amenities spread across 1.8 million square meters of the Kingdom's most breathtaking landscape with an uninterrupted private beachfront stretching over two and a half kilometres.
For some wildlife encounters with an ethical edge, go to the Phuket Elephant Sanctuary, a refuge centre for elephants retired from the tourist trade, or stop by the Gibbon Rehabilitation Project near Bang Pae Waterfall, a rescue and release centre for abused primates and other animals.
Take a stroll around Phuket Town for its local food, chic cafés, arts and craft studios, street markets and wall murals, and soak up the colourful Old Town atmosphere of the restored Sino-Portuguese buildings and Chinese shrines.
LEAVE THE PLANNING TO US
Shake off the stress of holiday planning. Let the Elite Concierge take care of all your bookings and arrangements, from transport, tours and restaurant reservations, to any special requests for your arrival. We're here to make your holiday experience extraordinary.
Quick facts
Location
Sava Beach Villas, Natai Beach, Phang Nga, Phuket, Thailand.
Capacity
8 guests (4 bedrooms: 2 master suites with king-size beds; 2 guestrooms with twin beds convertible to kings).
Living Areas
Living room; TV room; indoor dining room with guest kitchen; canopied outdoor dining area and barbecue station; pool terrace.
Staff
Villa manager; housekeepers; private chef; estate security staff. Additional staff (eg babysitter and masseuse) available on request for an extra charge.
Dining
Daily breakfast included. The chef specialises in traditional Thai cuisine. A suggestion menu of western, Asian, vegetarian and children's dishes. Requests accommodated (including special diets). Grocery cost is charged 20% handling fee which is subject to tax at the prevailing rate.
Communication
Complimentary WiFi throughout the villa.
Entertainment
Satellite TV ; books and board games.
For Families
Villa Roxo welcomes families with young children. Two rooms are furnished with twin beds and other children's equipment (eg. baby cot, high chairs and pool toys) is available on request.
Spa & Gym
Complimentary use of the estate's well-equipped gym; masseuse can be arranged for an additional cost.
Transport
Airport transfer and private chauffeur service available (extra charges apply).
Weddings & Events
Events at Roxo are available by request.
Additional Facilities
Paddle boards; boogie boards; inflatable pool float; bicycles; kayaks; table tennis; foosball table; badminton equipment; board games; safety deposit boxes.
Property Area
601 sqm (villa); 642 sqm (land).
The rooms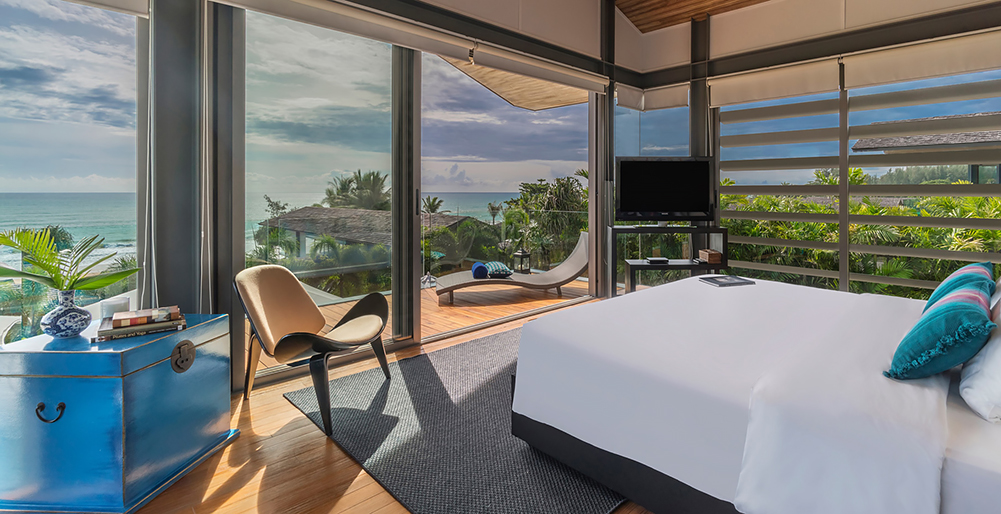 Master Bedroom 1
Upper-floor bedroom with private ocean-view balcony
King-size bed
Dressing area, ensuite bathroom with shower
Ceiling fan, air conditioning, TV
Master Bedroom 2
Upper-floor bedroom with sea-view balcony
King-size bed
Ensuite bathroom with sunken terrazzo tub
Ceiling fan, air conditioning, TV
Guest Bedrooms 3 & 4
Two upper-floor rooms furnished with twin beds (convertible to king beds)
One room with garden views, the other with partial sea views
Shared bathroom with shower
TV in one bedroom
Ceiling fans, air conditioning
Dining
With the exclusive service of a talented Thai chef, and a stunning choice of indoor and outdoor dining areas, mealtimes are a holiday highlight at Villa Roxo.
Daily breakfasts, featuring fresh tropical fruits, are included in your rate. Plan lunches and dinners from the wide selection of Thai, western, vegetarian and kids' dishes on the villa's suggestion menu, or explore the delicious flavours of Thai cuisine by sampling one of the set meals carefully curated by the chef.
Phuket-style dishes including mee Hokkien (fried noodles), bue tod (deep fried spicy prawn) offer some tempting regional tastes while desserts have a decidedly Thai flavour with mango and sticky rice and boa loy (rice balls in coconut milk) among the choices. And guests are sure to want to make use of the lavish barbecue entertaining area by choosing from the tantalising grilled meats, lobster, tiger prawn, fish and vegetarian selections for a fabulous sunset feast. Please discuss any dietary restrictions or special meal requests with your manager and the chef will do his or her best to accommodate them.
The chef also manages all the grocery shopping for guest meals, with provisions charged at cost plus a 20%+ handling fee or a minimum 750 baht per day. Guests are asked to provide cash in advance to cover food and beverage costs, and the staff will keep receipts for reference when settling the bills.
View a sample menu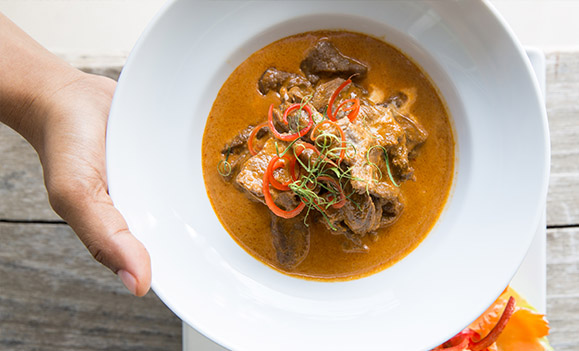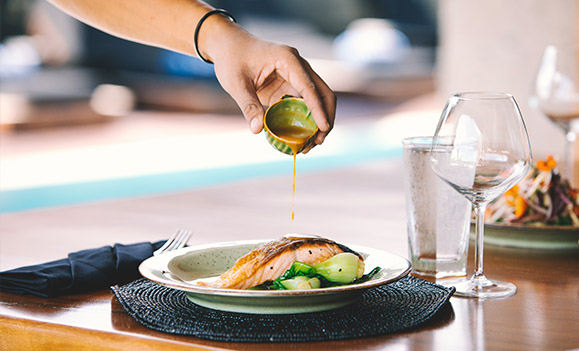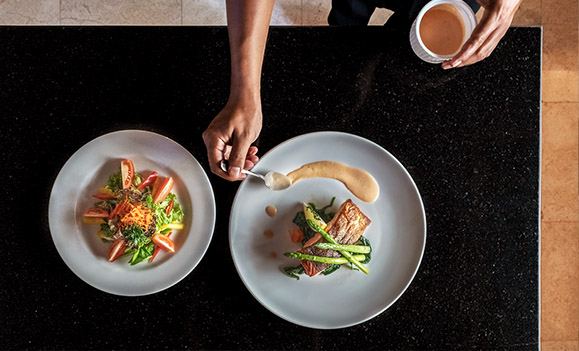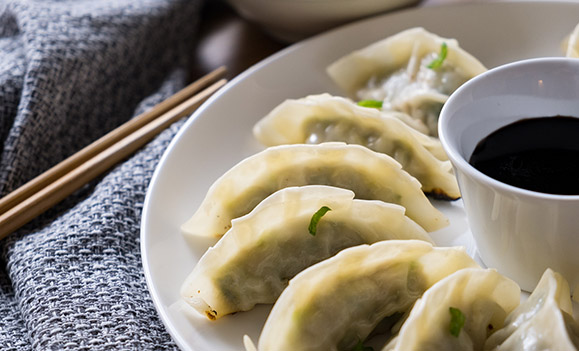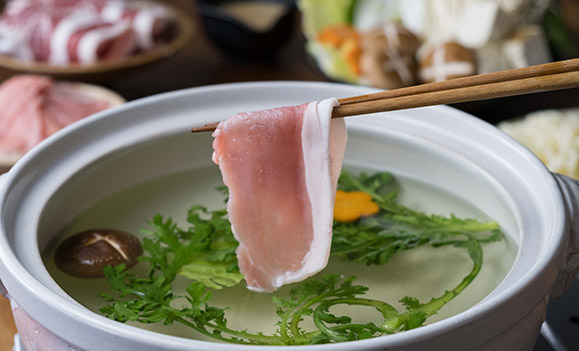 Reviews
What a splendid experience our family had at Villa Roxo! We were a group of 5 adults and 2 kids (3 and 6) and stayed for 4 nights. Our days were spent mostly in the pool and beach, and during the hottest part of the day after lunch, we played board games, watched tv, napped, and the adults did massages as well. The villa was huge and clean, and there were alot of entertainment options -
... more
12-Mar-2023 - 16-Mar-2023
Jonathan O
Singapore
What a wonderful relaxing Place. The girls ere amazing. The food at the villa incredible and to reconnect with the overseas family at the villa Roo as very Specials , Thanks ,William Family and Kirk Family
26-Dec-2022 - 03-Jan-2023
Sigrid K
United Kingdom
Amazing service Love it here. the food was great and I enjoyed swimming in the pool Thank you so much
16-Dec-2022 - 21-Dec-2022
Maggie C
Hong Kong
Dear Sava team, Thank you for a wonderful stay!! Happy New Year 2022. Mai-Linh ,Thomas ,Noah,Lily
20-Dec-2021 - 04-Jan-2022
Jerome B
Thailand
Thank you for your hospitality. We love it! Thank you to the team and everybody behind the scenes who made this happen. Feel at home, good food, good coffee. Love!
18-Dec-2020 - 19-Dec-2020
Vanalin V
Thailand
Dear Tida & beautiful team ladies, thank you for hosting us and take great care of us in the pass few days. We felt so lovely to be here! All the best and we hope to see you in the future again! We had a wonderful weekend away, couldn't ask for more. Cheers!
06-Mar-2020 - 10-Mar-2020
Bryan C
Hong Kong
Dear Tida, Koy and Da, Thank you very much for taking care of us. We had great fun here and enjoy everything a lot! The food is great! Especially the Thai food and the BBQ and also breakfast too. Thank you Tida for taking care everything for us, the dinner, the drinks and lunch. Koy is a wonderful chef. Her cooking is excellent. She made us look for ward to the menus! We also appreciate for
... more
08-Dec-2019 - 11-Dec-2019
Regina W
Hong Kong
To all lovely staff, We had a wonderful time in this villa. We love everything here, every decor and staff is very attentive, food is very yummy and everybody loves the pool side BBQ. The kids love the swimming pool and all the toys prepared. Hostess is excellent and attentive. We will surely recommend this villa to our friends if they plan to come to Phuket. Thanks
11-Aug-2019 - 15-Aug-2019
Frankie N
Hong Kong
Thank you for serving and taking care of us in these four days! Hope to see you all next time when I come back.
27-Jul-2019 - 31-Jul-2019
Abiel T
Singapore
Thank you! To our amazing hostess, the geogeous and wonderfully well behaved kids, the very attentive and sweet staff. We had the best time, great food, lots of laughter in this ambient filled villa that made our reunion all the more special. I have been to Phuket many times and this has the been the best one so far. Thanks to Villa Roxo! Big thanks to Mistress of the Villa Roxo (and also the
... more
06-Jul-2019 - 25-Jul-2019
Grace B
Thailand
To all lovely staff! Our family had a wonderful time in the villa. All serving is good. The house is always clean and the food is tasty. Especially the noodles soup in the morning, we just love it! The most convenient is the toys and preparation for the kids. And also the beach is very close to the villa. I think we will come next time soon and will definitely recommend to our friends! Thank you!
28-Jun-2019 - 01-Jul-2019
Junting T
China
We love this villa, because it is beautiful and comfortable and nice sea view. Staff are very kind and nice! Very good service in this villa. The food is also very yummy! We really spent 6 amazing days here in this Villa! Thank you all! Hope to come back soon.
17-Feb-2019 - 22-Feb-2019
ZHU M
China
Thank you so much! I love this place so much. See you again!
13-Feb-2019 - 17-Feb-2019
CHEN Y
China
Villa Roxo Rocks! Fabulous stay with wonderful staff. Always with a smile, the chef was great as well. We really enjoyed fully our 7 days here and hope we can come back in the future! Thank you all
02-Feb-2019 - 09-Feb-2019
Gia Litte C
Thailand
Dera Jeab, Da, Koy: Thank you for the wonderful service. We had an amazing time at this villa. We would definitely recommend this place to our friends in Canada. To future guests, Do not forget to use the ceiling speakers to play your favorite music. One more thing.. there is a bathroom outside in case you need to go between swimming.
16-Nov-2018 - 18-Nov-2018
Le Y
China
Dear Sava Villa, So lovely to stay in this villa for our friend's wedding: May and Sam on 13 Nov, 2018. Hope we will be back to this villa. Love you, Sarah ----------------------------------------------------------------------------------------------------------------------- Dear Sava Villa, So glad to join our best friend big day on 13 Nov, 2018. We all love the view and excellent service
... more
11-Nov-2018 - 14-Nov-2018
Macy H
Canada
Thank you for the wonderful service. We had an amazing time at this villa. We would definitely recommended this place to our friends in Canada. We had a wonderful time here great service, delicious food and stunning view. Staff are all friendly and helpful. Thank you very much and we hope to see you guys again.
06-Nov-2018 - 11-Nov-2018
Corina W
Canada
You are the Best!! Thank you for the delicious food and very good service here in the villa! We cannot wait to book Sava Villas again. Here is the beautiful place for an amazing vacation!
08-Oct-2018 - 13-Oct-2018
Dragana D
Austria
Had a wonderful time here. Great service, food and love the sweets here. Thank you so much.
03-Oct-2018 - 06-Oct-2018
Xiao Shi K
Singapore
Nice place, nice food, nice place. It was really a very relaxing place to stay. We all had a very good time. We will be back.
29-Sep-2018 - 02-Oct-2018
Marsha C
Macau
Need more inspiration?
We're at your service