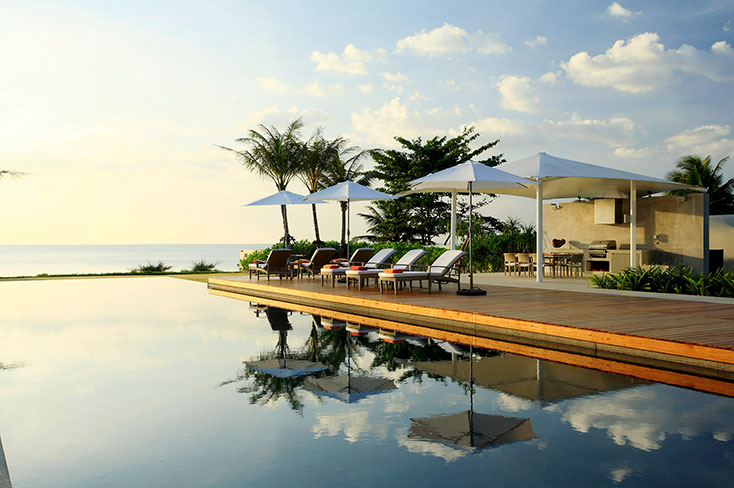 Vasana J, Thailand
,
11-Oct-2020
-
13-Oct-2020
Big thank you to all the friendly Sava staff! You took great care of us during our stay. Food was great! Will come back again.
Qingquan H, China
,
25-Feb-2020
-
06-Mar-2020
Very nice environment with sweet service. We will come back next year.
Ariel S, Hong Kong
,
13-Jul-2019
-
20-Jul-2019
Dear Malee Sai villa, We had an amazing time.Thank you for the beautiful service and making us very happy and comfortable.
Giuliana L, Singapore
,
04-Jul-2019
-
08-Jul-2019
Dear Malee Sai Team, Thank you so much!! We have had the best time staying here with you. The beautiful villa, comfortable beds, delicious food and sweet and helpful staff. We love it here. xoxo
Angie C, Hong Kong
,
20-Jun-2019
-
23-Jun-2019
What a wonderful stay! Thank you for your hospitality and always being so helpful! See you again.
Jason P, Singapore
,
02-Jun-2019
-
06-Jun-2019
The villa is very big and it is very convenient to go to the beach. The staff were also very kind. It was one of the best villa I have been to. We had a good time in the villa. Thank you so much for making this a wonderful holiday with your flawless hospitality and attention to details. Absolutely fantastic! Cheers, Peng family
Tee, Canada
,
01-Jun-2019
-
02-Jun-2019
Thank you Khun Jeab and the extra team for such a wonderful hospitality and being so accommodating. This is a beautiful villa and would love to come again next time.
Jeanie W, Hong Kong
,
22-Apr-2019
-
27-Apr-2019
I like everything. I will come back very soon. I was here for one week with my mom, sister, grandparents and helper. Everybody had a fabulous time. I like the spring roll and my baby sister loves all noodles.
YONGCHANG C, China
,
31-Jan-2019
-
07-Feb-2019
Dear Sava Team, Really appreciated the hospitality of your team. Wish you all have a happy, healthy and prosperous new year of pig. Look forward to seeing you guys soon.
OLGA R, Russia
,
13-Jan-2019
-
30-Jan-2019
Many thanks to this hospitable home! On was for us a wonderful friend! The chef tried and cooked delicious! Thanks! Maybe we can go back to this beautiful villa.
Melinda and Ray, Hong Kong
,
22-Nov-2018
-
25-Nov-2018
This is the best resort experience we've ever been to. The villa is well equipped with all sorts of entertainment. Staff is friendly and helpful. Chef cooks delicious food and always meets our preference. The supervisor Jeab, always has a warm smile on her face. Everything is just perfect. I'll definitely recommend SAVA to my friends.
Chenchen Z, Thailand
,
17-Nov-2018
-
21-Nov-2018
Thank you for everything the villa team did for us. We really have had a great time here and enjoyed the beautiful beach and view. This is our first time to visit Sava and me and Hengde had memorable moments here. We got married. Hope to see you all soon for our next holiday trip. Thank you again.
Bent B, Denmark
,
29-Oct-2018
-
08-Nov-2018
We have experienced Thailand as a country with extremely friendly people. We have enjoyed as much staying in this house. We have been served so well and we love the Thai food that we've had. We have enjoyed your company and friendliness.
Joo Young K, Hong Kong
,
25-Oct-2018
-
28-Oct-2018
To Malee Sai Team, Thank you for taking such good care of us! You made our stay so enjoyable. Thank you for a brilliant 3 days in your little paradise. We absolutely had the best time ever. The food was beyond amazing, and we never could get tired of the stunning views! See you soon again. Lots of love
Qinpeng D, China
,
21-Aug-2018
-
26-Aug-2018
We thank everything that has come here. You are so friendly and the foods are delicious. The view is beautiful. We had a good holiday! Everything is so nice.
Icy L, Hong Kong
,
15-Jul-2018
-
20-Jul-2018
We have had a great stay in the villa. The food was absolutely delicious! Thanks for taking care of us.
Melissa N, Singapore
,
25-Apr-2018
-
27-Apr-2018
We like the service and food that you provided. It's delicious. Yummy! Thank you for your guest service and constant help. Appreciate your smiles which make our day and not forgetting the food which is provided. It's really awesome and thank you for making us feel comfortable staying here.
Jacqueline T, Hong Kong
,
31-Mar-2018
-
04-Apr-2018
Thank you for your excellent service provided throughout our stay. We loved the popcorn, pizza, ice cream, eggs,cucumber. Children enjoyed your contribution to us through our visit.