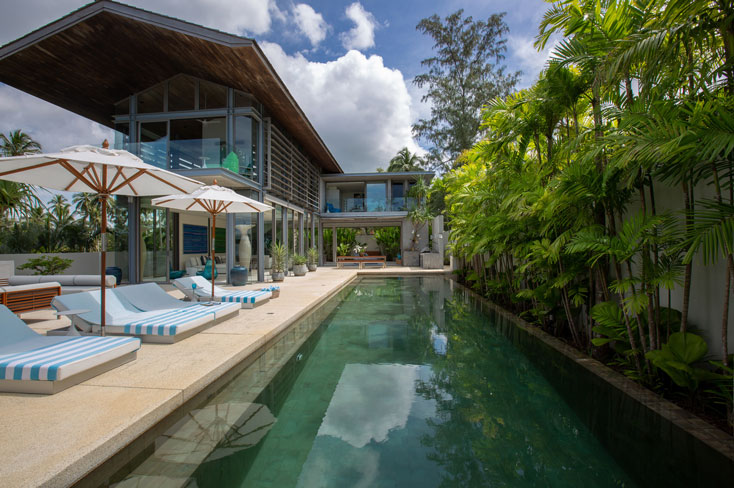 Mrs Cheng M, Hong Kong
,
23-Jan-2023
-
28-Jan-2023
Many thanks for the great hospitality and attentive care and service during our stay at the beautiful villa. We wish you a happy &healthy year of the rabbit. We further look forward to returning here in the new further
Erika H, Hong Kong
,
25-Dec-2022
-
06-Jan-2023
Villa Aqua = Heaven on Earth but mostly because of the wonderful friendship and caring of Khun Apple and Khun Oil. We really loved everything about the place, the beach and the people here. Thanks for making it so special for us.
Hei Man Hemans L, Hong Kong
,
08-Nov-2022
-
12-Nov-2022
I am back again in Villa Aqua after 3 years. This time I came with my family and this our 1st trip after covid. It is AMAZZING!! The whole experiences is superb, thanks for the best in-class service from the team. The food is also the best Thai food we have I really appreciated this! Best wishes to the whole team, stay healthy! Sincerely / Bonita and the Lam's Family 11 Nov,22 P.S. Looking forward to my 3rd visit to Aqua !
Clara N, Hong Kong
,
01-Nov-2022
-
04-Nov-2022
We are 3 generations of the Tan's family from Hong Kong, including an almost 5 months years old baby. We had a terrific time here, spending almost all of 3 days within the premises and the beach. We are extremely impressed with the staff, Khun Tida ,Apple and Oy. Their service, hospitality, comfortable and enjoyable was beyond compare. Thank you for looking after us! Aluna ,Clara ,Daniel Lisa and Augustine P.S. The food was awesome!
Nitiya O, Thailand
,
23-Oct-2020
-
25-Oct-2020
We are very happy and impressed with our stay at Villa Aqua. The decorations and facilities are excellent and truly make our stay so comfortably. The staff, villa manager ( K.Oil ), Chef ( Ms.Oil ) and housekeeper ( Ms. Apple ) are wonderful. We couldn't have asked for more. We'll definitely come back! Thank you for such lovely stay. PS. Love the steam room so much and excellent coffee with talented barista.
Desmond C, Singapore
,
06-Mar-2020
-
10-Mar-2020
It is much better than staying in a luxury hotel. It feels like a home but much more relaxing. I love the house decoration and the view outdoor is fantastic. I am not an outdoor person, yet I could feel the outdoor even staying indoors. The service was fantastic and we felt very pampered. May you continue to offer the service to your clients. I will certainly come back with my family. God Bless this house.
Catherine D, Hong Kong
,
16-Aug-2019
-
19-Aug-2019
The fabulous team of Villa Aqua, Our family visited Phuket together for the first time and this was our first "Service Villa" stay experience and what a wonderful experience it was. We greatly praise the attentive, friendly and lovely lady staff of Apple, Oil. They exceed our expectations and we deeply appreciate it. We are certain, we will be back again and again. To the wonderful owner, Your Villa design, interior, decor, and wonderful hand picked team was a wonderful treat for us and appreciate the well thought out special touches!
Alex C, Hong Kong
,
18-Jul-2019
-
21-Jul-2019
Fab Villa Aqua, Staying with the lovely Apple and Oil looking after us was a true delight. The Villa is perfect in every way, the location is ideal. Thanks for amazing holiday, delicious food, wonderful hospitality and your love. We will be back!
Daulet N, Kazakhstan
,
24-Jun-2019
-
04-Jul-2019
Dear villa Aqua Team, We enjoyed our holidays so much! The service, the nice team, the good location and the delicious food was amazing. Thank you very much for all! Dear villa Aqua team, Thank you so much for your hospitality and heartfelt welcome! We had the best time, the food was delicious, service was great. We made a amazing memories here, something we will be forever graceful for. O would recommend this place to all of our friend. Wish you all the best
Candy S, Hong Kong
,
26-Apr-2019
-
30-Apr-2019
Your food is good and the service is very good. Food delicious and the service is super. Oil and Apple took care of us in every minute and made us comfy as home. We will come back soon
Christopher H, Germany
,
18-Apr-2019
-
26-Apr-2019
It is rare to feel home outside. Both Oil and Apple made the impossible real! Thank you so much for your helpful welcome, you made us so happy! Thank you for your taking care of us!
Marina D, Kazakhstan
,
26-Mar-2019
-
07-Apr-2019
Villa Aqua, I want to share my experience with Aqua 7 villas. We had a really great time with my family visiting. I want to say thank you for everyone who made this time so great, especially Oil, Apple. Definitely will come back and personally recommend visiting Sava Beach Villa if you are looking to spend some quality family time as well as enjoy great villas and very friendly staff. Very much liked!
Jackie H, Canada
,
08-Mar-2019
-
16-Mar-2019
The house is awesome! Apple and the entire team were wonderful! We had an awesome time. Thank you for the entire villa staff. You guys were amazing. Every day felt like home. Apple your amazing smile and personality was wonderful. Hope to see you guys again. Much love Thank you Apple and entire Staff. The stay was everything and more. We had a great time and created new family memories. Apple; Kaiden will remember you forever! Thank you for everything
Elvis F, United States
,
22-Feb-2019
-
25-Feb-2019
Thank you very much for taking care of us. We love the food, environment. We love the villa so much. We will come back again soon Dear Chef, very nice scrambled eggs! Dear Apple, Oil, Jeab This is the best villa. Your services are excellent. I feel like home. Thank you so much, and hope to see you soon
YIMING Z, China
,
12-Feb-2019
-
17-Feb-2019
Khop Khun Cup! Thanks for the wonderful time, best service and food during all five days. Especially for the manager Oil, Apple, chef. Cannot wait till we back again.
Yongdong C, China
,
06-Feb-2019
-
11-Feb-2019
Thank you so much for a wonderful holidays in Sava. We were enjoying everyday. Starting from morning with fantastic breakfast. Thanks for our cute chef and villa manager Apple who provided us a delicious food with very comfortable and clean environment. We have a sweet holiday here. Thanks for Jeab for arranging a trip for us also. Expecting next trip here again.
Siriol W, Hong Kong
,
17-Dec-2018
-
27-Dec-2018
Apple, Oil, Pui, Thank you from the bottom of our hearts for such a wonderful and unforgettable ten days stay at Villa Aqua. Apple, you have a very kind heart, which makes having you here to help has been such a pleasure. You have taken such tender care of everyone each and every day. We have all enjoyed listening to your stories too. Oil, we have thoroughly enjoyed every absolutely delicious breakfast, lunch and dinner. You have skillfully prepared for us. You cooked with love and passion. Thank you so much. Pui, thank you for your kindness and professionalism which also helped to make our stay so unforgettable. We hope to visit villa Aqua again in the future. Our love and best wishes.
Rachel M, Hong Kong
,
22-Nov-2018
-
25-Nov-2018
It has been a lovely staff in Villa Aqua! Manager - Oil, Chef, and Apple are all lovely and enjoying who made our stay so happy and comfortable. They are the best. They always anticipate our needs . Thank you ALL!
Chenchen Z, Thailand
,
18-Nov-2018
-
21-Nov-2018
Beautiful Beach! Nice people! Excellent Service! Thanks to Aqua Villa Manager who helped make our stay more than perfect!
Le Y, China
,
16-Nov-2018
-
18-Nov-2018
Our group had such a wonderful time during our four days trip here. For a wedding, we had an enjoyable stay here. Everything was perfect from arrangement of our rooms to having enough towels, to the food that was thoughtfully prepared for us. We will definitely come back here for our next getaway amazing and friendly house. Thank you so much! Hosted a great stay
Macy H, Canada
,
11-Nov-2018
-
14-Nov-2018
All of your staff are so nice and friendly, more like a family. Patient and full of love for us. I'll totally miss you all. Thank you for take caring of us.
Max H, United States
,
02-Nov-2018
-
08-Nov-2018
Thank you for letting us stay in your luxury villa. Both Oil and Apple were amazing - always smiling, helpful, providing us with delicious food.