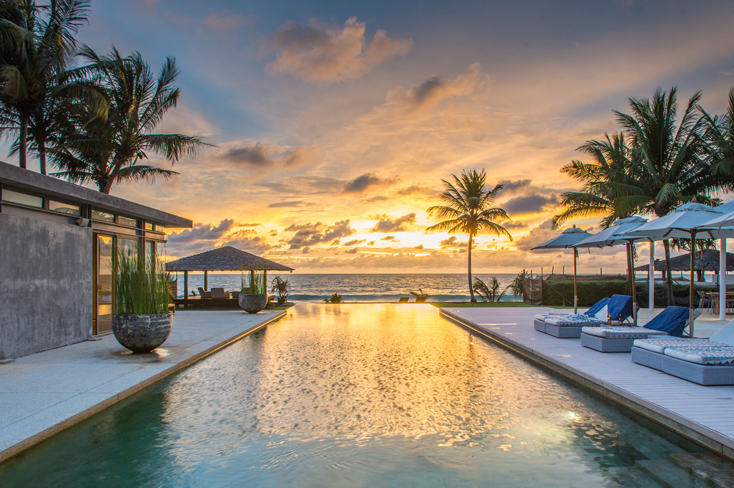 Nicole G, Germany
,
18-Feb-2023
-
19-Feb-2023
Thank you for the great 10 days we enjoyed very much! The service is great and the food has always tasted very good. The people here are very friendly. We would be happy to come again. Than you very much
Paul S, Hong Kong
,
10-Jul-2022
-
21-Jul-2022
We all really appreciate your good service The chef is a very good cook and the location on the beach is fantastic we hope to come back again soon.
Smith & May families, Thailand
,
12-Oct-2020
-
15-Oct-2020
Thank you for your warm welcome. We have a wonderful time here, nice place for holiday! Very good food, nice service.
Jing J, Hong Kong
,
28-Nov-2019
-
01-Dec-2019
Thank you so much for the service! We are very happy on our three days stay here. The view and villa are amazing!
Eugina C, Hong Kong
,
20-Nov-2019
-
24-Nov-2019
Thank you very much for the attentive service, so heart warming and caring. Pui is a amazing host. Looking forward to seeing you all again in the near future. Thank you all for your professional service, excellent attitude! Well done, Love you all!
Erica M, Hong Kong
,
16-Nov-2019
-
19-Nov-2019
Dear Sava Villa Team: Thank you for taking care of us during our stay! This is our second time staying with Sava and we all still enjoy it very much. Your Service is the best! Your meals the most delicious! Your Villa is the most beautiful! We cannot wait for our next stay here! All the best to all Sava Team - Especially Pui
Audrey W, Malaysia
,
01-Jun-2019
-
06-Jun-2019
To the amazing Sava villa Amarelo Team, Thank you for your amazing hospitality and care. You have all gone over and beyond to ensure we have an amazing stay, always with a smile on your faces and embodying Thailand grace and love. We could not imagine a better service staff of Khun Nick, Khun Lek and Khun Ya who took care of our every need. And thank you to Khun Oi too for making sure we had everything need. We will be back! Thank you.
Wang X, China
,
08-May-2019
-
11-May-2019
Dear all Sava villa staff, We are grateful for your hospitality and sweet service. All of us felt very happy and comfortable here. We expect to come back here again. Staff are very mannered and patience with over five stars service making us feel like home. The villa has an amazing view also. We had a perfect trip! Thank you all.
Christopher H, Germany
,
26-Apr-2019
-
30-Apr-2019
Thank you for taking a good care of us. Lovely staff, beautiful beach and my love to you all.
Goby K, Hong Kong
,
22-Apr-2019
-
25-Apr-2019
Thank you for everything. Thanks for accommodating these few days - it made our trip amazing and unforgettable.Thanks for your kindness, sincere and positive energy. This is what we needed to experience. I will let my friends and family know this heaven - you are all so amazing and I can tell you it's the best trip I have ever had. Wish you all the best and full house everyday.
Grace N, Hong Kong
,
20-Dec-2018
-
25-Dec-2018
Dear Sava villa team member, We had a very happy time here! Nice villa, great service and wonderful food! We will definitely come back for vacation! Thank you for making a relaxing vacation. We wish you a very happy Christmas and Happy new year!
Byron R, Australia
,
03-Dec-2018
-
07-Dec-2018
Dear villa Tievoli and villa Amarelo, To everyone at villa Tievoli and Amarelo, you guys are awesome! We were looked after very well. Food are amazing, we cannot get enough of them. Seriously you are incredible, friendly, helpful and smiling staff. We also enjoyed the complimentary massage. Thank you everyone. Both villas are beautiful, well equipped and special. The pool and the chilling area are just wonderful - Perfect for sunset. Rooms are very clean, tidy! The sea is always calm and perfect to dip at night. Staring at the story sky. We had a perfect stay at both villas, what a wonderful week and we do not want to leave! Highly recommend this villa to everyone! Love!
Macy H, Canada
,
11-Nov-2018
-
14-Nov-2018
Dear staff from Sava Villa Amarelo, Thank you so much for the excellent service, we enjoy our stay in this heaven villa, so relaxing and the staff are all very friendly.The food is excellent and everything is perfect! Love all the details! We also have a wonderful wedding in this beautiful villa, with the sea villa, the sound of nature and the kiss of the sun. We enjoyed our dreamy wedding and the guests all enjoyed the wedding and the stay. Thank you for letting all of us to have this wonderful memory all together.
Zolchimeg G, Mongolia
,
11-Oct-2018
-
14-Oct-2018
Dear Sava Team, Thank you so much for having us and making our wedding an absolutely perfect occasion. You have done a brilliant job. Love staying here. Maybe we come back some time in the future.