Saffron & Blue
The villa you chose is no longer available for rental from us but we have a portfolio of Elite Havens in various locations around South East Asia for you to choose from. Alternatively feel free to send us an enquiry and it'll be our pleasure to help you find the perfect villa for your next holiday.
2 - 4 Bedrooms
8 Adults
Saffron & Blue had its name inspired from the coral-coloured sands of Thambapanni Beach and clear azure skies. True to its name, this 4 bedroom elite haven in Kosgoda, Bentota is a mixture of hues and flavors – a reflection of its owner's exquisite taste and wealthy experience. Ranil de Silva, an Ad man founding Leo Burnett, Sri Lanka's largest advertising agency, has successfully expressed his likes, his inspirations, his description of the places he has seen and his multi-faceted creativity through the personal handpicking of every single piece of furniture in his plush holiday home. This complemented the villa design of Channa Daswatte, a leading renowned Sri Lankan architect whose work extends to the sub-continent. He is a protégé of the late Geoffrey Bawa, the world-famous architect himself.
The villa boasts huge spaces, modern facilities, jacuzzi and outdoor pool, mezzanine area in the rooms and fine art collection. In-villa staff provides for every guest's needs, from housekeeping services to special dietary requirements!
At Saffron & Blue, food is very important. The resident chef and his assistant were personally trained by celebrity Chef Koluu. Planning meals is extremely thrilling knowing that an amazing chef is there to fix one's cravings. Barbecue party? No problem! The villa has an outdoor barbecue facility that is enjoyable on a moonlit night, whole-day swimming in the beach or pool parties. Lunches and more formal dinners may be served from the dining room with a table that hosts up to 12 guests. The daily complimentary breakfast may be served from the semi-outdoor nook that features a cement table and wooden barstools.
Though utterly tempting to stay in the comfort of the villa confines, guests will find it delighting to visit the local markets selling all kinds of delicacies, spices and fresh produce. Experience turtle hatchery, wide beaches, beautiful bays and enchanting reefs of Kosgoda.
Read more
This haven includes
Unique features

Near the beach

Jacuzzi

Unique Architecture
Location
In and around Kosgoda, there's plenty to do culturally, historically and recreationally. A ten-minute walk from Saffron & Blue brings you to a turtle hatchery – a must-see experience, particularly on a moonlit night. Eco boat rides through the mangroves, water skiing, antique hunting and temple explorations are some of the best-loved local offerings. While the historic town of Galle – with its charmingly restored boutique hotels, cobbled streets and glorious ramparts – is just an hour's car journey away. And then there's the beach, just a few footsteps from the villa.
More information for Things to do
Attractions worth getting out of bed for…
Turtle Time


With a beach in reach, the Turtle Hatchery is just a 10-minute walk from the Villa. This fascinating sanctuary will give you a first-hand glimpse of mother turtles as they come ashore to lay their eggs. You can even release baby turtles to the ocean at sunset – a life-changing experience.
Lunuganga for the Day


Lunuganga is the country home of renowned Sri Lankan architect Geoffrey Bawa; one of Asia's most prolific and influential architects. This amazing estate with its never-ending enchanting gardens was his first muse, and is a great way to immerse oneself in the whole 'Bawa' experience.
The Beauty of Brief


Brief Garden is a beautiful bolthole accessible via wild paddy fields and narrow country lanes. Created by legendary landscape artist, Bevis Bawa, Brief is a place that can't be experienced briefly. Right in the centre of its myriad gardens lies a serene house surrounded by birdsong and the rustle of the wind. This tropical eden is open to visitors virtually every day.
Galle Fort


A quaint little town with great character, Galle weaves tales of old romance and adventure. Built by the Dutch in the 18th century, the Fort boasts striking bastions, grass-covered ramparts, a soaring lighthouse, and cobbled streets lined with buildings from a time gone by. It's best experienced through a leisurely amble, to take in the colours and textures, the cosy restaurants, exotic art and all kinds of interesting curios, local fashion wear, and charming boutiques. A signature purchase from the area is silver jewellery, set with local semi-precious gems. Ibrahim Jewellers on Church Street is one of our favourite haunts! Also, don't leave Galle without checking-out the surrounding beaches and the hair-raising 'cliff jumpers'.
Bentota Water Sports


Freshwater or seawater, Bentota is ripe with adventure for the adrenaline-seeker. At the gentler end, there are banana boat and tube rides, river canoe safaris, and wind-surfing. Alternatively, there's the rush of jet-skiing, water-skiing, and even parasailing. A variety of thrills – all just a short drive away from Saffron & Blue.
Hikkaduwa


This riveting little coastal town with its '70s vibe, packs quite a trip. Hikka (as the locals call it) has a fun mix of chilled-out bars and restaurants. The roti shops are the most popular street food of Hikka. The main street also houses a variety of stores with its own unique style of fashion inspired from the flower power era. The weekend beach parties attract all the young ravers. For the more nautically-inclined there are glass-bottom boat rides, snorkeling and scuba-diving tours, to explore the famed underwater coral reef.

Kande Vihare


Escape the modern world as you know it, and step into an ancient arena of worship and archaeological design. Built in 1734, on the crest of a hill (hence its name), Kande Vihare is one of the largest Buddhist temples in the South of Sri Lanka. The site houses many historical artefacts – including a towering seated Buddha.
Ambalangoda


12Km kilometres from Saffron & Blue is yet another town with its own unique charm. Ambalangoda is the capital of Sri Lankan mask-making, and has its very own workshop, mini cultural centre & museum – as well as a library that holds important literature on this traditional craft. Not to be left out are the area's many antique and artefact shops, which turn out beautiful reproductions in wood, stone and metal. In fact, one such outlet – Southern Antiques– produced many of the signature pieces that adorn Saffron & Blue.
Madu Ganga


10Km from Saffron & Blue is a serene river, Madu Ganga, a spellbinding sight for the soul. Experience a tour of the natural beauty of the mangroves. From deep, mysterious caves, to breathtaking stretches of turquoise water, Madu Ganga will pique your senses in the best possible way. Observe elusive fauna, including crocodiles and water snakes, and witness traditional fishing methods along the shallow end of the river.
LEAVE THE PLANNING TO US
Shake off the stress of holiday planning. Let the Elite Concierge take care of all your bookings and arrangements, from transport, tours and restaurant reservations, to any special requests for your arrival. We're here to make your holiday experience extraordinary.
Quick facts
Location
Kosgoda, Bentota, west coast, Sri Lanka.
Capacity
8 adults and 2 children (4 bedrooms: 1 king-bedded master; 2 guest rooms with king beds and 1 with a queen-size bed). A sofa bed in the Blue Room mezzanine can sleep 2 children.
Living areas
Furnished entrance pavilion and breakfast area; main living room; dining room with table for 12; TV lounge.
Pool
Length 12m x width 5m x depth 1.5m.
Staff
Villa manager (off-site); greeter; chef; villa attendants.
Dining
Western, Sri Lankan and children's dishes. Meals are served family-style and for sharing. Requests accommodated (including special diets).
Communication
WiFi internet access; landline for local calls (international calls chargeable at cost). Computer, fax, printer and mobile phone can be provided on special request (extra charges apply).
Entertainment
Satellite channel TV; CD/DVD player; iPod dock & Speakers; board games.
For families
Saffron & Blue is an ideal villa choice for families. The mezzanine with sofa bed makes the Blue Room a good family suite, and a baby cot and high chair can be arranged with prior notice. Please notify us at the time of booking if you would like us to source any other children's equipment on your behalf. This villa is also perfect for pet owners alike as it is pet-friendly.
Wellness
With 24 hours' notice, in-villa massage treatments and yoga classes can be organised at Saffron & Blue (extra cost applies).
Transport
Airport transfers can be arranged at minimal cost. Chauffeured cars can also be arranged for daily rates, and for short local distances a tuk-tuk can be hired. Parking space is available next to the villa for self-drivers.
Additional facilities
Jacuzzi (in 2 bedrooms); barbecue; diesel powered back-up generator; safety deposit boxes.
Property area
745sqm (villa); 1495sqm (land).
The layout
Indoor Living
Spacious sitting area with large sofas
Dining room with a square table for up to 12 diners
Semi-open breakfast nook with cement table and wooden chairs
TV room
Fine art pieces collection
Outdoor Living
Private outdoor pool
Jacuzzi with beach view
Outdoor sitting areas
Spacious green lawns
The rooms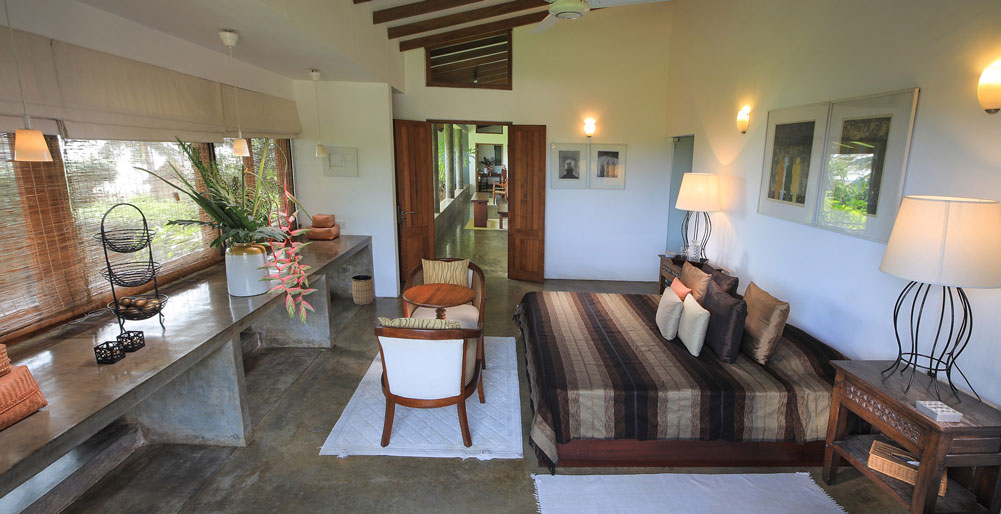 Bedrooms
Four spacious bedrooms, three with a king-size bed and one with queen bed
Ensuite bathrooms with bathtubs and standing showers
Air conditioners, ceiling fans, in-room safe
Dining
At Saffron & Blue food is taken very seriously. That's because the owner hails from a family renowned for their food. So, what you eat and how much you enjoy it, is considered to be a very important aspect of your villa stay.
Plan your daily menus with Chamith, the villa's resident chef, who has been impeccably trained under the watchful eye of celebrity gastronome, Koluu. No stay is complete without sampling freshly caught seafood (including cuttlefish, prawns, succulent crabs), the luscious array of tropical fruits and vegetables, or roast paan, a crusty Sri Lankan bread.
Chamith is trained to produce meals that suit each and every palette and will ensure that spice levels are to your preference and that children are kept happy with their favourite dishes.
You will have the choice of purchasing groceries yourself at local markets and asking the chef to prepare meals, or providing grocery money to the chef, who will do the purchasing on your behalf. You are also welcome to make use of the kitchen if you enjoy doing your own cooking
View a sample menu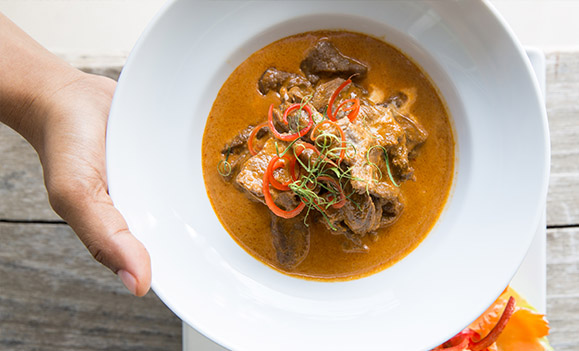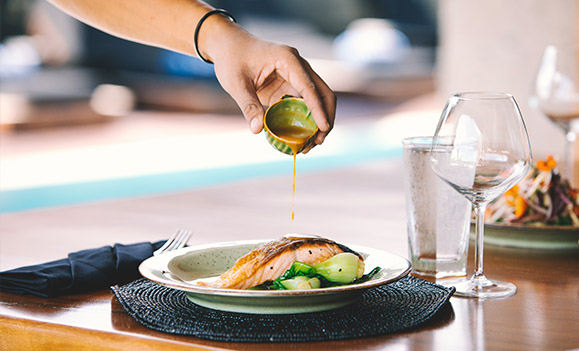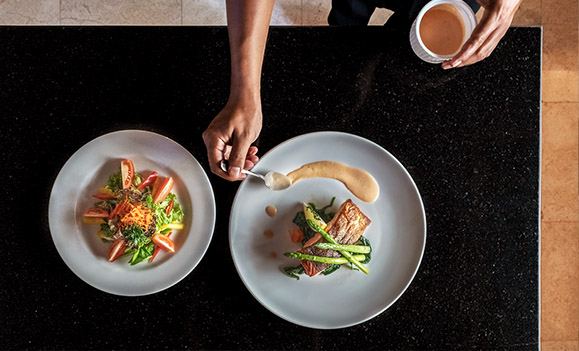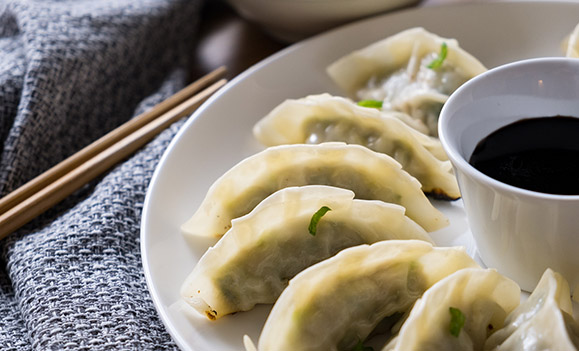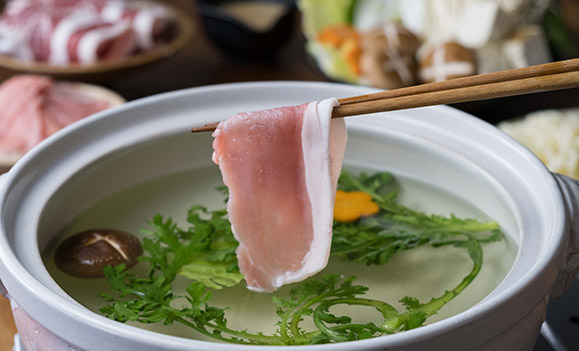 Reviews
What happens at Saffron & Blue doesn't stay at Saffron & Blue. Going to the market by bus to buy crabs with Rajeewa is an experience I will treasure for as long as I live. It's also a good story to tell friends back home. A jog in the neighborhood inspired me to adopt a classroom in the nearby village school. I go there with people who are close to me. We enjoy unwinding, catching up on the
... more
16-Dec-2018 - 18-Dec-2018
Prerana M
Indonesia
Such as incredible experience with the most amazing service, we will definitely be back. Thank you Kumudu and staff for making my bachelorette weekend so special. I will never forget the memories. Love love love Comodo and the staff, the chef is amazing. Will surely be back and thank you so much Saffron & Blue. Top hospitality and attention to detail, bless you all.
16-Nov-2018 - 18-Nov-2018
Ranil D
Singapore