Villa Pooja Kanda
The villa you chose is no longer available for rental from us but we have a portfolio of Elite Havens in various locations around South East Asia for you to choose from. Alternatively feel free to send us an enquiry and it'll be our pleasure to help you find the perfect villa for your next holiday.
A holiday here includes

Cliff Top Views

Staffed

Private Chef

Private Pool
Elite Concierge
This majestic five-bedroom villa stands proudly on a verdant hillside just inland from Sri Lanka's beautiful southern coast. Exceptionally spacious, private and tranquil, Villa Pooja Kanda is wrapped by a two-acre tropical garden with an extensive lawn at the front. Borders overflow with flowering shrubs and exotic foliage, and this tamed wonderland makes a paradise for wildlife and birds.
Designed in the Dutch colonial style, Villa Pooja Kanda blends the new with the old. Imposing pillared verandas furnished with rattan loungers spill onto an emerald lawn and lead into airy living and dining areas through elegantly arched doors. Two of the bedrooms are on the ground floor while the remaining three offer garden views from the upper floor.
The villa's jungle swimming pool is blissfully inviting, as are the cabinets of well-thumbed books and the air-conditioned TV room sporting an oversized cushioned daybed. Nothing is too much trouble for the staff team; whether you need a tuk-tuk to explore the local sights, a sumptuous seafood barbecue or a special birthday surprise, they will make it happen.
Groups of friends and families will love the spaciousness of Villa Pooja Kanda, which comes with plenty of children's facilities including a pool safety fence, two extra beds, a cot, a variety of games and other essential baby equipment. Even if you come as a big family group, the villa's roominess allows each generation ample space to relax and unwind.
Villa Pooja Kanda is located in a rural village a few kilometres inland from Habaraduwa, with many attractions close by. The villa makes a blissful base for enjoying the region's golden beaches, the serenity of Koggala Lake and the southern tea plantations, while the striking UNESCO-listed Galle Fort is only a 20-minute drive away. Activities include cycling Galle's hinterland, scuba diving and seasonal whale watching.

this elite haven.
Luscious garden alive with wildlife
Verandas make the most of the views
Private hilltop location
Delightful 'jungle' swimming pool
Local village vibe
Need more info on this villa? Floor plans, services, images and reviews.
Click here to view the owner's comprehensive website
www.villapoojakanda.com
21-Dec-2019 - 29-Dec-2019
"Wonderful relaxing time for our family here at the villa. The staff were always kind and considerate and helpful with local arrangements (e.g. Tuk Tuk etc). The Chef! What can you say less than excellent throughout. We wish you all well in the new year."

Leah K, United Kingdom
Rates and availability

Promotions
Plan and Save

Book early and get up to 15% off on villa rates

Valid for stays from 2 August 2021 to 19 December 2022


Terms and conditions:

- Valid on new bookings received from now onwards

- Valid for stays from 2 August 2021 to 19 December 2022

- Must be booked 120 days in advance of preferred stay dates

- Discount varies based on season dates

- May not be combined with other discounts and/or special offers

*At Elite Havens, we understand that flexibility is required for travel planning in the current COVID-19 scenario, so should your flights be cancelled or a government travel advisory require you to be quarantined, we will convert your booking to a credit note valid for 12 months (same villa, subject to availability). Terms and conditions apply.
Discounts
Early bird enjoys up to 15% discount when booking 120 days in advance.
Last minute bookings enjoy up to 15% discount when checking in before 21-Feb-2022.
Quick facts
Location
Koggala, South Coast, Sri Lanka.
Capacity
10 people (4 king-bedded rooms; 1 queen bedroom). Additional 3 single mattresses available on request (for children; no charge).
Living Areas
Spacious fully-furnished sitting room and verandas; indoor dining for 10; outdoor dining for 6; air-conditioned TV lounge.
Pool
10m x 7m x 1.5m.
Staff
Part-time Villa Supervisor; full-time chef; stewards; gardener; 24-hour security. Additional services such as spa therapists and babysitters can be arranged if requested well in advance, at an additional charge to guests.
Dining
A selection of western and Sri Lankan dishes can be ordered from our Suggestions Menu (including special diets). Meals are served family-style and for sharing. If ordered in advance, as the round shopping trip takes about three hours. No additional charges are added for the preparation of guests meals, and guests only pay for the total value of the receipts given to them.

Communication
WiFi internet; telephone for local calls.
Entertainment
42-inch flat-screen TV with satellite connection; iPod docking station; books; games.
Spa
Villa staff will arrange for a trained masseuse to come to the property at a prearranged time at your request.
For families
Pooja Kanda is exceptionally well-equipped for families. Facilities include a high chair; baby cot; car seat; books; games; pool fencing; stair gates, playpen, baby monitor and changing mat.
Transport
On request, and for an additional charge, your villa supervisor can arrange for a car and driver. Please give 24 hours prior notice.
Additional facilities
Barbecue; First Aid Box.
Property Area
664 sqm (villa); 8,000 sqm (land).
Managed by
Madeleine Lanka (Private) Limited.
Marketed by
The layout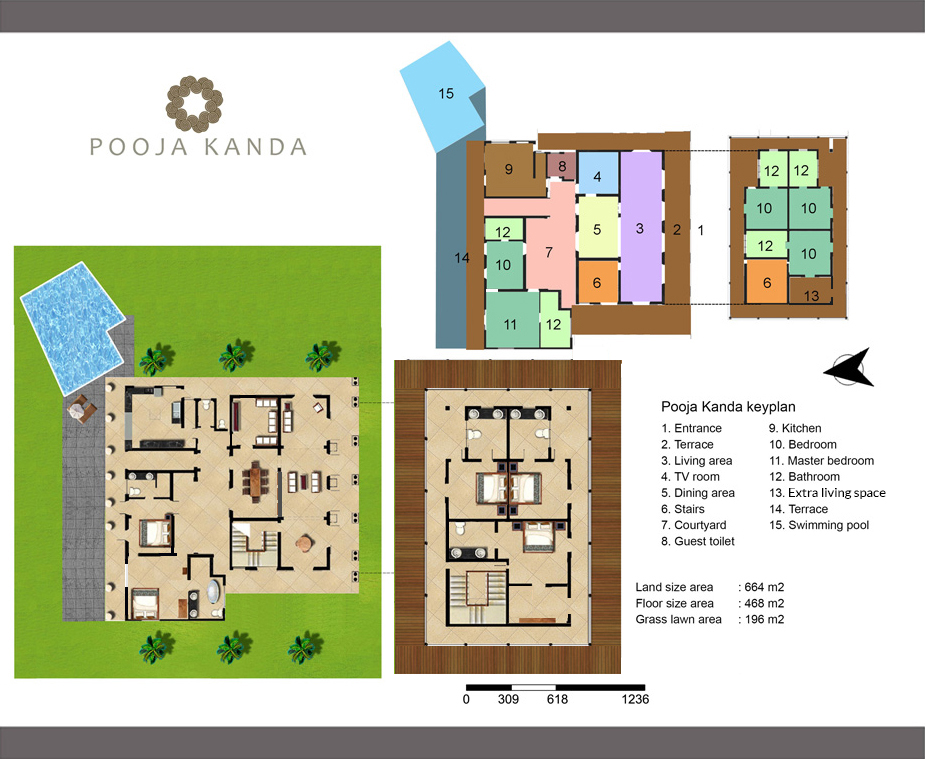 Indoor Living
Living room with multiple sets of elegant arched doorways spilling onto the front veranda, furnished with sofa, daybeds and table with four chairs
Fan-cooled dining room with wooden dinning table for eight
Fully equipped kitchen
Air-conditioned TV room with built in sofas and 42-inch Satellite TV
Outdoor Living
Swimming pool (10 x 7m) fringed by lush foliage, veranda and deck chairs
Alfresco, glass-topped dining table for six on back veranda
Billowing gardens filled with frolicking monkeys and birdsong
Small outdoor dining table in verdant jungle setting
Stone steps leading to a high rocky outcrop with built-in seat
Wide, pillared verandas encircling both floors of the villa
The rooms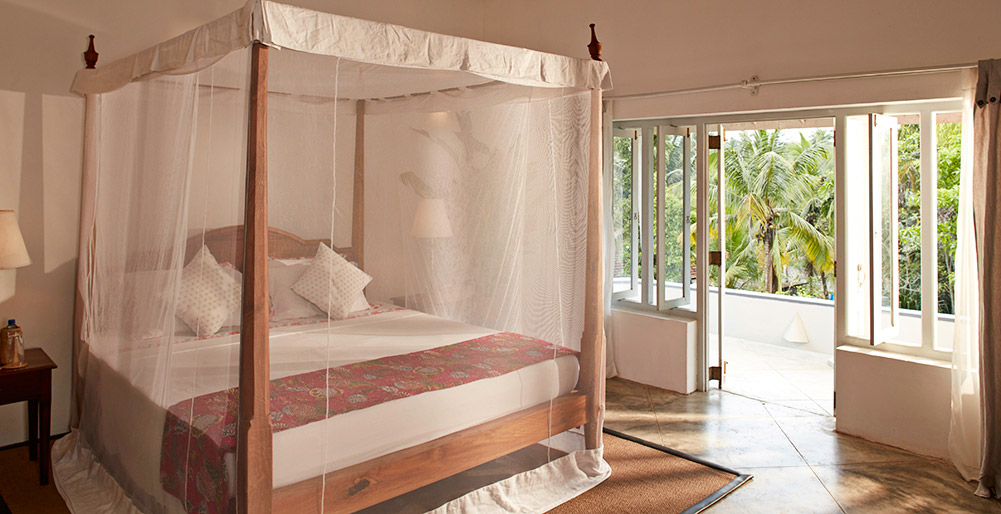 Master Bedroom
Located on the ground floor
This room is interconnected to Bedroom 2, making these rooms an ideal family suite
Super king-size bed draped in mosquito netting
Lush garden views
Furnished with wardrobe and sofa
Ensuite with hot water shower and bathtub
Air-conditioned
Bedroom Two
Located on the ground floor interconnected to master bedroom
Queen-size four-poster bed draped in mosquito netting
Lush garden views
Air-conditioned
Ensuite bathroom with hot water shower
First Floor Bedrooms
Three air-conditioned bedrooms are located on the first floor
Four-poster beds
Encircled by shady balcony
Light and airy with arched doors framing serene garden views
Air-conditioned
With twin sinks and hot water showers
Location
Pooja Kanda sits on the top of a hill near Koggala and the south-coast market town of Habaraduwa, ten minutes' inland from the beach. Famous for accommodating the celebrated Sri Lankan author, Martin Wickramasinghe (who has an interesting museum dedicated to him in town), Koggala has a fine stretch of beach and is renowned for its enchanting lagoon. Here, rich jungle spills onto a meandering expense of water traversed by fishermen leaving nothing but soft ripples in their wake. A boat ride to spice gardens, bird-filled islands and Buddhist temples is the best way to familiarise yourself with these sensational surroundings and be absorbed by local life around the lake. Galle's seventeenth-century Dutch fort – a UNESCO World Heritage Site – is a 20-minute drive away. The fort's narrow cobbled streets are home to splendid colonial buildings, tiny cafes, churches, boutiques and museums whilst its mighty grass-tufted ramparts are the place to be for superb seaside sunsets.
Things to do
Your villa supervisor has a wealth of information about nearby places of interest and will help arrange transport and make any bookings required. Do also ask the staff about the local area. Many of them live nearby and will be able to give an interesting insight into some of the fascinating aspects of Sri Lankan life.
In the meantime, here's a taste of the many and varied activities on offer within reach of Villa Pooja Kanda
Head to

Koggala

or

Habaraduwa

beach for a long walk along seemingly endless golden sands.

Take a late afternoon

boat trip atop the glorious Koggala Lagoon

to look for birds, visit spice gardens, watch fishermen and experience the sun setting over the water whilst meandering this peaceful waterway.

The late Martin Wickramasinghe, a famous Sri Lankan author, was once a resident of Koggala. You can now visit his old home in town, which has been made into an interesting

folk museum

.

In nearby Habaraduwa is a

turtle hatchery

that the kids will love. For a small fee you can admire the resident turtles and even watch as the hatchlings are released into the sea.

Head to the beach

. There are many idyllic beaches within a 30-minute drive of the villa, and it's hard to resist the irresistible draw of the warm turquoise sea.
Experience the living museum that is Galle Fort by taking a relaxing guided wander around the charming backstreets of this

UNESCO listed fortress

; stop and chat with locals, admire the fort's many heritage buildings, visit the growing collection of boutiques and finish off by watching life playing out on top of the ramparts at sunset.

Take a trip into Galle town

to experience the multi-sensorial spectacle of the fish, fruit and vegetable markets and browse the colourful roadside wares of peddlers on its buzzing Main Street.
Embark on a

scenic bicycle ride

through the emerald green paddy fields of Galle's hinterland with Idle Tours. Enjoy the ride at your own pace and gain a unique perspective of village life. End up at the beach with a glorious cool down swim.
Yatagala Temple, just inland from Unawatuna, is an

ancient Buddhist temple

that's best visited on a full moon holiday when white clothed devotees flock here clutching prayer flags and bunches of flowers. Another notable local temple is at Kathaluwa.
Around 10 minutes' drive from Villa Pooja Kanda is a tea factory, whose tea leaves are the closest of any in Sri Lanka to the sea.

Handunugoda Tea Factory

is not only famous for its black tea but also for its white tea, which retails as some of the world's most expensive tea. Tours of the factory include a tea tasting session and cake.
Go

whale watching

! Just a half hour drive from Villa Pooja Kanda is Mirissa where boats depart every morning during the season (November until April) for whale and dolphin spotting tours. It's thought to be the best place in the world to sight blue whales. Enroute, stop at Ahangama to photograph Sri Lanka's famous stilt fishermen.

Eat out

! Excellent local restaurants include the luxurious Fortress Hotel, the homely Italian-owned WB and Cantaloupe Aqua's top Thai menu. Wijeya Beach Restaurant, near Unawatuna, is a popular spot with expats whose rooftop bar is the place for

spectacular sundowners

over the sea.
Leah K, United Kingdom, 21-Dec-2019 - 29-Dec-2019
Wonderful relaxing time for our family here at the villa. The staff were always kind and considerate and helpful with local arrangements (e.g. Tuk Tuk etc). The Chef! What can you say less than excellent throughout. We wish you all well in the new year.
Anthonia V, United Arab Emirates, 29-Nov-2019 - 06-Dec-2019
It was a pleasure to stay at the villa. Many thanks to the kind staff who made our stay extremely pleasant. Hopefully we will return in the near future.
Kevin B, Malaysia, 20-Nov-2019 - 22-Nov-2019
A marvelous, magical stay, we had a wonderful time here! Big thanks to Kumudu and the team for making our stay here a memorable place and will stay in our memories for a long time. Great experience with the team at Pooja Kanda, Thank you for the great time and the fantastic food prepared with love and care. We all had a wonderful time in the fantastic property. See you all again.
Tessa F, Hong Kong, 24-Oct-2019 - 25-Oct-2019
We had a wonderful stay at Pooja Kanda and definitely wish to stay longer. The food was delicious (especially the pastas) and the animals we saw for example the peacock were amazing. We loved every minute of it. Eventually we had to go and we were devastated. Thank you so much for our amazing time here at Pooja Kanda. PS the cricket matches were the best.
Tessa F, Hong Kong, 17-Oct-2019 - 24-Oct-2019
Thank you all for the lovely stay at Pooja Kanda. We have been very well looked after and the girls had a wonderful time and would like to take the resident roof top Peacock back to Dubai.
Christopher A, United Arab Emirates, 20-Sep-2019 - 25-Sep-2019
Thank you all for the lovely stay here at Pooja Kanda. We have been very well looked after, and the girls have had a wonderful time and would like to take the resident roof top peacock back to Dubai.
Nirasha I, Sri Lanka, 13-Sep-2019 - 15-Sep-2019
We have had the wonderful two days in this amazing villa. Like to also thank the friendly staff. Their services were superb. Thank you, thank you all. Hope to be able to come back.
Veronique P, Switzerland, 14-Apr-2019 - 27-Apr-2019
We want to thank the staff and the house for the great time we had together! The service they gave us was 100% perfect. We fell in love with the pool, the bbq, and the pond. Hopefully we will return.
Katherine H, United Kingdom, 30-Mar-2019 - 12-Apr-2019
We have had the best two weeks in this haven that is Villa Pooja Kanda. Thank you to Loku, Sunanda, Gunnasingh and Kevindu for making it so easy for us to relax and for us to spot monitor lizards and monkeys in the garden.
Chris C, Singapore, 27-Mar-2019 - 30-Mar-2019
Thank you to all the wonderful staff and management for our wonderful holiday. You made our stay so memorable and we leave with beautiful lasting memories. We loved the cooking!! The staff were very attentive and took care of our every need! Loku made sure everything was taken care of!!
Gail A, United Kingdom, 21-Feb-2019 - 27-Feb-2019
We have all greatly enjoyed our stay at this beautiful serene place. The staff have been quite exceptional - going above and beyond to make our stay a memorable one. We will all have very lovely memories of our time spent here and hope that perhaps that one day we may return again with our extended family. Love and best wishes to everyone.
Stephanie M, France, 17-Feb-2019 - 21-Feb-2019
Thank you for everything. We have been very impressed by the standing of this house. We enjoyed the service and the very good food home made by a very good chef. Everybody was very nice and our stay was memorable.
Constance C, France, 09-Feb-2019 - 16-Feb-2019
This is a tough to describe the happiness the staff and accommodations of Pooja Kanda provided to our group of 10 Frenchies. Thank you for your welcome - as cheerful and pleasant as the house. We now carry memories with each room. Your service with constant smiles has made our stay magical, within the lush nature of Sri Lanka. Thanks to you, our thirties are not something we dread but something we wish lasted forever. For that, chances are we will be back sooner than expected. We hope we can somehow repay you for your kindness, which is not a common feeling when leaving a more regular guesthouse or luxurious hotel, Pooja Kanda has it all.
Jessica S, Singapore, 02-Feb-2019 - 09-Feb-2019
We had a beautiful week at this villa. Beautiful surroundings and charming building. There were five of us so each one of us had our own room. It was very hard to choose our "favourite" room so we gave up since each one of them have there own charm. The staff were great, the food also delicious. For us, Sri Lanka has proven to be a country worth visiting several times. Hope to come back soon, thank you to the entire team.
Shane D, Australia, 12-Jan-2019 - 27-Jan-2019
Such a wonderful place. All the staff made it even more wonderful. I loved the time gathering together with my family who I have missed. Now we are together, I never want to let go. Thank you all so much for everything - you all made it memorable.
Jane D, United Kingdom, 22-Dec-2018 - 05-Jan-2019
This was a special holiday for us to all be together as a family. It was everything we hoped for. The villa is lovely and the staff exceptional. Every part of the two weeks will be wonderfully remembered by us. Amazing holiday and great to be together in such a wonderful setting. The staff and the villa were amazing and we couldn't have asked for much more. Cant wait to return to Sri Lanka again and crack the surfing. What an epic holiday, in such an amazing villa.
Emily M, Switzerland, 01-Dec-2018 - 09-Dec-2018
What a wonderful week we have had a Villa Pooja Kanda. A heaven of peace and tranquility which has allowed us plenty of relaxation. Thank you so much to all wonderful staff who have looked after us during our stay. Nothing has been too much trouble, every request met with a smile and "yes of course." Chef Sunanda has prepared some wonderful food for us and coped admirably when a few additional friends turned up. The twins (15 months) received so much attention from all the staff. We are first time visitors to Sri Lanka but I have no doubt we'll be back to explore more wildly and enjoy the hospitality of these wonderful people. I am a great aunt to the above twins and have had a wonderful week with these darling boys the rest of my lovely family. I cannot believe how amazing all the staff have been at the villa. We have loved it all and thank you all so much for making our stay so perfect. They will come back and I will be with them.
Robert C, Hong Kong, 03-Nov-2018 - 11-Nov-2018
Thank you all for the most wonderful week of rest and relaxation. I cant think of a better place anywhere in the world to while away a few days and escape the trials of every day life. Not even a famous victory for England down the road in Galle would tempt us from this paradise. The wildlife was spectacular, with birds galore (including peacocks), monkey's, mongoose and giant lizards keeping us entertained. The staff made our stay. Every day they made sure we did not want nor worry for a thing and when the children got too much, it was no trouble to take them off us for a few minutes of playtime. The food altogether too good. We shall return no doubt. Its only a matter of time.
Izabella K, Sri Lanka, 25-Oct-2018 - 28-Oct-2018
Thank you very much for having us. We enjoyed the stay. Staff were very kind, food very tasty, one more thank you to everyone.
Jane M, United Kingdom, 01-Sep-2018 - 08-Sep-2018
A huge thank you to allthe staff at Pooja Kanda for their excellent care and attention to detail. We had a most memorable, enjoyable week and you have truly spoilt us! After touring Sri Lanka for the first week of our holiday it was lovely to be welcomed by the Pooja Kanda team! Thank you all for all the relaxing time we spent at the villa and also for the excellent and friendly service that you provided. We have made many special memories during our stay and would love to visit in the future.
Alan T, United Kingdom, 16-Aug-2018 - 25-Aug-2018
Thank you everyone at Pooja Kanda. We had a wonderful stay here. Perfect after a tour of Sri Lanka. Relaxing with delicious food and amazing service from all the staff. A real treat. We will return without a doubt.
Joel M, Australia, 23-Jul-2018 - 26-Jul-2018
As a chef and travel blogger, I get to visit a lot of exotic places around the world, but i've never seen a villa with so much natural charm and character. Living and swimming in the jungle tree tops with nature's smells, sounds and colours made this experience INCREDIBLE! The staff are super friendly and accommodating to all our needs. Our talented chef created amazing meals both local and traditional. We truly enjoyed our stay and would highly recommend this villa to anyone wanting a different experience. Thank you for an memorable experience.
Scott S, Australia, 14-Jul-2018 - 16-Jul-2018
Thank you so much for such a warm welcome, heartwarming food and a lovely stay. We will never forget the delicious food and the magic moment of seeing the peacocks on the day they hatched! But most of all, thank you for taking care of our family with your excellent, attentive and friendly service - what a gem you have! We've loved this special place.
Scott S, Australia, 07-Jul-2018 - 14-Jul-2018
To all at Pooja Kanda, we are a family of six from Australia, dad and mum and 4 kids. Spent a week traveling through Sri Lanka and this has been by far the most memorable experience for us. Aside from the magnificent house, Sunanda, Chaminda, Sunil, Apoo and "Anaconda" have made our stay unforgettable. From the many trips to the market with Chef Sunanda, and the resulting feast that you created for us, the cricketing experience that Chaminda shared, the many "Milo" drinks and tequila cocktails sunil whipped up for us, Apoo's amazing tricks with the vape and karate moves and of course Anaconda's quiet, ever present charm. Not forgetting the arduous task the lovely ladies had of tendering to the copious amounts of washing we deposited each day. Rob and Loku, you have impeccable standards and we could not have asked for a more welcoming, attentive, discreet and humble group of people to look after our every need during our stay. Thanks for joining us for dinner on Saturday night, we enjoyed it.
Sandra B, Australia, 27-Jun-2018 - 04-Jul-2018
OMG what a beautiful place! Pooja Kanda exceeded our expectations - the grounds, pool, rooms, all gorgeous and staff were fabulous too. A family of 4 - divorced mum and dad (yes strange) and 2 young sons 23 & 21 - a holiday from Australia and we couldn't have asked for anything more. What a sensational place for a well earned week of relaxing, eating, drinking and the World Cup.
Cherian R, India, 17-Jun-2018 - 20-Jun-2018
We - a group of a dozen, spent an amazing time at Pooja kanda from 17th to the 20th June. The lovely bungalow lived up to it's expectations completely. The super clean rooms, the public areas, the pool, the garden - everything was up to the mark. The staff were always willing and pleasant and catered to our every need and request. A big thank you from all of us for making our stay so enjoyable. We take back warm memories of a gracious country and gracious people.
Bella S, United Kingdom, 03-Jun-2018 - 08-Jun-2018
Thank you so much for most wonderful stay! We had the most amazing and relaxing time. The staff were so helpful and kind. We wish we could have stayed longer - the food was absolutely delicious. Thank you so much for an incredible stay.
Izabella K, Sri Lanka, 04-May-2018 - 06-May-2018
As a group who live in Sri Lanka, we have stayed at many villas here. This has been our best experience - a lovely villa which is great but also well trained charming and highly efficient staff. Something that is unusual here. A big thanks to the team who looked after us.
Lizzie and Dan C, Singapore, 07-Apr-2018 - 14-Apr-2018
To all the team at Pooja Kanda, what a wonderful week we have had. The villa is absolutely beautiful, in its stunning surroundings – we've loved keeping our eyes out for the beautiful wildlife we can spot. But the week has been made even more special by how we have been looked after by the villa staff. A special and a huge thank you to Rob and Loku who went above and beyond by taking us to the Doctor in Galle twice and staying with us the whole time. Loku you are a wonderful woman. Thank you again.
Ben W, United Kingdom, 24-Mar-2018 - 29-Mar-2018
Thank you for a fabulous stay at this wonderful villa in a fantastic country. The staff were brilliant, very accommodating to our 6 adults and 8 cousins under 10. Fish curry, hoppers and dhal for breakfast, great barbecues and all with a smile. We had a great trip out to the beach, swimming with turtles and loving the rope swing. We will be back. Oh and some great England v Sri Lanka cricket games on the front lawn – with tea and gin and tonic breaks!
Fred L, United Kingdom, 03-Feb-2018 - 10-Feb-2018
Thank you for a wonderful stay at Villa Pooja Kanda. We had a fun filled holiday with our 3 grandchildren and enjoyed every minute. We wish we could have stayed longer and hope to come back another year. The staff have been attentive and kind and nothing has been too much trouble. Loku has catered to all our requests for transport, where to go and has made us feel extremely welcome - we cannot thank her enough.
Mary Jo M, Indonesia, 24-Jan-2018 - 03-Feb-2018
Thank you so much for making our holiday one of the most memorable holidays my family and I have ever had. We enjoyed the physical surroundings of the villa, the comfort you afforded us, the incredibly delicious pool, and our outings. I will treasure the memory of our time here forever. We arrived as tired weary strangers and we leave as rested rejuvenated friends.
Sarah C, Singapore, 14-Jan-2018 - 21-Jan-2018
A huge thank you to all of the team at Villa Pooja Kanda - we have been so spoilt here. Chef Sunanda, Chaminda, Sunil and Yasiru not only looked after our two girls brilliantly - they became the best of friends. The birthday party with all of their (staffs) children and grandchildren for Beatrice, our four year old, has a particular highlight and an memory we will cherish. Chef Sunanda has hidden skills as a pasty chef - not just an amazing cake but a table groaning with wonderful treats. A brilliant week - thank you all!
Colin A, United Kingdom, 30-Dec-2017 - 06-Jan-2018
We had a wonderful week in the villa. Enjoyed the pool, the sights around here - particularly the tea plantation, the lake trip including the spice island and trips to the wonderful beaches nearby. It has been a perfect base for relaxing and the staff have been great. Our special thanks to Sunil who is always smiling and friendly and to chef Sunanda whose food is absolutely amazing. I wish I could stay longer (age 7) I liked swimming in the sea with turtles on my last day.
Jayne E, United Kingdom, 23-Dec-2017 - 30-Dec-2017
We had the most wonderful stay at Pooja Kanda. The house is perfect and works so well for a mix of age groups - I wish we were staying longer. All of the staff are so lovely and couldn't be more helpful. Always smiling and ready for a game of cricket or bird, monkey, peacock and fruit bat watching. The food has been amazing and we are all feeling very healthy. Special mention to Sunil and Sunanda but everyone else has been wonderful too. We loved the lovely smiley washing lady who has washed copious amounts of laundry and still smiling. Thank you.
Winifred C, Australia, 15-Dec-2017 - 23-Dec-2017
We have absolutely loved our week at villa Pooja Kanda. It is the perfect place and in the perfect spot. More than that - the staff cant be faulted. Everyone is so helpful, friendly and professional. The food has been a particular highlight - Chef Sunandra is Michelin Standard. We hope to return one day.
Annie A, United Kingdom, 07-Dec-2017 - 14-Dec-2017
Thank you all so much for such a wonderful week. The manager was constantly smiling, always helpful and looked after our every need. I am not sure when he went to sleep! So - and I think I write for all the guests, he deserves special mention for his excellent service. Everything has been fantastic, such a memorable week for all of us. Fantastic food from Sunanda and exceptional service from Sunil and his team. Thank you for such as amazing week. We have both relaxed and felt so at home. We will remember our week and cannot wait to return.
Stuart B, United Kingdom, 20-Nov-2017 - 27-Nov-2017
Thank you so much for looking after us this week. Everything from the rooms to the pool, the food to the copious amounts of drinking, everything was AMAZING! All of the staff are a credit, so friendly, helpful and nothing too much. Thank you. What a truly unforgettable week. The villa is beautiful and finished to an amazing standard! What has made this week has been the terrific staff who went above and beyond to make our stay even more memorable! An outstanding week.
Shanara P, Sri Lanka, 03-Nov-2017 - 05-Nov-2017
We cant thank you enough for a lovely fabulous week. The villa is truly gorgeous and the staff were kind and helpful. The food was incredibly tasty and we have had the best time here. It has been a very relaxing and rejuvenating holiday in Sri Lanka on our last nights. Thanks a million to everyone who made it happen.
Caleb C, Singapore, 01-Jun-2017 - 03-Jun-2017
Yes very enjoyable from 1st June - 3rd of June. There was an awesome collection of movies. The staff also were extremely hospitable and always there to help us. The Chef made excellent food. Furthermore, the rooms and the pool were sublime.
Dr. Shama F, United Kingdom, 28-Apr-2017 - 30-Apr-2017
We had a wonderful time from 28th to 30th April at the villa Pooja Kanda. The wonderful Laliru, Sunanda, Sunil, Rusuru, and Childa were so hospitable and looked after our every need. The food was delicious and the facilities were great!! This villa can be highly recommended.
Diana D, United Kingdom, 15-Apr-2017 - 22-Apr-2017
We had a most wonderful week in this beautiful villa. It has an charm and grace and the days flowed past far to quickly and gently. I am so grateful to all the staff for all their many efforts daily to make our stay comfortable and enjoyable. The beautiful flowers and cake which they provided for our daughters birthday made her special day so the more memorable. I don't normally do this type of holiday but I am certainly reconsidering this in the future. Many thanks to all.
Francisco Xavier A, Sri Lanka, 09-Apr-2017 - 15-Apr-2017
Pooja Kanda was the last stop in out holiday, we couldn't have chosen it better! The service was superb! The staff was so respectable and sympathetic and always aimed to servce us the best way. The food was outstandingly delicious, every meal was one to look forward to! The rooms were very comfortable were always very clean and tidy. The villa really felt like home. We were very appreciative to have experienced this wonderful, joyful environment, and we surely hope to return to this paradise. Sri Lanka is definitely a place to cherish and Pooja Kanda was certainly one of the highlights of our trip.
Antonia P, United Kingdom, 02-Apr-2017 - 09-Apr-2017
We all had a lovely time at Pooja Kanda Villa. The food was absolutely delicious! The beach was lovely and we swam with gigantic turtles! We went to a turtle aquarian and the baby turtles were really cute! We also went on a boat trip and the islands were fantastic! The staff were really kind and we loved coming here. One of the best family holidays we have ever had. The staff at the villa were so attentive and looked after our every need. The food prepared by the Chef was out of this world, the best curries we have ever eaten! Such a great experience for a young family and a wonderful half way port between the UK and Australia to catch up with family. We wouldn't hesitate in returning to Pooja Kanda and we look forward to one day seeing you all again.
Giandomenico M, Sri Lanka, 03-Mar-2017 - 05-Mar-2017
Amazing stay at an amazing villa! We loved our stay at Pooja kanda! Your staff are supurb and we were well looked after! Look forward to more stays here.
Anjali W, United Kingdom, 16-Feb-2017 - 21-Feb-2017
We had a fantastic time at Pooja Kanda! The staff have all been so kind and sweet with the children. The food has been delicious and the Chef catered for all of our separate needs and wishes brilliantly. We were a mix of meat eaters, vegetarians, vegans, dairy free and gluten-free!! Thank you also to Rob and Loku for looking after us so well. We would love to return one day.
Gayan H, Sri Lanka, 14-Feb-2017 - 16-Feb-2017
We had a lovely time @ Pooja Kanda. The service was excellent and the food was really tasty. We needed a special diet for one of our guests and it was catered for with a willingness and a smile. Thank you Loku, Rob and the rest of the staff. We will come back again.
Sarah H, United Kingdom, 28-Jan-2017 - 04-Feb-2017
A fabulous place for family from London and Singapore to meet up for a special family holiday together - out of this world in so many ways - far from our normal lives in such a beautiful place with such friendly and efficient people looking after us, and delicious food to eat - chef Sunanda did us proud with a fantastic barbecue last night! We have all loved the pool, the monkeys, the dames on the lawn, the trips to Galle, Koggala Lake and the bike ride, as well as the time to do nothing. Thank you to everyone here for looking after us so brilliantly.
Roderick N, Australia, 23-Dec-2016 - 03-Jan-2017
What a wonderful time we had here at Pooja Kanda. It truly is a paradise here. The welcome and care of all the staff have been outstanding. We have had an unforgettable Christmas and New Year with amazing food and hospitality. It has been a wonderful reunion for our international family in magical Sri Lanka. Thank you so much. What a wonderful place! Not only is Villa Pooja Kanda breathtakingly beautiful, but the people who work here couldn't be kinder. They really made our stay extra special! I hope we come back one day! The extra effort that was out into the Christmas and New Years decoration really gave our holiday another element of wonder. Thank you. Great start to 2017!
Charmaine A, Australia, 07-Dec-2016 - 21-Dec-2016
My second visit to Pooja Kanda and I couldn't wait to get back here. I loved that everything was the same - the monks chanting, and bread cart tunes, the monkies, kingfishers, and tiny birds. This time we discovered the peacocks. Go for a walk early morning or late afternoon (or tuk tuk). Turn right out of the gate, and keep walking straight through the villages, until you come to the paddy fields on your left....... about 20 minutes. There you will see beautiful peacocks and peahens. This place fills me with such joy. Thank you everyone for helping to make our stay here a paradise moment. Will miss the amazing feasts prepared for us by Chef Sunanda every day, and the lovely Villa staff.
Carolyn T, Singapore, 20-Nov-2016 - 27-Nov-2016
We had a lovely stay. The staff were attentive and always ready to help with a smile. We especially enjoyed the amazing meals prepared by Chef Sunanda. He shared his secret curry paste and even prepared extra portions for us to take home. Special thanks to Loku and Rob for helping arrange our numerous daily excursions - our first every visit to Sri Lanka was made even more special thanks to everyone at Villa Pooja Kanda. I will highly recommend my friends who plan to visit Sri Lanka - a wonderful country with beautiful people!
Sylvia S, United Kingdom, 24-Oct-2016 - 03-Nov-2016
A very big THANK YOU to all the attentive considerate, smily staff who have made our stay very special. The food has been absolutely lovely and each request for tea, coffee, met with a smile and excellent service. A special thank you for all the effort that went into making our family celebration so special and one will not forget. We will definitely recommend this lovely place to all our friends and acquaintances.
Oshea S, Australia, 20-Oct-2016 - 22-Oct-2016
We would like to thank all of the staff from Pooja Kanda for looking after us. From the moment we arrived we were treated like family. The staff were amazing and the chef brilliant. The villa had a great vibe and we will certainly be recommending the villa to anyone looking at a Sri Lanka getaway. Keep up the good work.
Luma M, United Arab Emirates, 29-Sep-2016 - 02-Oct-2016
Thank you very much to the lovely Pooja Kanda team. You've been wonderful, so attentive, patient and kind. Thank you for making us feel so welcome and amazingly well looked after. Sunil you are my favourite and I'll miss you the most!
Silvia R, Spain, 05-Sep-2016 - 09-Sep-2016
Thank you so much!! The stay in Pooja Kanda have been nice. We are very happy to finish our holidays here. The staff have been incredible, kind and friendly, we are felt in our home.
Keshan S, Australia, 07-Jul-2016 - 12-Jul-2016
Thank you for such a wonderful stay. The house is fantastic and housed our 4 families and kids comfortably. It was the perfect place for a relaxing catch-up with friends. The staff were lovely and helpful, especially catering our tribe of kids. The food was the best we've eaten in the country so hats off to the amazing chef!!! Thank you.
Narelle W, Australia, 19-Apr-2016 - 20-Apr-2016
Thank-you for a wonderful stay! We lead a very fast pace life and it was a great way to unwind & relax and take time out of the hustle and bustle! Staff were accommodating and lovely to deal with. The cook put together amazing meals which were thoroughly enjoyed by all. Will definitely be back.
Anna-Marie M, Malaysia, 26-Mar-2016 - 29-Mar-2016
Thank you everyone who has made out stay very enjoyable. We all felt very comfortable at home with your hospitality. We wish we could have stayed longer. The kids have had a ball and thank you for cooking special needs for all the kids..... Chef you are a great cook! We will come back!
Pooja S, Singapore, 20-Mar-2016 - 25-Mar-2016
Had an astonishing lovely stay, great food, awesome service! A very relaxed and chilled out few days spent here. I love Pooja Kanda.
Grace T, Singapore, 08-Feb-2016 - 13-Feb-2016
A great way to experience Sri Lanka! We came with 2 young boys and 2 grandparents, and Pooja Kanda did everything in their power to accommodate all our needs. Thank you for a memorable holiday!!
MS. W, China, 05-Feb-2016 - 08-Feb-2016
Highly appreciation Pooja Kanda. Although here is not home, warm and same as home. Staff in here is nice, they are not my family member, but the services as same as family member. I am very appreciated and will come again soon.
Lotta S, Sweden, 30-Dec-2015 - 02-Jan-2016
Totally amazing experience. Awesome staff, delicious food, lovely environment. The facility is magnificent. Like living luxurious with a djungle feeling monkies schreeching around the corner. I would suggest anybody visiting Sri Lanka to rent Pooja Kanda a couple of nights. All the best recommendations.
Calum T, United Kingdom, 16-Dec-2015 - 30-Dec-2015
This second Sri Lankan holiday is easily of of our very best holidays ever! Thank you very much!! Pooja kanda is a luxurious villa in a beautiful setting. It is very well run by the whole team, supervised by Loku, who were all incredibility obliging, attentive and caring. A lot of effort was put into (apart from so many other things) making Pooja Kanda uninviting for mosquitoes which was much appreciated!! Sunanda and team prepared wonderful, delicious meals. His culinary skills included a memorable X'mas barbecue which included a parrot fish we caught!! Sunil added to the charm of the villa by being rather endearing, cheerful character. Monty (what we decided to call the resident monitor lizard) added to our enjoyment by just appearing on the lawn. We do miss him when he doesn't appear. A special thank you to the security guards who kept us safe. Laundry came back beautifully folded, thanks to Gilmda. Somalata was very special too!
Salvatore Capasso, Italy, 22-Dec-2013 - 05-Jan-2014
the low rating for the bedrooms is affected by a lack of wardrobes
Shyam Srinivas, India, 27-Jan-2013 - 29-Jan-2013
"Perfect Bachelors Party Weekend"
We were a group of 10 who had come to Sri Lanka for my Bachelors Party.
For the first time ever, I have booked a place online and found the place to be far better than the pictures posted on the Internet.

Right from the time we entered Pooja Kanda we felt at home with the warm and courteous staff. The location just perfect, lush & regal. There was absolutely nothing we could complain about the Villa and its amenities in any way.
Since we were celebrating my bachelors party at Pooja Kanda, we were having late night pool parties at the Villa. Special thanks to Sushant (Chef) and the house boys (Tharanga & Dickman) who put up with all our late night food requests. They made us feel at home with their everlasting smile and eagerness to make our stay comfortable.

The food too was absolutely stunning (Sri Lankan Cuisine) with Sushant preparing Huge Spread's fit for the Royals!

A HUGE Thanks to the Pooja Kanda Team for giving us a Memorable and Unforgettable Experience.

P.S: We are already in the process of planning our next trip back to Pooja Kanda, hopefully by the year end.

Cheers,
Shyam Srinivas
India
Charmaine Agnew, Australia, 08-Dec-2012 - 22-Dec-2012


We felt very much a part of village life even though we were perched well above the nearly out of sight homes. Loved the early morning chanting,mullahs calls to prayer,drumming,and morning fires. Watched the morning ritual of monkeys crashing through the trees on their way to a day out feeding and watched it all in reverse at dusk. Marvelled at the busy birds of all colours and laughed at the squirrels antics. Pooja Kanda was a paradise for us....lush and floral. The property was beautifully maintained and the staff delightful. We ate delicious Sri Lankan cuisine for breakfast,lunch and dinner. Tell the chef how you like it and give him his head. Can't wait to go back...Cheers Charmaine.
Timothy Mackintosh-Smith, United Kingdom, 22-Aug-2012 - 29-Aug-2012
Wonderful, and absolutely unforgettable. Coming with my numerous 'family' - nine of us altogether, from 3-year-old twins upwards - from the tensions of the Middle East where we live, this really was a bit of paradise on earth. It's almost too difficult to single out particular memories, but playing cricket in the garden is something we don't do every day in Arabia. (Thank you, Tharanga and all the staff, for this and so much else.) If we had the time and the resources, we would come back to Pooja Kanda every single year.
Jean-Francois Beauve, Belgium, 02-Apr-2012 - 09-Apr-2012
We enjoyed it to Pooja Kanda, everything was perfect.
The splendid villa, delicious cuisine carefully prepared by the chef and his team.
Loku, the supervisor has organized a party for a birthday party with dancers and musicians, fireworks, BBQ, ..... unforgettable.
Everything was done for our comfort and we really enjoyed!

Thank you to Rob, the manager and his team (supervisor, cooks, gardeners, cleaning lady, Guardians) .... it was a dream for us and you've done!

At another time perhaps, but with the kids because I think it will be paradise for them too!

Thank you.

Sylvie, Sophie, Joelle, JF, Benoit, Michel.
MD, United Arab Emirates, 05-Nov-2011 - 08-Nov-2011
We really enjoyed our stay in Pooja Kanda. Everything was first-class. We were warmly welcomed by all the staff on arrival and they looked after us superbly the whole time we were there. The pool is delightful and the monkeys put on a show for us in the front garden every morning and evening. Susanta, the chef, was brilliant and he served up beautiful Sri Lankan cuisine for us, with healthy child-friendly options for our three children. Dickman and Taranga were great fun and spent a lot of time with our youngest. The villa manager, Rob, and the villa supervisor, Loko, made sure we always had everyting we needed. Without doubt, this was one of the best stays we have had in Sri Lanka.
GG, 17-Jun-2011 - 19-Jun-2011
The property is beautiful, fantastic location, lovely pool hewn out of the rock, and the house is light and airy, with very comfortable bedrooms. Whilst the staff are friendly I'm afraid that they need a serious word in their ear about levels of service, which really let's the place down. The food was very average, in fact some of the party complained it was inedible. Pooja Kanda has so much potential, and we all had an amazing weekend there, but it was more to do with the location, ambiance and company than the service we received.
Hamilton Anna, Singapore, 28-Jan-2011 - 02-Feb-2011
We found Pooja Kanda to be one of the most magical places we have ever been. From the minute we arrived in the early morning mist to the day we (almost tearfully) left, we couldn't believe how lucky we were to have discovered this place. It has a charm and character that you will never find in a 5 star hotel, and you therefore feel as if you are experiencing something quite unique.
Although it is in the (vaguely) touristy South Coast of Sri Lanka it is located in a little real neighbourhood, and it seems as if it is the only foreign-owned house in the vicinity. So when we went walking around with our 3 sons, the people who live there were so friendly and gracious and seemed genuinely quite happy to come outside to wave to us or have a chat.
The staff at the villa could not have been better. The cook was sublime, and the staff were so helpful and kind. My son celebrated his 6th birthday there and they rushed out and bought him a cake and decorated the room and provided a traditional Sri Lankan breakfast. Amazing.
If you are looking for a modern, state of the art villa right on the beach this is not the place for you. But if you are looking for a quiet and peaceful snippet of real Sri Lankan life (Langur Monkeys in the garden and all) then this is the place for you. We really loved it.
EG, Singapore, 28-Dec-2010 - 01-Jan-2011
We had an excellent stay and thoroughly enjoyed our New Year visit with our family group. Pooja Kanda is a delightful villa, with an airy colonial feel. The layout is well-configured and there are plenty of areas both inside and on the various verandahs where you can just curl up with a book, magazine or ipod and relax. The size is perfect for an extended family or group of friends. It is spacious and secluded in the middle of nature. A walk down the road to the village gives you a real sense of the local life in that area of Sri Lanka. The villa is very child-friendly with a gate around the pool and a stair-gate if required for toddlers and the TV room is great as little playroom. Internet access was a bit erratic. The food was fabulous! We ate local dishes all the time. Malika was a great cook and made us a delicious spread everyday. However each meal was a bit of a surprise as we were never quite sure what we were going to get. We would just ask for fish, or chicken or a particular vegetable and she would conconct something amazing! Wildlife abounds! There were all kinds of animals and insects to see which fascinated both children and adults. Monkeys, birds, caterpillars as well mosquitos (take lots of spray!) Bats! Scores of them in the trees next to the house at the top of the rise. For things to do the Handunugoda Tea Factory, which is fascinating, is probably 20-30 mins drive. Galle is probably 25 minutes depending on the traffic. There is a turtle hatchery at the end of the road in Habaraduwa about 5 mins drive. Koggala Lagoon and the Spice Garden are about 10 mins away. We found the most beautiful beach at Habaraduwa just next to the turtle hatchery with nobody on it. It was clean and stretched for 2-3 km with beautiful sand for the children to play. A bit rough for swimming though. The famous Unawatuna beach was more crowded and there was not much space as the tide was up. Overall we had an excellent stay and I would not hesitate to recommend this villa to anyone. Thank you very much!
You may also like these Elite Havens
Back to top