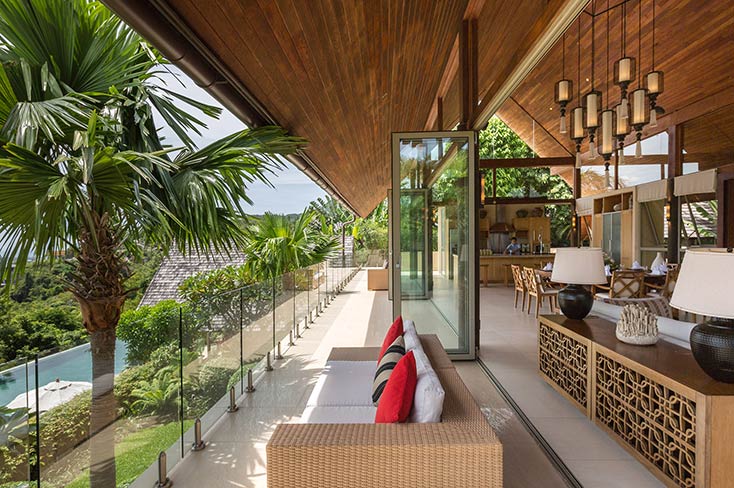 Maria M, United States
,
28-Jan-2023
-
04-Feb-2023
The staff very helpful with makin suggestions and booking travel. Friendly staff and very accomodation. All 3 Where excellent ( Tai, Zee, Game)
Nicole W, United States
,
12-Jan-2023
-
17-Jan-2023
Tai was particularly helpful in accomodation all our requests. At Night Ann was also quite helpful even help us find a doctor for our baby sick. Tai was wonderful ao us an arrange activities+request.. best beaches local etc. Food was absolutely delicius.
Arun B, Singapore
,
28-Dec-2022
-
04-Jan-2023
Tai, Zee and Yut helpful and friendly
Yousef A, Bahrain
,
15-Dec-2022
-
21-Dec-2022
They were all friendly and very helpful.
Daniel D, Poland
,
18-Oct-2022
-
23-Oct-2022
All staff members were so helpful and kind. What we liked the most was the staff and the boxing ring.
Marcus N, Sweden
,
27-Sep-2022
-
29-Sep-2022
- They family like Thai food - They like to drink Singha Beer -Breakfast to prefered Egg Bennadict - All Family like Thai Friut -Our main hostrss "Kratai" and The Other women (Noie) were the best. -The view were awesome. -The Reason was the staff they were the best. -From when we arrived untill we left we spent time time in paradise , one of the best stays ever! -Good Dinner area 2 floor.
Marijke S, Portugal
,
27-Jul-2022
-
13-Aug-2022
Very nice villa and very nice staff.
Margit W, Germany
,
25-Oct-2021
-
12-Nov-2021
It's was the best time on Koh Samui we have ever had!! Its our 4th time and we will come back for next time, staffs were so nice and friendly, helpful we are so happy ,everything was perfect...
Nataporn D, Thailand
,
23-Oct-2020
-
25-Oct-2020
We definitely have a great stay here. The villa, the staff, the food, everything here is amazing. We all will be back again very soon.
Marc Y, Thailand
,
08-Feb-2020
-
11-Feb-2020
Thank you so much, Bella, Blue and Oh for making the past 3 days at Panacea so amazing and memorable! The accommodations, pool, food and service exceeded all our expectations having been to such a spectacular wedding at the main villa. Bella, in particular looked after us attentively from our breakfast in the morning until 2 am at the wedding day. She was amazing! We will not forget our stay at Koh Samui!
JINGYUAN H, China
,
23-Jan-2020
-
29-Jan-2020
Thanks to Bella and her team give us best services. We enjoy ourselves in this house for six days. Bella and her team is the best service to our family in everyday. Welcome to our country...We waiting for you.
David W, Canada
,
24-Dec-2019
-
03-Jan-2020
Thank you Panacea and especially to Khun Pocky, Sao and Ao for the absolutely fabulous stay! Everything was perfect, from the gorgeous villa to the beautiful breakfast every morning. This has been a really special family vacation and we are so grateful to K.Pocky and his team for taking such a good care and We have felt truly spoils by their warmth and hospitality, they really really are wonderful and we are had a fantastic stay in Koh Samui.
Sasaya B, Singapore
,
22-Nov-2019
-
24-Nov-2019
Thank you K.Aoy, K.Bao, K.Ao for good hospitality, great service, we all feel very much of love, will definitely be back again. Best wishes Excellent service, good atmosphere, we love it . Very attentive service, excellent view, and much had of cleanliness.
LI J, China
,
14-Nov-2019
-
18-Nov-2019
So perfect so wonderful! Thanks Oat again! Thank you so much..:)
Alan L, United Kingdom
,
04-Nov-2019
-
11-Nov-2019
We had a wonderful stay at Panacea, the service proud by Aoy and the most of the staff has made my visit even more memorable, would have loved to stay for longer, excellent facilities and friendly staff.
Delin H, China
,
29-Aug-2019
-
01-Sep-2019
Villa design beautiful with a stunning view. Comfortable. Thank you Ooy for a nice host and assist every request. Will come back again. Another guest would be satisfied staying in this villa.
Lesley K, Australia
,
14-Aug-2019
-
29-Aug-2019
We do not want to leave! It has been an absolute dream being able to stay here at villa Kalya. The interior, the.. every detail is stunning visually and made us feel very fortunate to be surrounded by such beauty. Great taste and decoration. Pocky has been so well taken care of. We loved learning Thai words and Blues creations with the service and towels we have source of delight. Honestly, we enjoyed an experience that met and exceeds our hopes and expectations and took us on a little adventure trip dreamland. We will be coming back. We will absolutely recommend other come here and we could not be more grateful, appreciative or impressed. Thank you Pocky , Blue and Ao, you guys are the best. Pocky is a super chef. I now consider this are of my fondest memories and favorite place, so grateful. Thank you.
Carolyn T, Singapore
,
07-Jun-2019
-
12-Jun-2019
Dear Panacea Team, thank you so much for your hospitality! We truly enjoyed the villa and we had an enjoyable time. Looking forward to the next holiday here again!
Lu H, Thailand
,
27-May-2019
-
31-May-2019
The villa is clean and tidy, the staff could not do more, nothing was too much for them, best butler experience! Thank you for taking care of us.
Andurance H, Thailand
,
17-May-2019
-
20-May-2019
Thank you Panacea, we had a fabulous stay... You guys took care of all the little details and the property is gorgeous!!! A very special mention to Sao, who was so helpful and always there to take care of us.