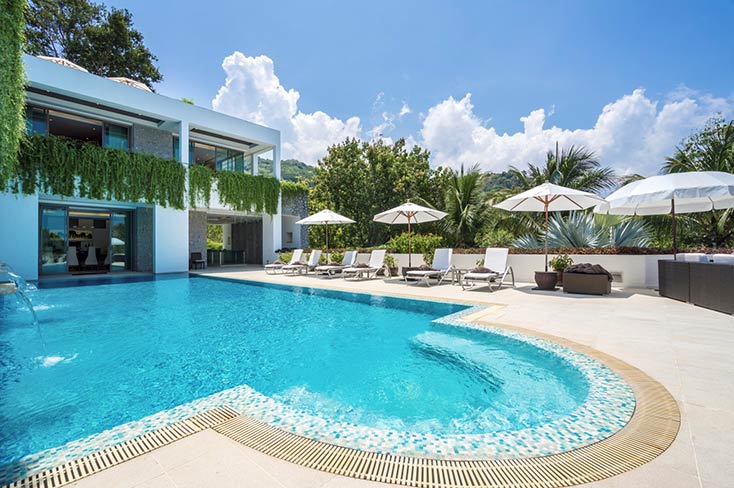 Chanand S, Thailand
,
22-Apr-2022
-
24-Apr-2022
We had an amazing time here at the One Waterfall Bay Villa.Thank you to the amazing team for great service and delicious food!
Amir M, United Arab Emirates
,
22-Mar-2022
-
26-Mar-2022
Dear Taz, Amy, Ked, Nong, and Marry, Thank you for all your kindness. You made our stay unforgettable and our time here pure pleasure. We will remember your professional and friendly service and We hope to see you again in the future. Love, Benedetta and Amir
Jonathan Y, Singapore
,
17-Mar-2022
-
20-Mar-2022
17/03/22 - 20/03/22 The most amazing villa with the best staff to take care of you thank you so much one waterfall bay team !!
SULTAN A, Kuwait
,
03-Dec-2021
-
18-Dec-2021
We had a great time. Thank you Water Fall Bay team. Alsadani Brothers, Kuwait
Sathutaporn D, Thailand
,
28-Nov-2021
-
01-Dec-2021
The Villa is very beautiful Very good service All housekeepers are kind. We love everybody.
Suvita C, Thailand
,
12-Apr-2021
-
17-Apr-2021
Dear Waterfall Bay Team We had a beautiful week here at the villa. Thanks to the the staff for the great hospitality. Thank you to the Chef & team for all the great food. All of your efforts are highly appreciated. The Singhsachathets
Khun M, Thailand
,
01-Apr-2021
-
05-Apr-2021
Unforgettable trip. Loved it. Love The Service The Staff The Vibes The Design See you next time ........
Tina T, United States
,
23-Feb-2020
-
29-Feb-2020
I had a group of family and friends travel to Thailand from DC for my 50th The villa is awesome! You must experience WaWa - the great property manager - accommodated all our needs even in short notice. Taz, the chef, is amazing, food was very delicious. Mary was on point with keeping all things in order with the villa. I would definitely stay here again and recommend to all.
Xuedong L, China
,
02-Feb-2020
-
04-Feb-2020
Thanks for villa providing us this wonderful service. And the housekeeper Mym is very friendly. We really have a great time here. Hope to get back.
Cindy I, Singapore
,
23-Jan-2020
-
28-Jan-2020
Thank you for the wonderful service throughout the five days. We had lots of fun and laughter. The foods was great and the villa looks really new and clean. Overall, I really enjoyed everything here. Especially the pool, maybe you could provide us with more floaty toys. Thank you! Bye!!!
Linda R, Singapore
,
16-Jan-2020
-
19-Jan-2020
We sincerely thank you for excellent service, great food and all your patience in us. Thank you for making so many cocktails. We had a great party weekend.
Govind D, Sri Lanka
,
24-Dec-2019
-
30-Dec-2019
The pool is fabulous and the staff are very nice! Lovely place! Thank you so, so much for everything you have done for us - the food, the service, the hospitality, and the kindness all of you have shown to us. Thank you Mimi and Khun Mary for looking after this massive house! I love it! Our stay here for six days has been absolutely unforgettable. There is so much to do: explore the house, swim in the fantastic pool, and enjoy the serenity of the Andaman Sea and the rain-forest above.
Shin Hwee C, Singapore
,
14-Dec-2019
-
18-Dec-2019
We had great food and service from all the staff in the villa. Delicious Thai food and excellent service.
Dhénin L, China
,
10-Nov-2019
-
22-Nov-2019
Thank you for all. We spent beautiful days in the amazing villa. The staff are sweet and professional, the food in the villa was just delicious, nothing bad to write, only beautiful things.We come 3 to 4 time each year to Thailand, and this trip in this villa for sure was our best trip ever. One more time Thank you.
Carmen C, Hong Kong
,
07-Nov-2019
-
10-Nov-2019
Every staff in the house have done a great job to provide good service. The house is clean, basically well maintained, food also good.
Sabri S, Australia
,
08-Oct-2019
-
13-Oct-2019
We stay at One Waterfall Bay for a work retreat and it was absolutely fantastic! The staff were incredibly attentive and helpful with any request. We can not recommend them hightly enough! The meals were the best that we ate in the whole of Phuket. A special mention to Mym for all of her hard work and dedication. We would absolutely stay here again!
Errna, British Antarctic Territory
,
04-Oct-2019
-
07-Oct-2019
Celebrating Errna's Birthday. We have had an amazing time in One Waterfall Bay. Everything was fantastic. The staff are so helpful. The food was delicious, really do not want to go home! Thank you to all the staff at One Waterfall Bay. A fantastic place to spend a FAB weekend with friends. A Huge Thank you to all the fabulous staff! A fantastic way to celebrate my birthday. Stunning villa. Many thanks.
Singhania S, Australia
,
21-Aug-2019
-
25-Aug-2019
Thank you to team of One Waterfall Bay for super hospitality, service and amazing food.
Connie C, Hong Kong
,
23-Apr-2019
-
27-Apr-2019
Thank you to you for all your help. We have a wonderful stay here. Thank you Lily for all support and arrangements. Thank you to chef Touch - the food is gorgeous. Thank you Mary and your team - we will miss the different napkin folding for every meal. 5 days and 4 nights stay is never enough. We miss you team.
Howard B, United Kingdom
,
08-Apr-2019
-
14-Apr-2019
Thank you for an amazing stay. The villa is amazing and a fantastic space for several families to enjoy together. The staff have been great and have made our stay all the better. A special thank you to Mym, Mary, the cook and our driver.
Candice M, Singapore
,
29-Mar-2019
-
31-Mar-2019
Thank you so much for taking such good care of us. Everything was perfect from beginning to end. Chef - the food was absolutely delightful, it was amazing. The service was seamless and very warm. Thank you all very much for making this weekend a great one.
Mark B, Singapore
,
18-Feb-2019
-
25-Feb-2019
Big thanks for making our group feel at home in One waterfall bay. Our stay was fabulous - the staff were fantastic, the chef and food wonderful. Thank you all for making special memories for the six of us. Till next time.
Lan S, China
,
11-Feb-2019
-
14-Feb-2019
Blue sea, beautiful scenery, a happy family. We enjoy the cleanliness of the mountains, thank you to all staff.
Ping J, Indonesia
,
25-Jan-2019
-
01-Feb-2019
Good view, good staff. Thank you for everything and we will be back again.
Mohammad A, Kuwait
,
13-Jan-2019
-
17-Jan-2019
Thank you for great welcoming us. This place was more than just a house and so adorable. It was an excellent place.
Alida R, Italy
,
08-Dec-2018
-
18-Dec-2018
We have has staying here one waterfall bay villa. We are a family of 15 and everything was excellent. The rooms were spacious, the spa a bonus, the 2 pool tables a great treat and the ping pong table was an added bonus too. Then there was the swimming pool! Fantastic. We have spent many hours by the pool and in the villa just relaxing. The staff have been attentive to our needs and the food has been absolutely wonderful. standout were the red duck curry, banana fritters, the fried rice. The chef is just a great, great cook. We all wish we would take her home in our suitcase. When we wanted to go out, there was a car for our trips - great! We have loved it. The massages, the shopping trips, explaining Kamala beach, the elephant trip, the zip-lining experience and Phuket Town. We have loved our stay, it was made more pleasurable and more memorable by the staff who were delightful to deal with at all times. Thank you.
Frank and Marthe, The Netherlands
,
21-Nov-2018
-
25-Nov-2018
It was a really great stay here at One Waterfall Bay. We enjoyed the pool, having dinner outside was great. Thanks for all the good care.
Akshay K, India
,
20-Aug-2018
-
24-Aug-2018
I love Khun Kaew. The every villa staff was amazing. Beautiful villa, great staff and we had amazing time and will come again.
Mansi S, India
,
28-Apr-2018
-
02-May-2018
We had a wonderful time staying at the villa! All our expectations were surpassed and we had a luxurious stay. The food was excellent and we really enjoyed our stay and can't wait to return.
Ahmed A, United Arab Emirates
,
08-Apr-2018
-
13-Apr-2018
Amazing … This word is describing the staff services, cleanness and organizing. Chef was fantastic in preparing our customized food and we had a golden touch in decoration. Marrie was always exceeding our expectation in services even she doesn't know, she always willing to learn and serving her best. Sunny was brilliant in organizing all our requirements and she did her maximum efforts to provide the best services. Cleaners very excellent taking care of our room and the villa. Thank you very much for the pleasant stay and for sure we will come back, we feel like we are in our home due to the perfect team.
Richard M, Australia
,
25-Mar-2018
-
26-Mar-2018
A wonderful experience, you guys are amazing you made us feel so comfortable and welcome.Thank you so much.
Richard M, Australia
,
19-Mar-2018
-
25-Mar-2018
A wonderful experience! You guys are amazing and made us feel so comfortable and welcome. Thank you so much.
Chris R, Malta
,
15-Mar-2018
-
19-Mar-2018
Beautiful stay in paradise. A huge thanks to Katy and all villa staff for being so helpful. A special mention to the chef for the best Thai food. We're back again soon.
Perri C, Hong Kong
,
02-Feb-2018
-
05-Feb-2018
We stayed at One Waterfall Bay for 3 nights as we in to attend a friend wedding at Paresa Hotel. From the moment we stopped the van, we were all in the stunning villa from the 6 bedrooms, beautiful Jacuzzis en-suite rooms, the amazing swimming pool, cinema room, pool table, jacuzzi, steam room - and the hospitality of all staff who were very helpful. The chef, the cleaners and especially Lily and Mary who was a superb! We are leaving today and we will really miss this place! Thank you One Waterfall Bay for loving us!
Aleksander I, Thailand
,
03-Dec-2017
-
09-Dec-2017
Thank you so much! It was really good trip. It is very nice villa. Good staff, good environment and very tasty food. Hope to back again here!
Abdulrahman A, Saudi Arabia
,
24-Nov-2017
-
27-Nov-2017
This a fantastic trip to this great island and this a beautiful villa, a professional staff. Over the years, and wherever I traveled, I haven't had an experience like what I live in this villa. Thank you a lot One Waterfall Bay. Thank you a lot manager, Lilly. Thanks a lot to the staff. Hope to see you soon again and again.
Karthik N, United Kingdom
,
16-Nov-2017
-
20-Nov-2017
You did fantastic job. Thank you for your personalized care. The whole experience at One Waterfall Bay has been amazing. A beautiful environment with beautiful, kind staff. Thank you.
Shona Bibby, Singapore
,
17-Oct-2015
-
24-Oct-2015
The villa itself was great - immaculately presented, great sized bedrooms and good facilities to keep the kids busy - large pool, table tennis, pool table and the media room. It was very spacious (huge in fact) - lots of room for our 2 families and in fact we could have fitted in another family to join us. The bedrooms on the lower level were a long way from those on the upper level so need to bear this in mind when working out where everyone will stay. The cook was fantastic - she consistently produced amazing food to a very high standard and was very accommodating of all of our requests. Also our food bill at the end of the week was very reasonable. We had a really great week at One Waterfall Bay and would definitely use this villa again should we return.
Leeanne S, Singapore
,
28-May-2015
-
31-May-2015
Pictures do not do justice to this place. It's even more breathtaking in reality and the staff (especially the driver) are amazing. They are extremely accommodating and show quality in their work. We had young children with us and they enjoyed the space and facilities. Thank you for the best holiday, we will be back!
Philip K, Thailand
,
07-Sep-2014
-
08-Sep-2014
The villa is stunning with lots of large areas and quality furnishings.