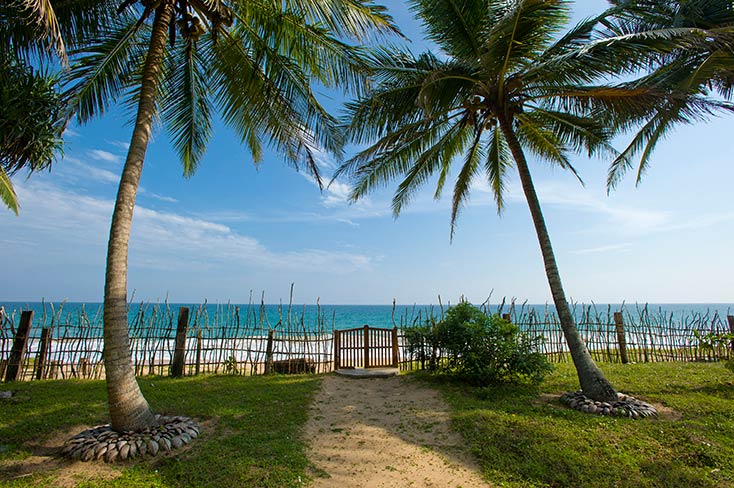 Kate L, Australia
,
06-Feb-2019
-
10-Feb-2019
Hard to know what to say to give justice to this beautiful house and garden and lovely helpful and discreet staff!! Thank you so much too for the most delicious meals. It is very hard to leave Ocean's Edge but hoping will return one day. Where to start. We arrived with 4 kids under 3 (one only 11 weeks old) and settled in for an incredible two weeks here. Staff couldn't have done more to accommodate our many different requests. Food delicious throughout and the house, garden and beach were just superb. Couldn't recommend highly enough.
LI Y, China
,
02-Feb-2019
-
06-Feb-2019
We spent four days here. Although short, but impressive. Here we spend the Chinese New Year. Here we feel the charming scenery, here we eat authentic food of Sri Lanka, here we feel warm and hospitable of the staff. We are a family of eight, everyone of us is happy. I hope to come back again.
Angela S, France
,
29-Dec-2018
-
03-Jan-2019
A wonderful place to see in the New Year! We have all enjoyed a great family time making full use of the pool, the garden & the beach. The staff have been outstanding – always polite, helpful and informative. The food was a real delight – when we get home we are all on strict diets! We enjoyed the cooking lessons and the tour of the garden. Excellent! Thanks to the staff at Ocean's Edge for making our stay so special.
Laura D, Sri Lanka
,
07-Apr-2016
-
12-Apr-2016
What a magical place! We have loved every moment - by the beach, in the pool, eating fantastic curry in the house, seeing a turtle lay her eggs on the beach and visit rock temples. Pure bliss.
Ann S, Hong Kong
,
06-Feb-2016
-
13-Feb-2016
We had a fabulous stay in this beautiful villa. It has been a very peaceful stay even with three young sons (8,6 & 6) who have loved the wildlife here, the food, the pool and especially playing cricket with "the Uncles." We went walking around the garden and saw peacocks, cranes, various other birds and and the adorable puppies from next door. Thamal and his team have all been amazing and chefs food is delicious, especially the pineapple curry, fish curry & Sri Lankan breakfasts. Thank you for a delightful stay and as we say in Hong "Kung Hai Fat Choi." - all the best for you all in the year of the monkey.
Janet N, Australia
,
28-Jan-2016
-
31-Jan-2016
We were here to celebrate our dear friends birthday. Moving from Galle Fort to Ocean's Edge was such a treat, from the hustle and bustle of Galle Fort to the magnificent Indian Ocean where beautiful coconut trees and beautiful beaches with the pounding of waves made this a surreal experience. Thanks to Thamal and his team. Loved Sri Lanka food particularly the poppadoms. Our holiday was made by the champagne which we manage to get on the way here for our sunset drinks. A most unspoiled and gorgeous place. Thank you.
Anne-Marie Lynge Esbensen E, Denmark
,
15-Jan-2016
-
21-Jan-2016
We had the luxurious pleasure to stay at Ocean's Edge for almost a week. Watching whales in the sunrise, enjoying the awesome wildlife in the area as well as the local hospitality has made this stay an almost dreamy, film life experience. We will surely miss everything this place has to offer, the food, the beach, the staff, the pool, the monkeys, the extraordinary beautiful view, the sound of the waves and of course the incredibly charming house. It has been a peerless and delightful stay which we will never forget. We hope to come back.
John H, Australia
,
27-Dec-2015
-
03-Jan-2016
We've been enjoying life at Ocean's Edge for a few days now. We have to leave tomorrow :( All the staff have been wonderful and accommodating. Our cooking lesson was fun. For the foolish two that decided to go on a romantic stroll up the beach instead of learning a couple of local recipes and techniques - we will hold the secret ingredients back. Just kidding. We will share with them. Obviously one can't complain about the wonderful beach out front. The villa is also large enough that we could all enjoy privacy. We could have melted with the pool!! Shockingly warm weather. We brought in the new year on the beach with a fire. Great fun. There might have been a couple of fireworks too. All possible mess cleaned up, so it will remain only a rumour. To guests have fun and enjoy the secluded area. Do have the eggplant curry!!
Eric S, Singapore
,
20-Dec-2015
-
27-Dec-2015
We had a great stay. Thamel and the team could NOT have been more lovely - attentive, kind, made the children feel totally welcome. The food was delicious, and it was a fantastic place to spend Christmas! The beach is gorgeous and the pool was lovely. We spent hours in them both. A huge thanks to the staff. They made our stay so wonderful! We are so grateful for their kindness and attention! The BBQ was fantastic. The bird life was extraordinary and loved walking and seeing the beach and birds.
Jennie Raphael, Australia
,
10-Apr-2015
-
14-Apr-2015
Our stay at Oceans Edge was a truly amazing experience. The villa is exquisite and the staff exceptional in attending to our needs. Whilst the location is a little remote it was great to walk along a very long stretch of beach and hardly see anyone. As we had a driver we could still visit different villages, beaches along the coast and go turtle watching. It also allowed us to truly relax after travelling around Sri Lanka for the previous 10 days.
Pablo D, Belgium
,
24-Dec-2014
-
03-Jan-2015
Absolutely perfect and staff was a pure miracle. We had the best 10 days of the year. If a bad point had to be said it is the 4 to 5 hours car transfer from Colombo airport... very long. I recommend Helicopter (but they don't fly after 5PM).
Sally M, Indonesia
,
19-Oct-2014
-
21-Oct-2014
We had a very relaxing couple of days. It was exactly what we expected, beautiful beach but remote. Thamal was excellent. For us the right level of attentiveness but we know others may expect staff to be more proactive.
Liz Sochon, United Kingdom
,
26-Jul-2014
-
01-Aug-2014
We had a perfect stay. The staff were amazing and couldnt do enough for us.Any problems we encountered (we had one bedroom with broken air conditioning unit) were dealt with very quickly
Peter B, United Kingdom
,
16-Feb-2014
-
23-Feb-2014
The staff were pleasant and helpful. The villa was in need of some basic maintenance, ie aircon in master bedroom didn't work properly but they did try to fix it, the bathrooms were all in need of a good clean. The setting of the villa is stunning however as you are unable to swim in the sea due to rip tides it was a great disappointment to find that the swimming pool was not maintained to a good standard. The filtration was only put on for short periods which was totally inadequate and resulted in insects breeding in the pool and cloudy water, as a result we felt unable to use the pool. The staff did try to treat it but said that the filtration system could not stay on permanently. The pool boy did keep the pool clear of leaves on a regular basis.
Lee R, Australia
,
10-Jan-2014
-
16-Jan-2014
As a family we really loved this villa. Plenty of space with sophisticated decor, comfortable beds, air-conditioning in all the bedrooms and very unobtrusive staff who made sure we were very well looked after. Food was very good, particularly the local Sri Lankan breakfasts. We loved being right on the beach but unfortunately you can't swim in the ocean here due to the rips. However, the villa is quite isolated with the town of Tangalle about 25 minutes away. The last section of the road to the villa from the main highway is truly dreadful. Internet was also a real problem - only a toggle so we could not use our Ipads. For most of our week there we had no access to the internet at all. This may suit some but we found this frustrating. Overall we would not hesitate to recommend the villa if you are looking for a real escape. Staff were amazing.
Mary Hamilton, United Kingdom
,
28-Dec-2012
-
11-Jan-2013
Villa was really lovely and in a fabulous setting looking out onto the beach which was idyllic. Staff very friendly and helpful they organised all our trips for us very efficiently. The cook did a wonderful job feeding us all. For a nice relaxing holiday would highly recommend the villa
CC
,
04-Aug-2012
-
18-Aug-2012
Close to the beach, very private and extended with nobody.Pool sheltered from the wind. Possible to buy lobsters and fish directly to the fishers (less than 500 meters from the villa). Very attentive staff. Excellent follow up of our requests from VillaNovo.
Per Anders Lindell, Sweden
,
11-Feb-2012
-
25-Feb-2012
We really enjoyed our stay at the Villa, and had 14 wonderful days there. The garden, beach and the ocean was like in a dream. We spent the days there in the sun, taking long walks on the beach and swimming (playing) in the ocean waves. The staff was really helpful and the food delicious. We can definitely recommend this place if you want a relaxing and peaceful vacation. And we will for sure return to the villa some other time.
corinne michard, France
,
30-Oct-2011
-
04-Nov-2011
This villa is magnificent. It is situated on a paradisiac and deserted beach). The staff is very attentive to our demands(requests), very discreet but always available. All the meals were delicious.
Marc Sinclair, United Arab Emirates
,
27-Jul-2011
-
06-Aug-2011
The villa is all that it promises. It is wonderfully built, set in an enormous garden right at the beach. The garden, full of coconut trees is a place to wander around safely. Our children,15 and 11, enjoyed the visits of the very shy monkeys and the big lizards around. We even had regular visitors from 6 little bunnies that came out of their hiding during the day. The large pool is cleaned three time s a day and allows for a relaxed afternoon with sandwiches and fresh coconut juice. To the front the gate opens to a sand beach of several kilometers. It is an empty beach, paradise.....a beach you might see on a postcard and wonder "where do those beaches actually exist?" The beaches are empty , and we mean empty. Very few fishermen and virtually not one tourist. Fantastic....if this is what you are looking for.
The service at the house requires a special mention and praise. The entire staff is friendly, certainly has received excellent training in what western visitors expect from a stay at a luxury villa and are eager to help at any time. The bed linen is changed daily, the house kept clean at all times. Snacks during the day for the kids are prepared and presented wonderfully. For dinner the cook is as versatile as a 3 star chef. Our culinary journey through Sri Lankan food was amazing. Thank you again. Having said this, the staff is also quite capable to produce excellent western food.
IN summary the place is what it promises. the drive from Dickwella airport is about 20 min. If you are looking for this romantic, secluded hideaway for you and your family or some good friends, where you can read a book, listen to the sound of the waves and enjoy long walks on beautiful long sand beaches.....look no further. If you are looking for a more social holiday with many attractions in close proximity and a beach full of tourists, music and snack bars......move on.
The ONLY downside perhaps is that the sea is a bit rough, especially if you have children that want to swim in the sea. Although we entered the water there are clear challenges for children. Having said this, many beaches in Sri Lanka have this issue and you do have a great clean pool as an alternative.
WE recommend the place fully and hopefully will be back some day.
Louise York, Singapore
,
27-Dec-2010
-
02-Jan-2011
The villa is an absolute dream, the staff treated us like royalty and we revelled in the long sandy beaches for walks with the knowledge that there would be a cold beer or a gin and tonic waiting for us to cool us down upon our return. Well worth the drive from the airport. Good location for turtle watching in Rekawa and Whale Watching in Marissa and if you need to see anymore animals then Yala national Park is a short drive away for the leopards and Elephants. Absolute bliss.