Ocean's Edge
The villa you chose is no longer available for rental from us but we have a portfolio of Elite Havens in various locations around South East Asia for you to choose from. Alternatively feel free to send us an enquiry and it'll be our pleasure to help you find the perfect villa for your next holiday.
4 Bedrooms
8 Adults, 1 Children
Ocean's Edge is all about nature and epic seclusion. Set within some eight hectares of palm-shaded parkland and, as its name suggests, overlooking a gaping wave-sloshed bay, this fully staffed, four-bedroom villa is a good few kilometres off the main southern coastal highway and still further from the commercial township of Tangalle. Its situation, close to a couple of bird-filled wetlands, the island's only marine turtle sanctuary and three of Sri Lanka's most prominent national parks - Yala, Uda Walawe and Bundala - promises an idyllic base for escapists and nature lovers.
Peace is exactly what the owner of Ocean's Edge was after in his tireless search for land to build this villa; however what wasn't immediately obvious to him was that this deserted beach harboured visiting marine turtles who'd come to lay their eggs on the undisturbed sandy shore. This became a clear indication - if ever one was needed - of his success in finding a location that was genuinely serene. There's really nothing quite like this magical turtle phenomenon. You have to admire the dedication of these gentle giants lumbering onto the moonlit beach and the bravery of their hatchlings bursting from the sand, scuttling towards the surf and becoming uncertainly licked up by the sea.
Ocean's Edge is a frame for enjoying this tranquillity and these views. There's a lovely T-shaped swimming pool, and bedrooms and living rooms spill out onto breezy verandas and balconies that wrap around the villa. With intimate sitting spots aplenty, a colossal garden and an extensive remote beach to explore, Ocean's Edge is a refreshing escape from the distractions of the modern world. A blazing star-filled sky is testament to the villa's isolation and this solitude goes all the way to reinvigorate time-starved bonds between families and friends.
Read more
This haven includes
Unique features

Absolute Beach Front

Great views

Media/Games Room
Location
Ocean's Edge sits in serene seclusion on the fringe of Kahandamodera village, near Rekawa, 16km east of Tangalle. The access road to the villa winds past paddy fields and small lotus-strewn lakes home to numerous shore birds. The beach to the front of Ocean's Edge is often visited by marine turtles and extends to the east across a rocky outcrop towards Kalametiya wetlands and the barren red earth of Ussangoda. To the west it snakes back towards Tangalle, the closest town, where restaurants, banks, pharmacies and supermarkets can all be found.
More information for Things to do
Stroll along the sandy swathe of beach to the front of the villa, collecting shells as you soak in the serenity of this secluded palm-fringed location.
Explore the villa's generous 23-acre garden; a parkland oasis of coconut palms and coastal foliage adored by parrots, kingfishers and peacocks.
Make for the

Kalametiya Bird Sanctuary

and enjoy a sunset punt on the lagoon with one of the local fishermen as the sky slowly turns a rich red.
Head to the mysterious

Ussangoda

whose red barren earth is believed to be the result of a meteorite hitting this area years ago. The cliff top vistas out to sea from the coast that flanks this parkland are spectacular.
The neighbouring village of Rekawa is home to the island's only

marine turtle sanctuary

. Out of the five species of endangered marine turtle present in Sri Lanka, four are regular visitors who make their way onto the beach at night to lay their eggs in the sand; a sensational moonlit spectacle. Come here for nightly turtle watches where you might also see baby turtles hatching and making their perilous journey to the sea.
Visit two giant

Buddha statues at Weherahena and Wewurukannala

; the former offers you the chance to actually climb up and into the Buddha's head to get a bird's eye view of the temple complex.
The reverent

rock temple at Mulkirigala

must not be missed. Come here for murals, cavernous chambers and incredible 360-degree views from its summit.
On the way to Mulkirigala we recommend you stop en route at the

brass making village of Angulmaduwa

where you can witness the craftsmen in action and buy yourself a unique souvenir to take home.
Visit the

Maduwanwalla Palace

, made up of a number of formerly opulent buildings that now lay in relative ruin.

Whale and dolphin watching

trips embark from Mirissa Harbour and will delight the whole family (trips operate between November and April); combine your trip with a visit to Dondra lighthouse, Matara's forts and Mirissa Beach where you can also go sailing.

Go on safari!

Bundala – a park famous for its crocs and birdlife - is located within easy reach. Safaris to Uda Walawe (famed for its elephants) and Yala – renowned for a wider slice of wildlife, particularly leopards and bears – can be done as morning or afternoon trips from the villa.
Worth the drive is the

Handunugoda Tea Factory

in Ahangama, whose tea bushes are the closest of any in Sri Lanka to the sea. Famous not only for its unique black tea but also for its white tea, the world's most expensive variety. Tours of the factory include a tea tasting session and a slice of cake.
LEAVE THE PLANNING TO US
Shake off the stress of holiday planning. Let the Elite Concierge take care of all your bookings and arrangements, from transport, tours and restaurant reservations, to any special requests for your arrival. We're here to make your holiday experience extraordinary.
Quick facts
Location
Kahandamodera, Tangalle, South Coast, Sri Lanka.
Capacity
9 people (1 queen-bedded master suite; 2 queen-bedded guest rooms; 1 guest room with a queen and a single bed).
Living Areas
Air-conditioned TV lounges on first and ground floors; oceanside veranda with formal dining for 8; furnished hallway lounge; poolside veranda with bench dining for 8.
Staff
Villa manager (offsite); cook; steward; houseboys; gardeners; security.  Ayurvedic masseuse on request (additional charge).
Dining
Western, Sri Lankan, vegetarian and children's dishes. Meals are served family-style and for sharing. Requests accommodated (including special diets).
Communication
Landline telephone for local calls and limited free internet access.
Entertainment
Satellite TV; DVD player; iPod adaptor; CD player; books and board games.
For families
Ocean's Edge is ideally suited and well-equipped for families. Facilities include a safety fence for the pool and a baby cot.
Transport
The villa is very remote, and the services of a car and driver are advisable if you'd like to explore. Airport transfers and full car hire can be arranged in advance of arrival.  Day or half-day car and driver hire can be organised by the villa management team on request (additional cost applies).
Additional facilities
Barbecue; back-up generator; safety deposit box.
The layout
Indoor Living
Colonially-inspired interiors filled with antiques
Plethora of living and dining areas perfectly situated to take in the ocean views
Wide, spacious hallway with built-in sofas
Deep living veranda at front with 10-seater dining table and rattan chairs
Covered veranda at back with planters chairs, table with bench seating and ceiling fans
Elongated, air-conditioned TV lounge with 42-inch satellite TV /DVD player and white sofa.
Fully equipped kitchen with black granite counters and dark wood cabinets.
Outdoor Living
Delightful jade-green swimming pool with ceramic-tile decking and sunbeds
23-acre tropical garden filled with coconut palms, coastal foliage, and an abundance of birds and butterflies
Quiet, shell scattered beach ideal for walking
The rooms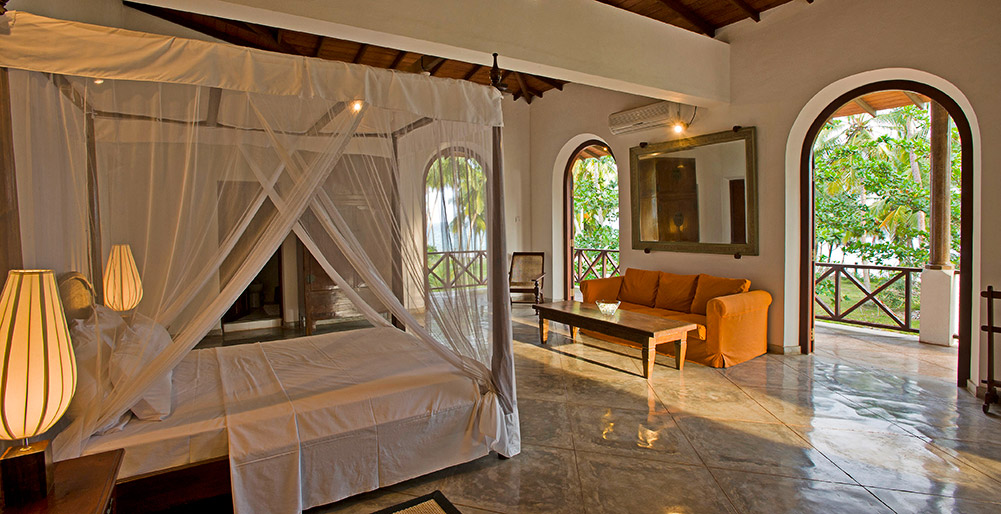 Master Bedroom (First floor)
Generous air-conditioned room with queen-size four-poster bed draped in soft mosquito netting
Oriental wardrobes and comfortable sofa
Arched doorways spilling onto furnished balcony
Ensuite bathroom with shower
Entrance is via a small room furnished with a daybed and TV, and with its own bathroom (with tub)
Guest Room 1 (First floor)
Air-conditioned room furnished with a four-poster queen-size bed and a four-poster single bed
Interconnects with the master bedroom
Oriental wardrobes
Arched doorways opening onto the rear balcony overlooking the swimming pool and gardens
Ensuite bathroom comes with twin hot water showers
Guest Room 2 (First floor)
Air-conditioned room with antique four-poster queen-size bed
Views of garden and sea through arched doorways
Ensuite bathroom with hot water shower.
Guest Room 3 (Ground floor)
Air-conditioned room with antique four-poster queen-size bed draped in soft mosquito netting
Equipped with a single divan that could sleep a child
Ensuite bathroom with hot water shower
Dining
The villa's private cook is at your service to prepare daily breakfast, as well as lunches and dinners on request.
Ocean's Edge has a suggestion menu of delicious home-made meals ranging from light salads and soups to grilled fish and seafood. The menu also includes kids meals and options for vegetarians. A stay is not complete without sampling our cook's Sri Lankan specialities. His rice and curry is a fabulous feast comprising a selection of vegetable curries, a fish or chicken curry and piping hot pappadams. Or ask the cook to grill up the 'catch of the day', bought fresh from the local fishermen, and enjoy a succulent seafood barbecue under the stars.
A continental or local breakfast is included in the rate, and provisions for all other meals and drinks are charged at cost plus 20% surcharge. Guests will be requested to provide grocery money in advance, and the staff will do the shopping and keep receipts for reference. To make the most of the kitchen and give staff time to shop, it is a good idea to plan meals the evening before.
View a sample menu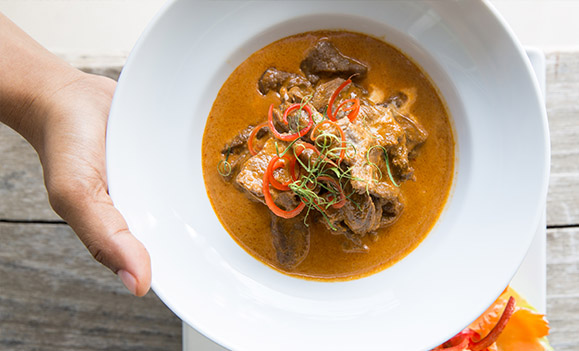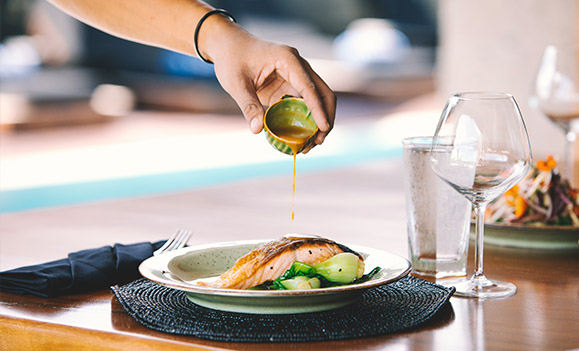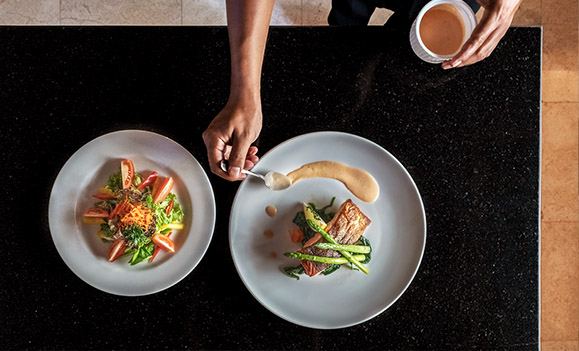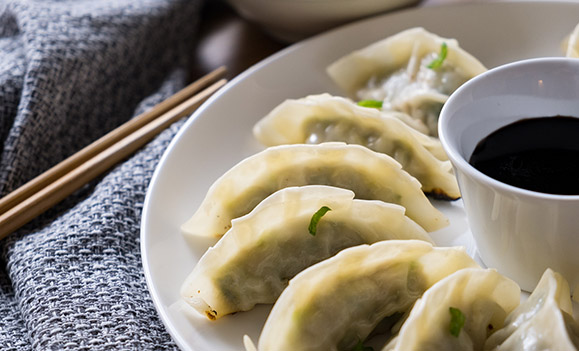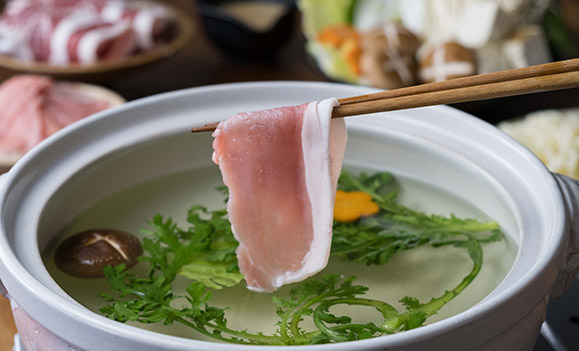 Reviews
Hard to know what to say to give justice to this beautiful house and garden and lovely helpful and discreet staff!! Thank you so much too for the most delicious meals. It is very hard to leave Ocean's Edge but hoping will return one day. Where to start. We arrived with 4 kids under 3 (one only 11 weeks old) and settled in for an incredible two weeks here. Staff couldn't have done more to
... more
06-Feb-2019 - 10-Feb-2019
Kate L
Australia
We spent four days here. Although short, but impressive. Here we spend the Chinese New Year. Here we feel the charming scenery, here we eat authentic food of Sri Lanka, here we feel warm and hospitable of the staff. We are a family of eight, everyone of us is happy. I hope to come back again.
02-Feb-2019 - 06-Feb-2019
LI Y
China
A wonderful place to see in the New Year! We have all enjoyed a great family time making full use of the pool, the garden & the beach. The staff have been outstanding – always polite, helpful and informative. The food was a real delight – when we get home we are all on strict diets! We enjoyed the cooking lessons and the tour of the garden. Excellent! Thanks to the staff at Ocean's Edge for
... more
29-Dec-2018 - 03-Jan-2019
Angela S
France
What a magical place! We have loved every moment - by the beach, in the pool, eating fantastic curry in the house, seeing a turtle lay her eggs on the beach and visit rock temples. Pure bliss.
07-Apr-2016 - 12-Apr-2016
Laura D
Sri Lanka
We had a fabulous stay in this beautiful villa. It has been a very peaceful stay even with three young sons (8,6 & 6) who have loved the wildlife here, the food, the pool and especially playing cricket with "the Uncles." We went walking around the garden and saw peacocks, cranes, various other birds and and the adorable puppies from next door. Thamal and his team have all been amazing and
... more
06-Feb-2016 - 13-Feb-2016
Ann S
Hong Kong
We were here to celebrate our dear friends birthday. Moving from Galle Fort to Ocean's Edge was such a treat, from the hustle and bustle of Galle Fort to the magnificent Indian Ocean where beautiful coconut trees and beautiful beaches with the pounding of waves made this a surreal experience. Thanks to Thamal and his team. Loved Sri Lanka food particularly the poppadoms. Our holiday was made
... more
28-Jan-2016 - 31-Jan-2016
Janet N
Australia
We had the luxurious pleasure to stay at Ocean's Edge for almost a week. Watching whales in the sunrise, enjoying the awesome wildlife in the area as well as the local hospitality has made this stay an almost dreamy, film life experience. We will surely miss everything this place has to offer, the food, the beach, the staff, the pool, the monkeys, the extraordinary beautiful view, the sound of
... more
15-Jan-2016 - 21-Jan-2016
Anne-Marie Lynge Esbensen E
Denmark
We've been enjoying life at Ocean's Edge for a few days now. We have to leave tomorrow :( All the staff have been wonderful and accommodating. Our cooking lesson was fun. For the foolish two that decided to go on a romantic stroll up the beach instead of learning a couple of local recipes and techniques - we will hold the secret ingredients back. Just kidding. We will share with them.
... more
27-Dec-2015 - 03-Jan-2016
John H
Australia
We had a great stay. Thamel and the team could NOT have been more lovely - attentive, kind, made the children feel totally welcome. The food was delicious, and it was a fantastic place to spend Christmas! The beach is gorgeous and the pool was lovely. We spent hours in them both. A huge thanks to the staff. They made our stay so wonderful! We are so grateful for their kindness and attention!
... more
20-Dec-2015 - 27-Dec-2015
Eric S
Singapore
Our stay at Oceans Edge was a truly amazing experience. The villa is exquisite and the staff exceptional in attending to our needs. Whilst the location is a little remote it was great to walk along a very long stretch of beach and hardly see anyone. As we had a driver we could still visit different villages, beaches along the coast and go turtle watching. It also allowed us to truly relax
... more
10-Apr-2015 - 14-Apr-2015
Jennie Raphael
Australia
Absolutely perfect and staff was a pure miracle. We had the best 10 days of the year. If a bad point had to be said it is the 4 to 5 hours car transfer from Colombo airport... very long. I recommend Helicopter (but they don't fly after 5PM).
24-Dec-2014 - 03-Jan-2015
Pablo D
Belgium
We had a very relaxing couple of days. It was exactly what we expected, beautiful beach but remote. Thamal was excellent. For us the right level of attentiveness but we know others may expect staff to be more proactive.
19-Oct-2014 - 21-Oct-2014
Sally M
Indonesia
We had a perfect stay. The staff were amazing and couldnt do enough for us.Any problems we encountered (we had one bedroom with broken air conditioning unit) were dealt with very quickly
26-Jul-2014 - 01-Aug-2014
Liz Sochon
United Kingdom
The staff were pleasant and helpful. The villa was in need of some basic maintenance, ie aircon in master bedroom didn't work properly but they did try to fix it, the bathrooms were all in need of a good clean. The setting of the villa is stunning however as you are unable to swim in the sea due to rip tides it was a great disappointment to find that the swimming pool was not maintained to
... more
16-Feb-2014 - 23-Feb-2014
Peter B
United Kingdom
As a family we really loved this villa. Plenty of space with sophisticated decor, comfortable beds, air-conditioning in all the bedrooms and very unobtrusive staff who made sure we were very well looked after. Food was very good, particularly the local Sri Lankan breakfasts. We loved being right on the beach but unfortunately you can't swim in the ocean here due to the rips. However, the
... more
10-Jan-2014 - 16-Jan-2014
Lee R
Australia
Villa was really lovely and in a fabulous setting looking out onto the beach which was idyllic. Staff very friendly and helpful they organised all our trips for us very efficiently. The cook did a wonderful job feeding us all. For a nice relaxing holiday would highly recommend the villa
28-Dec-2012 - 11-Jan-2013
Mary Hamilton
United Kingdom
Close to the beach, very private and extended with nobody.Pool sheltered from the wind. Possible to buy lobsters and fish directly to the fishers (less than 500 meters from the villa). Very attentive staff. Excellent follow up of our requests from VillaNovo.
04-Aug-2012 - 18-Aug-2012
CC
We really enjoyed our stay at the Villa, and had 14 wonderful days there. The garden, beach and the ocean was like in a dream. We spent the days there in the sun, taking long walks on the beach and swimming (playing) in the ocean waves. The staff was really helpful and the food delicious. We can definitely recommend this place if you want a relaxing and peaceful vacation. And we will for sure
... more
11-Feb-2012 - 25-Feb-2012
Per Anders Lindell
Sweden
This villa is magnificent. It is situated on a paradisiac and deserted beach). The staff is very attentive to our demands(requests), very discreet but always available. All the meals were delicious.
30-Oct-2011 - 04-Nov-2011
corinne michard
France
The villa is all that it promises. It is wonderfully built, set in an enormous garden right at the beach. The garden, full of coconut trees is a place to wander around safely. Our children,15 and 11, enjoyed the visits of the very shy monkeys and the big lizards around. We even had regular visitors from 6 little bunnies that came out of their hiding during the day. The large pool is cleaned
... more
27-Jul-2011 - 06-Aug-2011
Marc Sinclair
United Arab Emirates
The villa is an absolute dream, the staff treated us like royalty and we revelled in the long sandy beaches for walks with the knowledge that there would be a cold beer or a gin and tonic waiting for us to cool us down upon our return. Well worth the drive from the airport. Good location for turtle watching in Rekawa and Whale Watching in Marissa and if you need to see anymore animals then
... more
27-Dec-2010 - 02-Jan-2011
Louise York
Singapore