Famed for the historic Galle Fort district, tea industry and pristine family-friendly beaches, Sri Lanka is also known for its several national parks, animal reserves and wildlife sanctuaries.
When holidaying on the south coast, don't miss the chance to visit at least one of the protected wetlands or other animal habitats. Day trips are fun for the whole family and easy to arrange ahead. Road trips around the country require a bit more planning. Why not start now? Here are a few of the most popular animal attractions in Sri Lanka.
Kalametiya Bird Sanctuary
Established in 1938, this is one of the oldest protected wildlife parks in Sri Lanka and is celebrated as one of the best eco-birdwatching destinations in the entire world.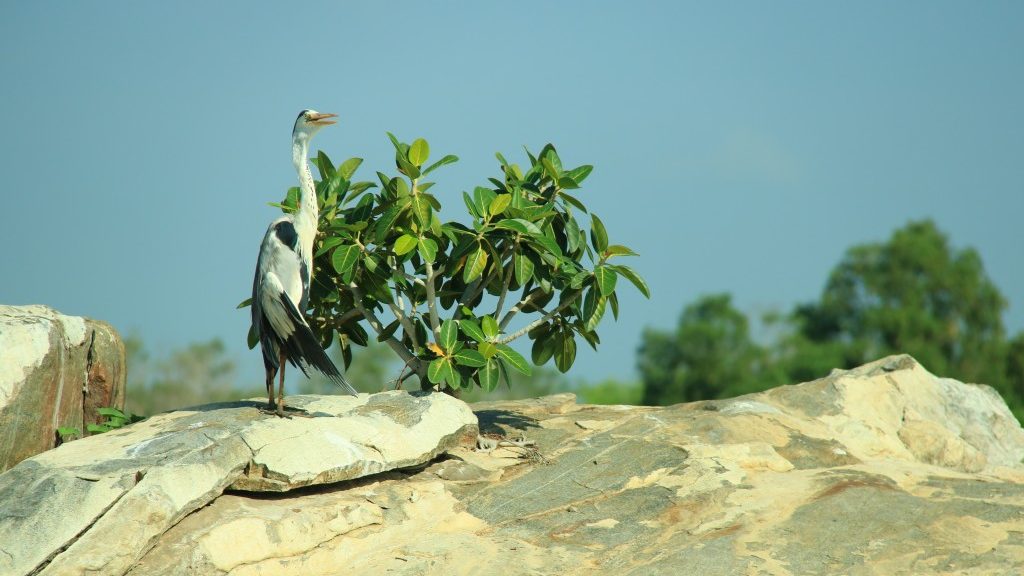 THINGS TO DO Birdwatching, photography, kid-friendly rock climbing, early morning or afternoon paddle boat cruise
WILDLIFE Over 150 bird species including Indian Reef Heron, Sri Lankan black-capped purple Kingfisher, Glossy Ibis, Jungle Fowl, Black Bittern, Slatybreasted Crake, Watercock, 20 mammal species, 40 types of fish, 40 exotic reptiles
BEST TIME TO VISIT Kalametiya is home to several local bird species, and more migrant birds come to roost and nest each year between November and March
LOCATION 20 km from Tangalle city, the sanctuary is near the village of Hungama on the south coast of Sri Lanka
GETTING THERE Via train or private transportation, the exit for the sanctuary is clearly marked on the A2 near the 214 and 218 km posts
WEBSITE kalametiyabirds.lk
Minneriya National Park
The site of The Gathering, a world-famous elephant spectacle, Minneriya is a protected 8,890-hectare reserve within Sri Lanka's famed Cultural Triangle. Critical to the biodiversity in this habitat are its natural wetlands, water tanks and irrigation systems.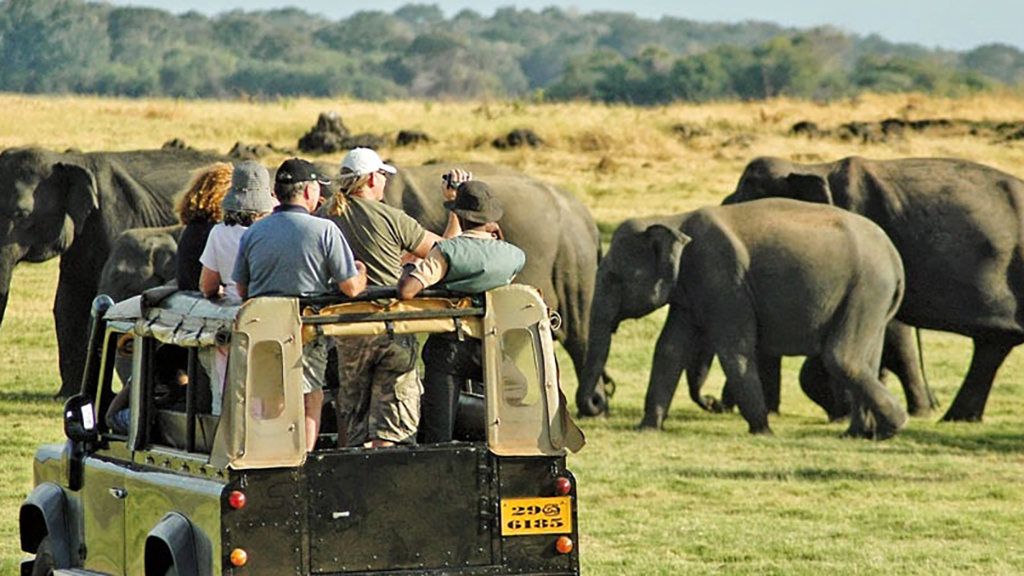 THINGS TO DO Jeep tours; Wildlife photography
WILDLIFE Approximately 200 wild (Asian) elephants, various migratory and aquatic bird species, wetland mammals
BEST TIME TO VISIT The dry season, usually late August to October is when groups of elephants congregate here
LOCATION Less than 10 km from Habarana on the Colombo Polonnaruwa road
GETTING THERE Entrance requires a permit from the Ambagaswewa wild life conservation office, so guided tours are the way to go
Bundala National Park
Made up of brackish lagoons, grass flats and sand dunes, this coastal park is important for many wading birds including flamingoes, as well as endangered reptile species and elephants in Sri Lanka. It is known as the final stop for migratory birds which winter in Sri Lanka, and famous for having over 300 pink flamingoes year-round. Bundala was declared as a sanctuary in 1969 and upgraded to a National Park in 1993.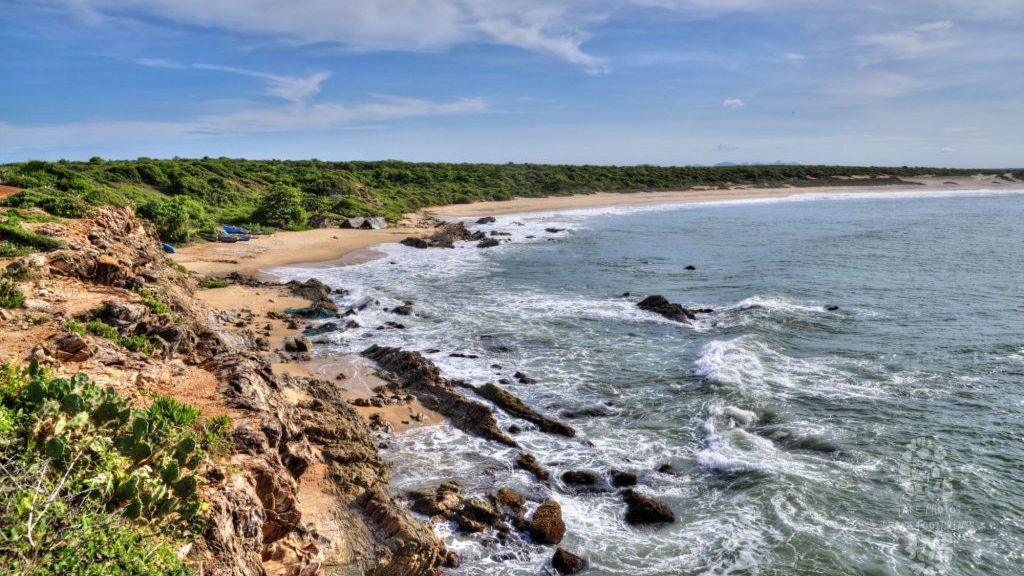 Image via Take Photos Leave Footprints
THINGS TO DO Birdwatching, Jeep tours, overnight camping
WILDLIFE Flamingoes, peacocks, wading birds, elephant herds, leopards, crocodiles, nesting sea turtles
BEST TIME TO VISIT Tropical monsoon climate with dry period from May to September, flocks of Flamingoes arrive between August and April, sea turtles lay eggs in the sand from October to January
LOCATION About 15 kilometres east of Hambantota, south coast Sri Lanka
GETTING THERE Hambantota is 125 kilometres east of Galle via Colombo and a pleasant coastal drive

Yala National Park
Yala is the country's oldest National Park having been designated in 1938, and it's one of the wildest – world-famous for resident leopards and bears. The park is massive: 979 square kilometers (378 square miles). That's 26 times bigger than the city of Colombo. A central area of the park is a Strict National Reserve for animals only. Other small areas are routinely closed to the public for short spans throughout the year.
THINGS TO DO Jeep safari day tours, overnight camping up to three nights
WILDLIFE Highest leopard density on the planet, bears, elephants, birds and reptiles
BEST TIME TO VISIT June to September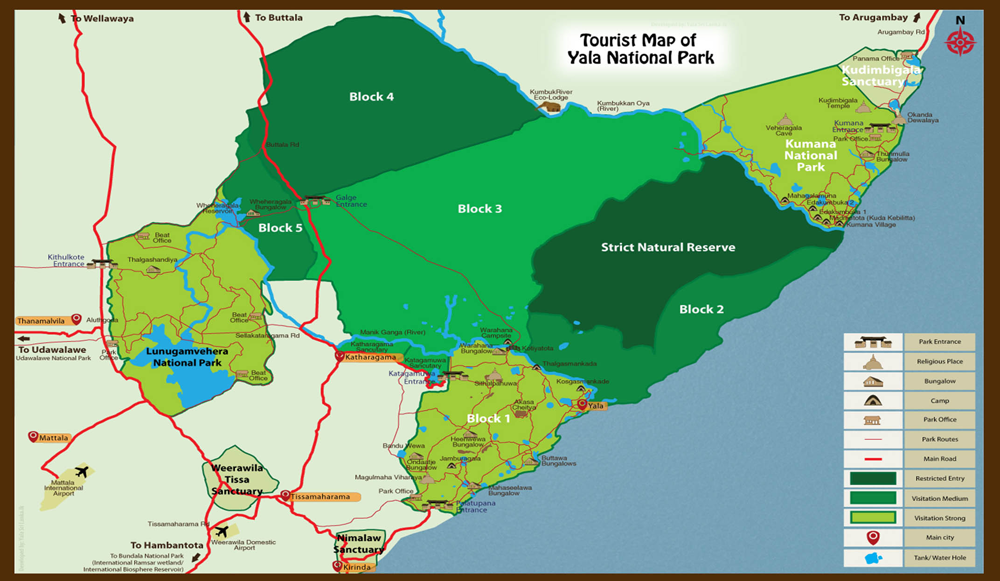 LOCATION Multiple park entrances along the coast and inland between Hambantota and Arugambay
GETTING THERE The south end of the park is accessed via Tissamaharama or Kataragama, and the nearby coastal area of the park known as Block 1 is a popular part to observe animals
WEBSITE yalasrilanka.lk
Wilpattu National Park
Flora and fauna flourished for years at Wilpattu National Park when it was closed during the war. It is a beautiful National Park with many lakes and boasts ancient ruins from royalty who lived there over 2,000 years ago.
THINGS TO DO Safari Game Drives (Jeep tours), overnight camping
WILDLIFE Sri Lankan leopard, sloth bears, spotted deer, buffalo, crocodiles, monitor lizards, many species of birds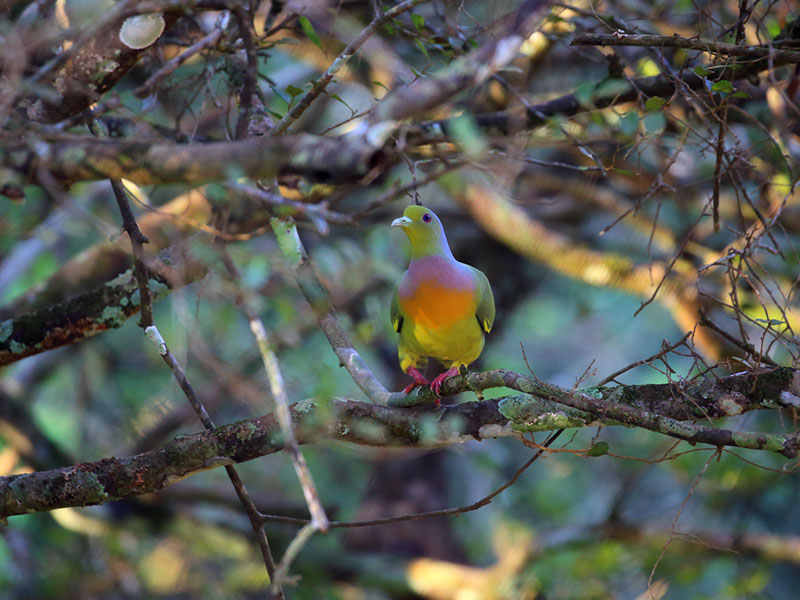 LOCATION The Park office and main entrance is at Hunuwilgama, 7 km from the turn-off from Puttalam – Anuradhapura road
GETTING THERE The route from Colombo is via Negombo, Chilaw, Palaviya and Puttalam
WEBSITE Wilpattu National Park
Hikkaduwa National Park
Arrange a boat trip to see colourful corals and tropical fishes. Biodiversity is brilliant at Hikkaduwa, one of Sri Lanka's marine parks (the others are Pigeon Island National Park in Nilaweli and Adam's Bridge in northern Sri Lanka). Along with aquatic animals, there are multiple shipwrecks for divers to enjoy.
THINGS TO DO Glass bottom boat rides, SCUBA diving, snorkelling, swimming, surfing
WILDLIFE Ornamental fish, sea turtles, Blacktip reef shark, crabs and prawns
CORALS Staghorn coral, Eklhorn coral, brain coral, table coral, star coral, Montipora and more
BEST TIME TO VISIT June to September and December to May are typically the drier seasons between monsoon seasons
LOCATION Hikkaduwa Beach, Southern province of Sri Lanka, 20 kilometres from Galle
GETTING THERE Private transportation or train from Colombo or Galle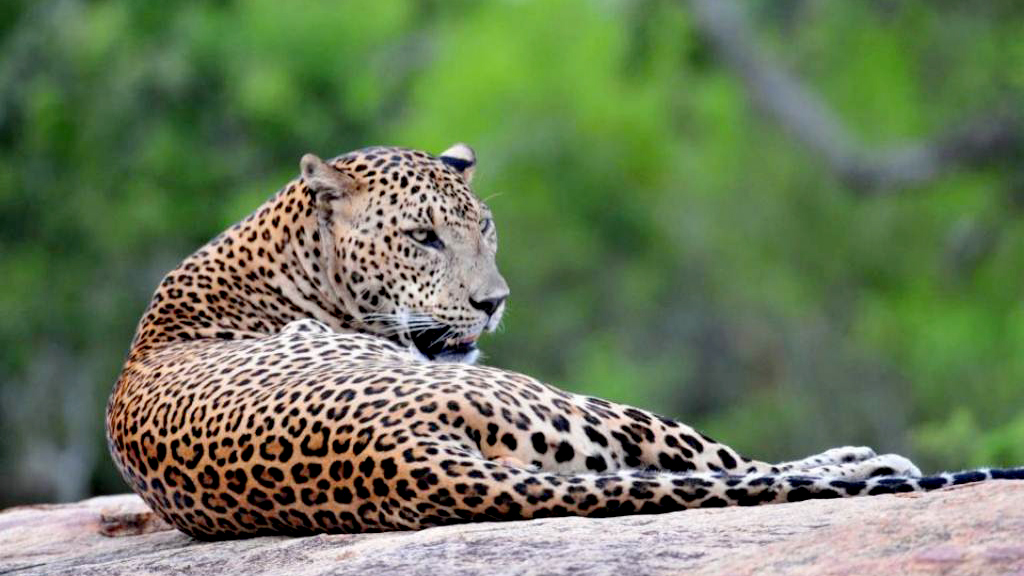 Images are sourced from the national park organizations as well as Take Photos Leave Footprints, Amelia Tennakoon via Flickr, mysrilankaholiday.com and marvelloussrilankalk.blogspot.co.id

The visitor code
Protected lands are made available for eco-tourism and regulated by Sri Lanka's Department of Wildlife Conservation. Whether you embark on a walking tour, Jeep safari or even a whale watching boat trip, please observe the tour guide's rules which are important to ensure your safety as well as the protection of the animals and their habitat. For many it's a once-in-a-lifetime joy and we want the experience to be available for generations to come.
Our South Coast villas provide luxurious havens from which to explore the many national parks of Sri Lanka, and more.