Sri Lanka has a lot of beaches. Almost its entire 1,300-kilometre coastline is sandy and palm-fringed, but not all beaches are swimmable. Sri Lanka's popularity as a surfing destination says a lot about the character of the sea. For the most part, gentle rollers wash its beaches, but there are offshore currents and some stretches of coastline are just plain wild, with foaming waves crashing onto the seashore. The Galle coast offers some of Sri Lanka's best beaches and is a great destination for a family holiday. Read on to learn more about the most suitable (and safest) family beaches in Sri Lanka.
Best for toddlers
If you're travelling with a baby or toddler, you'll be after the calmest sea. A favourite beach with local expat families is Dalawella, around nine kilometres east of Galle. The sea here filters into a shallow lagoon, protected by offshore rocks, and washes onto a sandy beach.
Wijaya Beach Restaurant is a well-known spot for great food and drinks. The family can enjoy a hearty lunch at the beach cafe and if you are lucky, you can spot turtles swimming just off shore.
Their café-style menu is kid friendly (as well as delicious Asian tapas, expect freshly made burgers, wraps and fish and chips), and from the sunbathing deck, you have a clear view of the beach and sea.
Fun for kids
If learning to surf is on your kids' holiday wish list, Dewata Beach, close to Galle, is a convenient spot. The surfing vibe here has really taken off in the last couple of years, and this narrow strip of sand is dotted with surfers' haunts. At the unassuming Shack café, you'll find great food and you can organise surf lessons.
Weligama Bay – a 40-minute drive from Galle – is the south coast's most well-known place for beginner surfers. Just before you reach Weligama beaches, the sleepy beachfront of Midigama is a hidden gem for beginner and intermediate surfers who want maximum exclusivity.
Weligama, which means 'sandy village', is set on a stunning wide bay with a long strip of sand bordered by surf-orientated guesthouses and restaurants.
En route to Weligama is Kabalana, a lesser-visited beach, which also offers good surfing. If you are looking for somewhere to eat at Kabalana, try Café Ceylon; although it's not on the beachfront, it's the best menu in the area.
Teen attraction
Independent teens will also love the buzz of Weligama. They may also be drawn to the wide bay of Talalla (just to the east of Matara) and the gorgeous horseshoe-shaped bay of Hiriketiya, a little further along. Beaches such as these, nearer Tangalle than Galle, tend to be more chilled and attract yogis, surfers and hipsters.
Hiriketiya has some great little beach cafés. If looking for some refreshments, Dot's Bay Beach House, set back from the centre of the bay, serves healthy juices and meals. For teens looking for more action, Unawatuna, close to Galle, is the ideal place as there are jet skis for hire, dive shops and rows upon rows of sunbeds lined up outside the many restaurants. A favourite place to enjoy good food is Kingfisher though, like many places in Unawatuna, you may be charged for using the sun loungers.
Another option is Mirissa. It's almost as busy as Unawatuna though the sea is not as calm. It's a good spot to bodyboard, and snorkelling is possible on the far eastern shore.
Great for walks
If a fun family stroll along the sand is what you are after, the beach between Habaraduwa and Koggala is probably the longest continuous stretch on the south coast.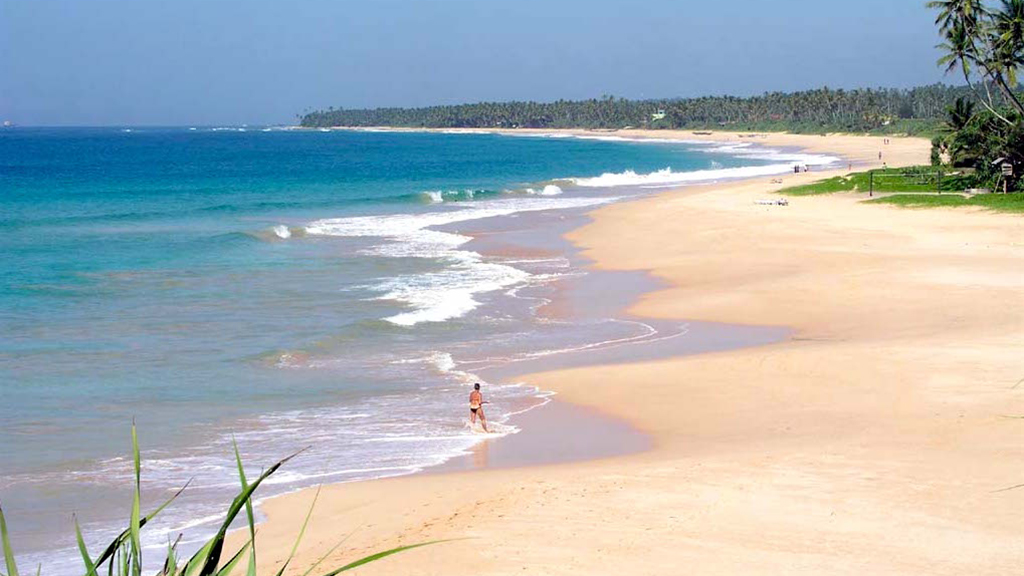 The sea here is a little too wild for swimming. But, if you time it right, you can wrap up your stroll with a sundowner. A favourite is The Fortress, which has a long timber deck for surveying the sea and an even longer menu of tropical cocktails. Why not get a massage, while you're at it?
Book a vacation at an Elite Haven in Sri Lanka to start your beach-hopping adventure.