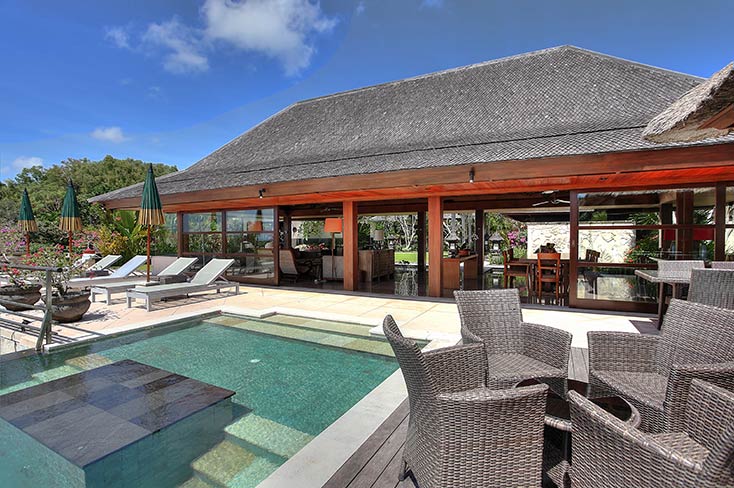 Deborah L,
,
26-Sep-2013
-
29-Sep-2013
Our family 9 adults and 4 children stayed.and found from the moment we said hello, to the moment we said good bye was an absolute delight for each one of us. The property was exactly as depicted on the website just amazing. Well maintained and decor absolutely gorgeous. The staff made this trip a joy. The manager Adi was on the ball at all times. He and his staff were unobtrusive and were always available for any requests. The grocery system was the best with every meal cooked deliciously. Every guest shoul go the Seafood bbq dinner. We dined on snapper, lobster, king prawns and calamari cooked to perfection..thankyou Chef Nyoman. Our villa driver Jessie patient annd accommodating at all times. We attended a family wedding in Ulu and were being driven around at all times and places and Jessie was so well organized for us. Staff Wayan and Ayu were also an integral part of the high standard service and agreed by all our family that stayed at the compkex.Villa Indah Manis and Bulan Madu.my husband and I will definitely stay again and recommend this villa for an amazingly happy experience. Thank you.
Jesse Schlaud S, Japan
,
18-Aug-2013
-
25-Aug-2013
My wife and I had our wedding at Indah Manis and we could not be happier with our choice. The villa and grounds are beautiful and the staff was incredibly helpful, courteous, and always available. The food was amazing and the staff even went so far as to get authentic balinese street food take-out on two nights when we didn't order dinner ahead. We couldn't imagine having had our wedding anywhere else and hope we have an opportunity to return soon.
Kate W, Australia
,
25-Apr-2013
-
28-Apr-2013
I couldn't recommend this villa enough. We had a perfect stay and enjoyed it immensely. We held our wedding at the villa and it was an amazing setting with everything we wanted.