Sri Lanka's bountiful west coast is a haven for beach lovers. At its heart lies Bentota, a well-developed family-friendly coastal resort town, reachable via a 90-minute drive south from Colombo. Featuring the region's longest stretch of sand, good seasonal swimming and a variety of sea- and lagoon-based water sports, Bentota has everything you want from a tropical vacation. Holidays in Bentota are exciting yet relaxed, with plenty of action should you want it. Travel southwards, however, towards quiet coastal hamlets such as Kosgoda and Ahungalla, and the vibe changes into one which is more intimate and serene. Along these crowd-free beaches, you will find some of Bentota's finest private villas and holiday homes.

The west coast is Sri Lanka's quintessential beach holiday destination. Only recently have private villas begun to spring up along its fine palm-fringed shoreline, allowing you to indulge in luxury while enjoying the many things to do in Bentota. Beachside havens set away from the main road, tucked into little coastal villages, these villas promise a luxurious, comfortable and relaxing holiday for families, couples and groups. Holiday rental villas in Bentota firmly reflect their destination; their owners often drafting in renowned Lankan architects to create their vision of a contemporary tropical home – think open-to-the-garden living spaces, double-height ceilings and pavilions beside sun-drenched swimming pools.

Our villas in Bentota are stylish and well-equipped. Expect bedrooms with lavish ensuite bathrooms and spacious living areas allowing for convivial get-togethers or quiet moments. Villas offer soothing views of tropical gardens with swimming pools and – in for some – the Indian Ocean beyond. Choose to dine indoors or eat alfresco, while enjoying facilities such as TVs, music systems and WiFi. Most villas come with barbecues too, for grilling the fresh fish and seafood the region is known for, as well as a provision for chefs and attendants, so you don't have to lift a finger.

Beaches in Bentota are home to five of the world's seven species of nesting marine turtles. Kosgoda, in particular, is a prime nesting beach and these ancient creatures are often spied laying eggs or emerging as hatchlings from the sand. Visit one of the hatcheries along the west coast to learn about their precious life cycle. Other things to do in Bentota include jet-skiing, water skiing, windsurfing and diving, or you could boat-trip up the Madu Ganga River to glimpse riverine wildlife and mangrove forests, and visit a Buddhist temple.

Two of Sri Lanka's most notable personalities resided nearby and have created magical homes and estates for themselves here. Renowned architect Geoffrey Bawa spent over 40 years crafting Lunuganga, a hilltop house reflecting his own tropical modernist style and set amidst vast landscaped gardens overlooking Dedduwa Lake. Brief, the former estate of Geoffrey's brother Bevis, a landscape architect, is set on a much smaller scale, though this modest low slung house is richly adorned with photos, artwork and sculptures. The gardens are open for visitors and the Elite Concierge can arrange for a trip there.

For a relaxing Sri Lankan beach holiday, Bentota's luxury villas, enigmatic coastline and unique attractions promise memories that your family and friends will cherish forever.
Read more
---
Saffron & Blue
3 Bedroom Rate
6 Adults
Explore this villa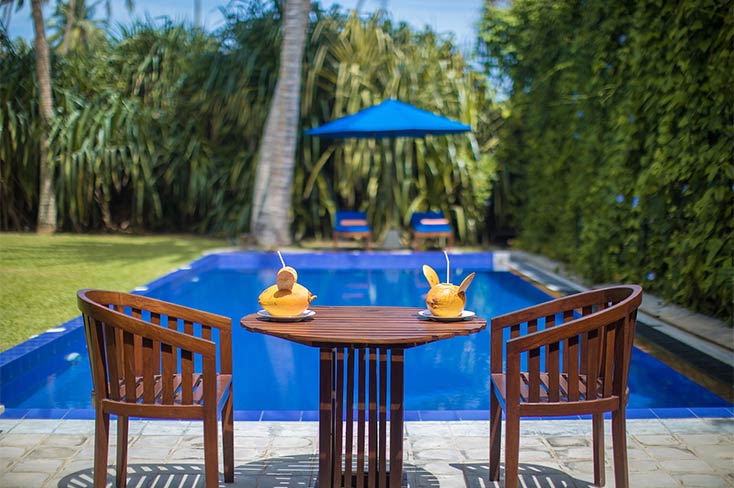 Saffron & Blue
2 Bedroom Rate
4 Adults
Explore this villa
Need more inspiration?
We're at your service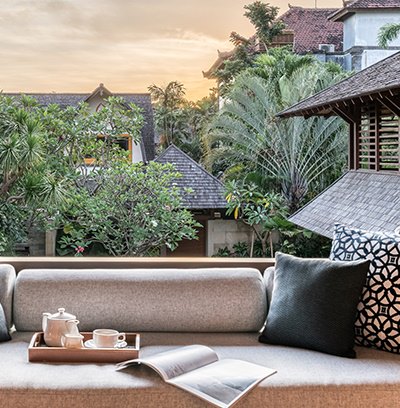 Read our reviews
See what our guests have to say about their stays
Read our reviews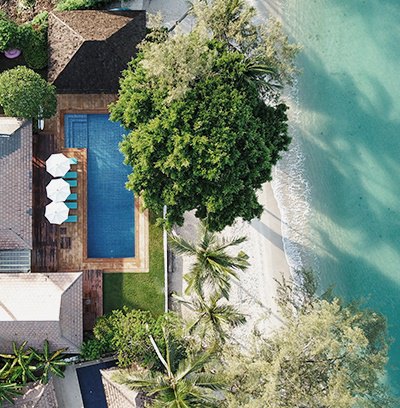 Our Signature Collection
Our Signature villa and chalets offer enhanced luxury at every level. Each tiny detail is taken care of, and small personal touches are sure to delight such as bespoke activities or fine dining with panoramic views.
See our signature collection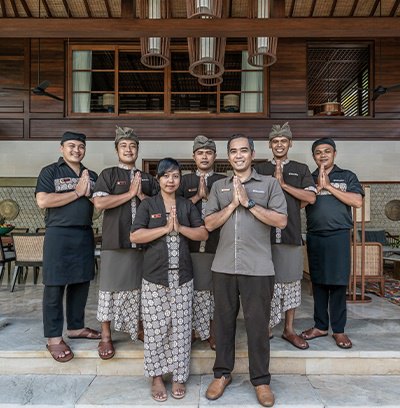 Contact us
Our Villa Specialists know each property inside out and would love to assist you in finding your ideal holiday home.
Start live chat