Baan Dalah
The villa you chose is no longer available for rental from us but we have a portfolio of Elite Havens in various locations around South East Asia for you to choose from. Alternatively feel free to send us an enquiry and it'll be our pleasure to help you find the perfect villa for your next holiday.
A holiday here includes

Absolute Beach Front

Staffed

Private Chef

Private Pool
Elite Concierge
Privately secluded between towering palm trees, and facing the golden sands of Big Buddha Beach, Villa Baan Dalah offers luxurious beachfront living on blissful Koh Samui. The villa boasts spectacular and uninterrupted views over the Gulf of Siam, a sparkling turquoise bay dotted with yachts, the famous Big Buddha golden statue shimmering in the sunlight and the jungle clad mountains of neighbouring islands Koh Som and Koh Phangan, which beckon on the horizon.
Baan Dalah was completely refurbished in 2017 and offers three beautifully appointed bedrooms, a 19-metre infinity pool overlooking the sea, landscaped gardens and comfortable contemporary indoor and outdoor living areas including a fully-fitted modern kitchen and satellite TV entertainment. A team of full-time staff including a villa manager, housekeeper and a cook take care of all guest needs. A delicious complimentary daily breakfast is provided.
Private and secure, this villa offers the perfect getaway for a family or small group seeking relaxation, dips in the sea, leisurely strolls along the five-kilometres of sandy beach, or thrilling adventures over land or sea...
Big Buddha Beach is a quiet area in the north east of Koh Samui, just 10 minutes from the airport. The villa is within walking distance of local shops, restaurants and bars of Bang Rak; just 20 minutes' drive from the bustling nightlife and shopping of Chaweng; five minutes from the famous Big Buddha temple, and close to the departure point for ferries and boats that venture out to those alluring neighbouring islands.
Baan Dalah is aptly named after the remarkable, long-living Dalah flower – known in English as Torch Ginger. A stay at this vibrant beachside villa is bound to revitalise and relax both body and mind.

this elite haven.
Right on the beach of Big Buddha Bay
Bang Rak dining a short walk away
A few minutes from Fisherman's Village
Need more info on this villa? Floor plans, services, images and reviews.
Click here to view the owner's comprehensive website
www.baandalah.com
17-Oct-2020 - 22-Oct-2020
"We had an amazing time in this place. Perfect villa great location. Staff is perfect, service is great. Overall a wonderful trip. Baan Dalah place is highly recommended. Amazing food, clean rooms, great service!!!"

Karim E, Thailand
Rates and availability
Promotions
Family Funcation

Family Funcation

Stays of 2 nights or more enjoy 30% off from now until 31 March 2021 (excluding stays from 23 December 2020 to 3 January 2021).
Stays of 3 nights or more enjoy 30% plus early check-in or late check-out, complimentary welcome amenities and a Thai family-style dinner.
Stays of 5 nights or more enjoy 35% off, the inclusions above, plus a day trip to Pig Island.
Stays of 7 nights or more enjoy all of the inclusions above, plus in-villa babysitting service, children's gift pack and complimentary roundtrip airport transfers.
Additional discounts available for stays of 10 nights or longer. Contact reservations@elitehavens.com for longer stay prices.


At Elite Havens, we understand that flexibility is required for travel planning in the current COVID-19 scenario, so should your flights be cancelled or a government travel advisory require you to be quarantined, we guarantee a full refund. Terms and conditions apply. Book with confidence and stay safe, book an elite haven.

Terms and conditions:

- Valid for new bookings received from now until 29 March 2021

- Valid for stays from 27 August 2020 until 22 December 2020 and from 4 January 2021 until 31 March 2021

- Minimum stays of 2 nights

- May not be combined with other discounts and/or special offers

- Early check-in/late check-out is subject to availability

- Complimentary welcome amenities include a fruit and snacks basket, and a signature cocktail or glass of wine per guest

- One-time Thai family-style dinner per stay for all guests staying at the villa, excluding beverages

- One-time complimentary day trip to Pig Island for all guests staying at the villa

- One-time complimentary in-villa babysitting service for 8 hours

- Guaranteed refund conditions apply at the time of booking
Discounts
Early bird enjoys up to 15% discount when booking 120 days in advance.
Last minute bookings enjoy up to 10% discount when checking in before 21-Feb-2021.
Quick facts
Location
Big Buddha Beach, Koh Samui, Thailand.
Capacity
6 people in 3 ensuite bedrooms: 2 with king-size beds, 1 with twin beds. Extra beds may be set up on extra cost.
Living areas
Modern kitchen with island breakfast bar; indoor living - dining for 6 guests and TV area. Shaded dining terrace for 6; poolside sun terrace with 4 loungers.
Pool
Length 19m x width 4m x depth 1.2m to 1.6m.
Staff
Villa manager; housekeeper and cook.
Dining
Complimentary breakfast, other meals on request at shopping cost price + 20% handling fee.
Communication
WiFi internet access, mobile phone coverage.
Entertainment
Satellite TV, DVD player, iPod dock, interior and exterior speakers.
For families
Baby cot and high chair available on request.
Spa
Villa staff can organise in-house treatments from a comprehensive spa menu, carried out by professional beauty and massage therapists (extra cost applies).
Transport
Complimentary one-way airport pickup and dropoff. Local bars and restaurants are within easy walking distance. If additional transport is required, staff can organise a taxi or rental car with or without driver hire for sightseeing (additional cost applies).
Additional facilities
Barbecue, safety deposit boxes in all bedrooms.
Property area
250sqm (villa), 800sqm (land).
Managed & marketed by
The layout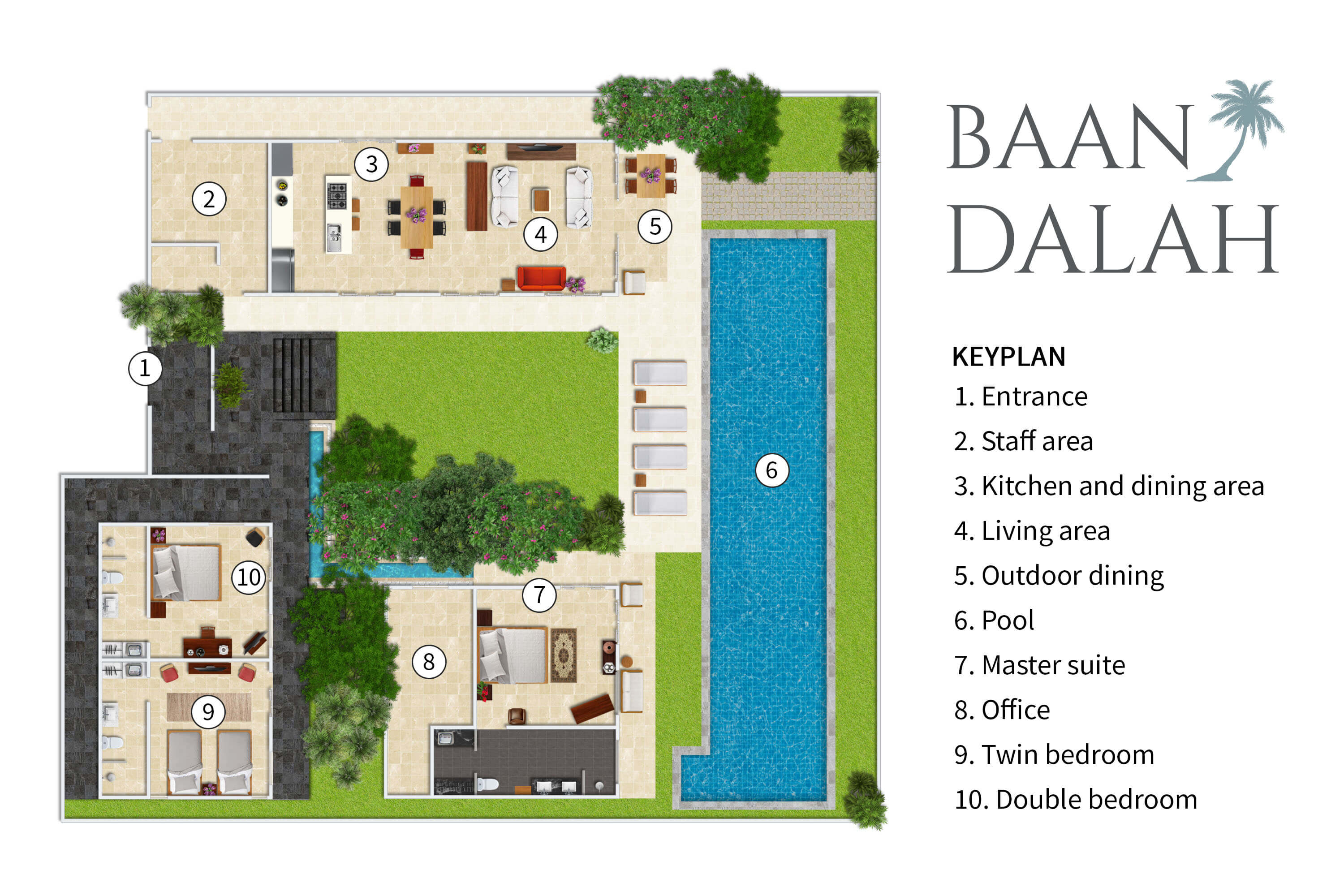 Indoor living
Spacious dining area seating up to 6 guests
Air-conditioned living area with comfortable sofas, high definition satellite channel TV, DVD player and iPod dock with outdoor speakers
Fully equipped modern kitchen with breakfast bar and state-of-the-art coffee machine
Outdoor living
19-metre infinity pool
Large stone terrace furnished with sun loungers
Landscaped tropical garden
Shaded alfresco dining area overlooking the sea

The rooms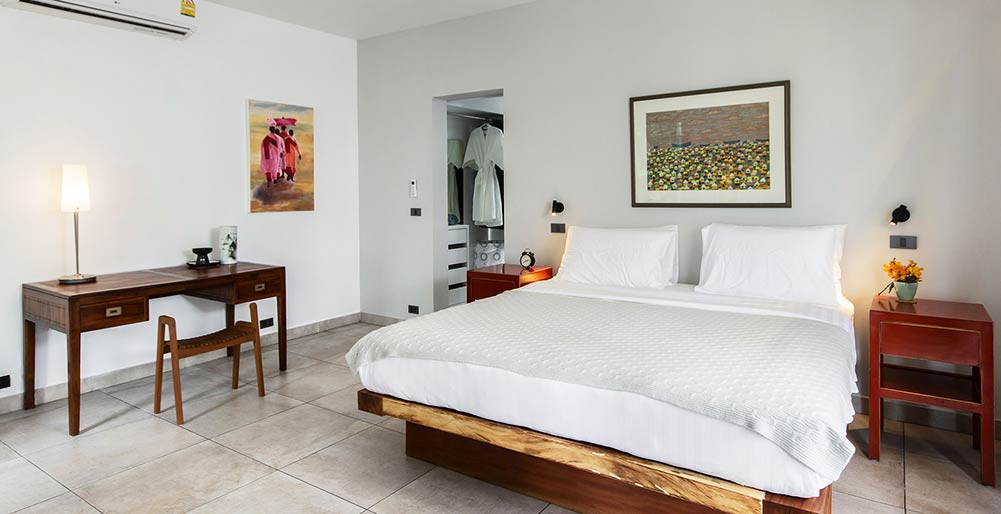 Master bedroom
King-size bed overlooking the infinity pool and sea through sliding patio doors
Ensuite bathroom with rain shower
Large dressing room
LCD TV, DVD player, digital safe, air conditioning and dehumidifier
Outdoor cushioned seating area
Double-bedroom
King-size bed
Desk/dressing table
Ensuite bathroom, rain shower, dressing area
LCD TV, DVD player, digital safe, air conditioning and dehumidifier
Outdoor seating area
Twin/double bedroom
Twin-bedded room

Desk/dressing table
Ensuite bathroom, rain shower, dressing area
LCD TV, DVD player, digital safe, air conditioning and dehumidifier
Outdoor seating area
Location
Villa Baan Dalah is situated on the golden sands of Big Buddha beach in the northeast of Koh Samui, Thailand, with uninterrupted views across the Gulf of Siam to neighbouring islands and the famous Big Buddha statue. It is a 10-minute walk into Bang Rak village with its local shops, bars, restaurants and beach clubs as well as ferries and speedboats venturing out to the islands of Koh Phangan, Koh Tao and Angthong National Marine Park.
The famous Big Buddha temple is just three kilometres away and Fisherman's Village with its mix of traditional shop-houses, trendy bars, restaurants and the popular Friday and Tuesday night market is just two kilometres from the villa.
Things to do
Villa Baan Dalah's manager and other staff will have a wealth of information about places of interest both on and around Koh Samui island. Do chat with them about ideas for places to visit and the local lifestyles. They are very knowledgeable and would love to share information with you. They will help with bookings and transport. Thai cookery classes, spa treatments and yoga classes are all available at the villa.
Here are some of the other many activities on offer within easy reach of the villa.
Water sports
Boat trips
Diving and snorkelling
Golf
Canopy cable rides
Archery
Go-carting
Elephant sanctuary
Mini-golf
Spa's
Sunday Brunch at Nikki Beach Resort
Karim E, Thailand, 17-Oct-2020 - 22-Oct-2020
We had an amazing time in this place. Perfect villa great location. Staff is perfect, service is great. Overall a wonderful trip. Baan Dalah place is highly recommended. Amazing food, clean rooms, great service!!!
Rudi J, Thailand, 09-Jul-2020 - 12-Jul-2020
A night away in Bangrak, well suitable property and very comfortable. The staff takes care very well. We will definitely come back again. Thank you all.
Sergey R, Russia, 12-Jan-2020 - 18-Jan-2020
Thanks a lot to all team! Everyday you showed us care about our stay and our comfort! Every second of our stay we felt care from all of you. Special thanks to cook, food was fantastic! Thanks to all team! We will be back soon.
Yury M, Russia, 04-Jan-2020 - 12-Jan-2020
Amazing staff at villa and incredible cook, food was delicious! Specially would like to mention about honesty of the staff in the calculations for food. Staff was trying to please us very much.
Fabrice R, Congo, Democratic Republic of the (Congo – Kinshasa), 30-Dec-2019 - 04-Jan-2020
A stunning location with an incredible villa! That been said but the over all experience is elevated by the team and outstanding service. We love the attention to the details, continued smile and the food was the best Thai we ever had. Thank you Baan Dalah team and Happy new year.
Paul W, Australia, 13-Dec-2019 - 20-Dec-2019
Beautiful place and beautiful people and food was incredible. We love it.
Damian B, Singapore, 21-Nov-2019 - 26-Nov-2019
We had a wonderful stay! The staff was wonderful and the food was so good! Our trip was so relaxing here and we look forward to coming back! I can not compliment the staff enough for making our stay so nice! We will be back! My 14 month old son loved it here as well. Thank you! Thanks so much for the wonderful time at Ban Dalah! Everything was perfect and just loved it all! Thanks
Paulus Hendrikus B, Thailand, 07-Nov-2019 - 11-Nov-2019
Thanks for the good service! Great location!
Diane J, United Kingdom, 08-Sep-2019 - 21-Sep-2019
We have had the most incredible two week stay here in the paradise that is Baan Dalah, hosted by the 6 star team, Peaw, Dao and Pat. The level of service was truly jaw dropping attentive and simply excellent. We had a two year old with us who arrived as a stranger to the staff, but leaves with two new aunties and an uncle! They are such genuine, pure people who are very delighted when you are. The food and we sampled it all. Was among the best we have had, cooked perfectly with attentive to the finest details and flavor balance. Anything we needed, scooter rentals, boat charters, restaurant reservations, could all be take care of with the staff. Thank you so much.
James V, United Kingdom, 17-Aug-2019 - 27-Aug-2019
We are had the most amazing ten days at Baan Dalah. Thank you so much for looking after absolutely everything for us, from the amazing breakfasts, lunch, techniques to the towel arrangements and the Gin and Tonics by the pool in the evening. Renting the paddle boards for the house was a great idea and our personal trainer Marco made for fun short to the day. The team at the villa were 5 star. K. Peaw looked after us from the minute we arrived and knew what we wanted before we had even worked it out ourselves, very special man! The food by Dao was delicious for us every night and Pat kept the villa running smoothly for our whole trip. Thank you for a lovely holidays. One that we will never forget.
Mohamed C, United Arab Emirates, 13-Aug-2019 - 16-Aug-2019
I am so grateful for being able to stay in this beautiful villa. Thank you so much to the staff for always looking out for us and being so kind and caring. Thank you so much Peaw, Dao, Pat. It is already amazing to have such a great service, but at the same having the time of your life in a place I like to call paradise. The food is absolutely fantastic, so delicious and so fresh. When it comes to the cleaning of the house it is done perfectly. I really love the way you stack the towels into these designs. Thank you from the bottom of my heart.
Andrew W, Singapore, 03-Aug-2019 - 10-Aug-2019
Thank you so much for a lovely relaxing stay! We have enjoyed it, all the yummy food. " go raibh maith agat " x Lou, Dan Siobheal and Dean Thank you all for taking such good care of us and for keeping us full with yummy food. Andy and Rach XX
Philippe S, Switzerland, 14-Jul-2019 - 27-Jul-2019
"Very nice people and service". "Very good and great passion". Thank you great team. Christain L.
Varzaly V, Thailand, 30-Jun-2019 - 12-Jul-2019
We would like to thank you for an amazing stay here in Baan Dalah. We had a great time here with excellence service, very good experience, Michelin staff kind of cooking. You were always kind and had a smile on you face. With Love :) Varzaly
Jessica P, Philippines, 22-Jun-2019 - 27-Jun-2019
Thanks for villa staff' sweet service, we love the amazing food and views. Very good for Ooyni, Dao, Pat
Danielle H, United Arab Emirates, 16-Jun-2019 - 21-Jun-2019
Such a delightful stay! Looked after great by the girls. As Emirate crew we have been spoiled traveling the world and staying in this grand place Baan Dalah has been excellent, exceeding our expectations! Thank you. Hodder Danielle Kate
Lakvinder Singh H, Malaysia, 12-Jun-2019 - 16-Jun-2019
Dearest Ooy, Dao and Pat, Thank you for your wonderful hospitality and coming through for us during our stay. The place is beautiful and comfortable. The location of many great memories for my family. Thank you all very much. Love, Lakvinder Singh and family
Youmeng Z, China, 08-Jun-2019 - 11-Jun-2019
I have to say it is amazing! My family and my friends family spent an unforgettable time here. The food and service is great! That was like at home. Good Villa, great food, best staff!
Pan N, China, 01-Jun-2019 - 06-Jun-2019
Beautiful scenery and best service as well. We spend six precious day in the villa, everyone especially my baby, enjoyed it very much.:) the food here is so yummy! We really recommend this villa. Your time here is going to be an unforgettable recollection. Thank you so much and wish you guys good luck! Ni and All family members.
Danielle M, Singapore, 22-May-2019 - 26-May-2019
Such a delightful stay! Looked after great by the girls. As Emirates crew we have been spoiled traveling the world and staying in grand place but Baan Dalah excelled our expectations. Thank you!
Lily Z, China, 06-May-2019 - 09-May-2019
It was a very enjoyable stay in these days. Kung and other staff served us very well with special care for our little kid. Thank you! Looking forward for the nice stay in here. Bruce and Lily
Elaina B, Australia, 17-Apr-2019 - 27-Apr-2019
We have had the pleasure to stay in many villas in Thailand but this was the best. We found it extremely comfortable and the superb staff of Melie, Dow and Pat looked after our every need in a efficient and extremely friendly manner. We have booked to return. What more could I say well done to all.
Jirachai S, Thailand, 14-Apr-2019 - 16-Apr-2019
Very good location, very good service, food is excellent and it is the most relaxing place.
Lucy H, Thailand, 06-Apr-2019 - 11-Apr-2019
Very good service and we will be back again.
Claire S, Hong Kong, 23-Feb-2019 - 27-Feb-2019
We have a marvelous few days here in Baan Dalah. It is a beautiful villa with a wide views and the pool is perfect. Best of all has been the sincere service we have had and all the delicious food. We will never forget the support and kindness. We were fully relaxed and enjoyed our four days here. Thank your for everything, Andrew, Clair and Alex
Francis S, United Kingdom, 09-Oct-2018 - 12-Oct-2018
Just magic. The location, the setting and the staff. It's been an absolute pleasure from start to finish. Everything we needed was provided, all done with a smile, the very definition of a "holiday", thank you.
Jenifer V, Malaysia, 08-Sep-2018 - 11-Sep-2018
What an amazing villa. The location is perfect, the views spectacular and the food amazing. We were looked after by Pae, Dao, and Pat as if we were royalty. Just when you thought you needed something (anything) they were right there with it. They were very understanding and accommodating with my very severe nut allergy. This is the best villa in SE Asia that we have stayed in, location and amenities and wonderful staff. Will definitely recommend, and cannot wait to come back.
Laura G, Switzerland, 28-Aug-2018 - 08-Sep-2018
Perfect week, great holidays, we will come again.
Kelly H, United Kingdom, 11-Aug-2018 - 18-Aug-2018
What a fantastic trip. The villa is amazing and has all the facilities needed. The location and the views are perfect. Our trip was made very special by the service we received from Ning, Dao and Pat. First class service and nothing was ever too much. The food was delicious and always cooked to perfection. Would highly recommend and hope to go back. Thanks again.
Marcey S, United States, 30-Jul-2018 - 05-Aug-2018
What an amazing trip, thank you for making our first visit to Koh Samui so wonderful.
Shi A, China, 20-Jul-2018 - 24-Jul-2018
Many thanks for your service. We are so happy to have stayed here - manager is so nice, food is delicious, I like the smile on all of there faces. I will be back again very soon.
Ran V, Israel, 17-Jul-2018 - 20-Jul-2018
We had a Wonderful stay at Baan Dalah. We liked the design of the villa and especially the cooking skills of Dao, the chef!
Qian Ru D, Thailand, 24-May-2018 - 27-May-2018
I am very happy to stay here for a few days and the surroundings are so good. The staff here are very warm and friendly. Thank you for these days, the service was great from all three staff.
Tobias B, Germany, 16-Feb-2018 - 24-Feb-2018
We had a lovely time in the villa. Super service from Champ and absolutely amazing cooking from Dao and Pat, thank you, we will be back.
Lulu T, Thailand, 18-Jan-2018 - 21-Jan-2018
Very good choice. Nice home and nice staff. The service is very very good and sweet. Nice view beside the beach. It's a good experience to stay here with friends enjoying the holiday. Food is very delicious as well.
HR, Singapore, 08-Dec-2011 - 13-Dec-2011
The villa as a whole is generally well maintained altho the kitchen is modest and outdoor lounging chairs are showing their wear. Its location may not be to everyone's liking, but we chose it for its quiet location away from the hustle of the main tourist areas like Chaweng. Yet it was within 10-15 minutes cabbing to most of your restaurants. Between Bophut and Big Buddha, there was plenty of quiet charm which suited us.
The rooms are comfortable except for a nagging problem with the water heater in one of the rooms the first three nights. Eventually replaced with a new unit. And there was always the nightly 'handicraft' to look forward to with the turn down service!
While the grounds of the villa are well groomed, the beach front requires some attention. It would help if litter was cleared every morning.
The villa manageress, Khun Fon, and the live-in helper, Khun Kip, were the most attentive and pleasant anyone could ask for and ever ready with suggestions and ideas for a good time. All requests and requirements, from groceries and transportation to restaurant reservations were dealt with very efficiently.
We were very well looked after and everyone, from my 2 year old to elderly parents, enjoyed themselves. It was my son's first time at the beach and it was definitely a winner! We will not hesitate to return to Baan Dalah in the future.
You may also like these Elite Havens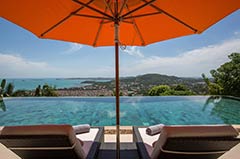 Panacea Retreat - Purana Residence
4 Bedroom, Bophut, Koh Samui
from USD 750++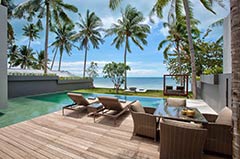 Mandalay Beach - Villa Soong
3 Bedroom, Laem Noi, Koh Samui
from USD 500++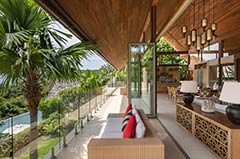 Panacea Retreat - Kalya Residence
4 Bedroom, Bophut, Koh Samui
from USD 750++

Adding villa...
Back to top