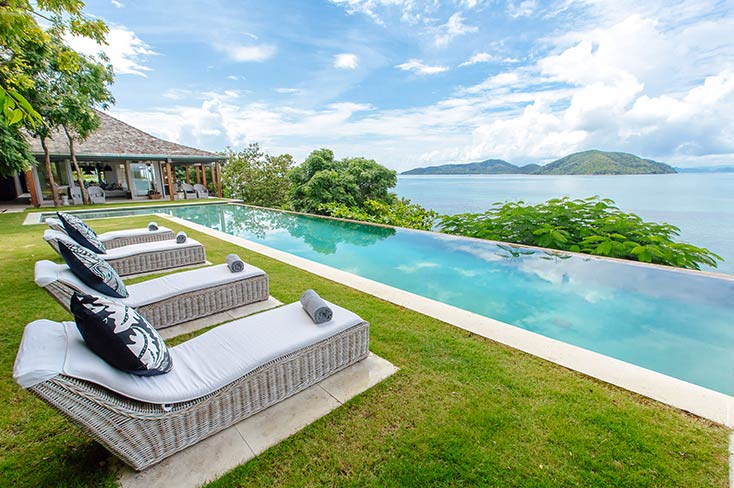 Noey W, Thailand
,
11-Dec-2020
-
13-Dec-2020
We have a great time at here. Thank you team for everything.
Khun S, Thailand
,
10-Oct-2020
-
13-Oct-2020
Villa Arcadia has it all, the view, the rooms, the space, The outdoors but the best of all was the staff. Attentive without being intrusive. We spend only three nights but every moment was wonderful which meant we had nice time here. We will come back with more friends, maybe next time we'll try Element of 8 villa. Thank you for making our trip one of the best we've had.
Phicha K, Thailand
,
18-Sep-2020
-
20-Sep-2020
Today is my son's birthday, we are coming to celebrate with our family here. We got a very good impression, good taking care, good service also delicious food. Thank you very much for taking care of us.
Alberto I, Thailand
,
24-Jul-2020
-
28-Jul-2020
We found a very peaceful place here since the first moment we arrived to the villa. I am wondering now whether it is the location, the amazing view, the well balanced decorations, the mountain where there is a beautiful temple or a mix of all this. Our family made up of 2 parents and 3 children could find a place to relax here, to laugh and to explore the flavors of the Thai food. I wish there is more time to be here, to spend more time relaxing a getting ready for work, but instead I am thinking that we may spend more time here for next year and perhaps combine work and relax in the villa. We loved it ! Thank you to the staff for all kindness with love.
Mai Y, United States
,
24-Jun-2020
-
27-Jun-2020
Very good design, Very good taste - Love it ! First time after reopening we had the best time with the family. Thank you the staff, May, Chef, Ning, Bell, Tee made the best of the team for taking care of us. We will come back soon. Best holiday :)
Ji Zhe J, China
,
10-Feb-2020
-
20-Feb-2020
Thank you very much for the holiday. Beautiful view and kind service! We love it here and we will come back.
Leila T, France
,
21-Dec-2019
-
28-Dec-2019
A wonderful week in the villa with a big thank you to the staff for their alternate and kindness. The view is just spectacular and we had the best sunsets every night.
FENG J, China
,
20-Sep-2019
-
23-Sep-2019
What a wonderful holiday! We stayed in this villa for only three days. When I saw the view I knew that we had stayed for too little! Good view! Good service! The food delicious! Thanks a lot to all the staff. Everyday we can eat the Asian breakfast as delicious as I want. They help us to clean the bedroom as often as they can.
Dimitar S, Bulgaria
,
07-Aug-2019
-
07-Sep-2019
It was incredible and unforgettable month for us! We are so lucky to live in one of the most beautiful houses in the world. We will never forget this and our hearts will stay here forever. Thank you Tang and Simon and Elite Havens for everything! Amazing service and support!