Ambassador's House
The villa you chose is no longer available for rental from us but we have a portfolio of Elite Havens in various locations around South East Asia for you to choose from. Alternatively feel free to send us an enquiry and it'll be our pleasure to help you find the perfect villa for your next holiday.
A holiday here includes

Staffed

Private Chef

Private Pool
Elite Concierge

Daily Breakfast
Even by Galle Fort's standards, there are few villas as sizeable as Ambassador's House, a seventeenth-century villa nestled within this UNESCO-certified old town. Gloriously decadent and nostalgic, this five-bedroom mansion built in the Dutch colonial style exhibits soaring ceilings, thick walls, highly polished floors and a pleasing rooftop garden.
In a former life, Ambassador's House was favoured by the Sri Lankan Ambassador to Pakistan, Iraq and Bangladesh for entertaining, and with such generous proportions it's easy to see why. A huge living room, open on three sides, welcomes you into the villa and spills onto a double-colonnaded veranda. Across a courtyard, deeper into the villa, is a dining room furnished with a grand table for ten. Three ensuite bedrooms open onto an elongated pool whilst a further two ensuite bedrooms are situated upstairs, with direct access onto an expansive dual-level roof terrace, shaded from the sun.
The villa suits company, and is a fabulous place for families, inter-generational groups and clusters of friends to relax and unwind. There is ample space for everyone to find their own little corner for stealing away or for socialising, depending on the mood. The personable staff team tend to every request and ensure that the youngest family members are kept entertained; there's a fan-cooled TV room flanking the pool terrace and the villa is equipped with a number of kids' facilities including stair gates and games.
From its prime location within atmospheric Galle Fort, you only need step out of the villa's front door to regale in the history of this fascinating town with its narrow cobbled streets lined with charming centuries-old homes, museums, tiny boutiques, restaurants, ice cream parlours and cafes. Watching the sunset from the fort's grass-tufted ramparts, as cricket games start up, is the best way to end the day. Galle's golden beaches are only a ten-minute drive away.

this elite haven.
Hugely spacious historic house
Ideal for families and groups
Very well set up for kids
Supersized roof terrace
Scattered seating areas
Need more info on this villa? Floor plans, services, images and reviews.
Click here to view the owner's comprehensive website
www.ambassadorshouse.com
05-Jan-2020 - 09-Jan-2020
"Thank you to the wonderful staff in this beautiful home away from home. It has been an absolute pleasure staying here and using this gorgeous building as our very perfectly located base from which to explore Galle and all its history. The kids having the pool available 24/7 and their own bathrooms and we adults have loved the privacy and space here – a little oasis behind the front gates. We wish this place and its wonderful people all the best for the buildings next incarnation as a boutique hotel – we can only assume anyone who visits in the future will be as charmed as we have been."

John H, Australia
Rates and availability
Quick facts
Location
Galle Fort, South Coast, Sri Lanka.
Neighbourhood
Galle town (0.5km); Unawatuna Beach (7km); Hikkaduwa (20km).
Capacity
10 people (4 king-bedded rooms; 1 twin bedroom). 2 additional beds available on request (for children; no charge).
Living Areas
Spacious fully furnished sitting room and verandas; indoor dining for 10; outdoor dining for 6; fan-cooled TV lounge; shaded roof terrace.
Pool
11m x 4m x 1.67m.
Staff
Villa supervisor; chef; service staff; 24hr security (masseuse and babysitter on request at additional charge).
Dining
A selection of western and Sri Lankan dishes. Meals are served family-style and for sharing. Requests accommodated (including special diets).

Communication
WiFi internet; telephone for local calls.
Entertainment
42-inch flat-screen TV with satellite connection; iPod docking station; DVD player; books; games.
For families
Ambassador's House is exceptionally well equipped for families. Facilities include a high chair; baby cot; car seat; books; games; stair gates; playpen; baby bath; changing mat.
Transport
On request, and for an additional charge, your villa supervisor can arrange for a car and driver. Please give 24 hours prior notice.
Additional facilities
Barbecue; First Aid box.
Property area
629sqm (villa); 780sqm (land).
Managed by
Madeleine Lanka (Private) Limited.
Marketed by
The layout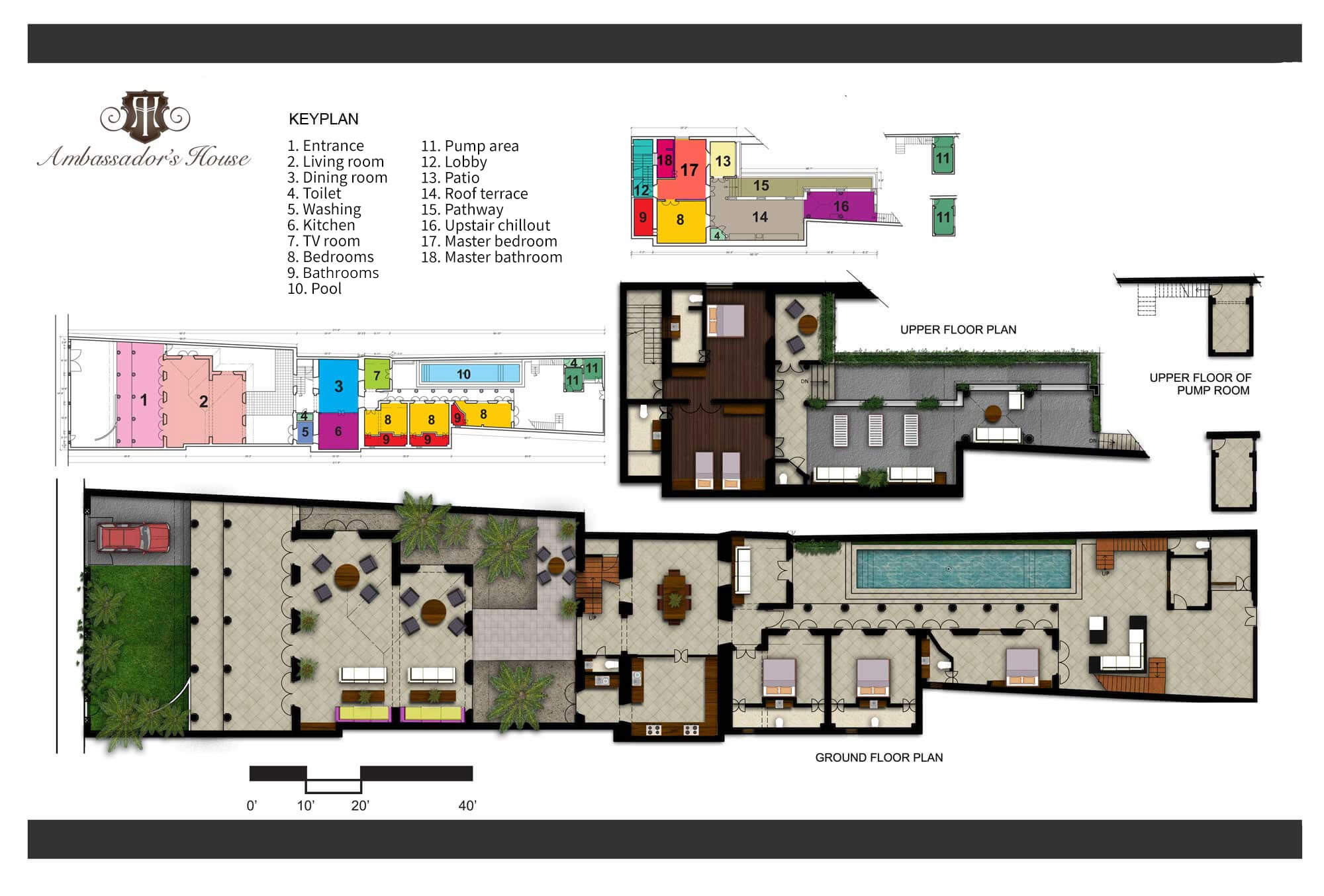 Indoor Living
Sumptuous fan-cooled living space spilling onto the deep front veranda, furnished with sofas
Separate Dining Room with a dining table for 10 with adjoining separate kitchen
Middle Courtyard with round wooden table with four chairs
Fan-cooled lounge TV lounge with 42-inch screen, DVD player, built-in sofa and views over the plunge pool
Outdoor Living
Dual-level, flower beds with bougainvillea and furnished with sun loungers.
Pavilion with built-in sofas on the top level
Gorgeous courtyard 4m x 11m plunge pool
Pockets of tropical gardens, including inner courtyard garden beside the lounge room
The rooms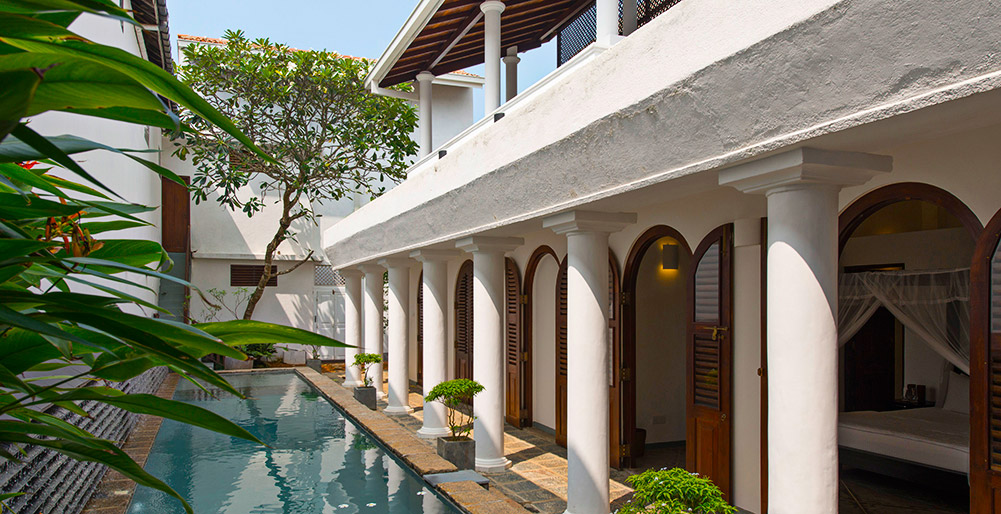 Master Bedroom
Four-poster king-size bed and rattan planter's lounge
Antique wardrobe, table and chairs
Private living space and direct access to roof terrace
Soaring ceilings and polished timber floors
Air-conditioned and fan-cooled
Linen mosquito net
Ensuite with moulded tub, twin sinks and his-and-hers showers
Twin Bedroom
Two four-poster double beds
Soaring ceiling and polished timber floors
Direct access via private veranda to the roof terrace
Antique wardrobe and furnishings
Air-conditioned and fan-cooled
Linen mosquito net
Ensuite with rain shower
Ground Floor Bedrooms
Three double bedrooms are located on the ground floor, with access through pretty archways onto the plunge pool
Tranquil and light
King-size four-poster beds and Dutch-style wardrobes
Air-conditioned and fan-cooled
Linen mosquito nets
Ensuite bathroom with rain shower
Location
Seemingly timeless, Galle Fort's richly historic walls have given shelter to a dizzying array of merchants, traders, colonialists and foreign nationals over the years, who have all left their indelible mark on this seventeenth century Dutch fortress. Narrow streets bearing English and Dutch names exhibit an astounding concentration of colonial properties whose delicate fretwork, magnificent columns and ornate plasterwork constantly inspire.
Walks atop the fort's grassy western ramparts are a highlight for many and these stoic walls, mere footsteps from your front door, are the venue for boisterous cricket matches, couples stealing private moments together and kamikaze jumpers launching themselves into the sea below. Museums showcasing the fort's rich history plus many restaurants, street side cafes and independent boutiques are a five-minute walk away.
Things to do
Your villa supervisor has a wealth of information about nearby places of interest and will help arrange transport and make any bookings required. Do also ask the staff about the local area. Many of them live nearby and will be able to give an interesting insight into some of the fascinating aspects of Sri Lankan life.
In the meantime, here is a taste of the many and varied activities on offer within reach of the villa:
Experience the living museum that surrounds you by taking a relaxing

wander around Galle Fort's charming backstreets

; stop and chat with locals, admire the fort's many heritage buildings, visit the growing collection of boutiques and finish off by watching life playing out on top of the ramparts at sunset.

Take a trip into Galle town to

experience the multi-sensorial spectacle of the fish, fruit and vegetable markets

and browse the colourful roadside wares of peddlers on its buzzing Main Street.

Visit buzzy

Unawatuna Bay

for a relaxing bathe on a curve of milky white beach. Many rustic restaurants, coffee shops and bars can all be found here and they all offer a little diversion from the warm turquoise sea.

Hidden well away from the road and below the mystical Rumassala Hill is secretive Jungle Beach where you can enjoy

snorkelling

and relaxing all to yourself just a ten-minute drive from Galle. Drop into the adjacent Japanese Pagoda on your way there.
Take a

scenic bicycle ride

through the emerald green paddy fields with Idle Tours. Enjoy the ride at your own pace and gain a unique perspective of village life before wrapping up at the beach with a glorious cool-down swim.

Yatagala Temple, just inland from Unawatuna, is an

ancient Buddhist temple

that's best visited on a full moon holiday when white clothed devotees flock here clutching prayer flags and bunches of flowers.

Head to Koggala in the late afternoon to

embark upon a boat trip

atop the glorious lagoon to look for birds, visit spice gardens, watch fishermen and experience the sun setting over the water as you slowly meander this picturesque waterway, just 12km from Galle.

In Habaraduwa, close to Koggala, is a

turtle hatchery

that the kids will love. For a small fee you can admire the resident turtles and even watch as the hatchlings are released into the sea.

The late Martin Wickramasinghe, a famous local author, was once a resident of Koggala. You can now visit his old home in town, which has been made into an interesting

folk museum

.

Around 20 minutes drive from Galle is a tea estate, whose tealeaves are the closest of any in Sri Lanka to the sea. Handunugoda Tea Factory is not only famous for its black tea but also for its white tea, which retails as some of the world's most expensive. Any

tour of the tea factory

includes a tasting session and a slice of homemade cake.


Eat Out!

Galle Fort has many great restaurants including Amangalla, Fortaleza and The Galle Fort Hotel, which are also great places for sunset cocktails. Other atmospheric eating spots in the fort include Pedlar's Inn Cafe and Mrs Khalid's for excellent rice and curry.

Other fabulous

dining options beyond Galle Fort

include Talpe Beach House, Tartaruga and Kingfishers at Unawatuna Beach, and the Wijaya Beach Restaurant, whose rooftop bar is an

excellent spot for sunset cocktails

and where the menu is reasonably priced and the sea beyond is a lovely place to swim.
John H, Australia, 05-Jan-2020 - 09-Jan-2020
Thank you to the wonderful staff in this beautiful home away from home. It has been an absolute pleasure staying here and using this gorgeous building as our very perfectly located base from which to explore Galle and all its history. The kids having the pool available 24/7 and their own bathrooms and we adults have loved the privacy and space here – a little oasis behind the front gates. We wish this place and its wonderful people all the best for the buildings next incarnation as a boutique hotel – we can only assume anyone who visits in the future will be as charmed as we have been.
Amogha B, India, 29-Dec-2019 - 04-Jan-2020
I love this beautiful amazing house. We all had a splendid time. This is an amazing place and we had an awesome time. The staff, premises, pool, location etc are just splendid. A special thanks to Loku, Jaya, Sunil, Lai and Avidu for making our stay hassle-free and comfortable.
Anna A, Australia, 22-Dec-2019 - 27-Dec-2019
Such am amazing place to spend Christmas! The food, the house, the pool! A great place for a big family to meet up. We will defiantly come back.
Janice P, Australia, 10-Sep-2019 - 13-Sep-2019
Thank you to the wonderful staff. So happy so lovely! We had a fabulous stay. 6 friends celebrating my birthday.
Yevheniya K, India, 31-Aug-2019 - 02-Sep-2019
A special holiday. Ambassadors House is a small oasis of tranquillity in the middle of the bustling Galle Fort. The service provided was excellent, and the food was lovely. A huge thank you to the entire team.
Amit K, India, 14-Jun-2019 - 17-Jun-2019
The location of this place is just amazing, you can hear the sound of beach waves and the hustle bustle of the local Sri Lankan market. The staff are awesome. We loved your hospitality and you guys did a great job handling our personalized requests. The villa was always squeaky clean and we were served well in Galle.
Tom G, Sri Lanka, 31-May-2019 - 02-Jun-2019
We had a fantastic time at this beautiful house, such a great location and really friendly and helpful staff. The food was excellent and the pool was a favourite place to be.
Thomas L, Japan, 13-Apr-2019 - 20-Apr-2019
We had a wonderful time in Galle. Thank you very much for making our stay so comfortable and special. I hope that we can visit again before too long. We stayed for a whole week, but would have been happy to stay longer. We particularly enjoyed the food and though that the quality and variety was excellent.
Dawn S, United Arab Emirates, 29-Mar-2019 - 05-Apr-2019
What an incredible place - the Ambassador's House certainly lived up to the photos online. The property is absolutely stunning and much bigger than we imagined, it accommodated our two families beautifully. The house acted as a fabulous oasis to keep popping back to as we explored Galle and the surrounding area. Thank goodness for the wonderful pool during a partially hot spell. The staff were truly brilliant and accommodated our every whim. The selection of food and availability was superb. Nothing was too much trouble and we had a clearly memorable holiday for all of us, hard one to top I am sure.
Jaclynn K, United States, 14-Mar-2019 - 17-Mar-2019
We have had the most beautiful and inspiring stay here. Everything is appeasing to the eye. The space is open and makes us feel at home while also feeling like we are in some sort of old world dream. We've been in Sri Lanka for 8 days and this was our final stop. Our nights here were full of great rest and we enjoyed every minute here. Thank you Loku and staff for making this a great ending to our adventure.
Zhiqiang Y, China, 09-Mar-2019 - 12-Mar-2019
Here was found by my husband accidentally, such a paradise. We (four people) stayed here for days and all was served as amazing as we wanted. Everything is beyond our imagination - the thoughtful staff, the beautiful and quiet environment, everything. It was really a unforgettable experience we've had during Sri Lanka, and we still have 10 days left and we cant say that we'll have the same as we have had in here. Of course for all dinners we had in and all absolutely beautiful. I heard people said the food in Sri Lanka is not as good as in my home town, but it is not true. It is much more delicious than what we have. We enjoyed a lot of curry. We love Sri Lanka and food. Definitely will come back.
Clare C, United Kingdom, 06-Mar-2019 - 09-Mar-2019
Thank you so much for providing such a unique experience during our stay in Sri Lanka. It has been a wonderful experience to walk straight from bustling streets into this calm and beautiful oasis. Our stay has been made by the brilliant by staff and chef who have been attentive as they have been discrete. Please don't turn it into a hotel – it just wouldn't be the same. Hopefully see you and the house again soon.
Meghan S, Australia, 26-Feb-2019 - 28-Feb-2019
Thank you for hosting us so graciously at this beautiful property. We loved our stay and felt so well cared for. The meals were delicious too. We can't wait to come back – this is the perfect base to explore Galle.
Simon B, United Kingdom, 17-Feb-2019 - 24-Feb-2019
What can I say? What an amazing stay we have had. A wonderful house with wonderful staff. Thank you all for making our family stay so memorable.
Reece F, Australia, 13-Feb-2019 - 17-Feb-2019
Had an amazing stay here. Beautiful house in a gorgeous location. Thank you so much to Lal, Sunil and the rest of the team for making our stay so relaxing. A big thank you to Jaya for providing us incredibly delicious breakfasts and dinners every single day. All staff were accommodating and lovely and we had a great time here.
Kate L, Australia, 10-Feb-2019 - 13-Feb-2019
Thank you Loku and team for creating a haven, the most beautiful house to spend our last days in Sri Lanka. Delicious breakfast and very relaxing, love to come back.
Michelle N, India, 07-Feb-2019 - 10-Feb-2019
Thank you so much for an amazing weekend in your beautiful place. We found the home to be warm, inviting and beautiful. The people and the staff were beyond helpful and there for every need of ours. The lunch and shacks were delicious and we all enjoyed it.
Andrew D, Australia, 20-Jan-2019 - 27-Jan-2019
Thanks you for your amazing hospitality and fabulous food. Thank you for sharing all of your local knowledge and for looking after us on Andrea's 60th birthday, making it an extra special occasion. We are dearly looking forward to returning to Sri Lanka and the Ambassadors House.
John R, Australia, 04-Jan-2019 - 10-Jan-2019
Thanks so much Loku. I am so glad to have introduced another part of my family to Ambassadors House, they loved it too. Thanks for all the support and help with trips and travel. Thank you especially for accommodating the whole family. You did a wonderful job. You and your team are an intrinsic part of Ambassadors House. You have done a wonderful job. A full house plus extras (14 yrs to almost 90) - thanks for accommodating us all with the apparent ease and catering to all our whims. The food was incredible - beyond words and will be remembered for a very long time. All the staff were warm and friendly. Thank you so much for everything. We would love to come back again. Special thanks to Loku. Thank you to all the staff for providing us with a great memory.
Glenn M, Australia, 29-Dec-2018 - 03-Jan-2019
We were seven in total and we had a wonderful stay in this house. The staff were excellent - always obliging and smiling. Jaya's food was so tasty and we all enjoyed it immensely. Sunil and Lai's service was always with a smile. Thanks to Loku for organizing everything. We wish everyone a happy stay in 2019.
Katherine L, United Kingdom, 22-Dec-2018 - 29-Dec-2018
We have had the most amazing time. There were nine of us including our great grand-daughter Hilah and the week has been a wonderful dream that we didn't want to wake up from. Loku and her team have been extraordinary and helped us at every turn. The food has been truly exceptional and we were thrilled to be able to watch the chef cooking our final dinner.
Andrew P, Australia, 16-Dec-2018 - 19-Dec-2018
We feel very lucky that we found this oasis. The sound chimes from the water feature sent us straight to sleep. Thank you Loku and her team for making our stay. The food - especially the appaun was delicious.
Troy C, Australia, 12-Dec-2018 - 16-Dec-2018
Awesome villa to stay in. We thoroughly enjoyed our time. Odjob is the man.
Devon Y, Singapore, 02-Dec-2018 - 04-Dec-2018
This place is paradise. Love it and will definitely come back again. Awesome place, awesome food, awesome service. Thank you very much for a tremendously delicious stay. Loved every second of it. Thank you all for an amazing experience. .
Susan P, Australia, 25-Nov-2018 - 27-Nov-2018
What a wonderful stay, we have enjoyed at Ambassadors House. I could certainly get used to this level of comfort. Thank you for looking after us so well. Best food in Sri Lanka.
Norman H, United Kingdom, 22-Nov-2018 - 25-Nov-2018
We have enjoyed staying here in this lovely house. Your staff all looked after us so well, we could decide to move in! We hope to see you all again in the future. Also, thank you so much for accommodating my special diet. The rice pancakes were great.
Philip W, United Kingdom, 03-Nov-2018 - 11-Nov-2018
We had a wonderful stay at the Ambassadors House in no small part due to your amazing hospitality over the past nine days. Galle Fort is a wonderful place and your accommodation has been first class. Thanks again. Yours until next time.
Helen B, United Arab Emirates, 26-Oct-2018 - 31-Oct-2018
What a wondeful place to spend our first holiday in Sri Lanka. All the team have been so kind and welcoming - a real home from home. Thank you for all your help. Thank you chef for the super meals you provided us. We look forward to doing it all again.
Meher R, United States, 20-Oct-2018 - 23-Oct-2018
Thank you so much for a wonderful stay. We really had an amaing time. The service and food were exeptional. The team took a lot of effort to make Ambassadors House home for us all. We shall always remember our time but sadly all good things come to an end. Thank you.
Phillipa A, Australia, 08-Oct-2018 - 10-Oct-2018
Lovely for stay in such a magnificent house. Looked after us very well and would certainly recommend a stay here.
Carolyn C, Australia, 04-Oct-2018 - 07-Oct-2018
Thank you to all the team at the Ambassador's House. We have had a wonderful stay. We will return. See you soon.
Jason H, Australia, 28-Sep-2018 - 01-Oct-2018
The Greswell's and Thomson's loved our stay, the staff were kind and caring and our bedrooms were wonderfully beautiful.
Jasmine P, Australia, 12-Sep-2018 - 14-Sep-2018
Greatly enjoyed our stay - especially the food and the pool. A wonderful old building from which to explore Galle. Many thanks to all the kind staff.
Angela W, Australia, 05-Sep-2018 - 07-Sep-2018
We have had a wonderful time in your villa. Thank you to the staff for their care and happy disposition - always attentive with a smile. We enjoyed the breakfast - great range of local and Western food to suit everyone's needs. We have been very pleased with all the villa comforts - large beds, bathrooms and outdoor relaxation areas. A most enjoyable time was had by all of us, thank you.
Chris A, United Arab Emirates, 17-Aug-2018 - 19-Aug-2018
A lovely villa, we are beautifully looked after by the whole team. Galle Fort is a lovely corner of the world.
Melanie Z, Switzerland, 06-Aug-2018 - 11-Aug-2018
Our second stay here 4 years later was just as perfect as the first. The house is a pure beauty and the food was excellent, the chef is a real master. The friendly staff are so discrete and friendly, thank you very much for this wonderful moment.
Declan M, United Kingdom, 29-Jul-2018 - 01-Aug-2018
We had a wondeful time here. Thanks for all your help from the chef to the rest of the staff, everyone was wonderful.
Liezel L, Singapore, 26-Jul-2018 - 29-Jul-2018
The Ambassadors house made our stay in Galle memorable and certainly enjoyable. You cant beat the location and the wonderful staff compliments every aspect of the property. We have enjoyed the breakfast and will recommend the venue anytime.
Hamish M, Australia, 23-Jul-2018 - 26-Jul-2018
Thank you for all the amazing meals and warm service during our stay at Ambassadors House. What a divine place - we'll never forget it. Extra special thanks for helping us source some essential ingredients so we can try to recreate some of those amazing curries and sambals at home.
Helen B, United Kingdom, 20-Jul-2018 - 23-Jul-2018
Ambassadors House is one of the most beautiful places we have stayed in. It is like going back in time to Colonial Ceylon, and this is an experience to be treasured. The staff are welcoming, friendly and seek to accommodate every need. They are a big part of making the auara of the house a haven of tranquility and calm. We hope to return one day.
Joel M, Australia, 17-Jul-2018 - 20-Jul-2018
Being a Chef and a food and travel blogger, I visit a lot of places around the world, but never seen a villa with so much character. The staff are super friendly and accommodating. The location is perfect surrounded by boutique restaurant, and coffee shops, the area was also quiet. We loved the Ambassadors House and we enjoyed both the traditional and western food our friendly chef prepared for us. We would highly recommend this place to anyone.
Sanjiv A, Sri Lanka, 04-Jul-2018 - 07-Jul-2018
Thank you to the staff for the great service. The food prepared by the Chef was excellent. Amazing property we will come back again.
Pamela S, Singapore, 21-Jun-2018 - 23-Jun-2018
We have enjoyed our stay at Ambassadors House. Beautiful historic building, delicious meals and very kind staff. Loved the provision of sun and mosquito protection. Galle is an amazing place and particularly Fort Galle with its narrow streets and wonderful shopping. A great place to end our amazing journey in Sri Lanka.
Gopal S, India, 16-Jun-2018 - 18-Jun-2018
This was such a warm and hospitable experience. There are many similar locations in the colonial East which promise old world hospitality, but few deliver in this manner. Well in advance, we were well coordinated by Loku so when we arrived we had a delicious home cooked meal. From the guard and chef to the washer lady and other helpers, they were all efficient, considerate and ever obliging. There was never an occasion when they said "No we cant do that." With such a perfect location in the heart of the Fort and every place in waking distance, our 3 kids had a great time and were happy not to have stayed in a hotel. We are already making plans to return here with our friends soon.
Nicholas M, Australia, 02-Jun-2018 - 05-Jun-2018
We were immediately greeted by the warm and friendly staff. We loved every minute of our stay here at Ambassadors House. The accommodation was beautiful, all the rooms were clean and comfortable. The food was delicious and the staff all extremely helpful and anticipated every need. We leave Galle Fort with the fondest of memories and will be raving about our time here at Ambassadors House. Thank you for the lovely memories.
Eric L, Germany, 31-May-2018 - 02-Jun-2018
The Ambassadors House is a great place to be in the middle of the Fort Galle. A quiet and relaxing place with a lovely pool. The food is delicious and the staff always helpful. Thanks for a good time.
Mark A, Hong Kong, 12-May-2018 - 19-May-2018
Had a fantastic stay at this wonderful villa - home away from home. Staff fantastic. Chef Jayasingha's food was out of this world. Lal along with Khu made us really feel at home and made sure absolutely everything was perfect. We feel extremely fortunate to experience this amazing hospitality. Hope to come back again. Last but not the least Loku was extremely helpful and her tips throughout the stay were much appreciated. Thank you once again to the entire team. Keep up the excellent work.
Steven G, Qatar, 06-Apr-2018 - 13-Apr-2018
We had a lovely time here at the Ambassadors Villa. Sri Lanka is beautiful - apart from the rain. Monsoon season started early. The house is beautiful as well as all the lovely staff, always smiling and very helpful! We had two delicious meals here and delicious breakfast every morning. We also had great meals in Galle. The curry in the Peddlars Inn was yummy. Thank you.
Ellen L, Hong Kong, 31-Mar-2018 - 05-Apr-2018
Thank you for making our stay a fun and memorable experience! Food was amazing and the staff was always greeting us with a smile. We look forward to coming back to beautiful Galle again soon! The Ambassadors House was such a gem - we were so lucky to have stayed here - thank you.
Senan N, Australia, 29-Mar-2018 - 31-Mar-2018
Wonderful stay. Thanks partially to the more than accommodating staff. Thanks for the early hoppers and recommendations for local places to eat too. Tops for superb first trip to Sri Lanka, we'll be back.
Anoshan W, Sri Lanka, 16-Mar-2018 - 18-Mar-2018
Beautiful place topped up with even better service! The staff were very accommodating and made sure everyone was taken care of. Thank you for a wonderful time. Definitely looking forward to our next visit here.
Michaella R, Australia, 08-Mar-2018 - 12-Mar-2018
Thank you for such a lovely 4 nights. We have been incredibly lucky to stay in this beautiful 'house' and to have such wonderful staff. You have been amazing! The food was incredible! Thank you for also putting up with our silly games and silly singing. Thank you Ambassadors House team for making my 40th birthday a spectacular amazing event. It was a memorable place to bring my wonderful friends – thank you for making them all feel at home. The team was amazing - thank you Loku, Lal and Jai and the boys who made sure everything went smoothly!
Robert G, Singapore, 19-Feb-2018 - 22-Feb-2018
We have had the most wonderful time in this truly beautiful home and have been able to relax totally. The staff have treated us so well, and the food as been delicious. Our stay will make one of the most memorable experiences we have had. Many thanks to all involved in our stay. What a beautiful place to stay in to end our wonderful trip to Sri Lanka. Thank you so much for making Galle for such a memorable place for us. We have enjoyed delicious food and looked after so well, it is really much appreciated.
Amitoj S, Singapore, 17-Feb-2018 - 19-Feb-2018
It was an absolutley marvellous stay for us in this beautiful villa. Very helpful and caring staff who cooked delicious breakfast and dinner! I hope we will be back soon to this abode. Thanks again for taking care of us.
Wing Wai W, China, 13-Feb-2018 - 17-Feb-2018
We enjoyed very much this lovely traditional villa. Staff are very nice and with good food service. Its always nice to enjoy breakfast and dinner leisurly after a long day tour. Highly reccomended.
Geoff S, Australia, 05-Feb-2018 - 12-Feb-2018
What a fantastic stay we have had here at Ambassadors House. It made our holiday to Sri Lanka even more special. Wonderful service. Thank you Lal for all your assistance and help - you are great. Fantastic breakfast and dinners. Thank you Jaya, Thanks to Yositha and Kavindu for your service too. We enjoyed our afternoon gin and tonics, our meals and our hot coffee breaks. We look forward to seeing you all again. Thank you Loku, you have a great team.
Madhusudhan T, India, 22-Jan-2018 - 27-Jan-2018
To Lal and the rest of the incredable team. Thank you for making our stay at Galle so comfortable and memorable! We absolutely love this amazing house and really appreciate the smiles with which your advice team always present. We loved the food, especially that yummy avo soup. Even after five straight days of eating hoppers for breakfast, we can have even more! The house is perfect and bbqing around the pool was amazing! Plus. 10/10 for the location. Thanks everyone and hope to be here again someday.
Simon J, Indonesia, 13-Jan-2018 - 15-Jan-2018
Dear Ambassadors staff, Loku and Rob. Thank you so much for a wonderful 2 days. I immensely enjoyed the cooking lesson - such fabulous flavor that it will be great to replicate it at home.
Diana G, Australia, 05-Jan-2018 - 12-Jan-2018
Thank you Loku, Lal and team for making our second stay at the beautiful Ambassadors House so memorable. We have again had a delightful stay and are sad to leave. Best wishes and hope to see you again.
Bhavna K, India, 05-Nov-2017 - 09-Nov-2017
Thank you to a memorable stay – great ambiance and a very attentive and hospitable staff.
Bhavna K, India, 04-Nov-2017 - 05-Nov-2017
Amazing and unbelieveable environment and good service in this house. Is very good location to everywhere, quiet and private feeling. Come to Galle. This villa is a right choice.
Ahmad S, United Arab Emirates, 26-Oct-2017 - 30-Oct-2017
Thank you for a wonderful trip and your awesome hospitality. Great House. Great Staff. To the best of the best. Thank you for an amazing villa, and wonderful service. You made us love you all. Amazing stuff, so friendly and helpful. Keep it up.
Joanne F, Australia, 07-Oct-2017 - 09-Oct-2017
Thank you for your amazing hospitality, we had a great time.
Fredric M, France, 04-Oct-2017 - 07-Oct-2017
Thank you for your amazing hospitality, we had a great time.
Jehan De S, Australia, 24-Sep-2017 - 30-Sep-2017
To the team at Ambassadors House. From the amazing food to the cleaning it was a godsend on this holiday. For every bit of help you gave us, for the impeccable service and the mealtime photos, for smiling the whole time, the entire staff. Thank you and wishing you well until we next come back.
Harinlal A, Sri Lanka, 22-Sep-2017 - 24-Sep-2017
This is an extraordinary beautiful mansion. It has been restored to reflect the specious days of the Dutch era. We had an extremely enjoyable and nostalgic holiday. It was truly a walk through memory lane. The staff were extremely hospitable and courteous. The food was delicious. The staff were extremely punctual and obliging. This mansion is truly a period piece of history. The three hundred year old house gave us a chance to explore the deeper connections of the Dutch in Sri Lanka through its architecture and inclusion of the paintings of the period, whilst being a comfortable and hospitable place to cherish many precious memories with family.
Colleen S, United Arab Emirates, 07-Jul-2017 - 11-Jul-2017
Thank you to the wonderful team of Ambassadors House. We enjoyed every minute of our stay here and will definitely be back. We will take with us very fond memories of our first visit to Galle.
Sukesh Vasant S, Philippines, 28-May-2017 - 31-May-2017
We loved it here!
Chad D, United Arab Emirates, 10-May-2017 - 14-May-2017
Thank you Loku, Rob, Jai, Lai, Wira and Jay for making my 40th so perfect. I really look forward to visiting again soon! Keep well and keep up the good work!
John M, United Kingdom, 15-Apr-2017 - 22-Apr-2017
Amazing time had by our party of 8. Cannot thank the staff enough for an incredible friendly professional service. Food was outstanding and we cannot wait to come back and do it all again. The staff are off the chart fantastic. Sri Lanka and all its beautiful people we thank you all.
James S, United Kingdom, 08-Apr-2017 - 15-Apr-2017
Tamil New Year 13-14 April - Greeted by a beautiful traditional breakfast - on par with all the care and cuisine that we have enjoyed here. All thanks to Jaya for the imaginative variations of Sri Lankan curry and Lal for impeccable service plus his team. Our stay in Ambassadors House has been about as perfect as we would wish. A week of relaxation, of splendor of the rooms, terrace and pool. We loved it. This was a great holiday. I really enjoyed staying in this house. It was a very beautiful house. The staff here looked after us very well, and the food was delicious. The bedrooms were always well maintained and tidied every day. The pool was great and was very refreshing at the end of the day. Thanks for making this stay so great. This was the first time in Galle and the house was a real treat. I am sure we will be back. Thanks you for creating such a beautiful home which has proved an utterly perfect base for our holiday.
Dharam R, United Arab Emirates, 31-Mar-2017 - 02-Apr-2017
Beautiful place, very hospital staff, delicious food. What a wonderful weekend. Extremely well maintained place with so much to do and the architecture makes it all the more beautiful. The staff have taken good care of all of us and helped us at every step. Thanks you for a wonderful time. Looking forward to next time.
Shiv S, Singapore, 25-Mar-2017 - 27-Mar-2017
The most enjoyable two days we spent on our entire trip to Sri Lanka. The house is just outstanding, and the attentive staff make the stay even more memorable. The attention to detail is just fantastic. Look forward to coming back again for a longer duration and enjoying all that Ambassadors House has to offer. Thank you guys.
Simon B, United Kingdom, 10-Mar-2017 - 16-Mar-2017
Wonderful stay in the beautiful colonial Ambassadors House. The staff made lots of effort for a birthday celebration to make it a very special day. Very attentive and willing to accommodate all of our needs to give us a wonderful holiday. Excellent team and would certainly recommend to friends.
Mayli H, Hong Kong, 26-Jan-2017 - 04-Feb-2017
We stayed at Ambassadors House for 9 days to celebrate my mothers 70th birthday. It was a family reunion too with one half flying in from HK and the other from Dubai. 6 Adults and 4 children and we all had ample space to retreat. We had a wonderful time. The house, Galle Fort, and the beaches shall remain in our fond memories. It was such a relaxing time - made so by the wonderful staff here. Lal always had a smile and was always one step ahead anticipating your needs. Jaya made us superb food his repertoire of dishes and cakes never ceased to amaze. He outdid himself with the super delicious birthday cake he made for my mothers birthday. Thank you to all the staff and Sri Lanka for a beautiful holiday. See you again soon.
Mr & Mrs. Sanjaya & Shruti A, Sri Lanka, 02-Jan-2017 - 05-Jan-2017
The Ambassadors House truly lived up to its name. 13 of us spent 3 nights in the first week of the year to bring together a scattered family. Besides the fantastic layout, the warmth of the staff was unparalleled. The food was scrumptious and Loku was a blessing. The patience and ability to organize are commendable. Will certainly be back in Galle and at Ambassadors House.
Eliza C, Sri Lanka, 18-Dec-2016 - 02-Jan-2017
Seven of us stayed over Christmas and New Year 2016. All was perfect but especially the wonderful staff led by Jaya and Loku. Everyone always smiling and really delicious food. We are sad to be leaving after two weeks. We stay on in the Fort, but I don't think anywhere will be as nice and friendly.
Anthony L, United Kingdom, 01-Dec-2016 - 08-Dec-2016
We had a wonderful stay at the villa. The staff were very attentive, pleasant and able to provide a high level of service. The villa was extremely well maintained and all the staff were very attentive. We would highly recommend the villa to all of our friends.
Fiona A, Australia, 12-Nov-2016 - 16-Nov-2016
Thank you for allowing us to stay in your beautiful villa. The ambience and decoration of the villa is absolutely superb. The attentive staff made sure we were well taken care off at all times. We will recommend Ambassadors House to others. Thank you.
Narelle W, Australia, 31-Oct-2016 - 02-Nov-2016
We had the absolute pleasure of staying here for two nights and had the most outstanding time. The location is just fantastic and to be able to walk out and explore the Fort was one of our favourite things. Then return back to the beautiful villa and the cool swimming pool and super comfy couches made the most amazing place to relax. The staff have been excellent and we can't thank them enough. Looking to returning soon and staying for much longer. A big thanks. xoxoxo.
Alice G, France, 20-Oct-2016 - 22-Oct-2016
Thanks for your kindness. The food was delicious. The bedroom was wonderful. I hope to come back soon. We had a great time. This is an amazing, beautiful place. Thank you very much for your warm welcome.
Hugo R, Singapore, 07-Oct-2016 - 10-Oct-2016
What an unforgettable experience. The Ambassadors House and its team have been hands down fantastic! The food that the team prepare here has been top notch, whether for breakfast, lunch or dinner, they have constantly knocked it out of the park. Thanks to Lao & the team at Ambassadors House again.
Riyaz M, Philippines, 14-Aug-2016 - 17-Aug-2016
On our second visit to Sri Lanka, and especially here at Ambassadors House confirms our desire to be in Sri Lanka and makes us very happy. Well enough to make future plans to come back definitely.
Tony B, New Zealand, 05-Aug-2016 - 10-Aug-2016
We eight members form a loving group of friends from New Zealand and Australia. We have enjoyed the fellowship and the support of Rob and the members of the staff in making our stay a memorable one.
Geraldine B, Malaysia, 17-Jul-2016 - 20-Jul-2016
A review of the Ambassadors House in Galle Fort: (60 Lighthouse Street): 1. Excellent. 2. Super. 3. Fantastic. A most wonderful stay with the family of nine. Staff are excellent who took very good care of us and ensured that everything was tip top. The Chef is super!! Food prepared at every meal was fantastic - A small tip: Stay for your meals at the villa - much better than any restaurant at the fort. Our thanks and congratulations for a great time. The Ambassadors House in Galle Fort offered us a remarkable memory that forever shall be inspired in our hearts, for the years to come. The food was absolute phenomenal whilst the chef was able to capture both Western and Sri Lanka cuisine to a wonderful commendable level. Brilliant. The exquisite decor was also a treat to the eyes, along with the beautiful poolside that encapsulated the perfect blend of chic & relaxation. A fantastic location to roam around. The Fort is an experience in itself.
Haley A, Australia, 24-Jun-2016 - 29-Jun-2016
Thank you for a wonderful stay in the beautiful house. We will definitely be back.
Thomas G, United Kingdom, 30-May-2016 - 04-Jun-2016
Thank you for your amazing hospitality we loved our time here in the house. The staff have been fantastic, the food amazing and the people of Galle a joy. We would certainly stop here in the future.
Liz J, China, 09-May-2016 - 12-May-2016
A perfect place to wind up our 60th birthday celebrations. Such a peaceful and relaxing few days here at Galle Fort - we certainly hope to be back in the future. Very friendly staff and a super cook. Thank you all. Beautiful house and gorgeous town.
Lesley A, Australia, 06-May-2016 - 09-May-2016
Thank you for a delightful holiday. This has been a prefect family retreat, and we would love to return for a week or so. The staff have been fantastic and food excellent.
Sindre S, Sri Lanka, 30-Mar-2016 - 02-Apr-2016
Thank you for an excellent time here at Ambassadors House. Thank you so much for a great hospitality. The food was excellent and we had no choice but to eat here every night. The staff here do a great job. Thanks again.
Nichola B, United Arab Emirates, 25-Mar-2016 - 29-Mar-2016
Thank you so much for making our stay so amazingly memorable. We have had an amazing Easter break and can't wait to come again. The staff have been attentive and made our stay 10 times better. The food was amazing, and the staff were really helpful and nice. Thank you so much.
Kuldip D, Australia, 05-Feb-2016 - 11-Feb-2016
A party of 13 arrived 7 days ago not knowing what to expect apart from marketing materials. I told my wife I hope it is as good as the pictures and what had been promised. We have been very pleasantly surprised. The place is wonderful with great attention to detail. The staff brilliant and very attentive yet discreet. We got the tire of food we wanted and very very tasty. Loku had been brilliant in her help with the organization of tours, and accommodating last minute changes. Celebrated my 60th birthday in style with a dance troupe and surprise birthday cake with lobster and crabs cooked to perfection. Thank you all.
Janet N, Australia, 24-Jan-2016 - 28-Jan-2016
BRILLIANT STAY!!. Ambassadors House was the perfect venue for our group of 6. We celebrated my wife's birthday in great style... with an exciting dance troop, and a wonderful feast of lobster, all arranged by the fantastic staff. We couldn't have been happier with out choice of stay in the wonderful stylish Ambassadors House. What a fantastic location, a wonderful property and attentive yet discreet staff. We loved it all. Thanks to everyone. Highly recommended.
Jane V, United Arab Emirates, 27-Dec-2015 - 03-Jan-2016
My family and friends arrived here a week ago, and sadly today we're packing up to leave. I can only say that this has been the best holiday we have had in a long time. Totally relaxing and in the presence of the best hotel team I have experienced in a long while. Loku and her team made us very welcome and almost at home since we arrived. The team are extremely professional and very friendly and were a pleasure to be around. Can't wait for the next time.
Philip K, , 15-Nov-2015 - 16-Nov-2015
Great villa with a lot of charm and character in the perfect location in Galle. The villa quality and staff are great and its a perfect villa if you want to be near everything.
Jaya J, Hong Kong, 07-Nov-2015 - 10-Nov-2015
We have had a excellent time in this place for the past 4 days. We felt it a great privilege to have stayed in a house which was built 300 years ago. The food was very tasty and the staff extremely courteous and efficient. The memory of our stay here would stay with us a long time. A fantastic house, fantastic staff and unbelievable experience. Thank you so much for a fabulous stay in your wonderful villa. It was really special. Your staff made all the difference - the food was superb and they were so helpful - many thanks.
Smah A, United Arab Emirates, 14-Oct-2015 - 16-Oct-2015
We would like to extend our gratitude and appreciation for the tremendous welcome and hospitality afforded to our group. The support and the service came second to none; everything from the date of our arrival was in order, and no request went unanswered. The professionalism and kindness of your staff was amazing. Again thank you and we'll all see you again soon.
Yi Y, China, 07-Oct-2015 - 09-Oct-2015
We are in Sri Lanka for 11 days. This villa is in our vacation 2 days but it is very impressive for us. The whole team of the villa are very kindness and attentive for everything especially the housekeeper. The services, environment and hygiene are so high standard and perfect. Everything just wonderful. Thank you for your hard work.
Feras A, Kuwait, 04-Oct-2015 - 06-Oct-2015
Very big thank you from all of us. We have had a great time and joyful stay in the house. The team were very polite and helpful. The experience was wonderful because you made it to be. We look forward to come back again in the next trip to Sri Lanka. Again thank you from the boys from Kuwait. We wish you the best.
Nalini Dev-Kauffmann, United Arab Emirates, 18-Sep-2015 - 21-Sep-2015
We had a fantastic stay at the Ambassodor house, it was as it appeared in the photos, well located in the fort, beautifully kept with a super crew who took such good care of us and kept the property in such an immaculate condition. What a great place to stay!
Stuart Halliday, United Kingdom, 27-Aug-2015 - 03-Sep-2015
We stayed here as two families with 3 children and the villa was perfect for us. The staff were so accommodating and helpful and the food was wonderful. we asked for Sri Lankan food and the chef gave us a variety of different dishes which were delicious. We all enjoyed the small pool for cooling off and greatly appreciated the mosquito coils and candles which were lit each evening. We were also grateful for the laundry service. My friend was 50 during our stay and Loku arranged for dancers and drummers to perform for us, the kitchen baked a birthday cake and the whole thing started with my friend being asked to light candles on a magnificent decorative hanging made from coconuts and flowers. It was the most wonderful evening and one we shall always remember.
William Spencer, Australia, 07-Apr-2015 - 14-Apr-2015
A spacious elegant villa, with comfortable space both inside and out. The staff were extremely competent and professional, nothing was too much trouble. The food prepared by the chef was excellent. The pool was refreshing after a day of sightseeing and the location within the fort could not have been better.
Fiona P, United Kingdom, 02-Apr-2015 - 07-Apr-2015
The villa provided an excellent base for 2 families to explore Galle .The villa is very spacious , the children loved the pool and we enjoyed relaxing on the terrace . The staff were all very attentive and offered great flexibility with the meals especially for the children who hadn't all developed a taste for curry . Loku the manager was very helpful and provided lots of local information to help plan activities .
Sally M, Indonesia, 21-Oct-2014 - 24-Oct-2014
Perfect for stay in Galle fort. Staff helpful but unobtrusive. Meals good. Hard to find a negative!
Kim F, Hong Kong, 18-Aug-2014 - 26-Aug-2014
We had a fabulous time at the Ambassadors House. It was perfect for our needs. A family of 10 adults, 5 couples, each with our own bedroom plus ensuite bathroom. The living areas were very good and if we had been 5 un related couples it would have worked very well also. The staff really made our stay wonderful. Nothing was too much trouble and there wasn't one staff member that we thought could have done more. We would certainly return to The Ambassadors house and would happily recommend it to any others.
Kay G, Australia, 11-Mar-2014 - 15-Mar-2014
We had a fabulous time at the Ambassadors House and weren't able to fault it in any way. The staff, both management and house staff, went to great lengths to ensure that our stay was truly memorable. The location was perfect, the house even better than the photos, the food divine - everything was perfect. I don't know when but we will definitely be back.
Cheen-Chong Tan, Singapore, 10-Feb-2014 - 17-Feb-2014
What we enjoyed most about the Ambassador's House were: 1. the local food prepared by the in-house chef Jaya 2. the immediate location to nearby attractions & quaint shops
Sue B, Australia, 04-Oct-2013 - 06-Oct-2013
The Ambassador's House was fantastic! The villa was luxurious without being overwhelming and the excellent staff, attentive without being overbearing. Everything, from the moment we arrived to the moment we left, was a joy. I stayed at the villa with 3 friends and every one of us would recommend The Ambassador's House wholeheartedly!
Christine P, Australia, 21-Jul-2013 - 26-Jul-2013
From the moment we arrived to the day we left, the staff made our stay here an unforgetable experience. I cannot thank them enough for the lengths they went to to make my 60th birthday so fabulous. Everything from the frangipani-decked varandah with traditional oil lamps burning to the Kandiyan dancers, seafood BBQ and delicious chocolate birthday cake made for an experience I will always cherish. We have all travelled widely and our 5 night stay at Ambassador's House rates right up there with the best experiences we have enjoyed world-wide.
james W, Australia, 21-Jun-2013 - 25-Jun-2013
Stunning villa which is made even more remarkable by the staff who look after ones every need! The Sri Lankan food was fantastic. Having planned to go out and eat elsewhere at times this thought was abandoned at the first meal! The villa is in the middle of the Fort area with beautiful streets full of interesting shops around. I would not hesitate to return - a perfect place for a large family or group of friends to congregate
PW, United Arab Emirates, 26-Oct-2012 - 29-Oct-2012
I can thoroughly recommend the Ambassador's to anyone looking for larger accommodation in Galle. It's a short hop from Unawatuna but nicely insulated, we actually ended up spending most of our time at the Villa we like it so much! The staff are lovely and very helpful and there's always Tuk Tuk's on standby should you want to get out the Fort.
Max Ludekens, Australia, 28-Sep-2012 - 02-Oct-2012
Lighthouse street is a very narrow, barely enough to accommodate two vehicles. Once you navigate through this and arrive at the gate you walk through a small front garden onto a beautiful patio and through to a huge lounge area that seems to be separated into two. lounging here is a delight as it is quite cool on a hot and humid day. You then walk through a lovely open courtyard with a stairway on the left and into the dining area which has seating for eight. The door to the kitchen is off to the right and there is a glass square through which we were often watched to see if something was needed. Then through to a small TV viewing area with a huge cushioned bench type seat, also looking out onto the plunge pool, which is great for those hot and humid days. Beside the pool there are three good size bed rooms with double beds and en suites. Then upstairs is the Master bed room with beautiful en suite and a small 'study' area beside. Next to this room is another room with twin beds and en suite. then, leading out of these two rooms is a beautiful open area where the ladies can sun bathe/bake to their hearts content in total privacy. there is also a small covered area where one can sit and read or enjoy a cup of tea. The whole house is open, allowing for a cool breeze to pass through during the day. All in all, beautiful for a family or group of friends.
AS, Sri Lanka, 14-Sep-2012 - 16-Sep-2012
What a wonderful villa, more spacious than appeared in the pictures, perfectly relaxing. I used to wonder why would you stay in the hot Fort when you can stay by the beach, but actually this is a great place to stay in, especially if you don't have a vehicle. Everything is within walking distance and the beach is only a few minutes three-wheeler ride away. The villa has boogie boards etc that you can bring with you to the beach, which is a really nice touch, but then you can come back to your comfortable room without having sand everywhere. The chef was excellent and the staff lovely. The whole villa is wonderfully airy and doesn't get hot like I expected it to and the pool makes a huge difference. Thoroughly recommended.
ST, United Kingdom, 26-May-2012 - 29-May-2012
Fantastic villa, wonderful staff - can't recommend enough!
Cindy Chng, Singapore, 04-Apr-2012 - 08-Apr-2012
Food was wonderful, location was simply the best and we had a great time in the Galle Fort Ambassador's House!
NC, 25-Mar-2012 - 31-Mar-2012
Ambassadors was perfect for us. Great villa for families or groups of friends. Excellent living space, 5 lovely bedrooms and superb staff.
MF, United Kingdom, 25-Feb-2012 - 27-Feb-2012
Our family of 8 adults and 3 small children spent 10 wonderful days staying at the Ambassador Villa Galle earlier this year. We were greeted with ice cold drinks on arrival and the Manager, housekeeper and all the staff made us feel very welcome. The house a a beautiful 18th century dutch home that has been cleverly renovated with all modern facilities appointed while still maintaining an old world charm. The bedrooms, living and dining areas are spacious and very clean, with a lovely open air courtyard to sit in for reading or having a drink at any time of the day. The pool was a joy to swim in and most suitable for small children. A special mention must go to the chef who produced delicious meals to the very highest standard, and the supporting staff who were caring and went out of their way to please us and give us extraordinary service.

I would recommend The Ambassador Villa to anyone who is looking for a relaxing holiday, with willing staff to look after them to the highest standard.


BE, Hong Kong, 21-Dec-2011 - 04-Jan-2012
We had the most wonderful stay at the Ambassadors, the staff were friendly, helpful and on hand for everything that we needed. We ate so well during our stay with amazing curries, good western food and one of the best Christmas lunches with a delicious Turkey, loads of veggies and even bread sauce! We really felt like we were at home. Its a beautiful spacious house with lots of room for my kids to run around in. We were especially pleased that they were able to provide cots, highchairs and a pram for our stay which saved us bringing them over with us. We would highly recommend the Ambassadors House and the wonderful team there.
Hassan Rafeek, Sri Lanka, 16-Sep-2011 - 18-Sep-2011
Spent a weekend here with the family.
We absolutely LOVED every moment we spent in this villa. From the moment we stepped into the villa and the staff's warm welcomes to the time we left the villa with their warm goodbyes.

Very spacious, very airy, large halls, verandah, dining rooms, and the small and cozy swimming pool. Place was very clean, rooms were well sized, very comfortable and the beds and pillows were very comfortable. (the master bedroom was HEAVENLY).

Staff were very friendly and cooked us some very nice meals and were always around to serve us.

Those iPod speakers were a welcome addition!

We had an amazing weekend. I would highly recommend this place to anyone traveling to the Galle Fort in Sri Lanka!
BL, 07-Jul-2011 - 08-Jul-2011
This is a beautiful haven in the heart of the magical Galle Fort, thoughtfully decorated, smashing spacious rooms, intimate spaces and a stellar staff. Having visited Galle and the surrounding areas many times in the past, I've never stayed in the Fort and now with this oasis, I will be coming back for more.
Toledano Baruk, France, 21-Feb-2011 - 28-Feb-2011
Realy feel at home in beautifull architecture whitch mxed all history of sri lanka
portuges influence sri lankan influence and touch of english confort i recomend it
Hamilton Anna, Singapore, 02-Feb-2011 - 04-Feb-2011
Ambassador's is magnificent. The location is fantastic and the house is huge and beautifully furnished: it can easily sleep 2 or 3 families. I cannot recommend it highly enough.
You may also like these Elite Havens

Adding villa...
Back to top