Laguna Waters
The villa you chose is no longer available for rental from us but we have a portfolio of Elite Havens in various locations around South East Asia for you to choose from. Alternatively feel free to send us an enquiry and it'll be our pleasure to help you find the perfect villa for your next holiday.
3 - 5 Bedrooms
10 Adults
A delightful lakeside home surrounded by greenery and managed by friendly staff, Laguna Waters is ideal for large families or multigenerational groups looking for an oasis amidst Phuket's excitement. Spacious and self-contained, the five-bedroom villa is located within the upscale Laguna Phuket gated community, which offers an enviable sense of calm and safety.
The stylish decor is unpretentious yet classy, offering a home away from home alongside resort-type facilities. There's plenty to do within the villa, though you may find yourself languishing in the 14-metre private pool all day long. The jacuzzi does its part in relaxing those tired muscles and when you need to take things up a notch, you can always challenge others in your group to a game of billiards or go work out in the gym.
But the very concept of a lakeside manor begs you to spend the day outdoors. When not swimming, you could catch a tan stretched out on the sunbeds, get a massage at the poolside sala or enjoy a barbecue under the stars. Built over two levels, the villa's glass doors maximise on the lake views, opening onto the pool deck or upper floor terrace.
You will have access to a plethora of upmarket restaurants and wellness facilities including Banyan Tree and Angsana's Spas, accessible by complimentary shuttle bus which stops almost right outside the villa. If that wasn't enough, an 18-hole, par-71 award-winning golf course is also a mere 10-minute stroll away. Not to mention the quiet shores of Bang Tao Beach, easily within reach.
Walk out of the resort perimeter and you will find an array of chic boutiques, bespoke jewellery shops and affordable foot massage parlours. Conveniently placed fantastic restaurants, bakeries, bars and two well-stocked supermarkets selling imported items are also within a kilometre of the villa.
Laguna Waters is a hidden gem on the sunset coast of Phuket.
Read more
This haven includes
Unique features

Near the beach

Gym Facilities

Media/Games Room

Shuttle Service
Location
Laguna Waters is located close to the entrance of Laguna Phuket, an upscale, integrated resort on Phuket's sunset west coast offering access to an 18-hole golf course, award-winning spas and fantastic restaurants. Right outside the resort perimeter, you will also find a shopping hub with splendid boutiques, jewellery stores, bars, restaurants and internationally stocked supermarkets.
The villa enjoys a rare lakeside location. Surrounded by mature trees, it even offers glimpses of tropical birdlife not often found elsewhere. Bang Tao Beach, with its glitzy beach clubs, laid back rustic eateries and golden sand is less than 2km away, a short stroll from the villa or an easy drop off by the resort shuttle.
Phuket International Airport is 25km from the villa and the journey usually takes 20 minutes by car.
More information for Things to do
The Villa Manager at Laguna Waters is a mine of local information and will be happy to help guide you through your Phuket stay, and with so many options right at your doorstep you will not run out of things to keep you occupied.
The Elite Concierge can also offer recommendations for the best restaurants and must-see attractions, help organise fun activities and curate cultural experiences. They will assist with organising transport, make bookings, and take care of all the logistics.
Here are a few things to do near Laguna Waters to get you started:
Take advantage of some of the world's best spa and wellness centres accessible to you. If you've already indulged yourself with a massage at the villa and want a change of scene, succumb to a pampering treatment at Banyan Tree Spa and you will float out a convert.
If a spa package is not what you have in mind, just walk out to one of the many foot massage shops found outside the entrance of the resort – all are equally good and reasonably priced.
Challenge yourself and your friends to a game at the 18-hole, par 71 Laguna Phuket Golf Club course that appeals to golf enthusiasts of all abilities.
Do not rush back after your last tee and hang out instead at the Club House with a chilled beer or for a late lunch.
Shop until you drop at Boat Avenue and Porto de Phuket, the newest and most interesting boutique shopping and dining hubs in Phuket.
Swirl and swish your new silk kaftan at Phuket's coolest lunch spot or check out famous international DJs by night at Catch Beach Club on Bang Tao Beach.
Dip into the warm and calm waters of the Andaman Sea. Stand-up paddleboarding is available throughout the dry season and surfing in the summer season.
Check out some of the shops in Laguna's Canal Village – there is a Jim Thompson outlet store here, perfect for special gifts.
Try some watersports out on the lagoons within Laguna Phuket. You can try kayaking or windsurfing, great fun for the entire group.
Explore the enthralling underwater world during a scuba diving or a snorkelling trip easily arranged with the help of the Elite Concierge.
Take a bicycle ride on Laguna Phuket's empty roads, alongside greenery and meandering around water bodies. Serious cyclists can venture further afield and explore the thigh-busting cycle route of the Triathlon that goes uptill Naithon Beach.
Sail the green waters of the Andaman Sea aboard a private luxury yacht. Swim and snorkel amongst the stunning scenes at Phang Nga Bay, Raya and Similan Islands, and of course, Koh Phi Phi.
Indulge in a five-star Sunday brunch at one of the nearby luxury resorts with fresh seafood and free-flow drinks.
Take a cultural tour around Phuket Old Town and learn about its rich history before stopping to taste some authentic island dishes.
Support ethical tourism by visiting the Phuket Elephant Sanctuary or the Gibbon Rehabilitation Centre. Set amidst tropical jungles and rolling hillsides, it is a wonderful way to watch these beautiful animals in their natural habitat.
LEAVE THE PLANNING TO US
Shake off the stress of holiday planning. Let the Elite Concierge take care of all your bookings and arrangements, from transport, tours and restaurant reservations, to any special requests for your arrival. We're here to make your holiday experience extraordinary.
Quick facts
Location
Bang Tao, Phuket, Thailand.
Capacity
10 guests (5 ensuite bedrooms: all kings).
Living areas
Indoor living room with glass doors opening up to an outdoor lounge; plush sofa seating and Thai decor elements; indoor dining for 8; modern fully-equipped kitchen with a breakfast bar; furnished pool terrace with large rattan sofas; shaded Thai sala by the lake; outdoor dining for 8 with barbecue facility; upper floor terrace with sunbeds; five ensuite bedrooms; games room plus gym.
Staff
Villa Manager; housekeeping attendants. Additional professionals such as a chef, nanny/babysitter, massage therapist, yoga instructor, fitness coach or driver are available upon request at extra charge.
Dining
Fully equipped modern kitchen available for your use. Chef available on request, at an additional cost. Grocery cost is charged at market price plus 20% handling fee and 7% government tax.
Communication
WiFi broadband internet access.
Entertainment
Smart TVs; bluetooth speakers with smartphone connectivity; Sonos sound system.
Spa
Massages and a range of spa treatments can be arranged by the Elite Concierge or the Villa Manager and enjoyed at the poolside sala or in the privacy of your room.
For families
Laguna Waters is great for families with children. Equipment such as a cot and highchair are supplied. Other items can be hired for a small fee.
Transport
Airport transfers, car hire and taxi pick-ups can easily be arranged by your Villa Manager (additional cost). The Elite Concierge can also help organise sightseeing trips and share ideas for your holiday itinerary.
Additional facilities
Barbecue; safety deposit box; Nespresso coffee machine; Xtraineer and free weights station.
Property area

1,540sqm (land area).
The layout
Indoor living
Thai-style architecture with pavilions built over two levels
Glass doors and large picture windows allowing unlimited lake views and a tropical living experience
Spacious living room that opens onto an outdoor lounge, both comfortably furnished with sofas and coffee tables
Indoor dining table seating eight guests
A fully equipped kitchen with a charming breakfast bar and stools
Games room on the upper level with a pool table, doubling up as a gym with high-end equipment including an elliptical, a bench press, free weights, yoga ball and multi-gym
Outdoor living
Rectangular 12-metre swimming pool reaching out towards the lake
A large pool deck furnished with six sun loungers, cushioned rattan sofas and sun umbrellas
Tropical garden with lake views
Large shaded sala overlooking the lake and pool, ideal for relaxing massages and sunset cocktails
Covered barbecue and outdoor dining area for eight
Smaller lower lawn, ideal for kids to play in
Upper floor terrace with sunbeds to enjoy the peaceful lake views
The rooms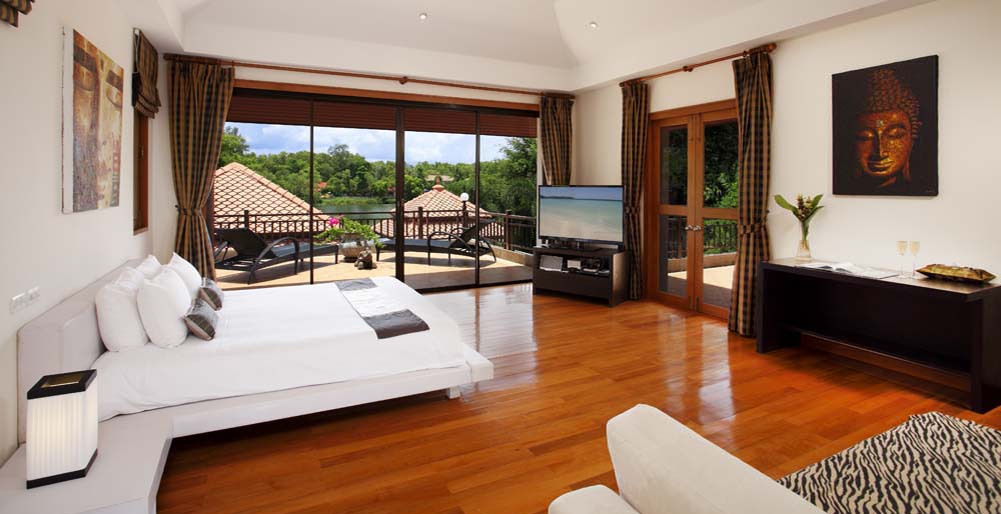 Master bedroom
Situated on the upper level of the villa, accessible via stairs
Spacious room with sliding glass doors leading onto a private terrace
Large terrace with two sun loungers and a parasol
Comfortable king-size bed with cushioned leather backrest
Stunning lake views through the floor-to-ceiling sliding glass doors
Lavish walk-in closet and a relaxing sofa
Ensuite bathroom with a rain shower, double vanity and jacuzzi bathtub
Smart TV and Bose speakers for your entertainment
Doors leading to the common terrace and balcony of Guest Bedroom 2
Guest Pavilion

Situated on the pool level of the villa
Set in an individual pavilion separate from the main building, affording it privacy
Large king-size bed overlooking the pool
Daybed that can convert into to a double sofa bed for children
Views through the glass doors that are a treat for tired eyes - tropical greenery, the sparkling pool and picturesque lake beyond
Smart TV for when you want to retreat to your room and watch a movie alone
Wardrobe and drawers that can accommodate your holiday gear
Ensuite bathroom with a rain shower
Guest Bedroom 1

Situated on the pool level, near the living room
Private room, great for those who prefer their own space
A king-size bed for restful nights
Glass doors that open onto the poolside terrace
Walk-in closet and an ensuite bathroom with a bathtub, rain shower and double vanity
Guest Bedroom 2
Situated on the right side of the upper level of the villa, accessible via stairs
Connected with Guest Bedroom 3 via a common bathroom, making it ideal for families with young kids
Pool and lake views from the balcony and through the glass doors
Large king-size bed
Floor-to-ceiling sliding glass doors that open to a small balcony and the common terrace
Panasonic speaker system
Walk-in closet and plenty of storage space
Shared ensuite bathroom with Guest Bedroom 3 with a rain shower, bathtub and double vanity
Guest Bedroom 3
Located on the upper level of the villa, connected to Guest Bedroom 2 via the bathroom
Large king-size bed
Floor-to-ceiling sliding glass doors that open to a small balcony with garden view
Bose speakers for listening to music
A celebrity-style walk-in closet
Shared ensuite bathroom with Guest Bedroom 2 with a rain shower, bathtub and double vanity
Dining
Start the day right with a wholesome continental or Asian breakfast served alfresco or indoors, as you prefer. If you wish to cook, you will find all the necessary equipment, and then some, in the modern kitchen. Groceries can be bought from nearby supermarkets or sourced by the Villa Manager for you.
The outdoor barbecue is wonderful for social evenings. For a nominal additional hire fee, we can arrange for a chef who will prepare delicious meals for your group. Groceries are charged at cost plus a 20% handling charge and 7% government tax, with a minimum shopping fee of THB 750.
But with so many eclectic restaurants at your doorstep, you are sure to be spoilt for choice. Be sure to try some of the authentic Thai restaurants in the area, splash out and dine at Dusit or Banyan Tree who offer superb Royal Thai Cuisine, or venture outside the complex and try Chili Kitchen or Tawah restaurant. If comfort food is what you seek, enjoy the range of cuisine offered at BAKE at the entrance of Laguna, where you can find sushi, pizza, fresh pasta, rotisserie chicken as well as freshly baked pastries, bread and coffee. If you venture further towards Boat Avenue, you will find everything from Mexican to French food. There is so much on offer.
View a sample menu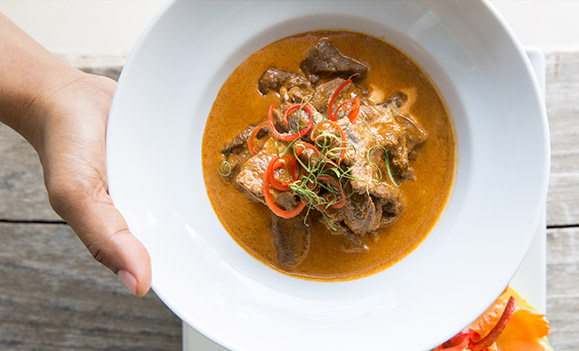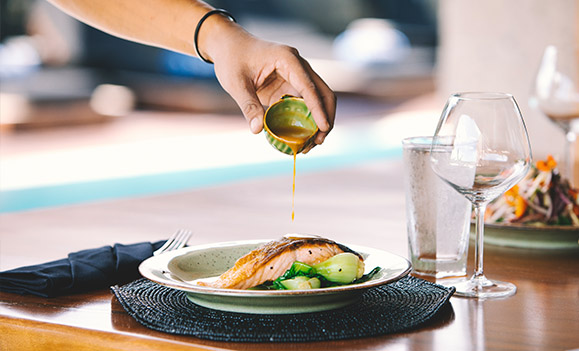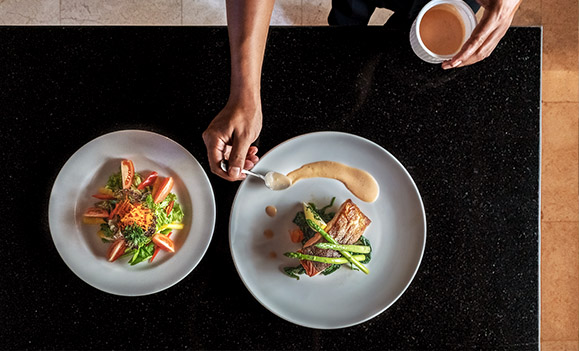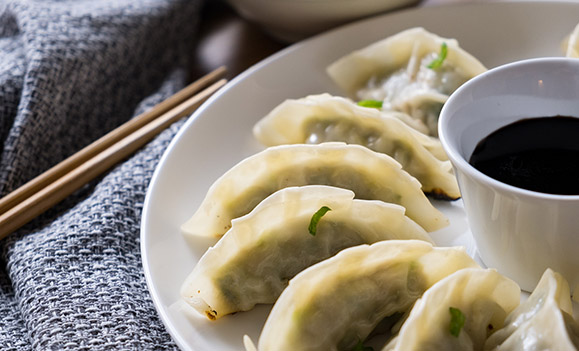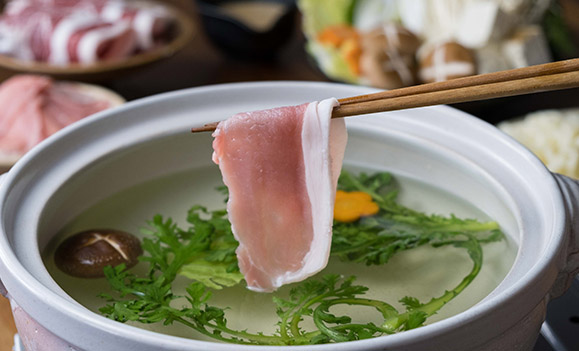 Reviews
Nice villa, great service, amazing food, kind staff :) A big thank you to Nam and team for making our stay here so enjoyable & memorable! The superb service was more than we ask for - preparing yummy meals, keeping the whole villa clean & tidy, recommendations to places to go. etc. Thank you. Our family of 8 persons had an excellent time here throughout our stay. Our parents were wowed by the
... more
27-May-2023 - 30-May-2023
Jasmine N
Singapore
We have had the best stay st Laguna Water villa. The villa itself is outstanding and provide such a peaceful and enjoyable stay. Nam and the other ladies are continually going out of their way to make your stay even better. Nam was so great with our 4 year do daughter. Doing he hair every morning and even giving her a gift at the end of our stay. All in all we could not hove enjoyed our stay
... more
02-Apr-2023 - 07-Apr-2023
Adam P
Australia
What a wonderfully fantastic week in paradise! The villa is gorgeous and luxurious, but what really mode our holiday extra special is our lovely hosts Nam and Miriam. They went above and beyond to anticipate and accommodate our every need and make us feel like royalty and we felt so well taken care of. We wish could have stayed longer,but you can be sure we will be back again Soon! Love Ava,
... more
24-Mar-2023 - 02-Apr-2023
Stephanie S
United Arab Emirates
I have loved my time here so much to the point I dont want to leave you and the ladies have made this experience even better I am so grateful for having you, thank you so much xx Layiah I couldn't have asked for a better holiday. Thank you so much for all the support and care. You have showed us I am so grateful. We can't wait to come again. Thank you! Bella xxx Wow!! What a beautiful
... more
10-Mar-2023 - 19-Mar-2023
Mark C
Qatar
- What a splendid time in Phuket. A beautiful villa and super friendly staff make everything even better. - Absolutely fabulous time. Girls are so lovely and helpful. Nothing is a problem to them. - Fantastic stay in a wonderful villa. Staff were just brilliant. Thanks very much
03-Jan-2023 - 17-Jan-2023
Valeria K
Russia
We have a wonderful time in this villa! Everything was excellent! Woman who helped us are amazing! Thank you a lot for everything Will return here again and recommend this villa to our friends. Thank you.
17-Dec-2022 - 27-Dec-2022
Anton B
Russia
Laguna waters villa is amazing but what makes this holiday really incredible is Riam & Karn. They have both been incredible, attention, have prepared us some delicious food. Of course food and coffee! Thank you so much and we look forward to coming back.
30-Nov-2022 - 10-Dec-2022
James M
France
Wow! What a wonderful holiday we have had! The villa was perfect and wonderful ladies we met on this trip made our stay exceptional! Fai, Fern, Riam and chef made our holiday perfect! There is nothing that is too much for them, and the food was outstanding! Very Special ladies, we would love to see them again on a return trip! They were very much loved by our children also! "our
... more
20-Nov-2022 - 29-Nov-2022
Anthony S
Japan
Thank you so much for the most amazing holiday! The villa was perfect so great for our 2 families. The children loved the little gifts on the beds each night. The food cooked by chef Nam was the yummiest food we ate on our holiday! Fai, Fern, Riam were incredible. The best villa staffs we have ever experienced. We will miss them all. Thank you all so much!! The Beesleys & The Gillbert.
09-Nov-2022 - 19-Nov-2022
Jose G
Australia
The villa was so fabulous specially with its .... location and its amenities as well as it look over Laguna water. Its excellent service and in Particular The chef A and marya and nattali.We enjoy our staying in the villa 132 The team A , M and N made our stay more enjoy. With their over expectation service. We will come again in the future and will recommend it to our friends as well. We wish
... more
12-Jul-2022 - 17-Jul-2022
Obaid A
United Arab Emirates
We had an amazing stay! The staff went above & beyond our expectations. The villa was kept clean the whole time we went here. The private chef was very good as well. Thank you Neung Riam and Natty to make our stay so amazing! Farah, Marc & Marcus
05-Jul-2022 - 12-Jul-2022
Marc P
Thailand
The villa and staff has been incredible. The villa provided amazing service + everything Thank you very much. Will come back.
20-May-2022 - 22-May-2022
Abbas A
Singapore
We are deeply touched and grateful by your warmth and hospitality during our visit. We will cherish the beautiful memories we have because of you all. Riem, Nam, Chef Nam, you ladies are absolutely amazing. Your attention to detail and genuine care made us all feel like royalty. We are blessed to have met all of you ladies. Thank you so much for sharing your beautiful country with us, can't
... more
03-May-2022 - 10-May-2022
Ariana H
United States
A lovely 2 weeks stay in this beautiful villa, prepared by Nam & Riem, enjoying the beautiful pool and the entertainment room! Location and space are perfect. Cheers,
03-Apr-2022 - 17-Apr-2022
Alessandro B
Italy
The best stay in Thailand! Staff is brilliant, villa is clean and always fresh.Thank you!
23-Mar-2022 - 26-Mar-2022
Lukas L
Thailand
9-1-2022 Had a Good stay at Laguna Water Riam was exceptional, nothing was too much. You would like to take home. Clean honest always smiling. Hope to see her when i return Barry
22-Dec-2021 - 09-Jan-2022
Barry G
United Kingdom
We are very impressed with your service, and very good take care of us. Thank you Khun Nueng, Rium and etc.that all recommend everything during our stayed in Phuket. Make our trip smooth and completed. For the first day arrival we very enjoyed BBQ dinner from Chef.
07-Nov-2021 - 10-Nov-2021
Nophasit T
Thailand
Need more inspiration?
We're at your service