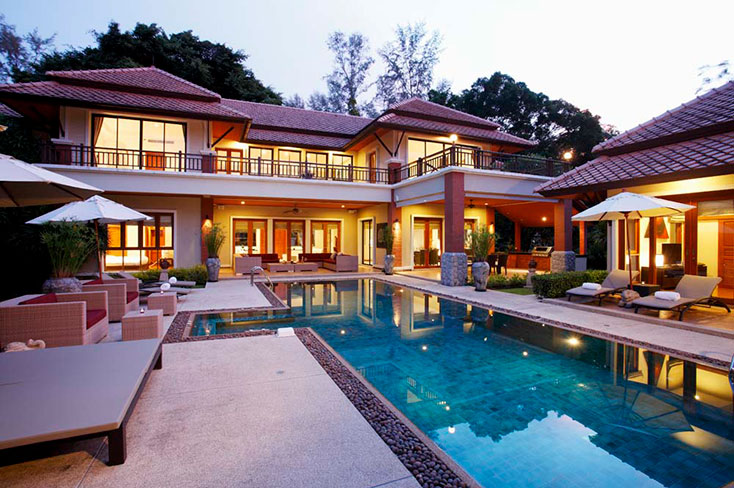 Nirag S, India
,
28-Sep-2023
-
02-Oct-2023
Thank you! The Nirag Family
CHEN K, China
,
18-Aug-2023
-
22-Aug-2023
We spent 4 fancy days in Laguna water with new friends: Nam, Aum, and Riam. It's great to enjoy their service and hear their sweet voices daily. The villa has nice decorations and quality Facilities, a hygienic swimming pool and environment. We feel comfortable and safe here. Friendly surroundings are also convenient for us to shopping. We will come back again if have a chance. We will recommend friends for this villa as well.
Adhish K, Thailand
,
12-Aug-2023
-
17-Aug-2023
To Nam, Aam and Mariam, Thank you so much for the amazing stay. Thank you for all the effort you will have put in for us. The hospitality and warmth has been so welcoming. We have enjoyed the home and our stay. Hope to see you very soon. Thank you!
Zhiwei F, Hong Kong
,
09-Aug-2023
-
12-Aug-2023
To Nam & the crew, Thank you so much for your lovely services throughout our stay in the house. We really love our experience here. We are truly grateful to your attention and care. Wish you all the best - MG Thank you so much for your hospitality!! Love the food and service. - Don
Matt M, United Arab Emirates
,
14-Jul-2023
-
23-Jul-2023
Our most dearest Nam and Mariam, We have all had the most special and wonderful time here at the villa in Phuket with you. We want to thank you for your amazing, exquisite personal service to us all and say from the bottom of our hearts that we will miss you. This villa became like our home and we are truly sad to leave. Nam and Mariam, you have become friends to us and we will treasure you both in our hearts always. Thank you again and keep in touch - you both are like family.
Yacoub A, Qatar
,
30-Jun-2023
-
10-Jul-2023
Thank you for a very unexpected and lovely hostile service. You made our stay very delightful. Thanks for all the wonderful helpful atmosphere. The kids loved your kindness and we had all enjoyed Thailand, Thank you for directions us to our tourism locations. It was very useful. We will hopefully comeback to visit again.
Yvonne T, Singapore
,
09-Jun-2023
-
12-Jun-2023
Thank you for the amazing holiday! Manager Nam & her team were very proactive & acommodative! We benefited greatly from the attentiveness, esp Nam who went beyond her work scope & helpful us to manage our request. The place was kept clean and the bed had different surprises on a daily basis. Chef Ae's cooking was amazing! There was notify she could not cook. All the dishes were really yummy. The only thing was we wished we had a bigger stomach capacity.LoL It was a truly wonderful holiday experience!
Jasmine N, Singapore
,
27-May-2023
-
30-May-2023
Nice villa, great service, amazing food, kind staff :) A big thank you to Nam and team for making our stay here so enjoyable & memorable! The superb service was more than we ask for - preparing yummy meals, keeping the whole villa clean & tidy, recommendations to places to go. etc. Thank you. Our family of 8 persons had an excellent time here throughout our stay. Our parents were wowed by the meals, the children were wowed by the pool table, table soccer and of course the swimming pool. Not forgetting the small surprises left on our bed every night (cute towel elephant!) A paradise indeed! Hope to come back here again & the team is still here :) TAP Family
Adam P, Australia
,
02-Apr-2023
-
07-Apr-2023
We have had the best stay st Laguna Water villa. The villa itself is outstanding and provide such a peaceful and enjoyable stay. Nam and the other ladies are continually going out of their way to make your stay even better. Nam was so great with our 4 year do daughter. Doing he hair every morning and even giving her a gift at the end of our stay. All in all we could not hove enjoyed our stay anymore here at Laguna Water Villa. Would highly recommend to anyone looking for a villa stay in Phuket :) Adam, Lisa, Marcus and Koda
Stephanie S, United Arab Emirates
,
24-Mar-2023
-
02-Apr-2023
What a wonderfully fantastic week in paradise! The villa is gorgeous and luxurious, but what really mode our holiday extra special is our lovely hosts Nam and Miriam. They went above and beyond to anticipate and accommodate our every need and make us feel like royalty and we felt so well taken care of. We wish could have stayed longer,but you can be sure we will be back again Soon! Love Ava, Stephanie, Ben
Mark C, Qatar
,
10-Mar-2023
-
19-Mar-2023
I have loved my time here so much to the point I dont want to leave you and the ladies have made this experience even better I am so grateful for having you, thank you so much xx Layiah I couldn't have asked for a better holiday. Thank you so much for all the support and care. You have showed us I am so grateful. We can't wait to come again. Thank you! Bella xxx Wow!! What a beautiful villa, absolutely amazing service from the dream team. They couldn't have looked after us anymore than they did and we are all very grateful! They were there whenever we wanted a drink , food,even there to be a personal stylist /hair. They were always smiling and very polite. They also helped us with our itinerary , booking our taxis, recommending beautiful place to go and see/eat. This is the best service we have ever had. We want to come back and the same team. Thank you so much! We really appreciate you guys. Lots of love. The Cookies/Gibbons xxxxxx
Valeria K, Russia
,
03-Jan-2023
-
17-Jan-2023
- What a splendid time in Phuket. A beautiful villa and super friendly staff make everything even better. - Absolutely fabulous time. Girls are so lovely and helpful. Nothing is a problem to them. - Fantastic stay in a wonderful villa. Staff were just brilliant. Thanks very much
Angelika B, Thailand
,
27-Dec-2022
-
03-Jan-2023
What a splendid time in Phuket. A beautiful villa and super friendly staff make everything even better. Fantastic stay in a wonderful villa. Staff were just brilliant. Thanks very much.
Anton B, Russia
,
17-Dec-2022
-
27-Dec-2022
We have a wonderful time in this villa! Everything was excellent! Woman who helped us are amazing! Thank you a lot for everything Will return here again and recommend this villa to our friends. Thank you.
James M, France
,
30-Nov-2022
-
10-Dec-2022
Laguna waters villa is amazing but what makes this holiday really incredible is Riam & Karn. They have both been incredible, attention, have prepared us some delicious food. Of course food and coffee! Thank you so much and we look forward to coming back.
Anthony S, Japan
,
20-Nov-2022
-
29-Nov-2022
Wow! What a wonderful holiday we have had! The villa was perfect and wonderful ladies we met on this trip made our stay exceptional! Fai, Fern, Riam and chef made our holiday perfect! There is nothing that is too much for them, and the food was outstanding! Very Special ladies, we would love to see them again on a return trip! They were very much loved by our children also! "our aunties" Thank you so much! Love from Cheryl, Anthony, Izzy, James and Ava! The Savage Family!!
Jose G, Australia
,
09-Nov-2022
-
19-Nov-2022
Thank you so much for the most amazing holiday! The villa was perfect so great for our 2 families. The children loved the little gifts on the beds each night. The food cooked by chef Nam was the yummiest food we ate on our holiday! Fai, Fern, Riam were incredible. The best villa staffs we have ever experienced. We will miss them all. Thank you all so much!! The Beesleys & The Gillbert.
Obaid A, United Arab Emirates
,
12-Jul-2022
-
17-Jul-2022
The villa was so fabulous specially with its .... location and its amenities as well as it look over Laguna water. Its excellent service and in Particular The chef A and marya and nattali.We enjoy our staying in the villa 132 The team A , M and N made our stay more enjoy. With their over expectation service. We will come again in the future and will recommend it to our friends as well. We wish the management and the staff every success in their efforts and mission
Marc P, Thailand
,
05-Jul-2022
-
12-Jul-2022
We had an amazing stay! The staff went above & beyond our expectations. The villa was kept clean the whole time we went here. The private chef was very good as well. Thank you Neung Riam and Natty to make our stay so amazing! Farah, Marc & Marcus
Abbas A, Singapore
,
20-May-2022
-
22-May-2022
The villa and staff has been incredible. The villa provided amazing service + everything Thank you very much. Will come back.
Ariana H, United States
,
03-May-2022
-
10-May-2022
We are deeply touched and grateful by your warmth and hospitality during our visit. We will cherish the beautiful memories we have because of you all. Riem, Nam, Chef Nam, you ladies are absolutely amazing. Your attention to detail and genuine care made us all feel like royalty. We are blessed to have met all of you ladies. Thank you so much for sharing your beautiful country with us, can't wait to come back!. Love, Ashlei, Imani, Denise, Nicole & Ariana
Alessandro B, Italy
,
03-Apr-2022
-
17-Apr-2022
A lovely 2 weeks stay in this beautiful villa, prepared by Nam & Riem, enjoying the beautiful pool and the entertainment room! Location and space are perfect. Cheers,
Lukas L, Thailand
,
23-Mar-2022
-
26-Mar-2022
The best stay in Thailand! Staff is brilliant, villa is clean and always fresh.Thank you!
Barry G, United Kingdom
,
22-Dec-2021
-
09-Jan-2022
9-1-2022 Had a Good stay at Laguna Water Riam was exceptional, nothing was too much. You would like to take home. Clean honest always smiling. Hope to see her when i return Barry
Nophasit T, Thailand
,
07-Nov-2021
-
10-Nov-2021
We are very impressed with your service, and very good take care of us. Thank you Khun Nueng, Rium and etc.that all recommend everything during our stayed in Phuket. Make our trip smooth and completed. For the first day arrival we very enjoyed BBQ dinner from Chef.