Villa Kailasha
The villa you chose is no longer available for rental from us but we have a portfolio of Elite Havens in various locations around South East Asia for you to choose from. Alternatively feel free to send us an enquiry and it'll be our pleasure to help you find the perfect villa for your next holiday.
A holiday here includes

Near the beach

Staffed

Private Chef

Private Pool
Elite Concierge
Away from the crowds, Villa Kailasha offers a tranquil respite in Bali's Tabanan regency. This marvellous property sprawls over 11,000 sqm of land, surrounded by coconut groves on three sides and the endless ocean in front.
You will feel like you're staying in your own private boutique hotel, such is the expanse of the property. Privacy is guaranteed, with bedrooms spread across different pavilions. Yet, each of the nine rooms offers a relaxed and luxurious stay amidst tropical greenery.
With accommodation for up to 18 guests, Villa Kailasha is perfect for large get-togethers, business or yoga retreats, and small personal functions, though there is nothing small about the expanse of its lawns. The grounds are impeccably maintained and dotted with flowering trees and swaying palms. They hold within them a 14-metre swimming pool bordered by sunbeds looking out towards the twinkling blue ocean beyond a glimmering black sand beach.
The double-storey main pavilion is the social hub of the villa, offering both air-conditioned comfort on the upper level and the option to enjoy breezy evenings in the lower-level lounge. Meals are a delicious affair, crafted by the in-house chef and served in the open-sided dining pavilion, its tapering wooden roof adding drama to the already picturesque setting.
With televisions in every room and an air-conditioned multi-purpose room in the main pavilion, there's plenty to do in the villa. The incredible Kelating Beach is a three-minute walk from the villa. The charm of Villa Kailasha is in its serenity, away from the bustle of everyday life, a quiet and scenic place to relax, renew and reconnect.

this elite haven.
Cool breezes, glorious views
Secluded bliss, away from it all
Privileged insight into local life
Did we mention the space!
Need more info on this villa? Floor plans, services, images and reviews.
Click here to view the owner's comprehensive website
www.villakailasha.com
05-Jun-2018 - 08-Jun-2018
"It was a pleasure to return back to Villa Kailasha after five years - meet people again who become more than staff but friends and feel that the villa is our small home. Thanks to everyone who took care about us. Thanks for amazing vacation we had there, hope we see everyone again."

Anton F, Russia
Rates and availability
Discounts
Early bird enjoys up to 15% discount when booking 120 days in advance.*
Last minute bookings enjoy up to 10% discount when checking in before 18-May-2021.
* Does not apply for New Year period
Quick facts
Location
Tabanan, Bali, Indonesia
Capacity
18 people (9 ensuite bedrooms: 8 king-size and 1 with twin beds)
Living Areas
Open-sided lounge pavilion; air-conditioned meeting room; multi-purpose room; dining pavilion seating 10 people (extra tables are setup for more than 10 guests); outdoor dining by the pool.
Staff
Villa staff team includes a part-time manager, cook, butler, housekeeping and security. Additional staff (eg. babysitters, driver, yoga instructor) available on request at extra cost.
Dining
A suggestion menu of Western, Asian, vegetarian and children's dishes. Requests accommodated (including special diets). Grocery cost is charged 20% handling fee which is subject to service and tax at the prevailing rate.
Communication
Complimentary WiFi broadband internet access throughout; telephone for local and international calls (charged to guest).
Entertainment
Satellite TVs; DVD Players; iPod docks in living areas.
Sports facilities
Tennis court (shared); gym; pool table; table tennis; kayaks; bicycles.
Spa
Massages and a range of beauty treatments can be arranged by the villa staff and enjoyed at various locations in and around the villa.
For Families
Villa Kailasha is exceptionally well equipped for families. Children's equipment available at the villa includes a baby cot, high chair and play mat, and other items are available upon request for a small hire fee.
Transport
Car and driver available for 8 hours at a special rate of USD35++/day (excluding petrol).
Weddings & events
Weddings and events for up to 150 people can be arranged at the villa with prior notice. Please click here to view event guidelines Please click
here
to view event guidelines
Additional Facilities
Barbecue; safety deposit box; pool safety fence; back-up diesel powered generator.
Property Area
11,000 sqm (land).
Marketed by
The layout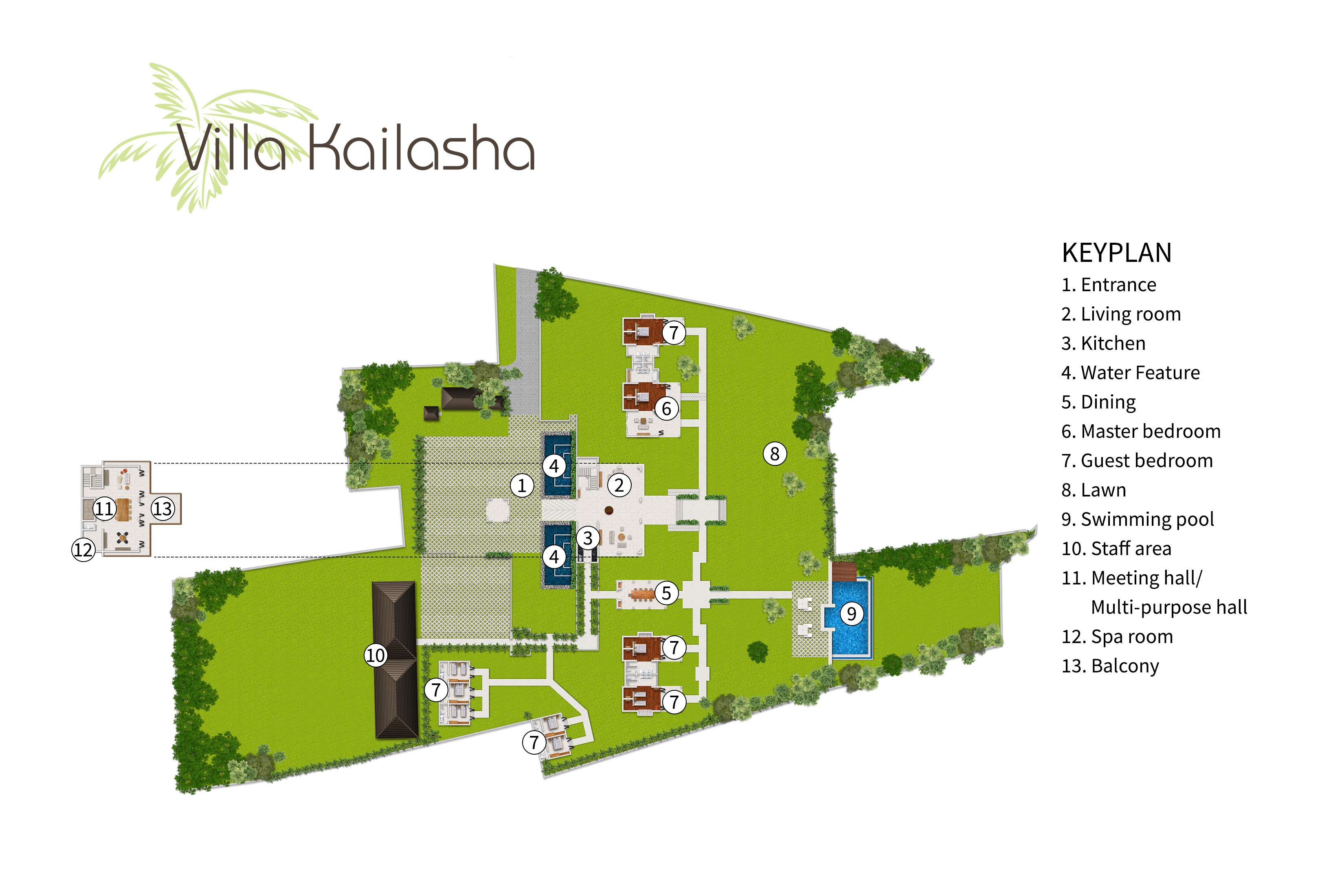 Indoor Living
Spacious and breezy living pavilion with multiple seating areas
Air-conditioned meeting room on the first level of the main pavilion
Multi-purpose room for exercising, playing or to use as an office
Open-sided dining pavilion with a high, sloping roof and seating for 10 guests (extra tables are setup for additional guests)

Outdoor Living

Sprawling gardens with manicured lawns and flowering trees
A 14-metre swimming pool with sunbeds facing the ocean
Breakfast table next to the swimming pool for small groups
Multiple pockets of space, hidden gardens and numerous nooks to explore
Ample parking space
The rooms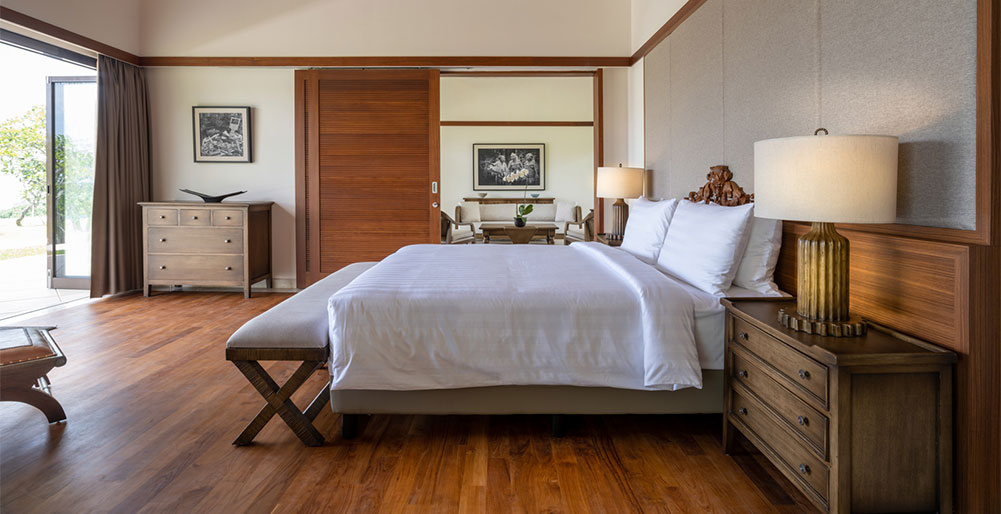 Master bedroom
In a separate pavilion on the left side of the main pavilion
A complex of rooms including a TV lounge, the sleeping chamber, a walk-in wardrobe and a lavish bathroom
Sofa seating and a flat-screen television in the TV lounge
Comfortable king-size bed with heavenly views beyond glass doors
The master bathroom features a free-standing bathtub with a frosted glass wall giving the illusion of a tropical bath
Glass doors open onto a patio overlooking the ocean beyond lush gardens
Guest bedrooms 1 & 2
Located in separate pavilions on either side of the main pavilion
Featuring a king-size bed with bedside tables
Ensuite bathroom with a shower cubicle
Flat-screen television for private viewing
Ocean views from the patio
Guest bedroom 3
Located on the right side of the main pavilion, facing the ocean
Twin beds, ideal for children or friends
A daybed on the side, next to a window
Patio leading to the garden
Ensuite bathroom with a separate shower cubicle
Guest bedrooms 4, 5, 6, 7 & 8
These bedrooms are located inside two separate pavilions, located behind the ocean-facing guest bedroom
Ideal for small families wanting proximity to their children or groups of youngsters
Garden views and a separate entrance
Ensuite bathroom with a shower cubicle
Twin and king-size beds for a good night's sleep
Location
A three-minute stroll from Villa Kailasha takes you to Kelating Beach featuring sparkling black sand and sweeping coastline views. The immediate neighbourhood is a small Balinese village called Dukuh which is bordered by rice fields as far as the eye can see. Set blissfully away from the busy town, the only restaurant nearby sits in the five-star Alila Villas Soori (300m) which boasts both a fine-dining restaurant as well as an alfresco bar serving beachfront cocktails, best enjoyed at sunset. However, with a professional chef at your service in the villa, you may find no incentive to step out for culinary gratification. The quiet beach and river estuary offer beautiful walks, and local temple ceremonies are a common sight. This stretch of coastline is popular with surfers but there are strong rip currents and no lifeguards so it is deemed unsafe for swimming.
Things to do
Villa Kailasha's manager has a wealth of information about nearby places of interest and will be happy to arrange for transport and make bookings as required. Do converse with the staff about the local area; many of them live nearby and will be able to give local insights into the fascinating aspects of Bali life.
In the meantime, here is a taste of the many and varied activities on offer within reach of the villa.
Hiking and trekking in Bali's volcanic hinterlands allow visitors to relish spectacular views; the 2276-metre Mount Batukau is the island's second-highest peak, and the area around this mountain boasts the greatest biological diversity in Bali. Here, local guides lead visitors on anything from gentle hikes through the food forests and jungle, to challenging treks.
Visit the breathtaking panorama of the Jatiluwih Rice Terraces (36km), a UNESCO World Heritage Site since 2008 for the preservation of traditional Balinese farming techniques. At a height of 850 metres above sea level, the view from here is one of the finest.
Horse riding can be arranged at stables located in Yeh Gangga (5km), a peaceful village where rice farming, fishing and sea salt harvesting keep locals busy. You can also opt to swim in the sea with the horses, should you want to.
Discover the charming Tabanan Regency with its terraced rice fields of emerald green, volcanic mountains and black sand beaches dotted with fishing communities. Or head northeast to explore the volcanic lakes near the mountain town of Bedugul, including Lake Bratan with its photogenic and dramatically positioned Pura Ulun Danu – one of Bali's most important temples.
Explore Bali on the back of a Harley Davidson bike with Island Biker Tours. Full day Harley tours, customised tours or shorter joy rides can all be accommodated.
With its warm seas, an almost year-round season, relatively uncrowded beach and reef breaks, and suitability for all levels of experience, Bali surfing is world-renowned, and at Villa Kailasha the ocean is right at your doorstep. This stretch of coast, however, is only recommended for experienced surfers.
There are many ancient temples on the island including Pura Luhur Batukau, the stone coconut temple (29km) near the peak of Mount Batukau, (accessible by car), which venerates the deities of mountains and lakes. Two royal palaces are also within easy reach of Villa Kailasha: Puri Gede and Puri Anyar at the royal town of Krambitan (5km).
Make a pilgrimage to the sacred Pura Tanah Lot (15km), one of Bali's most iconic sea temples. Perched high on a craggy, wave-lashed rock, this ancient temple is best savoured at sunset (although less busy during the day). If the tide is low, be sure to receive a blessing from the Hindu priests and sneak a peek of the holy snake.
Anton F, Russia, 05-Jun-2018 - 08-Jun-2018
It was a pleasure to return back to Villa Kailasha after five years - meet people again who become more than staff but friends and feel that the villa is our small home. Thanks to everyone who took care about us. Thanks for amazing vacation we had there, hope we see everyone again.
Damian S, Germany, 02-Jun-2018 - 05-Jun-2018
What a beautiful villa. We celebrated our special day at Villa Kailasha and we loved every single bit of it. The staff were amazing and helped us to make our wedding day even better. We will definitely come back and recommend this place to family and friends. Thank you so much for making our dream wedding come true.
Jean D, United States, 18-May-2018 - 25-May-2018
This is heaven, the staff are kind, thoughtful and made us feel welcome every moment of our stay. The pool is wonderful - heaven to swim and watch the ocean. Is this a dream or is this for real, a fabulous week spent. Thanks to beautiful staff and their generous Balinese spirit.
Amine S, Switzerland, 21-Apr-2018 - 05-May-2018
What an amazing experience. The place is better than expected - kindest people ever. We have been the luckiest guests thanks to Mr Wayan's team, Mr Gede, Mr Dewa and all their colleagues - without forgetting Mr Putu, the best driver all over the world. Two weeks of dream.
Richard M, Australia, 28-Feb-2018 - 05-Mar-2018
We really had the most wonderful time. The villa is a magical place that invites you to relax and soak up the atmosphere. The people are the other thing that really make it special. To Wayan, Gede, Dewa, Chef and the whole team. Matur suksma. We will back.
Tao X, China, 20-Feb-2018 - 26-Feb-2018
Quiet, peace, nice view plus nice staff in villa. Thanks all you guys, I will come back.
Frederic B, Canada, 03-Feb-2018 - 04-Feb-2018
Nice and peaceful location, amazing garden and layout, thank you again everyone.
Krupal M, India, 22-Jan-2018 - 24-Jan-2018
Excellent hospitality, very luxurious villa, amazing beach view, felt very peaceful and relaxed.
Mariah A, Indonesia, 09-Oct-2017 - 12-Oct-2017
We had an amazing wedding here in that beautiful place!!. Great time, great vibe.
Olson R, Australia, 11-Sep-2017 - 18-Sep-2017
WONDERFUL!! Staff was wonderful - villa lovely. Service and staff were fantastic!! Villa property amazing we will tell everyone about this magical place. Thank you!
Mi Young K, South Korea, 08-Sep-2017 - 10-Sep-2017
The staffs are very nice and the pool in the villa is very good. I had a great rest. Thank you.
Fabrice C, France, 18-Aug-2017 - 24-Aug-2017
We have spent a marvelous stay in Villa Kailasha. It has been a unique experience thanks to the staff (special thanks to Gede, Dewa and the chef for all the F&B and service). Very kind and helpful! Always. The location/accommodation is large, clean (thanks to the people in charge!), beautiful views, good beds and amenities. The F&B is very good! Always a pleasure to discover our dishes each lunch/dinner. Thank You. We will come back!!
Peter K, Howland Island, 28-Jul-2017 - 18-Aug-2017
We had a great holiday! Thank you staff for taking care of everything including saving baby birds and the two puppies found at the beach. We wish you the best and who knows we will meet you again.
Dong-Hoen & Go-Eun, South Korea, 23-Jun-2017 - 26-Jun-2017
We had a good time in Kailasha. Staffs are very kind and landscape is so nice. Totally it was very wonderful time in Villa Kailasha thanks to staffs, I can celebrate my wedding happily. I wish I come back hire again someday with my family. thanks a lot.
Thorsten M, Switzerland, 14-Jun-2017 - 16-Jun-2017
We love the place, nice guest rooms...The staff is great and we will back soon. Thank you Gede and Dewa.
Soheila D, Indonesia, 02-Jun-2017 - 04-Jun-2017
Very lovely place all the staff become our friends and good food.
Ji-Young L, South Korea, 05-May-2017 - 08-May-2017
Very cozy, nice villa!! We had a great time and wonderful experience. Nice people and foods!! Thanks for everything our great time in Bali and Villa Kailasha!! Good Luck!
Aubrey P, Australia, 12-Apr-2017 - 22-Apr-2017
Our family had a great visit. Nice and relaxing to get away from the city. The staff were great and very helpful. We also had a great dinner. We will be back to Bali again soon.
Simon C, France, 09-Apr-2017 - 12-Apr-2017
Nice holiday in Villa Kailasha. The villa is very beautiful. The wedding here was perfect because it is a magical place. Thank you very much for all the staff and particularly to Gede and Dewa and the Manager. You were so perfect!!!
Mao M, China, 03-Apr-2017 - 08-Apr-2017
The villa is very good, and food is very delicious, people here very nice and kind too. I would recommend friends to come and live in Kailasha. And I hope I could live there next time! Thank you for all of you.
Geralyn D, Singapore, 14-Mar-2017 - 18-Mar-2017
"Happy in he who has travelled far and returned rested and refreshed" - Our time here has been wonderfully restful. Thank you to the wonderful staff here, all of you have been kind, gracious and so welcoming. Thank you for caring us and cooking such delicious meals - Enak!. And thank for driving us around the island. Kailasha will remain a happy and memorable time in our lives! We had a very good driver who is knowledgeable and polite. He attentive and patient too and drives well. Good guy and driver!
Ludovic I, France, 23-Feb-2017 - 26-Feb-2017
Very quiet place, pleasant team who was to our attention. Thanks to the chef for his dishes, and especially for the crepes. Hope to come back in this lovely place.
Zhenyi L, China, 19-Jan-2017 - 26-Jan-2017
We love this villa. She is so beautiful and the gentleman are so kind.
Hans N, Italy, 27-Dec-2016 - 07-Jan-2017
We spend ten very relaxing days at Kailasha. A large beautiful garden, clean pool and sun deck, a great airy sitting area and large well kept bed rooms. Of course the staff that assisted in all things necessary and pampered us through our holidays. We can certainly recommend this unique place.
Ke C, China, 27-Nov-2016 - 29-Nov-2016
Had amazing time, very lovely place, great views and lovely staffs. We are enjoyed here. Thank you for all your help and great foods.
Simone M, Australia, 31-Oct-2016 - 10-Nov-2016
The property is beautiful, The natural ecosystem is something special. The experience we will never forget. Gede is wonderful host and made our stay very pleasant. The swimming, the sunset and garden/ponds are stunning. We are sad to leave today but we hope to return again one day. Thank you Kailasha.
Fahim H, Singapore, 18-Oct-2016 - 21-Oct-2016
It was a once in lifetime experience unique and amazing location. It was the tranquility and luxury promised and more. The staff were very kind helpful and the food just made me hungry for my next meal. We rented bikes and explored the local village and all in all a very memorable experience.
Elaine C, Malaysia, 14-Oct-2016 - 16-Oct-2016
Excellent service, beautiful scenery and flawless garden. Awesome overall! We really enjoyed the stay here at Kailasha! Thanks guys.
Sue Z, Australia, 07-Oct-2016 - 10-Oct-2016
The staff has been fantastic, very attentive. We cannot fault them at all. The rooms are very clean and comfortable. Thank you for accommodating us and our 20 people pool party. Hope we were not too much trouble and thank you for allowing us to hold our wedding at this amazing property.
Jason T, Singapore, 03-Oct-2016 - 07-Oct-2016
Very beautiful sea front villa, great accommodation, nice garden and swimming pool. Passionate and friendly service staff. Generally speaking, this villa makes you feel like at a luxury home.
John C, Singapore, 22-Sep-2016 - 25-Sep-2016
Very friendly and warm service, villa come with a very nice view and relaxing ambience. We really enjoyed dipping in the pool and having good massages.The whole villa to very spacious and comfortable. Thank you for the pleasant and memorable experience.
Christophe R, Hong Kong, 14-Sep-2016 - 18-Sep-2016
Amazing stay at Kailasha. Thank you to the wonderful staff and we hope to come back again very soon.
Adinda A, Indonesia, 30-Aug-2016 - 02-Sep-2016
We have had the most incredible wedding at the villa, the staff have been so friendly and accommodating, the food has been delicious and the location is stunning. Thank you all.
Javier C, Spain, 16-Aug-2016 - 30-Aug-2016
Beautiful accommodation with friendly staff. Thank you.
Srinivasan N, Singapore, 06-Jul-2016 - 09-Jul-2016
It's a very beautiful and pleasant experience in this serene environment which made us want to stay for more days. The staff are amicable and the chef was too good and friendly. We enjoyed the satay as our daughter was happy with feeding fishes and swim pool. Thank you.
Annie W, Hong Kong, 25-Jun-2016 - 29-Jun-2016
My family and I stayed in Villa Kailasha for 3 days in Jun 2016, whilst holidaying in Bali. Amazing resort that gives you all the tranquility away from the crowd. Very comfortable villas, bedroom. Attentive and helpful service staff that made us felt welcomed from day one. Venturing out to sight see or shop is a pleasure with the most accommodating driver. Thank you Wayan, Putu, Dewa and all staff in Kailasha Villa!.
Brenda K, Singapore, 10-Jun-2016 - 15-Jun-2016
Very nice villa with lovely views of the sea. The staff and driver always available when needed. The cook delivered excellent meals, no complaints. Thank you.
Jennifer L, Australia, 02-Jun-2016 - 07-Jun-2016
Wow! what an amazing place. Everything looks amazing the staff is fantastic and so helpful and friendly. We had an amazing wedding here. All of our dreams come true. I hope we get to come back in a few years time. Thank you all so much!
France, 31-Jul-2015 - 07-Aug-2015
Very nice place, spacious with amazing sea views
Justin Toebes, New Zealand, 21-Apr-2015 - 24-Apr-2015
Amazing site; with facilities that ensure total relaxation and enjoyment of the site. Real value (maybe they see the isolation as a price sensitive feature - yes that plus the site/facilities leads to the most impressive villa/relaxing stay. Wonderful staff. Ten out of ten.
irina B, Russia, 30-Dec-2013 - 11-Jan-2014
The villa itself is very nice. The territory is amazingly big and neat. The location is good: you can watch the ocean waves from allmost every point. Villa is quite new.
Vonney T, Indonesia, 10-Oct-2013 - 13-Oct-2013
Great Villa, Very clean, well manage, love the master bed room! Definitely will comeback :)
Sandra Zimmermann Dr., Germany, 25-Jul-2013 - 08-Aug-2013
nice staff, good cook, good housekeeping try to do the best to the guests, excellent arranged food(sugling pic),kids are well cared .
Bjørn G, Germany, 25-May-2013 - 03-Jun-2013
We stayed for 10 days and had an extremely relaxing and wonderful stay thanks to the precious service from Dewa and Dewi the great food of Kadet and the discret support of the whole team. It's really a pitty that the public beach is a bit messy but when beeing at the pool or garden your in your own fabulous world with gorgeous smelling Frangipani flowers and butterflies. It was a great holiday!
SØ, Norway, 23-Dec-2012 - 07-Jan-2013
We had a wonderfull stay at the Kailasha! The friendly, helpfull and caring staff provided excellent service and made our stay one of the best vacations ever!
The villa is beautiful and well furnished with an open solution that gives you the feeling of being outside even as sitting inside. We also enjoyed lazy days by the big swimming pool.
The location is remote, and hence the car and driver are important for getting around. We enjoyed the location in a more typical Balinese environment, and with some distance to the noisy tourist areas.
John Bennett, New Zealand, 06-Dec-2012 - 15-Dec-2012
This was our second visit and we found the villa to be every bit as enjoyable as when we stayed here last April.Because it is well away from the main tourist areas Kailasha is peaceful and quiet with lovely gardens.The staff are friendly and happy to assist.
EJ, Australia, 05-Sep-2012 - 11-Sep-2012
We had a wonderful 6 nights stay at Villa Kailasha. The villa was beautiful and the staff outstanding. We look forward to returning on our next trip to Bali.
ID, Australia, 09-May-2012 - 16-May-2012
We had a great time. The week just went too quickly for us all.
The staff could not be more attentive and hospitable - nothing was a problem for them and the food excellent.
Will definately be back!
If would be impossible not to find joy at Villa Kailasha.
Gary Seah, 26-Apr-2012 - 29-Apr-2012
Pleasant retreat that's truly a home away from home. Appointed with very well trained and attentive staff that makes your stay at Kailasha Villa carefree and relaxing. The expansive property offers privacy and yet the glimpse of Bali life is only minutes away. Kitchen arrangements are very flexible and grocery requests transform your meals into Five Star dinning experience. Thank you Kailasha Villa for providing us a wonderful rejuvenating experience that epitomises Bali as the destination of purity, serenity and beauty.
John Bennett, New Zealand, 21-Apr-2012 - 26-Apr-2012
This villa is very spacious and relaxing with large peaceful gardens and is in a lovely position with excellent sea views.The staff are efficient and friendly and the chef provides very good meals.One of the very best villas i have stayed in.
Claude Deschaintre, France, 14-Apr-2012 - 16-Apr-2012
Very nice (too short) stay at villa Kailasha.
The villa and great staff were over our expectations and we hope to come back again very soon.

Claude Deschaintre
stephen berry, Australia, 22-Jan-2012 - 01-Feb-2012
Our family enjoyed Villa Kailasha immensely and we are looking forward to returning in the future. The staff led by Wayan were outstanding providing caring and personal service. Meals prepared by Kadek were wonderful with both Dawe and Dawa providing table service were fantastic. Our driver, Putu was so helpful and obliging, a careful driver and very professional. Our sincere thanks to all.
You may also like these Elite Havens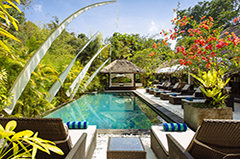 Villa Maya Retreat
6 Bedroom, Tabanan, Bali
from USD 490++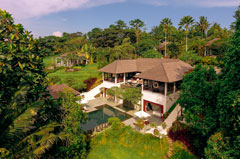 The Arsana Estate
4 Bedroom, Tabanan, Bali
from USD 680++

Adding villa...
Back to top