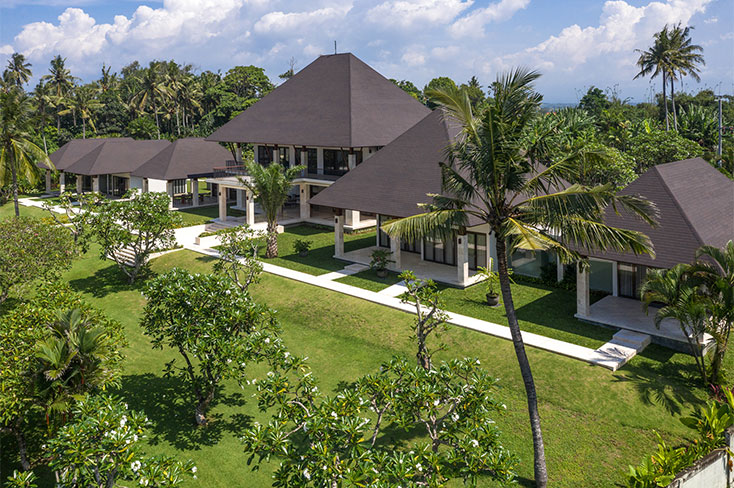 Trevia N, United States
,
14-Dec-2022
-
26-Dec-2022
This Villa Kailasha has and is an experiences from the strong bunks. Each human soul should experience this wonderful villa paradise, the people is serenity. Thank you for a life changing experiences.
Susanne C, United States
,
24-Nov-2022
-
29-Nov-2022
The villa is well maintained, the butlers are attentive, great service and a valuable asset for the property. The food was good, great variety in the menu portions. Keep up the good work, we hope to be back again. Thank you for making our stay at Villa Kailasha so memorable.
Kaamila Q, United Kingdom
,
05-Nov-2022
-
12-Nov-2022
Fantastic, relaxing time in Villa Kailasha. The villa is beautiful and modern. The staff are attentive and thoughtful. The food is excellent, every meal was delicious. We had a lovely time and would not hesitate to come back.
Amin O, Iraq
,
28-Aug-2022
-
30-Aug-2022
You are extremely wonderful guys, definitely you went beyond our expectations. You are simply a leader, advisor, and manager of this clean, safe, and very beautiful villa. I have observed that you changed the system of working from hard to heart work which is amazing approach. I was very happy and lucky to have you guys.
Nadia M, Singapore
,
13-Aug-2022
-
20-Aug-2022
The wonderful and specious villa Kailsha with its peaceful garden and splendid ocean view. Welcoming personnel Mr. GD and his friendly colleagues. A perfect place to relax and we had a great time.
William T, United States
,
30-Jul-2022
-
04-Aug-2022
Villa was amazing, clean rooms, big common spaces for tons of activities, and staff are all wonderful. Chef's cooking was always delicious and all of our requests were accommodated. We highly recommend this villa.
Elly S, Indonesia
,
16-Jul-2022
-
24-Jul-2022
What a beautiful villa. Our big family has such a wonderful time celebrating granpa's birthday. The view is spectacular and the grounds are kept. Each family has their own bungalow and enjoyed their time here. Highly recommended.
Jeanine S, United States
,
08-Jun-2022
-
22-Jun-2022
I don't even know where to begin, this has been one of the best vacations I have ever stayed in. I have traveled the world but the service, accommodation, excursions, food, etc. was phenomenal. We stayed in this gorgeous villa for 2 weeks. I don't even know hoe I am going to go back home. Good day, Dr. D as now we call affectionately call him, they mated hand to foot. Literally anticipating each and every need we had. We did in the villa Yoga, ATV, daily massage, excursions, all of our meals cooked, laundry done. Hands dawn one of the prettiest places on earth. Do not delay, book this villa, it is everything you need I can imagine.
Fritz F, United States
,
11-May-2022
-
16-May-2022
I want to thank you all from the bottom of my heart for the hospitality and care and concern you had towards my group and me. We love all of you and will definitely be back soon.
Willy T, Indonesia
,
23-Dec-2021
-
28-Dec-2021
The villa is amazing and the service is great. The property is clean and staff is very friendly and helpful. Thank you for all Kailasha team.
Meggie F, Indonesia
,
13-Dec-2021
-
16-Dec-2021
We had a wonderful time at the villa. The building is great and the staff are very friendly. Thank you
Daniel V, Indonesia
,
16-Oct-2021
-
18-Oct-2021
We stayed here for 2 nights. The experience was absolutely fantastic. All the staff members are very helpful and nice. The villa is clean and the view is lovely too. The chef cooks delicious food. We will absolutely come back here with our bigger group. Keep up the good work.
Pak D, Indonesia
,
22-May-2021
-
23-May-2021
Our first vacation in the pandemic, we travelled to Bali and stayed at Villa Kailasha. We saw firsthand the impact of the pandemic on tourism workers in Bali who smile through their struggles. We were grateful that we could stay in this beautiful place and have a great vacation. The service here is very special. Keep it up team. It's great how you follow health protocols, and yet maintain your friendly hospitality, providing anything that the guest needs.
Anton F, Russia
,
05-Jun-2018
-
08-Jun-2018
It was a pleasure to return back to Villa Kailasha after five years - meet people again who become more than staff but friends and feel that the villa is our small home. Thanks to everyone who took care about us. Thanks for amazing vacation we had there, hope we see everyone again.
Damian S, Germany
,
02-Jun-2018
-
05-Jun-2018
What a beautiful villa. We celebrated our special day at Villa Kailasha and we loved every single bit of it. The staff were amazing and helped us to make our wedding day even better. We will definitely come back and recommend this place to family and friends. Thank you so much for making our dream wedding come true.
Jean D, United States
,
18-May-2018
-
25-May-2018
This is heaven, the staff are kind, thoughtful and made us feel welcome every moment of our stay. The pool is wonderful - heaven to swim and watch the ocean. Is this a dream or is this for real, a fabulous week spent. Thanks to beautiful staff and their generous Balinese spirit.
Amine S, Switzerland
,
21-Apr-2018
-
05-May-2018
What an amazing experience. The place is better than expected - kindest people ever. We have been the luckiest guests thanks to Mr Wayan's team, Mr Gede, Mr Dewa and all their colleagues - without forgetting Mr Putu, the best driver all over the world. Two weeks of dream.
Richard M, Australia
,
28-Feb-2018
-
05-Mar-2018
We really had the most wonderful time. The villa is a magical place that invites you to relax and soak up the atmosphere. The people are the other thing that really make it special. To Wayan, Gede, Dewa, Chef and the whole team. Matur suksma. We will back.
Tao X, China
,
20-Feb-2018
-
26-Feb-2018
Quiet, peace, nice view plus nice staff in villa. Thanks all you guys, I will come back.
Frederic B, Canada
,
03-Feb-2018
-
04-Feb-2018
Nice and peaceful location, amazing garden and layout, thank you again everyone.
Krupal M, India
,
22-Jan-2018
-
24-Jan-2018
Excellent hospitality, very luxurious villa, amazing beach view, felt very peaceful and relaxed.
Mariah A, Indonesia
,
09-Oct-2017
-
12-Oct-2017
We had an amazing wedding here in that beautiful place!!. Great time, great vibe.
Olson R, Australia
,
11-Sep-2017
-
18-Sep-2017
WONDERFUL!! Staff was wonderful - villa lovely. Service and staff were fantastic!! Villa property amazing we will tell everyone about this magical place. Thank you!
Mi Young K, South Korea
,
08-Sep-2017
-
10-Sep-2017
The staffs are very nice and the pool in the villa is very good. I had a great rest. Thank you.
Fabrice C, France
,
18-Aug-2017
-
24-Aug-2017
We have spent a marvelous stay in Villa Kailasha. It has been a unique experience thanks to the staff (special thanks to Gede, Dewa and the chef for all the F&B and service). Very kind and helpful! Always. The location/accommodation is large, clean (thanks to the people in charge!), beautiful views, good beds and amenities. The F&B is very good! Always a pleasure to discover our dishes each lunch/dinner. Thank You. We will come back!!
Peter K, Howland Island
,
28-Jul-2017
-
18-Aug-2017
We had a great holiday! Thank you staff for taking care of everything including saving baby birds and the two puppies found at the beach. We wish you the best and who knows we will meet you again.
Dong-Hoen & Go-Eun, South Korea
,
23-Jun-2017
-
26-Jun-2017
We had a good time in Kailasha. Staffs are very kind and landscape is so nice. Totally it was very wonderful time in Villa Kailasha thanks to staffs, I can celebrate my wedding happily. I wish I come back hire again someday with my family. thanks a lot.
Thorsten M, Switzerland
,
14-Jun-2017
-
16-Jun-2017
We love the place, nice guest rooms...The staff is great and we will back soon. Thank you Gede and Dewa.
Soheila D, Indonesia
,
02-Jun-2017
-
04-Jun-2017
Very lovely place all the staff become our friends and good food.
Ji-Young L, South Korea
,
05-May-2017
-
08-May-2017
Very cozy, nice villa!! We had a great time and wonderful experience. Nice people and foods!! Thanks for everything our great time in Bali and Villa Kailasha!! Good Luck!
Aubrey P, Australia
,
12-Apr-2017
-
22-Apr-2017
Our family had a great visit. Nice and relaxing to get away from the city. The staff were great and very helpful. We also had a great dinner. We will be back to Bali again soon.
Simon C, France
,
09-Apr-2017
-
12-Apr-2017
Nice holiday in Villa Kailasha. The villa is very beautiful. The wedding here was perfect because it is a magical place. Thank you very much for all the staff and particularly to Gede and Dewa and the Manager. You were so perfect!!!
Mao M, China
,
03-Apr-2017
-
08-Apr-2017
The villa is very good, and food is very delicious, people here very nice and kind too. I would recommend friends to come and live in Kailasha. And I hope I could live there next time! Thank you for all of you.
Geralyn D, Singapore
,
14-Mar-2017
-
18-Mar-2017
"Happy in he who has travelled far and returned rested and refreshed" - Our time here has been wonderfully restful. Thank you to the wonderful staff here, all of you have been kind, gracious and so welcoming. Thank you for caring us and cooking such delicious meals - Enak!. And thank for driving us around the island. Kailasha will remain a happy and memorable time in our lives! We had a very good driver who is knowledgeable and polite. He attentive and patient too and drives well. Good guy and driver!
Ludovic I, France
,
23-Feb-2017
-
26-Feb-2017
Very quiet place, pleasant team who was to our attention. Thanks to the chef for his dishes, and especially for the crepes. Hope to come back in this lovely place.
Zhenyi L, China
,
19-Jan-2017
-
26-Jan-2017
We love this villa. She is so beautiful and the gentleman are so kind.
Hans N, Italy
,
27-Dec-2016
-
07-Jan-2017
We spend ten very relaxing days at Kailasha. A large beautiful garden, clean pool and sun deck, a great airy sitting area and large well kept bed rooms. Of course the staff that assisted in all things necessary and pampered us through our holidays. We can certainly recommend this unique place.
Ke C, China
,
27-Nov-2016
-
29-Nov-2016
Had amazing time, very lovely place, great views and lovely staffs. We are enjoyed here. Thank you for all your help and great foods.
Simone M, Australia
,
31-Oct-2016
-
10-Nov-2016
The property is beautiful, The natural ecosystem is something special. The experience we will never forget. Gede is wonderful host and made our stay very pleasant. The swimming, the sunset and garden/ponds are stunning. We are sad to leave today but we hope to return again one day. Thank you Kailasha.
Fahim H, Singapore
,
18-Oct-2016
-
21-Oct-2016
It was a once in lifetime experience unique and amazing location. It was the tranquility and luxury promised and more. The staff were very kind helpful and the food just made me hungry for my next meal. We rented bikes and explored the local village and all in all a very memorable experience.
Elaine C, Malaysia
,
14-Oct-2016
-
16-Oct-2016
Excellent service, beautiful scenery and flawless garden. Awesome overall! We really enjoyed the stay here at Kailasha! Thanks guys.
Sue Z, Australia
,
07-Oct-2016
-
10-Oct-2016
The staff has been fantastic, very attentive. We cannot fault them at all. The rooms are very clean and comfortable. Thank you for accommodating us and our 20 people pool party. Hope we were not too much trouble and thank you for allowing us to hold our wedding at this amazing property.
Jason T, Singapore
,
03-Oct-2016
-
07-Oct-2016
Very beautiful sea front villa, great accommodation, nice garden and swimming pool. Passionate and friendly service staff. Generally speaking, this villa makes you feel like at a luxury home.
John C, Singapore
,
22-Sep-2016
-
25-Sep-2016
Very friendly and warm service, villa come with a very nice view and relaxing ambience. We really enjoyed dipping in the pool and having good massages.The whole villa to very spacious and comfortable. Thank you for the pleasant and memorable experience.
Christophe R, Hong Kong
,
14-Sep-2016
-
18-Sep-2016
Amazing stay at Kailasha. Thank you to the wonderful staff and we hope to come back again very soon.
Adinda A, Indonesia
,
30-Aug-2016
-
02-Sep-2016
We have had the most incredible wedding at the villa, the staff have been so friendly and accommodating, the food has been delicious and the location is stunning. Thank you all.
Javier C, Spain
,
16-Aug-2016
-
30-Aug-2016
Beautiful accommodation with friendly staff. Thank you.
Srinivasan N, Singapore
,
06-Jul-2016
-
09-Jul-2016
It's a very beautiful and pleasant experience in this serene environment which made us want to stay for more days. The staff are amicable and the chef was too good and friendly. We enjoyed the satay as our daughter was happy with feeding fishes and swim pool. Thank you.
Annie W, Hong Kong
,
25-Jun-2016
-
29-Jun-2016
My family and I stayed in Villa Kailasha for 3 days in Jun 2016, whilst holidaying in Bali. Amazing resort that gives you all the tranquility away from the crowd. Very comfortable villas, bedroom. Attentive and helpful service staff that made us felt welcomed from day one. Venturing out to sight see or shop is a pleasure with the most accommodating driver. Thank you Wayan, Putu, Dewa and all staff in Kailasha Villa!.
Brenda K, Singapore
,
10-Jun-2016
-
15-Jun-2016
Very nice villa with lovely views of the sea. The staff and driver always available when needed. The cook delivered excellent meals, no complaints. Thank you.
Jennifer L, Australia
,
02-Jun-2016
-
07-Jun-2016
Wow! what an amazing place. Everything looks amazing the staff is fantastic and so helpful and friendly. We had an amazing wedding here. All of our dreams come true. I hope we get to come back in a few years time. Thank you all so much!
France
,
31-Jul-2015
-
07-Aug-2015
Very nice place, spacious with amazing sea views
Justin Toebes, New Zealand
,
21-Apr-2015
-
24-Apr-2015
Amazing site; with facilities that ensure total relaxation and enjoyment of the site. Real value (maybe they see the isolation as a price sensitive feature - yes that plus the site/facilities leads to the most impressive villa/relaxing stay. Wonderful staff. Ten out of ten.
irina B, Russia
,
30-Dec-2013
-
11-Jan-2014
The villa itself is very nice. The territory is amazingly big and neat. The location is good: you can watch the ocean waves from allmost every point. Villa is quite new.
Vonney T, Indonesia
,
10-Oct-2013
-
13-Oct-2013
Great Villa, Very clean, well manage, love the master bed room! Definitely will comeback :)
Sandra Zimmermann Dr., Germany
,
25-Jul-2013
-
08-Aug-2013
nice staff, good cook, good housekeeping try to do the best to the guests, excellent arranged food(sugling pic),kids are well cared .
Bjørn G, Germany
,
25-May-2013
-
03-Jun-2013
We stayed for 10 days and had an extremely relaxing and wonderful stay thanks to the precious service from Dewa and Dewi the great food of Kadet and the discret support of the whole team. It's really a pitty that the public beach is a bit messy but when beeing at the pool or garden your in your own fabulous world with gorgeous smelling Frangipani flowers and butterflies. It was a great holiday!
SØ, Norway
,
23-Dec-2012
-
07-Jan-2013
We had a wonderfull stay at the Kailasha! The friendly, helpfull and caring staff provided excellent service and made our stay one of the best vacations ever!
The villa is beautiful and well furnished with an open solution that gives you the feeling of being outside even as sitting inside. We also enjoyed lazy days by the big swimming pool.
The location is remote, and hence the car and driver are important for getting around. We enjoyed the location in a more typical Balinese environment, and with some distance to the noisy tourist areas.
John Bennett, New Zealand
,
06-Dec-2012
-
15-Dec-2012
This was our second visit and we found the villa to be every bit as enjoyable as when we stayed here last April.Because it is well away from the main tourist areas Kailasha is peaceful and quiet with lovely gardens.The staff are friendly and happy to assist.
EJ, Australia
,
05-Sep-2012
-
11-Sep-2012
We had a wonderful 6 nights stay at Villa Kailasha. The villa was beautiful and the staff outstanding. We look forward to returning on our next trip to Bali.
ID, Australia
,
09-May-2012
-
16-May-2012
We had a great time. The week just went too quickly for us all.
The staff could not be more attentive and hospitable - nothing was a problem for them and the food excellent.
Will definately be back!
If would be impossible not to find joy at Villa Kailasha.
Gary Seah
,
26-Apr-2012
-
29-Apr-2012
Pleasant retreat that's truly a home away from home. Appointed with very well trained and attentive staff that makes your stay at Kailasha Villa carefree and relaxing. The expansive property offers privacy and yet the glimpse of Bali life is only minutes away. Kitchen arrangements are very flexible and grocery requests transform your meals into Five Star dinning experience. Thank you Kailasha Villa for providing us a wonderful rejuvenating experience that epitomises Bali as the destination of purity, serenity and beauty.
John Bennett, New Zealand
,
21-Apr-2012
-
26-Apr-2012
This villa is very spacious and relaxing with large peaceful gardens and is in a lovely position with excellent sea views.The staff are efficient and friendly and the chef provides very good meals.One of the very best villas i have stayed in.
Claude Deschaintre, France
,
14-Apr-2012
-
16-Apr-2012
Very nice (too short) stay at villa Kailasha.
The villa and great staff were over our expectations and we hope to come back again very soon.
Claude Deschaintre
stephen berry, Australia
,
22-Jan-2012
-
01-Feb-2012
Our family enjoyed Villa Kailasha immensely and we are looking forward to returning in the future. The staff led by Wayan were outstanding providing caring and personal service. Meals prepared by Kadek were wonderful with both Dawe and Dawa providing table service were fantastic. Our driver, Putu was so helpful and obliging, a careful driver and very professional. Our sincere thanks to all.