Baan Puri
The villa you chose is no longer available for rental from us but we have a portfolio of Elite Havens in various locations around South East Asia for you to choose from. Alternatively feel free to send us an enquiry and it'll be our pleasure to help you find the perfect villa for your next holiday.
4 - 6 Bedrooms
12 Adults, 2 Children
If you're looking to get away from it all, feel the sand between your toes and wonder at the incredible beauty of nature, then this is the Koh Samui villa for you.
Baan Puri in Lipa Noi, on the west coast of the island, is beachside living at its absolute best.
This tastefully designed villa is infused with Thai motifs and created as a discreet sanctuary on one of the island's most beautiful beaches. Stunning views of the nearby Five Islands group and the Thai coastline on the horizon, set this unique scene.
Six sumptuous ensuite bedrooms, where attention to detail never fails to impress, open either onto the beach or to the long rectangular infinity pool that stretches towards the sea. All bedroom interiors feature modern Thai-style design in light, tropical wood and natural fabrics, large comfortable beds, and armchairs or daybeds for relaxing.
In the morning, the shaded beach invites you for a cool, early stroll along silky white sand as the rising sun illuminates the dazzling views of the sea and islands. In the evening, Samui's famous sunsets draw you down to the beach to catch what you can of these glorious spectacles.
Although the Baan Puri team of attentive staff, which includes a skilled Thai chef and friendly Villa Manager, will make it hard to leave the villa, Lipa Noi has its local charms and the vibrant hotspots of this popular tropical island are just a short drive away.
But the likelihood is that you will prefer to linger and luxuriate and let the beauty of Baan Puri and its surroundings calm your mind and revitalize your spirits, as only the incredible beauty of Thailand and its people know how to.
Read more
This haven includes
Unique features

Absolute Beach Front

Cinema

Watersports

Event Facilities

Airport Transfer
Location
Baan Puri is an absolute beachfront villa on Koh Samui's quietest beach, Lipa Noi. This Samui villa has views of the Gulf of Siam. It is just few minutes from Samui's capital, Nathon (good for easy basic shopping) and less than half hour drive from Chaweng, a must for shopping, dining and nightlife. Lipa Noi is an enjoyable 50-minute drive from Koh Samui airport.
More information for Things to do
Koh Samui is a relatively small island at just under 230 square kilometres, and much of that is still pristine forest-covered hillside and palm plantations – but it offers a wealth of fun and interesting things to do. Let the staff know what sort of activities you're interested in and your villa manager will help guide your choices and can also arrange transport to take you there.
Here are some highlights:
Lipa Noi

offers a taste of the laid-back local Samui lifestyle, with numerous rustic, beachfront restaurants and cafés serving Thai and western cuisines. It's is also an up-and-coming lifestyle destination with attractions such as a the uber cool Mediterranean-style Nikki Beach Club, which is renowned for its poolside Sunday Brunches and entertainment.
If it's shopping, dining and nightlife you're looking for, Koh Samui has no shortage with the vibrant centres of

Chaweng, Lamai

and

Fisherman's Village, Bophut

, just 30-40 minutes' drive away.
The nearby ferry port of Nathon has a charming China town area as well as a 'Walking Street'

Night Market

on Thursdays or for a larger version, Fisherman's Village Night Market in Bophut springs to life every Friday evening.
For

island hopping

! The Ang Thong National Marine Park encompasses a cluster of islands The heavily jungled islands are carefully controlled to keep them in pristine natural condition. A trip to them is a must.
Samui has a number of spectacular

waterfalls

. We would recommend starting with the Namuang Falls. Take your bathing costume; there's a very inviting pool at the base of the falls.
Have an

adventure

atop Khao Pom mountain on ATVs or the zipline, or just gaze out at the scenery below from the viewpoint.
There's a

kite surfing

school on the beach at Nathon where you can rent a rig or learn how to do it.
Regular

Thai boxing

tournaments are staged at the largest stadium on the island, the Petch Buncha near Chaweng. These are not tourist demo fights; they are the real thing.
LEAVE THE PLANNING TO US
Shake off the stress of holiday planning. Let the Elite Concierge take care of all your bookings and arrangements, from transport, tours and restaurant reservations, to any special requests for your arrival. We're here to make your holiday experience extraordinary.
Quick facts
Location
Lipa Noi Beach, west coast, Koh Samui, Thailand.
Capacity
12 adults plus 4 kids (6 bedrooms: 5 with king-size beds and 1 with twin beds convertible to king, 2 trundle beds for 4 kids). An extra bed may be set up for an additional adult (extra charge applies).
Living Areas
Living and dining area with spacious lounge (indoor cinema), modern open kitchen with breakfast bar, indoor and outdoor dining areas, pool terrace with sun loungers, poolside-bar, lounge
sala.
Pool
Length 29m x width 6m x depth 1.25 - 1.70m (children's zone  -  depth 60cm).
Staff
Villa manager, chef, housekeeping and service staff. Additional staff such as nanny/babysitter, masseuse and driver are available upon request at extra charge.
Dining
A resident chef is skilled in preparing Thai and western dishes to be enjoyed in the indoor and outdoor dining areas, or as a candlelit dinner by the beach. Guest requests are accommodated as far as possible, including special diets. Groceries are charged 20% handling fee which is subject to 7% government tax.

Communication
Complimentary WiFi in all areas, including the beach.  Complimentary mobile phone for guest use on local calls.
Entertainment
Indoor cinema, DVD player, Digital Music Library, Ipod, Sonos speaker, Bluetooth speakers, Android Box.
For Families
Baan Puri is extremely well equipped and located for families with children of all ages.  Activities include: kayaking, paddle boarding, football, beach volleyball and other games.  Amenities include: high-chairs, baby cots, baby bath, pool toys and beach toys.
Gym
The nearby Chai Talay Gym is available at a rate of THB 500 net/day per person. A special rate of USD 300 net per week for up to 4 persons is also available. The gym is open from 9 am to 7 pm and is strictly by appointment only (1-hour notice is required prior to your appointment).
Spa
Massages and a range of beauty treatments can be arranged by the villa staff and enjoyed in various locations in and around the villa.
Transport
Complimentary one-way airport pickup and dropoff. Car hire and taxi pick-ups can easily be arranged with your villa manager at small cost. Baan Puri is located at Lipa Noi beach which is 50 minutes from Samui International Airport and 40 minutes from the main tourist area of Chaweng.
Weddings & Events
Events for up to 40 guest seated or 70 guests standing can be arranged at Baan Puri with prior notice (event fee applies).
Additional facilities
Massage; barbecue.
Property area
2,200sqm (land).
The layout
Indoor living
The villa's main pavilion is an air-conditioned indoor area with an option to open glass sliding doors for a whiff of the sea breeze
Huge, comfortable sofas face a media projector connected to an Android box and a DVD player, creating a home cinema experience
The dining area is furnished with a table that can seat up to 12 guests
A guest kitchen is available and fully equipped, should you want to try your hand here
Outdoor living
A 29-metre salt-filtered private infinity pool with a kids' shallow zone
Half-sunken loungers on one side of the swimming pool
Sun beds with sunbrellas on the pool deck
Beachfront sala with cushioned wooden sofas
An outdoor dining area with a table that seats 12 guests
Terrace on the first level with sitting areas and gorgeous sea views
The rooms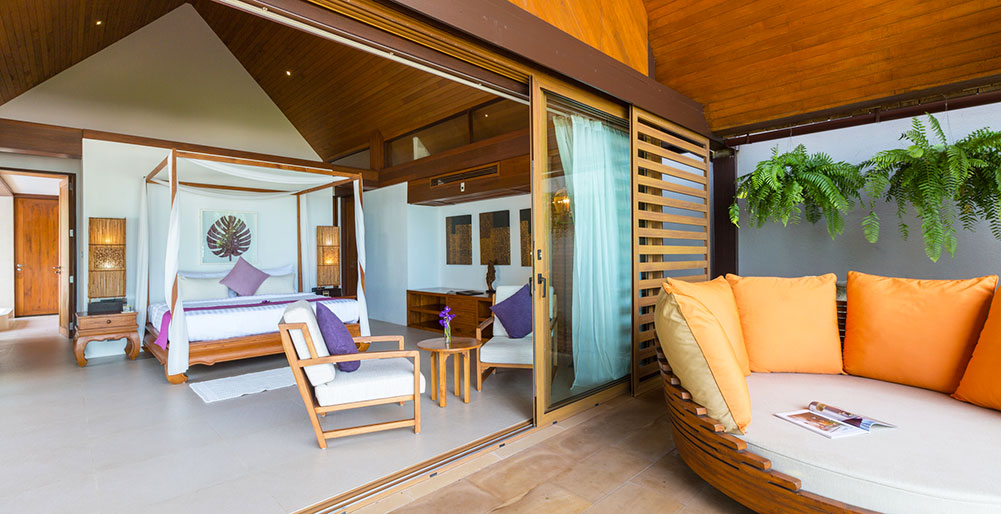 Master bedroom (Lotus)
Absolute beachfront setting with glass sliding doors and easy access to the pool and beach
Four-poster king-size bed, a trundle for two kids and a coffee table
Ensuite bathroom with direct access to the swimming pool
Sunken terrazzo bathtub overlooking the swimming pool and with partial sea views
Fully air-conditioned
Poolside suite (Peony)
A poolside suite with an ensuite bathroom
A four-poster king-size bed, a trundle for two kids and a loveseat
Ensuite bathroom with twin basins and a sunken terrazzo bathtub with direct pool access
Fully air-conditioned
Guest bedrooms (Gardenia and Orchid)
Private and tranquil, located on the ground floor
The Orchid Suite is furnished with twin beds convertible into a king
The Garden Suite has a king-size bed
Ensuite bathrooms with twin sinks, and indoor and outdoor showers
Fully air-conditioned
Ocean View Suites (Frangipani and Magnolia)
Two ocean view suites located on the upper floor
Both suites furnished with king-size beds
Sun terraces with wooden lounges that overlooks the pool and the beach
Ensuite bathrooms with twin sinks, bathtub and a separate shower stall
Fully air-conditioned
Dining
Dining at Baan Puri is a moveable feast with your own private chef to prepare your favourite Thai and western dishes, to order. The villa menu offers a wide choice of popular specialties, including children's favourites, and chef will also accommodate your own specific menu requests and dietary needs as far as possible.
Breakfast, which is included in the villa rate, is served on the breezy dining terrace or in the dining room as weather permits. Expect a spectacular spread of fresh local fruits and juices, freshly baked breads and pastries, and cooked breakfast with eggs and all the trimmings to order. Or you can choose to enjoy it in bed or on your private terrace. Lunch is served on the main dining terrace, lawn, or by the pool.
In the evenings, you can opt for a more formal dinner in the main pavilion or on the outdoor terrace, light snacks served with cocktails in the sala, a beachside barbecue, or candlelight dinner beneath a canopy of towering palms and a star-filled night sky.
Drinks, along with groceries for meals other than breakfast, are charged at market price plus a 20% handling fee and a government tax, with a minimum shopping fee of THB 750. Staff will do the shopping and provide receipts for reference. To ensure this can be done in a timely manner, we advise you to plan your meals the evening before.
View a sample menu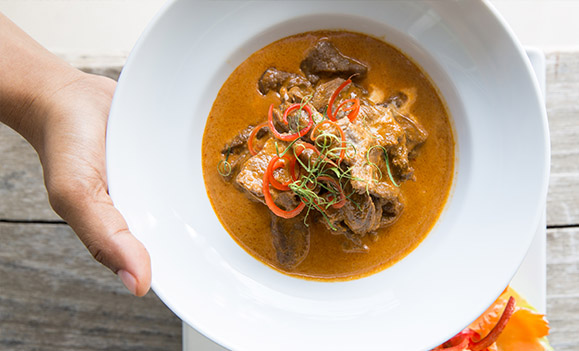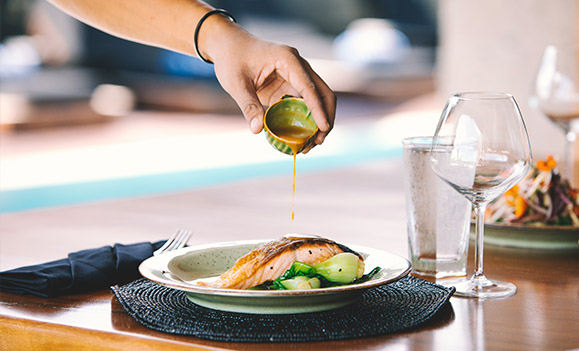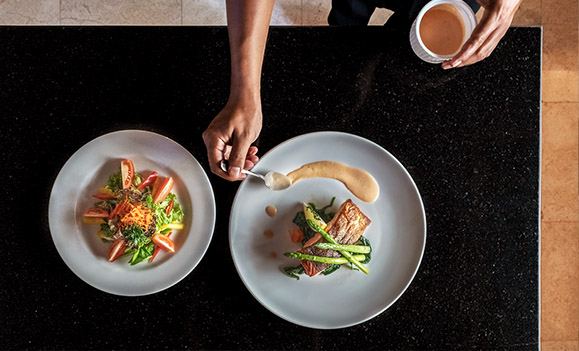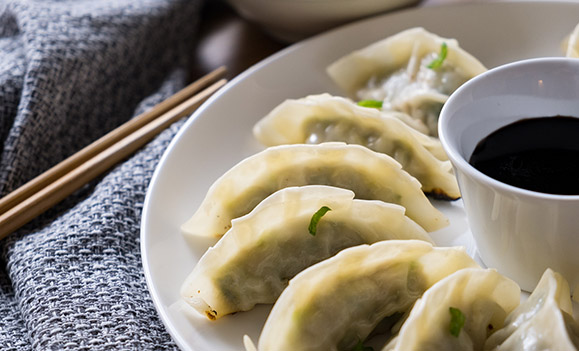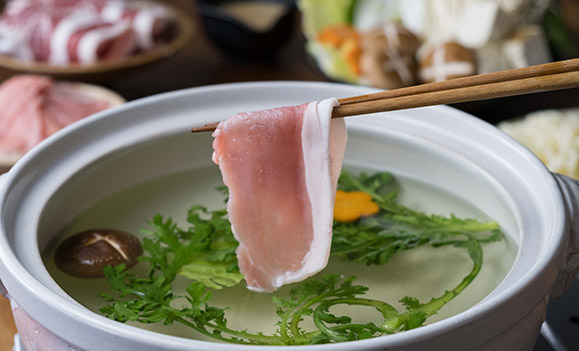 Reviews
Aoy a STAFF Make Baan Puri so much more than just a villa and holiday destination. It's the detail and feeling we as a family have Come into their have and the hospitality they have shown all of us!! A week seems to the next time! long enough but we look forward Thank you. David, Deb, Family
08-Jul-2023 - 15-Jul-2023
Deborah R
Australia
The staff make Baan Puri so much more than just a villa and holiday destination. It's the detail and feeling we as a family have Come into their have and the hospitality they have shown all of us!! A week seems to the next time! long enough but we look forward
28-Jun-2023 - 07-Jul-2023
Helen C
United States
I can't believe this is our 8th year but I still want to come back! Nice place, wonderful staff, Special thanks to Aoy for taking care of us us ! I hope to come back again soon ! The IMG Family...
14-May-2023 - 19-May-2023
Vivian F
Hong Kong
May 2023 Beautiful Place, delicious food, Super service mind staff... Thank you Aum Val Will Kone Fantastic! Food, Villa and Staff were all great. Relaxed + recharged! Jeremy + Vip + Aaron
04-May-2023 - 07-May-2023
Val V
Thailand
Thanks to the amazing Staff. We gave you more than 5-stars Everything was more than perfect. The time in Baan Puri will remain in our hearts. Your kindness will stay as well Free the best, Patricia, Jörn, Cevus & Julius
13-Apr-2023 - 22-Apr-2023
Peter R
Germany
SHROFF FAMILY ANNUAL VISIT #Baan Puri# Our happy place. Thank you to Aoy and the wonderful team at Baan Puri, this place holds a special place in our heart. It has been so many years, we continue to visit every Easter. We are always blown away by the warmth and care Aoy and her staff show us. Nothing is ever too much trouble, from the minute we wake up we are treated like royalty. The service,
... more
01-Apr-2023 - 12-Apr-2023
Shroff J
Hong Kong
3/14/23 John + Jalyn 3.11.23 Wedding Aoy and Amazing Staff, Words cannot express how special this stay was. Our wedding with our family and friends was breathtaking. The villa is amazing in and of itself, but it's Aoy that makes it all come to life. We will never forget how Aoy + Staff + The cat made us feel. We will be back, and we can't wait to made more memories! All our love! John+
... more
09-Mar-2023 - 14-Mar-2023
Tammy M
United States
2/3/23 Carol (UK) We loved our stay at Baan Puri We come for a wedding blessing and were blessed with making new friends and the staff were wonderful! Thank you for a wonderful time, the service was fantastic, and we will be back, Thank
... more
23-Feb-2023 - 02-Mar-2023
Dave I
United Kingdom
Best holiday I'll be back. Thank you all. To the wonderful staff members, thank you! I had an amazing stay at Baan Puri. The amenities were clean, food very tasty, and service was exceptional. Everyone is so kind as and friendly, and I truly enjoyed my stay. I would love to come back again.
03-Jan-2023 - 24-Jan-2023
Sergei Z
Russia
To the very best hosts in the world. Thank you Aoy and all the fantastic team which give our family a truly memorable and happy week in koh Samui. The way in which we were looked after was magnificent. The service and care you give us was guire exceptional. We will treasure your kindness for many years. Thsank you all. The Davies Tauily
23-Dec-2022 - 02-Jan-2023
Charlie D
United Kingdom
Thank you for going above and beyond during our stay! Your hospitality and attention to detail in every way was outstanding. The food was absolutely delicious! We enjoyed the entire week here and definitely want to come back. You all were so kind and caring. We had high expectations and you definitely surpassed them.
20-Nov-2022 - 25-Nov-2022
Tina M
United States
?????????? Simply the BEST V Coming back when we can Acy and the team are ngc We will miss you ??Monique? 14 OCT 2022. Dear Aay and Staff Thanks so much for a lovely time (AGAIN!). Heaven! (see you Soon xx) Everything worked really well. Best wishes Bianca, Sophia Anders, Monique All the Stuff were really nice and the was super yummy. The cat was food So cute To: Aloy and Staff 14
... more
08-Oct-2022 - 14-Oct-2022
Anders M
Thailand
Dear Aoy and staff. Food and most important amazing time ! The place was heaven on earth and you made it even better. Hope to see you again soon.. Al Hashem family from Kuwait
17-Sep-2022 - 21-Sep-2022
Hala A
Kuwait
Dear Aoi and team, it has been a truly perfect stay for all of us at Baan Puri. You have been the perfect team and hosts and we will remember this holiday for long. Amazing place, fantastic hospitality lovely team and delicious food, and we loved your eye for the detail. We will be back.
27-Aug-2022 - 02-Sep-2022
Christian H
Switzerland
Dear Khun Aoy and all the Baan Puri team, Wow, what an incredible holiday, the location and villa speak for themselves but its the staffs who make it so magical. Nothing was too much , the food was incredible and better than any restaurant. The BBQ 's outside the villa and on the be achfront were suggestions. and cleaniness was outstanding. We appreciated ,Aoy arranged for jet ski's for come
... more
03-Aug-2022 - 11-Aug-2022
Mark B
United Kingdom
It's has been 5 days of relaxation, thank to P'Aoy and the staff of Baan Puri. I'm not where to being from. • The unparalleled service • The attention to detail • The superb cleanliness (claim to the fresh scent) • The delicious and careful meal planning • The birthday surprise – pool full of balloons!! • The supper with massage and recommendations • Finding the test taking durian
... more
27-Jul-2022 - 01-Aug-2022
Wishaya S
Singapore
So good to return here again. Aoy and team are amazing. Service always with a big smile. The food was on another level. Leaving is always hard for us. Thank you for such a memorable holiday.
09-Jun-2022 - 17-Jun-2022
Chris S
United Kingdom
Great Service. We will be back again
12-Apr-2022 - 16-Apr-2022
Khun Kobkit K
Thailand
Dear Baan Puri Team, During our stay for 2 weeks, we were so happy. The house is so beautiful with Lipa Noi beach front view. Thank you for the best service and professionalism you guys provided us. My kids had fun and we love your foods. Our family will come back for sure.
09-Mar-2022 - 23-Mar-2022
Namtip T
Thailand
Dear Khun Aoy and Baan Puri people, Thank you so much for such an incredible stay. It was a very secila trip for our family and your kindly helped maked if unforgable- A truly beautiful trip and all we had. Thank you for everything.
27-Feb-2022 - 02-Mar-2022
James K
Thailand
The best services, the villas so clean with very nice decorations. I would love to be back soon. // From Alex&Noina Another wonderful stay in paradise! K. Aoi and Team, Thank you for your great hospitality and for making our stay as always so special! Hope to see you soon // Yykuua & Stefan
04-Nov-2021 - 07-Nov-2021
Khun Stefan And K
Thailand
To everyone at Baan Puri - thank you so much for taking such great care of us. We had the most amazing time. Every thing was perfect, from the villas and the view to the food and the staff.
24-Aug-2021 - 27-Aug-2021
Khun Kit B
Thailand
Thank you so much to the wonderful staff of Baan Puri who made our holiday so memorable! Your exceptional hospitality is much appreciated. We are so lucky to have been able to celebrate our son's first birthday here - something that we will always remember. The food was delicious and the service was immaculate. Thank you again and we hope to come back here again soon. Dear K'Aoy and Baan Puri
... more
03-Jul-2021 - 10-Jul-2021
Khun Chanin D
Thailand
The food was so delicious. We're very happy with all staff members - so friendly and kind. Amazing pool. We're very happy that we got to stay here. Definitely we'll come back!!
10-Apr-2021 - 15-Apr-2021
Andre L
Thailand
We stayed at Baan Puri. We like this villa. We can enjoy with swimming pool. We are so happy. Luxury villa, Good staff. Thank you
05-Sep-2020 - 07-Sep-2020
Wikit S
Thailand
Before this holiday trip, I tried to search through all the villas in Samui, and I found this villa. Baan Puri is perfect to be our holiday home because it made us feel home during our stay. The sand is so white, with a house in a resort style. Made us feel very relaxing and peaceful. Fantastic management and staff. Swimming pool and beach both very clean. We definitely will come back! Thank you
25-Jul-2020 - 28-Jul-2020
Khun Jeab N
Thailand
Craig and I have so much to be grateful for, but were most grateful for having met Aoy, her daughter Son and the whole team here at Baan Puri. Aoy you are a brilliant, talented lady, and I hope we meet again one day. Thank you for all your patience, kindness and intuition. You truly make our stay memorable. Thank you too. Chef and all the kind, helpful staff. The food was beyond amazing.
22-Feb-2020 - 29-Feb-2020
Craig S
Canada
Dear Aoy and staff, Thank you so much for your amazing hospitality and efforts during our stay the food has been of amazing quality, and NO request is ever too much for anyone. Baan Puri is an incredible setting and each room beautiful.
16-Feb-2020 - 22-Feb-2020
Jon T
United Kingdom
Thank you very much for a lovely holiday! We have enjoyed every second - the staff, the villa, too much and too lovely the food, the weather and beautiful surroundings.
25-Jan-2020 - 01-Feb-2020
Sven P
Denmark
Thank you for a wonderful stay ! The best beach, perfect staff!! Unique place in the heart of Thailand.
27-Dec-2019 - 24-Jan-2020
Popova family
Russia
Thank you! To the wonderful staff at Baan Puri! We have had a stunning time and the food has been phenomenal. The hospitality has been brilliant and you have all gone out of your way to ensure we are happy! Will definitely be back. Thank you again and have a wonderful Christmas.
10-Dec-2019 - 13-Dec-2019
Lisa M
South Africa
I love Thailand. It is beautiful. I love the beach, it is excellent. My parents like that. They went to the beach every morning. I love the waiter and waitress there. I love the food and everything of there. Thailand.
28-Sep-2019 - 05-Oct-2019
Wen C
China
The lovely staff at Baan Puri, Thank you for everything! The Food and hospitality were second to none. Thank you
01-Sep-2019 - 06-Sep-2019
Alita M
Australia
Dear Baan Puri Staff and Khun Aoy, Once again thank you for a great time here at Baan Puri. The location, staff has been exceptional. A really wonderful experience for myself and guests. The weather this time was not that great. It was exceptional and wonderful for all.
10-Aug-2019 - 13-Aug-2019
Mr. Dennis L
Malaysia
Dear Baan Puri Staff, Thank you for your great hospitality in this wonderful villa! We admire the flexibility, kindness and consistency of your service. My wife was not a big fan of Thailand, but even she wants to come back every year. In other worlds ... we love this place!
06-Aug-2019 - 10-Aug-2019
HON C
Hong Kong
Dear Team, Thank you for this marvelous stay in your villa. You are the best and nicest team ever. Sincerely, we hope to come back soon. PS: special thank you Aoy for all you have done. Recis Galiotto
20-Jul-2019 - 03-Aug-2019
Laurance P
France
We had a 15 day stay in the most beautiful villa that was so well managed by the adorable host and an exceptional team. Also thank you for the help that we received after the scooter accident, we were directed to a great hospital that were very helpful and took care of us. Thank you and see you soon.
06-Jul-2019 - 20-Jul-2019
William S
France
Aoy and all your staff, We have spent an amazing holiday in Baan Puri. All the kids played all the day around. The food you made for us is delicious and the garden, swimming pool, beach are beautiful. We wish to come here for another holiday next time! Thanks, Coco
29-Jun-2019 - 05-Jul-2019
Coco C
China
Dear Baan Puri Team, You are amazing! Thank you for being the most thoughtful, kind and caring staff for us the past week. We really appreciated your willingness to always make anything we need a reality and going above and beyond with your hospitality. We had a lovely stay and are very excited to hopefully come back soon. With Love, the Moonshot house
12-Jun-2019 - 19-Jun-2019
Gemma B
United States
We would like to say thank you for the amazing service! The villa was stunning! The staff so helpful. We really did not want to leave. Thank you so much to all the staff at Baan Puri for making our stay amazing! you all worked so hard and truly gave my sister and her husband a fantastic day and night.
02-Jun-2019 - 04-Jun-2019
Mr. Paven P
Thailand
Coming back to Baan Puri for our annual Easter vacation is like coming to a home away from home. Khun Aoy and her team never fail to make every day special. No request is ever impossible, and they continually impress us with their kindness, thoughtfulness and efficiency over the years. They have arranged birthdays, anniversaries, BBQ, boat trips personal trainers, entertainment, and more,
... more
13-Apr-2019 - 22-Apr-2019
Jal S
Hongkong
From Denmark and Australia, we would like to thank you for a fantastic holiday at Baan Puri. Everything worked perfectly for our family and the staff with Aoy as the manager for made everything that happened in Baan Puri a success. Our kids and grandchildren enjoyed it all the way with what was served every single day. I would like to thank you a thousand thanks Elite Havens for professional
... more
22-Mar-2019 - 02-Apr-2019
Jens K
Denmark
We have visit Baan Puri for several years now. Enjoyed the pool and great time here! Many thanks to all the staff, especially to Khun Aoy!
04-Mar-2019 - 18-Mar-2019
Wolfgang K
Austria
Need more inspiration?
We're at your service