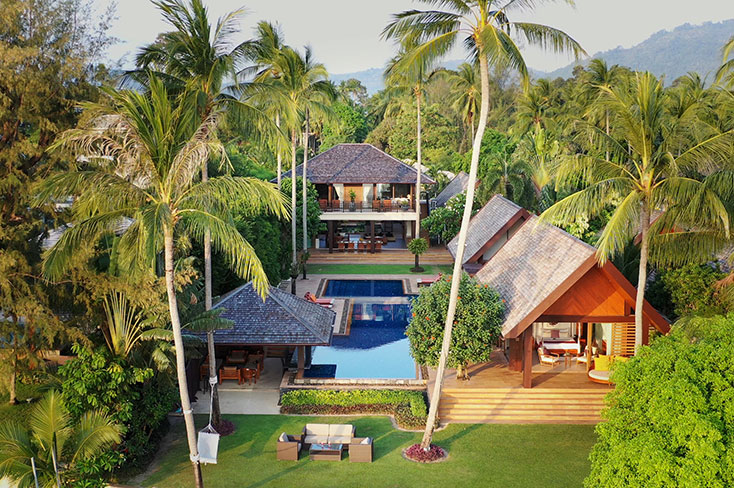 Anders M, Thailand
,
08-Oct-2022
-
14-Oct-2022
?????????? Simply the BEST V Coming back when we can Acy and the team are ngc We will miss you ??Monique? 14 OCT 2022. Dear Aay and Staff Thanks so much for a lovely time (AGAIN!). Heaven! (see you Soon xx) Everything worked really well. Best wishes Bianca, Sophia Anders, Monique All the Stuff were really nice and the was super yummy. The cat was food So cute To: Aloy and Staff 14 October 2022 Dear Aoy and other staff members, thank very nice time you for a here in was very Thailand. Everything nice very and fun. The food was delicious and tasty. I enjoyed every second I had here. The cat is very cute and playful and funny. I hope to see you again Aoy and everyone. else I really hope I Soon. come again -Love-Bianca
Hala A, Kuwait
,
17-Sep-2022
-
21-Sep-2022
Dear Aoy and staff. Food and most important amazing time ! The place was heaven on earth and you made it even better. Hope to see you again soon.. Al Hashem family from Kuwait
Christian H, Switzerland
,
27-Aug-2022
-
02-Sep-2022
Dear Aoi and team, it has been a truly perfect stay for all of us at Baan Puri. You have been the perfect team and hosts and we will remember this holiday for long. Amazing place, fantastic hospitality lovely team and delicious food, and we loved your eye for the detail. We will be back.
Mark B, United Kingdom
,
03-Aug-2022
-
11-Aug-2022
Dear Khun Aoy and all the Baan Puri team, Wow, what an incredible holiday, the location and villa speak for themselves but its the staffs who make it so magical. Nothing was too much , the food was incredible and better than any restaurant. The BBQ 's outside the villa and on the be achfront were suggestions. and cleaniness was outstanding. We appreciated ,Aoy arranged for jet ski's for come to the villa and arranged for massages , ladies to us as well, and the Island tour including fisherman's market. The fishing was fun , and eating them on the BBQ too. The banana friters, sweetcorn , cakes , rice cakers were amazing - ice cream , The smiling staffs made the holiday , Thank you.
Wishaya S, Singapore
,
27-Jul-2022
-
01-Aug-2022
It's has been 5 days of relaxation, thank to P'Aoy and the staff of Baan Puri. I'm not where to being from. • The unparalleled service • The attention to detail • The superb cleanliness (claim to the fresh scent) • The delicious and careful meal planning • The birthday surprise – pool full of balloons!! • The supper with massage and recommendations • Finding the test taking durian ever • The ability to remember everyone's preferences Our family offers our thanks and gratitude for this wonderful stay! Thank you for everything, thank you for the balloons, thank you for the cake with Hello kitty
Chris S, United Kingdom
,
09-Jun-2022
-
17-Jun-2022
So good to return here again. Aoy and team are amazing. Service always with a big smile. The food was on another level. Leaving is always hard for us. Thank you for such a memorable holiday.
Khun Kobkit K, Thailand
,
12-Apr-2022
-
16-Apr-2022
Great Service. We will be back again
Namtip T, Thailand
,
09-Mar-2022
-
23-Mar-2022
Dear Baan Puri Team, During our stay for 2 weeks, we were so happy. The house is so beautiful with Lipa Noi beach front view. Thank you for the best service and professionalism you guys provided us. My kids had fun and we love your foods. Our family will come back for sure.
James K, Thailand
,
27-Feb-2022
-
02-Mar-2022
Dear Khun Aoy and Baan Puri people, Thank you so much for such an incredible stay. It was a very secila trip for our family and your kindly helped maked if unforgable- A truly beautiful trip and all we had. Thank you for everything.
Khun Stefan And K, Thailand
,
04-Nov-2021
-
07-Nov-2021
The best services, the villas so clean with very nice decorations. I would love to be back soon. // From Alex&Noina Another wonderful stay in paradise! K. Aoi and Team, Thank you for your great hospitality and for making our stay as always so special! Hope to see you soon // Yykuua & Stefan
Khun Kit B, Thailand
,
24-Aug-2021
-
27-Aug-2021
To everyone at Baan Puri - thank you so much for taking such great care of us. We had the most amazing time. Every thing was perfect, from the villas and the view to the food and the staff.
Khun Chanin D, Thailand
,
03-Jul-2021
-
10-Jul-2021
Thank you so much to the wonderful staff of Baan Puri who made our holiday so memorable! Your exceptional hospitality is much appreciated. We are so lucky to have been able to celebrate our son's first birthday here - something that we will always remember. The food was delicious and the service was immaculate. Thank you again and we hope to come back here again soon. Dear K'Aoy and Baan Puri staff, Thanks so much for the amazing experience. The service was remarkable throughout the duration of our long stay, From delicious food, laundry and cleanliness all the way to the ice-cream serving - the attention to detail was the highlight. If we get a chance to come back to Samui, you guys will be up there on our wish list. Until next time.
Andre L, Thailand
,
10-Apr-2021
-
15-Apr-2021
The food was so delicious. We're very happy with all staff members - so friendly and kind. Amazing pool. We're very happy that we got to stay here. Definitely we'll come back!!
Wikit S, Thailand
,
05-Sep-2020
-
07-Sep-2020
We stayed at Baan Puri. We like this villa. We can enjoy with swimming pool. We are so happy. Luxury villa, Good staff. Thank you
Khun Jeab N, Thailand
,
25-Jul-2020
-
28-Jul-2020
Before this holiday trip, I tried to search through all the villas in Samui, and I found this villa. Baan Puri is perfect to be our holiday home because it made us feel home during our stay. The sand is so white, with a house in a resort style. Made us feel very relaxing and peaceful. Fantastic management and staff. Swimming pool and beach both very clean. We definitely will come back! Thank you
Craig S, Canada
,
22-Feb-2020
-
29-Feb-2020
The very best of service, taking care of our every need, having the transportation paid through checkout was very convenient. In particular the staff was very well managed and the condition of the property was kept at a high level. Aoy you are a brilliant, talented lady, and I hope we meet again one day. Thank you for all your patience, kindness and intuition. You true made our stay memorable. Chef - the food was beyond amazing.
Jon T, United Kingdom
,
16-Feb-2020
-
22-Feb-2020
Dear Aoy and staff, Thank you so much for your amazing hospitality and efforts during our stay the food has been of amazing quality, and NO request is ever too much for anyone. Baan Puri is an incredible setting and each room beautiful.
Sven P, Denmark
,
25-Jan-2020
-
01-Feb-2020
Thank you very much for a lovely holiday! We have enjoyed every second - the staff, the villa, too much and too lovely the food, the weather and beautiful surroundings.
Popova family, Russia
,
27-Dec-2019
-
24-Jan-2020
Thank you for a wonderful stay ! The best beach, perfect staff!! Unique place in the heart of Thailand.
Lisa M, South Africa
,
10-Dec-2019
-
13-Dec-2019
Thank you! To the wonderful staff at Baan Puri! We have had a stunning time and the food has been phenomenal. The hospitality has been brilliant and you have all gone out of your way to ensure we are happy! Will definitely be back. Thank you again and have a wonderful Christmas.
Peter R, Germany
,
05-Oct-2019
-
11-Oct-2019
Pool
Wen C, China
,
28-Sep-2019
-
05-Oct-2019
I love Thailand. It is beautiful. I love the beach, it is excellent. My parents like that. They went to the beach every morning. I love the waiter and waitress there. I love the food and everything of there. Thailand.
PR, Germany
,
08-Sep-2019
-
10-Sep-2019
Food, service quality, facilities , cleanliness
Alita M, Australia
,
01-Sep-2019
-
06-Sep-2019
The lovely staff at Baan Puri, Thank you for everything! The Food and hospitality were second to none. Thank you
Mr. Dennis L, Malaysia
,
10-Aug-2019
-
13-Aug-2019
Dear Baan Puri Staff and Khun Aoy, Once again thank you for a great time here at Baan Puri. The location, staff has been exceptional. A really wonderful experience for myself and guests. The weather this time was not that great. It was exceptional and wonderful for all.
HON C, Hong Kong
,
06-Aug-2019
-
10-Aug-2019
Dear Baan Puri Staff, Thank you for your great hospitality in this wonderful villa! We admire the flexibility, kindness and consistency of your service. My wife was not a big fan of Thailand, but even she wants to come back every year. In other worlds ... we love this place!
Laurance P, France
,
20-Jul-2019
-
03-Aug-2019
Dear Team, Thank you for this marvelous stay in your villa. You are the best and nicest team ever. Sincerely, we hope to come back soon. PS: special thank you Aoy for all you have done. Recis Galiotto
William S, France
,
06-Jul-2019
-
20-Jul-2019
We had a 15 day stay in the most beautiful villa that was so well managed by the adorable host and an exceptional team. Also thank you for the help that we received after the scooter accident, we were directed to a great hospital that were very helpful and took care of us. Thank you and see you soon.
Coco C, China
,
29-Jun-2019
-
05-Jul-2019
Aoy and all your staff, We have spent an amazing holiday in Baan Puri. All the kids played all the day around. The food you made for us is delicious and the garden, swimming pool, beach are beautiful. We wish to come here for another holiday next time! Thanks, Coco
Gemma B, United States
,
12-Jun-2019
-
19-Jun-2019
Dear Baan Puri Team, You are amazing! Thank you for being the most thoughtful, kind and caring staff for us the past week. We really appreciated your willingness to always make anything we need a reality and going above and beyond with your hospitality. We had a lovely stay and are very excited to hopefully come back soon. With Love, the Moonshot house
Mr. Paven P, Thailand
,
02-Jun-2019
-
04-Jun-2019
We would like to say thank you for the amazing service! The villa was stunning! The staff so helpful. We really did not want to leave. Thank you so much to all the staff at Baan Puri for making our stay amazing! you all worked so hard and truly gave my sister and her husband a fantastic day and night.
Jal S, Hongkong
,
13-Apr-2019
-
22-Apr-2019
Coming back to Baan Puri for our annual Easter vacation is like coming to a home away from home. Khun Aoy and her team never fail to make every day special. No request is ever impossible, and they continually impress us with their kindness, thoughtfulness and efficiency over the years. They have arranged birthdays, anniversaries, BBQ, boat trips personal trainers, entertainment, and more, always with pleasure. The chef always proud to serve amazing food for every member of the family from baby to grandparents, from steak - lovers to vegetarian. Nothing is ever too much. Thank you so much for everything you do. We cannot wait to come back again next year! The Shroff Family
Jens K, Denmark
,
22-Mar-2019
-
02-Apr-2019
From Denmark and Australia, we would like to thank you for a fantastic holiday at Baan Puri. Everything worked perfectly for our family and the staff with Aoy as the manager for made everything that happened in Baan Puri a success. Our kids and grandchildren enjoyed it all the way with what was served every single day. I would like to thank you a thousand thanks Elite Havens for professional handling of all the conditions that fully fulfilled our expectations here.
Wolfgang K, Austria
,
04-Mar-2019
-
18-Mar-2019
We have visit Baan Puri for several years now. Enjoyed the pool and great time here! Many thanks to all the staff, especially to Khun Aoy!