Element of 8 at Cape Laem Sor Estate
The villa you chose is no longer available for rental from us but we have a portfolio of Elite Havens in various locations around South East Asia for you to choose from. Alternatively feel free to send us an enquiry and it'll be our pleasure to help you find the perfect villa for your next holiday.
Element of 8 is part of the exclusive Cape Laem Sor Estate which comprises two exceptional luxury villas. A spectacular hillside retreat on Koh Samui's scenic and unspoilt south-west coast, the villa boasts breathtaking views of the emerald sea and lush green islands.
Designed in a contemporary style by renowned architect and designer Gary Elton, Element of 8 features three descending levels which blend harmoniously with the lush, tropical landscape. This is a tranquil and secluded vacation home for anyone wanting to get away from it all. It is suitable for families and groups of friends, accommodating up to 12 guests within its six luxe bedrooms. The views and impeccable design also make it an inspiring location for weddings and private parties.
A private road leads to this celebrity-style tropical paradise, where manicured gardens and your own private clifftop pool are overlooked by the villa's elegant living and dining pavilion. Imagine spending hours on the wide, shaded terraces cooled by the sea breeze, as you enjoy the spectacular sight and sound of surf breaking onto the reef below.
A stylish, white tropical design theme runs through the villa, with full-length glass doors and white louvred panels which slide open to reflect light and space and to enhance the view. Generous sofas rub shoulders with rattan furniture in palettes of driftwood grey and white. Nearby, a modern show kitchen and bar are ideal for casual dining and impromptu social evenings.
Your entire group can settle in quite comfortably within its six sophisticated ensuite bedrooms, each featuring a king-size bed, taking full advantage of the villa's stunning sea views. There's plenty to keep you busy while on holiday, with your own well-equipped gym, an enviable, private beachfront barbecue space and a Balinese sala by the pool, the ideal spot for a relaxing Thai massage.
Element of 8 personifies tropical island living. Reclaim your time and spend it as you please, while the discreet and attentive staff takes care of your every whim and fancy. A private chef is available so you don't need to step into the fabulous kitchen and sweat it out. Your Villa Manager will happily manage the villa and the entire staff team, and the Elite Concierge is always available for help with reservations, as well as transport and tour arrangements.
To find out more about Cape Laem Sor Estate and its five-bedroomed villa, Arcadia, or to see how the two villas can be combined to meet your holiday or event requirements, visit the website here.

this elite haven.
Exclusive and private
Nestled in lush hills
Stunning sea vistas
Beachfront barbecue area
Tropical indoor-outdoor living
Real time availability
Rates
Promotions
Book with Confidence & Stay Safe

Book with Confidence & Stay Safe

We understand that flexibility is required for travel planning in the current Covid-19 scenario, so should your flights be cancelled or a government travel advisory require you to be quarantined, we guarantee a full refund of the amount paid or a credit for the amount paid that can be used within 12 months of your check-in date, in the same villa, subject to availability, valid for new bookings received from 19 February 2020 onwards. Terms and conditions apply.

Terms & conditions:


- Guaranteed refund or credit conditions apply at the time of booking
Discounts
Early bird enjoys up to 15% discount when booking 120 days in advance.
Last minute bookings enjoy up to 10% discount when checking in before 05-Jul-2020.
Period
Price per night (USD)

10

+ nights (USD)
Min stay
Inclusions
26-Apr-2020

to

30-Jun-2020
950 ++
855 ++
2 nights
01-Jul-2020

to

31-Aug-2020
1,200 ++
1,080 ++
3 nights
01-Sep-2020

to

25-Sep-2020
950 ++
855 ++
2 nights
26-Sep-2020

to

07-Oct-2020
1,200 ++
1,080 ++
3 nights
08-Oct-2020

to

10-Dec-2020
950 ++
855 ++
2 nights
11-Dec-2020

to

17-Dec-2020
1,500 ++
1,350 ++
3 nights
18-Dec-2020

to

10-Jan-2021
1,950 ++
N/A ++
7 nights
Period
Price per night (USD)

10

+ nights (USD)
Min stay
Inclusions
11-Jan-2021

to

10-Feb-2021
1,200 ++
1,080 ++
3 nights
11-Feb-2021

to

17-Feb-2021
1,500 ++
1,350 ++
5 nights
18-Feb-2021

to

02-Apr-2021
1,200 ++
1,080 ++
3 nights
03-Apr-2021

to

20-Apr-2021
1,500 ++
1,350 ++
5 nights
21-Apr-2021

to

30-Jun-2021
950 ++
855 ++
2 nights
Period
Price per night (USD)

10

+ nights (USD)
Min stay
Inclusions
26-Apr-2020

to

30-Jun-2020
700 ++
630 ++
2 nights
01-Jul-2020

to

31-Aug-2020
900 ++
810 ++
3 nights
01-Sep-2020

to

25-Sep-2020
700 ++
630 ++
2 nights
26-Sep-2020

to

07-Oct-2020
900 ++
810 ++
3 nights
08-Oct-2020

to

10-Dec-2020
700 ++
630 ++
2 nights
11-Dec-2020

to

17-Dec-2020
1,500 ++
1,350 ++
3 nights
18-Dec-2020

to

10-Jan-2021
1,950 ++
N/A ++
7 nights
Period
Price per night (USD)

10

+ nights (USD)
Min stay
Inclusions
11-Jan-2021

to

10-Feb-2021
900 ++
810 ++
3 nights
11-Feb-2021

to

17-Feb-2021
1,500 ++
1,350 ++
5 nights
18-Feb-2021

to

02-Apr-2021
900 ++
810 ++
3 nights
03-Apr-2021

to

20-Apr-2021
1,500 ++
1,350 ++
5 nights
21-Apr-2021

to

30-Jun-2021
700 ++
630 ++
2 nights
++ Villa rates are subject to 17.7% service charge, taxes, etc
Quick facts
Location
Laem Sor, Taling-Ngam, Koh Samui, Thailand.
Capacity
12 adults and 2 children (6 ensuite king-size bedrooms); 2 extra beds and a baby cot are available (extra charge).
Living areas
Lounge with 72-inch flat-screen TV; open-plan show kitchen with an island bar and wine fridge; dining table with seating for 8 on the covered terrace; lounge-style seating on upper and lower terraces; lawned sun terrace with 6 loungers and umbrellas; thatched Balinese-style outdoor sala.
Pool
Saltwater pool - 14m (long) x 4m (wide) x 1.6m (deep).
Staff
Villa Manager; private chef; housekeeper; gardener and estate security.
Dining
Complimentary breakfast. Other meals on request. Grocery is charged at cost plus 20% handling fee, which is subject to service and tax at the prevailing rate.
Communication
WiFi internet access; mobile phone coverage; mobile phone for guest use.
Entertainment
Satellite TV in the main living area and each bedroom; digital music library and Bluetooth Sonos speakers and board games. Pool, billiards, snooker and table tennis available on request.
For Families
Element of 8 is well-appointed for families with young children, with items such as baby cot and high chair. A collection of DVD/CDs for children as well as a range of pool toys, sea kayaks and paddle boards are available.
Spa & Fitness
An outstanding private gym with state-of-the-art training machines, weights, yoga mats and other equipment. Villa staff can arrange for fitness trainers, yoga instructors and spa therapists to visit the villa on request (extra charge).
Transport
Complimentary one-way airport pickup and drop-off. Taxis or rental cars, with or without a driver can be arranged by the Elite Concierge (extra cost applies).
Weddings & Events
Events with up to 40 guests (seated) and 60 guests (standing) can be arranged at the villa with prior permission (event fee applies). The villa also features an impressive restaurant-standard kitchen built to cater for larger events.
Additional Facilities
Barbecue; safety deposit boxes in all bedrooms.
Property area
1,400sqm (land).
Managed & marketed by
The layout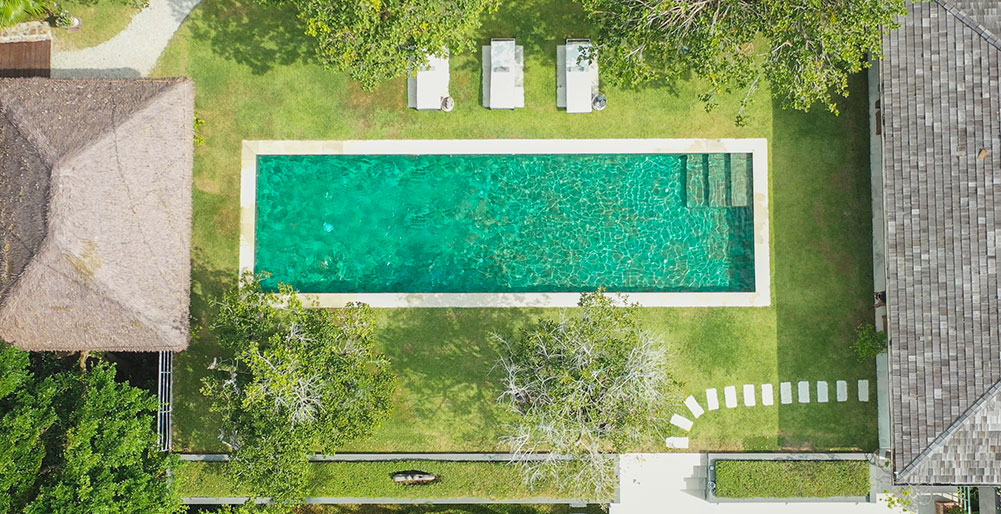 Indoor living
Contemporary tropical island living exemplified in the design and décor
On the entry level, find a spacious living and dining area, and one of two master bedrooms occupy a long, single storey pavilion with pitched roof and a wide, shaded, wraparound terrace
Though clifftop, the styling is that of an elegant beach house, with bleached white wood vaulted ceilings and walls, overhead fans and full-length glass doors and white louvered panels which allow sea breeze and breathtaking sea views
A sophisticated living room with large, comfortable sofas, armchairs and ottomans in hues of taupe and off-white, accessorised with monochrome patterned rugs and cushions
Cream terrazzo floors complemented by soft sandstone tiling on the terrace
A show kitchen and service area with a separate island counter crafted in rich dark wood
Formal indoor dining table for 12 guests
A fascinating collection of Southeast Asian antiques and art, tastefully displayed throughout the property
For relaxed evenings, watching a movie or catching up on your favourite TV series, the living room has surround sound audio and a 72-inch LCD flat-screen satellite TV
A well-equipped gym and facilities are located on the lowest level of the villa
Outdoor living
Indoor and outdoor living merge effortlessly in this well designed villa
Full-length glass doors and white louvered panels slide away to reveal wide covered terraces creating a cool, light and airy ambiance
Terraces are furnished with comfortable rattan daybeds and sofas stacked with soft cushions
For alfresco dining, a solid wooden table with rattan seating for eight is the perfect spot to enjoy breakfast with a view
A 23-metre lap pool sits on the entry level, surrounded by a grassed sun terrace with sunbeds and umbrellas. At one end, a thatched Balinese-style sala is furnished with large comfortable cushions and a low, wooden coffee table, a shaded spot where you can enjoy a casual lunch or recharge with a massage.
For special nights by the beach, head down to the private barbecue area with comfortable cushioned seating. Here, the villa staff will create a memorable dining experience as you listen to the surf breaking on the reef and gaze up at a star-filled sky.
The rooms
Master Bedroom 1
Located on the top floor of the villa, adjacent to the main living and dining rooms
An exceptional and private space with a high vaulted ceiling, overhead fan and wraparound views of the hillside and azure sea
King-size bed overlooking the view
A spacious study and dressing room lead to the master bathroom with its double vanity, rain shower and a standalone bathtub with flat-screen TV
Rattan sofas stacked with cushions and soft natural rugs create a comfortable ambiance
On the terrace, sun loungers invite guests to enjoy their own private corner of the villa
Master Bedroom 2
One level below, the second master bedroom is equally decadent, opening onto its own private corner terrace
A generous double-sided dressing area leads to the master bathroom with its double vanity, a rain shower set above a striking black and white tiled base, free-standing bathtub and flat-screen TV
Rattan sofas and armchairs, as well as a striking black and white lounger, and soft natural rugs invite you to relax and enjoy the view
On the terrace a small dining table is the natural place to order breakfast or enjoy a romantic sunset cocktail
Guest Bedrooms 1 & 2
Leading off the lower terrace, guest bedrooms 2 and 3 are similar in layout and décor
Spacious rooms with king-size double beds
Double-sided dressing areas with generous wardrobe space
Ensuite bathrooms featuring a rain shower, single vanity and partitioned WC
Comfortable rattan chairs and loungers, soft natural rugs and a collection of rustic Southeast Asian antique wooden furniture and figurines creating an enchanting environment
Guest Bedroom 3
Located at the far end of the lower terrace, occupying its own private area
Full-length, wraparound windows, white louvered panels or drapes opening onto the terrace and view of the lush tropical landscape and sea beyond
A king-size double bed facing the views
Sea facing terrace
An ensuite bathroom with a single vanity and rain shower, an antique wardrobe and collection of rattan easy chairs, both indoor and on the terrace
Guest Bedroom 4
Located in its own private pavilion, under the car park
Reached via stairs from the main pool terrace and garden, or via own separate entrance from the car park
Full-length windows and louvered panels which open straight onto wraparound views of the sea and surrounding landscape
A king-size double bed
Ensuite bathroom with a rain shower and bathtub overlooking the view
Location
Cape Laem Sor Estate is situated at one of Koh Samui's most beautiful spots, at the south-west tip of the island overlooking the idyllic palm-fringed bay of Laem Sor and its outlying islands of Koh Tan and Koh Mad Sum. A relaxed 45-minute drive through the vibrant urban areas of Chaweng and Lamai brings you to the south coast, dotted with coconut and rubber plantations.
The setting is peaceful and mesmerising. The estate's hillside position allows it to enjoy views across the Gulf of Siam towards myriad outlying islands and even the Thai mainland.
Things to do
Although still relatively undeveloped, this part of the island has become increasingly popular in recent years and the area is now home to a number of 5-star resorts such as the Conrad and InterContinental Resorts, as well as a wide choice of charming and rustic beachside bistros and bars serving some of the best Thai and international food on the island. The area is also renowned for fabulous views of Samui's blazing orange sunsets.
The Elite Concierge is well connected with the local dining and entertainment scene and can advise on how best to enjoy your stay. They will gladly assist with restaurant bookings and transportation too. Meanwhile, here are some suggestions for things to do while staying at Cape Laem Sor Estate.
Spend a day out on the water. Samui offers a wide choice of power and sailboat trips to the many islands which surround it. Choose between half or full-day excursions including lunch and snorkelling; sunset cruises; traditional wooden gulets or junks and even super-luxury yachts for private charter.
Explore the magical underwater world of the tropics by taking scuba diving courses and snorkelling tours. The beach is literally minutes' walk from the villa, and depending on the tide, there is plenty of snorkelling to be enjoyed just off-shore at Cape Laem Sor.
Something new and exciting for food lovers, the island's latest cooking school takes to the jungle to offer you an authentic and immersive experience. The Tamarind Tree Cooking School located high up in the mountains above Mae Nam invites you to pick your own ingredients and cook with them to prepare delicious dishes using traditional Thai techniques and recipes unchanged over the centuries.
Described as one of the most scenic and challenging courses in Asia, overlooking spectacular views of Samui's north coast, the 18-hole championship Santiburi Golf Course invites you to work on your handicap on its stunning hillside fairways set amidst a preserved coconut palm plantation.
Indulge your adventurous side by taking a cable ride above the luscious canopy of Thailand's most beautiful rainforests. Or for more of an adrenaline rush, the island offers many other sports and adventure activities for all ages; from kite surfing and ATVs to 4WD jungle safaris and ziplines - all of them thrilling ways to enjoy Samui's stunning, mountainous terrain and lush nature.
A wonderful retirement home for elephants who have worked exhausting hours in the logging and tourism industries, the Samui Elephant Sanctuary invites you to get up, close and personal with these beautiful gentle beasts. Feed then with bottomless baskets of bananas, walk with, and observe them as they roam, socialise, frolic in the mud and enjoy a peaceful happy life.
Of the few rum distilleries in Thailand, Magic Alambic Rum Distillery is the only one producing a Caribbean Agricole-style spirit. They offer a true island experience - local rum tasting. This style of rum is made from 100% pure, first-press sugarcane juice, which gives it a dynamic and delicate taste. There's also a swimming pool and a shaded alfresco dining area serving Thai and French food. Reservations are advised and all ages are welcome.

Adding villa...
x

Please sign in to add this villas to your Favourite
Create a shortlist of your favourites -
save them for later, make comparisons, and share with travel companions

x
LOGIN WITH EMAIL
---
---

x
SIGNUP WITH EMAIL
---
---

x
Forgot password
---
Back to top