Malaiwana - Villa M
The villa you chose is no longer available for rental from us but we have a portfolio of Elite Havens in various locations around South East Asia for you to choose from. Alternatively feel free to send us an enquiry and it'll be our pleasure to help you find the perfect villa for your next holiday.
4 - 5 Bedrooms
10 Adults
Any true sunset connoisseur will tell you that the best are over the ocean, where there are no obstructions to the display. Better yet, find a place high above the water, where the sea reflects and doubles the sun's glory. That is a pretty exact description of Malaiwana Villa M, high on a steep hillside dominating Phuket's delightful Naithon Beach. It's not just at sunset that the view is compelling. Throughout the day, the sky, the wheeling of the sun, breezes that fan and scallop the water, and fishing boats arrowing the surface, create a never-ending and never-repeated pageant.
And this Phuket villa has so much more to offer besides. The enormous infinity-edge pool, for example, constantly draws the eye through its reflections of the blue above, so that diving into it feels like diving into the sky. Around the pool the spacious deck and sun loungers invite indolence with a book, a chilled drink or a snooze. After a work out in the villa's superbly equipped gym, retire into the shade of the lounge with its sink-into sofas and whimsical giant clothes-peg and champagne-cork side tables. Conveniently, there's a bar here too.
About the time the sun is at its sultry zenith, the villa's excellent chef will serve lunch, a feast of all of your culinary whims made real. Congregate around the table in the dining/kitchen pavilion, where glass doors concertina open on three sides to make sure you never miss a moment of the ocean's display. And after the sun has gone down, chill out under a billion stars on the vast, purpose built entertainment terrace. And then, finally, to bed in one of the villa's five super-comfortable bedrooms, to dream of sea and stars.

Phuket is an island full of delights but be warned: you may not get to see them. Villa M may just be all the holiday you can handle.

Click on these links to find out more about four bedroom Malaiwana Residences - Duplex and Penthouse or the other villas in the estate: four bedroom Villa Rodnaya and six bedroom Villa Haleana.

Read more
This haven includes
Unique features

Cliff Top Views

Gym Facilities

Media/Games Room

Estate/Resort Facilities
Location
The crystal-clear waters of the Andaman Sea and the powder-soft sands of Naithon Beach are in full view from every villa and residence at Malaiwana. Just a short walk or downhill drive away from the estate, this pristine one-kilometre-long beach on Phuket's peaceful northwest coast is perfect for sunning, swimming, snorkelling, stand-up paddling and sandcastle building.

A tranquil village atmosphere prevails in this unspoiled corner of the island and the beach road is lined with low-key shops and cafés. Along the coast, numerous hidden coves and beaches are waiting to be discovered.
Just up the road, the Trisara Resort offers fabulous dining, and plenty of trendy beachfront restaurants at Bang Tao, eight kilometres to the south.
Malaiwana Villa M is an easy 20-minute drive from Phuket International Airport.
More information for Things to do
Though it may be tempting to spend your entire holiday in cossetted comfort, Malaiwana also makes a great base for exploring Phuket's quieter northern coastline and interior. With your villa manager's help, bookings and transport to the island's top leisure activities and sights can be easily arranged.
Here's a selection of some of the activities on offer beyond Malaiwana:
Hop on a stand-up paddle board at Naithon Beach and explore the coves and beaches of Phuket's rugged northern coastline. Make a stop at the tiny Banana Beach for a refreshing drink and snorkel session.
Indulge in a Sunday brunch or romantic sunset dinner at Trisara resort.
Enjoy a solitary stroll along Mai Khao Beach, the most northern and isolated beach on Phuket, or try a surf or kiteboarding session at Nai Yang Beach.
Head east and discover Phuket's lush interior on a jungle trek to the waterfalls at Khao Phra Thaeo National Park, and be sure to say hello to the inhabitants of the Gibbon Rehabilitation Project at the park entrance. At the Phuket Elephant Sanctuary, which is in the same area, visitors can observe elephants rescued from the tourist trade.
The Andaman Sea beckons with spectacular scenery and rich marine life, best explored aboard a chartered luxury yacht or on a snorkel or scuba diving trip. Glide past the towering karsts of Phang Nga Bay, swim with the colourful fish off Raya island, soak up the sun on the brilliant white sands of Koh Hong, and more.
Take some time to restore your body and mind during a day of pampering and luxury at the fabulous Banyan Tree Spa, or go for a simple yet invigorating Thai massage session right on the beach.
Delve into Phuket's rich culture and history with a walking tour of the Old Town, its streets lined with colourful Sino-Portuguese shophouses and some of the island's best local eats.
Discover the secrets of delicious Thai cuisine at a cookery class, which often includes a visit to a local market to shop for fresh ingredients.
Play a round or two at one of the island's scenic golf courses including Laguna Golf Club with lagoons and mountain views and the Nicklaus-designed Mission Hills with stunning ocean views.
Add some dazzle and upbeat DJ music to your seaside sundowner at one of Phuket's beach clubs. Try Dream Beach Club at Layan Beach or Catch Beach Club at Bang Tao.

LEAVE THE PLANNING TO US
Shake off the stress of holiday planning. Let the Elite Concierge take care of all your bookings and arrangements, from transport, tours and restaurant reservations, to any special requests for your arrival. We're here to make your holiday experience extraordinary.
Quick facts
Location
Naithon Beach, Thalang, Phuket, Thailand.
Capacity
10 people (2 suites with king-size beds; 2 guest rooms with king-size beds and one with twin beds). Extra beds are available at the prevailing rate.
Living areas
Open-plan living room with bar; 12-seat dining room and open-plan kitchen with ocean views and terrace access; breakfast bar with additional 5 seats; entertainment room with TV/DVD and video gaming systems; spa room; superbly equipped gym; pool terrace with sunbeds; entertainment terrace.
Pool
Enormous 25 x 5 x 1.5m infinity-edged pool.
Staff
Villa manager; chef; housekeeping; service staff; pool maintenance; estate security guards. Babysitters, fitness trainers and massage/beauty therapists available on request (additional charge).
Dining
Complimentary daily breakfast. Villa M's chef prepares breakfast, lunch and dinner (Thai, Asian and western menus) to order, catering to special dietary requests wherever possible.  Grocery cost is charged 20% handling fee which is subject to tax at the prevailing rate.
Communication
Complimentary WiFi access; computer available for guests' use.
Entertainment
TVs with DVD players in master suites; entertainment room equipped with 65in TV with satellite/cable feed; iPod docks; CD/DVD player with DVD library; X-Box, Wii, Playstation; pool table; table tennis; chess board.
For families
Villa M welcomes families with children of all ages. A baby cot is provided at the villa and additional children's equipment can be hired on your behalf from reputable local companies for a small extra charge.
Spa
Escape into the villa's opulent spa room and choose from a comprehensive menu of relaxing treatments carried out by professional beauty and wellness therapists (extra cost applies).
Gym
Villa M has its own private gym with ample equipment and relaxing ocean views.
Transport
Car rental, with or without driver, minibus with driver, and taxi pick-ups can easily be arranged with your villa manager.
Additional facilities
2 safety deposit boxes; boxing gloves and bag.
Property area
1,187sqm (villa); 1,428sqm (land).
The layout
Indoor Living
Complete and comprehensive renovation in 2017
All living areas have sea views through floor-to-ceiling sliding glass doors
Modern twist on classic tropical Thai architecture, with high ceilings designed for cool relaxation
Large living room and expansive dining pavilion
Superbly equipped gymnasium
Luxurious spa room with that same fabulous sea view
Spacious entertainment room with 65-inch screen satellite TV, CD/DVD player and games consoles.
Air conditioning and ceiling fans throughout
Outdoor Living
Big sea and sky views from everywhere
25m infinity-edge pool with expansive deck and sun loungers.
Large purpose-built open-air entertainment terrace
Parking space in private garage with access to the villa
The rooms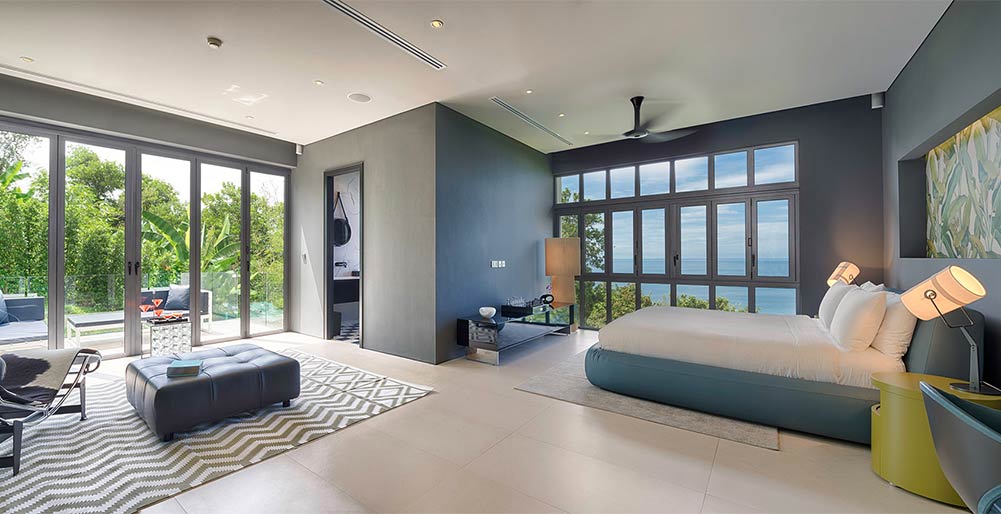 Master Suite
King-size four-poster bed with sea views
Bathroom with twin vanities and freestanding bathtub
Separate shower room with rain shower
Walk-in wardrobe and dressing room
TV and DVD player
Fan and air conditioning.
Spacious private office above.
Second Suite
King-size bed with sea view
Large balcony with hillside forest and sea view
Bathroom with twin vanities, freestanding bathtub and rain shower
TV and DVD player
Ample wardrobe space
Fan and air conditioning.
Guest Bedroom 1
King-size bed with sea views and large sofa
Large wardrobe
Ensuite bathroom with rain shower, freestanding bathtub and twin vanities
Air conditioning
Guest Bedroom 2
King-size bed with sea views and large sofa
Large wardrobe
Ensuite bathroom with rain shower and twin vanities
Air conditioning
Guest Bedroom 3
Twin beds with sea views and sofa
Large wardrobe
Ensuite bathroom with rain shower and twin vanities
Air conditioning
Dining
Thai food is justifiably world famous for its fragrant and exotic flavours, and Villa M's skilled personal chef offers guests an excellent opportunity to explore this delicious cuisine and enjoy meals carefully customised to individual tastes.
The villa's suggestion menu brims with a tasty array of Thai dishes, set breakfasts and a selection of western dishes. Highlights include tom kha gai (delicious chicken soup made with coconut milk and fragrant galangal); gaeng phed ped yang (red curry with roasted duck); pla thod ta rod (crispy sea bass with five-flavour sauce), and the chef's specialty Gaeng ka ree nue fak tong (beef tenderloin and pumpkin in Thai yellow curry).
The chef and kitchen team will take care of all the grocery shopping, sourcing only the freshest and best quality ingredients. Provisions are charged at cost plus a 20% handling fee and a government tax, and guests are requested to provide cash to cover groceries in advance. The staff will keep receipts for reference when settling the bills.
Villa M's elegant dining pavilion is as delectable as its cuisine. In this elegant glass-sided room you'll be perfectly placed to enjoy the spectacular sea and sunset panoramas.
View a sample menu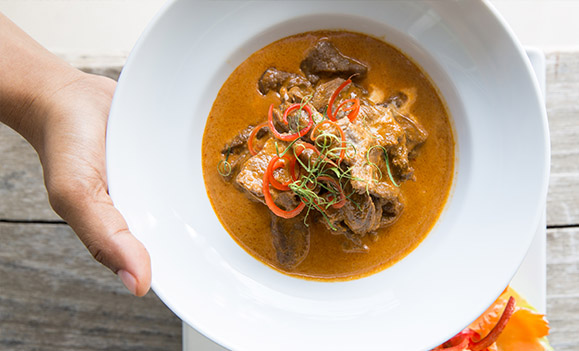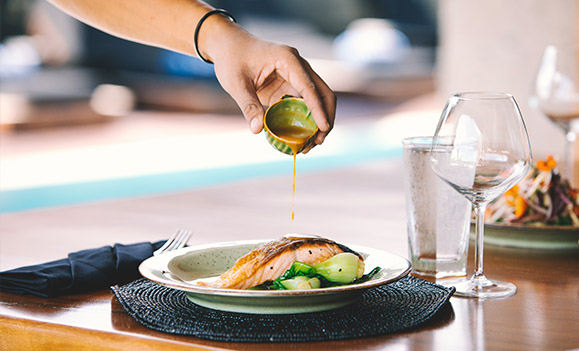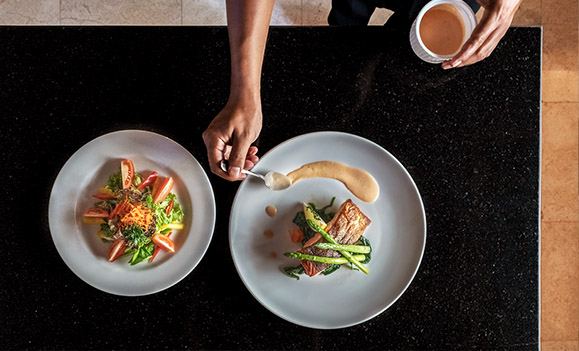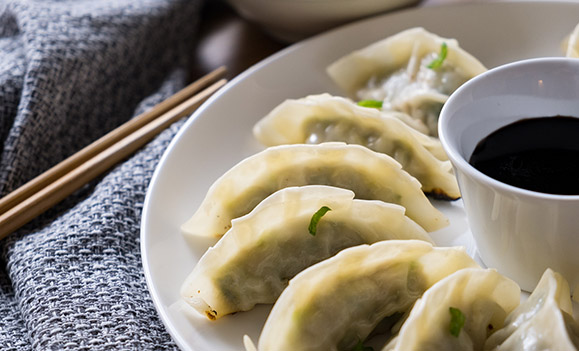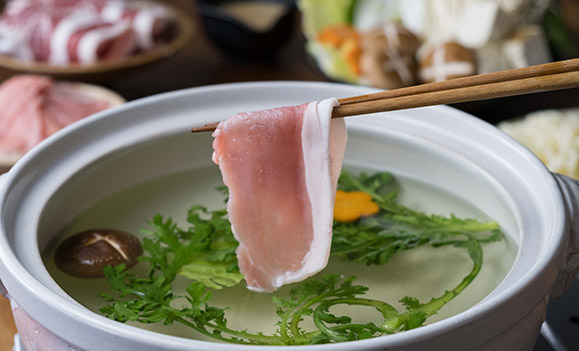 Reviews
From the Duckeroth Group: Words cannot express how fantastic. this stay was. The rain is bound not to take away the stunning views, the beautiful surroundings your home created, the amazing home. Thank you for your generosity! It's safe to say, this a very one will remember - Brener
12-Aug-2023 - 22-Aug-2023
Glodee J
Thailand
Nice place and service!!
08-Jul-2023 - 13-Jul-2023
Amy C
Hong Kong
We had a great time here. It was so relaxing, and the pool was so a great place to end our travel and relax. Pekky was so so helpful! I really hope to come again.
26-Jun-2023 - 30-Jun-2023
AMIT S
United States
We had a blast and a great time. The chef cooked amazing food, and the staff were very helpful. We would like to give special thanks to Pekky as she made us feel at home.
24-May-2023 - 01-Jun-2023
Khalid F
Saudi Arabia
My 2nd time at Malaiwana Villa M and it's better than ever! The staff was magnificent, polite, helpful, patient, and always smiling. Thank you Khun Pekky for taking such a good care of us! You are awesome! Thank you Chef Lek for cooking the amazing meals! I wish we had more time so we could enjoy your cooking more. Keep up the great work. Elite Heavens, you've got some precious gems in your
... more
16-Mar-2023 - 19-Mar-2023
Gina K
Singapore
What an amazing place! Villa is stunning and always clean. Pekky and staff can't do enough to help. The food is exceptional and plenty of it! And as for the view. Perfect place to spend my 50th with the family. Thank you to all.
11-Feb-2023 - 18-Feb-2023
Maria B
United Kingdom
Wonderful vacation, cool villa, the staff is very polite, hard working. Everything is done on time. Very tasty, incredible sweet rice with mango.
05-Jan-2023 - 17-Jan-2023
Ruslan C
Russia
The most scenic view and hospitality of this villa takes your breath away each time you look around. Pekky and staff all are extremely warm and always served us well. Blown away by the cleanliness, pool and view. Was worth every moment. So much so that we will miss this home for many more months to come. Thank you once again.
03-Dec-2022 - 06-Dec-2022
Isha S
India
Thank you for an amazing honeymoon trip. The Phad Kha Prao was amazing. Thank you for your great hospitality and amazing service and for taking care of us.
28-Nov-2022 - 01-Dec-2022
Phum C
Thailand
Absolutely lovely villa. In villa functions are huge so order with caution! :) Pekky and team were absolutely stellar in taking care of us and we're very grateful for their hospitality. Another thing we were completely owned by the impeccable furnishing taste of the owner. I would totally model my place after theirs. Views are cool too. Will definitely return again and recommend this place to
... more
03-Nov-2022 - 06-Nov-2022
Lena S
Singapore
To the team of Villa M Malaiwana, Thank you for your hospitality and service. It was great experience staying here and the view is super like cannot go away with it from our eyes. You have an amazing place anyone would love to come again .
22-Jun-2022 - 26-Jun-2022
Twinkle M
India
Our first time at Villa M and we absolutely loved it. It was our first family vacation with our soon-to-be one year old son, Anzaar, with his grand parents. The staff at the villa were amazing. Chef Sue cooked some amazing meals for us esp for my son. Manager Puri was also very kind to us. The service is absolutely outstanding! The art at the villa is amazing as well as the design and
... more
29-Apr-2022 - 06-May-2022
Mehnaz T
Bangladesh
Staying here for a month during the Covid-19 pandemic was a great idea - really, 'the Life'. The villa is beautiful and spacious with a long swimming pool. The view is magnificent and it has all recreational facilities and amenities you may need. Bright coloured sofas and pictures make the villa more interesting. Khun Pekky and staff team are very helpful. We loved both Thai and European
... more
21-Aug-2021 - 11-Sep-2021
Arunee W
Thailand
Dear Adam & Glodee We had a wonderful time at your Villa M. I can feel that you have passion for music like me & my husband. Your villa is full of colours & fun energy. Khun Pekky & team are lovely. My baby (Luna) enjoyed her time a lot here & slept so well. And yes, thank you for magnificent view of Naithon beach... Duang Posayanonda
29-Mar-2021 - 31-Mar-2021
Glodee J
Thailand
Very nice and cozy place. Great for family and friends to spend quality time together. Stunning views and great service. (Wish we can come back and get same price next time)
04-Dec-2020 - 06-Dec-2020
Isaraporn S
Thailand
Second time here! Wonderful villa with perfect service. We will be back soon.
20-Oct-2020 - 21-Oct-2020
Ampika J
Thailand
2nd time here!!! Wonderful villa with perfect service. We will be back soon :)
17-Oct-2020 - 20-Oct-2020
Ampika J
Thailand
So stunning villa. Great service and very clean.
03-Oct-2020 - 06-Oct-2020
Ampika J
Thailand
This place is so great! Clean and cozy. All services also wonderful. I wish we would come back here again! Thank you
04-Sep-2020 - 06-Sep-2020
Waytit H
Thailand
The villa is beautiful, nice view good for stay here.
13-Aug-2020 - 16-Aug-2020
Xu J
China
Wonderful villa! The owners have created something really special. We all loved it and hope to come back very soon.
25-Jul-2020 - 08-Aug-2020
Ben S
United Kingdom
Very nice sunset to enjoy every day at 6.39 p.m. Great chef and helper and manager. The guys in this trip love the gym, including the kids. We love the lemon grass chicken wings and crispy pork, fried rice and the mango sticky rice. It's good that the villa M had arranged pest control, so not too many mosquitoes. Once again thank you Pekky, chef and two lovely helpers.
17-Mar-2020 - 18-Mar-2020
Tammy S
Hong Kong
Our family and friends had the best holiday ever at the villa. Every need was taken care of and the villa staff couldn't have been more helpful. First the property is amazing. Second the chef is fantastic. Third, nothing was too much trouble for our wonderful experience. We will be back
01-Mar-2020 - 08-Mar-2020
Emma G
United Arab Emirates
The wonderful staff at Villa M have made us feel right at home for our 1 week stay here. Pekky the villa manager is very helpful and attentive. She makes every effort to take care of all our needs. The chef and other attending staff are very friendly and always greet us with big smiles. We stayed here with 4 children and the entire experience was relaxing and enjoyable. We look forward to
... more
30-Jan-2020 - 06-Feb-2020
Eddy W
Hong Kong
Dear Villa Team, Spectacle view. A few illnesses, but generally a pleasant stay.
09-Nov-2019 - 13-Nov-2019
ZQ L
Hong Kong
Excited stay in Malaiwana Villa M. We have big family, 4 adults with 5 kids. From 1 year 7 month to 5 year old. The kids love swimming pool best. They played in the pool day and night. We believe we provide the kids the excellent trip as expected. Thank all the staff working in Villa M. Thank you your warm service. Thank you your patience to help us dealing with all the issues thank the chef
... more
06-Oct-2019 - 09-Oct-2019
Xiaomu Y
China
Excited stay in Malaiwana Villa M. We have big family, four adults with five kids. From one year and seven month to five year old. The kids love the swimming pool the best. They played in the pool day and night. We believe we provide the kids the excellent trip as expected. Thank all the staff working in Villa M. Thank you for your warm service. Thank you your patience to help us dealing with
... more
03-Oct-2019 - 06-Oct-2019
Yin X
China
I like this house. The house is big and clean. I always swim in the swimming pool. I think this is nice. Everybody think this house is very nice. The scenery is beautiful as a picture, place as my home, I enjoy my self. In this busy world, we can have the chance to experience the view, the time. It is so fantastic! This is life how I wondered!
04-Aug-2019 - 08-Aug-2019
CAO L
Thailand
Dear Patty and Team, We absolutely love our villa and the villa team here! This is truly an amazing place. The staff are so friendly and attentive. The chef is beyond our expectation! The Thai foods is amazing! We will truly miss your cooking when we are back to Hong Kong! The kids have a great time here! The party house DJ music was our highlight of the stay! We are already planning our next
... more
21-Jul-2019 - 25-Jul-2019
Amy S
Hong Kong
Thank you so much. You guys are the best. Service 5 stars, Cooking from the chef 5 stars, Environment 5 stars.
14-Jul-2019 - 16-Jul-2019
Chiungchi HSU C
China
Dear Malaiwana Villa M staff, We had a wonderful stay at the villa. All the staff were amazing and food is delicious. Thank you for the great hospitality. We will definitely recommend the villa to our friends and come back next time!
11-Jul-2019 - 14-Jul-2019
Angela H
Hong Kong
Patty and the entire Malaiwana Villa M crew was absolutely amazing. The hospitality, food, we enjoyed all during our stay. Will remain with us forever. Thank you guys. We will definitely come back and recommend your property to our friends back home.
04-Jul-2019 - 07-Jul-2019
Rishi S
India
A wonderful holiday enchanted by attentive staff and all the beer food that we could have wished for. Thanks for making our stay relaxing, awesome and fun. Jame, Lairen, Clenda, Mei Mei, BB, Cathere, Jacko, Levi, Jessee and Nitas.
26-May-2019 - 03-Jun-2019
James L
Australia
Thank you so much for the wonderful services. Staff are very attentive and caring.
26-Apr-2019 - 28-Apr-2019
Hoi Ki C
Indonesia
Absolutely amazing property with breathtaking views and staff is very welcoming, friendly, polite and efficient. Along with my family members, the staff participated and went out of their way to make my 60th birthday a memorable event. Thank you very much for a fantastic vocation. The food was exceptionally delicious and the presentation was suburb.
18-Apr-2019 - 22-Apr-2019
Harish R
Singapore
Blown away by the view the moment we walked in. The pool is amazing and has a great view of the sunset. Service of the staff is top notch. The in house chef/cook makes amazing food and we barely needed to go out and eat. The decor of the villa was great, loved all the facilities the villa provided.
16-Feb-2019 - 19-Feb-2019
Lo W
Hong Kong
We have been fortunate to visit such beautiful places in the world and Villa M with its views and location is definitely one of them. Its designed and furnished so well - you walk in and it takes your breath away. The cherry on the cake is being served by the lovely bunch - staff showing us great hospitality. Wah Wah our manager with her team - Cherry, Meaow... such lovely smiley, kind,
... more
22-Jan-2019 - 29-Jan-2019
Afzal A
United States
Thank you villa M for the beautiful space and the great service. The cook was fantastic, the food was absolutely delicious and the staff took care of our every need. We would like to come back again.
16-Jan-2019 - 19-Jan-2019
Tiara B
Singapore
We had the best stay ever here. The villa is absolutely beautiful,the staff very helpful, friendly and welcoming. They did a great job at making us feel right at home. We can't wait to come back. Also, the food was absolutely fantastic YUM.
24-Dec-2018 - 07-Jan-2019
The Latif's family
United Kingdom
Thank you for the wonderful stay. The food was fantastic (especially the chicken wings), had an extremely enjoyable time .
14-Dec-2018 - 20-Dec-2018
Stanley T
Australia
What an incredible villa! The views are stunning but it is the villa staff that have really made our trip so special. We've enjoy 3 nights here as a surprise holiday for my husband's 40th birthday. Friends joined from Hong Kong for the weekend and we live in Singapore, we couldn't have had a better time. Thank you so much to all of the staff for looking after us and our 2 little girls a 2 year
... more
03-Nov-2018 - 06-Nov-2018
Charlotte M
Singapore
Excellent villa and staff, we would definitely recommend. The staff were extremely couteous and kind. The room was comfortable and we love having a swimming pool. My room was clean and nice. Breakfast was good. All villa staff were friendly, helpful, well presented, efficient and such nice people. Thank you all for making we stay such a pleasant one.
19-Aug-2018 - 24-Aug-2018
Hoi-Fu W
Macau
A wonderful experience. Helpers were all Suay Mak Mak. Amazing villa, amazing view, amazing crew. Would definitely come back.
19-Jun-2018 - 23-Jun-2018
Annie C
Hong Kong
Wonderful trip with a beautiful girl. Nice ocean, perfect beach - It's a good place to have vacation. Perfect service. We will come back
10-Jun-2018 - 12-Jun-2018
Hanwei Z
China
Wonderful trip with beautiful girls. Nice ocean, perfect beach. It's a good place to have vacation. Perfect service with these ladies. Definitely we will come back.
09-May-2018 - 12-May-2018
Huifeng X
Thailand
Perfect view, perfect food, perfect service, perfect vacation! Thanks all the staffs for taking good care of us. We gained some weight these days. Definitely will come back next time. See you later Malaiwana.
27-Apr-2018 - 30-Apr-2018
Hongying X
China
Amazing view, food, service, facilities. So much more than what we expected. Definitely one of our best experiences in Phuket. Thank you to all the staff that supported us through our stay here. We will definitely be back, the children said they want to stay here for ever!
14-Apr-2018 - 18-Apr-2018
Celia C
Hong Kong
From the moment we walked in we were astonished by the views, then the quality and design of the rooms and furniture. The pool, WOW! Loved the sound system! Their food was excellent, we would make our overall rating 4.5 stars. Thank you for this beautiful experience here in Phuket! Thank you for your kindness and service! We are definitely planning on coming back.
09-Apr-2018 - 13-Apr-2018
Michiel V
Belgium
The environment is good and the service is good. We're satisfied to stay here, thank you.
03-Apr-2018 - 08-Apr-2018
Kaiwah Lawrence Ng
China
All staffs were great, thank you.
29-Mar-2018 - 03-Apr-2018
May C
Hong Kong
Stunning view, we enjoyed our holiday here. They provided us with all we need including gym room, ping pong table as well as high quality sound system. We could not make any complaint in particular their chef made such delicious Thai food. We will definitely come back in the near future. We loved the services here and the manager and staff are very nice and helpful.
22-Mar-2018 - 25-Mar-2018
Kenneth L
Hong Kong
Top grade view, top grade service. Best for a relaxing vacation. Thanks to Malaiwana, what a wonderful holiday.
18-Mar-2018 - 21-Mar-2018
Zeyang S
China
An experience incomparable to a stay in a hotel. Villa M is a second home with exceptional staff - not to mention the kitchen, beyond expectations. Thank you to the team. The next holiday will be in a villa rather than a hotel and will certainly be with Elite Havens.
14-Mar-2018 - 15-Mar-2018
Jon S
Singapore
It's so comfortable here. Great food, big pool, excellent service, all Fantastic! We will come back, highly appreciated.
21-Feb-2018 - 23-Feb-2018
Haofeng C
China
Had a wonderful experience here. From the moment we walked in we were greeted by the amazing view and staff, we could not have asked for more. Our group was particularly impressed by the level of service provided by Pook, the chef and the team. Their ability to anticipate our needs and to accommodate us was better then at 5-star hotels we have stayed at. The whole group agreed, this is the
... more
17-Feb-2018 - 21-Feb-2018
Linda Z
China
Service here is excellent, beautiful surrounding, peaceful. Thank you so much and Happy New Year.
13-Feb-2018 - 16-Feb-2018
Yifei X
China
Interior and environment are both very nice, service also satisfactory. Thanks to everyone.
03-Feb-2018 - 06-Feb-2018
Runmei W
China
Need more inspiration?
We're at your service