Villa Abiente
The villa you chose is no longer available for rental from us but we have a portfolio of Elite Havens in various locations around South East Asia for you to choose from. Alternatively feel free to send us an enquiry and it'll be our pleasure to help you find the perfect villa for your next holiday.
A holiday here includes

Near the beach

Staffed

Private Chef

Private Pool
Elite Concierge
With modern flair and superb views – especially at sunrise, Villa Abiente is a three-bedroom holiday retreat in Cape Yamu on Phuket's scenic east coast. Abiente offers couples and groups a chic hideaway with open-plan living areas and a 12-metre infinity pool and sun deck for optimal bay views.
Bright, sleek interiors that open up completely across the front make Villa Abiente a cool and calming place to unwind and enjoy the tropical breezes. This is easy island life at its best, with a stylish sunken outdoor lounge set poolside for refreshing drinks after a dip, and two poolside bedroom suites with fantastic sea views. All three bedrooms offer luxurious ensuite bathrooms, two with double bathtubs, while the cosy media room has a sofa bed and ensuite bathroom. The open-plan living area makes an inviting place to gather, with its stylish sitting room, dining table for eight and sparkling kitchen with a breakfast bar overlooking the pool. White and grey tones and floor-to-ceiling glass throughout give Abiente a modern shimmer, while the grand entry hall, featuring a large mural and Zen rock garden, creates an intriguing welcome.
A full team of friendly staff ease guests into Abiente's warm embrace. The chef provides sumptuous breakfasts and delicious Thai meals and an English-speaking villa manager offers friendly assistance in the villa and beyond. Facilities available for guest use within the Baan Yamu estate include a restaurant and bar, a well-equipped gym and an Olympic-size pool. Beyond the villa, the Phuket east coast idyll beckons with boat trips around spectacular Phang Nga Bay, golf, spas and waterfalls, all within easy reach.

this elite haven.
Peaceful Phuket east coast setting
Stylish 12m pool and sundeck
Wake early for tropical sunrises
Dedicated villa staff and chef
Modern ensuite poolside bedrooms
Need more info on this villa? Floor plans, services, images and reviews.
Click here to view the owner's comprehensive website
www.villaabiente.com
08-Mar-2020 - 16-Mar-2020
"We had a very nice and special vacation experience here. We love the food of chef Jitty, especially the hot pot! And Bia is sweet and offers great hospitality. We will come back next year."

Yingying. Z, China
Rates and availability

Promotions
Book Now Travel Later

Book early and get up to 20% off on villa rates
Valid for stays from 1 July 2021 to 16 December 2022


Terms and conditions:

- Valid on new bookings received from now onwards

- For stays from 1 July 2021 until 16 December 2022

- Must be booked 120 days in advance of preferred stay dates

- Discount varies based on season dates

- May not be combined with other discounts and/or special offers

*At Elite Havens, we understand that flexibility is required for travel planning in the current COVID-19 scenario, so should your flights be cancelled or a government travel advisory require you to be quarantined, we will convert your booking to a credit note valid for 12 months (same villa, subject to availability). Terms and conditions apply.
Discounts
Early bird enjoys up to 20% discount when booking 120 days in advance.
Last minute bookings enjoy up to 15% discount when checking in before 28-Feb-2022.
Quick facts
Location
Cape Yamu, Phuket, Thailand.
Capacity
6 guests (3 queen-bedded guest rooms). A foldout sofa bed may be set up in the media room for 1 extra guest at additional cost.
Living areas
Open-plan room with kitchen, living and dining areas; indoor dining for 8; media room with sofa bed; pool terrace with sundeck and outdoor lounge with built-in sofas.
Pool
12m x 4m x 1.5m infinity pool.
Staff
Full-time villa manager; housekeepers; chef and 24-hour estate security.
Dining
Continental or Asian breakfast included. Suggestion menu with Thai specialties, all prepared by the villa's private chef. Special dietary requests accommodated wherever possible. Grocery cost is charged 20% handling fee which is subject to tax at the prevailing rate.
Communication
WiFi broadband internet.
Entertainment
Flat-screen satellite channel TVs; Bluetooth speakers.
For families
Abiente is best suited for families with older children.
Spa and fitness
Abiente's peaceful, breezy setting offers the perfect retreat for a soothing spa session. Guests are also welcome to use the estate's well-equipped gym, open daily from 7am to 7pm, for no extra charge.
Transport
Airport transfers, car hire and taxi pick-ups can easily be arranged with your villa manager at small cost.
Additional facilities
Safety deposit box; sunken lounge.
Managed & marketed by
The layout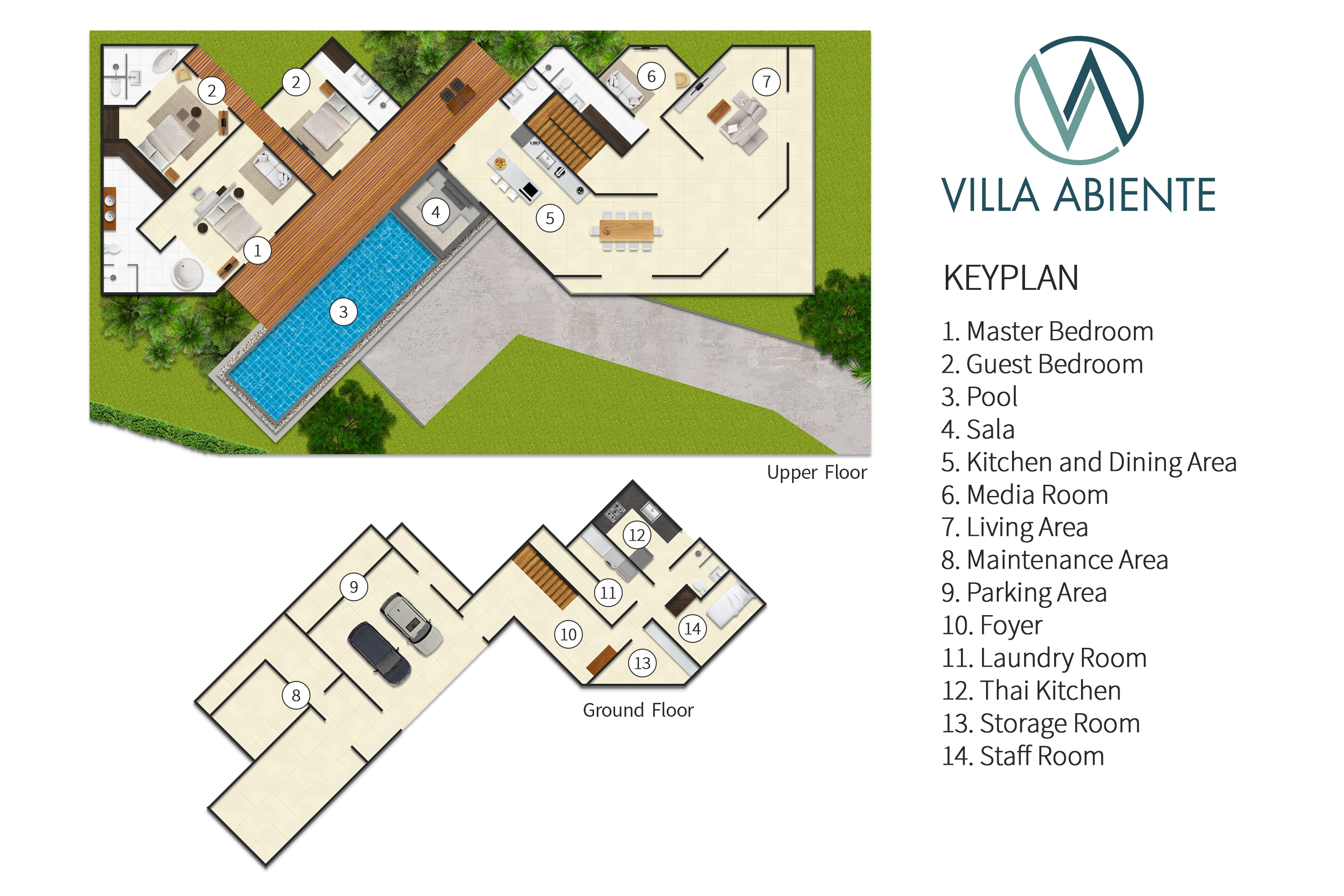 Indoor Living
Open-plan kitchen, dining and living area with sea views, opening to balcony and pool terrace
Dining area with table for 8
Bright western kitchen with breakfast bar and modern appliances
Living area with chic grey sofa seating and TV
Media room with TV and sofa bed
Outdoor Living
12-metre infinity pool with sea views
Pool terrace with sundeck and sunbeds
Sunken lounge
Small lawn for outdoor play
The rooms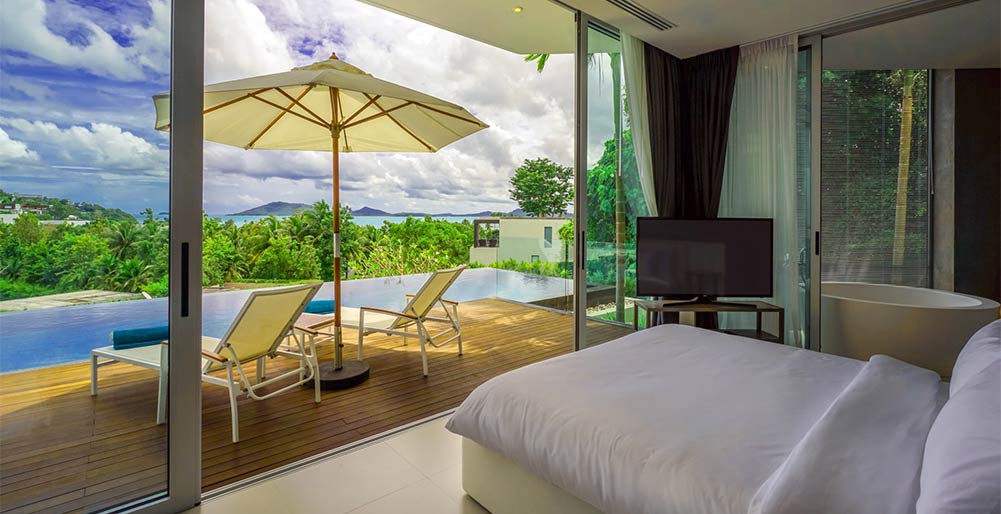 Master Bedroom
Sea-view suite with floor-to-ceiling sliding glass doors that open to the pool
Queen-size bed, study desk and TV
Luxurious ensuite bathroom with double bathtub, shower and dressing room with vanity desk
Air conditioning
Guest Bedroom 1
Sea-view suite with floor-to-ceiling sliding glass doors that open to the pool
Queen-size bed and TV
Modern ensuite bathroom with shower
Air conditioning
Guest Bedroom 2
Spacious bedroom suite with garden view just a few steps back from the pool
Queen-size bed and TV
Modern ensuite bathroom with double bathtub and shower
Air conditioning
Location
Found within the exclusive and secure Baan Yamu estate on Cape Yamu, Villa Abiente offers a tranquil escape perfect for exploring Phuket's east-coast sights. Within the estate is a modern collection of residences and villas, with a restaurant and bar, one of the island's largest swimming pools, and an air-conditioned gym available for guests. Opposite Baan Yamu is a seaside promenade and small pier, a pleasant area for an evening stroll, and where kayaks and speedboats are available for hire. The sunrise views over the bay will encourage early morning starts, and Villa Abiente's easy access to local marinas make a Phang Nga Bay cruise a must. Between the east coast's calm bays dotted with long-tail fishing boats, lush forested hillsides and acres of rubber-plantations are some surprisingly upscale dining choices including top Phuket restaurant Breeze at Cape Yamu, renowned for its long lazy Sunday brunches.
Things to do
Villa Abiente is perfectly positioned for exploring Phuket's rural east coast and for cruising the fabulous islands and waters of Phang Nga Bay. And its location just to the east of the island's main north/south thoroughfare gives easy access to many popular beaches and to Phuket Town. Here's just a sampling of some of our recommended sights and activities beyond the villa:
Explore the iconic karst islands of Phang Nga Bay, made famous in the James Bond classic 'The Man with the Golden Gun'. Cruise the scenic waters aboard a luxury yacht or paddle through the caves on a sea kayaking daytrip.
Indulge in a Long Lazy Sunday brunch with beautiful bay views at Breeze restaurant, just a five-minute drive from the villa. Enjoy a dozen or more selections with the menu refreshed regularly to ensure the best seasonal ingredients, all served with style at a single long table that seats 40 guests.
Go surfing at one of Phuket's west-coast beaches including Kalim just north of Patong Beach and Kamala, or if conditions allow hire a SUP board and explore the coastline by paddle. Or head inland to the lake at Anthem Wake Park for some cable wakeboarding and, for the kids, an inflatable aqua park.
Take a stroll back through time with a walk around Phuket Old Town and its historic Sino-Portuguese shophouses, many of which have been converted into chic cafés and boutiques. On Sunday evenings the colourful streets host the lively Lard Yai market offering tasty local food, art and handicrafts for sale.
Learn the secrets of Thai cuisine in a cookery class offered by the talented chefs at the nearby Nahmyaa restaurant in Como Point Yamu resort, or try a class with the master of Thai fusion fare, Chef Tammasak "Noi" Chootong of Suay restaurant.
Phuket is home to two wildlife sanctuaries, both found on the east coast. At the Gibbon Rehabilitation Project, just inside the entrance to Khao Phra Thaeo national park, learn more about these endangered primates and the efforts to release gibbons saved from poachers back to the wild. Or book a tour of the Phuket Elephant Sanctuary to watch rescued elephants at play in their natural environment.
Tee-off at one of Phuket's meticulously landscaped golf courses including Mission Hills, Laguna Phuket Golf Club and Blue Canyon Country Club.
Give your body and mind a restorative boost with a massage or beauty session at a Phuket luxury spa. Nearby is the COMO Shambhala Retreat at Point Yamu resort, or book into the Banyan Tree Spa for a truly royal treatment.
Browse for local crafts, beach fashions, brand-name clothing and more at one of Phuket's shopping centres including Premium Outlet near Phuket Town, Jungceylon mall in Patong Beach and Boat Avenue near Bangtao Beach.
Discover the exotic marine life of the Andaman Sea on a scuba diving or snorkelling day trip to nearby islands including Koh Khai, the Similan islands, Koh Phi Phi and the Raya islands.
Yingying. Z, China, 08-Mar-2020 - 16-Mar-2020
We had a very nice and special vacation experience here. We love the food of chef Jitty, especially the hot pot! And Bia is sweet and offers great hospitality. We will come back next year.
Melanie Z, Singapore, 05-Mar-2020 - 08-Mar-2020
Thank you, Villa Abiente and all its staff for taking such a good care of us throughout our stay! We were all very spoiled and very well fed! Everyone on the crew was very attentive and made us feel very comfortable. Highly recommended!
Zhang Y, China, 17-Feb-2020 - 05-Mar-2020
Hola, It was literally the longest time I have ever spent in Thailand. During the virus time, thank to Thailand to let us stay, thanks to out butler, thanks to everyone. I think I will come here again very soon.
Edna E, Singapore, 23-Jan-2020 - 26-Jan-2020
Thanks for the service at Villa Abiente. Everything was well catered to and the staff were friendly and helpful. Definitely would recommend this place to others. Thank you and Happy Chinese New Year!
Felikss L, Latvia, 27-Dec-2019 - 08-Jan-2020
We are so happy we choose Villa Abiente fir our stay at Phuket. We enjoyed every day here. Kids were in love with the pool and also we, the adults always enjoyed the meals at home. It was always a very nice experience and definitely better than in restaurant. Thank you to all of the staff. This stay at Phuket will be in our memories for a lifetime for all of our family.
Joyce W, Canada, 18-Dec-2019 - 25-Dec-2019
Thank you for amazing scene and hospitality! We were spoiled by Jitty and Pia. The place was spacious and relaxing. We loved every moment that we spent here. We will definitely be back soon!
Abhijit G, Thailand, 05-Aug-2019 - 10-Aug-2019
We had a great stay. Very friendly staff, good cooking, tasty food, nicely maintained. We will come back and also recommend Elite Havens to all our friends.
Peter K, Denmark, 20-Jul-2019 - 27-Jul-2019
Thank you for a lovely stay in this very nice villa, we have all enjoyed it. The service has been excellent and the food was very very nice. Thanks, from the Kriklywi Family
Haoyuan C, China, 07-Jul-2019 - 10-Jul-2019
We all had an amazing time at the villa. Thank you for all your wonderful service, hospitality and delicious Thai food. It was the best 3 days after summer. All of us will definitely come back and visit Thailand in the future.
Hugh P, United Kingdom, 29-Mar-2019 - 10-Apr-2019
Noo Da and Lilly - you have been so kind caring and helpful. Da - thank you for helping with the special food requirements for us. The villa is stunning, beautifully appointed and everything we needed for a truly relaxing vacation. Thank you for pancakes - we love them, they taste delicious. Thank you for your assistance before and during our stay - especially with shopping and day trips. We are sad to leave and already talking about when we can return.
Sottithat W, Thailand, 11-Mar-2019 - 14-Mar-2019
We immediately fell in love with the villa the moment we arrived. Thank you so much for taking great care of us during our stay. We truly appreciate the warmth and care - the staff put in all the details. Special shout out to P'Kan and P'Da for helping us with getting local ingredients and preparing the home cooked meals. People say time flies in a flash when you're happy. Our stay at the villa was a short one. We look forward to returning to Phuket soon and enjoying an Elite Havens property perhaps during a longer stay.
Chao X, China, 16-Feb-2019 - 23-Feb-2019
Its so nice to come back again at this villa. It feels like back to home, Kob still here, still nice, still smile, everything is exciting and the same. I even have a little secret chat with Wow - these days he makes me a lazy boy. Really hope to come back here again.
Taraneh K, Canada, 09-Jan-2019 - 14-Jan-2019
Thank you for an amazing few days. We had a great time. Thank you for the delicious food and kind hospitality. We will miss the views, friendly staff and beautiful weather. Thank you for poached and fried egg. Thank you for the smile and laughter Kob, Da and staff - we will miss you all.
Maree G, Australia, 10-Dec-2018 - 17-Dec-2018
Thank you for making our stay amazingly relaxing. The service and food has been some of the best food we have ever eaten, and service we have ever received. The Villa is a beautiful, calm, space that is exceptionally clean. It was so easy to either stay and relax or have a car organized for day trips. I would highly recommend staying here to all our friends. Thank you again for taking such a great care of us.
Bing G, China, 20-Nov-2018 - 24-Nov-2018
We have a wonderful vacation in here. Thank you so much for all staff in the Villa Abiente.
Adeline O, Singapore, 08-Nov-2018 - 11-Nov-2018
Thank you for making our stay here enjoyable, comfortable, and relaxing. From the warm welcome to the beautiful property and view, friendly staff and professional service. Absolutely delicious foods. We will definitely remember this trip and hope to be back very soon.
Angela L, Hong Kong, 24-Oct-2018 - 27-Oct-2018
Thank you for making our stay a wonderful and memorable one. The villa is awesome and love the design and view from the rooms. Food is amazing. We will definitely recommend this villa to my friends and hope to be back.
Li C, China, 01-Oct-2018 - 06-Oct-2018
Kob and chef are very nice with sweet service. We had the wonderful vacation here. Expecting to come back here next time. Thank you all!
Holly M, Australia, 06-Aug-2018 - 11-Aug-2018
Thank you very much as you've made the last part of our holiday incredibly relaxing. You were attentive and always tried your hardest to help even with the barrier of not speaking me same language. Rooms were always tidy and comfortable. The most outstanding part of our stay was by far the food, it was delicious and such a large choice. Thank you to the 3 of you for putting up with our craziness and your amazing hospitality. We also loved our new guest. Hayden!
Dalton T, Singapore, 03-Aug-2018 - 05-Aug-2018
This is the first time the whole family travelled together and we picked villa Abiente in Phuket. Service has been awesome which made our stay enjoyable for both the young and the old. Premises were well kept and clean.
Movie L, Pakistan, 30-Jun-2018 - 07-Jul-2018
Ying and Kob, you are the best for taking care of us for 8 days! You are wonderful. I wish I can stay longer in Villa Abiente. Rooms are always really clean and tidy. Food is great. Ying is amazing that she can cook all kinds of nice and yummy dishes. I can swear that the best food I have in Phuket is what Ying cooked for us. This is not my first time staying in the villa that is run by Elite Havens group and their villas don't let you down at all. Always spacious and luxurious!
Tsz Kwan W, Hong Kong, 27-Jun-2018 - 29-Jun-2018
We had a wonderful 2 days stay here. Kob and Thip are very considering and efficient. The rooms are always clean and tidy. Food are very delicious which were made by Ying. Also, all of them are patient to answer my questions. Thank you for caring.
Morgan T, Hong Kong, 22-Jun-2018 - 25-Jun-2018
We had amazing 4 days break at villa Abiente. The property is gorgeous. The staff are friendly and accommodating. The manager is sufficient and professional. Ying and Kob are wonderful ladies and took good care of us and our stomachs. We didn't take long to feel at home here and will definitely think about returning or trying out their other properties in the Cape Residence.
Cherry M, South Africa, 12-Jun-2018 - 21-Jun-2018
It's been a great pleasure to stay in this villa. The service was good, staff was nice and the house itself is just spectacular. We'd always come back if we are visiting Phuket, thank you so much!
Burton and Arise, China, 13-May-2018 - 18-May-2018
First of all, I would like to say thanks to Kob and Ying to give me such a great honeymoon beginning. During my stay the food, the environment, the services, everything matches my requirement, especially the food I like it so much. Kob always keeps the house clean and tidy. After they know it is my honeymoon, they even set up a honeymoon room which I like it very much. Hope to see you next time.
Shu Ling C, Indonesia, 04-May-2018 - 06-May-2018
Thanks for the awesome and extremely attentive services in the past three days. Our chef is amazing and she basically fulfilled all our meal requests. Food was good and perfectly presented. Another housekeeper was very helpful and meticulous toward the villa cleanliness and tidiness. All in all, we had very pleasant experience and will definitely be back in the future. Thanks for making my bachelorette party an unforgettable one. My girl friends and I couldn't be more happy throughout our entire trip!
Keh Kee G, Singapore, 26-Dec-2017 - 30-Dec-2017
We had the most wonderful time here at villa Abiente. The view, the food and the people made us feel so welcomed and at home. Wonderful memories made. Between the stunning views, gorgeous pool and beautiful grounds. The villa staff and chef ensure that our every need was catered to. From the authentic Thai food we enjoyed at home, to organizing little excursion for us (with a baby). This was definitely a holiday to remember. A big shout out to the staff who were most attentive and ensured all our needs were catered to. Also a positive experience.from the time we confirmed our reservation to the moment we left the villa. Thank you!
You may also like these Elite Havens
Back to top