The Layar - one bedroom villa
The villa you chose is no longer available for rental from us but we have a portfolio of Elite Havens in various locations around South East Asia for you to choose from. Alternatively feel free to send us an enquiry and it'll be our pleasure to help you find the perfect villa for your next holiday.
1 Bedroom
2 Adults
If you're seeking that elusive fusion of high-tech architecture, cool design aesthetic and hot location, The Layar is sure to set your pulse racing.
Seminyak's brightest new star, The Layar features distinctive pitched roofs that taper dramatically to the ground like the triangular rigging of traditional fishing boats – hence the nautically inspired name (Layar is Indonesian for sails). These steeply sloping geometric roof planes combine with curved and angled walls to create exciting light-filled split-level open spaces that flow seamlessly across the pool into the garden. This is truly open-plan tropical living at its best!
The Layar is run as a boutique hotel, with staff taking care of 23 villas – each set in its very own garden in an elevated setting that creates a sense of openness and space that's rare in this most popular of Bali's resort areas. While each villa has a well-equipped kitchen, there's an excellent room service menu, and guests can also book a chef for a sumptuous poolside seafood barbecue or opt to dine at the fabulous Italian Restaurant, Settimo Cielo perched at the front of the estate.
Careful thought has been given to the romantic living areas at each of The Layar's one-bedroom villas, resulting in a wonderful sense of space, openness and flow that couples will appreciate. Relaxation comes easy courtesy of custom-designed teakwood sofas, loungers on the pool deck and a tiered shallow section of the pool just made for lazing in the sun. The large, light-filled bedroom features a king-size bed, stylish seating area and sliding doors to the pool deck. In the ensuite garden bathroom is a foliage-fringed shower and a decadently statuesque stone bathtub.
With its dynamic design, five-star service and stand-out location, The Layar will appeal to design-savvy families and groups of friends who appreciate the privacy and luxury of their own villa while relishing the accessibility of Bali's best restaurants, bars, shops and surf breaks just a short stroll away.

Should this villa not be available, please go to the owner's website www.thelayar.com where you can view the availability of three more similar one bedroom villas which may suit.
Read more
This haven includes
Unique features

Near the beach

Close to bars and restaurants

Jacuzzi

Estate/Resort Facilities

Shuttle Service
Location
The Layar is an exclusive residential enclave set well back from a quiet road a short stroll from Jalan Laksmana, Seminyak's culinary and fashion epi-centre. Bali's best-known restaurants are all within easy walking distance, as are boutiques, galleries, gourmet shops and homeware stores. And mere moments away is the sweep of sandy Petitenget Beach, famed for its surf breaks and sunset bars.
More information for Things to do
Staff at The Layar will have a wealth of information about places of interest, both locally and island-wide, and will be happy to help arrange transport and make any restaurant reservations or tour bookings. Many of the team will live nearby and can give an interesting insight into some of the fascinating aspects of local Bali life.
In the meantime, here's a taste of the many and varied activities on offer within reach of The Layar.
You could

eat out

at a different restaurant in Seminyak every night – for months – and still not run out of options. Jalan Laksmana (also known as Jalan Oberoi and Jalan Kayu Aya) is Bali's fashionable 'Eat Street', offering plenty of high-end restaurants including Nutmegs at Hu'u Bar. The Breeze at The Samaya are great for sunset drinks. Two new beachclubs, Cocoon and Potato Head, are classy seaside alternatives. Then there's La Plancha, a rustic beach bar between Double Six and Gado Gado, very popular, good tapas, very reasonably priced drinks, with live music and DJ events. A short taxi ride will bring you to Sardine, Métis and Naughty Nuri's, famous for barbecue ribs and wicked Martinis.

Shop til you drop!

In Seminyak and neighbouring Kerobokan you can rummage for treasures through cluttered little stores and dark junkshops crammed to the ceiling with curios and made-to-order 'antiques', derive inspiration from classy homeware shops, or wander through huge furniture warehouses. In Jalan Laksmana (Eat Street) you can shop between courses! Boutiques include Paul Ropp, Biasa, Magali Pascal, Anouck, Lily Jean, Bamboo Blond, Dinda Rella, Innuendo, Religion, Body & Soul, Buddha Wear, M. Harcourt, Pura Vida, and Uma & Leopold to name but a few. Kids fashion stores include Kidsagogo and Kiki's Closet. For art lovers, galleries worth visiting in Seminyak include Randelli Gallery, Biasa and Kendra.
It's possible to walk the sands of Seminyak's

Petitenget beach

all the way to Kuta in the south, or north to Canggu. The beach is more popular with locals than tourists (not safe for swimming in most sections), but is a great spot for building sandcastles or to watch the sunset as you sip a cocktail from one of the many beachside bars.

Pura Petitenget

at the beachside off Jalan Petitenget is a compact, pretty Balinese temple, which is known for particularly spectacular beachside ceremonies. There has been a temple here since at least the 16th century, and although this is not one of the key nine directional temples of Bali, it is an important link in the series of west coast temples between Pura Uluwatu and Pura Tanah Lot.
Make a pilgrimage to sacred

Pura Tanah Lot

, one of Bali's biggest tourist magnets. Perched high on a craggy, wave-lashed rock, this ancient sea temple is best savoured at sunset; be sure to receive a blessing from the Hindu Priests (and watch out for the monkeys, who are very adept at helping themselves to anything from snacks to sunglasses and even cameras!)
Play a round of golf at the well-laid out 18-hole

Bali Beach Golf Course

or go further afield to Kuta for the 85-hectare

New Kuta Golf

for a natural desert-like landscape and fantastic view.

Drive westwards to

explore the charming Tabanan Regency

, revealing terraced rice fields of emerald green, volcanic mountains and beaches dotted with fishing communities. Or head north to explore the volcanic lakes near the mountain town of Bedugul, including Lake Bratan with its photogenic and stunningly positioned Pura Ulun Danu – one of Bali's most important temples.
With its warm seas, almost year-round surf season, relatively uncrowded beach and reef breaks, and suitability for all levels of experience,

Bali surfing

is world-renowned.

Hire a bicycle

and explore the scenic rice-field landscape and rural villages; a great way to get under the skin of the 'real' Bali. Stop off at a local warung (café) to sample some basic Balinese fare or cool off with a cold drink.
Discover Bali's lakes, volcanoes, forests and beaches on the back of a

Harley Davidson

bike with Island Biker Tours. Full day Harley tours, customised tours or shorter joy rides can all be accommodated.
LEAVE THE PLANNING TO US
Shake off the stress of holiday planning. Let the Elite Concierge take care of all your bookings and arrangements, from transport, tours and restaurant reservations, to any special requests for your arrival. We're here to make your holiday experience extraordinary.
Quick facts
Location
Central Seminyak, south-west Bali, Indonesia.
Capacity
2 people (1 bedroom with king-size bed).
Living areas
Large, open-plan living and dining room; poolside deck.
Pool
Private swimming pool (45 sqm) with shallow area for lounging.
Staff
A team of staff, including an estate manager, chefs, cooks, butlers, 24-hour receptionist, daily housekeeping staff, maintenance engineers and security ensures the smooth running of The Layar Villa estate.
Dining
Options include a priced room service menu of international and Indonesian meals; private barbecues and other specially ordered meals can be cooked at the villa. Or dine in style at Settimo Cielo, our chic Italian restaurant perched at the front of the villa estate.
Communication
Complimentary unlimited WiFi internet access and local telephone calls (international calls extra).
Entertainment
Satellite TV and DVD/CD player in the living area or media room and in all bedrooms; bluetooth speakers.
Additional facilities
Barbecue on request; in-room safe.
For families
The Layar is well-equipped for families including baby cot, high chair and pool fences (extra).
Transport
On request, The Layar's reception team will call one of Bali's safe and reasonably priced metered taxis, or arrange for car and driver hire (24 hours notice required, additional cost).
Spa & Gym
A wide range of treatments can be carried out in the privacy of your villa by professionally trained spa therapists.
Property area
100sqm to 430sqm (villa); 250-270sqm (land).
The rooms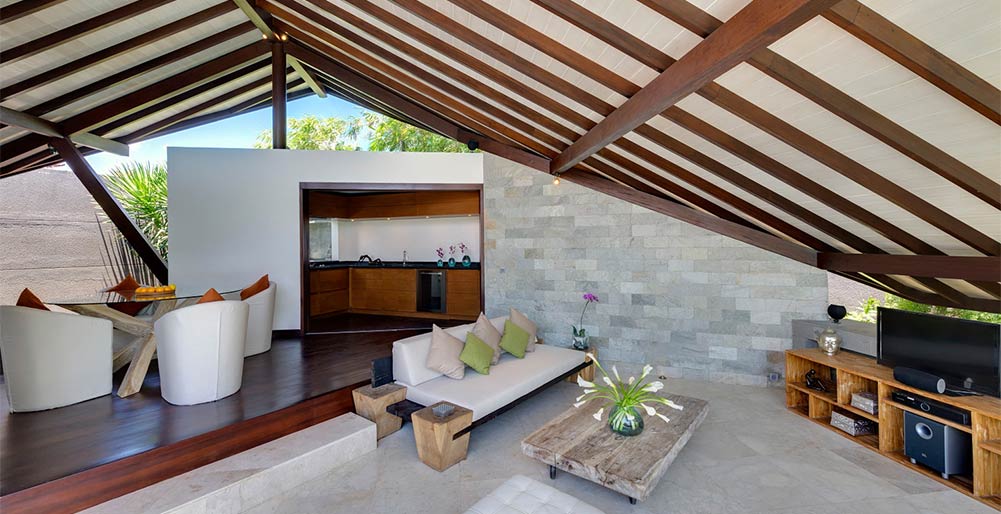 Bedroom
King-size bed
Satellite TV with DVD/CD player
Stylish seating area
Window onto courtyard and sliding doors to pool deck
Decadent bathroom with twin vanity and foliage-fringed shower
Stone bathtub in huge pebbled-filled courtyard garden
Dining
Good food, effortlessly provided and gracefully served, is key to a relaxing and rewarding holiday experience.
Guests at The Layar can enjoy delicious food all day long, with a breakfast menu available from 7am to 11am and an extensive in-villa menu available from 11am to 10pm. Simple favourites such as pizzas and burgers sit alongside more delectable dishes such as crudo of yellow fin tuna, and rabbit and porchini pappardelle. Kids are well looked after too, with their own menu.
Particularly popular are The Layar's private barbecue dinners – prepared, cooked and served at sunset in your villa garden. Guests also have the option of engaging a private chef who will design a special menu for them to enjoy 'at home' in the villa.
View a sample menu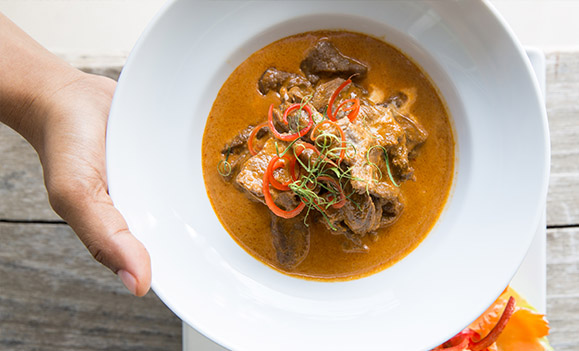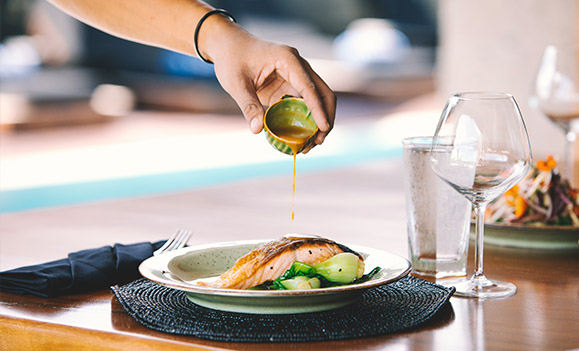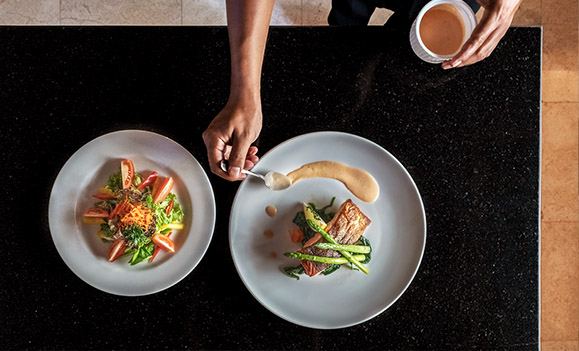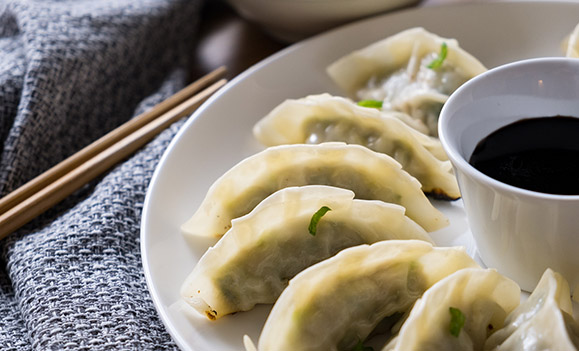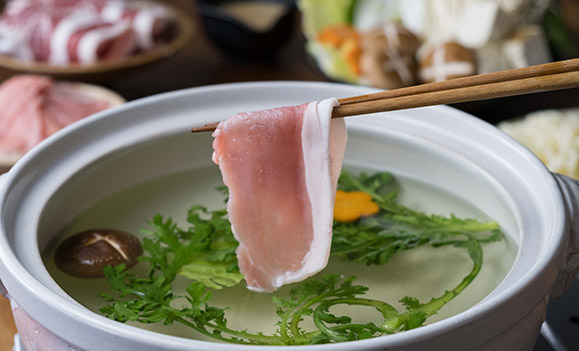 Reviews
Exceptional - The villa was super cool. Very kind and helpful staff. Everything was great. It was our honeymoon and they decorated the room and the bathtub. Definitely recommended.
18-May-2023 - 20-May-2023
Burçem Bengisu I
Turkey
Fantastic holiday at the Layar - Tranquility in your very private ambient space plenty of room for 5 adults. Very friendly and cooperative service and excellent staff. We used Andi from Bali tour driver for 4 of our full day trips he was very knowledgeable accommodating and an efficient and safe driver so we would highly recommend Andi and a stay at the Layar
28-Dec-2022 - 04-Jan-2023
Liam W
United States
A wonderful holiday with special thanks to your wonderful staff, thank you.
21-Jun-2019 - 28-Jun-2019
Donald F
Australia
Decoration villa is unique yet comfortable. Its like living on the deck of a ship. And the privacy is good. We able to used accommodation transport from villa to Seminyak area in a day (drop off only) . Sometimes the tropical animals/insect usually come up in the night at the bathroom area. Overall the villa is very very comfortable, we can enjoyed our stay there. Hope we can back again.
19-Dec-2016 - 21-Dec-2016
Inez Felicia
Indonesia
Loved the villa - everything was superb Thank you.
05-Dec-2016 - 10-Dec-2016
Jenni O
Australia
Our first stay at The Layar exceeded our expectations. The villa was beautifully presented and designed. The gardens and pool were amazing. We loved the breakfast every morning, great selection and quality. We also really appreciated the free buggy service.
04-Nov-2016 - 09-Nov-2016
Ben Callegari
Australia
Lovely friendly staff. Great location. We had an amazing time and would recommend the layer to everyone. Very romantic getaway.great large sized villa and beautifully designed.
20-Apr-2016 - 27-Apr-2016
Deborah and Tony Wilson
New Zealand
Our honeymoon stay at the Layar Resort was awesome and our experience there was memorable. We liked the interior design of our villa, not to mention the atmosphere of the pool and garden decoration with colorful plants and trees. Although the villas were located at the heart of Seminyak, we felt well rested in a quiet, natural, healing environment. All of the staffs are amicable and pleasant.
17-Apr-2016 - 21-Apr-2016
Won Choi
South Korea
Absolutely stunning villa. Felt like a newly developed villa complex. Lots of privacy and short stroll to the main Seminyak shops. Also was very impressed with the buggy service into town.
11-Apr-2016 - 16-Apr-2016
Kate F
Australia
Exceeds our expectations , we even asked for a swan float and it was ready in our pool the minute we arrive. Keep up the good work
23-Jan-2016 - 24-Jan-2016
Mohd. Zamir Bin Syed Ahmad Ghouse
Saudi Arabia
It's a gorgeous villa in great location of Seminyak eventhough it's not on the beachfront. The design is so unique. We had a wonderful stay here.
09-Jan-2016 - 12-Jan-2016
Mr. Naresh S

My wife and I stayed at the 1BR villa for 5 nights for our honeymoon and we were really glad to have chosen The Layar Villa to stay at. The villa itself was amazing, had an awesome pool, outdoor living area was great that comes with a full functional kitchen for cooking, The bedroom was really comfortable, and the outdoor toilet was awesome. The staff were really friendly and helpful in
... more
29-Dec-2015 - 03-Jan-2016
ZHI YONG C
Singapore
Villa very comfortable and clean- staff responded quickly to any needs when contacted, enjoyed that when do not disturb sign was on door this was respected by all staff, used in house spa service and found that to be relaxing and professional, Settimo Cielo - highly recommended and convenient to have on site.
24-Dec-2015 - 03-Jan-2016
Steven R
Australia
Marvellous and quiet one bedroom villa with a large pool and open bathroom! Really beautiful to unwind! Also, the food at the Italian restaurant Settimo Cielo was just mouth-watering. Overall, a perfect place to stay in Seminyak!
21-Oct-2015 - 24-Oct-2015
Maurice T

Lovely staff lovely villas, surely will come again
18-Oct-2015 - 20-Oct-2015
Yuxuan Si
China
A really well thought out facility. The villa is spacious, well appointed and include nice fittings such as door handles and taps. The staff were friendly and attentive. Nothing was a problem. Having access to the buggies was a nice touch and helpful. The pool area was really pleasant with a good variety of plantings. The frangipani trees and travelling palms are spectacular
18-Sep-2015 - 03-Oct-2015
Don M
Australia
The villa was not only beautiful, but pristinely maintained. All the staff at the Layar were so friendly and lovely, and went out of their way to enhance your stay.
05-Sep-2015 - 15-Sep-2015
Matthew M
Australia
Absolutely stunning villa, beautiful gardens and well equiped kitchen. The staff were wonderful and very attentive, they really made our holiday so easy. I would recommend to everyone, it was paradise!
01-May-2015 - 09-May-2015
Alex Cooper .
Australia
We so enjoyed our stay at Layar Villas - can't recommend it enough!
30-Mar-2015 - 02-Apr-2015
Rebecca G
United Kingdom
We absolutely loved it & we cannot wait to come back to show it off to our friends!!
15-Mar-2015 - 20-Mar-2015
Katie Hornery
Australia
Great location and great villa. The staff was very friendly and helpful even with arranging a doctor for some stitches... :-) we would definitely come back .... We had an amazing 8 days.... !!!
15-Jan-2015 - 22-Jan-2015
Dirk H
Australia
Loved it best holiday we have ever had in Bali staff great room was amazing.
16-Dec-2014 - 22-Dec-2014
Amanda R
Australia
I stayed in the Layar for 4 nights and had an absolute fabulous time. The service and quality of the villa I stayed in was unmatched with any other hotel or villa I stayed in.
15-Nov-2014 - 19-Nov-2014
Peter W
Netherlands
Great Location - nice big spacious villa for a couple
21-Oct-2014 - 31-Oct-2014
Jess D
Australia
Staff were incredible! for the second part of my trip I booked another villa and ended up cancelling and coming back as the Layar was so great!Highly recommend.
10-Oct-2014 - 14-Oct-2014
Brooke / Michael and Erica Wedding
Australia
I have Great Time and will is perfekt
10-Aug-2014 - 18-Aug-2014
Ivana Koller
Singapore
Everything is great. We have a wonderful stay.
26-Jun-2014 - 29-Jun-2014
July Wardana
Indonesia
Perfect setting for our honeymoon! Couldn't have asked for anything better!
12-May-2014 - 16-May-2014
Ronak Sethi
India
One of the most beautiful comfortable villas I have ever stayed in, with everything to make a perfect holiday..
10-May-2014 - 13-May-2014
Vanessa O
Australia
A wonderful stay at The Layar Villa. The location is perfect if you want to enjoy the Seminiak lifestyle and be close to all the entertainment area while staying in a quiet place and lovely house. The staff is very professional and helpful and does everything with a smile! Overall a great stay in a very nice environment.
19-Apr-2014 - 23-Apr-2014
Marie C
United Arab Emirates
Perfect place to relax. Very friendly and service oriented stuff. Recommendable!
03-Apr-2014 - 07-Apr-2014
Wolfgang K
China
Lovely villa, Perfect for couple . Good privacy.Great architecture, spacious . Loved that the pool is expose to the sun and not in the shade. The tropical trees , waking up to the scent of the frangipani was magic.
16-Mar-2014 - 20-Mar-2014
Tamim Ataya
Australia
Need more inspiration?
We're at your service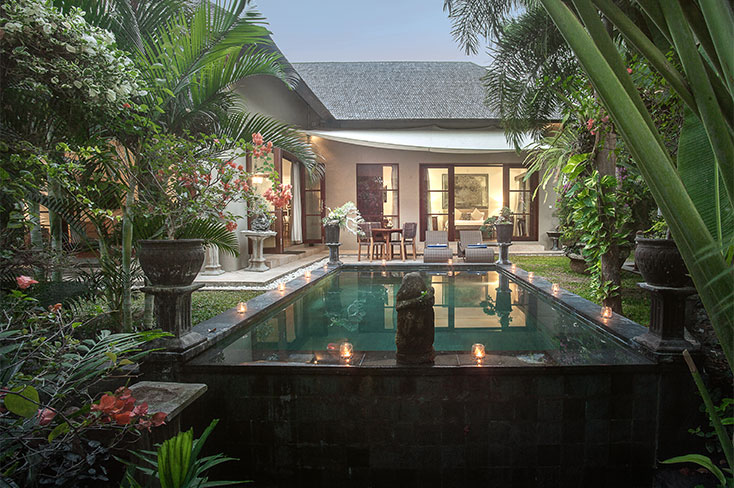 1 bedroom
2 Adults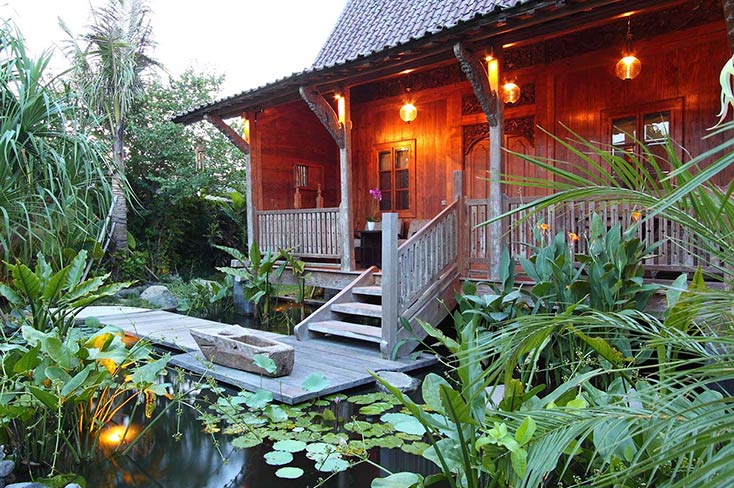 1 bedroom
2 Adults